The developerWorks Connections Platform is now in read-only mode and content is only available for viewing. No new wiki pages, posts, or messages may be added. Please see our FAQ for more information. The developerWorks Connections platform will officially shut down on March 31, 2020 and content will no longer be available. More details available on our FAQ. (Read in Japanese.)
Actionable Insights
It is good practice to eat your own food. I should be no exception.
In my post on the role of data science I was blaming data scientists who left business users without any clue about how to use the insights they produce. I should do the same, and help businesses use the advice I gave in that post: Data science role is to enable data based decision making.
What does it mean in practice for a business? It means that data scientists should not only provide interesting insights, but they also should care a bit (or a lot actually) about how these insights can be turned into business decisions or actions.
In short:
Data scientists should produce actionable insights for business
This is easier said than done. Let's give an example of an insight that is not actionable for the sake of clarity. Experimental sciences like physics provide plenty of actionable insights (my thanks to Paul Rubin who pointed this to me). But they also provide interesting insights that aren't actionable at all.
For instance, the Higgs Boson discovery for which Englert and Higgs got the Nobel prize does not lead to any practical application. Yet, this discovery was a masterpiece of data analysis. Indeed, CERN Large Hadron Collider (LHC) is generating 500EB per day from 150 million sensors. Yes, that's 500,000 petabytes per day. Quite an interesting big data analytics project... The insights gained from it aren't actionable, but they are important still. They are important for our knowledge of the physical laws of our universe.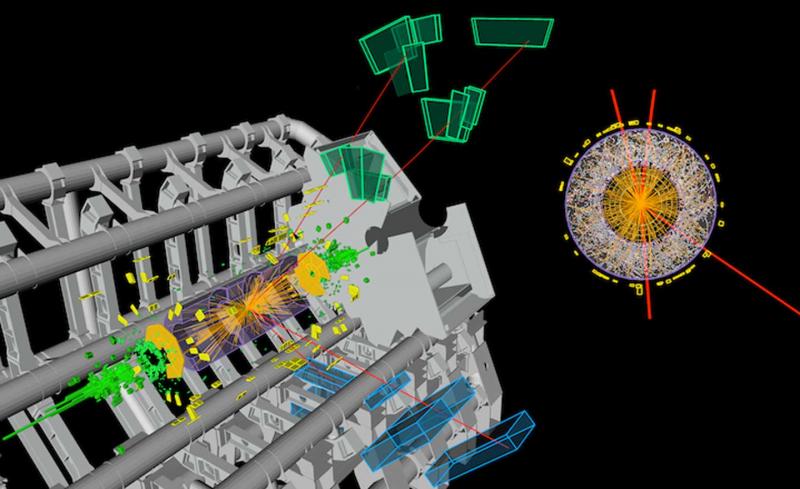 Credit: CMS/CERN
There may be other places than physics where insights do not need to be actionable in order to become important. For business it is different: insights must be actionable.
Business needs insights that can be turned into decisions using current technology.
Let us first set the stage before diving. Businesses will follow a three step process when using data science:
Start with a business question, not the data.
Analyze data to find insights related to the question.
Take actions based on these insights.
This process is fairly generic and can be captured by the figure below.
Let us look at an example based on the use of IBM Predictive Maintenance and Quality product at Pratt&Whitney . In that case, the three steps were:
How can we improve our aircraft engines performance?
Find the set of conditions that predicts when an aircraft engine is likely to fail soon.
Plan maintenance operations of engines which are predicted to fail soon
Actually, there were several instances of the process, each one starting with a different business question. I simply selected the easiest to understand one.
Back to the general case, most online resources you'll find on data science, or big data, or analytics, deal with step 2, i.e. analyze data to find insights. I will focus here on step 3, i.e. how to turn insights into action. I'll distinguish two cases:
We can predefine in advance the decision to be made or the action to be made.
We don't know in advance what the right decision or action will be.
Let's take an example of the first case. A bank tries to reduce the number of cases where a customer closes her accounts. One way to do it is to ask some data scientists to analyze all the customer transaction history for that bank, Form history we know which customers did close their accounts, and which didn't. Using that data, these data scientists produce a model that scores customers profiles. The score of a customer is the likelihood of this customer closing her account during the following month. The higher the score, the most likely the customer will close her account.
For this business problem, the insights are the scores for each customer. They can be turned into action by bank employees. For instance, a branch manager can look at the scores of her customers, then she can have her team contact the ones with highest score to propose them an offer.. The bank may also decide to automate this kind of decision making using decision management techniques. For instance, the following business rule can be used to automate the action for customers having a score above 0.6:
when a cash withdrawal occurs
if the probability of 'the customer' to close their account is more than 0.6
and the lifetime value of 'the customer' is in the top 10%
and the account balance of 'the customer' is more than 1000
and 'the customer' has not received an offer within the past month
then
send the customer an offer where the message is "TEMPLATE_001",
the amount is 100;
The combination of scoring and business rules is quite powerful, and has been successfully applied to numerous business problems. It is a good example of decision management technologies, and can be summarized as follows:
Decision management is great when one needs to automate decisions that can be made one at a time. More information can be found on IBM Decision Management site. James Taylor's JT on EDM is also a great source of information.
Let us look at the second case, i.e. when we have insights but cannot predefine the decisions that come from them. Let us take an example for the sake of clarity, based on Schlenker, H. ; Kluge, R. ; Koehl, J. "Optimization of the worldwide supply chain at Continental Tires: A case study," The business question (step 1) is how to plan the production at Continental Tires in order to:
increase sales (e.g., through optimal assignment of production to demands),
reduce costs (e.g., through production in the correct locations),
and balance critical trade-offs (e.g., supply versus demand).
A key insight for answering this question is the ability to predict future demand for tires. Data scientists working with Continental Tires were able to produce a predictive model for that. The insights are the predicted demands for Continental Tires products in each market it serves.
How can these predicted demands be turned into action? Decision management techniques aren't relevant here, as we cannot define in advance what to do. In fact we have to make a very large number of decisions at the same time, i.e. decide for each plan, and for each time period (each week for instance) how much to produce of each tire model. The right technology for this kind of problems is mathematical optimization, see for instance this youtube video for a great introduction to it (well my readers should know about optimization by now, but we never know). It is the right technology, because we don't know what the actions are, but we know a lot about the problem to be solved. We know:
The decisions to be made. They are the level pf production of each tire model, in each plant, and for each time bucket
The objectives. They are: increase sales (e.g., through optimal assignment of production to demands), reduce costs (e.g., through production in the correct locations), and balance critical trade-offs (e.g., supply versus demand).
availability and cost of business resources (plant capacitys, production costs, spare parts and raw material stocks,transportation cost between plants and distribution centers, workers availability, etc)
Problems where we don't know the answer, but where we know the decisions to be made, the objective, and various constraints and limits, are the sweet spot for optimization. This blog, and other operations research blogs (see the links on the right) are a good source of information. INFORMS web site too.
For the sake of completeness, other techniques may be relevant for turning insights into actions when neither decision management, nor optimization, are applicable. When the available data is a corpus of unstructured text, for instance a large set of medical research papers, then a cognitive computing solution like IBM Watson is relevant. Watson can analyze the corpus of text, then make recommendations based on insights found in it. I'll blog on this in a future post. Simulation is also a technique that can be relevant, especially when it is not possible to predict in advance what will happen. I did blog about simulation, but I should probably revisit the topic as well.