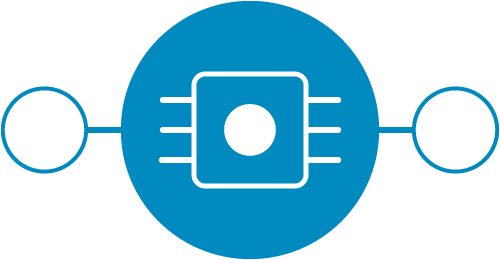 IoT 301: Mastering IoT development - In the first learning path, IoT 101: Getting started with IoT development, you were introduced to the key concepts and skills you need to build IoT solutions. In the previous learning path, IoT 201: Building skills in IoT development, you dug a little deeper into developing innovative IoT systems. In this IoT 301 learning path, you'll put all the pieces together and begin mastering some of the more advanced capabilities of IoT solutions. 
In this IoT 301 learning path, you first discover the top security challenges for IoT solutions. Next, you learn how to make sense of all the data generated by your IoT devices. Then, you learn about IoT device management. Finally, this IoT 301 learning path culminates in a video-based tutorial where you extend the IoT project, — a healthy habits tracker, that you built at the end of the previous IoT 201 learning path. [Read more...]
Downloadable resources - PDF of this content
Related topics 
4 inspiring stories from the front lines of asset maintenance - by Rob Potter CIO, Vice President Business System, Skookum Contract Services
When I think about what makes my job exceptional, it's that I get to work with people who infuse honesty, intelligence and integrity into everything they do. It is more than just the technology we use or the awards we win. For starters, it is the feeling of knowing that every customer we serve has the transparency they need to make better decisions and improve how their business operates. It is also the knowledge that we employ hundreds of people with disabilities including veterans. Finally, it is the ability to constantly reinvent our processes to save our customers' money to reinvest in new projects. [Read more...] 
Maximo 76 Cognos11 Certification Introduction - The new Cognos 11 (or Cognos Analytic) release introduces a rich feature set of analytic functionality targeting business and power users! Learn more about these new features by watching this video! Video by Pam Denny, IBM Analytics Architect
RPE: Generating Microsoft Excel documents - Microsoft Excel output is available when generating documents from the Rational Publishing Engine desktop client or Document Builder. Supported template elements are Paragraph, Container, Text, Hyperlink, Image, Table, Row, and Cell. For more information, see Microsoft Excel output reference for designing templates: https://www.ibm.com/support/knowledgecenter/SS6RHZ_6.0.5/com.ibm.rational.pe.reference.doc/topics/r_excel.html  
This video was recorded using IBM Rational Publishing Engine version 6.0.5.
Jazz Reporting Service Overview - See how you can use Jazz Reporting Service (JRS) to quickly and easily consolidate data across IBM Rational Collaborative Lifecycle Management (CLM) and other tools. JRS is included in CLM, as well as in the IBM Internet of Things Continuous Engineering Solution.
What end of year post would be complete without a top posts list? As we wrap up the year running metrics and reports to show our results, we've taken a look back at the past year and found some fun bits of data to help us in the coming year. 
So, here you go! These are the top most viewed blog posts published on Notes from IoT Support in 2017! 
IBM Watson IoT Support Lifecycle Resources - Find listings of Resources to Support Lifecycle Announcements, Support Lifecycle FAQs, and Support Lifecycle Information
Analytics and the cloud: The Internet of Things - Analytics and the cloud: The Internet of Things - by Steven Lockwood, Executive Information Architect, IBM. This is the second in a series of blogs on analytics and the cloud.  
Installing BIRT Designer 4.6.0 to be used with TRIRIGA 3.5.1 and later - Starting in 3.5.1 a new BIRT engine was introduced with your TRIRIGA installation. This is BIRT engine version 4.6.0. To customize or create new reports, as well to convert your old BIRT 4.3.1 reports, you need the same Designer version.  
Maximo data hierarchies in Watson Analytics - Dynamically drill into the details of your Maximo data using Watson Analytics! This video details how to define the data hierarchy in the Data-Refine section of Watson Analytics, and then utilize that hierarchy to drill down in data insights and explorations. Video recording by Pam Denny, Analytics Architect, IBM  
Data Set Designer Application for Maximo-x Analytics - Pam Denny, who is an analytics architect with the Maximo Asset Management product, introduces the data set designer application in Maximo-x. This new application enables a Maximo Power or Business user to define the content, fields, filters and more for a data set that can be exported to csv or Watson Analytics for additional analysis.  
IBM's Open Badge program - earn your badges today! - IBM's Open Badge program represents our latest endeavor for recognizing this talent through secure, verifiable digital credentials representing skill, achievement, and contribution. IBM has established this opportunity so you may easily and quickly share verified proof of your achievement wherever and whenever you choose.  
CLM 6.0 iFix014 was made available for download on December 20th. This iFix contains fixes for 272 defects broken out for the following products:
Jazz Foundation : 45 APARs
Rational DOORS Next Generation (RDNG) : 67 APARs
Rational Quality Manager (RQM) : 38 APARs
Rational Team Concert (RTC) : 69 APARs
Reporting (JRS, DCC, LQE) : 51 APARs
Rational Lifecycle Engineering Manager (RELM) : 2
For information about downloading this fix (and fixes available for other versions) please go here.
What's new? Enhanced support for lean enterprise transformations in CLM 6.0.5 - Organizations across all industries are under great pressure to quickly adapt to new market conditions. They need to transform their approach to systems engineering and software development to deliver new features and offerings faster and respond to feedback — continuously. Most of them have been experimenting with lean and agile principles to reach that goal. But many are still struggling to apply those best practices for small, co-located teams, much less get the full benefits at enterprise scale. 
We've been paying attention and are focused on beefing up our approach and solution for adopting agility at scale. Here are some of the highlights available in Collaborative Lifecycle Management 6.0.5 to help you as you get started or continue to drive this kind of transformation across your enterprise. If you're not adopting the Scaled Agile Framework® (SAFe®) methodology, please don't stop reading, because there are things for you here regardless of the processes in place! [Read more....] 
What's new in IBM Rational Team Concert 6.0.5 - We've been busy working on three major themes in IBM Rational Team Concert (RTC) 6.0.5. Click through to see a summary of each, along with a description of some integration enhancements that we've made. [Read more...] 
What's new in IBM Rational Quality Manager 6.0.5 - IBM Rational Quality Manager (RQM) v6.0.5 release comes with a set of new features in multiple areas such as manual testing, test execution tracking and reporting, automated test execution adapters or data spill redaction. Click through to read highlights of three of those new capabilities: email notifications, redlining manual tests, and manual step count. [Read more...] 
What's new in Rational Engineering Lifecycle Manager 6.0.5 - We're happy to announce the release of IBM Rational Engineering Lifecycle Manager (RELM) 6.0.5. We continue to focus on simplifying various RELM usability aspects. Click through for the top 5 items you'll find in this version of RELM. [Read more....] 
What's new in Rational Publishing Engine 6.0.5 and Jazz Reporting Service 6.0.5 - This was an amazing year for IBM Rational Publishing Engine (RPE) and we want to finish it with a splash. First, we released RPE 2.1.2 in June, 2017 with a lot of exciting enhancements and now, we are releasing RPE 6.0.5. Yes, you read this correctly. It is RPE 6.0.5. RPE now aligns its version number with the rest of the Continuous Engineering (CE) and Collaborative Lifecycle Management (CLM) solutions. Click through to discover the three main features in RPE 6.0.5 [Read more....] 
IBM Rational Engineering Lifecycle Manager: Overview - In this demo you'll learn about IBM Rational Engineering Lifecycle Manager. The video shows an overview of the main product capabilities. This video was recorded using IBM Rational Engineering Lifecycle Manager version 6.0.5. For more information, see Rational Engineering Lifecycle Manager Overview: https://www.ibm.com/support/knowledgecenter/SSYMRC_6.0.5/com.ibm.team.jp.relm.doc/topics/c_node_overview.html
You may also like:  
IBM Rational Engineering Lifecycle Manager: Creating traceability views
IBM Rational Engineering Lifecycle Manager: Exporting and importing views
IBM Rational Engineering Lifecycle Manager: Running dependency analysis in views
Analyzing IoT device movement data - This tutorial by Dirk Schober is based on the Harlem Shake game that Romeo Kienzler developed and presented in his tutorial titled Create a fun, simple IoT accelerometer game. Kienzler's game uses simple movement data from a smartphone, streams the data to the cloud, captures the data in a Cloudant database, and then analyzes and determines the winner using IBM Data Science Experience. In this tutorial, we'll start with Kienzler's basics by also using IBM Cloud (formerly IBM Bluemix) and the IBM Watson IoT Platform services, including Node-RED, MQTT (in Watson IoT Platform), and Cloudant. [Read more...] 
Downloadable resources: PDF of this content
Related topics: 
RPE: Generating comparison documents from configurations -  
Learn how to create a document that shows the differences between two different versions of an IBM DOORS® Next Generation module. This video was recorded using IBM Rational Publishing Engine version 2.1.2. For more information, see Creating a comparison document: https://www.ibm.com/support/knowledgecenter/SS6RHZ_2.1.2/com.ibm.rational.pe.publishing.doc/topics/t_compare_doc.html
RPE: Generating documents with JSON data from Atlassian JIRA -
In this demo you'll learn how to construct a URL to obtain JSON data from JIRA. You'll then add the JSON schema in Rational Publishing Engine Document Studio and generate a document from a template designed to display JIRA issues. This video was recorded using IBM Rational Publishing Engine version 2.1.2. For more information, see Integrating JIRA with Rational Publishing Engine: https://www.ibm.com/support/knowledgecenter/SS6RHZ_2.1.2/com.ibm.rational.pe.integration.doc/topics/c_jira_integrate.html
New releases of Maximo products are now available:
IBM Maximo Asset Management Scheduler V7.6.7
IBM Maximo Asset Management Scheduler Plus V7.6.7
IBM Maximo for Nuclear Power V7.6.1
These new releases feature updates and platform enhancements:
IBM Maximo Asset Management Scheduler V7.6.7 offers many usability improvements to the Graphical Assignment application, variable alternate availability, configurable mouse-over and tool tips, as well as optimization and performance enhancements.

IBM Maximo Asset Management Scheduler Plus V7.6.7 delivers a new project schedule dashboard/report and SMS notifications for both customer appointment booking and weather alerts.

IBM Maximo for Nuclear Power V7.6.1 delivers new capabilities that enhance the functionality of the work management process with improvements to clearance requests, revision plans, tag transfers, and temporary lifts.
Downloads
Refer to Announcement letter 217-523 for additional information.
On December 4th 2017, we announced Now available: Continuous Engineering and Collaborative Lifecycle Management 6.0.5. IBM Rational Team Concert and IBM Rational Quality Manager also published their main highlights too. However, from an IoT Support perspective, many of us have been working hard to make improvements to areas where we know our clients have encountered issues.
The list below focuses not on the new product features, but instead, the key wins in the 6.0.5 release which will make life better for users and administators in particular.
Backups
There were two main focuses to address the complexity of backup strategies. There is now an interactive backup guide to assist you with the overall backup strategy of the CLM software stack.
Typically, like buses, two articles are now available. We wrote a specific article on backing up and restoring your DOORS Next Generation(DNG) indices.
We now strongly encourage you to backup your DOORS Next Generation indices so as to lessen the likelihood of needing to run a repotools reindex.
Windows VM users can now consider using alternative performance settings for DOORS Next Generation
We have focused on DNG backup strategy mentioned above, so as to ensure that we do not need to run repotools reindex. This was in part prompted by the desire for Windows Virtual Machine(VM) users to be able to use a DNG alternative setting for performance. The roadblock prior to this article was a VM's ability to handle this mode. If you have a reliable backup of your indices, the need to reindex should be greatly reduced, thus avoiding the known VM limitation . Contact IBM Support for more information.
Guidance on adopting IBM CLM configuration management across the lifecycle
During the same time frame, there was a large intiative to provide guidance on adopting CLM lifecycle configurartion management. Tim Feeney's blog explains the new Best Practices for CLM Usage Models for how to introduce, design and configure your component strategies across the CLM applications. It is recommended that you bookmark this page, alongside the Configuration Management FAQ
Validating and documenting on WebSphere Liberty Profile and Jazz Authorization Server (JAS)
It is now possible to authenticate using Smart Cards, or certificates (.p12) with Liberty:
Configuring certificate authentication for Rational solution for Collaborative Lifecycle Management on Liberty Profile
and with JAS, see related article: Configuring certificate authentication for CLM deployed with Jazz Authorization Server
We have also improved the formal IBM Knowledge Center on these topics, cross-linking so you don't need to find these additional resources: Configuring certificate and smart card authentication
Last but not least, Multiple User Registries with Jazz Authorization Server and SCIM documenting our support for all types of LDAP User registries with JAS and Liberty Profile.
Jazz.net previews
In case you missed it. Here's a reminder of the blog post highlighting our new Previews tool: https://jazz.net/previews/
In a preview, an expert guides you step-by-step through the various products in the IBM IoT continuous engineering and Collaborative Lifecycle Management solutions
Jazz Community sharing site:
A big thank you to the German User Group for creating a new public sharing site available to everyone - see Rolf Nelson's Introducing the Jazz Community sharing site article for more details
Maximo - Cognos Sliders: How to create a Maximo report with Cognos Sliders
Build a cognitive alert system for your IT operations - Monitoring tools today generally send alerts through incidents or email notifications. Often, though, IT teams need a more visually perceptive approach. For example, when an incident or email is received, or an action from an IT service management tool occurs, the IT operator needs either an audible signal on a speaker or a visual signal on a lamp. These types of alerts mean that operators no longer have to keep an eye on the screen or their smartphones. 
Implementing a solution that integrates service management systems with these types of devices can be quite complex depending on the current architecture. This article by Juscelino Candido de lima Junior demonstrates how you can use a low-cost set of hardware (a Raspberry Pi in a TJBot robot) and Watson APIs, IBM Watson IoT Platform, and other IBM Cloud services to build a cognitive alert system for your IT operations. [Read more...] 
Downloadable resources: PDF of the demo use case instructions