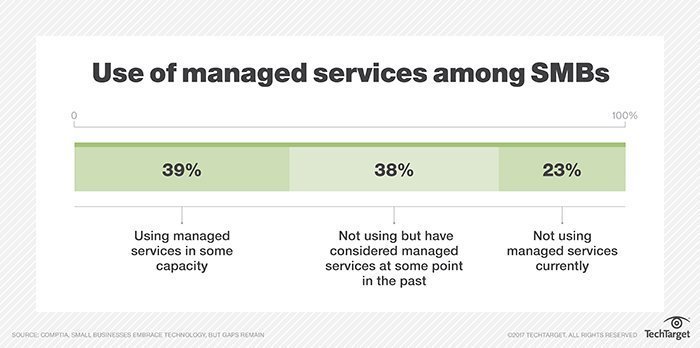 In the late 20th century, personal computers transformed the way that most businesses operate. Their introduction in the late 1980s, along with the complex and often expensive networking systems that supported them also spawned a giant and enormous IT services sector dedicated to keeping all the new hardware running. In the 21st century, however, more businesses are moving toward cloud services and technologies like virtualization that is slowly chipping away at the economic model that has allowed IT services firms to thrive for so long.
For them, it's well past time to begin the process of moving away from the tried-and-true break/fix model of IT services, and toward a newer, managed services model. Although that particular writing has been on the wall for some time now, a recent survey revealed that as many as 51% of such firms have yet to even begin the transition – let alone to successfully navigate the shift. To help, here are three of the most critical things for IT service firms to focus on when transitioning to an MSP model.
Putting the Customer First
One of the most difficult things an IT firm has to confront when transitioning from a break/fix model to managed services is to realize that they're going to have to become more of a customer service-oriented organization than they were previously. That's because the typical break/fix model entails fielding customer issues and doling out work to field technicians, while in a managed services environment, it's the technicians that must deal directly with customers. For that reason, firms making the transition have to invest in customer service training for all front-line employees so they'll be able to handle the work appropriately. For larger operations, it may even be beneficial to turn to a call center specialist like AnswerFirst to man the front lines and make sure no customer has to wait in a lengthy queue.
Building a Monitoring Infrastructure
Transitioning to an IT managed services model also requires a wholly different technology infrastructure that's geared towards proactive support, patch management, and equipment monitoring. It's the kind of system that most break/fix providers may not already have, and that means choosing the right solution to handle current and future clients. There are several major options available, from providers such as:
Each available system has its' own strengths and weaknesses, and the right one is usually determined by the types of technology that needs to be monitored. For example, managing large server clusters for a client may require a wholly different setup than what you'd need for multiple clients with desktop PCs and light server infrastructure. The only way to make an informed choice is to demo the available solutions and see if they're a good fit.
Offer Value-Added Services
One of the major reasons it's a good idea to move toward a managed service model in IT is the fact that hardware margins have shrunk so much in recent years. That means IT firms have to squeeze out more revenue per device because they can't rely on hardware sales income to pad their bottom line. For that reason, most managed service providers also offer value-added services to keep revenue flowing in. For example, many IT firms now offer branded cloud backup services to their customers, complete with their own management and monitoring interface. One provider even built a multi-cloud IaaS monitoring solution using IBM Bluemix to offer customers a unique, all-in-one management solution to their growing multi-cloud technology deployments.
Embracing the Change
For the average IT firm, it's also important to note that the transition to a managed services model usually isn't without some short-term pain. In some cases, companies that make the switch end up shedding many of their existing customers in the process – usually because those customers don't have much technology infrastructure to worry about in the first place.
The good news is that in almost every case, those small customers will be replaced with larger ones that offer more stable recurring revenue. Even better is the fact that serving those customers under a managed service model typically lowers overhead, making the entire endeavor more than worth the effort. So to all the IT service firms still hanging on to their break/fix roots, you now know what it's going to take to transform yourself into a 21st century IT provider. Now you have to get out there and do it.
Trying to conceive and don't know the best time of month to do so? Use this online ovulation calculator and find out your fertile days in seconds.