The developerWorks Connections Platform is now in read-only mode and content is only available for viewing. No new wiki pages, posts, or messages may be added. Please see our FAQ for more information. The developerWorks Connections platform will officially shut down on March 31, 2020 and content will no longer be available. More details available on our FAQ. (Read in Japanese.)
with Tags:
hu+yoshida
X
On my last blog post [Is this what HDS tells our mainframe clients?], I poked fun at Hu Yoshida's blog post that contained a graphic with questionable results. Suddenly, the blog post disappeared altogether. Poof! Gone!
Just so that I am not accused of taking a graph out of context, here is Hu's original post, in its entirety:
"Since my last post on Storage Performance Efficiency, Claus wrote on the use of HDP, Hitachi Dynamic Provisioning and HDT, Hitachi Dynamic Tiering for mainframes on Virtual Storage Platform (VSP). Naturally, this prompted me to think of the specific performance efficiency implications for mainframes.

HDP brings the performance benefits of automated wide striping and HDT automatically keeps the hot pages of data on the highest performance tier of storage for mainframes, just as it does for open systems. There are differences between open systems and mainframe implementation due to mainframe CKD and CCHHR formats for instance, the page size is optimized for mainframe storage formats and storage reclamation must be host initiate. For more information check out our website: http://www.hds.com/assets/pdf/how-to-apply-latest-advances-in-hitachi-mainframe-storage.pdf

There are also additional performance efficiencies specific for mainframes.

Mainframe HDP is the foundation for Extended Addressable Volumes, which increases the size of 3390 volumes from 65,520 cylinders to 262,668 cylinders. This, along with HyperPAV--which facilitates multiple accesses to a volume, addressing the problem of queuing on a very large volume with a single UCB--enhances throughput with many more concurrent I/O operations.

[graph]

The thin provisioning of HDP also increases the performance of mainframe functions that move, copy, or replicate these thin volumes like Concurrent Copy, FlashCopy V02, and HUR, since the actual volumes are smaller.

If you have mainframes, check out the capacity and performance efficiency of VSP with HDP and HDT.

For other posts on maximizing storage and capacity efficiencies, check these out: http://blogs.hds.com/capacity-efficiency.php"
At this point, you might be wondering: "If Hu Yoshida deleted his blog post, how did Tony get a copy of it? Did Tony save a copy of the HTML source before Hu deleted it?" No. I should have, in retrospect, in case lawyers got involved. It turns out that deleting a blog post does not clear the various copies in various RSS Feed Reader caches. I was able to dig out the previous version from the vast Google repository. (Many thanks to my friends at Google!!!).
The graph itself was hosted separately has been deleted, but it was just taken from slide 10 of the HDS presentation [How to Apply the Latest Advances in Hitachi Mainframe Storage], so it was easy to recreate.
(Lesson to all bloggers: If you write a blog post, and later decide to remove it for whatever legal, ethical, moral reasons, it is better to edit the post to remove offending content, and add a comment that the post was edited, and why. Shrinking a 700-word article down to 'Sorry Folks - I decided to remove this blog post because...' would do the trick. This new edited version will then slowly propagate across to all of the RSS Feed Reader caches, eliminating most traces to the original. Of course, the original may have been saved by any number of your readers, but at least if you have an edited version, it can serve as the official or canonical version.)
Perhaps there was a reason why HDS did not want to make public the FUD its sales team use in private meetings with IBM mainframe clients. Whatever it was, this appears to be another case where the cover-up is worse than the original crime!
technorati tags: HDS, Hu Yoshida, VSP, EAV
Five years ago, I sprayed coffee all over my screen from something I read on a blog post from fellow blogger Hu Yoshida from HDS. You can read what cased my reaction in my now infamous post [Hu Yoshida should know better]. Subsequently, over the years, I have disagreed with Hu on a variety of of topics, as documented in my 2010 blog post [Hu Yoshida Does It Again].
(Apparently, I am not alone, as the process of spraying one's coffee onto one's computer screen while reading other blog posts has been referred to as "Pulling a Tony" or "Doing a Tony" by other bloggers!)
Fortunately, my IBM colleague David Sacks doesn't drink coffee. Last month, David noticed that Hu had posted a graph in a recent blog entry titled [Additional Storage Performance Efficiencies for Mainframes], comparing the performance of HDS's Virtual Storage Platform (VSP) to IBM's DS8000.
For those not familiar with disk performance graphs, flatter is better, lower response time and larger IOPS are always desired. This graph implies that the HDS disk system is astonishingly faster than IBM's DS8000 series disk system. Certainly, the HDS VSP qualifies as a member of the elite [Super High-End club] with impressive SPC benchmark numbers, and is generally recognized as a device that works in IBM mainframe environments. But this new comparison graph is just ridiculous!
(Note: While SPC benchmarks are useful for making purchase decisions, different disk systems respond differently to different workloads. As the former lead architect of DFSMS for z/OS, I am often brought in to consult on mainframe performance issues in complex situations. Several times, we have fixed performance problems for our mainframe clients by replacing their HDS systems with IBM DS8000 series!)
Since Hu's blog entry contained very little information about the performance test used to generate the graph, David submitted a comment directly to Hu's blog asking a few simple questions to help IBM and Hu's readers determine whether the test was fair. Here is David's comment as submitted:
"Hello, Hu,
(Disclosure: I work for IBM. This comment is my own.)

I was quite surprised by the performance shown for the IBM DS8000 in the graph in your blog. Unfortunately, you provided very little detail about the benchmark. That makes it rather difficult (to say the least) to identify factors behind the results shown and to determine whether the comparison was a fair one.

Of the little information provided, an attribute that somewhat stands out is that the test appears to be limited to a single volume at least, that's my interpretation of "LDEV: 1*3390-3"? IBM's internal tests for this kind of case show far better response time and I/Os per second than the graph you published.

Here are a few examples of details you could provide to help readers determine whether the benchmark was fair and whether the results have any relevance to their environment.

What DS8000 model was the test run on? (the DS8000 is a family of systems with generations going back 8 years. The latest and fastest model is the DS8800.)
What were the hardware and software configurations of the DS8000 and VSP systems, including the number and speed of performance-related components?
What were the I/O workload characteristics (e.g., read:write ratio and block size(s))?
What was the data capacity of each volume? (Allocated and used capacity.)
What were the cache sizes and cache hit ratios for each system? (The average I/O response times under 1.5 milliseconds for each system imply the cache hit ratios were relatively high.)
How many physical drives were volumes striped across in each system?"
Unlike my blog on IBM, HDS bloggers like Hu are allowed to reject or deny comments before they appear on his blog post. We were disappointed that HDS never posted David's comment nor responded to it. That certainly raises questions about the quality of the comparison.
So, perhaps this is yet another case of [Hitachi Math], a phrase coined by fellow blogger Barry Burke from EMC back in 2007 in reference to outlandish HDS claims. My earliest mention was in my blog post [Not letting the Wookie Win].
By the way, since the test was about z/OS Extended Address Volumes (EAV), it is worth mentioning that IBM's DS8700 and DS8800 support 3390 volume capacities up to 1 TB each, while the HDS VSP is limited to only 223 GB per volume. Larger volume capacities help support ease-of-growth and help reduce the number of volumes storage administrators need to manage; that's just one example of how the DS8000 series continues to provide the best storage system support for z/OS environments.
Personally, I am all for running both IBM and HDS boxes side-by-side and publishing the methodology, the workload characteristics, the configuration details, and the results. Sunshine is always the best disinfectant!
technorati tags: IBM, DS8000, DS8800, HDS, Hu Yoshida, USP, VSP, mainframe, EAV
On Wikibon, David Floyer has an article titled [SAS Drives Tier 1 to New Levels of Green] that focuses on the energy efficiency benefits of newer Serial-Attach SCSI (SAS) drives over older Fibre Channel (FC) drives. This makes sense, as R&D budgets have been spent on making newer technologies more "green".
Fellow blogger Hu Yoshida (HDS) encourages people to [Invest in the Future with SAS, SATA and SFF], referring to Figure 1.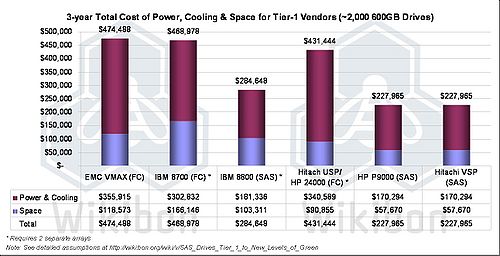 Of course, people might consider this an [apples-to-oranges] comparison. Not only are we changing from FC to SAS technology, we are also changing from 3.5-inch drives to small form factor (SFF) 2.5-inch drives. It seems odd to specify 2000 drives, when only two of the five scale up to that level. Few systems in production, from any vendor, have more than 1000 drives, so it would have seemed that would have been a fairer comparison.
However, Hu's conclusion that the combination of SAS and SFF provides better performance and energy efficiency for both IBM DS8800 and HDS VSP than FC-based alternatives from any vendor seems reasonably supported by the data.
Meanwhile, fellow blogger David Merrill (HDS) pokes fun at IBM DS8800 in Figure 2 in his post [Winner o' the green]. This second comparison was for 4PB of raw capacity, which 4 of the 5 can handle easily using 2TB SATA drives, but the DS8800 is based on SAS technology and does not support 2TB SATA drives. A performance-oriented configuration with four distinct DS8800 boxes employing 600GB SAS drives is used instead, causing the data for the DS8800 to stick out like a sore thumb, or perhaps more intentionally as a middle finger.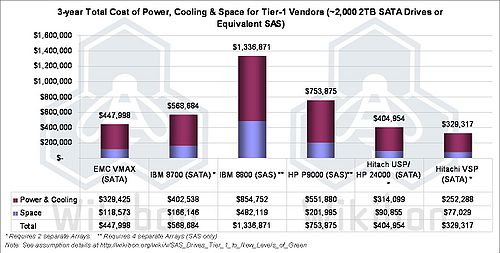 The main take-away here is that IBM offers both the DS8700 for capacity-optimized workloads, and the DS8800 for performance-optimized workloads. Some competitors may have been spreading FUD that the DS8700 was withdrawn last month, it wasn't. As you can see from the data presented, there are times where a DS8700 might be more preferable than a DS8800, depending on the type of workloads you plan to deploy. IBM offers both, and will continue to support existing DS8700 and DS8800 units in the field for many years to come.
technorati tags: IBM, DS8700, DS8800, Wikibon, Hu Yoshida, David Merrill, Davud Floyer
Last week, in
Computer Technology Review's
article [
Tiering: Scale Up? Scale Out? Do Both
], Mark Ferelli interviews fellow blogger Hu Yoshida, CTO of Hitachi Data Systems (HDS). Here's an excerpt:
"MF/CTR: A global cache should be required to implement that common pool that you're talking about going across all tiers.

Hu/HDS: Right. So that is needed to get to all the resources. Now with our system, we can also attach external storage behind it for capacity so that as the storage ages out or becomes less active we can move it to the external storage. They would certainly have less performance capability, but you don't need it for the stale data that we're aging down. Right now we're the only vendor that can provide this type of tiering.

If you look at other people who do virtualization like IBM's SVC, the SVC has no storage within it because it's sitting so if you attach any storage behind it, there is some performance degradation because you have this appliance sitting in front. That appliance is also very limited in cache and very limited in the number of storage boards on it. It cannot really provide you additional performance than what is attached behind it. And in fact, it will always degrade what is attached behind it because it's not storage, where as our USP is storage and it has a global cache and it has thousands of port connections, load balancing and all that. So our front end can enhance existing storage that sits behind it."
This is not the first time I have had to correct Hu and others of misperceptions of IBM's SAN Volume Controller (SVC). This month marks my four year "blogoversary", and I seem to spend a large portion of my blogging time setting the record straight. Here are just a few of my favorite posts setting the record straight on SVC back in 2007:
Since day 1, SAN Volume Controllers has focused primarily on external storage. Initially, the early models had just battery-protected DRAM cache memory, but the most recent model of the SVC, the 2145-CF8, adds support for internal SLC NAND flash solid state drives. To fully appreciate how SVC can help improve the performance of the disks that are managed, I need to use some visual aids.
In this first chart, we look at a 70/30/50 workload. This indicates that 70 percent of the IOPS are reads, 30 percent writes, and 50 percent can be satisfied as cache hits directly from the SVC. For the reads, this means that 50 percent are read-hits satisfied from SVC DRAM cache, and 50 percent are read-miss that have to get the data from the managed disk, either from the managed disk's own cache, or from the actual spinning drives inside that managed disk array.

For writes, all writes are cache-hits, but some of them will be destaged to the managed disk. Typically, we find that a third of writes are over-written before this happens, so only two-thirds are written down to managed disk.
In this example, the SVC reduced the burden of the managed disk from 100,000 IOPS down to 55,000, which is 35,000 reads and 20,000 writes. Some have argued against putting one level of cache (SVC) in front of another level of cache (managed disk arrays). However, CPU processor designers have long recognized the value of hierarchical cache with L1, L2, L3 and sometimes even L4 caches. The cache-hits on SVC are faster than most disk system's cache-hits.
This is a Ponder curve, mapping millisecond response (MSR) times for different levels of I/O per second, named after the IBM scientist John Ponder that created them. Most disk array vendors will publish similar curves for each of their products. In this case, we see that 100,000 IOPS would cause a 25 millisecond response (MSR) time, but when the load is reduced to 55,000 IOPS, the average response time drops to only 7 msec.

To be fair, the SVC does introduce 0.06 msec of additional latency on read-misses, so let's call this 7.06 msec. This tiny amount of latency could be what Hu Yoshida was referring to when he said there was "some performance degradation". There are other storage virtualization products in the market that do not provide caching to boost performance, but rather just map incoming requests to outgoing requests, and these can indeed slow down every I/O they process. Perhaps Hu was thinking of those instead of IBM's SVC when he made his comments.
Of course, not all workloads are 70/30/50, and not every disk array is driven to its maximum capability, so your mileage may vary. As we slide down the left of the curve where things are flatter, the improvement in performance lowers.
| | | | | |
| --- | --- | --- | --- | --- |
| IOPS before SVC | IOPS after SVC | MSR before SVC | MSR after SVC | Percentage Improvement |
| 100,000 IOPS | 55,000 | 25 msec | 7.06 msec | 72% |
| 80,000 IOPS | 44,000 | 12 msec | 6.06 msec | 50% |
| 60,000 IOPS | 33,000 | 7 msec | 4.86 msec | 31% |
| 40,000 IOPS | 22,000 | 5.4 msec | 4.16 msec | 23% |
| 20,000 IOPS | 11,000 | 4 msec | 3.86 msec | 4% |
Hitachi's offerings, including the HDS USP-V, USP-VM and their recently announced Virtual Storage Platform (VSP) sold also by HP under the name P9500, have similar architecture to the SVC and can offer similar benefits, but oddly the Hitachi engineers have decided to treat externally attached storage as second-class citizens instead. Hu mentions data that "ages out or becomes less active we can move it to the external storage."  IBM has chosen not to impose this "caste" system onto its design of the SAN Volume Controller.
The SVC has been around since 2003, before the USP-V came to market, and has sold over 20,000 SVC nodes over the past seven years. The SVC can indeed improve performance of managed disk systems, in some cases by a substantial amount.  The 0.06 msec latency on read-miss requests represents less than 1 percent of total performance in production workloads.  SVC nearly always improves performance, and in the worst case, provides same performance but with added functionality and flexibility. For the most part, the performance boost comes as a delightful surprise to most people who start using the SVC.
| | |
| --- | --- |
| | To learn more about IBM's upcoming products and how IBM will lead in storage this decade, register for next week's webcast "Taming the Information Explosion with IBM Storage" featuring Dan Galvan, IBM Vice President, and Steve Duplessie, Senior Analyst and Founder of Enterprise Storage Group (ESG). |
technorati tags: IBM, SVC, HDS, USP, USP-V, USP-VM, VSP, CTO, Hu Yoshida, Ponder