The developerWorks Connections Platform is now in read-only mode and content is only available for viewing. No new wiki pages, posts, or messages may be added. Please see our FAQ for more information. The developerWorks Connections platform will officially shut down on March 31, 2020 and content will no longer be available. More details available on our FAQ. (Read in Japanese.)
with Tags:
david+merrill
X
On Wikibon, David Floyer has an article titled [SAS Drives Tier 1 to New Levels of Green] that focuses on the energy efficiency benefits of newer Serial-Attach SCSI (SAS) drives over older Fibre Channel (FC) drives. This makes sense, as R&D budgets have been spent on making newer technologies more "green".
Fellow blogger Hu Yoshida (HDS) encourages people to [Invest in the Future with SAS, SATA and SFF], referring to Figure 1.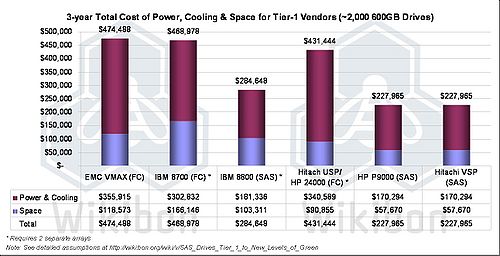 Of course, people might consider this an [apples-to-oranges] comparison. Not only are we changing from FC to SAS technology, we are also changing from 3.5-inch drives to small form factor (SFF) 2.5-inch drives. It seems odd to specify 2000 drives, when only two of the five scale up to that level. Few systems in production, from any vendor, have more than 1000 drives, so it would have seemed that would have been a fairer comparison.
However, Hu's conclusion that the combination of SAS and SFF provides better performance and energy efficiency for both IBM DS8800 and HDS VSP than FC-based alternatives from any vendor seems reasonably supported by the data.
Meanwhile, fellow blogger David Merrill (HDS) pokes fun at IBM DS8800 in Figure 2 in his post [Winner o' the green]. This second comparison was for 4PB of raw capacity, which 4 of the 5 can handle easily using 2TB SATA drives, but the DS8800 is based on SAS technology and does not support 2TB SATA drives. A performance-oriented configuration with four distinct DS8800 boxes employing 600GB SAS drives is used instead, causing the data for the DS8800 to stick out like a sore thumb, or perhaps more intentionally as a middle finger.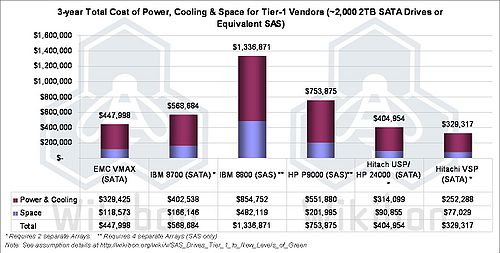 The main take-away here is that IBM offers both the DS8700 for capacity-optimized workloads, and the DS8800 for performance-optimized workloads. Some competitors may have been spreading FUD that the DS8700 was withdrawn last month, it wasn't. As you can see from the data presented, there are times where a DS8700 might be more preferable than a DS8800, depending on the type of workloads you plan to deploy. IBM offers both, and will continue to support existing DS8700 and DS8800 units in the field for many years to come.
technorati tags: IBM, DS8700, DS8800, Wikibon, Hu Yoshida, David Merrill, Davud Floyer