The developerWorks Connections Platform is now in read-only mode and content is only available for viewing. No new wiki pages, posts, or messages may be added. Please see our FAQ for more information. The developerWorks Connections platform will officially shut down on March 31, 2020 and content will no longer be available. More details available on our FAQ. (Read in Japanese.)
Last month, the National Association of Broadcasters [NAB] had their big [2011 NAB Show]. Broadcast Engineering [announced the 2011 NAB Show Pick Hit winners]. The big news was that IBM's Linear Tape File System (LTFS) was a "Pick Hits" winner at this conference!
IBM introduced the Linear Tape File System last year, which I explained in my post [IBM Celebrates 10 Year Anniversary for LTO tape], and released it as open source to the rest of the Linear Tape Open [LTO] Consortium so that the entire planet can benefit from IBM's innovation. IBM presented a technology demonstration of its Linear Tape File System - Library Edition at the NAB conference, showing how this new IBM library offering of the file system can put mass archives of rich media video content at the users fingertips with the ease of library automation.
From left to right, here is Atsushi Nagaishi (Toshiba) and Shinobu Fujihara (IBM). Fujihara-san is from IBM's Yamato lab in Japan where some of the LTFS development was done. The Yamato Lab was not damaged by the [Earthquakes in Japan].
With the capabilities of LTFS, IBM has introduced an entirely new role for tape, as an attractive high capacity, easy to use, low cost and shareable storage media. LTFS can make tape usable in a fashion like removable external disk, a giant alternative to floppy diskettes, DVD-RW and USB memory sticks with directory tree access and file-level drag-and-drop capability. LTFS can allow the for passing of information around from one system or employee to another. And as for high video storage capacity, a 1.5TB LTO-5 cartridge can hold about 50 hours of XDCAM HD video!
A group photo of the global IBM LTFS team, from left to right, David Pease from IBM Almaden Research Center, Ed Childers from IBM Tucson, Shinobu Fujihara and Hironobu Nagura from IBM Japan.
IBM was once again #1 leader in Tape worldwide for the year 2010. With this exciting new win, tape is not just for backup and archive anymore!
Next week, I will be in New York City for the [IBM Storage Innovation Executive Summit].
technorati tags: IBM, LTFS, NAB, Atsushi Nagaishi, Toshiba, Shinobu Fujihara, David Pease, Ed Childers, Hironobu Nagura
Normally, when EMC fails, it is worth a giggle. Companies are run by humans, and nobody is perfect. However, their latest one, failing to defend their RSA SecurID two-factor website, is no laughing matter. Breaches like this undermine the trust needed for business and commerce to be done with Information Technology, so it affects the entire IT industry.
(FTC Disclosure: I do not work or have any financial investments in either EMC nor ENC Security Systems. Neither EMC nor ENC Security Systems paid me to mention them on this blog. Their mention in this blog is not an endorsement of either company or their products. Information about EMC was based solely on publicly available information made available by EMC and others. My friends at ENC Security Systems provided me an evaluation license for their latest software release so that I could confirm the use cases posed in this post.)
Of course, EMC did the right thing by making this breach public in an [Open Letter to RSA Customers]. While this may affect their revenues, as clients question whether they should do business with EMC, or affect their stock price, as investors question whether they should invest in EMC, they were very clear and public that the breach occurred. As far as I know, none of the executives of the RSA security division have stepped down. The disclosure of the breach was the right thing to do, and required by law from the [US Securities Exchange Commission]. This law was created to prevent companies from trying to hide breaches that expose external client information.
The breach does not affect RSA public/private key pairs used by IBM and most every other large company. Rather, this breach was targeted to RSA SecurID two-factor authentication. I explained two-factor authentication in my blog post [Day 5 Grid, SOA and Cloud Computing - System x KVM solutions], but basically it is an added level of security, requiring something you know (your password) with something you have (such as a magnetic card or key fob). Both are required to gain access to the system.
Breaches happen. Recently, [Hackers found vulnerabilities in the McAfee.com website]. Last month, fellow blogger Chuck Hollis from EMC had a blog post on [Understanding Advanced Persistent Threats (APT)] in the week leading up to their RSA Conference. It was precisely an APT that hit RSA, so the irony of this breach was not lost on the blogosphere. Perhaps Chuck's blog post gave hackers the idea to do this, like saying "I hope terrorists don't bomb this building that hold all of our chemical weapons..." or "I hope bank robbers don't rob this repository where we keep all the cash..."
(The sinister counter-theory, that EMC staged this breach as a marketing stunt to undermine trust in hybrid or public cloud offerings, such as those offered by IBM, Amazon or Salesforce.com, offers an interesting twist. While computer breaches in general are fodder for [Luddites] to argue we should not use computers at all, this particular breach could be used by EMC salesmen to encourage their customers to choose private cloud over hybrid cloud or public cloud deployments.  Given all the extra work that RSA SecurID customers have to now do to harden their environments, that would be in bad taste.)
Over on Mashable, Simon Crosby argues [Why the Cloud Is Actually the Safest Place for Your Data]. I am sure we have not heard the last of the implications of this RSA breach. For now, I have two recommendations for you.
Validate Backup Methodology

Today, March 31, is World Backup Day. This is because many viruses are triggered to operate on April 1. Just like checking the batteries in your smoke alarms every year, you should ensure that your backup methodology remains valid.

Back in 2008, I was a volunteer for the One Laptop Per Child (OLPC) initiative, and built an XS server to be used for Uruguay. I shipped [this baby off to school] to be the central server that all the student and teacher laptops connected to. It was the gateway to the Internet, as well as the [repository for the blogs of each student]. The blogs were accessible to the public, so that parents could read what their students were writing.

Unfortunately, this public access resulted in my little XS server being attacked by hackers, with IP addresses in Russia and China. Why anyone from either of those two countries wanted to ruin the hopes and dreams of small school children in Uruguay was beyond me. Fortunately, I had planned for remote administration. Backups were taken by me weekly to a second drive that was only mounted when I was dialed in to take the backup. The rest of the time, it was offline, so as not to be written to by hackers.

I also shipped along with the server a bootable DVD that contained a modified version of [System Rescue CD], scripts to start up SSHD daemon, and pre-populated for use with public/private RSA keys for me and eight other administrators located in various countries. To effect repairs, the local operator would reboot to the DVD, and then I could login via "ssh" and restore the operating system, programs and data. Sadly, this meant that the students might have lost some of their most recent blog posts since the last backup.

Please consider reviewing your own backup strategies. If your security were compromised, data was corrupted or lost, would you be able to recover from your backups?

Use Encryption where Appropriate

If you plan to travel this Summer, you may want to consider encryption to protect yourself. ENC Security Systems has just released their latest [Encrypt Stick] which is a USB memory stick pre-loaded with software that provides three features:

Encryption for your files
A secure web browser for accessing sensitive websites
Secure password manager

Hotel Lobby

Many hotels now offer computers for use by the guests. These are typically running some flavor of Windows operating system. Encrypt Stick comes with an EXE file that you can run to browse the web securely, and have access to your encrypted files and passwords, leaving no trace on the hotel lobby computer.

Friends and Family

What if you are visiting friends and family, and they have a Mac instead? No problem, as Encrypt Stick has a DMG file to use on Mac OS X operating system. While you may not be worried about your siblings hacking into your bank account, you may not want them necessarily seeing what sites you visited.

Airport Lounge

I have been to several airport lounges now that use Linux for their public computers. Makes sense to me, as there are fewer viruses for Linux, and updating Linux is relatively straightforward. However, Encrypt Stick does not support Linux. For my Linux-knowledgeable readers, you can build your own with [Unetbootin] bootable USB memory stick to launch your favorite Linux browser in memory on whatever system you are using. The [Gparted Magic] utility rescue tool includes [TrueCrypt] to encrypt your files. Lastly, you can use [MyPasswordSafe] to hold all of your passwords securely.

Several clients have asked if any of the IBM data-at-rest encrypted disks or tapes are affected by this breach. IBM uses AES encryption for the actual disk and tape media, but we do use RSA keys to encrypt the generated keys used on the TS1120 and TS1130 drives. However, these were not affected by the RSA SecurID breach, and your tapes are safely protected.
Advanced Persistent Threats, viruses and other malware are no laughing matter. If you are concerned about security, contact IBM to help you assess your current environment and help you plan a robust protection strategy.
technorati tags: IBM, EMC, ENC Security Systems, EncryptStick, RSA, SecurID, breach, APT, Chuck Hollis, OLPC, SysRescCD, UnetBootin, TrueCrypt, Gparted, TS1120, TS1130, AES
Continuing my coverage of the 30th annual [Data Center Conference]. we had a Solution Showcase booth open Monday, Tuesday and part of Wednesday.
Here is the IBM System z114 mainframe with David Ayd in his white lab coat.
Dana Grove in the white lab coat shows off the "IBM Watson" simulator to Steve Sams.
Here is a side view, to see how thin the "IBM watson" simulator is.
Across the aisle was the ever-popular IBM Portable Modular Data Center (PMDC)
We were conveniently positioned between the wine and dessert areas. The Solution Showcase is a great opportunity to catch up with the latest technologies and vendors.
technorati tags: IBM, z114, mainframe, David Ayd, Dana Grove, Steve Sams, PMDC
Continuing coverage of my week in Washington DC for the annual [2010 System Storage Technical University], I attended several XIV sessions throughout the week. There were many XIV sessions. I could not attend all of them. Jack Arnold, one of my colleagues at the IBM Tucson Executive Briefing Center, often presents XIV to clients and Business Partners. He covered all the basics of XIV architecture, configuration, and features like snapshots and migration. Carlos Lizarralde presented "Solving VMware Challenges with XIV". Ola Mayer presented "XIV Active Data Migration and Disaster Recovery".
Here is my quick recap of two in particular that I attended:
XIV Client Success Stories - Randy Arseneau

Randy reported that IBM had its best quarter ever for the XIV, reflecting an unexpected surge shortly after my blog post debunking the DDF myth last April. He presented successful case studies of client deployments. Many followed a familiar pattern. First, the client would only purchase one or two XIV units. Second, the client would beat the crap out of them, putting all kinds of stress from different workloads. Third, the client would discover that the XIV is really as amazing as IBM and IBM Business Partners have told them. Finally, in the fourth phase, the client would deploy the XIV for mission-critical production applications.

A large US bank holding company managed to get 5.3 GB/sec from a pair of XIV boxes for their analytics environment. They now have 14 XIV boxes deployed in mission-critical applications.
A large equipment manufacturer compared the offerings among seven different storage vendors, and IBM XIV came out the winner. They now have 11 XIV boxes in production and another four boxes for development/test. They have moved their entire VMware infrastructure to IBM XIV, running over 12,000 guest instances.
A financial services company bought their first XIV in early 2009 and now has 34 XIV units in production attached to a variety of Windows, Solaris, AIX, Linux servers and VMware hosts. Their entire Microsoft Exchange was moved from HP and EMC disk to IBM XIV, and experienced noticeable performance improvement.
When a University health system replaced two competitive disk systems with XIV, their data center temperature dropped from 74 to 68 degrees Fahrenheit. In general, XIV systems are 20 to 30 percent more energy efficient per usable TB than traditional disk systems.
A service provider that had used EMC disk systems for over 10 years evaluated the IBM XIV versus upgrading to EMC V-Max. The three year total cost of ownership (TCO) of EMC's V-Max was $7 Million US dollars higher, so EMC counter-proposed CLARiiON CX4 instead. But, in the end, IBM XIV proved to be the better fit, and now the customer is happy having made the switch.
The manager of an information communications technology service provider was impressed that the XIV was up and running in just a couple of days. They now have over two dozen XIV systems.
Another XIV client had lost all of their Computer Room Air Conditioning (CRAC) units for several hours. The data center heated up to 126 degrees Fahrenheit, but the customer did not lose any data on either of their two XIV boxes, which continued to run in these extreme conditions.

Optimizing XIV Performance - Brian Cormody

This session was an update from the [one presented last year] by Izhar Sharon. Brian presented various best practices for optimizing the performance when using specific application workloads with IBM XIV disk systems.

Oracle ASM: Many people allocate lots of small LUNs, because this made sense a long time ago when all you had was just a bunch of disks (JBOD). In fact, many of the practices that DBAs use to configure databases across disks become unnecessary with XIV. Wth XIV, you are better off allocating a few number of very large LUNs from the XIV. The best option was a 1-volume ASM pool with 8MB AU stripe. A single LUN can contain multiple Oracle databases. A single LUN can be used to store all of the logs.
VMware: Over 70 percent of XIV customers use it with VMware. For VMFS, IBM recommends allocating a few number of large LUNs. You can specify the maximum of 2181 GB. Do not use VMware's internal LUN extension capability, as IBM XIV already has thin provisioning and works better to allow XIV to do this for you. XIV Snapshots provide crash-consistent copies without all the VMware overhead of VMware Snapshots.
SAP: For planning purposes, the "SAPS" unit equates roughly to 0.4 IOPS for ERP OLTP workloads, and 0.6 IOPS for BW/BI OLAP workloads. In general, an XIV can deliver 25-30,000 IOPS at 10-15 msec response time, and 60,000 IOPS at 30 msec response time. With SAP, our clients have managed to get 60,000 IOPS at less than 15 msec.
Microsoft Exchange: Even my friends in Redmond could not believe how awesome XIV was during ESRP testing. Five Exchange 2010 servers connected two a pair of XIV boxes using the new 2TB drawers managed 40,000 mailboxes at the high profile (0.15 IOPS per mailbox). Another client found four XIV boxes (720 drives) was able to handle 60,000 mailboxes (5GB max), which would have taken over 4000 drives if internal disk drives were used instead. Who said SANs are obsolete for MS Exchange?
Asynchronous Replication: IBM now has an "Async Calculator" to model and help design an XIV async replication solution. In general, dark fiber works best, and MPLS clouds had the worst results. The latest 10.2.2 microcode for the IBM XIV can now handle 10 Mbps at less than 250 msec roundtrip. During the initial sync between locations, IBM recommends setting the "schedule=never" to consume as much bandwidth as possible. If you don't trust the bandwidth measurements your telco provider is reporting, consider testing the bandwidth yourself with [iPerf] open source tool.
Several members of the XIV team thanked me for my April 5th post [Double Drive Failure Debunked: XIV Two Years Later]. Since April 5th, IBM has sold more XIV units this quarter than any prior quarters. I am glad to have helped!
technorati tags: IBM, Technical University, XIV, HP, EMC, CLARiiON, VMAX, TCO, CRAC, JBOD, SAP, Oracle, ASM, Microsoft Exchange, ESRP
In preparation for my [upcoming trip to Australia and New Zealand], I decided to upgrade my smartphone. My service provider T-Mobile offered me the chance to try out any new phone for 14 days for only ten dollar re-stocking fee. For the past 16 months, I have used the Google G1 phone. This is based on a storage-optimized Android operating system, based on open source Linux, with applications processed in a storage-optimized virtual machine called Dalvik, based on open source Java. According to Wikipedia, Android-based phones have #1 market share [outselling both BlackBerry OS and Apple iOS phones]. There are over 70 different companies using Android, driven away from the proprietary interfaces from Apple, BlackBerry and Microsoft.
Since I was already familiar with the Android operating system, I chose the Samsung Galaxy S Vibrant. I liked my G1, but it had only a small amount of internal memory to store applications. The G1 supported an external Micro SDHC card, but this only was used for music and photos. There was no way to install applications on the memory card, so I found myself having to uninstall applications to make room for new ones. By contrast, the Vibrant has 16GB internal memory, plenty of room for all applications, and supports Micro SDHC up to 32GB in size. My model can pre-installed with a 2GB card, of which 1.4GB is consumed by James Cameron's full-length movie Avatar. On the G1, swapping out memory cards was relatively easy. On the Vibrant, you have to take the phone apart to swap out cards, so I won't be doing that very often. I will probably just get a 32GB card and leave it in there permanently.
(FTC disclosure: I work for IBM. IBM has working relationships with Oracle, Google, and lots of other companies. IBM offers its own commercial version of Java related tools. I own stock in IBM, Apple, Google. I have friends and family who work at Microsoft. My review below is based entirely on my own experience of my new Samsung Galaxy S Vibrant phone. Samsung has created different models for different service providers. The T-Mobile Vibrant is an external USB storage device with telephony capabilities, comparable to the AT&T Captivate, Verizon Fascinate, or Sprint Epic 4G. The majority of mobile phones in the world contain IBM technology. This post is not necessarily an endorsement for Samsung over other smartphone manufacturers, nor T-Mobile over other service providers. I provide this information in context of storage optimization, state-of-the-art for smartphones in general, and disputes related to software patents between companies. I hold 19 patents, most of which are software patents.)
When Oracle acquired Sun Microsystems, it inherited stewardship of Java. Java is offered in two flavors. Java Standard Edition (SE) for machines that are planted firmly on or below your desk, and Java Micro Edition (ME) for machines that are carried around. Most Java-based phones limit themselves to Java ME, but Google decided to base its smartphones on the more powerful Java SE, but then optimize for the limited storage and computing resources. These two levels of Java have radically different licensing terms and conditions, so Larry Ellison of Oracle cried foul. On The Register, Gavin Clarke has an excellent article with details of the Oracle-vs-Google complaint. Daniel Dilger opines that Oracle [might kill Google's Android and software patents all at once]. Fellow blogger Mark Twomey (EMC) on his StorageZilla blog, argues that [it's not about Android phones, but Android everything].
My Vibrant is roughly the size of a half-inch stack of 3x5 index cards in my hand. In my humble opinion, the problem is the grey area between mobile phone and the desktop personal computer. Laptops, netbooks, iPads, tablet computers, eBook readers, and smartphones fall somewhere in between. At what point do you stop licensing Java SE and start licensing Java ME instead?
Let's take a look at all the stuff my new Samsung Vibrant can do, and let you decide for yourself. I have 140 applications installed, which I can access alphabetically. I also have up to seven screens which I can fill with application icons and widgets to simplify access. The screen measures about 4 inches diagonally. Click on each image below to see the full 480x800 resolution.
Each screen has five rows. On my first screen, I have the first two rows related to photography. This includes a camera, camcorder, bar-code scanner and visual search engine (Google Goggles). I am not happy with Flickr Droid app in uploading photos, so I might need to find another app for that. Other reviews I read complain that the Vibrant's camera does not have am LED flash for night time shots, and that there is no forward facing camera to do Skype or FaceTime-style videoconferencing. I think it is fine the way it is. An interesting feature of the camera app is that it uses the volume up/down buttons to zoom in and out.

The next two rows related to books and documents. In addition to both Amazon's Kindle and Barnes and Noble's Nook eBook readers, I have Dropbox to make it easy to transfer files between all my machines, a camera-scanner that generates PDFs, and ThinkFree, which appears to be based on OpenOffice open source software to create, view and edit WORD documents, EXCEL spreadsheets and PowerPoint presentations.
My second screen is for music and video entertainment.

The top row is consumed by a single widget for [Pandora], an internet radio station, not to be confused with the Pandora moon that the movie Avatar is based on. I-heart-radio, Slacker, and Last.fm are other internet radio stations. Be careful when roaming in another country, as the $15-per-MB transfer fees can really add up. While the Galaxy S has a built-in FM radio, T-Mobile has decided to disable this feature in its Vibrant model, in favor of internet-based radio stations.

I am glad the Samsung Vibrant uses the same 3.5mm combo audio jack that I mentioned in my blog post about my [New ThinkPad T410]. This allows me to use the same headset for both my laptop and my cell phone.

For those who use Microsoft Windows Media Player v10 or above, this phone lets you transfer over your songs, playlists and videos via the USB cable in PMC mode. The TED application shows 18-minute videos of lectures at conferences that focus on Technology, Entertainment and Design. MobiTV offers live streaming of popular Television shows, normally ten dollars monthly, but I got a free 30-day trial in the deal.
Screen 3 is focused on travel. I have a 30-day free trial of GoGo, the new Wi-Fi networks on various airlines. Hopefully, I will get to try this out on my upcoming flights. When GoGo is not available, the Extended Controls widget allows me to turn the phone into "Airplane mode", which would allow me to read eBooks and listen to pre-recorded music and videos stored on my phone. Most of the apps on Android are free, but Extended Controls, shown here in the top row, cost me money but well worth it. With this you can customize different size widgets with all the appropriate setting toggles you want. On this one, I can toggle Wi-Fi, Data transfer, GPS positioning, and Airplane mode.

Google Maps, Google Places and Google Sky Map are all well represented here. I also like TripIt, which is a free Software-as-a-Service for managing your trip itenerary, and syncs up with their online website. Currency and Language translation can help on international travel. The standard Alarm Clock also includes Time Zone conversion as well.
My screen 4 is my central home page. There are four buttons on the bottom of the phone: Menu, Home, Back, and Search. Hit the "Home" button on any screen, and it jumps immediately to Screen 4. From here, I can get to any of the other screens with just swiping my finger across the surface. Therefore, I chose to keep this screen simple.

For meetings, I have a big clock, and an Extended Controls widget to set my phone on silent/vibrate mode, and show my battery status. I put icons here for apps that I might need in a hurry, like Camera, Evernote, or Shazam. For those not familiar with Shazam, it will listen to the microphone for whatever song is playing in the background where you are, and it will identify the song's title and artist.

The "Starred" folder lists those five or so contacts that I have marked with a "star" to be on this short list. From here, I can call or send them an SMS text message.
Screen 5 is for office productivity. I have a 2x2 widget from Astrid to list my to-do items. I have a 1x2 widget showing my last call. My calendar syncs up with my Google calendar online.

The Locale widget allows me to change which on-screen keyboard to use. There is the standard Android keyboard which allows voice-to-text input, the Samsung keyboard that offers [XT9 mode], and the new ["Swype"] keyboard that allows you to write words quickly with squiggles swiped across the keyboard. The Swype is incredible accurate when I am typing in English. When I am communicating in Spanish, it gets in the way, spell-checking when it shouldn't.
Screen 6 is for my social media, news and search facilities. I have HootSuite Lite for managing my Twitter and Facebook posts. For news junkies, NPR, USA Today and CNN all offer mobile versions.

I have a selection of browsers, including Opera Mini 5, and Dolphin Browser HD. The latter offers a variety of special add-ons similar to Firefox on a desktop system. I also have specialty search sites, including the Internet Movie Database (IMDB), Fandango for local movie times, and Dex for local phone listings.
Screen 7 is for system administration. The top row is another "Extended Controls" widget, this time to change between 2G and 3G networks, brightness setting, set the the time-out interval for when the screen should automatically shut off, and a "stay awake" to turn off the screen saver altogether.

I can do some really powerful things here. For example, I have an application to let me use secure shell (ssh) to access our systems at work. I also can "tether" my laptop to my Vibrant, for those few times when Wi-Fi is not available, to let my laptop use the phone's signal as a dial-up modem. It is slower than Wi-Fi, but might be just what I need in a pinch.

The bottom row is the same across all seven screens, which you can customize. I left the bottom row in its original default, with options to make phone calls, look up contacts, and send text messages. The bottom right corner launches a list of all applications alphabetically, to access those not on my seven main screens.
Just in case I switch to a local SIM card while abroad in another country, I asked T-mobile to unlock my phone, which they happily did at no additional charge. For example, while I am in Australia, I can either leave my T-Mobile USA chip in the phone, and pay roaming charges per minute, or I can purchase a SIM chip from a local phone company with pre-paid minutes. This often includes unlimited free incoming calls to a local Australian phone number, and voicemail.
Unlocking the phone to use different SIM cards is different than "jailbreaking", a term that refers to Apple's products. For Android phones, jailbreaking is called "rooting", as the process involves getting "root" user access that you normally don't have. The only reason I have found to have my phone "rooted" was to take these lovely screen shots, using the "Screen Shot It" application. This is another application that I paid for. I used the free trial for a few screenshots first to check it out, liked the results, and bought the application.
So, this new smartphone looks like a keeper. I got a screen protector to avoid scratching, and a two-piece case that snaps around the phone to give it more heft. All my chargers are "Mini USB" for my old G1 phone, and this new Vibrant phone is "Micro USB" instead, so I had to order new ones for my car, my office, and for my iGo (tip A97).
This review is more to focus on the fact that the IT industry is changing, and what was traditionally performed on personal computers are now being done on new handheld devices. Android provides a platform for innovation and healthy competition. Let's all hope Oracle and Google can work out their differences amicably.
I have arrived safely to San Francisco, and was able to check-in at the hotel, pick up my registration badge for Oracle OpenWorld 2011, and attend the first keynote session. This is the largest Oracle OpenWorld event to-date, with over 45,000 attendees from 117 different countries. There are 520,000 square feet of exhibition floor, and over 2,400 educational sessions. The conference is spread across the different buildings of the Moscone center, as well as nearby hotels. On average, attendees will walk seven miles during the week.
Larry Ellison was the keynote speaker for this first kick-off session. He focused almost exclusively on server and storage hardware. He feels that business is all about moving data, not doing integer math.
Exadata

At the beginning of 2011, Oracle had only sold about 1,000 Exadata, but they have a sales target to sell an additional 3,000 Exadata boxes by year end. The Exadata offers up to 10x columnar compression, and has 10x faster bandwidth (40Gbps Infiniband versus 4Gbps FCP). If you have a 100TB database, it would take up only 10TB of disk with this approach. He claims that the 90TB of disk you don't have to buy can then be used to buy more DRAM and/or Flash SSD.

(Realistically, since SSD is 15x more expensive than spinning disk, you can only purchase about 6TB of Flash for the 90TB you save on disk!)

Larry claims the design point for Exadata and Exalogic was to offer a system that was more powerful than IBM's fastest P795 computer, but cheaper than commodity x86 hardware. His secret is to "Parallel everything" for faster performance, and no single points of failure (SPOF). Exadata offers up to 10-50x faster query, and 4-10x faster OLTP. To keep costs low, Exadata uses all commodity hardware except the Infiniband. He cited various customer examples:

A company replaced 36 Teradata with 3 Exadata and result was application was 8x faster.
Banco Chile 9x faster than previous system
Deutsche Post 60x faster
Sogetti gets 60x faster backups.
French bank BNP Paribas 17x faster and no change to applications.
Proctor & Gamble 18x faster
Merck 5x faster
Turkcell 250TB compressed to 25TB, 10x faster

The problem was that in each example, he said what it was compared against was the old previous system, which varies and could have been an older Sun system, or an old system from HP, IBM or Dell. Perhaps it was a freudian slip, but Larry mistakenly said "Paralyze" your applications, when he probably meant to "Parallelize".

SPARC Supercluster

Of all their 380,000 Oracle customers, 70 percent have SPARC/Solaris and/or Linux. Last week, Oracle announced the new SPARC-T4, which Larry claimed was 5x faster than the previous SPARC-T3. Larry feels that for the first time ever, a non-IBM CPU can challenge the long-standing rein of the IBM POWER series processor. Larry admitted that the IBM POWER7 chip actually did some tasks faster than the SPARC-T4, so his work is not yet done, but they plan to offer a new SPARC-T5 next year that will be 2x better than the SPARC-T4.

Larry compared the I/O bandwidth of serv ers based on SPARC-T4, compared to POWER7, and found that the SPARC-T4 has double the I/O bandwidth, for a cost that was only about 1/4 the cost of a mainframe. IBM offers both. POWER7-based servers for CPU-intensive workloads, and System z (S/390)-based systems for I/O-intensive workloads. Larry feels that even though POWER7 is superior than SPARC-T4 for mathematical calculations, all business applications are focused on I/O-bandwidth to move data, not computations.

(Fellow IBMer Carter O'Mahoney has already posted a response on his post [Challenging Oracle's SPARC SuperCluster Claims].)

Larry claims the new SPARC-T4 can do 1.2 million IOPS. He uses 40 Gbps Infiniband instead of traditional SAN-attached FCP solutions.

Exalytics

A new "box" called Exalytics, combines their commodity hardware platform with a hueristic adaptive in-memory cache, their latest "me-too" solution that compares with what IBM already offers in [IBM SolidDB]. In fact, their me-too is not even internally developed, but rather the result of an acquisition of a company called "Times Ten". I thought it was interesting that the only piece of Oracle software mentioned during Larry's 90-minute speach, was this piece of acquired technology. The new Exalytics product run on a small rack and grow, analyzing relational data, non-relational OLAP, as well as unstructured documents. The result is what Larry called "the Speed of Light".
He also mentioned that Bob Shimp would kick-off the Cloud later in the week. Given that Larry himself thought that Cloud was a stupid, over-marketed term that nobody has deployed over the past few years, to a complete believer, claiming that over 20 live demos will be given this year on Cloud.
Perhaps the funniest quote was his motivation to use Infiniband as the interconnect
"Ethernet was invented by Xerox when I was a child."
-- Larry Ellison
Here are some sessions that IBM is featuring on Monday. Note the first two are Solution Spotlight sessions at the IBM Booth #1111 where I will be most of the time.
IBM Cloud Computing Solutions for Oracle

10/03/11, 10:30 a.m. – 11:00 a.m., Solution Spotlight, Booth #1111 Moscone South
Presenter: Chuck Calio,Technical Strategist, IBM Systems & Technology Group
IBM is recognized in the IT industry as one of the "Big 6" cloud providers, along with Amazon, Google, Microsoft, Salesforce and Yahoo. This session will highlight how IBM Cloud offerings apply to Oracle applications.

Lowering Cost and increasing efficiency in your long term support of Oracle EPM and BI

10/03/11, 3:00 p.m. -- 3:30 p.m., Solution Spotlight, Booth #1111 Moscone South
Presenter: Matthew Angelstad, IBM Global Business Solutions - Oracle EPM (Hyperion) Practice Lead
In 2007, Oracle acquired Hyperion, a leading provider of performance management software. This session will show how IBM helps Oracle clients unify Enterprise Performance Management (EPM) and Business Intelligence (BI) in a cost-effective manner, supporting a broad range of strategic, financial and operational management processes.

Application Strategy: Charting the Course for Maximum Business Value

10/03/11, 3:30 p.m. – 4:30 p.m., OpenWorld session #39061
Presenter: Mike Marchildon, IBM
The industry is undergoing a shift from single Enteprise Resource Planning (ERP) application to second-generation platforms containing diverse yet interdependent systems. This shift presents opportunities and challenges for both IT and the business.
technorati tags: IBM, Oracle, Larry Ellison, keynote, SPARC-T4, Exadata, Exalogic, Exalytics, POWER7
Well, it's Tuesday again, and that means more IBM announcements!
Today, IBM announced the enhanced IBM System Storage DS3200 disk system.It is in our DS3000 series, the DS3200 is SAS-attach, DS3300 is iSCSI-attach, and DS3400 is FC-attach. All of them support up to 48 drives, which can be a mix of SAS and SATA drives.
The DS3200 supports the following operating environments (see IBM's [Interop Matrix] for details):
Microsoft Windows
Linux (both Linux-x86 and Linux on POWER)
AIX
Sun Solaris
VMware
Novell NetWare
With today's announcements, the DS3200 can be used to boot from, as well as contain data. This is ideal to combine with IBM BladeCenter. With the IBM BladeCenter you can have 14 blades, either x86 or POWER based processors, attached to a DS3200 via SAS switch modules in the back of the chassis.
Let's take an example of how this can be used for a Scale-Out File Services[SoFS] deployment.
Servers

First, we start with servers. We can have either three [IBM System x3650] servers, but this would use up all six of the direct-attach ports. Instead, we'll choose the [BladeCenter H chassis], with three HS21 blades for SoFS, and that leaves us with eleven empty blade slots we could put in a management node, or other blades to run applications.

SAS connectivity modules

The IBM BladeCenter [SAS Connectivity Module] allows the blade servers to connect to a DS3200. Two of them fit right in the back of the BladeCenter chassis, providing full redundancy without consuming additional rack space.

DS3200 and EXP3000 expansion drawers

We'll have one DS3200 controller with twelve internal drives, and three expansion EXP3000 drawers with twelve drives each, for a total of 48 drives. Using 1TB SATA, this would be 48 TB raw capacity.
The end result? You get a 48TB NAS scalable storage solution, supporting up to 7500 concurrent CIFS and NFS users, with up to 700 MB/sec with large block transfers. By using BladeCenter, you can expand performance by adding more blades to the Chassis, or have some blades running SAP or Oracle RAC have direct read/write access to the SoFS data.
Just another example on how IBM can bring together all the components of a solution to provide customer value!
technorati tags: IBM, DS3200, BladeCenter, Linux, AIX, Windows, Solaris, VMware, NetWare, POWER, SAS, EXP3000, SATA, CIFS, NFS, SoFS
[
Read More
]
This week, I am in Melbourne, Australia for the [IBM System x and System Storage Technical Symposium]. Here is a recap of Day 1:
Keynote Session

The keynote was led by Phil Tasker, IBM Business Unit Executive (BUE) for STG Education Programs in Growth Markets, then Joe Screnci, head of IBM Storage Sales for Australia. IBM is in the Top 10 Training Hall of Fame, and conducts over 40,000 classes worldwide, resulting in over 1.3 million student days of instructions. IBM Systems Lab and Training technical hosts over three dozen conferences like this one every year.

Next was Clod Barrera, Distinguished Engineer and Chief Technical Strategist for the IBM System Storage product line. He covered future trends in storage as they relate to IBM's Smarter COmputing initiative.




Storage for the Clouds

Clod Barrera presented this break-out session on Cloud Storage. He covered why clouds matter, the various types and purposes of cloud, technology and architectures, and where IBM is headed to support this trend.

Storage for Cloud computing was $1 Billion USD business in 2010, and is expected to grow 32 percent CAGR through, compared to 3.8 percent for non-cloud storage. Clod estimates that 10 to 15 percent of all storage will be in cloud deployments by 2015. Of this storage, analysts expect 50 percent in private clouds, and the other 50 percent in public clouds. For private clouds, clients are looking to "Cloudify" their existing IT infrastructures. For public clouds, the projects are mostly green field.

IBM is also looking to the "arms dealer" of choice for Telcos and other companies looking to launch their own Cloud Services. IBM has a Cloud Services Provider Platform (CSP2) specifically to provide all the tools and technologies needed to make this possible.

Last month, IBM launched several new solutions for Cloud. The IBM Starter Kit for Cloud will help existing IT environments adopt cloud technologies. The IBM Service Agility Accelerator for Cloud is available for more advanced deployments. IBM Service Delivery Manager (ISDM) integrates a collection of software to provide complete integrated service management. IBM CloudBurst provides an integrated hardware-and-software stack for both x86 and POWER chipsets.

Multi-tenancy is also a big issue, and this varies depending on deployment model: IaaS, PaaS, or SaaS. Multi-tenancy is needed to help divide up management tasks, and to ensure that shared resources are paid for and meet SLA requirements accordingly.

Clod feels there are good reasons to use high performance, transactional SAN storage for VMware environments, versus NAS which many people consider simpler to deploy. IBM is also active in open standards, including SNIA's Cloud Data Management Interface [CDMI].




Journey to the Private Cloud

Gary Luke from Brocade provided this session on IBM's SAN384B-2 and SAN768B-2 SAN directors. Brocade is one of IBM's suppliers for SAN switches, and thanks to TRILL being adopted last August by IETF, supports multi-hop FCoE configurations! However, Gary did not talk about FCoE, but rather native FCP and FICON support in these new directors.

According to VMware, only 30 percent of x86 workloads are virtualized by any hypervisor. Gary feels that server virtualization and the use of Solid-State Drives (SSD) in disk arrays are driving existing 8 Gbps SAN to upgrade to 16 Gbps. Gary feels that Fibre-Channel based SANs are best positioned to handle unpredictable peaks in a 24-by-7 world.

The SAN384B-2 can house up to 256 ports (8 Gbps) or 192 ports (16 Gbps) in four slots, 9U chassis. The SAN768B-2 can handle twice these, in a 12U chassis. The nice thing about the 16Gbps ports is that they can auto-negotiate down to 10, 8, 4 and 2 Gbps. This is far better than typical N-2 support, often referred to as the speeds supported, such as 4/2/1 and 8/4/2. An upcoming FOS release will allow people with previous generation SAN384B-1/SAN768B-1 directors to move their 8Gbps blades over to the new SAN384B-2/SAN768B-2 generation models.

Since most CWDM and DWDM only support maximum 10 Gbps FC and 10GbE, Brocade's 16Gbps can automatically drop down to 10 Gbps for direct attachment to CWDM/DWDM, rather than having a step-down box normally required.

A major advancement is the change from copper to optical "Inter-Chassis Links" (ICL). Unlike Inter-switch links (ISL) that use up SAN ports on each box, the ICL is faster, more efficient and does not consume ports. Normally, clients would connect two directors together, but now you can connect up to six chassis together! For example, you can have four SAN368B-2 connected to your host servers, ICL attached to two SAN768B-2, that are then connected to your disk and tape storage devices. The fiber optic ICL allow for up to 50 meters distance. Combining six chassis together would allow the complex to support over 3,000 ports (8 Gbps) or 2,300 ports (16 Gbps).

Brocade supports encryption of data in-flight. Why is this important? Gary suggested we watch this [YouTube video from Australia's Today Tonight show]:

The SAN384B-2 and SAN768B-2 supports "virtual SAN" logical switches, traffic isoliation (TI) zones, fabric-assigned WWNNs, and fabric-based QoS.

Lastly, Brocade offers a free utility called [SANhealth] that will gather data from your b-type, m-type and even Cisco MDS-based SAN. The data can then be sent to Brocade for analysis, and Brocade will then email back some nice Visio graphs, spreadsheets and other analysis results on the health of your SAN.
technorati tags: IBM, Melbourne, Australia, Phil Tasker, Joe Screnci, Clod Barrera, Gary Luke, Brocade, SAN384B-2, SAN768B-2, Cloud+Storage, SAN, FCP, ICL
Continuing my week in Washington DC for the annual [2010 System Storage Technical University], I presented a session on Storage for the Green Data Center, and attended a System x session on Greening the Data Center. Since they were related, I thought I would cover both in this post.
Storage for the Green Data Center

I presented this topic in four general categories:

Drivers and Metrics - I explained the three key drivers for consuming less energy, and the two key metrics: Power Usage Effectiveness (PUE) and Data Center Infrastructure Efficiency (DCiE).
Storage Technologies - I compared the four key storage media types: Solid State Drives (SSD), high-speed (15K RPM) FC and SAS hard disk, slower (7200 RPM) SATA disk, and tape. I had comparison slides that showed how IBM disk was more energy efficient than competition, for example DS8700 consumes less energy than EMC Symmetrix when compared with the exact same number and type of physical drives. Likewise, IBM LTO-5 and TS1130 tape drives consume less energy than comparable HP or Oracle/Sun tape drives.
Integrated Systems - IBM combines multiple storage tiers in a set of integrated systems managed by smart software. For example, the IBM DS8700 offers [Easy Tier] to offer smart data placement and movement across Solid-State drives and spinning disk. I also covered several blended disk-and-tape solutions, such as the Information Archive and SONAS.
Actions and Next Steps - I wrapped up the talk with actions that data center managers can take to help them be more energy efficient, from deploying the IBM Rear Door Heat Exchanger, or improving the management of their data.

Greening of the Data Center

Janet Beaver, IBM Senior Manager of Americas Group facilities for Infrastructure and Facilities, presented on IBM's success in becoming more energy efficient. The price of electricity has gone up 10 percent per year, and in some locations, 30 percent. For every 1 Watt used by IT equipment, there are an additional 27 Watts for power, cooling and other uses to keep the IT equipment comfortable. At IBM, data centers represent only 6 percent of total floor space, but 45 percent of all energy consumption. Janet covered two specific data centers, Boulder and Raleigh.

At Boulder, IBM keeps 48 hours reserve of gasoline (to generate electricity in case of outage from the power company) and 48 hours of chilled water. Many power outages are less than 10 minutes, which can easily be handled by the UPS systems. At least 25 percent of the Computer Room Air Conditioners (CRAC) are also on UPS as well, so that there is some cooling during those minutes, within the ASHRAE guidelines of 72-80 degrees Fahrenheit. Since gasoline gets stale, IBM runs the generators once a month, which serves as a monthly test of the system, and clears out the lines to make room for fresh fuel.

The IBM Boulder data center is the largest in the company: 300,000 square feet (the equivalent of five football fields)! Because of its location in Colorado, IBM enjoys "free cooling" using outside air temperature 63 percent of the year, resulting in a PUE of 1.3 rating. Electricity is only 4.5 US cents per kWh. The center also uses 1 Million KwH per year of wind energy.

The Raleigh data center is only 100,000 Square feet, with a PUE 1.4 rating. The Raleigh area enjoys 44 percent "free cooling" and electricity costs at 5.7 US cents per kWh.  The Leadership in Energy and Environmental Design [LEED] has been updated to certify data centers.  The IBM Boulder data center has achieved LEED Silver certification, and IBM Raleigh data center has LEED Gold certification.

Free cooling, electricity costs, and disaster susceptibility are just three of the 25 criteria IBM uses to locate its data centers. In addition to the 7 data centers it manages for its own operations, and 5 data centers for web hosting, IBM manages over 400 data centers of other clients.
It seems that Green IT initiatives are more important to the storage-oriented attendees than the x86-oriented folks. I suspect that is because many System x servers are deployed in small and medium businesses that do not have data centers, per se.
technorati tags: IBM, Technical University, Green Data Center, PUE, DCiE, Free Cooling, ASHRAE, LEED, SSD, Disk, Tape, SONAS, Archive
On Wikibon, David Floyer has an article titled [SAS Drives Tier 1 to New Levels of Green] that focuses on the energy efficiency benefits of newer Serial-Attach SCSI (SAS) drives over older Fibre Channel (FC) drives. This makes sense, as R&D budgets have been spent on making newer technologies more "green".
Fellow blogger Hu Yoshida (HDS) encourages people to [Invest in the Future with SAS, SATA and SFF], referring to Figure 1.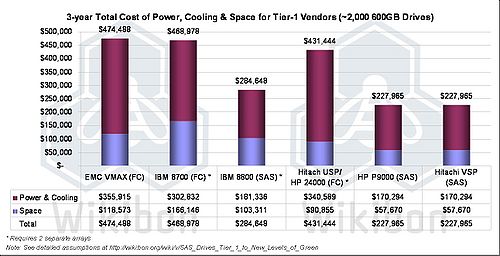 Of course, people might consider this an [apples-to-oranges] comparison. Not only are we changing from FC to SAS technology, we are also changing from 3.5-inch drives to small form factor (SFF) 2.5-inch drives. It seems odd to specify 2000 drives, when only two of the five scale up to that level. Few systems in production, from any vendor, have more than 1000 drives, so it would have seemed that would have been a fairer comparison.
However, Hu's conclusion that the combination of SAS and SFF provides better performance and energy efficiency for both IBM DS8800 and HDS VSP than FC-based alternatives from any vendor seems reasonably supported by the data.
Meanwhile, fellow blogger David Merrill (HDS) pokes fun at IBM DS8800 in Figure 2 in his post [Winner o' the green]. This second comparison was for 4PB of raw capacity, which 4 of the 5 can handle easily using 2TB SATA drives, but the DS8800 is based on SAS technology and does not support 2TB SATA drives. A performance-oriented configuration with four distinct DS8800 boxes employing 600GB SAS drives is used instead, causing the data for the DS8800 to stick out like a sore thumb, or perhaps more intentionally as a middle finger.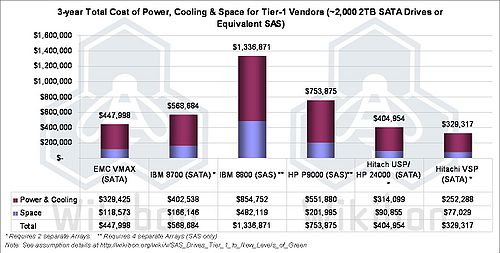 The main take-away here is that IBM offers both the DS8700 for capacity-optimized workloads, and the DS8800 for performance-optimized workloads. Some competitors may have been spreading FUD that the DS8700 was withdrawn last month, it wasn't. As you can see from the data presented, there are times where a DS8700 might be more preferable than a DS8800, depending on the type of workloads you plan to deploy. IBM offers both, and will continue to support existing DS8700 and DS8800 units in the field for many years to come.
technorati tags: IBM, DS8700, DS8800, Wikibon, Hu Yoshida, David Merrill, Davud Floyer