The developerWorks Connections platform will be sunset on December 31, 2019. On January 1, 2020, this blog will no longer be available. More details available on our FAQ.
In my presentations in Australia and New Zealand, I mentioned that people were re-discovering the benefits of removable media. While floppy diskettes were convenient way of passing information from one person to another, they unfortunately did not have enough capacity. In today's world, you may need Gigabytes or Terabytes of re-writeable storage with a file system interface that can easily be passed from one person to another. In this post, I explore three options.
Cirago CDD2000 Docking Station

The good folks over at [Cirago International Ltd.] sent me a cute little [CDD2000 docking station] for evalution.

(FCC Disclaimer: I work for IBM, and IBM has no business relationship with Cirago at the time of this writing. Cirago has not paid me to mention their product, but instead provided me a free loaner that I promised to return to them after my evaluation is completed. This post should not be considered an endorsement for Cirago's products. List prices for Cirago and IBM products were determined from publicly available sources for the United States, and may vary in different countries. The views expressed herein may not necessarily reflect the views and opinions of either IBM or Cirago.)

| | |
| --- | --- |
| | I took a few photos so you can see what exactly this device looks like. Basically, it is a plastic box that holds a single naked disk drive. It has four little rubber feet so that it does not slip on your desk surface. |

| | |
| --- | --- |
| The inside is quite simple. The power and SATA connections match those of either a standard 3.5 inch drive, or the smaller form factor (SFF) 2.5 inch drive. However, to my dismay, it does not handle EIDE drives which I have a ton of. After taking apart six different computer systems, I found only one had SATA drives for me to try this unit out with. | |

| | |
| --- | --- |
| | The unit comes with a USB cable and AC/DC power adapter. In my case, I found the USB 3.0 cable too short for my liking. My tower systems are under my desk, but I like keeping docking stations like this on the top of the desk, within easy reach, but that wasn't going to happen because the USB cable was not long enough. |

| | |
| --- | --- |
| Instead, I ended up putting it half-way in between, behind my desk, sitting on another spare system. Not ideal, but in theory there are USB-extension cables that probably could fix this. Here it is with the drive inside. I had a 3.5 inch Western Digital [1600AAJS drive] 160 GB, SATA 3 Gbps, 8 MB Cache, 7200 RPM. | |

To compare the performance, I used a dual-core AMD [Athlon X2] system that I had built for my 2008 [One Laptop Per Child] project. To compare the performance, I ran with the drive externally in the Cirago docking station, then ran the same tests with the same drive internally on the native SATA controller. Although the Cirago documentation indicated that Windows was required, I used Ubuntu Linux 10.04 LTS just fine, using the flexible I/O [fio] benchmarking tool against an ext3 file system.

Sequential Write - a common use for external disk drive is backup.
Random read - randomly read files ranging from 5KB to 10MB in size.
Random mixed - randomly read/write files (50/50 mix) ranging from 5KB to 10MB in size.

| | | | |
| --- | --- | --- | --- |
| Workload | Metric | Internal | External |
| Sequential Write | Throughput IOPS | 1119 | 1044 |
|   | Latency (msec) | 0.866 ms | 0.948 ms |
|   | Bandwidth (KB/s) | 16900 | 14400 |
| Random Read | Throughput (IOPS) | 164 | 119 |
|   | Latency (msec) | 6.06 ms | 8.36 ms |
|   | Bandwidth (KB/s) | 658 | 477 |
| Random Mixed (50/50) | Throughput (IOPS) | 112 | 81 |
|   | Latency (msec) read | 8.78 ms | 12.1 ms |
|   | Latency (msec) write | 0.0983 ms | 0.120 ms |
|   | Bandwidth (KB/s) read | 557 | 328 |
|   | Bandwidth (KB/s) write | 556 | 337 |

For sequential write, the Cirago performed well, only about 15 percent slower than native SATA. For random workloads, however, it was 30-40 percent slower. If you are wondering why I did not get USB 3.0 speeds, there are several factors involved here. First, with overheads, 5 Gbps USB 3.0 is expected to get only about 400 MB/sec. My SATA 2.0 controller maxes out at 375 MB/sec, and my USB 2.0 ports on my system are rated for 57 MB/sec, but with overheads will only get 20-25 MB/sec. Most spinning drives only get 75 to 110 MB/sec. Even solid-state drives top out at 250 MB/sec for sustained activity. Despite all that, my internal SATA drive only got 16 MB/sec, and externally with the Cirago 14 MB/sec in sustained write activity.

| | |
| --- | --- |
| | Here is the mess that is inside my system. The slot for drive 2 was blocked by cables, memory chips and the heat sink for my processor. It is possible to damage a system just trying to squeeze between these obstacles. |

However, the point of this post is "removable media". Having to open up the case and insert the second drive and wire it up to the correct SATA port was a pain, and certainly a more difficult challenge than the average PC user wishes to tackle.

Price-wise, the Cirago lists for $49 USD, and the 160GB drive I used lists for $69, so the combination $118 is about what you would pay for a fully integrated external USB drive. However, if you had lots of loose drives, then this could be more convenient and start to save you some money.

IBM RDX disk backup system

Another problem with the Cirago approach is that the disk drives are naked, with printed circuit board (PCB) exposed. When not in the docking station, where do you put your drive? Did you keep the [anti-static ESD bag] that it came in when you bought it? And once inside the bag, now what? Do you want to just stack it up in a pile with your other pieces of equipment?

| | |
| --- | --- |
| | To solve this, IBM offers the RDX backup system. These are fully compatible with other RDX sytems from Dell, HP, Imation, NEC, Quantum, and Tandberg Data. The concept is to have a docking station that takes removable, rugged plastic-coated disk-enclosed cartridges. The docking station can be part of the PC itself, similar to how CD/DVD drives are installed, or as a stand-alone USB 2.0 system, capable of processing data up to 25 MB/sec. |

The idea is not new, about 10 years ago we had [Iomega "zip" drives] that offered disk-enclosed cartridges with capacities of 100, 250 and 750MB in size. Iomega had its fair share of problems with the zip drive, which were ranked in 2006 as the 15th worst technology product of all time, and were eventually were bought out by EMC two years later (as if EMC has not had enough failures on its own!)

The problem with zip drives was that they did not hold as much as CD or DVD media, and were more expensive. By comparison, IBM RDX cartridges come in 160GB to 750GB in size, at list prices starting at $127 USD.

IBM LTO tape with Long-Term File System

Removable media is not just for backup. Disk cartridges, like the IBM RDX above, had the advantage of being random access, but most tape are accessed sequentially. IBM has solved this also, with the new IBM Long Term File System [LTFS], available for LTO-5 tape cartridges.

With LFTS, the LTO-5 tape cartridge now can act as a super-large USB memory stick for passing information from one person to the next. The LTO-5 cartridge can handle up to 3TB of compressed data at up to SAS speeds of 140 MB/sec. An LTO-5 tape cartridge lists for only $87 USD.

The LTO-5 drives, such as the IBM [TS2250 drive] can read LTO-3, LTO-4 and LTO-5cartridges, and can write LTO-4 and LTO-5 cartridges, in a manner that is fully compatible with LTO drives from HP or Quantum. LTO-3, LTO-4 and LTO-5 cartridges are available in WORM or rewriteable formats. LTO-4 and LTO-5 cartridges can be encrypted with 256-bit AES built-in encryption. With three drive manufacturers, and seven cartridge manufacturers, there is no threat of vendor lock-in with this approach.
These three options offer various trade-offs in price, performance, security and convenience. Not surprisingly, tape continues to be the cheapest option.
technorati tags: IBM, Cirago, CDD2000, RDX, Ubuntu, Linux, LTO, LTO-5, LTFS, SATA, USB, fio
This week I am in Moscow, Russia for today's "Edge Comes to You" event. Although we had over 20 countries represented at the Edge2012 conference in Orlando, Florida earlier this month, IBM realizes that not everyone can travel to the United States. So, IBM has created the "Edge Comes to You" events where a condensed subset of the agenda is presented. Over the next four months, these events are planned in about two dozen other countries.
This is my first time in Russia, and the weather was very nice. With over 11 million people, Moscow is the 6th largest city in the world, and boasts having the largest community of billionaires. With this trip, I have now been to all five of the so-called BRICK countries (Brazil, Russia, India, China and Korea) in the past five years!
The venue was the [Info Space Transtvo Conference Center] not far from the Kremlin. While Barack Obama was making friends with Vladimir Putin this week at the G2012 Summit in Mexico, I was making friends with the lovely ladies at the check-in counter.
If it looks like some of the letters are backwards, that is not an illusion. The Russian language uses the [Cyrillic alphabet]. The backwards N ("И"), backwards R ("Я"), the number 3 ("З), and what looks like the big blue staple logo from Netapp ("П"), are actually all characters in this alphabet.
Having spent eight years in a fraternity during college, I found these not much different from the Greek alphabet. Once you learn how to pronounce each of the 33 characters, you can get by quite nicely in Moscow. I successfully navigated my way through Moscow's famous subway system, and ordered food on restaurant menus.
The conference coordinators were Tatiana Eltekova (left) and Natalia Grebenshchikova (right). Business is booming in Russia, and IBM just opened ten new branch offices throughout the country this month. So these two ladies in the marketing department have been quite busy lately.
I especially liked all the attention to detail. For example, the signage was crisp and clean, and the graphics all matched the Powerpoint charts of each presentation.
Moscow is close to the North pole, similar in latitude as Juneau, Alaska; Edinburgh, Scottland; Copenhagen, Denmark; and Stockholm, Sweden.
As a result, it is daylight for nearly 18 hours a day. The first part of the day, from 8:00am to 4:30pm, was "Technical Edge", a condensed version of the 4.5 day event in Orlando, Florida. I gave three of the five keynote presentations:
Game Change on a Smarter Planet: A New Era in IT, discussing Smarter Computing and Expert-Integrated systems, based on what Rod Adkins presented in Orlando.


A New Approach to Storage, explaining IBM Smarter Storage for Smarter Computing, IBM's new approach to the way storage is designed and deployed for our clients


IBM Watson: How it Works and What it Means for Society Beyond Winning Jeopardy! explaining how IBM Watson technologies are being used in Healthcare and Financial Services, based on what I presented in Orlando.
(Note: I do not speak Russian fluently enough to give a technical presentation, so I did then entire presentation in English, and had real-time translators convert to Russian for me. The audience wore headphones. However, I was able to sprinkly a few Russian phrases, such as "доброе утро", "Я не понимаю по-русский" and "спасибо".)
After the keynote sessions, I was interviewed by a journalist for [Storage News] magazine. The questions covered a variety of topics, from the implications of [Big Data analytics] to the future of storage devices that employ [Phase Change Memory]. I look forward to reading the article when it gets published!
The afternoon had break-out sessions in three separate rooms. Each room hosted seven topics, giving the attendees plenty to choose from for each time slot. I presented one of these break-out sessions, Big Data Cloud Storage Technology Comparison. The title was already printed in all the agendas, so we went with it, but I would have rather called it "Big Data Storage Options". In this session, I explained Hadoop, InfoSphere BigInsights, internal and external storage options.
I spent some time comparing Hadoop File System (HDFS) with IBM's own General Parallel File System (GPFS) which now offers Hadoop interfaces in a Shared-Nothing Cluster (SNC) configuration. IBM GPFS is about twice as fast as HDFS for typical workloads.
At the end of the Technical Edge event, there was a prize draw. Business cards were drawn at random, and three lucky attendees won a complete four-volume set of my book series "Inside System Storage"! Sadly, these got held up in customs, so we provided a "certificate" to redeem them for the books when they arrive to the IBM office.
The second part of the day, from 5:00pm to 8pm, was "Executive Edge", a condensed version of the 2 day event in Orlando, designed for CIOs and IT leaders. Having this event in the evening allowed busy executives to come over after they spend the day in the office. I presented IBM Storage Strategy in the Smarter Computing Era, similar to my presentation in Orlando.
Both events were well-attended. Despite fighting jet lag across 11 time zones, I managed to hang in there for the entire day. I got great feedback and comments from the attendees. I look forward to hearing how the other "Edge Comes to You" events fare in the other countries. I would like to thank Tatiana and Natalia for their excellent work organizing and running this event!
technorati tags: IBM, Moscow, Russia, Edge, ECTY, Cyrillic, Tatiana Eltekova, Natalia Grebenshchikova, Smarter Storage, Smarter Computing, Smarter Planet, Big Data, Cloud, IBM Watson, Jeopardy, Hadoop, HDFS, InfoSphere, BigInsights, GPFS, GPFS-SNC
Well, it's Tuesday again, and you know what that means! IBM announcements!
Today, I am in New York visiting clients. The weather is a lot nicer than I expected. Here is a picture of the Hudson River through some trees with leaves turning color. Something we don't see in Tucson! Our cactus and pine trees stay green year-round!
The announcements today center around the IBM PureSystems family of expert integrated systems. The PureFlex is based on Flex System components. The Flex System chassis is 10U high that hold 14 bays, consisting of 7 rows by 2 columns. Computer and Storage nodes fit in the front, and switches, fans and power supplies in the back. Here is a quick recap:
IBM Flex System Compute Nodes

The x220 Compute Node is a single-bay low-power 2-socket x86 server. The x440 Compute Node is a powerful double-bay (1 row, 2 columns). The p260 Compute Node is a single-bay server based on the latest POWER7+ CPU processor.

IBM Flex System Expansion Nodes

Do you remember those old movies where a motorcycle would have a sidecar that could hold another passenger, or extra cargo? IBM introduces "Expansion Nodes" for the x200 series single-bay Compute nodes. The idea here is that in a single column, you have one bay for the Compute node, and then on the side in the next bay (same column) you have an Expanions node. There are two choices:

Storage Expansion Node allows you to have eight additional drives
PCIe Expansion Node allows to to have four PCIe cards, which could include the SSD-based PCIe cards from IBM's recent acquisition, Texas Memory Systems.

There are times where one or two internal drives are just not enough storage for a single server, and these expanion nodes could just be the perfect solution for some use cases.

IBM Flex System V7000 Storage Node

I saved the best for last! The Flex System V7000 Storage Node is basically the IBM Storwize V7000 repackaged to fit into the Flex System chassis. This means that in the front of the chassis, the Flex System V7000 takes up four bays (2 rows by 2 columns). In the back of the chassis are the power supplies, fans and switches.

The new Flex System V7000 supports everything the Storwize V7000 does except the upgrade to "Unified" through file modules. For those who want to have Storwize V7000 Unified in their PureFlex systems, IBM will continue to offer the outside-the-chassis original Storwize V7000 that can have two file modules added for NFS, CIFS, HTTPS, FTP and SCP protocol support.

IBM Flex System Converged Network Switch

The Converged Network Switch provide Fibre Channel over Ethernet (FCoE) directly from the chassis. This eliminates the need for a separate "Top-of-Rack" switch, and allows the new Flex System V7000 Storage Node to externally virtualize FCoE-based disk arrays.

Patterns of Expertise for Infrastructure

The original patterns of expertise focused on the PureApplication Systems. Now IBM has added some for the Infrastructure on PureFlex systems.
IBM has sold over 1,000 Flex System and PureFlex systems, across 40 different countries around the world, since their introduction a few months ago in April! These latest enhancements will help solidify IBM's industry leadership,
technorati tags: IBM, PureFlex, Storwize V7000, Flex System V7000, PureSystems, PureApplication, Patters of Expertise
As we get to larger and larger flash and spinning disk drives, a common question I get is whether to use RAID-5 versus RAID-6. Here is my take on the matter.
A quick review of basic probability statistics

Failure rates are based on probabilities. Take for example a traditional six-sided die, with numbers one through six represented as dots on each face. What are the chances that we can roll the die several times in a row, that we will have no sixes ever rolled? You might think that if there is a 1/6 (16.6 percent) chance to roll a six, then you would guarantee hit a six after six rolls. That is not the case.

| # of Rolls | Probability of no sixes (percent) |
| --- | --- |
| 1 | 83.33 |
| 2 | 69.44 |
| 3 | 57.87 |
| 4 | 48.23 |
| 5 | 40.19 |
| 6 | 33.49 |
| 12 | 11.22 |
| 18 | 3.76 |
| 24 | 1.26 |

So, even after 24 rolls, there is more than 1 percent chance of not rolling a six at all. The formula is (1-1/6) to the 24th power.

Let's say that rolling one to five is success, and rolling a six is a failure. Being successful requires that no sixes appear in a sequence of events. This is the concept I will use for the rest of this post. If you don't care for the math, jump down to the "Summary of Results" section below.




Error Correcting Codes (ECC) and Unreadable Read Errors (URE)

When I speak to my travel agent, I have to provide my six-character [Record Locator] code. Pronouncing individual letters can be error prone, so we use a "spelling alphabet".

The International Radiotelephony Spelling Alphabet, sometimes known as the [NATO phonetic alphabet], has 26 code words assigned to the 26 letters of the English alphabet in alphabetical order as follows: Alfa, Bravo, Charlie, Delta, Echo, Foxtrot, Golf, Hotel, India, Juliett, Kilo, Lima, Mike, November, Oscar, Papa, Quebec, Romeo, Sierra, Tango, Uniform, Victor, Whiskey, X-ray, Yankee, Zulu.

Record Locator
Received
Result
FGMOVW
Foxtrot Golf Mike Oscar Victor Whiskey
Perfect!
Foxtrot Gold Mine Oscar Vector Whisker
Correctable
Boxcart Golf Miko Boxcart Victor Whiskey
Uncorrectable

Having five or so characters to represent a single character may seem excessive, but you can see that this can be helpful when communications link has static, or background noise is loud, as is often the case at the airport!

If spelling words are misheard, either (a) they are close enough like "Gold" for "Golf", or "Whisker" for "Whiskey", that the correct word is known, or (b) not close enough, such that "Boxcart" could refer to either "Foxtrot" or "Oscar" that we can at least detect that the failure occurred.

For data transfers, or data that is written, and later read back, the functional equivalent is an Error Correcting Code [ECC], used in transmission and storage of data. Some basic ECC can correct a single bit error, and detect double bit errors as failures. More sophisticated ECC can correct multiple bit errors up to a certain number of bits, and detect most anything worse.

When reading a block, sector or page of data from a storage device, if the ECC detects an error, but is unable to correct the bits involved, we call this an "Unrecoverable Read Error", or URE for short.




Bit Error Rate (BER)

Different storage devices have different block, sector or page sizes. Some use 512 bytes, 4096 bytes or 8192 bytes, for example. To normalize likelihood of errors, the industry has simplified this to a single bit error rate or BER, represented often as a power of 10.

| Media | Bit Error Rate per read (BER) |
| --- | --- |
| Optical (Blue-Ray/DVD) | 1E13 |
| Consumer HDD (PC/Laptops) | 1E14 |
| Enterprise 15k/10k/7200 rpm | 1E16 |
| Solid-State and Flash | 1E17 |
| LTO-7 | 1E19 |
| IBM TS1150 tape | 1E20 |

In other words, the chance that a bit is unreadable on optical media is 1 in 10 trillion (1E13), on enterprise 15k drives is 1 in 10 quadrillion, and on LTO-7 tape is 1 in 10 quintillion.

There are eight bits per byte, so reading 1 GB of data is like rolling the die eight billion times. The chance of successfully reading 1GB on DVD, then would be (1 - 1/1E13) to the 8 billionth power, or 99.92 percent, or conversely a 0.08 percent chance of failure.




Probability of drive failure

An often cited resource for the probability of drive failure is the [Failure Trends in a Large Disk Drive Population (13-page PDF)] by Eduardo Pinheiro, Wolf-Dietrich Weber and Luiz Andre Barroso of Google Inc.

In this paper, Google had studied drive failure using an "Annual Failure Rate" or AFR. Here are two graphs from this paper:

This first graph shows AFR by age. Some drives fail in their first 3-6 months, often called "infant mortality". Then they are fairly reliable for a few years, down to 1.7 percent, then as they get older, they start to fail more often, up to 8.3 percent.

This second graph factors in how busy the drives are. Dividing the drive set into quartiles, "Low" represents the least busy drives (the bottom quartile), "Medium" represents the median two quartiles, and "High" represents the busiest drives, the top quartile. Not surprisingly, the busiest drives tend to fail more often than medium-busy drives.

Given an AFR, what are the chances a drive will fail in the next hour? There are 8,766 hours per year, so the success of a drive over the course of a year is like rolling the die 8,766 times. This allows us to calculate a "Drive Error Rate" or DER:

| Media AFR | Drive Error Rate per hour (DER) |
| --- | --- |
| 10 | 83,200 |
| 8 | 105,130 |
| 6 | 141,680 |
| 4 | 214,750 |
| 3 | 287,800 |
| 2 | 434,000 |
| 1 | 872,000 |

For example, an AFR=3 drive has a 1 in 287,800 chance of failing in a particular hour. The probability this drive will fail in the next 24 hours would be like rolling the die 24 times. The formula is (1-1/287,800) to the 24th power, resulting in a failure rate of roughly 0.008 percent.




RAID-5 considerations

Let's take a typical RAID-5 rank with 600GB drives at 15K rpm, in a 7+P RAID-5 configuration.

During normal processing, if a URE occurs on a individual drive, RAID comes to the rescue. The system can rebuild the data from parity, and correct the broken block of data.

When a drive fails, however, we don't have this rescue, so a URE that occurs during the rebuild process is catastrophic. How likely is this? Data is read from the other seven drives, and written to a spare empty drive. At 8 bits per byte, reading 4200 GB of data is rolling the die 33.6 trillion times. The formula is then (1-1/E16) to the 33.6 trillionth power, or approximately 0.372 percent chance of URE during the rebuild process.

The time to perform the rebuild depends heavily on the speed of the drive, and how busy the RAID rank is doing other work. Under heavy load, the rebuild might only run at 25 MB/sec, and under no workload perhaps 90 MB/sec. If we take a 60 MB/sec moderate rebuild rate, then it would take 10,000 seconds or nearly 3 hours. The chance that any of the seven drives fail during these three hours, at AFR=10 rolling the DER die (7 x 3) 21 times, results in a 0.025 percent chance of failure.

It is nearly 15 times more likely to get a URE failure than a second drive failure. A rebuild failure would happen with either of these, with a probability of 0.397 percent.

The situation gets worse with higher capacity Nearline drives. Let's do a RAID-5 rank with 6TB Nearline drives at 7200 rpm, in a 7+P configuration. The likelihood of URE reading 42 TB of data, is rolling the die 336 trillion times, or approximately 3.66 percent chance of URE failure. Yikes!

The time to rebuild is also going to take longer. A moderate rebuild rate might only be 30 MB/sec, so that rebuilding a 6TB drive would take 55 hours. The chance that one of the other seven drives fail, assuming again AFR=10, during these 55 hours results in a 0.462 percent.

This time, a URE failure is nearly eight times more likely than a double drive failure. The chance of a rebuild failure is 4.12 percent. Good thing you backed up to tape or object storage!

The math can be done easily using modern spreadsheet software. The URE failure rate is based on the quantity of data read from the remaining drives, so a 4+P with 600GB drives is the same as 8+P with 300GB drives. Both read 2.4 TB of data to recalculate from parity. The Double Drive failure rate is based on the number of drives being read times the number of hours during the rebuild. Slower, higher capacity drives take longer to rebuild. However, in both the 15K and 7200rpm examples, the chance of a URE failure was 8 to 15 times more likely than double drive failure.




RAID-6 considerations

Many of the problems associated with RAID-5 above can be mitigated with RAID-6.

After a single drive fails, any URE during rebuild can be corrected from parity. However, if a second drive fails during the rebuild process, then a URE on the remaining drives would be a problem.

Let's start with the 600GB 15k drives in a 6+P+Q RAID-6 configuration. The chance of a second drive failing is 0.0252 percent, as we calculated above. The likelihood of a URE is then based on the remaining six drives, 3600 GB of data. Doing the math, that is 0.0319 percent chance. So, the change of a URE during RAID-6 failure is the probability of both occurring, roughly 0.0000806 percent. Far more reliable than RAID-5!

Likewise, we can calculate the probability of a triple drive failure. After the second drive fails, the likelihood of a third drive at AFR=10, results in 0.00000546 percent.

Combining these, the chance of failure of rebuild is 0.000861 percent.

Switching to 6 TB Nearline drives, in a 6+P+Q RAID-6 configuration, we can do the math in the same manner. The likelihood of URE and two drives failing is 0.0145 percent, and for triple drive failure is 0.00183 percent. Chance of rebuild failure is 0.0163 percent.




Summary of Results

Putting all the results in a table, we have the following:

| Drive type | RAID-5 rebuild failure (percent) | RAID-6 rebuild failure (percent) |
| --- | --- | --- |
| 600GB 15K rpm | 0.397 | 0.0000861 |
| 6 TB 7200rpm | 4.12 | 0.0163 |

Hopefully, I have shown you how to calculate these yourself, so that you can plug in your own drive sizes, rebuild rates, and other parameters to convince yourself of this.
In all cases, RAID-6 drastically reduced the probability of rebuild failure. With modern cache-based systems, the write-penalty associated with additional parity generally does not impact application performance. As clients transition from faster 15K drives to slower, higher capacity 10K and 7200 rpm drives, I highly recommend using RAID-6 instead of RAID-5 in all cases.
technorati tags: IBM, RAID-5, RAID-6, ECC, URE, Spelling Alphabet, BER, Google, AFR
Continuing my saga for my [New Laptop], let's recap my progress so far:
[Day 1 afternoon], I received the laptop from shipping on Wednesday, took a backup of the factory install image to an external USB drive, and re-partitioned to run both Windows and Linux operating systems.
[Day 2], I spent Thursday using the "Migration Assistant" tool, and completed the operation sending the rest of my data over to the /dev/sda6 NTFS partition.
So now, Friday (day 3), I get to install any applications that were not part of the pre-installed image. Thankfully, I had planned ahead and figured out the 134 different applications that I had on my old system. I printed out a copy of my spreadsheet, and used it as a checklist to systematically go through the list. For each one, I determined one of the following:
BUILD

If I could find the application already installed, either the same version or newer, or functionally equivalent, then I would mark it down as being part of the factory build. Of those programs pre-installed, I am quite pleased that the settings were carried over during yesterday's file transfer. For example, my bookmarks and bookmarklets on Firefox are all in tact. However, it did not carry forward all of my Firefox addons, so these I had to install separately.

ISSI Download

IBM Standard Software Installer is our internal website for IBM and select third-party software for the different operating systems supported. Many of the ISSI programs were already included in the factory build, such as Lotus Notes, Lotus Symphony, Firefox browser, and so I had very few left remaining to do manually from ISSI.

INSTALL from D:\Install-Files

As I mentioned in my previous post, I saved the ZIP or EXE files of installation, as well as any license keys, URLs and other useful information to re-install each application.

COPY over from D:\Prog-Files

Many programs don't have installation files, because they don't need to update the registry or create Desktop icons or Taskbar management buttons. For these I can just copy the directory over to C:\Program Files.

WEB Download

In some cases, the Install-File was fairly downlevel, so I downloaded a fresh copy from the Web. In other cases, I forgot to save the ZIP or EXE, so this was the backup plan.

DEFER for later install

I worked down the list alphabetically, but some programs needed other programs to be installed first, or I needed to find the license registry key, or whatever. This allowed me to focus on the most important programs first. Others I might defer indefinitely until I need them, such as programs to access Second Life, or to build software for Lego Mindstorms robots.

SKIP those applications no longer required

Some programs just don't need to be on my new system. This includes software to manage printers I no longer have, drivers to attach to gadgets and devices I no longer own, and software that might have been specific to the old ThinkPad T60. This was also a good time to "de-duplicate" similar applications. For example, I have decided to limit myself to just three browsers: Firefox, Opera, and Internet Explorer IE6.
The planning paid off. I was able to confirm or install all of my applications today and have a fully working Windows XP system partition. I celebrated by taking another backup.
technorati tags: , IBM, Lotus, Notes, Symphony, Firefox, Opera, IE6, ThinkPad, T410, T60
My colleagues, Harley Puckett (left) and Jack Arnold (right) were highlighted in today's Arizona Daily Star, our local newspaper, as part of an article on IBM's success and leadership in the IT storage industry. At 1400 employees here in Tucson, IBM is Southern Arizona's 36th largest employer.
Highlighted in the article:
DS8700 with the new Easy Tier feature
TS7650 ProtecTIER virtual tape library with data deduplication capability
LTO-5 tape and the new Long Term File System (LTFS)
XIV with the new 2TB drive, for a maximum per-rack usable capacity of 161 TB.
Read the full article [IBMers Crank Out 4 New Offerings To Handle Data Deluge]
technorati tags: , Arizona Daily Star, IBM Tucson, DS8700, Easy Tier, ProtecTIER, Deduplication, LTO-5, LTFS, XIV, IBM, Tucson, Arizona
The weather has warmed up here in Tucson so I started my Spring Cleaning early this year and unearthed from my garage a [Bankers Box] full of floppy diskettes.
| | |
| --- | --- |
| | IBM invented the floppy disk back in 1971, and continued to make improvements and enhancements through the 1980s and 1990s. It will be one of the many inventions celebrated as part of IBM's Centennial (100-year) anniversary. Here is an example [T-shirt] |
IBM needed a way to send out small updates and patches for microcode of devices out in client locations. IBM had drives that could write information, and sent out "read-only" drives to the customer locations to receive these updates. These were flexible plastic circles with a magnetic coating, and placed inside a square paper sleeve. Imagine a floppy disk the size of a piece of standard paper. The 8-inch floppy fit conveniently in a manila envelope, sendable by standard mail, and could hold nearly 80KB of data.
I've been using floppies for the past thirty years. Here's some of my fondest memories:
While still in high school, my friend Franz Kurath and I formed "Pearson Kurath Systems", a software development firm. We wrote computer programs to run on UNIX and Personal Computers for small businesses here in Tucson. Whenever we developed a clever piece of code, a subroutine or procedure, we would save it on a floppy disk and re-use it for our next project. We wrote in the BASIC language, and our databases were simple Comma-Separated-Variable (CSV) flat files.

The 5.25-inch floppies we used could hold 360KB, and were flexible like the 8-inch models. Later versions of these 5.25-inch floppies would be able to hold as much as 1.2MB of data. We would convert single-sided floppies into double-sided ones by cutting out a notch in the outer sleeve. Covering up the notches would mark them as read-only.

The 3.5-inch floppies were introduced with a hard plastic shell, with the selling point that you can slap on a mailing label and postage and send it "as is" without the need for a separate envelope. These new 3.5-inch floppies would carry "HD" for high density 720KB, and double-sided versions could hold 1.44MB of data. The term "diskette" was used to associate these new floppies with [hard-shelled tape cassettes]. Sliding a plastic tab would allow floppies to be marked "read-only". IBM has the patent on this clever invention.

Continuing our computer programming business in college, Franz and I took out a bank loan to buy our first Personal Computer, for over $5000 dollars USD. Until then, we had to use equipment belonging to each client. The banks we went to didn't understand why we needed a computer, and suggested we just track our expenses on traditional green-and-white ledger paper. Back then, peronsal computers were for balancing your checkbook, playing games and organizing your collection of cooking recipies. But for us, it was a production machine. A computer with both 5.25-inch and 3.5-inch drives could copy files from one format to another as needed. The boost in productivity paid for itself within months.

Apple launched its Macintosh computer in 1984, with a built-in 3.5-inch disk drive as standard equipment. Here is a YouTube video of an [astronaut ejecting a floppy disk] from an Apple computer in space.

In my senior year at the University of Arizona, my roommate Dave had borrowed my backpack to hold his lunch for a bike ride. He thought he had taken everything out, but forgot to remove my 3.5-inch floppy diskette containing files for my senior project. By the time he got back, the diskette was covered in banana pulp. I was able to rescue my data by cracking open the plastic outer shell, cleaning the flexible magnetic media in soapy water, placing it back into the plastic shell of a second diskette, and then copied the data off to a third diskette.

After graduating from college, Franz and I went our separate ways. I went to work for IBM, and Franz went to work for [Chiat/Day], the advertising agency famous for the 1984 Macintosh commercial. We still keep in touch through Facebook.

At IBM, I was given a 3270 terminal to do my job, and would not be assigned a personal computer until years later. Once I had a personal computer at home and at work, the floppy diskette became my "briefcase". I could download a file or document at work, take it home, work on it til the wee hours of the morning, and then come back the next morning with the updated effort.

To help prepare me for client visits and public speaking at conferences, IBM loaned me out to local schools to teach. This included teaching Computer Science 101 at Pima Community College. When asked by a student whether to use "disc" or "disk", I wrote a big letter "C" on the left side of the chalkboard, and a big letter "K" on the right side. If it is round, I told the students while pointing at the letter "C", like a CD-ROM or DVD, use "disc". If it has corners, pointing to corners of the letter "K", like a floppy diskette or hard disk drive, use "disk".

On one of my business trips to visit a client, we discovered the client had experienced a problem that we had just recently fixed. Normally, this would have meant cutting a Program Trouble Fix (PTF) to a 3480 tape cartridge at an IBM facility, and send it to the client by mail. Unwilling to wait, I offered to download the PTF onto a floppy diskette on my laptop, upload it from a PC connected to their systems, and apply it there. This involved a bit of REXX programming to deal with the differences between ASCII and EBCDIC character sets, but it worked, and a few hours later they were able to confirm the fix worked.

In 1998, Apple would signal the begining of the end of the floppy disk era, announcing their latest "iMac" would not come with an internal built-in floppy drive. David Adams has a great article on this titled [The iMac and the Floppy Drive: A Conspiracy Theory]. You can get external floppy drives that connect via USB, so not having an internal drive is no longer a big deal.

While teaching a Top Gun class to a mix of software and hardware sales reps, one of the students asked what a "U" was. He had noticed "2U" and "3U" next to various products and wondered what that was referring to. The "U" represents the [standard unit of measure for height of IT equipment in standard racks]. To help them visualize, I explained that a 5.25-inch floppy disk was "3U" in size, and a 3.5-inch floppy diskette was "2U". Thus, a "U" is 1.75 inches, the thinnest dimension on a two-by-four piece of lumber. Servers that were only 1U tall would be referred to as "pizza boxes" for having similar dimensions.

Every year, right around November or so, my friends and family bring me their old computers for me to wipe clean. Either I would re-load them with the latest Ubuntu Linux so that their kids could use it for homework, or I would donate it to charity. Last November, I got a computer that could not boot from a CD-ROM, forcing me to build a bootable floppy. This gave me a chance to check out the various 1-disk and 2-disk versions of Linux and other rescue disks. I also have a 3-disk set of floppies for booting OS/2 in command line mode.
So while this unexpected box of nostalgia derailed my efforts to clean out my garage this weekend, it did inspire me to try to get some of the old files off them and onto my PC hard drive. I have already retrieved some low-res photographs, some emails I sent out, and trip reports I wrote. While floppy diskettes were notorious for being unreliable, and this box of floppies has been in the heat and cold for many Arizonan summers and winters, I am amazed that I was able to read the data off most of them so far, all the way back to data written in 1989. While the data is readable, in most cases I can't render it into useful information. This brings up a few valuable lessons:
Backups are not Archives

Some of the files are in proprietary formats, such as my backups for TurboTax software. I would need a PC running a correct level of Windows operating system, and that particular software, just to restore the data. TurboTax shipped new software every year, and I don't know how forward or backward-compatible each new release was.

Another set of floppies are labeled as being in "FDBACK" format. I have no idea what these are. Each floppy has just two files, "backup.001" and "control.001", for example.

Backups are intended solely to protect against unexpected loss from broken hardware or corrupted data. If you plan to keep data as archives for long-term retention, use archive formats that will last a long time, so that you can make sense of them later.

Operating System Compatibility


Windows 7 and all of my favorite flavors of Linux are able to recognize the standard "FAT" file system that nearly all of my floppies are written in. Sadly, I have some files that were compressed under OS/2 operating system using software called "Stacker". I may have to stand up an OS/2 machine just to check out what is actually on those floppies.

You can't judge a book by its cover

Floppies were a convenient form of data interchange. Sometimes, I reused commercially-labeled floppies to hold personal files. So, just because a floppy says "America On-Line (AOL) version 2.5 Installation", I can't just toss it away. It might actually contain something else entirely. This means I need to mount each floppy to check on its actual contents.
So what will I do with the floppies I can't read, can't write, and can't format? I think I will convert them into a [retro set of coasters], to protect my new living room furniture from hot and cold beverages.
technorati tags: IBM, Centennial, Patent, Floppy, Disk, Diskette, Apple, Chiat/Day, Pima Community College, Macintosh, iMac, Franz Kurath, Pearson Kurath Systems
Well, it's Tuesday again, and you know what that means! IBM Announcements!
Today, IBM announced its latest IBM Tivoli Key Lifecycle Manager (TKLM) 2.0 version. Here's a quick recap:
Centralized Key Management

Centralized and simplified encryption key management through Tivoli Key Lifecycle Manager's lifecycle of creation, storage, rotation, and protection of encryption keys and key serving through industry standards. TKLM is available to manage the encryption keys for LTO-4, LTO-5, TS1120 and TS1130 tape drives enabled for encryption, as well as DS8000 and DS5000 disk systems using Full Disk Encryption (FDE) disk drives.

Partitioning of Access Control for Multitenancy

Access control and partitioning of the key serving functions, including end-to-end authentication of encryption clients and security of exchange of encryption keys, such that groups of devices have different sets of encryption keys with different administrators. This enables [multitenancy] or multilayer security of a shared infrastructure using encryption as an enforcement mechanism for access control. As Information Technology shifts from on-premises to the cloud, multitenancy will become growingly more important.

Support for KMIP 1.0 Standard

Support for the new key management standard, Key Management Interoperability Protocol (KMIP), released through the Organization for the Advancement of Structured Information Standards [OASIS]. This new standard enables encryption key management for a wide variety of devices and endpoints. See the [22-page KMIP whitepaper] for more information.

As much as I like to poke fun at Oracle, with hundreds of their Sun/StorageTek clients switching over to IBM tape solutions every quarter, I have to give them kudos for working cooperatively with IBM to come up with this KMIP standard that we can both support.

Support for non-IBM devices from Emulex, Brocade and LSI

Support for IBM self-encrypting storage offerings as well as suppliers of IT components which support KMIP, including a number of supported non-IBM devices announced by business partners such as Emulex, Brocade, and LSI. KMIP support permits you to deploy Tivoli Key Lifecycle Manager without having to worry about being locked into a proprietary key management solution. If you are a client with multiple "Encryption Key Management" software packages, now is a good time to consolidate onto IBM TKLM.

Role-based Authorization

Role-based access control for administrators that allows multiple administrators with different roles and permissions to be defined, helping increase the security of sensitive key management operations and better separation of duties. For example, that new-hire college kid might get a read-only authorization level, so that he can generate reports, and pack the right tapes into cardboard boxes. Meanwhile, for that storage admin who has been running the tape operations for the past ten years, she might get full access. The advantage of role-based authorization is that for large organizations, you can assign people to their appropriate roles, and you can designate primary and secondary roles in case one has to provide backup while the other is out of town, for example.
For more details, see the IBM [Announcement Letter].
This week, I'll be in Dallas, Texas. If you are an avid reader located in or near the Dallas area, and want to connect, you know how to reach me.
technorati tags: IBM, TKLM, KMIP, OASIS, encryption, FDE, Multitenancy, EKM, LTO, LTO-4, LTO-5, TS1120, TS1130, DS8000, DS5000, role-based, authorization, Emulex, Brocade, LSI
In preparation for my [upcoming trip to Australia and New Zealand], I decided to upgrade my smartphone. My service provider T-Mobile offered me the chance to try out any new phone for 14 days for only ten dollar re-stocking fee. For the past 16 months, I have used the Google G1 phone. This is based on a storage-optimized Android operating system, based on open source Linux, with applications processed in a storage-optimized virtual machine called Dalvik, based on open source Java. According to Wikipedia, Android-based phones have #1 market share [outselling both BlackBerry OS and Apple iOS phones]. There are over 70 different companies using Android, driven away from the proprietary interfaces from Apple, BlackBerry and Microsoft.
Since I was already familiar with the Android operating system, I chose the Samsung Galaxy S Vibrant. I liked my G1, but it had only a small amount of internal memory to store applications. The G1 supported an external Micro SDHC card, but this only was used for music and photos. There was no way to install applications on the memory card, so I found myself having to uninstall applications to make room for new ones. By contrast, the Vibrant has 16GB internal memory, plenty of room for all applications, and supports Micro SDHC up to 32GB in size. My model can pre-installed with a 2GB card, of which 1.4GB is consumed by James Cameron's full-length movie Avatar. On the G1, swapping out memory cards was relatively easy. On the Vibrant, you have to take the phone apart to swap out cards, so I won't be doing that very often. I will probably just get a 32GB card and leave it in there permanently.
(FTC disclosure: I work for IBM. IBM has working relationships with Oracle, Google, and lots of other companies. IBM offers its own commercial version of Java related tools. I own stock in IBM, Apple, Google. I have friends and family who work at Microsoft. My review below is based entirely on my own experience of my new Samsung Galaxy S Vibrant phone. Samsung has created different models for different service providers. The T-Mobile Vibrant is an external USB storage device with telephony capabilities, comparable to the AT&T Captivate, Verizon Fascinate, or Sprint Epic 4G. The majority of mobile phones in the world contain IBM technology. This post is not necessarily an endorsement for Samsung over other smartphone manufacturers, nor T-Mobile over other service providers. I provide this information in context of storage optimization, state-of-the-art for smartphones in general, and disputes related to software patents between companies. I hold 19 patents, most of which are software patents.)
When Oracle acquired Sun Microsystems, it inherited stewardship of Java. Java is offered in two flavors. Java Standard Edition (SE) for machines that are planted firmly on or below your desk, and Java Micro Edition (ME) for machines that are carried around. Most Java-based phones limit themselves to Java ME, but Google decided to base its smartphones on the more powerful Java SE, but then optimize for the limited storage and computing resources. These two levels of Java have radically different licensing terms and conditions, so Larry Ellison of Oracle cried foul. On The Register, Gavin Clarke has an excellent article with details of the Oracle-vs-Google complaint. Daniel Dilger opines that Oracle [might kill Google's Android and software patents all at once]. Fellow blogger Mark Twomey (EMC) on his StorageZilla blog, argues that [it's not about Android phones, but Android everything].
My Vibrant is roughly the size of a half-inch stack of 3x5 index cards in my hand. In my humble opinion, the problem is the grey area between mobile phone and the desktop personal computer. Laptops, netbooks, iPads, tablet computers, eBook readers, and smartphones fall somewhere in between. At what point do you stop licensing Java SE and start licensing Java ME instead?
Let's take a look at all the stuff my new Samsung Vibrant can do, and let you decide for yourself. I have 140 applications installed, which I can access alphabetically. I also have up to seven screens which I can fill with application icons and widgets to simplify access. The screen measures about 4 inches diagonally. Click on each image below to see the full 480x800 resolution.
Each screen has five rows. On my first screen, I have the first two rows related to photography. This includes a camera, camcorder, bar-code scanner and visual search engine (Google Goggles). I am not happy with Flickr Droid app in uploading photos, so I might need to find another app for that. Other reviews I read complain that the Vibrant's camera does not have am LED flash for night time shots, and that there is no forward facing camera to do Skype or FaceTime-style videoconferencing. I think it is fine the way it is. An interesting feature of the camera app is that it uses the volume up/down buttons to zoom in and out.

The next two rows related to books and documents. In addition to both Amazon's Kindle and Barnes and Noble's Nook eBook readers, I have Dropbox to make it easy to transfer files between all my machines, a camera-scanner that generates PDFs, and ThinkFree, which appears to be based on OpenOffice open source software to create, view and edit WORD documents, EXCEL spreadsheets and PowerPoint presentations.
My second screen is for music and video entertainment.

The top row is consumed by a single widget for [Pandora], an internet radio station, not to be confused with the Pandora moon that the movie Avatar is based on. I-heart-radio, Slacker, and Last.fm are other internet radio stations. Be careful when roaming in another country, as the $15-per-MB transfer fees can really add up. While the Galaxy S has a built-in FM radio, T-Mobile has decided to disable this feature in its Vibrant model, in favor of internet-based radio stations.

I am glad the Samsung Vibrant uses the same 3.5mm combo audio jack that I mentioned in my blog post about my [New ThinkPad T410]. This allows me to use the same headset for both my laptop and my cell phone.

For those who use Microsoft Windows Media Player v10 or above, this phone lets you transfer over your songs, playlists and videos via the USB cable in PMC mode. The TED application shows 18-minute videos of lectures at conferences that focus on Technology, Entertainment and Design. MobiTV offers live streaming of popular Television shows, normally ten dollars monthly, but I got a free 30-day trial in the deal.
Screen 3 is focused on travel. I have a 30-day free trial of GoGo, the new Wi-Fi networks on various airlines. Hopefully, I will get to try this out on my upcoming flights. When GoGo is not available, the Extended Controls widget allows me to turn the phone into "Airplane mode", which would allow me to read eBooks and listen to pre-recorded music and videos stored on my phone. Most of the apps on Android are free, but Extended Controls, shown here in the top row, cost me money but well worth it. With this you can customize different size widgets with all the appropriate setting toggles you want. On this one, I can toggle Wi-Fi, Data transfer, GPS positioning, and Airplane mode.

Google Maps, Google Places and Google Sky Map are all well represented here. I also like TripIt, which is a free Software-as-a-Service for managing your trip itenerary, and syncs up with their online website. Currency and Language translation can help on international travel. The standard Alarm Clock also includes Time Zone conversion as well.
My screen 4 is my central home page. There are four buttons on the bottom of the phone: Menu, Home, Back, and Search. Hit the "Home" button on any screen, and it jumps immediately to Screen 4. From here, I can get to any of the other screens with just swiping my finger across the surface. Therefore, I chose to keep this screen simple.

For meetings, I have a big clock, and an Extended Controls widget to set my phone on silent/vibrate mode, and show my battery status. I put icons here for apps that I might need in a hurry, like Camera, Evernote, or Shazam. For those not familiar with Shazam, it will listen to the microphone for whatever song is playing in the background where you are, and it will identify the song's title and artist.

The "Starred" folder lists those five or so contacts that I have marked with a "star" to be on this short list. From here, I can call or send them an SMS text message.
Screen 5 is for office productivity. I have a 2x2 widget from Astrid to list my to-do items. I have a 1x2 widget showing my last call. My calendar syncs up with my Google calendar online.

The Locale widget allows me to change which on-screen keyboard to use. There is the standard Android keyboard which allows voice-to-text input, the Samsung keyboard that offers [XT9 mode], and the new ["Swype"] keyboard that allows you to write words quickly with squiggles swiped across the keyboard. The Swype is incredible accurate when I am typing in English. When I am communicating in Spanish, it gets in the way, spell-checking when it shouldn't.
Screen 6 is for my social media, news and search facilities. I have HootSuite Lite for managing my Twitter and Facebook posts. For news junkies, NPR, USA Today and CNN all offer mobile versions.

I have a selection of browsers, including Opera Mini 5, and Dolphin Browser HD. The latter offers a variety of special add-ons similar to Firefox on a desktop system. I also have specialty search sites, including the Internet Movie Database (IMDB), Fandango for local movie times, and Dex for local phone listings.
Screen 7 is for system administration. The top row is another "Extended Controls" widget, this time to change between 2G and 3G networks, brightness setting, set the the time-out interval for when the screen should automatically shut off, and a "stay awake" to turn off the screen saver altogether.

I can do some really powerful things here. For example, I have an application to let me use secure shell (ssh) to access our systems at work. I also can "tether" my laptop to my Vibrant, for those few times when Wi-Fi is not available, to let my laptop use the phone's signal as a dial-up modem. It is slower than Wi-Fi, but might be just what I need in a pinch.

The bottom row is the same across all seven screens, which you can customize. I left the bottom row in its original default, with options to make phone calls, look up contacts, and send text messages. The bottom right corner launches a list of all applications alphabetically, to access those not on my seven main screens.
Just in case I switch to a local SIM card while abroad in another country, I asked T-mobile to unlock my phone, which they happily did at no additional charge. For example, while I am in Australia, I can either leave my T-Mobile USA chip in the phone, and pay roaming charges per minute, or I can purchase a SIM chip from a local phone company with pre-paid minutes. This often includes unlimited free incoming calls to a local Australian phone number, and voicemail.
Unlocking the phone to use different SIM cards is different than "jailbreaking", a term that refers to Apple's products. For Android phones, jailbreaking is called "rooting", as the process involves getting "root" user access that you normally don't have. The only reason I have found to have my phone "rooted" was to take these lovely screen shots, using the "Screen Shot It" application. This is another application that I paid for. I used the free trial for a few screenshots first to check it out, liked the results, and bought the application.
So, this new smartphone looks like a keeper. I got a screen protector to avoid scratching, and a two-piece case that snaps around the phone to give it more heft. All my chargers are "Mini USB" for my old G1 phone, and this new Vibrant phone is "Micro USB" instead, so I had to order new ones for my car, my office, and for my iGo (tip A97).
This review is more to focus on the fact that the IT industry is changing, and what was traditionally performed on personal computers are now being done on new handheld devices. Android provides a platform for innovation and healthy competition. Let's all hope Oracle and Google can work out their differences amicably.
Continuing coverage of my week in Washington DC for the annual [2010 System Storage Technical University], I attended several XIV sessions throughout the week. There were many XIV sessions. I could not attend all of them. Jack Arnold, one of my colleagues at the IBM Tucson Executive Briefing Center, often presents XIV to clients and Business Partners. He covered all the basics of XIV architecture, configuration, and features like snapshots and migration. Carlos Lizarralde presented "Solving VMware Challenges with XIV". Ola Mayer presented "XIV Active Data Migration and Disaster Recovery".
Here is my quick recap of two in particular that I attended:
XIV Client Success Stories - Randy Arseneau

Randy reported that IBM had its best quarter ever for the XIV, reflecting an unexpected surge shortly after my blog post debunking the DDF myth last April. He presented successful case studies of client deployments. Many followed a familiar pattern. First, the client would only purchase one or two XIV units. Second, the client would beat the crap out of them, putting all kinds of stress from different workloads. Third, the client would discover that the XIV is really as amazing as IBM and IBM Business Partners have told them. Finally, in the fourth phase, the client would deploy the XIV for mission-critical production applications.

A large US bank holding company managed to get 5.3 GB/sec from a pair of XIV boxes for their analytics environment. They now have 14 XIV boxes deployed in mission-critical applications.
A large equipment manufacturer compared the offerings among seven different storage vendors, and IBM XIV came out the winner. They now have 11 XIV boxes in production and another four boxes for development/test. They have moved their entire VMware infrastructure to IBM XIV, running over 12,000 guest instances.
A financial services company bought their first XIV in early 2009 and now has 34 XIV units in production attached to a variety of Windows, Solaris, AIX, Linux servers and VMware hosts. Their entire Microsoft Exchange was moved from HP and EMC disk to IBM XIV, and experienced noticeable performance improvement.
When a University health system replaced two competitive disk systems with XIV, their data center temperature dropped from 74 to 68 degrees Fahrenheit. In general, XIV systems are 20 to 30 percent more energy efficient per usable TB than traditional disk systems.
A service provider that had used EMC disk systems for over 10 years evaluated the IBM XIV versus upgrading to EMC V-Max. The three year total cost of ownership (TCO) of EMC's V-Max was $7 Million US dollars higher, so EMC counter-proposed CLARiiON CX4 instead. But, in the end, IBM XIV proved to be the better fit, and now the customer is happy having made the switch.
The manager of an information communications technology service provider was impressed that the XIV was up and running in just a couple of days. They now have over two dozen XIV systems.
Another XIV client had lost all of their Computer Room Air Conditioning (CRAC) units for several hours. The data center heated up to 126 degrees Fahrenheit, but the customer did not lose any data on either of their two XIV boxes, which continued to run in these extreme conditions.

Optimizing XIV Performance - Brian Cormody

This session was an update from the [one presented last year] by Izhar Sharon. Brian presented various best practices for optimizing the performance when using specific application workloads with IBM XIV disk systems.

Oracle ASM: Many people allocate lots of small LUNs, because this made sense a long time ago when all you had was just a bunch of disks (JBOD). In fact, many of the practices that DBAs use to configure databases across disks become unnecessary with XIV. Wth XIV, you are better off allocating a few number of very large LUNs from the XIV. The best option was a 1-volume ASM pool with 8MB AU stripe. A single LUN can contain multiple Oracle databases. A single LUN can be used to store all of the logs.
VMware: Over 70 percent of XIV customers use it with VMware. For VMFS, IBM recommends allocating a few number of large LUNs. You can specify the maximum of 2181 GB. Do not use VMware's internal LUN extension capability, as IBM XIV already has thin provisioning and works better to allow XIV to do this for you. XIV Snapshots provide crash-consistent copies without all the VMware overhead of VMware Snapshots.
SAP: For planning purposes, the "SAPS" unit equates roughly to 0.4 IOPS for ERP OLTP workloads, and 0.6 IOPS for BW/BI OLAP workloads. In general, an XIV can deliver 25-30,000 IOPS at 10-15 msec response time, and 60,000 IOPS at 30 msec response time. With SAP, our clients have managed to get 60,000 IOPS at less than 15 msec.
Microsoft Exchange: Even my friends in Redmond could not believe how awesome XIV was during ESRP testing. Five Exchange 2010 servers connected two a pair of XIV boxes using the new 2TB drawers managed 40,000 mailboxes at the high profile (0.15 IOPS per mailbox). Another client found four XIV boxes (720 drives) was able to handle 60,000 mailboxes (5GB max), which would have taken over 4000 drives if internal disk drives were used instead. Who said SANs are obsolete for MS Exchange?
Asynchronous Replication: IBM now has an "Async Calculator" to model and help design an XIV async replication solution. In general, dark fiber works best, and MPLS clouds had the worst results. The latest 10.2.2 microcode for the IBM XIV can now handle 10 Mbps at less than 250 msec roundtrip. During the initial sync between locations, IBM recommends setting the "schedule=never" to consume as much bandwidth as possible. If you don't trust the bandwidth measurements your telco provider is reporting, consider testing the bandwidth yourself with [iPerf] open source tool.
Several members of the XIV team thanked me for my April 5th post [Double Drive Failure Debunked: XIV Two Years Later]. Since April 5th, IBM has sold more XIV units this quarter than any prior quarters. I am glad to have helped!
technorati tags: IBM, Technical University, XIV, HP, EMC, CLARiiON, VMAX, TCO, CRAC, JBOD, SAP, Oracle, ASM, Microsoft Exchange, ESRP
Continuing my coverage of the [IBM System Storage Technical University 2011], I participated in the storage free-for-all, which is a long-time tradition, started at SHARE User Group conference, and carried forward to other IT conferences. The free-for-all is a Q&A Panel of experts to allow anyone to ask any question. These are sometimes called "Birds of a Feather" (BOF). Last year, we had two: one focused on Tivoli Storage software, and the second to cover storage hardware. This year, we had two, one for System x called "Ask the eXperts", and one for System Storage called "Storage Free-for-All". This post covers the latter.
(Disclaimer: Do not shoot the messenger! We had a dozen or more experts on the panel, representing System Storage hardware, Tivoli Storage software, and Storage services. I took notes, trying to capture the essence of the questions, and the answers given by the various IBM experts. I have spelled out acronyms and provided links to relevant materials. The answers from individual IBMers may not reflect the official position of IBM management. Where appropriate, my own commentary will be in italics.)
Are there any plans to improve the use of BRMS [
Backup Recovery and Media Services for IBM i
] with [
Tivoli Storage Manager (TSM)
]?
It should be against the law to connect these two together. IBM has no plans to make any further improvements.
When will [
IBM BladeCenter S
] support 2.5-inch drives?
You are in the wrong session! Go to "Ask the eXperts" session next door!
The TSM GUI sucks! Are there any plans to improve it?
Yes, we are aware that products like IBM XIV have raised the bar for what people expect from graphical user interfaces. We have plans to improve the TSM GUI. IBM's new GUI for the SAN Volume Controller and Storwize V7000 has been well-received, and will be used as a template for the GUIs of other storage hardware and software products. The GUI uses the latest HTML5, Dojo widgets and AJAX technologies, eliminating Java dependencies on the client browser.
Can we run the TSM Admin GUI from a non-Windows host?
IBM has plans to offer this. Most likely, this will be browser-based, so that any OS with a modern browser can be used.
As hard disk drives grow larger in capacity, RAID-5 becomes less viable. What is IBM doing to address this?
IBM is aware of this problem. IBM offers RAID-DP on the IBM N series, RAID-X on the IBM XIV, and RAID-6 on its other disk systems.
TPC licensing is outrageous! What is IBM going to do about it?
IBM introduced the [Tivoli Storage Productivity Center for Disk Midrange Edition (MRE)] to help address the cost when Small and Medium-sized Businesses managing SVC, Storwize V7000, DS5000 and DS3000 disk systems.
What is the adoption rate of IBM Easy Tier?
About 25 percent of DS8000 disk systems have SSD installed. Now that IBM DS8000 Easy Tier supports "any two" tiers, roughly 50 percent of DS8000 now have Easy Tier activated. No idea on how Easy Tier has been adopted on SVC or Storwize V7000.
We have an 8-node SVC cluster, should we put 8 SSD drives into a single node-pair, or spread them out?
We recommend putting a separate Solid-State Drive in each SVC node, with RAID-1 between nodes of a node-pair. By separating the SSD across I/O groups, you can reduce node-to-node traffic.
How well has SVC 6.2 been adopted?
The inventory call-home data is not yet available. The only SVC hardware model that does not support this level of software was the 2145-4F2 introduced in 2003. Every other model since then can be updated to this level.
Will IBM offer 600GB FDE drives for the IBM DS8700?
Currently, IBM offers 300GB and 450GB 15K RPM drives with the Full-Disk Encryption (FDE) capability for the DS8700, and 450GB and 600GB 10K RPM drives with FDE for the IBM DS8800. IBM is working with its disk suppliers to offer FDE on other disk capacities, and on SSD and NL-SAS drives as well, so that all can be used with IBM Easy Tier.
Is there a reason for the feature lag between the Easy Tier capabilities of the DS8000, and that of the SVC/Storwize V7000?
We have one team for Easy Tier, so they implement it first on DS8000, then port it over to SVC/Storwize V7000.
Does it even make sense to have separate storage tiers, especially when you factor in the cost of SVC and TPC to make it manageable?
It depends! We understand this is a trade-off between cost and complexity. Most data centers have three or more storage tiers already, so products like SVC can help simplify interoperability.
Are there best practices for combining SVC with DS8000? Can we share one DS8000 system across two or more SVC clusters?
Yes, you can share one DS8000 across multiple SVC clusters. DS8000 has auto-restripe, so consider having two big extent pools. The queue depth is 3 to 60, so aim to have up to 60 managed disks on your DS8000 assigned to SVC. The more managed disks the better.
The IBM System Storage Interopability Center (SSIC) site does not seem to be designed well for SAN Volume Controller.
Yes, we are aware of that. It was designed based on traditional Hardware Compatability Lists (HCL), but storage virtualization presents unique challenges.
How does the 24-hour learning period work for IBM Easy Tier? We have batch processing that runs from 2am to 8am on Sundays.
You can have Easy Tier monitor across this batch job window, and turn Easy Tier management between tiers on and off as needed.
Now that NetApp has acquired LSI, is the DS3000 still viable?
Yes, IBM has a strong OEM relationship with both NetApp and LSI, and this continues after the acquisition.
If have managed disks from a DS8000 multi-rank extent pool assigned to multiple SVC clusters, won't this affect performance?
Yes, possibly. Keep managed disks on seperate extent pools if this is a big concern. A PERL script is available to re-balance SVC striped volumes as needed after these changes.
Is the IBM [
TPC Reporter
] a replacement for IBM Tivoli Storage Productivity Center?
No, it is software, available at no additional charge, that provides additional reporting to those who have already licensed Tivoli Storage Productivity Center 4.1 and above. It will be updated as needed when new versions of Productivity Center are released.
We are experiencing lots of stability issues with SDD, SDD-PCM and SDD-DSM multipathing drivers. Are these getting the development attention they deserve?
IBM's direction is to shift toward native OS-based multipathing drivers.
Is anyone actually thinking of deploying public cloud storage in the near-term?
A few hands in the audience were raised.
None of the IBM storage devices seem to have [
REST API
]. Cloud storage providers are demanding this. What are IBM plans?
IBM plans to offer REST on SONAS. IBM uses SONAS internally for its own cloud storage offerings.
If you ask a DB2 specialist, an AIX specialist, and a System Storage specialist, on how to configure System p and System Storage for optimal performance, you get three different answers. Are there any IBMers who are cross-functional that can help?
Yes, for example, Earl Jew is an IBM Field Technical Support Specialist (FTSS) for both System p and Storage, and can help you with that.
Both Oracle and Microsoft recommend RAID-10 for their applications.
Don't listen to them. Feel free to use RAID-5, RAID-6 or RAID-X instead.
Resizing SVC source volumes forces ongoing FlashCopy or Metro Mirror relatiohships to be stopped. Does IBM plan to address this?
Currently, you have to stop, resize both source and target, then start the relationship again. Consider getting IBM Tivoli Storage Productivity Center for Replication (TPC-R).
What ever happened to IBM [
Grid Medical Archive Solution (GMAS)
]?
IBM continues to support this for exising clients. For new deployments, IBM offers SONAS and the Information Archive (IA).
When will I be able to move SVC volumes between I/O groups?
You can today, but it is disruptive to the operating system. IBM is investigating making this less disruptive.
Will XIV ever support the mainframe?
It does already, with support for both Linux and z/VM today. For VSE support, use SVC with XIV. For those with the new zBX extension, XIV storage can be used with all of the POWER and x86-based operating systems supported. IBM has no plans to offer direct FICON attachment for z/OS or z/TPF.
Not a question - Kudos to the TSM and ProtecTIER team in supporting native IP-based replication!
Thanks!
When will IBM offer POWER-based models of the XIV, SVC and other storage devices?
IBM's decision to use industry-standard x86 technology has proven quite successful. However, IBM re-looks at this decision every so many years. Once again, the last iteration determined that it was not worth doing. A POWER-based model might not beat the price/performance of current x86 models, and maintaining two separate code bases would hinder development of new innovations.
We have both System i and System z, what is IBM doing to address the fact that PowerHA and GDPS are different?
IBM TPC-R has a service offering extension to support "IBM i" environments. GDPS plans to support multi-platform environments as well.
This was a great interactive session. I am glad everyone stayed late Thursday evening to participate in this discussion.
technorati tags: IBM, storage, Tivoli, BRMS, TSM, BladeCenter, GUI, HTML5, AJAX, Dojo, SVC, Storwize V7000, RAID-10, RAID-5, RAID-6, RAID-DP, RAID-X, , DS3000, DS8000, MRE, FDE, SSIC, NetApp, LSI, PERL, SDD, Cloud, REST, SONAS, GDPS, TPC-R, TPC, Productivity Center, Earl Jew
A lot was announced yesterday, so I decided to break it up into several separate posts. This is part 2 in my 3-part series, focusing on: Storwize V7000 Unified, LTO-6 tape, and the SmartCloud Virtual Storage Center.
(to read the rest of the series, see [Part 1-Enterprise Systems: DS8000, TS7700 and XIV])
IBM Storwize® V7000 Unified disk system

The Storwize V7000 Unified is a product that consists of a 2U-high Storwize V7000 control enclosure that provides block-based access, combined with two 2U-high File Modules that provide file-based NAS protocols: CIFS, NFS, HTTPS, SCP and FTP. The problem was that when it was introduced, it was based on Storwize V7000 v6.3, so when the Storwize V7000 v6.4 features were announced last June, they did not apply to the Storwize V7000 Unified.

That is all fixed now, so the Storwize V7000 Unified now supports the full v6.4 features, including Real-time Compression for both file and block-based access to primary data, and Fibre Channel over Ethernet (FCoE) for block access.

The two File Modules are no longer limited to a single Storwize V7000 control enclosure, you can now connect to up to four control enclosures clustered together. Combined with up to nine expansion enclosures for additional disk raises the total maximum to 960 drives.

If you don't already have an Active Directory or LDAP server, the Storwize V7000 Unified now offers an embedded LDAP server, for smaller deployments that want to reduce the number of servers they need to purchase for a complete solution.

Like the [IBM XIV Gen3 storage system], both the Storwize V7000 and V7000 Unified now also support the OpenStack Nova-volume interface.

Lastly, if you have a Storwize V7000 v6.4, you can upgrade it to a Storwize V7000 Unified by simply adding the two File Modules. This can be done in the field.

IBM LTO-6 for tape libraries and drives

IBM introduces the sixth generation of Linear Tape Open (LTO-6) drives, which can be used as stand-alone IBM TS1060 drives, or in IBM tape libraries. As with previous models of LTO, the LTO-6 can read two older generations (LTO-4 and LTO-5) tape media, and can write to previous generation (LTO-5) tape media. You can buy the LTO-6 drives now, and use the older media until LTO-6 tape cartridges are available (hopefully later this year!)

My friend, Brad Johns, from Brad Johns Consulting, has a great post on this [LTO-6 Announcement]. While you expect the new drives to be faster with a denser tape media format, the key advantage to the LTO-6 is that it improves the compression algorithm, from the previous 2:1 to the new 2.5:1 compression ratio:

Level
Uncompressed
Compressed
LTO-5
1.5TB
140 MB/sec
3.00TB
280 MB/sec
LTO-6
2.5TB
160 MB/sec
6.25TB
400 MB/sec

Thus, with the improved compression, the LTO-6 is 40 percent faster, with double the tape cartridge density. This can reduce backup times by 30 percent, increase the amount of data that sits in your automated tape libraries, and reduce the courier costs sending tapes off-site.

IBM SmartCloud Virtual Storage Center v5.1

Last year, IBM coined the phrase "Storage Hypervisor" to refer to the underlying technology in the IBM SAN Volume Controller (SVC) and Storwize V7000 disk systems.

At the IBM Edge conference last June, my colleague Mike Griese presented [SmartCloud Virtual Storage Center]. Back then, it was a pilot program (beta test), and this week, IBM announces that it will be formally available as a product.

The idea was simple: take the basic storage hypervisor, and add the necessary software to make it a complete solution.

If all of your disk is currently virtualized behind IBM SAN Volume Controller (SVC), or you want to put all of your data behind SVC, then SmartCloud Virtual Storage Center is for you. Basically, for one per-TB price, you get all of the following:

The software features of SAN Volume Controller v6.4, including FlashCopy, Metro Mirror and Global Mirror.


The full advanced features of IBM Tivoli Storage Productivity Center v5.1, including the Storage Analytics Engine that does "Right-Tiering", recommending which LUNs should be moved entirely from one disk system to another, based on policies and access patterns.


IBM Tivoli Storage FlashCopy Manager v3.2 which manages FlashCopy with full coordination with applications, including Microsoft Exchange, SQL Server, DB2, Oracle, SAP, and VMware. This ensures that the FlashCopy destination copies are clean, eliminating the need to run backout or redo logs to correct any incomplete units of work.

If this combination sounds familiar, it was based on IBM's previous attempt called [Rapid Application Storage] which combined the Storwize V7000 with Tivoli Storage Productivity Center Midrange Edition and FlashCopy Manager.

The key difference is that SmartCloud VSC does not include the SVC hardware itself, you buy this separately. If you want Real-time Compression, that is charged separately for the subset of TB of the volumes that you select for compression.

Confused? You can read all the details in the [IBM SmartCloud Virtual Storage Center - Announcement Letter].
To learn more about all of the announcements today, see the [Storage Landing Page].
technorati tags: IBM, Storwize V7000, Unified, storage, NAS, FCoE, Real-Time Compression, OpenStack, Nova-volume, Brad Johns, LTO-6, SmartCloud, Virtual Storage Center, Storage Hypervisor, SVC, FlashCopy
Normally, when EMC fails, it is worth a giggle. Companies are run by humans, and nobody is perfect. However, their latest one, failing to defend their RSA SecurID two-factor website, is no laughing matter. Breaches like this undermine the trust needed for business and commerce to be done with Information Technology, so it affects the entire IT industry.
(FTC Disclosure: I do not work or have any financial investments in either EMC nor ENC Security Systems. Neither EMC nor ENC Security Systems paid me to mention them on this blog. Their mention in this blog is not an endorsement of either company or their products. Information about EMC was based solely on publicly available information made available by EMC and others. My friends at ENC Security Systems provided me an evaluation license for their latest software release so that I could confirm the use cases posed in this post.)
Of course, EMC did the right thing by making this breach public in an [Open Letter to RSA Customers]. While this may affect their revenues, as clients question whether they should do business with EMC, or affect their stock price, as investors question whether they should invest in EMC, they were very clear and public that the breach occurred. As far as I know, none of the executives of the RSA security division have stepped down. The disclosure of the breach was the right thing to do, and required by law from the [US Securities Exchange Commission]. This law was created to prevent companies from trying to hide breaches that expose external client information.
The breach does not affect RSA public/private key pairs used by IBM and most every other large company. Rather, this breach was targeted to RSA SecurID two-factor authentication. I explained two-factor authentication in my blog post [Day 5 Grid, SOA and Cloud Computing - System x KVM solutions], but basically it is an added level of security, requiring something you know (your password) with something you have (such as a magnetic card or key fob). Both are required to gain access to the system.
Breaches happen. Recently, [Hackers found vulnerabilities in the McAfee.com website]. Last month, fellow blogger Chuck Hollis from EMC had a blog post on [Understanding Advanced Persistent Threats (APT)] in the week leading up to their RSA Conference. It was precisely an APT that hit RSA, so the irony of this breach was not lost on the blogosphere. Perhaps Chuck's blog post gave hackers the idea to do this, like saying "I hope terrorists don't bomb this building that hold all of our chemical weapons..." or "I hope bank robbers don't rob this repository where we keep all the cash..."
(The sinister counter-theory, that EMC staged this breach as a marketing stunt to undermine trust in hybrid or public cloud offerings, such as those offered by IBM, Amazon or Salesforce.com, offers an interesting twist. While computer breaches in general are fodder for [Luddites] to argue we should not use computers at all, this particular breach could be used by EMC salesmen to encourage their customers to choose private cloud over hybrid cloud or public cloud deployments.  Given all the extra work that RSA SecurID customers have to now do to harden their environments, that would be in bad taste.)
Over on Mashable, Simon Crosby argues [Why the Cloud Is Actually the Safest Place for Your Data]. I am sure we have not heard the last of the implications of this RSA breach. For now, I have two recommendations for you.
Validate Backup Methodology

Today, March 31, is World Backup Day. This is because many viruses are triggered to operate on April 1. Just like checking the batteries in your smoke alarms every year, you should ensure that your backup methodology remains valid.

Back in 2008, I was a volunteer for the One Laptop Per Child (OLPC) initiative, and built an XS server to be used for Uruguay. I shipped [this baby off to school] to be the central server that all the student and teacher laptops connected to. It was the gateway to the Internet, as well as the [repository for the blogs of each student]. The blogs were accessible to the public, so that parents could read what their students were writing.

Unfortunately, this public access resulted in my little XS server being attacked by hackers, with IP addresses in Russia and China. Why anyone from either of those two countries wanted to ruin the hopes and dreams of small school children in Uruguay was beyond me. Fortunately, I had planned for remote administration. Backups were taken by me weekly to a second drive that was only mounted when I was dialed in to take the backup. The rest of the time, it was offline, so as not to be written to by hackers.

I also shipped along with the server a bootable DVD that contained a modified version of [System Rescue CD], scripts to start up SSHD daemon, and pre-populated for use with public/private RSA keys for me and eight other administrators located in various countries. To effect repairs, the local operator would reboot to the DVD, and then I could login via "ssh" and restore the operating system, programs and data. Sadly, this meant that the students might have lost some of their most recent blog posts since the last backup.

Please consider reviewing your own backup strategies. If your security were compromised, data was corrupted or lost, would you be able to recover from your backups?

Use Encryption where Appropriate

If you plan to travel this Summer, you may want to consider encryption to protect yourself. ENC Security Systems has just released their latest [Encrypt Stick] which is a USB memory stick pre-loaded with software that provides three features:

Encryption for your files
A secure web browser for accessing sensitive websites
Secure password manager

Hotel Lobby

Many hotels now offer computers for use by the guests. These are typically running some flavor of Windows operating system. Encrypt Stick comes with an EXE file that you can run to browse the web securely, and have access to your encrypted files and passwords, leaving no trace on the hotel lobby computer.

Friends and Family

What if you are visiting friends and family, and they have a Mac instead? No problem, as Encrypt Stick has a DMG file to use on Mac OS X operating system. While you may not be worried about your siblings hacking into your bank account, you may not want them necessarily seeing what sites you visited.

Airport Lounge

I have been to several airport lounges now that use Linux for their public computers. Makes sense to me, as there are fewer viruses for Linux, and updating Linux is relatively straightforward. However, Encrypt Stick does not support Linux. For my Linux-knowledgeable readers, you can build your own with [Unetbootin] bootable USB memory stick to launch your favorite Linux browser in memory on whatever system you are using. The [Gparted Magic] utility rescue tool includes [TrueCrypt] to encrypt your files. Lastly, you can use [MyPasswordSafe] to hold all of your passwords securely.

Several clients have asked if any of the IBM data-at-rest encrypted disks or tapes are affected by this breach. IBM uses AES encryption for the actual disk and tape media, but we do use RSA keys to encrypt the generated keys used on the TS1120 and TS1130 drives. However, these were not affected by the RSA SecurID breach, and your tapes are safely protected.
Advanced Persistent Threats, viruses and other malware are no laughing matter. If you are concerned about security, contact IBM to help you assess your current environment and help you plan a robust protection strategy.
technorati tags: IBM, EMC, ENC Security Systems, EncryptStick, RSA, SecurID, breach, APT, Chuck Hollis, OLPC, SysRescCD, UnetBootin, TrueCrypt, Gparted, TS1120, TS1130, AES
Continuing my coverage of the 30th annual [Data Center Conference]. we had a Solution Showcase booth open Monday, Tuesday and part of Wednesday.
Here is the IBM System z114 mainframe with David Ayd in his white lab coat.
Dana Grove in the white lab coat shows off the "IBM Watson" simulator to Steve Sams.
Here is a side view, to see how thin the "IBM watson" simulator is.
Across the aisle was the ever-popular IBM Portable Modular Data Center (PMDC)
We were conveniently positioned between the wine and dessert areas. The Solution Showcase is a great opportunity to catch up with the latest technologies and vendors.
technorati tags: IBM, z114, mainframe, David Ayd, Dana Grove, Steve Sams, PMDC
Last month, the National Association of Broadcasters [NAB] had their big [2011 NAB Show]. Broadcast Engineering [announced the 2011 NAB Show Pick Hit winners]. The big news was that IBM's Linear Tape File System (LTFS) was a "Pick Hits" winner at this conference!
IBM introduced the Linear Tape File System last year, which I explained in my post [IBM Celebrates 10 Year Anniversary for LTO tape], and released it as open source to the rest of the Linear Tape Open [LTO] Consortium so that the entire planet can benefit from IBM's innovation. IBM presented a technology demonstration of its Linear Tape File System - Library Edition at the NAB conference, showing how this new IBM library offering of the file system can put mass archives of rich media video content at the users fingertips with the ease of library automation.
From left to right, here is Atsushi Nagaishi (Toshiba) and Shinobu Fujihara (IBM). Fujihara-san is from IBM's Yamato lab in Japan where some of the LTFS development was done. The Yamato Lab was not damaged by the [Earthquakes in Japan].
With the capabilities of LTFS, IBM has introduced an entirely new role for tape, as an attractive high capacity, easy to use, low cost and shareable storage media. LTFS can make tape usable in a fashion like removable external disk, a giant alternative to floppy diskettes, DVD-RW and USB memory sticks with directory tree access and file-level drag-and-drop capability. LTFS can allow the for passing of information around from one system or employee to another. And as for high video storage capacity, a 1.5TB LTO-5 cartridge can hold about 50 hours of XDCAM HD video!
A group photo of the global IBM LTFS team, from left to right, David Pease from IBM Almaden Research Center, Ed Childers from IBM Tucson, Shinobu Fujihara and Hironobu Nagura from IBM Japan.
IBM was once again #1 leader in Tape worldwide for the year 2010. With this exciting new win, tape is not just for backup and archive anymore!
Next week, I will be in New York City for the [IBM Storage Innovation Executive Summit].
technorati tags: IBM, LTFS, NAB, Atsushi Nagaishi, Toshiba, Shinobu Fujihara, David Pease, Ed Childers, Hironobu Nagura
On Wikibon, David Floyer has an article titled [SAS Drives Tier 1 to New Levels of Green] that focuses on the energy efficiency benefits of newer Serial-Attach SCSI (SAS) drives over older Fibre Channel (FC) drives. This makes sense, as R&D budgets have been spent on making newer technologies more "green".
Fellow blogger Hu Yoshida (HDS) encourages people to [Invest in the Future with SAS, SATA and SFF], referring to Figure 1.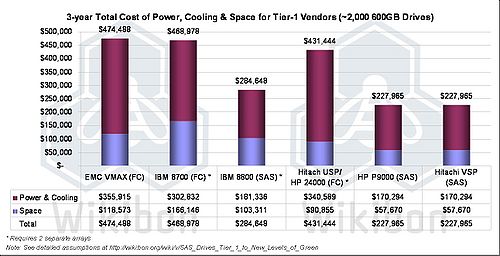 Of course, people might consider this an [apples-to-oranges] comparison. Not only are we changing from FC to SAS technology, we are also changing from 3.5-inch drives to small form factor (SFF) 2.5-inch drives. It seems odd to specify 2000 drives, when only two of the five scale up to that level. Few systems in production, from any vendor, have more than 1000 drives, so it would have seemed that would have been a fairer comparison.
However, Hu's conclusion that the combination of SAS and SFF provides better performance and energy efficiency for both IBM DS8800 and HDS VSP than FC-based alternatives from any vendor seems reasonably supported by the data.
Meanwhile, fellow blogger David Merrill (HDS) pokes fun at IBM DS8800 in Figure 2 in his post [Winner o' the green]. This second comparison was for 4PB of raw capacity, which 4 of the 5 can handle easily using 2TB SATA drives, but the DS8800 is based on SAS technology and does not support 2TB SATA drives. A performance-oriented configuration with four distinct DS8800 boxes employing 600GB SAS drives is used instead, causing the data for the DS8800 to stick out like a sore thumb, or perhaps more intentionally as a middle finger.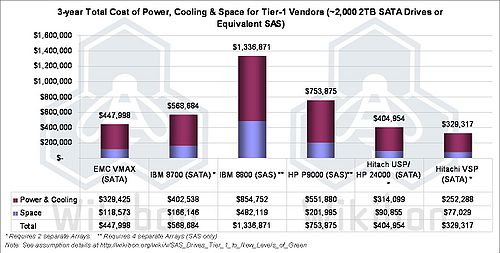 The main take-away here is that IBM offers both the DS8700 for capacity-optimized workloads, and the DS8800 for performance-optimized workloads. Some competitors may have been spreading FUD that the DS8700 was withdrawn last month, it wasn't. As you can see from the data presented, there are times where a DS8700 might be more preferable than a DS8800, depending on the type of workloads you plan to deploy. IBM offers both, and will continue to support existing DS8700 and DS8800 units in the field for many years to come.
technorati tags: IBM, DS8700, DS8800, Wikibon, Hu Yoshida, David Merrill, Davud Floyer
This week, I am in Melbourne, Australia for the [IBM System x and System Storage Technical Symposium]. Here is a recap of Day 1:
Keynote Session

The keynote was led by Phil Tasker, IBM Business Unit Executive (BUE) for STG Education Programs in Growth Markets, then Joe Screnci, head of IBM Storage Sales for Australia. IBM is in the Top 10 Training Hall of Fame, and conducts over 40,000 classes worldwide, resulting in over 1.3 million student days of instructions. IBM Systems Lab and Training technical hosts over three dozen conferences like this one every year.

Next was Clod Barrera, Distinguished Engineer and Chief Technical Strategist for the IBM System Storage product line. He covered future trends in storage as they relate to IBM's Smarter COmputing initiative.




Storage for the Clouds

Clod Barrera presented this break-out session on Cloud Storage. He covered why clouds matter, the various types and purposes of cloud, technology and architectures, and where IBM is headed to support this trend.

Storage for Cloud computing was $1 Billion USD business in 2010, and is expected to grow 32 percent CAGR through, compared to 3.8 percent for non-cloud storage. Clod estimates that 10 to 15 percent of all storage will be in cloud deployments by 2015. Of this storage, analysts expect 50 percent in private clouds, and the other 50 percent in public clouds. For private clouds, clients are looking to "Cloudify" their existing IT infrastructures. For public clouds, the projects are mostly green field.

IBM is also looking to the "arms dealer" of choice for Telcos and other companies looking to launch their own Cloud Services. IBM has a Cloud Services Provider Platform (CSP2) specifically to provide all the tools and technologies needed to make this possible.

Last month, IBM launched several new solutions for Cloud. The IBM Starter Kit for Cloud will help existing IT environments adopt cloud technologies. The IBM Service Agility Accelerator for Cloud is available for more advanced deployments. IBM Service Delivery Manager (ISDM) integrates a collection of software to provide complete integrated service management. IBM CloudBurst provides an integrated hardware-and-software stack for both x86 and POWER chipsets.

Multi-tenancy is also a big issue, and this varies depending on deployment model: IaaS, PaaS, or SaaS. Multi-tenancy is needed to help divide up management tasks, and to ensure that shared resources are paid for and meet SLA requirements accordingly.

Clod feels there are good reasons to use high performance, transactional SAN storage for VMware environments, versus NAS which many people consider simpler to deploy. IBM is also active in open standards, including SNIA's Cloud Data Management Interface [CDMI].




Journey to the Private Cloud

Gary Luke from Brocade provided this session on IBM's SAN384B-2 and SAN768B-2 SAN directors. Brocade is one of IBM's suppliers for SAN switches, and thanks to TRILL being adopted last August by IETF, supports multi-hop FCoE configurations! However, Gary did not talk about FCoE, but rather native FCP and FICON support in these new directors.

According to VMware, only 30 percent of x86 workloads are virtualized by any hypervisor. Gary feels that server virtualization and the use of Solid-State Drives (SSD) in disk arrays are driving existing 8 Gbps SAN to upgrade to 16 Gbps. Gary feels that Fibre-Channel based SANs are best positioned to handle unpredictable peaks in a 24-by-7 world.

The SAN384B-2 can house up to 256 ports (8 Gbps) or 192 ports (16 Gbps) in four slots, 9U chassis. The SAN768B-2 can handle twice these, in a 12U chassis. The nice thing about the 16Gbps ports is that they can auto-negotiate down to 10, 8, 4 and 2 Gbps. This is far better than typical N-2 support, often referred to as the speeds supported, such as 4/2/1 and 8/4/2. An upcoming FOS release will allow people with previous generation SAN384B-1/SAN768B-1 directors to move their 8Gbps blades over to the new SAN384B-2/SAN768B-2 generation models.

Since most CWDM and DWDM only support maximum 10 Gbps FC and 10GbE, Brocade's 16Gbps can automatically drop down to 10 Gbps for direct attachment to CWDM/DWDM, rather than having a step-down box normally required.

A major advancement is the change from copper to optical "Inter-Chassis Links" (ICL). Unlike Inter-switch links (ISL) that use up SAN ports on each box, the ICL is faster, more efficient and does not consume ports. Normally, clients would connect two directors together, but now you can connect up to six chassis together! For example, you can have four SAN368B-2 connected to your host servers, ICL attached to two SAN768B-2, that are then connected to your disk and tape storage devices. The fiber optic ICL allow for up to 50 meters distance. Combining six chassis together would allow the complex to support over 3,000 ports (8 Gbps) or 2,300 ports (16 Gbps).

Brocade supports encryption of data in-flight. Why is this important? Gary suggested we watch this [YouTube video from Australia's Today Tonight show]:

The SAN384B-2 and SAN768B-2 supports "virtual SAN" logical switches, traffic isoliation (TI) zones, fabric-assigned WWNNs, and fabric-based QoS.

Lastly, Brocade offers a free utility called [SANhealth] that will gather data from your b-type, m-type and even Cisco MDS-based SAN. The data can then be sent to Brocade for analysis, and Brocade will then email back some nice Visio graphs, spreadsheets and other analysis results on the health of your SAN.
technorati tags: IBM, Melbourne, Australia, Phil Tasker, Joe Screnci, Clod Barrera, Gary Luke, Brocade, SAN384B-2, SAN768B-2, Cloud+Storage, SAN, FCP, ICL
Well, it's Tuesday again, and that means more IBM announcements!
Today, IBM announced the enhanced IBM System Storage DS3200 disk system.It is in our DS3000 series, the DS3200 is SAS-attach, DS3300 is iSCSI-attach, and DS3400 is FC-attach. All of them support up to 48 drives, which can be a mix of SAS and SATA drives.
The DS3200 supports the following operating environments (see IBM's [Interop Matrix] for details):
Microsoft Windows
Linux (both Linux-x86 and Linux on POWER)
AIX
Sun Solaris
VMware
Novell NetWare
With today's announcements, the DS3200 can be used to boot from, as well as contain data. This is ideal to combine with IBM BladeCenter. With the IBM BladeCenter you can have 14 blades, either x86 or POWER based processors, attached to a DS3200 via SAS switch modules in the back of the chassis.
Let's take an example of how this can be used for a Scale-Out File Services[SoFS] deployment.
Servers

First, we start with servers. We can have either three [IBM System x3650] servers, but this would use up all six of the direct-attach ports. Instead, we'll choose the [BladeCenter H chassis], with three HS21 blades for SoFS, and that leaves us with eleven empty blade slots we could put in a management node, or other blades to run applications.

SAS connectivity modules

The IBM BladeCenter [SAS Connectivity Module] allows the blade servers to connect to a DS3200. Two of them fit right in the back of the BladeCenter chassis, providing full redundancy without consuming additional rack space.

DS3200 and EXP3000 expansion drawers

We'll have one DS3200 controller with twelve internal drives, and three expansion EXP3000 drawers with twelve drives each, for a total of 48 drives. Using 1TB SATA, this would be 48 TB raw capacity.
The end result? You get a 48TB NAS scalable storage solution, supporting up to 7500 concurrent CIFS and NFS users, with up to 700 MB/sec with large block transfers. By using BladeCenter, you can expand performance by adding more blades to the Chassis, or have some blades running SAP or Oracle RAC have direct read/write access to the SoFS data.
Just another example on how IBM can bring together all the components of a solution to provide customer value!
technorati tags: IBM, DS3200, BladeCenter, Linux, AIX, Windows, Solaris, VMware, NetWare, POWER, SAS, EXP3000, SATA, CIFS, NFS, SoFS
[
Read More
]
Continuing my week in Washington DC for the annual [2010 System Storage Technical University], I presented a session on Storage for the Green Data Center, and attended a System x session on Greening the Data Center. Since they were related, I thought I would cover both in this post.
Storage for the Green Data Center

I presented this topic in four general categories:

Drivers and Metrics - I explained the three key drivers for consuming less energy, and the two key metrics: Power Usage Effectiveness (PUE) and Data Center Infrastructure Efficiency (DCiE).
Storage Technologies - I compared the four key storage media types: Solid State Drives (SSD), high-speed (15K RPM) FC and SAS hard disk, slower (7200 RPM) SATA disk, and tape. I had comparison slides that showed how IBM disk was more energy efficient than competition, for example DS8700 consumes less energy than EMC Symmetrix when compared with the exact same number and type of physical drives. Likewise, IBM LTO-5 and TS1130 tape drives consume less energy than comparable HP or Oracle/Sun tape drives.
Integrated Systems - IBM combines multiple storage tiers in a set of integrated systems managed by smart software. For example, the IBM DS8700 offers [Easy Tier] to offer smart data placement and movement across Solid-State drives and spinning disk. I also covered several blended disk-and-tape solutions, such as the Information Archive and SONAS.
Actions and Next Steps - I wrapped up the talk with actions that data center managers can take to help them be more energy efficient, from deploying the IBM Rear Door Heat Exchanger, or improving the management of their data.

Greening of the Data Center

Janet Beaver, IBM Senior Manager of Americas Group facilities for Infrastructure and Facilities, presented on IBM's success in becoming more energy efficient. The price of electricity has gone up 10 percent per year, and in some locations, 30 percent. For every 1 Watt used by IT equipment, there are an additional 27 Watts for power, cooling and other uses to keep the IT equipment comfortable. At IBM, data centers represent only 6 percent of total floor space, but 45 percent of all energy consumption. Janet covered two specific data centers, Boulder and Raleigh.

At Boulder, IBM keeps 48 hours reserve of gasoline (to generate electricity in case of outage from the power company) and 48 hours of chilled water. Many power outages are less than 10 minutes, which can easily be handled by the UPS systems. At least 25 percent of the Computer Room Air Conditioners (CRAC) are also on UPS as well, so that there is some cooling during those minutes, within the ASHRAE guidelines of 72-80 degrees Fahrenheit. Since gasoline gets stale, IBM runs the generators once a month, which serves as a monthly test of the system, and clears out the lines to make room for fresh fuel.

The IBM Boulder data center is the largest in the company: 300,000 square feet (the equivalent of five football fields)! Because of its location in Colorado, IBM enjoys "free cooling" using outside air temperature 63 percent of the year, resulting in a PUE of 1.3 rating. Electricity is only 4.5 US cents per kWh. The center also uses 1 Million KwH per year of wind energy.

The Raleigh data center is only 100,000 Square feet, with a PUE 1.4 rating. The Raleigh area enjoys 44 percent "free cooling" and electricity costs at 5.7 US cents per kWh.  The Leadership in Energy and Environmental Design [LEED] has been updated to certify data centers.  The IBM Boulder data center has achieved LEED Silver certification, and IBM Raleigh data center has LEED Gold certification.

Free cooling, electricity costs, and disaster susceptibility are just three of the 25 criteria IBM uses to locate its data centers. In addition to the 7 data centers it manages for its own operations, and 5 data centers for web hosting, IBM manages over 400 data centers of other clients.
It seems that Green IT initiatives are more important to the storage-oriented attendees than the x86-oriented folks. I suspect that is because many System x servers are deployed in small and medium businesses that do not have data centers, per se.
technorati tags: IBM, Technical University, Green Data Center, PUE, DCiE, Free Cooling, ASHRAE, LEED, SSD, Disk, Tape, SONAS, Archive
Some job titles can be vague. Have you ever given your title to a person at a cocktail party, only to have to explain exactly what you do? With a title like "IBM Master Inventor and Senior Managing Consultant", this happens to me all the time. To help explain what we do at the Tucson Executive Briefing Center (EBC), I use the following analogy.
People who want to see or interact with animals have several options. One option is to go visit the animals in their natural habitat. A more convenient option, however, is to visit the animals in a zoo. Zoos bring together a wide variety of animals, making it convenient to visit all of them at one time.
I did not fully appreciate the advantage of zoos until I took a safari in Kenya, Africa a few years ago. The word safari means "long journey" in Swahili. For two weeks, we drove around in a Land Rover on bumpy roads across the country. The best time to see the animals was early in the morning and late in the afternoon. We would drive around for hours looking for a type animal we had not seen already. Most came to see the so-called "Big Five": Buffalo, Elephant, Leopard, Lion and Rhinoceros. After two weeks and hundreds of miles, we had seen the "Big Nine" which extends the Big Five to include the Cheetah, Zebra, Giraffe and Hippo, as well as seeing a variety of other, lesser known animals.
When it comes to zoos, there are two kinds.
Self-guided -- offering the basic zoo experience where you are handed a map to visit the animals on your own.
Docent-guided -- offering a richer zoo experience where the docent provides added value, leading visitors around the zoo, answering questions, providing education, and comparing the differences between the animals.
Over the past 15 years, IBM has been consolidating storage development in Tucson, Arizona moving storage-related projects from San Jose, CA, from Rochester, MN, and from Raleigh, NC. Tucson has the largest collection of IBM storage hardware and software development in North America. I am one of the three local "docents", guiding the clients that come to Tucson to visit the developers.
(Note: I have seen other analogies to discuss groups of developers. There is an old adage: engineers are [like mushrooms: kept in the dark, covered with manure, and then canned when they are old enough]. In 2008, I had a popular blog post relating [Software Programmers as Bees]. In referring to developers as animals in the zoo in this post, I am treating them in high esteem as the star attractions of the zoo. This blog is not meant as commentary on their hygiene.)
Here are some of the types of developers that our clients ask to interact with:
Research Scientists

A was hired into IBM back in 1986 as a Research Scientist. When clients want to hear about IBM's future direction over the next 10-15 years, we bring in someone from IBM Research.

Hardware Engineers

While disk systems may seem no more complicated as arranging books on a shelf, clients often want to talk to hardware engineers related to IBM's tape libraries, especially the IBM System Storage TS3500 library and the High-Density frame that can store multiple cartridges per slot in a spring-loaded manner.

Software Engineers

I have a Bachelor's degree in Computer Engineering and Master's degree in Electrical Engineering, so I am able to speak both sides of the hardware/software divide. Software engineers here in Tucson develop the microcode that runs on disk and tape hardware, the various GUI, CLI and SMI-S API interfaces, as well as Tivoli Storage software, especially Tivoli Storage Manager (TSM) and Tivoli Storage Productivity Center.

Testers

IBM Tucson has a huge test lab, and our testers are very familiar with all of the subtle nuances of interoperability between servers, HBAs, switches and storage devices. We have system and function testers for the individual products, ISV testers to validate software compatability, performance testers, and environment testers to verify the storage devices can handle extremes in temperature, humidity, vibration and noise.

System Architects

IBM has architects for each product line to help decide which features and functions are developed for each product release. While many software engineers have expertise narrowly focused on an individual component, the system architects need to have a broad awareness of the entire environment. Earlier in my career, I was the chief architect for DFSMS, the storage management element of the z/OS mainframe operating sytsem, and chief architect for what we now call Tivoli Storage Productivity Center.

Product and Portfolio Managers

Product and Portfolio managers are helpful to explain to clients why IBM invested more in some products than others. I had served as the Portfolio Manager for IBM tape systems. When clients want to talk about the business side of our products, such as pricing, licensing and leasing issues, we bring the product and portfolio managers in.

IBM Executives

For some clients, high level executives want to speak to their counterparts at IBM, vice president to vice president, executive to executive. Our local IBM executives often help kick off the briefing in the morning, or provide the executive summary and discuss next steps at the end of the day. Golfing, dinners and drinks, of course, are always a popular scheduing option.
On behalf of the rest of the Tucson EBC, I would like to thank all the developers who have helped us last year with client briefings. There are too many to mention, and most are too humble to let me put their names in this blog. Team, your assistance is very appreciated!
Many IBMers consider Tucson to be the headquarters for storage, and I have heard IBM executives refer to Tucson as the center of the universe for storage products. However, IBM is a global company. Just as zoos do not pretend to be complete collections of animals, IBM storage development is not entirely contained in Tucson. IBM Research for storage is also done in Almaden CA, Yorktown Heights NY, and Haifa, Israel. Hardware development is also done in Japan, Europe and Israel. Tivoli Storage has locations in Beaverton, Oregon, and Austin, Texas, to name a few. IBM is a big company, so if I left your favorite location off the list, let me know in the comments below.
Some clients, sales reps and business partners have complained that Tucson is not the most convenient location to get to. I get that. One rep asked why we don't have briefing centers somewhere more accessible, such as Chicago or Atlanta, both cities offer a major airline hub. As much as I personally enjoy cities like Chicago or Atlanta, people don't visit zoos just to see the docents, they come to see the animals. Having docents located in Chicago or Atlanta, standing sadly in front of empty cages with no animals to interact with, makes no sense at all.
With over 350 days of sunshine per year, Tucson is actually a well-kept secret. Clients who have never been to Tucson discover the wonders of the Sonoran desert. Coyotes chase roadrunners across our parking lot. Several clients who have come to visit us have ended up buying retirement homes here. If you haven't been to Tucson, or it has been a while since your last trip, I encourage you to [schedule a briefing]. The weather right now is ideal!
technorati tags: IBM, Tucson EBC