Well, I'm back from my exhausting trip in New York City.
I had to rub my eyes when I saw the headlines about [HP accusing Oracle] of harassing their new CEO with a [subpoena in Oracle's suit against HP]. One thing perhaps can be said about this circus -- it may be more preferable for Oracle to talk about than the continued decline of the hardware business that it [acquired from Sun Microsystems] earlier this year.
Each quarter since 2006, the [IBM Migration Factory] team has tallied the number of clients who have moved to IBM severs and storage systems from competitive hardware. We'll I've just seen the latest numbers, for the third quarter of 2010, and it looks like we set a new quarterly record with nearly 400 total migrations to IBM from Oracle/Sun and HP.
It's clear that companies and governments worldwide are seeing greater value in IBM systems, while Oracle and HP watch their customer bases erode. In just this past 3Q 2010, nearly 400 clients have moved over to IBM -- almost all of them from Oracle/Sun and HP. Of these, 286 clients migrated to IBM Power Systems, running AIX, Linux and IBM i operating systems, from competitors alone -- nearly 175 from Oracle/Sun and nearly 100 from HP. The number of migrations to IBM Power Systems through the first three quarters of 2010 is nearly 800, already exceeding the total for all of last year by more than 200.
Let's do the math.... Since IBM established its Migration Factory program in 2006, more than 4,500 clients have switched to IBM. More than 1,000 from Oracle/Sun and HP joined the exodus this year alone. In less than five years, almost 3,000 of these clients -- including more than 1,500 from Oracle/Sun and more than 1,000 from HP -- have chosen to run their businesses on IBM's Power Systems. That's more than a client per day making the move to IBM!
And as the servers go, so goes the storage. Clients are re-discovering IBM as a server and storage powerhouse, offering a strong portfolio in servers, disk and tape systems, and how synergies between servers and storage can provide them real business benefits.
Adding it all up, it's clear that IBM's multi-billion dollar investment in helping to build a smarter planet with workload-optimized systems is paying off -- and that, more and more, clients are selecting IBM over the competition to help them meet their business needs.
technorati tags: , IBM, Migration Factory, Oracle, Sun, HP, lawsuit, subpoena
My colleagues, Harley Puckett (left) and Jack Arnold (right) were highlighted in today's Arizona Daily Star, our local newspaper, as part of an article on IBM's success and leadership in the IT storage industry. At 1400 employees here in Tucson, IBM is Southern Arizona's 36th largest employer.
Highlighted in the article:
DS8700 with the new Easy Tier feature
TS7650 ProtecTIER virtual tape library with data deduplication capability
LTO-5 tape and the new Long Term File System (LTFS)
XIV with the new 2TB drive, for a maximum per-rack usable capacity of 161 TB.
Read the full article [IBMers Crank Out 4 New Offerings To Handle Data Deluge]
technorati tags: , Arizona Daily Star, IBM Tucson, DS8700, Easy Tier, ProtecTIER, Deduplication, LTO-5, LTFS, XIV, IBM, Tucson, Arizona
"Politics makes strange bedfellows."
--- Charles Dudley Warner

In my September 2007 post [Supermarkets and Specialty Shops], I explain that there are two kinds of clients:
Those that prefer to work with one-stop shopping of an IT Supermarket, with companies like IBM, HP and Dell who offer a complete set of servers, storage, switches, software and services, what we call "The Five S's".
Those that perfer shopping for components at individual specialty shops, like butchers, bakers, and candlestick makers, hoping that this singular focus means the products are best-of-breed in the market. Companies like HDS for disk, Quantum for tape, and Symantec for software come to mind.
My how the IT landscape for vendors has evolved in just the past five years! Cisco starts to sell servers, and enters a "mini-mall" alliance with EMC and VMware to offer vBlock integrated stack of server, storage and switches with VMware as the software hypervisor. For those not familiar with the concept of mini-malls, these are typically rows of specialty shops. A shopper can park their car once, and do all their shopping from the various shops in the mini-mall. Not quite "one-stop" shopping of a supermarket, but tries to address the same need.
("Who do I call when it breaks?" -- The three companies formed a puppet company, the Virtual Computing Environment company, or VCE, to help answer that question!)
Among the many things IBM has learned in its 100+ years of experience, it is that clients want choices. Cisco figured this out also, and partnered with NetApp to offer the aptly-named FlexPod reference architecture. In effect, Cisco has two boyfriends, when she is with EMC, it is called a Vblock, and when she is with NetApp, it is called a FlexPod. I was lucky enough to find this graphic to help explain the three-way love triangle.
Did this move put a strain on the relationship between Cisco and EMC? Last month, EMC announced VSPEX, a FlexPod-like approach that provides a choice of servers, and some leeway for resellers to make choices to fit client needs better. Why limit yourself to Cisco servers, when IBM and HP servers are better? Is this an admission that Vblock has failed, and that VSPEX is the new way of doing things? No, I suspect it is just EMC's way to strike back at both Cisco and NetApp in what many are calling the "Stack Wars". (See [The Stack Wars have Begun!], [What is the Enterprise Stack?], or [The Fight for the Fully Virtualized Data Center] for more on this.)
(FTC Disclosure: I am both an employee and shareholder of IBM, so the U.S. Federal Trade Commission may consider this post a paid, celebrity endorsement of the IBM PureFlex system. IBM has working relationships with Cisco, NetApp, and Quantum. I was not paid to mention, nor have I any financial interest in, any of the other companies mentioned in this blog post. )
Chris Mellor and Timothy Prickett Morgan at The Register have a great series of posts exploring this new development: [EMC VSPEX storage torpedo could sink FlexPods], [El Reg hurls EMC onto the rack, drills into VSPEX], [We were right: EMC's VSPEX will take on FlexPods], and [How EMC stuffs channel cakeholes with VSPEX recipes].
Last month, IBM announced its new PureSystems family, ushering in a [new era in computing]. I invite you all to check out the many "Paterns of Expertise" available at the [IBM PureSystems Centre]. This is like an "app store" for the data center, and what I feel truly differentiates IBM's offerings from the rest.
The trend is obvious. Clients who previously purchased from specialty shops are discovering the cost and complexity of building workable systems from piece-parts from separate vendors has proven expensive and challenging. IBM PureFlex™ systems eliminate a lot of the complexity and effort, but still offer plenty of flexibility, choice of server processor types, choice of server and storage hypervisors, and choice of various operating systems.
technorati tags: IBM, Stack Wars, PureSystems, PureFlex, VSPEX, EMC, Vblock, Cisco, VMware, NetApp, FlexPod, HDS, Quantum, Symantec
On Wikibon, David Floyer has an article titled [SAS Drives Tier 1 to New Levels of Green] that focuses on the energy efficiency benefits of newer Serial-Attach SCSI (SAS) drives over older Fibre Channel (FC) drives. This makes sense, as R&D budgets have been spent on making newer technologies more "green".
Fellow blogger Hu Yoshida (HDS) encourages people to [Invest in the Future with SAS, SATA and SFF], referring to Figure 1.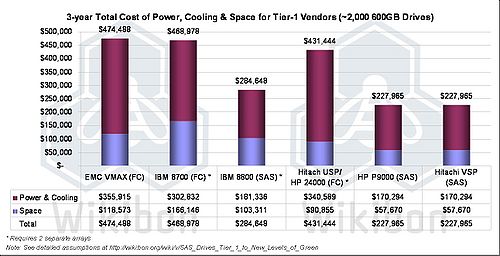 Of course, people might consider this an [apples-to-oranges] comparison. Not only are we changing from FC to SAS technology, we are also changing from 3.5-inch drives to small form factor (SFF) 2.5-inch drives. It seems odd to specify 2000 drives, when only two of the five scale up to that level. Few systems in production, from any vendor, have more than 1000 drives, so it would have seemed that would have been a fairer comparison.
However, Hu's conclusion that the combination of SAS and SFF provides better performance and energy efficiency for both IBM DS8800 and HDS VSP than FC-based alternatives from any vendor seems reasonably supported by the data.
Meanwhile, fellow blogger David Merrill (HDS) pokes fun at IBM DS8800 in Figure 2 in his post [Winner o' the green]. This second comparison was for 4PB of raw capacity, which 4 of the 5 can handle easily using 2TB SATA drives, but the DS8800 is based on SAS technology and does not support 2TB SATA drives. A performance-oriented configuration with four distinct DS8800 boxes employing 600GB SAS drives is used instead, causing the data for the DS8800 to stick out like a sore thumb, or perhaps more intentionally as a middle finger.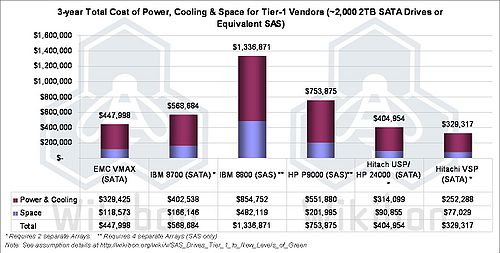 The main take-away here is that IBM offers both the DS8700 for capacity-optimized workloads, and the DS8800 for performance-optimized workloads. Some competitors may have been spreading FUD that the DS8700 was withdrawn last month, it wasn't. As you can see from the data presented, there are times where a DS8700 might be more preferable than a DS8800, depending on the type of workloads you plan to deploy. IBM offers both, and will continue to support existing DS8700 and DS8800 units in the field for many years to come.
technorati tags: IBM, DS8700, DS8800, Wikibon, Hu Yoshida, David Merrill, Davud Floyer
I am still wiping the coffee off my computer screen, inadvertently sprayed when I took a sip while reading HDS' uber-blogger Hu Yoshida's post on
storage virtualization andvendor lock-in
. This blog appears to be the text version of their
funny video
.
While most of the post is accurate and well-stated, two opinions particular caught my eye. I'll be nice and call them opinions, since these are blogs, and always subject to interpretation. I'll put quotes around them so that people will correctly relate these to Hu, and not me.
"Storage virtualization can only be done in a storage controller. Currently Hitachi is the only vendor to provide this."
-- Hu Yoshida
Hu, I enjoy all of your blog entries, but you should know better. HDS is fairly new-comer to the storage virtualization arena, so since IBM has been doing this for decades, I will bring you and the rest of the readers up to speed. I am not starting a blog-fight, just want to provide some additional information for clients to consider when making choices in the marketplace.
First, let's clarify the terminology. I will use 'storage' in the broad sense, including anything that can hold 1's and 0's, including memory, spinning disk media, and plastic tape media. These all have different mechanisms and access methods, based on their physical geometry and characteristics. The concept of 'virtualization' is any technology that makes one set of resources look like another set of resources with more preferable characteristics, and this applies to storage as well as servers and networks. Finally, 'storage controller' is any device with the intelligence to talk to a server and handle its read and write requests.
Second, let's take a look at all the different flavors of storage virtualization that IBM has developed over the past 30 years.
1972

IBM introduces the S/370 with the OS/VS1 operating system. "VS" here refers to virtual storage, and in this case internal server memory was swapped out to physical disk. Using a table mapping, disk was made to look like an extension of main memory.

1974

IBM introduces the IBM 3850 Mass Storage System (MSS). Until this time, programs that ran on mainframes had to be acutely aware of the device types being written, as each device type had different block, track and cylinder sizes, so a program written for one device type would have to be modified to work with a different device type. The MSS was able to take four 3350 disks, and a lot of tapes, and make them look like older 3330 disks, since most programs were still written for the 3330 format. The MSS was a way to deliver new 3350 disk to a 3330-oriented ecosystem, and greatly reduce the cost by handling tape on the back end. The table mapping was one virtual 3330 disk (100 MB) to two physical tapes (50 MB each). Back then, all of the mainframe disk systems had separate controllers. The 3850 used a 3831 controller that talked to the servers.



1978

IBM invents Redundant Array of Independent Disk (RAID) technology. The table mapping is one or more virtual "Logical Units" (or "LUNs") to two or more physical disks. Data is striped, mirrored and paritied across the physical drives, making the LUNs look and feel like disks, but with faster performance and higher reliability than the physical drives they were mapped to. RAID could be implemented in the server as software, on top or embedded into the operating system, in the host bus adapter, or on the controller itself. The vendor that provided the RAID software or HBA did not have to be the same as the vendor that provided the disk, so in a sense, this avoided "vendor lock-in".Today, RAID is almost always done in the external storage controller.



1981

IBM introduces the Personal Computer. One of the features of DOS is the ability to make a "RAM drive". This is technology that runs in the operating system to make internal memory look and feel like an external drive letter. Applications that already knew how to read and write to drive letters could work unmodified with these new RAM drives. This had the advantage that the files would be erased when the system was turned off, so it was perfect for temporary files. Of course, other operating systems today have this feature, UNIX has a /tmp directory in memory, and z/OS uses VIO storage pools.

This is important, as memory would be made to look like disk externally, as "cache", in the 1990s.



1990

IBM AIX v3 introduces Logical Volume Manager (LVM). LVM maps the LUNs from external RAID controllers into virtual disks inside the UNIX server. The mapping can combine the capacity of multiple physical LUNs into a large internal volume. This was all done by software within the server, completely independent of the storage vendor, so again no lock-in.



1997

IBM introduces the Virtual Tape Server (VTS). This was a disk array that emulated a tape library. A mapping of virtual tapes to physical tapes was done to allow full utilization of larger and larger tape cartridges. While many people today mistakenly equate "storage virtualization" with "disk virtualization", in reality it can be implemented on other forms of storage. The disk array was referred to as the "Tape Volume Cache". By using disk, the VTS could mount an empty "scratch" tape instantaneously, since no physical tape had to be mounted for this purpose.

Contradicting its "tape is dead" mantra, EMC later developed its CLARiiON disk library that emulates a virtual tape library (VTL).



2003

IBM introduces the SAN Volume Controller. It involves mapping virtual disks to manage disks that could be from different frames from different vendors. Like other controllers, the SVC has multiple processors and cache memory, with the intelligence to talk to servers, and is similar in functionality to the controller components you might find inside monolithic "controller+disk" configurations like the IBM DS8300, EMC Symmetrix, or HDS TagmaStore USP. SVC can map the virtual disk to physical disk one-for-one in "image mode", as HDS does, or can also map virtual disks across physical managed disks, using a similar mapping table, to provide advantages like performance improvement through striping. You can take any virtual disk out of the SVC system simply by migrating it back to "image mode" and disconnecting the LUN from management. Again, no vendor lock-in.

The HDS USP and NSC can run as regular disk systems without virtualization, or the virtualization can be enabled to allow external disks from other vendors. HDS usually counts all USP and NSC sold, but never mention what percentage these have external disks attached in virtualization mode. Either they don't track this, or too embarrassed to publish the number. (My guess: single digit percentage).

Few people remember that IBM also introduced virtualization in both controller+disk and SAN switch form factors. The controller+disk version was called "SAN Integration Server", but people didn't like the "vendor lock-in" having to buy the internal disk from IBM. They preferred having it all external disk, with plenty of vendor choices. This is perhaps why Hitachi now offers a disk-less version of the NSC 55, in an attempt to be more like IBM's SVC.

IBM also had introduced the IBM SVC for Cisco 9000 blade. Our clients didn't want to upgrade their SAN switch networking gear just to get the benefits of disk virtualization. Perhaps this is the same reason EMC has done so poorly with its "Invista" offering.
So, bottom line, storage virtualization can, and has, been delivered in the operating system software, in the server's host bus adapter, inside SAN switches, and in storage controllers. It can be delivered anywhere in the path between application and physical media. Today, the two major vendors that provide disk virtualization "in the storage controller" are IBM and HDS, and the three major vendors that provide tape virtualization "in the storage controller" are IBM, Sun/STK, and EMC. All of these involve a mapping of logical to physical resources. Hitachi uses a one-for-one mapping, whereas IBM additionally offers more sophisticated mappings as well.


technorati tags: IBM, disk, tape, storage, virtualization, Hu Yoshia, HDS, Hitachi, TagmaStore, USP, NSC, disk-less, SAN Volume Controller, LVM, AIX, RAID, SAN, blade, Sun, STK, Cisco, EMC, Invista,
[
Read More
]
Well, it's Tuesday again, and you know what that means! IBM Announcements! Typically, IBM System Storage has three to five major product launches per year. Making announcements every Tuesday would have been two frequent, and having one big announcement every two or three years would be too far apart. Worldwide combined revenues for storage hardware and software grew double digits last year, comparing full-year 2011 to the prior 2010 year, and I am sure that 2012 will also be a good year for IBM as well! This week we have announcements for both disk and tape, but since 2012 is the 60th Diamond Anniversary for tape, I will start with tape systems first.
TS1140 support for JA/JJ tape cartridges

The TS1140 enterprise tape drive was announced at the [Storage Innovation Executive Summit] last May. It supported a new E07 format on three different new tape cartridges. Models "JC" was 4.0TB standard re-writeable tapes, "JY" was 4.0TB WORM tapes, and "JK" were 500GB economy tapes that were less expensive, but offered faster random access.

Generally, IBM has adopted an N-2 read, N-1 write [backward compatibility]. This means that the TS1140 could read E05 and E06 formatted tapes on JB and JX media, and could write E06 format on JB and JX media. However, there are a lot of older JA and JJ media, especially as part of TS7740 environments, so IBM now supports TS1140 drives to read J1A formatted JA and JJ media. This is not just for TS7740 environments, any TS1140 in stand-alone or tape library configurations will support this as well.

TS7700 R2.1 enhancements

IBM is a leader in tape virtualization with or without physical tape as back-end media. There are two hardware models of the [IBM Virtualization Engine TS7700 family] for the IBM System z mainframe. These virtual libraries are referred to as "clusters" in IBM literature.

A unique feature of the TS7700 series is support for a Grid configuration, which allows up to six different TS7700 clusters to be grouped into a single instance image. These clusters can be in local or remote locations, connected via WAN or LAN connections.

R2.1 is the latest software release of this successful IBM's TS7700 series.

True Sync Mode Copy. Before R2.1, the TS7700 offered "immediate mode copy". An application would write to a virtual tape, and when it was done with the tape and performed an unmount, the TS7700 would then replicate the tape contents to a secondary cluster on the grid. With True Sync Mode, data contents are replicated per implicit or explicit SYNC points. This is another IBM first in the IT tape industry.
Remote Mount Fail-over. When you have two or more TS7700 clusters in a grid configuration, you can do remote mounts. We've added fail-over multi-pathing up to four paths, so that if a link to a remote cluster is down, it will try one of the others instead.
Parallel Copies and Pre-Migration. On of my 19 patents is for the pre-migration feature for the IBM 3494 Virtual Tape Server (VTS) that carries forward into the TS7700, and is also used in the SONAS and Information Archive products. However, when the grid architecture was introduced, the engineers decided not to allow pre-migration and copies to secondary clusters to occur concurrently. Now these two operations can be done in parallel.
Merge two grids into one grid. Now that we can support up to six clusters into a single grid, we have people with 2-cluster and 3-cluster grids looking to merge them into one. Of course, all the logical and physical volume serials (VOLSER) must be unique!
Accelerate off JA/JJ Media. There are a lot of older JA and JJ media still in TS7700 libraries. This feature allows customers to speed up the transition to newer physical tape media.
Copy Export to E06 format on JB media. This one is clever, and I have to say I would have never thought about it. Let's say you have a TS7740 with TS1140 drives, but you want to export some virtual tapes to physical media to be sent to someone who only has a TS7740 connected with older TS1130 drives. These older drives can't read new JC media nor make sense of the E07 format. This feature will let you export to older JB media in E06 format so that it will be fully readable at the new location on the TS1130 drives.
Copy Export Merge service offering. Thanks to mergers and acquisitions, it is sometimes necessary to split off a portion of data from a TS7700 grid. In the past, IBM supported sending this export to a completely empty TS7700 library, but this new service offerings allows the export to be merged into an existing TS7700 that already contains data.

LTFS-SDE support for Mac OS X 10.7 Lion

How do people still not yet know about the Linear Tape File System [LTFS]? I mentioned this in my blogs back in 2010 in [April], [September], and [November]. Last year, LTFS was the [NAB Show Pick Hits Award] and an [Emmy] for revolutionizing the use of digital tape in Television broadcasting.

In layman's terms, the Single Drive Edition [LTFS-SDE] allows a tape cartridge to be treated like USB memory stick. It is supported on the LTO5  tape drives for systems running various levels of Windows, Linux and Mac OS X. Prior to this announcement, IBM supported Snow Leopard (10.5.6) and Leopard (10.6), and now supports Mac OS X 10.7 "Lion" release.

XIV Gen3 Solid-State Drives (SSD)

The [IBM XIV Gen3 storage system] now supports Solid State Drives! I thought I would provide some context from a historic perspective.

IBM first introduced Solid-State Drives (SSD) back in 2007 where it made sense the most, in [drive-for-drive replacements on blade servers in the IBM BladeCenter]. Blade servers typically only have a single drive, and SSD are both faster and use less energy on a drive-for-drive comparison, so this provided immediate benefit. Today, SSD are available on a variety of System x and POWER system servers.

In 2008, IBM rocked the world by being the first to reach [1 Million IOPS with Project Quicksilver]. This was an all-SSD configuration which many considered unrealistic (at the time), but it showed the potential for solid state drives.

In 2010, IBM announced [DS8700 Easy Tier with Sub-LUN automated tiering], and followed it up with similar support for [SVC 6.1 and Storwize V7000] that provides this enterprise-class functionality to midrange and externally-virtualized storage systems.

In 2011, IBM was able to [scan 10 billion files in 43 minutes] using the GPFS file system in support of Big Data analytics. This, of course, was done with Solid State Drives.

When the [XIV Gen3 was Announced - July 2011], each module included an 1.8-inch "SSD-Ready" slot in the back. IBM made a Statement of Direction that IBM would someday offer SSD drives to put in these slots. Today's announcement is that IBM has finalized the qualification process, so now XIV Gen3 clients can have 400GB of usable non-volatile SSD read cache added to each module. This SSD can be added to existing XIV Gen3 boxes in the field, or it can be factory-installed in new shipments. If you have a 15-module XIV, that's 6TB of additional read cache! This SSD is entirely managed by the XIV Gen3, so you won't have to spend weeks reading manuals or specifying configuration parameters.

My colleague Elisabeth Stahl covers this from a performance angle in her blog post [Performance in a Flash: New IBM XIV SSD Caching].

When you carve volumes on the XIV, you now have an option to enable or disable use of the SSD cache for each volume. Since XIV is being used in private and public cloud deployments, this offers the ability to offer premium performance at premium prices. The use of SSD is complementary to IBM XIV Quality of Service (QoS) performance levels, which are determined by host instead.
Well, that's the first major IBM System Storage launch of 2012. Let me know what you think in the comment section below.
technorati tags: IBM, TS1140, TS7700, TS7720, TS7740, LTFS, LTFS-SDE, LTO5, Mac OS X, Sync, XIV, Gen3, Elisabeth Stahl, SSD
Recently, I spoke with Jarrett Potts, my long-time friend and former IBM colleague, who now works as Director of Strategic Marketing over at STORServer. If you have never heard of STORServer, it is a company that makes purpose-built backup appliances.
What is a Backup Appliance? It is an integrated solution of hardware and software that serves a single purpose: backup and recovery. STORServer Enterprise Backup Appliance (EBA) combines IBM's high-end x86 M4 server, IBM disk and tape storage, and IBM Tivoli Storage Manager (TSM) backup software.
(Fun Fact: The 2012 IBM year-end financial results were announced last month. IBM not only continues its #1 lead in servers overall, but has the #1 marketshare for high-end x86 servers, market-leading disk and tape storage hardware, and market leading backup software.)
To determine the appropriate size of your backup appliance, the folks at STORServer help you every step of the way. They figure out the number of TB you will backup every day, and even help configure all of the TSM server parameters to achieve the policies that make the most sense for your organization.
The appliance can backup every type of data, from databases and Virtual Machines (VMs) to documents, spreadsheets, and other unstructured data.
Are you then left with a solution too complicated to run yourself? No. The STORServer Console is an easy-to-use GUI for ongoing monitoring and maintenance. Plus, your friends at STORServer are only a phone call away in case you have any questions.
(FTC Disclosure: I work for IBM, and STORSever is an approved IBM Business Partner that uses IBM hardware and software to build their solution. I have no financial interest in STORServer, and was not paid by STORServer to mention their company or products on my blog. This post may be considered a celebrity endorsement of STORServer and its Enterprise Backup Appliances.)
Perhaps my readers feel that I am a bit biased in describing a TSM-based solution, and you want a second opinion. No worries, I understand. In the latest 165-page [2012 DCIG Backup Appliance Buyer's Guide], the STORServer models ranked very high. Here is an excerpt:
"Nowhere is this demand for purpose built appliances more evident than in the rise of purpose built backup appliances (PBBAs) over the last few years and their anticipated growth rate going forward. A recent market analysis performed by IDC found that worldwide PBBA revenue totaled $2.4 billion in 2011 which was a 42.4 percent increase over the prior year.

This scoring came into play in preparing this Buyer's Guide as the STORServer EBA 3100 model scored so highly overall that it fell outside of the two (2) standard deviations that DCIG generally uses as a guideline for inclusion and exclusion of products.

The reason DCIG included this model in this Buyer's Guide whereas in other situations it might not is that DCIG is unaware of any other backup appliance(s) from any other providers that come close to matching the EBA 3100's software and hardware attributes. As such, DCIG felt it would be doing STORServer specifically and the market generally a disservice by not highlighting in this Buyer's Guide that such a backup appliance existed and was generally available for purchase."



| | | | |
| --- | --- | --- | --- |
|   | Backup Appliance Models | Score | Ranking |
| 1. | STORServer EBA 3100 | 91.70 | ENTERPRISE |
| 2. | Symantec NetBackup 5220 Backup Appliance | 87.11 | Recommended |
| 3. | STORServer EBA 2100 | 86.90 | Recommended |
| 4. | STORServer EBA 1100 | 85.70 | Recommended |
| 5. | STORServer EBA 800 | 85.60 | Recommended |
| 6. | Symantec Backup Exec 3600 Appliance | 78.83 | Excellent |
| 7. | Unitrends Recovery-823 | 76.55 | Excellent |
| 8. | RackTop EBR-FE | 76.50 | Excellent |
| 9. | Unitrends Recovery-833 | 76.25 | Excellent |
| 10. | Unitrends Recovery-822 | 76.15 | Excellent |
The STORServer is ideal for small and medium-sized business (SMB), but can scale quite large to handle business growth. If you are currently unhappy with your current backup environment, and feel now is the time to look around for a better way of taking backups, you won't go wrong choosing a solution based on IBM's market-leading server and storage hardware with Tivoli Storage Manager software.
technorati tags: IBM, System Storage, Tivoli Storage Manager, STORServer
In my presentations in Australia and New Zealand, I mentioned that people were re-discovering the benefits of removable media. While floppy diskettes were convenient way of passing information from one person to another, they unfortunately did not have enough capacity. In today's world, you may need Gigabytes or Terabytes of re-writeable storage with a file system interface that can easily be passed from one person to another. In this post, I explore three options.
Cirago CDD2000 Docking Station

The good folks over at [Cirago International Ltd.] sent me a cute little [CDD2000 docking station] for evalution.

(FCC Disclaimer: I work for IBM, and IBM has no business relationship with Cirago at the time of this writing. Cirago has not paid me to mention their product, but instead provided me a free loaner that I promised to return to them after my evaluation is completed. This post should not be considered an endorsement for Cirago's products. List prices for Cirago and IBM products were determined from publicly available sources for the United States, and may vary in different countries. The views expressed herein may not necessarily reflect the views and opinions of either IBM or Cirago.)

| | |
| --- | --- |
| | I took a few photos so you can see what exactly this device looks like. Basically, it is a plastic box that holds a single naked disk drive. It has four little rubber feet so that it does not slip on your desk surface. |

| | |
| --- | --- |
| The inside is quite simple. The power and SATA connections match those of either a standard 3.5 inch drive, or the smaller form factor (SFF) 2.5 inch drive. However, to my dismay, it does not handle EIDE drives which I have a ton of. After taking apart six different computer systems, I found only one had SATA drives for me to try this unit out with. | |

| | |
| --- | --- |
| | The unit comes with a USB cable and AC/DC power adapter. In my case, I found the USB 3.0 cable too short for my liking. My tower systems are under my desk, but I like keeping docking stations like this on the top of the desk, within easy reach, but that wasn't going to happen because the USB cable was not long enough. |

| | |
| --- | --- |
| Instead, I ended up putting it half-way in between, behind my desk, sitting on another spare system. Not ideal, but in theory there are USB-extension cables that probably could fix this. Here it is with the drive inside. I had a 3.5 inch Western Digital [1600AAJS drive] 160 GB, SATA 3 Gbps, 8 MB Cache, 7200 RPM. | |

To compare the performance, I used a dual-core AMD [Athlon X2] system that I had built for my 2008 [One Laptop Per Child] project. To compare the performance, I ran with the drive externally in the Cirago docking station, then ran the same tests with the same drive internally on the native SATA controller. Although the Cirago documentation indicated that Windows was required, I used Ubuntu Linux 10.04 LTS just fine, using the flexible I/O [fio] benchmarking tool against an ext3 file system.

Sequential Write - a common use for external disk drive is backup.
Random read - randomly read files ranging from 5KB to 10MB in size.
Random mixed - randomly read/write files (50/50 mix) ranging from 5KB to 10MB in size.

| | | | |
| --- | --- | --- | --- |
| Workload | Metric | Internal | External |
| Sequential Write | Throughput IOPS | 1119 | 1044 |
|   | Latency (msec) | 0.866 ms | 0.948 ms |
|   | Bandwidth (KB/s) | 16900 | 14400 |
| Random Read | Throughput (IOPS) | 164 | 119 |
|   | Latency (msec) | 6.06 ms | 8.36 ms |
|   | Bandwidth (KB/s) | 658 | 477 |
| Random Mixed (50/50) | Throughput (IOPS) | 112 | 81 |
|   | Latency (msec) read | 8.78 ms | 12.1 ms |
|   | Latency (msec) write | 0.0983 ms | 0.120 ms |
|   | Bandwidth (KB/s) read | 557 | 328 |
|   | Bandwidth (KB/s) write | 556 | 337 |

For sequential write, the Cirago performed well, only about 15 percent slower than native SATA. For random workloads, however, it was 30-40 percent slower. If you are wondering why I did not get USB 3.0 speeds, there are several factors involved here. First, with overheads, 5 Gbps USB 3.0 is expected to get only about 400 MB/sec. My SATA 2.0 controller maxes out at 375 MB/sec, and my USB 2.0 ports on my system are rated for 57 MB/sec, but with overheads will only get 20-25 MB/sec. Most spinning drives only get 75 to 110 MB/sec. Even solid-state drives top out at 250 MB/sec for sustained activity. Despite all that, my internal SATA drive only got 16 MB/sec, and externally with the Cirago 14 MB/sec in sustained write activity.

| | |
| --- | --- |
| | Here is the mess that is inside my system. The slot for drive 2 was blocked by cables, memory chips and the heat sink for my processor. It is possible to damage a system just trying to squeeze between these obstacles. |

However, the point of this post is "removable media". Having to open up the case and insert the second drive and wire it up to the correct SATA port was a pain, and certainly a more difficult challenge than the average PC user wishes to tackle.

Price-wise, the Cirago lists for $49 USD, and the 160GB drive I used lists for $69, so the combination $118 is about what you would pay for a fully integrated external USB drive. However, if you had lots of loose drives, then this could be more convenient and start to save you some money.

IBM RDX disk backup system

Another problem with the Cirago approach is that the disk drives are naked, with printed circuit board (PCB) exposed. When not in the docking station, where do you put your drive? Did you keep the [anti-static ESD bag] that it came in when you bought it? And once inside the bag, now what? Do you want to just stack it up in a pile with your other pieces of equipment?

| | |
| --- | --- |
| | To solve this, IBM offers the RDX backup system. These are fully compatible with other RDX sytems from Dell, HP, Imation, NEC, Quantum, and Tandberg Data. The concept is to have a docking station that takes removable, rugged plastic-coated disk-enclosed cartridges. The docking station can be part of the PC itself, similar to how CD/DVD drives are installed, or as a stand-alone USB 2.0 system, capable of processing data up to 25 MB/sec. |

The idea is not new, about 10 years ago we had [Iomega "zip" drives] that offered disk-enclosed cartridges with capacities of 100, 250 and 750MB in size. Iomega had its fair share of problems with the zip drive, which were ranked in 2006 as the 15th worst technology product of all time, and were eventually were bought out by EMC two years later (as if EMC has not had enough failures on its own!)

The problem with zip drives was that they did not hold as much as CD or DVD media, and were more expensive. By comparison, IBM RDX cartridges come in 160GB to 750GB in size, at list prices starting at $127 USD.

IBM LTO tape with Long-Term File System

Removable media is not just for backup. Disk cartridges, like the IBM RDX above, had the advantage of being random access, but most tape are accessed sequentially. IBM has solved this also, with the new IBM Long Term File System [LTFS], available for LTO-5 tape cartridges.

With LFTS, the LTO-5 tape cartridge now can act as a super-large USB memory stick for passing information from one person to the next. The LTO-5 cartridge can handle up to 3TB of compressed data at up to SAS speeds of 140 MB/sec. An LTO-5 tape cartridge lists for only $87 USD.

The LTO-5 drives, such as the IBM [TS2250 drive] can read LTO-3, LTO-4 and LTO-5cartridges, and can write LTO-4 and LTO-5 cartridges, in a manner that is fully compatible with LTO drives from HP or Quantum. LTO-3, LTO-4 and LTO-5 cartridges are available in WORM or rewriteable formats. LTO-4 and LTO-5 cartridges can be encrypted with 256-bit AES built-in encryption. With three drive manufacturers, and seven cartridge manufacturers, there is no threat of vendor lock-in with this approach.
These three options offer various trade-offs in price, performance, security and convenience. Not surprisingly, tape continues to be the cheapest option.
technorati tags: IBM, Cirago, CDD2000, RDX, Ubuntu, Linux, LTO, LTO-5, LTFS, SATA, USB, fio
Continuing coverage of my week in Washington DC for the annual [2010 System Storage Technical University], I attended several XIV sessions throughout the week. There were many XIV sessions. I could not attend all of them. Jack Arnold, one of my colleagues at the IBM Tucson Executive Briefing Center, often presents XIV to clients and Business Partners. He covered all the basics of XIV architecture, configuration, and features like snapshots and migration. Carlos Lizarralde presented "Solving VMware Challenges with XIV". Ola Mayer presented "XIV Active Data Migration and Disaster Recovery".
Here is my quick recap of two in particular that I attended:
XIV Client Success Stories - Randy Arseneau

Randy reported that IBM had its best quarter ever for the XIV, reflecting an unexpected surge shortly after my blog post debunking the DDF myth last April. He presented successful case studies of client deployments. Many followed a familiar pattern. First, the client would only purchase one or two XIV units. Second, the client would beat the crap out of them, putting all kinds of stress from different workloads. Third, the client would discover that the XIV is really as amazing as IBM and IBM Business Partners have told them. Finally, in the fourth phase, the client would deploy the XIV for mission-critical production applications.

A large US bank holding company managed to get 5.3 GB/sec from a pair of XIV boxes for their analytics environment. They now have 14 XIV boxes deployed in mission-critical applications.
A large equipment manufacturer compared the offerings among seven different storage vendors, and IBM XIV came out the winner. They now have 11 XIV boxes in production and another four boxes for development/test. They have moved their entire VMware infrastructure to IBM XIV, running over 12,000 guest instances.
A financial services company bought their first XIV in early 2009 and now has 34 XIV units in production attached to a variety of Windows, Solaris, AIX, Linux servers and VMware hosts. Their entire Microsoft Exchange was moved from HP and EMC disk to IBM XIV, and experienced noticeable performance improvement.
When a University health system replaced two competitive disk systems with XIV, their data center temperature dropped from 74 to 68 degrees Fahrenheit. In general, XIV systems are 20 to 30 percent more energy efficient per usable TB than traditional disk systems.
A service provider that had used EMC disk systems for over 10 years evaluated the IBM XIV versus upgrading to EMC V-Max. The three year total cost of ownership (TCO) of EMC's V-Max was $7 Million US dollars higher, so EMC counter-proposed CLARiiON CX4 instead. But, in the end, IBM XIV proved to be the better fit, and now the customer is happy having made the switch.
The manager of an information communications technology service provider was impressed that the XIV was up and running in just a couple of days. They now have over two dozen XIV systems.
Another XIV client had lost all of their Computer Room Air Conditioning (CRAC) units for several hours. The data center heated up to 126 degrees Fahrenheit, but the customer did not lose any data on either of their two XIV boxes, which continued to run in these extreme conditions.

Optimizing XIV Performance - Brian Cormody

This session was an update from the [one presented last year] by Izhar Sharon. Brian presented various best practices for optimizing the performance when using specific application workloads with IBM XIV disk systems.

Oracle ASM: Many people allocate lots of small LUNs, because this made sense a long time ago when all you had was just a bunch of disks (JBOD). In fact, many of the practices that DBAs use to configure databases across disks become unnecessary with XIV. Wth XIV, you are better off allocating a few number of very large LUNs from the XIV. The best option was a 1-volume ASM pool with 8MB AU stripe. A single LUN can contain multiple Oracle databases. A single LUN can be used to store all of the logs.
VMware: Over 70 percent of XIV customers use it with VMware. For VMFS, IBM recommends allocating a few number of large LUNs. You can specify the maximum of 2181 GB. Do not use VMware's internal LUN extension capability, as IBM XIV already has thin provisioning and works better to allow XIV to do this for you. XIV Snapshots provide crash-consistent copies without all the VMware overhead of VMware Snapshots.
SAP: For planning purposes, the "SAPS" unit equates roughly to 0.4 IOPS for ERP OLTP workloads, and 0.6 IOPS for BW/BI OLAP workloads. In general, an XIV can deliver 25-30,000 IOPS at 10-15 msec response time, and 60,000 IOPS at 30 msec response time. With SAP, our clients have managed to get 60,000 IOPS at less than 15 msec.
Microsoft Exchange: Even my friends in Redmond could not believe how awesome XIV was during ESRP testing. Five Exchange 2010 servers connected two a pair of XIV boxes using the new 2TB drawers managed 40,000 mailboxes at the high profile (0.15 IOPS per mailbox). Another client found four XIV boxes (720 drives) was able to handle 60,000 mailboxes (5GB max), which would have taken over 4000 drives if internal disk drives were used instead. Who said SANs are obsolete for MS Exchange?
Asynchronous Replication: IBM now has an "Async Calculator" to model and help design an XIV async replication solution. In general, dark fiber works best, and MPLS clouds had the worst results. The latest 10.2.2 microcode for the IBM XIV can now handle 10 Mbps at less than 250 msec roundtrip. During the initial sync between locations, IBM recommends setting the "schedule=never" to consume as much bandwidth as possible. If you don't trust the bandwidth measurements your telco provider is reporting, consider testing the bandwidth yourself with [iPerf] open source tool.
Several members of the XIV team thanked me for my April 5th post [Double Drive Failure Debunked: XIV Two Years Later]. Since April 5th, IBM has sold more XIV units this quarter than any prior quarters. I am glad to have helped!
technorati tags: IBM, Technical University, XIV, HP, EMC, CLARiiON, VMAX, TCO, CRAC, JBOD, SAP, Oracle, ASM, Microsoft Exchange, ESRP
Did you miss IBM Pulse 2013 this week? I wasn't there either, having scheduled visits with clients in Washington DC this week, only to have those meetings cancelled due to the [U.S. sequestration cuts].
Fortunately, there are plenty of videos and materials to review from the event. Here's a [12-minute video] interview between Laura DuBois, Program VP of Storage for industry analyst firm [IDC], and fellow IBM executive Steve "Woj" Wojtowecz, VP of Tivoli Storage and Networking Software.
(Update: Apparently, IBM had not secured re-distribution rights from IDC to post this video prior to my blog post. IBM now has full permission to distribute. My apologies for any inconvenience last week.)
The two discuss client opportunities and requirements for storage clouds and compute clouds. Client cloud storage requirements include backup and archive clouds, file storage clouds, and storage that supports compute cloud environments.
On a related note, IBM has published a Redbook on its latest addition to the SmartCloud Storage family. I have added [IBM SmartCloud Storage Access V1.1 Configuration Cookbook] to the right panel for "Featured IBM Redbooks".
technorati tags: IBM, Pulse, Steve Wojtowecz, IDC, Laura DuBois, SmartCloud, Storage Cloud, Redbook
I have arrived safely to San Francisco, and was able to check-in at the hotel, pick up my registration badge for Oracle OpenWorld 2011, and attend the first keynote session. This is the largest Oracle OpenWorld event to-date, with over 45,000 attendees from 117 different countries. There are 520,000 square feet of exhibition floor, and over 2,400 educational sessions. The conference is spread across the different buildings of the Moscone center, as well as nearby hotels. On average, attendees will walk seven miles during the week.
Larry Ellison was the keynote speaker for this first kick-off session. He focused almost exclusively on server and storage hardware. He feels that business is all about moving data, not doing integer math.
Exadata

At the beginning of 2011, Oracle had only sold about 1,000 Exadata, but they have a sales target to sell an additional 3,000 Exadata boxes by year end. The Exadata offers up to 10x columnar compression, and has 10x faster bandwidth (40Gbps Infiniband versus 4Gbps FCP). If you have a 100TB database, it would take up only 10TB of disk with this approach. He claims that the 90TB of disk you don't have to buy can then be used to buy more DRAM and/or Flash SSD.

(Realistically, since SSD is 15x more expensive than spinning disk, you can only purchase about 6TB of Flash for the 90TB you save on disk!)

Larry claims the design point for Exadata and Exalogic was to offer a system that was more powerful than IBM's fastest P795 computer, but cheaper than commodity x86 hardware. His secret is to "Parallel everything" for faster performance, and no single points of failure (SPOF). Exadata offers up to 10-50x faster query, and 4-10x faster OLTP. To keep costs low, Exadata uses all commodity hardware except the Infiniband. He cited various customer examples:

A company replaced 36 Teradata with 3 Exadata and result was application was 8x faster.
Banco Chile 9x faster than previous system
Deutsche Post 60x faster
Sogetti gets 60x faster backups.
French bank BNP Paribas 17x faster and no change to applications.
Proctor & Gamble 18x faster
Merck 5x faster
Turkcell 250TB compressed to 25TB, 10x faster

The problem was that in each example, he said what it was compared against was the old previous system, which varies and could have been an older Sun system, or an old system from HP, IBM or Dell. Perhaps it was a freudian slip, but Larry mistakenly said "Paralyze" your applications, when he probably meant to "Parallelize".

SPARC Supercluster

Of all their 380,000 Oracle customers, 70 percent have SPARC/Solaris and/or Linux. Last week, Oracle announced the new SPARC-T4, which Larry claimed was 5x faster than the previous SPARC-T3. Larry feels that for the first time ever, a non-IBM CPU can challenge the long-standing rein of the IBM POWER series processor. Larry admitted that the IBM POWER7 chip actually did some tasks faster than the SPARC-T4, so his work is not yet done, but they plan to offer a new SPARC-T5 next year that will be 2x better than the SPARC-T4.

Larry compared the I/O bandwidth of serv ers based on SPARC-T4, compared to POWER7, and found that the SPARC-T4 has double the I/O bandwidth, for a cost that was only about 1/4 the cost of a mainframe. IBM offers both. POWER7-based servers for CPU-intensive workloads, and System z (S/390)-based systems for I/O-intensive workloads. Larry feels that even though POWER7 is superior than SPARC-T4 for mathematical calculations, all business applications are focused on I/O-bandwidth to move data, not computations.

(Fellow IBMer Carter O'Mahoney has already posted a response on his post [Challenging Oracle's SPARC SuperCluster Claims].)

Larry claims the new SPARC-T4 can do 1.2 million IOPS. He uses 40 Gbps Infiniband instead of traditional SAN-attached FCP solutions.

Exalytics

A new "box" called Exalytics, combines their commodity hardware platform with a hueristic adaptive in-memory cache, their latest "me-too" solution that compares with what IBM already offers in [IBM SolidDB]. In fact, their me-too is not even internally developed, but rather the result of an acquisition of a company called "Times Ten". I thought it was interesting that the only piece of Oracle software mentioned during Larry's 90-minute speach, was this piece of acquired technology. The new Exalytics product run on a small rack and grow, analyzing relational data, non-relational OLAP, as well as unstructured documents. The result is what Larry called "the Speed of Light".
He also mentioned that Bob Shimp would kick-off the Cloud later in the week. Given that Larry himself thought that Cloud was a stupid, over-marketed term that nobody has deployed over the past few years, to a complete believer, claiming that over 20 live demos will be given this year on Cloud.
Perhaps the funniest quote was his motivation to use Infiniband as the interconnect
"Ethernet was invented by Xerox when I was a child."
-- Larry Ellison
Here are some sessions that IBM is featuring on Monday. Note the first two are Solution Spotlight sessions at the IBM Booth #1111 where I will be most of the time.
IBM Cloud Computing Solutions for Oracle

10/03/11, 10:30 a.m. – 11:00 a.m., Solution Spotlight, Booth #1111 Moscone South
Presenter: Chuck Calio,Technical Strategist, IBM Systems & Technology Group
IBM is recognized in the IT industry as one of the "Big 6" cloud providers, along with Amazon, Google, Microsoft, Salesforce and Yahoo. This session will highlight how IBM Cloud offerings apply to Oracle applications.

Lowering Cost and increasing efficiency in your long term support of Oracle EPM and BI

10/03/11, 3:00 p.m. -- 3:30 p.m., Solution Spotlight, Booth #1111 Moscone South
Presenter: Matthew Angelstad, IBM Global Business Solutions - Oracle EPM (Hyperion) Practice Lead
In 2007, Oracle acquired Hyperion, a leading provider of performance management software. This session will show how IBM helps Oracle clients unify Enterprise Performance Management (EPM) and Business Intelligence (BI) in a cost-effective manner, supporting a broad range of strategic, financial and operational management processes.

Application Strategy: Charting the Course for Maximum Business Value

10/03/11, 3:30 p.m. – 4:30 p.m., OpenWorld session #39061
Presenter: Mike Marchildon, IBM
The industry is undergoing a shift from single Enteprise Resource Planning (ERP) application to second-generation platforms containing diverse yet interdependent systems. This shift presents opportunities and challenges for both IT and the business.
technorati tags: IBM, Oracle, Larry Ellison, keynote, SPARC-T4, Exadata, Exalogic, Exalytics, POWER7
Continuing my coverage of the annual [2010 System Storage Technical University], I attended some sessions from the System x and Federal track side of this conference.
Grid, SOA and Cloud Computing

Bill Bauman, IBM System x Field Technical Support Specialist and System x University celebrity, presented the differences between Grid, SOA and Cloud Computing. I thought this was an odd combination to compare and contrast, but his presentation was well attended.

Grid - this is when two or more independently owned and managed computers are brought together to solve a problem. Some research facilities do this. IBM helped four hospitals connect their computers together into a grid to help analyze breast cancer. IBM also supports the [World Community Grid] which allows your personal computer to be connected to the grid and help process calculations.
SOA - SOA, which stands for Service Oriented Architecture, is an approach to building business applications as a combination of loosely-coupled black-box components orchestrated to deliver a well-defined level of service by linking together business processes. I often explain SOA as the the business version of Web 2.0. You can download a free copy of the eBook "SOA for Dummies" at the [IBM Smart SOA] landing page.
Cloud - A Cloud is a dynamic, scalable, expandable, and completely contractible architecture. It may consist of multiple, disparate, on-premise and off-premise hardware and virtualized platforms hosting legacy, fully installed, stateless, or virtualized instances of operating systems and application workloads.

Bill has his own blog, and has an interesting post [Cloud Computing, What it Is, and What it is Not] that appears to be the basis of this presentation.

Chaos to Cloud

Tom Vezina, IBM Advanced Technical Sales Specialist, presented "Chaos to Cloud Computing". Survey results show that roughly 70 percent of cloud spend will be for private clouds, and 30 percent for public, hybrid or community clouds. Of the key motivations for public cloud, 77 percent or respondents cited reducing costs, 72 percent time to value, and 50 percent improving reliability.

Tom ran over 500 "server utilization" studies for x86 deployments during the past eight years. Of these, the worst was 0.52 percent CPU utilization, the best was 13.4 percent, and the average was 6.8 percent.  When IBM mentions that 85 percent of server capacity is idle, it is mostly due to x86 servers.  At this rate, it seems easy to put five to 20 guest images onto a machine. However, many companies encounter "VM stall" where they get stuck after only 25 percent of their operating system images virtualized.

He feels the problem is with the fact most Physical-to-Virtual (P2V) migrations are manual efforts. There are tools available like Novell [PlateSpin Recon] to help automate and reduce the total number of hours spent per migration.

System x KVM Solutions

Boy, I walked into this one. Many of IBM's cloud offerings are based on the Linux hypervisor called Kernel-based Virtual Machine [a href="http://www.linux-kvm.org/page/Main_Page">KVM] instead of VMware or Microsoft Hyper-V. However, this session was about the "other KVM": keyboard video and mouse switches, which thankfully, IBM has renamed to Console Managers to avoid confusion. Presenters Ben Hilmus (IBM) and Steve Hahn (Avocent) presented IBM's line of Local Console Managers (LCM) and Global Console Managers (GCM) products.

LCM are the traditional KVM switches that people are familiar with. A single keyboard, video and mouse can select among hundreds of servers to perform maintenance or check on status. GCM adds KVM-over-IP capabilities, which means that now you can access selected systems over the Ethernet from a laptop or personal computer. Both LCM and GCM allow for two-level tiering, which means that you can have an LCM in each rack, and an LCM or GCM that points to each rack, greatly increasing the number of servers that can be managed from a single pane of glass.

Many severs have a "service processor" to manage the rest of the machine. IBM RSA II, HP iLO, and Dell DRAC4 are some examples. These allow you to turn on and off selected servers. IBM BladeCenter offers an Management Module that allows the chassis to be connected to a Console Manager and select a specific blade server inside. These can also be used with VMware viewer, Virtual Network Computing (VNC), or Remote Desktop Protocol (RDP).

IBM's offerings are unique it that you can have an optical CD/DVD drive or USB external storage attached at the LCM or GCM, and make it look like the storage is attached to the selected server. This can be used to install or upgrade software, transfer log files, and so on. Another great use, and apparently the motivation for having this session in the "Federal Track", is that the USB can be used to attach a reader for a smart card, known as a Common Access Card [CAC] used by various government agencies. This provides two-factor authentication [TFA]. For example, to log into the system, you enter your password (something you know) and swipe your employee badge smart card (something you have). The combination are validated at the selected server to provide access.
I find it amusing that server people limit themselves to server sessions, and storage people to storage sessions. Sometimes, you have to step "outside your comfort zone" and learn something new, something different. Open your eyes and look around a bit. You might just be surprised what you find.
(FTC note: I work for IBM. IBM considers Novell a strategic Linux partner. Novell did not provide me a copy of Platespin Recon, I have no experience using it, and I mention it only in context of the presentation made. IBM resells Avocent solutions, and we use LCM gear in the Tucson Executive Briefing Center.)
technorati tags: IBM, Technical University, Grid, SOA, Cloud Computing, P2V, VMware, Novell, Platespin, x86, KVM, LCM, GCM, Avocent, CAC, TFA
This Thursday, June 16, 2011, marks IBM's Centennial 100 year anniversary. It happens to also be my 25th anniversary with IBM Storage. To avoid conflicts in celebrations, we decided to celebrate my induction into the "Quarter Century Club" (QCC) last Friday instead.
My colleague Harley Puckett was master of ceremonies. Here he is presenting me with a memorial plaque and keychain. Harley mentioned a few facts about 1986, the year I started working for IBM. Ronald Reagan was the US President, gasoline cost only 93 cents per gallon, and the US National Debt was only 2 trillion US dollars!
Here are my colleagues from DFSMShsm. From left to right: Ninh Le, Henry Valenzuela, Shannon Gallaher, and Stan Kissinger. I started in 1986 as aa software developer on DFHSM, and slowly worked my way up to be a lead architect of DFSMS.
Here are my colleagues from Tivoli Storage Manager (TSM). From left to right: Matt Anglin, Ken Hannigan and Mark Haye. I first met them when they worked in DFDSS, having moved from San Jose, CA down to Tucson. While I never worked on the TSM code itself, I did co-author some of the patents used in the product and other products like the 3494 Virtual Tape Server that makes use of TSM internally. I also traveled extensively to promote TSM, often with a TSM developer tagging along so they can learn the ropes about how to travel and make presentaitons.
Here are my colleagues from the disk team. From left to right: Joe Bacco, Carlos Pratt, Gary Albert, and Siebo Friesenborg. I worked on the SMI-S interface for the ESS 800 and DS8000 disk systems needed for the Tivoli Storage Productivity Center. Joe leads the "Disk Magic" tools team. Carlos and I worked on qualifying the various disk products to run with Linux on System z host attachment. Gary Albert is the Business Line Executive (BLE) of Enterprise Disk. Siebo Friesenborg was a disk expert on performance and disaster recovery, but is now enjoying his retirement.
Here are my colleagues from the support team. From left to right: Max Smith, Dave Reed, and Greg McBride. I used to work in Level 2 Support for DFSMS with Max and Dave, carrying a pager and managing the queue on RETAIN. We had enough people so that each Level 2 only had to carry the pager two weeks per year. On Monday afternoons, the person with the pager would give it to the next person on the rotation. On Monday, September 10, 2001, I got the pager, and the following morning, it went off to help all the many clients affected by the September 11 tragedy.
I worked with Greg McBride when he was in DFSMS System Data Mover (SDM), and then again in Tivoli Storage Productivity Center for Replication (TPC-R), and now he is supporting IBM Scale-Out Network Attached Storage (SONAS).
Standing in the light blue striped shirt is Greg Van Hise, my first office-mate and mentor when I first joined IBM. He went on to be part of the elite "DFHSM 2.4.0" prima donna team, then move on to be an architect for Tivoli Storage Manager (TSM).
I wasn't limited to inviting just coworkers, I was also able to invite friends and family. Here are Monica, Richard, and my mother. Normally, my parents head south for the summer, but they postponed their flights so that they could participate in my QCC celebration.
From left to right: my father, Greg Tevis, and myself. It was pure coincidence that my father would wear a loud darkly patterned shirt like mine. Honestly, we did not plan this in advance. Greg Tevis and I were lead architects for the Tivoli Storage Productivity Center, and Greg is now the Technology Strategist for the Tivoli Storage product line.
Here is Jack Arnold, fellow subject matter expert who works with me here at the Tucson Executive Briefing Center, sampling the food. We had quite the spread, including egg rolls, meatballs, luncheon meats, chicken strips, and fresh vegetables.
More colleagues from the Tucson Executive Briefing Center, from left to right, Joe Hayward, Lee Olguin, and Shelly Jost. Joe was a subject matter expert on Tape when I first joioned the EBC in 2007, but he has moved back to the Tape development/test team. Lee is our master "Gunny" sargeant to manage all of our briefing schedules. Shelly is our Client Support Manager, and was the one who organized all the food and preparations for this event!
Lastly, here are Brad Johns, myself, and Harley Puckett. Brad was my mentor for my years in Marketing, and has since retired from IBM and now works on his golf game. I would like to thank all of the Tucson EBC staff for pulling off such a great event, and all my coworkers, friends and family for coming out to celebrate this milestone in my career!
In addition to the plaque and keychain, Harley presented me with a book of congratulatory letters. If you would like to send a letter, it's not too late, contact Mysti Wood (mysti@us.ibm.com).
technorati tags: IBM, IBM100, QCC, Tucson, EBC, DFSMS, DFSMShsm, DFHSM, TSM, TPC
My how time flies. This week marks my 24th anniversary working here at IBM. This would have escaped me completely, had I not gotten an email reminding me that it was time to get a new laptop. IBM manages these on a four-year depreciation schedule, and I received my current laptop back in June 2006, on my 20th anniversary.
When I first started at IBM, I was a developer on DFHSM for the MVS operating system, now called DFSMShsm on the z/OS operating system. We all had 3270 [dumb terminals], large cathode ray tubes affectionately known as "green screens", and all of our files were stored centrally on the mainframe. When Personal Computers (PC) were first deployed, I was assigned the job of deciding who got them when. We were getting 120 machines, in five batches of 24 systems each, spaced out over the next two years. I was assigned the job of recommending who should get a PC during the first batch, the second batch, and so on. I was concerned that everyone would want to be part of the first batch, so I put out a survey, asking questions on how familiar they were with personal computers, whether they owned one at home, were familiar with DOS or OS/2, and so on.
It was actually my last question that helped make the decision process easy:
How soon do you want a Personal Computer to replace your existing 3270 terminal?

1-60 days
61-120 days
121-180 days
As late as possible
Never
I had five options, and roughly 24 respondents checked each one, making my job extremely easy. Ironically, once the early adopters of the first batch discovered that these PC could be used for more than just 3270 terminal emulation, many of the others wanted theirs sooner.
Back then, IBM employees resented any form of change. Many took their new PC, configured it to be a full-screen 3270 emulation screen, and continued to work much as they had before. My mentor, Jerry Pence, would print out his mails, and file the printed emails into hanging file folders in his desk credenza. He did not trust saving them on the mainframe, so he was certainly not going to trust storing them on his new PC. One employee used his PC as a door stop, claiming he will continue to use his 3270 terminal until they take it away from him.
Moving forward to 2006, I was one of the first in my building to get a ThinkPad T60. It was so new that many of the accessories were not yet available. It had Windows XP on a single-core 32-bit processor, 1GB RAM, and a huge 80GB disk drive. The built-in 1GbE Ethernet went unused for a while, as we had 16 Mbps Token Ring network.
I was the marketing strategist for IBM System Storage back then, and needed all this excess power and capacity to handle all my graphic-intense applications, like GIMP and Second Life.
Over the past four years, I made a few slight improvements. I partitioned the hard drive to dual-boot between Windows and Linux, and created a separate partition for my data that could be accessed from either OS. I increased the memory to 2GB and replaced the disk with a drive holding 120GB capacity.
A few years ago, IBM surprised us by deciding to support Windows, Linux and Mac OS computers. But actually it made a lot of sense. IBM's world-renown global services manages the help-desk support of over 500 other companies in addition to the 400,000 employees within IBM, so they already had to know how to handle these other operating systems. Now we can choose whichever we feel makes us more productive. Happy employees are more productive, of course. IBM's vision is that almost everything you need to do would be supported on all three OS platforms:
Lotus Notes

Access your email, calendar, to-do list and corporate databases via Lotus Notes on either Windows, Linux or Mac OS. Corporate databases store our confidential data centrally, so we don't have to have them on our local systems. We can make local replicas of specific databases for offline access, and these are encrypted on our local hard drive for added protection. Emails can link directly to specific entries in a database, so we don't have huge attachments slowing down email traffic. IBM also offers LotusLive, a public cloud offering for companies to get out of managing their own email Lotus Domino repositories.

Lotus Symphony

Create presentations, documents and spreadsheets on either Windows, Linux or Mac OS. Lotus Symphony is based on open source OpenOffice and is compatible with Microsoft Office. This allows us to open and update directly in Microsoft's PPT, DOC and XLS formats.

Firefox Browser

Many of the corporate applications have now been converted to be browser-accessible. The Firefox browser is available on Windows, Linux and Mac OS. This is a huge step forward, in my opinion, as we often had to download applications just to do the simplest things like submit our time-sheet or travel expense reimbursement. I manage my blog, Facebook and Twitter all from online web-based applications.
The irony here is that the world is switching back to thin clients, with data stored centrally. The popularity of Web 2.0 helped this along. People are using Google Docs or Microsoft OfficeOnline to eliminate having to store anything locally on their machines. This vision positions IBM employees well for emerging cloud-based offerings.
Sadly, we are not quite completely off Windows. Some of our Lotus Notes databases use Windows-only APIs to access our Siebel databases. I have encountered PowerPoint presentations and Excel spreadsheets that just don't render correctly in Lotus Symphony. And finally, some of our web-based applications work only in Internet Explorer! We use the outdated IE6 corporate-wide, which is enough reason to switch over to Firefox, Chrome or Opera browsers. I have to put special tags on my blog posts to suppress YouTube and other embedded objects that aren't supported on IE6.
So, this leaves me with two options: Get a Mac and run Windows on the side as a guest operating system, or get a ThinkPad to run Windows or Windows/Linux. I've opted for the latter, and put in my order for a ThinkPad 410 with a dual-core 64-bit i5 Intel processor, VT-capable to provide hardware-assistance for virtualization, 4GB of RAM, and a huge 320GB drive. It will come installed with Windows XP as one big C: drive, so it will be up to me to re-partition it into a Windows/Linux dual-boot and/or Windows and Linux running as guest OS machine.
(Full disclosure to make the FTC happy: This is not an endorsement for Microsoft or against Apple products. I have an Apple Mac Mini at home, as well as Windows and Linux machines. IBM and Apple have a business relationship, and IBM manufactures technology inside some of Apple's products. I own shares of Apple stock, I have friends and family that work for Microsoft that occasionally send me Microsoft-logo items, and I work for IBM.)
I have until the end of June to receive my new laptop, re-partition, re-install all my programs, reconfigure all my settings, and transfer over my data so that I can send my old ThinkPad T60 back. IBM will probably refurbish it and send it off to a deserving child in Africa.
If you have an old PC or laptop, please consider donating it to a child, school or charity in your area. To help out a deserving child in Africa or elsewhere, consider contributing to the [One Laptop Per Child] organization.
technorati tags: , Anniversary, DFHSM, MVS, DFSMShsm, z/OS, dumb terminals, cathode ray tube, personal computer, DOS, OS/2, ThinkPad, cloud computing, Web20, Windows, Linux, MacOS, Apple, Microsoft, OLPC
The weather has warmed up here in Tucson so I started my Spring Cleaning early this year and unearthed from my garage a [Bankers Box] full of floppy diskettes.
| | |
| --- | --- |
| | IBM invented the floppy disk back in 1971, and continued to make improvements and enhancements through the 1980s and 1990s. It will be one of the many inventions celebrated as part of IBM's Centennial (100-year) anniversary. Here is an example [T-shirt] |
IBM needed a way to send out small updates and patches for microcode of devices out in client locations. IBM had drives that could write information, and sent out "read-only" drives to the customer locations to receive these updates. These were flexible plastic circles with a magnetic coating, and placed inside a square paper sleeve. Imagine a floppy disk the size of a piece of standard paper. The 8-inch floppy fit conveniently in a manila envelope, sendable by standard mail, and could hold nearly 80KB of data.
I've been using floppies for the past thirty years. Here's some of my fondest memories:
While still in high school, my friend Franz Kurath and I formed "Pearson Kurath Systems", a software development firm. We wrote computer programs to run on UNIX and Personal Computers for small businesses here in Tucson. Whenever we developed a clever piece of code, a subroutine or procedure, we would save it on a floppy disk and re-use it for our next project. We wrote in the BASIC language, and our databases were simple Comma-Separated-Variable (CSV) flat files.

The 5.25-inch floppies we used could hold 360KB, and were flexible like the 8-inch models. Later versions of these 5.25-inch floppies would be able to hold as much as 1.2MB of data. We would convert single-sided floppies into double-sided ones by cutting out a notch in the outer sleeve. Covering up the notches would mark them as read-only.

The 3.5-inch floppies were introduced with a hard plastic shell, with the selling point that you can slap on a mailing label and postage and send it "as is" without the need for a separate envelope. These new 3.5-inch floppies would carry "HD" for high density 720KB, and double-sided versions could hold 1.44MB of data. The term "diskette" was used to associate these new floppies with [hard-shelled tape cassettes]. Sliding a plastic tab would allow floppies to be marked "read-only". IBM has the patent on this clever invention.

Continuing our computer programming business in college, Franz and I took out a bank loan to buy our first Personal Computer, for over $5000 dollars USD. Until then, we had to use equipment belonging to each client. The banks we went to didn't understand why we needed a computer, and suggested we just track our expenses on traditional green-and-white ledger paper. Back then, peronsal computers were for balancing your checkbook, playing games and organizing your collection of cooking recipies. But for us, it was a production machine. A computer with both 5.25-inch and 3.5-inch drives could copy files from one format to another as needed. The boost in productivity paid for itself within months.

Apple launched its Macintosh computer in 1984, with a built-in 3.5-inch disk drive as standard equipment. Here is a YouTube video of an [astronaut ejecting a floppy disk] from an Apple computer in space.

In my senior year at the University of Arizona, my roommate Dave had borrowed my backpack to hold his lunch for a bike ride. He thought he had taken everything out, but forgot to remove my 3.5-inch floppy diskette containing files for my senior project. By the time he got back, the diskette was covered in banana pulp. I was able to rescue my data by cracking open the plastic outer shell, cleaning the flexible magnetic media in soapy water, placing it back into the plastic shell of a second diskette, and then copied the data off to a third diskette.

After graduating from college, Franz and I went our separate ways. I went to work for IBM, and Franz went to work for [Chiat/Day], the advertising agency famous for the 1984 Macintosh commercial. We still keep in touch through Facebook.

At IBM, I was given a 3270 terminal to do my job, and would not be assigned a personal computer until years later. Once I had a personal computer at home and at work, the floppy diskette became my "briefcase". I could download a file or document at work, take it home, work on it til the wee hours of the morning, and then come back the next morning with the updated effort.

To help prepare me for client visits and public speaking at conferences, IBM loaned me out to local schools to teach. This included teaching Computer Science 101 at Pima Community College. When asked by a student whether to use "disc" or "disk", I wrote a big letter "C" on the left side of the chalkboard, and a big letter "K" on the right side. If it is round, I told the students while pointing at the letter "C", like a CD-ROM or DVD, use "disc". If it has corners, pointing to corners of the letter "K", like a floppy diskette or hard disk drive, use "disk".

On one of my business trips to visit a client, we discovered the client had experienced a problem that we had just recently fixed. Normally, this would have meant cutting a Program Trouble Fix (PTF) to a 3480 tape cartridge at an IBM facility, and send it to the client by mail. Unwilling to wait, I offered to download the PTF onto a floppy diskette on my laptop, upload it from a PC connected to their systems, and apply it there. This involved a bit of REXX programming to deal with the differences between ASCII and EBCDIC character sets, but it worked, and a few hours later they were able to confirm the fix worked.

In 1998, Apple would signal the begining of the end of the floppy disk era, announcing their latest "iMac" would not come with an internal built-in floppy drive. David Adams has a great article on this titled [The iMac and the Floppy Drive: A Conspiracy Theory]. You can get external floppy drives that connect via USB, so not having an internal drive is no longer a big deal.

While teaching a Top Gun class to a mix of software and hardware sales reps, one of the students asked what a "U" was. He had noticed "2U" and "3U" next to various products and wondered what that was referring to. The "U" represents the [standard unit of measure for height of IT equipment in standard racks]. To help them visualize, I explained that a 5.25-inch floppy disk was "3U" in size, and a 3.5-inch floppy diskette was "2U". Thus, a "U" is 1.75 inches, the thinnest dimension on a two-by-four piece of lumber. Servers that were only 1U tall would be referred to as "pizza boxes" for having similar dimensions.

Every year, right around November or so, my friends and family bring me their old computers for me to wipe clean. Either I would re-load them with the latest Ubuntu Linux so that their kids could use it for homework, or I would donate it to charity. Last November, I got a computer that could not boot from a CD-ROM, forcing me to build a bootable floppy. This gave me a chance to check out the various 1-disk and 2-disk versions of Linux and other rescue disks. I also have a 3-disk set of floppies for booting OS/2 in command line mode.
So while this unexpected box of nostalgia derailed my efforts to clean out my garage this weekend, it did inspire me to try to get some of the old files off them and onto my PC hard drive. I have already retrieved some low-res photographs, some emails I sent out, and trip reports I wrote. While floppy diskettes were notorious for being unreliable, and this box of floppies has been in the heat and cold for many Arizonan summers and winters, I am amazed that I was able to read the data off most of them so far, all the way back to data written in 1989. While the data is readable, in most cases I can't render it into useful information. This brings up a few valuable lessons:
Backups are not Archives

Some of the files are in proprietary formats, such as my backups for TurboTax software. I would need a PC running a correct level of Windows operating system, and that particular software, just to restore the data. TurboTax shipped new software every year, and I don't know how forward or backward-compatible each new release was.

Another set of floppies are labeled as being in "FDBACK" format. I have no idea what these are. Each floppy has just two files, "backup.001" and "control.001", for example.

Backups are intended solely to protect against unexpected loss from broken hardware or corrupted data. If you plan to keep data as archives for long-term retention, use archive formats that will last a long time, so that you can make sense of them later.

Operating System Compatibility


Windows 7 and all of my favorite flavors of Linux are able to recognize the standard "FAT" file system that nearly all of my floppies are written in. Sadly, I have some files that were compressed under OS/2 operating system using software called "Stacker". I may have to stand up an OS/2 machine just to check out what is actually on those floppies.

You can't judge a book by its cover

Floppies were a convenient form of data interchange. Sometimes, I reused commercially-labeled floppies to hold personal files. So, just because a floppy says "America On-Line (AOL) version 2.5 Installation", I can't just toss it away. It might actually contain something else entirely. This means I need to mount each floppy to check on its actual contents.
So what will I do with the floppies I can't read, can't write, and can't format? I think I will convert them into a [retro set of coasters], to protect my new living room furniture from hot and cold beverages.
technorati tags: IBM, Centennial, Patent, Floppy, Disk, Diskette, Apple, Chiat/Day, Pima Community College, Macintosh, iMac, Franz Kurath, Pearson Kurath Systems
This week, Hitachi Ltd. announced their next generation disk storage virtualization array, the Virtual Storage Platform, following on the success of its USP V line. It didn't take long for fellow blogger Chuck Hollis (EMC) to comment on this in his blog post [Hitachi's New VSP: Separating The Wheat From The Chaff]. Here are some excerpts:
"Well, we all knew that Hitachi (through HDS and HP) would be announcing some sort of refresh to their high-end storage platform sooner or later.

As EMC is Hitachi's only viable competitor in this part of the market, I think people are expecting me to say something.

If you're a high-end storage kind of person, your universe is basically a binary star: EMC and Hitachi orbiting each other, with the interesting occasional sideshow from other vendors trying to claim relevance in this space."
Chuck implies that neither Hewlett-Packard (HP) nor Hitachi Data Systems (HDS) as vendors provide any value-add from the box manufactured by Hitachi Ltd. so combines them into a single category. I suspect the HP and HDS folks might disagree with that opinion.
When I reminded Chuck that IBM was also a major player in the high-end disk space, his response included the following gem:
"Many of us in the storage industry believe that IBM currently does not field a competitive high-end storage platform. IDC market share numbers bear out this assertion, as you probably know."
While Chuck is certainly entitled to his own beliefs and opinions, believing the world is flat does not make it so. Certainly, I doubt IDC or any other market research firm has put out a survey asking "Do you think IBM offers a competitive high-end disk storage platform?" Of course, if Chuck is basing his opinion on anecdotal conversations with existing EMC customers, I can certainly see how he might have formed this misperception. However, IDC market share numbers don't support Chuck's assertion at all.
There is no industry-standard definition of what is a "high-end" or "enterprise-class" disk system. Some define high-end as having the option for mainframe attachment via ESCON and/or FICON protocol. Others might focus on features, functionality, scalability and high 99.999+ percent availability. Others insist high-end requires block-oriented protocols like FC and iSCSI, rather than file-based protocols like NAS and CIFS.
For the most demanding mission-critical mix of random and sequential workloads, IBM offers the [IBM System Storage DS8000 series] high-end disk system which connects to mainframes and distributed servers, via FCP and FICON attachment, and supports a variety of drive types and RAID levels. The features that HP and HDS are touting today for the VSP are already available on the IBM DS8000, including sub-LUN automatic tiering between Solid-State drives and spinning disk, called [Easy Tier], thin provisioning, wide striping, point-in-time copies, and long distance synchronous and asynchronous replication.
There are lots of analysts that track market share for the IT storage industry, but since Chuck mentions [IDC] specifically, I reviewed the most recent IDC data, published a few weeks ago in their "IDC Worldwide Quarter Disk Storage Tracker" for 2Q 2010, representing April 1 to June 30, 2010 sales. Just in case any of the rankings have changed over time, I also looked at the previous four quarters: 2Q 2009, 3Q 2009, 4Q 2009 and 1Q 2010.
(Note: IDC considers its analysis proprietary, out of respect for their business model I will not publish any of the actual facts and figures they have collected. If you would like to get any of the IDC data to form your own opinion, contact them directly.)
In the case of IDC, they divide the disk systems into three storage classes: entry-level, midrange and high-end. Their definition of "high-end" is external RAID-protected disk storage that sells for $250,000 USD or more, representing roughly 25 to 30 percent of the external disk storage market overall. Here are IDC's rankings of the four major players for high-end disk systems:
EMC
IBM
HDS
HP
By either measure of market share, units (disk systems) or revenue (US dollars), IDC reports that IBM high-end disk outsold both HDS and HP combined. This has been true for the past five quarters. If a smaller start-up vendor has single digit percent market share, I could accept it being counted as part of Chuck's "occasional sideshow from other vendors trying to claim relevance", but IBM high-end disk has consistently had 20 to 30 percent market share over the past five quarters!
Not all of these high-end disk systems are connected to mainframes. According to IDC data, only about 15 to 25 percent of these boxes are counted under their "Mainframe" topology.
Chuck further writes:
"It's reasonable to expect IBM to sell a respectable amount of storage with their mainframes using a protocol of their own design -- although IBM's two competitors in this rather proprietary space (notably EMC and Hitachi) sell more together than does IBM."
The IDC data doesn't support that claim either, Chuck. By either measure of market share, units (disk systems) or revenue (US dollars), IDC reports that IBM disk for mainframes outsold all other vendors (including EMC, HDS, and HP) combined. And again, this has been true for the past five quarters. Here is the IDC ranking for mainframe disk storage:
IBM
EMC
HDS
HP
IBM has over 50 percent market share in this case, primarily because IBM System Storage DS8000 is the industry leader in mainframe-related features and functions, and offers synergy with the rest of the z/Architecture stack.
So Chuck, I am not picking a fight with you or asking you to retract or correct your blog post. Your main theme, that the new VSP presents serious competition to EMC's VMAX high-end disk arrays, is certainly something I can agree with. Congratulations to HDS and HP for putting forth what looks like a viable alternative to EMC's VMAX.
| | |
| --- | --- |
| | To learn more about IBM's upcoming products, register for next week's webcast "Taming the Information Explosion with IBM Storage" featuring Dan Galvan, IBM Vice President, and Steve Duplessie, Senior Analyst and Founder of Enterprise Storage Group (ESG). |
technorati tags: IBM, DS8000, EMC, Chuck Hollis, Hitachi, HDS, Virtual Storage Platform, VSP, USP-V, HP, P9500, Easy Tier, high-end, enterprise-class, IDC, marketshare
Continuing my week in Washington DC for the annual [2010 System Storage Technical University], I presented a session on Storage for the Green Data Center, and attended a System x session on Greening the Data Center. Since they were related, I thought I would cover both in this post.
Storage for the Green Data Center

I presented this topic in four general categories:

Drivers and Metrics - I explained the three key drivers for consuming less energy, and the two key metrics: Power Usage Effectiveness (PUE) and Data Center Infrastructure Efficiency (DCiE).
Storage Technologies - I compared the four key storage media types: Solid State Drives (SSD), high-speed (15K RPM) FC and SAS hard disk, slower (7200 RPM) SATA disk, and tape. I had comparison slides that showed how IBM disk was more energy efficient than competition, for example DS8700 consumes less energy than EMC Symmetrix when compared with the exact same number and type of physical drives. Likewise, IBM LTO-5 and TS1130 tape drives consume less energy than comparable HP or Oracle/Sun tape drives.
Integrated Systems - IBM combines multiple storage tiers in a set of integrated systems managed by smart software. For example, the IBM DS8700 offers [Easy Tier] to offer smart data placement and movement across Solid-State drives and spinning disk. I also covered several blended disk-and-tape solutions, such as the Information Archive and SONAS.
Actions and Next Steps - I wrapped up the talk with actions that data center managers can take to help them be more energy efficient, from deploying the IBM Rear Door Heat Exchanger, or improving the management of their data.

Greening of the Data Center

Janet Beaver, IBM Senior Manager of Americas Group facilities for Infrastructure and Facilities, presented on IBM's success in becoming more energy efficient. The price of electricity has gone up 10 percent per year, and in some locations, 30 percent. For every 1 Watt used by IT equipment, there are an additional 27 Watts for power, cooling and other uses to keep the IT equipment comfortable. At IBM, data centers represent only 6 percent of total floor space, but 45 percent of all energy consumption. Janet covered two specific data centers, Boulder and Raleigh.

At Boulder, IBM keeps 48 hours reserve of gasoline (to generate electricity in case of outage from the power company) and 48 hours of chilled water. Many power outages are less than 10 minutes, which can easily be handled by the UPS systems. At least 25 percent of the Computer Room Air Conditioners (CRAC) are also on UPS as well, so that there is some cooling during those minutes, within the ASHRAE guidelines of 72-80 degrees Fahrenheit. Since gasoline gets stale, IBM runs the generators once a month, which serves as a monthly test of the system, and clears out the lines to make room for fresh fuel.

The IBM Boulder data center is the largest in the company: 300,000 square feet (the equivalent of five football fields)! Because of its location in Colorado, IBM enjoys "free cooling" using outside air temperature 63 percent of the year, resulting in a PUE of 1.3 rating. Electricity is only 4.5 US cents per kWh. The center also uses 1 Million KwH per year of wind energy.

The Raleigh data center is only 100,000 Square feet, with a PUE 1.4 rating. The Raleigh area enjoys 44 percent "free cooling" and electricity costs at 5.7 US cents per kWh.  The Leadership in Energy and Environmental Design [LEED] has been updated to certify data centers.  The IBM Boulder data center has achieved LEED Silver certification, and IBM Raleigh data center has LEED Gold certification.

Free cooling, electricity costs, and disaster susceptibility are just three of the 25 criteria IBM uses to locate its data centers. In addition to the 7 data centers it manages for its own operations, and 5 data centers for web hosting, IBM manages over 400 data centers of other clients.
It seems that Green IT initiatives are more important to the storage-oriented attendees than the x86-oriented folks. I suspect that is because many System x servers are deployed in small and medium businesses that do not have data centers, per se.
technorati tags: IBM, Technical University, Green Data Center, PUE, DCiE, Free Cooling, ASHRAE, LEED, SSD, Disk, Tape, SONAS, Archive
I had an interesting query about my last blog post [Enterprise Systems are Security-Ready], basically asking me what I decided to do for Full-Disk Encryption (FDE) for my laptop.
Earlier this year, IBM mandated that every employee provided a laptop had to implement Full-Disk Encryption for their primary hard drive, and any other drive, internal or external, that contained sensitive information. An exception was granted to anyone who NEVER took their laptop out of the IBM building. At IBM Tucson, we have five buildings, so if you are in the habit of taking your laptop from one building to another, then encryption is required!
The need to secure the information on your laptop has existed ever since laptops were given to employees. In my blog post [Biggest Mistakes of 2006], I wrote the following:
"Laptops made the news this year in a variety of ways. #1 was exploding batteries, and #6 were the stolen laptops that exposed private personal information. Someone I know was listed in one of these stolen databases, so this last one hits close to home. Security is becoming a bigger issue now, and IBM was the first to deliver device-based encryption with the TS1120 enterprise tape drive."
Not surprisingly, IBM laptops are tracked and monitored. In my blog post [Using ILM to Save Trees], I wrote the following:
"Some assets might be declared a 'necessary evil' like laptops, but are tracked to the n'th degree to ensure they are not lost, stolen or taken out of the building. Other assets are declared "strategically important" but are readily discarded, or at least allowed to [walk out the door each evening]."
When it was [time for a new laptop] in 2010, I spent a week [re-partitioning the drive], [transfering files], [installing programs], [re-organizing my folders], and finally [testing my system]. It was dual-boot so that I could run either Windows or Linux, as needed, to demonstrate various software solutions at the IBM Tucson Executive Briefing Center.
Unfortunately, dual-boot environments won't cut it for Full-Disk Encryption. For Windows users, IBM has chosen Pretty Good Privacy [PGP]. For Linux users, IBM has chosen Linux Unified Key Setup [LUKS]. PGP doesn't work with Linux, and LUKS doesn't work with Windows.
For those of us who may need access to both Operating Systems, we have to choose. Select one as the primary OS, and run the other as a guest virtual machine. I opted for Red Hat Enterprise Linux 6 as my primary, with LUKS encryption, and Linux KVM to run Windows as the guest.
I am not alone. While I chose the Linux method voluntarily, IBM has decided that 70,000 employees must also set up their systems this way, switching them from Windows to Linux by year end, but allowing them to run Windows as a KVM guest image if needed.
Let's take a look at the pros and cons:
Pros
Cons

LUKS allows for up to 8 passphrases, so you can give one to your boss, one to your admin assistant, and in the event they leave the company, you can disable their passphrase without impacting anyone else or having to memorize a new one. PGP on Windows supports only a single passphrase.


Linux is a rock-solid operating system. I found that Windows as a KVM guest runs better than running it natively in a dual-boot configuration.


Linux is more secure against viruses. Most viruses run only on Windows operating systems. The Windows guest is well isolated from the Linux operating system files. Recovering from an infected or corrupted Windows guest is merely re-cloning a new "raw" image file.


Linux has a vibrant community of support. I am very impressed that anytime I need help, I can find answers or assistance quickly from other Linux users. Linux is also supported by our help desk, although in my experience, not as well as the community offers.


Employees that work with multiple clients can have a separate Windows guest for each one, preventing any cross-contamination between systems.

Linux is different from Windows, and some learning curve may be required. Not everyone is happy with this change.

(I often joke that the only people who are comfortable with change are babies with soiled diapers and prisoners on death row!)

Implementation is a full re-install of Linux, followed by a fresh install of Windows.


Not all software required for our jobs at IBM runs on Linux, so a Windows guest VM is a necessity. If you thought Windows ran slowly on a fully-encrypted disk, imagine how much slower it runs as a VM guest with limited memory resources.
In theory, I could have tried the Windows/PGP method for a few weeks, then gone through the entire process to switch over to Linux/LUKS, and then draw my comparisons that way. Instead, I just chose the Linux/LUKS method, and am happy with my decision.
technorati tags: IBM, Windows, PGP, Linux, LUKS, FDE, encryption
Continuing my catch-up on past posts, Jon Toigo on his
DrunkenData
blog, posted a [
"bleg"
] for information aboutdeduplication. The responses come from the "who's who" of the storage industry, so I will provide IBM'sview. (Jon, as always, you have my permission to post this on your blog!)
Please provide the name of your company and the de-dupe product(s) you sell. Please summarize what you think are the key values and differentiators of your wares.



IBM offers two different forms of deduplication. The first is IBM System Storage N series disk system with Advanced Single Instance Storage (A-SIS), and the second is IBM Diligent ProtecTier software. Larry Freeman from NetApp already explains A-SIS in the [comments on Jon's post], so I will focus on the Diligent offering in this post. The key differentiators for Diligent are:

Data agnostic. Diligent does not require content-awareness, format-awareness nor identification of backup software used to send the data. No special client or agent software is required on servers sending data to an IBM Diligent deployment.
Inline processing. Diligent does not require temporarily storing data on back-end disk to post-process later.
Scalability. Up to 1PB of back-end disk managed with an in-memory dictionary.
Data Integrity. All data is diff-compared for full 100 percent integrity. No data is accidentally discarded based on assumptions about the rarity of hash collisions.





InfoPro has said that de-dupe is the number one technology that companies are seeking today — well ahead of even server or storage virtualization. Is there any appeal beyond squeezing more undifferentiated data into the storage junk drawer?

Diligent is focused on backup workloads, which has the best opportunity for deduplication benefits. The two main benefits are:

Keeping more backup data available online for fast recovery.
Mirroring the backup data to another remote location for added protection. With inline processing, only the deduplicated data is sent to the back-end disk, and this greatly reduces the amount of data sent over the wire to the remote location.





Every vendor seems to have its own secret sauce de-dupe algorithm and implementation. One, Diligent Technologies (just acquired by IBM), claims that their's is best because it collapses two functions — de-dupe then ingest — into one inline function, achieving great throughput in the process. What should be the gating factors in selecting the right de-dupe technology?

As with any storage offering, the three gating factors are typically:

Will this meet my current business requirements?
Will this meet my future requirements for the next 3-5 years that I plan to use this solution?
What is the Total Cost of Ownership (TCO) for the next 3-5 years?

Assuming you already have backup software operational in your existing environment, it is possible to determine thenecessary ingest rate. How many "Terabytes per Hour" (TB/h) must be received, processed and stored from the backup software during the backup window. IBM intends to document its performance test results of specific software/hardwarecombinations to provide guidance to clients' purchase and planning decisions.

For post-process deployments, such as the IBM N series A-SIS feature, the "ingest rate" during the backup only has to receive and store the data, and the rest of the 24-hour period can be spent doing the post-processing to find duplicates. This might be fine now, but as your data grows, you might find your backup window growing, and that leaves less time for post-processing to catch up. IBM Diligent does the processing inline, so is unaffected by an expansion of the backup window.

IBM Diligent can scale up to 1PB of back-end data, and the ingest rate does not suffer as more data is managed.

As for TCO, post-process solutions must have additional back-end storage to temporarily hold the data until the duplicates can be found. With IBM Diligent's inline methodology, only deduplicated data is stored, so less disk space is required for the same workloads.



Despite the nuances, it seems that all block level de-dupe technology does the same thing: removes bit string patterns and substitutes a stub. Is this technically accurate or does your product do things differently?

IBM Diligent emulates a tape library, so the incoming data appears as files to be written sequentially to tape. A file is a string of bytes. Unlike block-level algorithms that divide files up into fixed chunks, IBM Diligent performs diff-compares of incoming data with existing data, and identifies ranges of bytes that duplicate what already is stored on the back-end disk. The file is then a sequence of "extents" representing either unique data or existing data. The file is represented as a sequence of pointers to these extents. An extent can vary from2KB to 16MB in size.



De-dupe is changing data. To return data to its original state (pre-de-dupe) seems to require access to the original algorithm plus stubs/pointers to bit patterns that have been removed to deflate data. If I am correct in this assumption, please explain how data recovery is accomplished if there is a disaster. Do I need to backup your wares and store them off site, or do I need another copy of your appliance or software at a recovery center?

For IBM Diligent, all of the data needed to reconstitute the data is stored on back-end disks. Assuming that all of your back-end disks are available after the disaster, either the original or mirrored copy, then you only need the IBM Diligent software to make sense of the bytes written to reconstitute the data. If the data was written by backup software, you would also need compatible backup software to recover the original data.



De-dupe changes data. Is there any possibility that this will get me into trouble with the regulators or legal eagles when I respond to a subpoena or discovery request? Does de-dupe conflict with the non-repudiation requirements of certain laws?

I am not a lawyer, and certainly there are aspects of[non-repudiation] that may or may not apply to specific cases.

What I can say is that storage is expected to return back a "bit-perfect" copy of the data that was written. Thereare laws against changing the format. For example, an original document was in Microsoft Word format, but is converted and saved instead as an Adobe PDF file. In many conversions, it would be difficult to recreate the bit-perfect copy. Certainly, it would be difficult to recreate the bit-perfect MS Word format from a PDF file. Laws in France and Germany specifically require that the original bit-perfect format be kept.

Based on that, IBM Diligent is able to return a bit-perfect copy of what was written, same as if it were written to regular disk or tape storage, because all data is diff-compared byte-for-byte with existing data.

In contrast, other solutions based on hash codes have collisions that result in presenting a completely different set of data on retrieval. If the data you are trying to store happens to have the same hash code calculation as completely different data already stored on a solution, then it might just discard the new data as "duplicate". The chance for collisions might be rare, but could be enough to put doubt in the minds of a jury. For this reason, IBM N series A-SIS, that does perform hash code calculations, will do a full byte-for-byte comparison of data to ensure that data is indeed a duplicate of an existing block stored.



Some say that de-dupe obviates the need for encryption. What do you think?

I disagree. I've been to enough [Black Hat] conferences to know that it would be possible to read thedata off the back-end disk, using a variety of forensic tools, and piece together strings of personal information,such as names, social security numbers, or bank account codes.

Currently, IBM provides encryption on real tape (both TS1120 and LTO-4 generation drives), and is working withopen industry standards bodies and disk drive module suppliers to bring similar technology to disk-based storage systems.Until then, clients concerned about encryption should consider OS-based or application-based encryption from thebackup software. IBM Tivoli Storage Manager (TSM), for example, can encrypt the data before sending it to the IBMDiligent offering, but this might reduce the number of duplicates found if different encryption keys are used.



Some say that de-duped data is inappropriate for tape backup, that data should be re-inflated prior to write to tape. Yet, one vendor is planning to enable an "NDMP-like" tape backup around his de-dupe system at the request of his customers. Is this smart?

Re-constituting the data back to the original format on tape allows the original backup software to interpret the tape data directly to recover individual files. For example, IBM TSM software can write its primary backup copies to an IBM Diligent offering onsite, and have a "copy pool" on physical tape stored at a remote location. The physical tapes can be used for recovery without any IBM Diligent software in the event of a disaster. If the IBM Diligent back-end disk images are lost, corrupted, or destroyed, IBM TSM software can point to the "copy pool" and be fully operational. Individual files or servers could be restored from just a few of these tapes.

An NDMP-like tape backup of a deduplicated back-end disk would require that all the tapes are in-tact, available, and fully restored to new back-end disk before the deduplication software could do anything. If a single cartridge fromthis set was unreadable or misplaced, it might impact the access to many TBs of data, or render the entire systemunusable.

In the case of a 1PB of back-end disk for IBM Diligent, you would be having to recover over a thousand tapes back to disk before you could recover any individual data from your backup software. Even with dozens of tape drives in parallel, could take you several days for the complete process.This represents a longer "Recovery Time Objective" (RTO) than most people are willing to accept.



Some vendors are claiming de-dupe is "green" — do you see it as such?

Certainly, "deduplicated disk" is greener than "non-deduplicated" disk, but I have argued in past posts, supportedby Analyst reports, that it is not as green as storing the same data on "non-deduplicated" physical tape.



De-dupe and VTL seem to be joined at the hip in a lot of vendor discussions: Use de-dupe to store a lot of archival data on line in less space for fast retrieval in the event of the accidental loss of files or data sets on primary storage. Are there other applications for de-duplication besides compressing data in a nearline storage repository?

Deduplication can be applied to primary data, as in the case of the IBM System Storage N series A-SIS. As Larrysuggests, MS Exchange and SharePoint could be good use cases that represent the possible savings for squeezing outduplicates. On the mainframe, many master-in/master-out tape applications could also benefit from deduplication.

I do not believe that deduplication products will run efficiently with "update in place" applications, that is high levels of random writes for non-appending updates. OLTP and Database workloads would not benefit from deduplication.



Just suggested by a reader: What do you see as the advantages/disadvantages of software based deduplication vs. hardware (chip-based) deduplication? Will this be a differentiating feature in the future… especially now that Hifn is pushing their Compression/DeDupe card to OEMs?

In general, new technologies are introduced on software first, and then as implementations mature, get hardware-based to improve performance. The same was true for RAID, compression, encryption, etc. The Hifn card does "hash code" calculations that do not benefit the current IBM Diligent implementation. Currently, IBM Diligent performsLZH compression through software, but certainly IBM could provide hardware-based compression with an integrated hardware/software offering in the future. Since IBM Diligent's inline process is so efficient, the bottleneck in performance is often the speed of the back-end disk. IBM Diligent can get improved "ingest rate" using FC instead of SATA disk.
Sorry, Jon, that it took so long to get back to you on this, but since IBM had just acquired Diligent when you posted, it took me a while to investigate and research all the answers.
technorati tags: IBM, Diligent, Jon Toigo, DrunkenData, bleg, deduplication, A-SIS, NetApp, ProtecTier, inline, post-process, back-end, disk, data integrity, hash, collision, ingest rate, VTL, non-repudiation, extent, bit-perfect, Microsoft Word, Adobe PDF, diff, Black Hat, encryption, compression, Hifn, FC, SATA
[
Read More
]
Last week, in my posting on
Toshiba's latest 1.8" drive
, Robert Pearson asks:
You may not be the right person to ask but I am asking everyone so "How do you see hybrid disk drives?"
(For the record, I am not immediately related to Robert. At onepoint, "Pearson" was the 12th most common surname in the USA, but now doesn't even make the Top 100.)
Robert, I would like to encourage you and everyone else to ask questions, don't worry if I am the wrong person to ask, asprobably I know the right person within IBM. Some people have called me the "Kevin Bacon" of Storage,as I am often less than six degrees away from the right person, having worked in IBM Storage for over 20 years.
For those not familiar with hybrid drives, there is a good write-up in Wikipedia.
Unfortunately, most of the people I would consult on this question, such as those from Market Intelligence or Research, are on vacation for the holidays, so, Robert, I will have to rely on my trusted 78-card Tarot deck and answer you with a five-card throw.
The tarot cards are never wrong, but certainly interpretations of the cards can be.
technorati tags: Robert Pearson, Kevin Bacon, IBM, storage, Tarot, card, deck, Hermit, Four-of-Cups, Coupling Facility, Chariot, SAN Volume Controller, SVC, SPC-1, SPC-2, benchmarks, Texas Memory Systems, Eight-of-Pentacles, World, Hybrid, SATA
[
Read More
]