The developerWorks Connections Platform is now in read-only mode and content is only available for viewing. No new wiki pages, posts, or messages may be added. Please see our FAQ for more information. The developerWorks Connections platform will officially shut down on March 31, 2020 and content will no longer be available. More details available on our FAQ. (Read in Japanese.)
Storage Networking is part of the IBM System Storage team. There were several break-out sessions on the third day at the [IBM System Storage Technical University 2011] related to storage networking.
SAN Best Practices

I always try to catch a session from Jim Blue, who works in our "SAN Central" center of competency team. This session was a long list of useful hints and tips, based on his many years of experience helping clients.

SAN Zoning works by inclusion, limiting the impact of failing devices. The best approach is to zone by individual initiator port. The default policy for your SAN zoning should be "deny".
Ports should be named to identify who, what, where and how.
While many people know not to mix both disk and tape devices on the same HBA, Jim also recommends not mixing dissimilar disks, test and production, FCP and FICON.
The sweet spot is FOUR paths. Too many paths can impact performance.
When making changes to redundant fabrics, make changes to the first fabric, then allow sufficient time before making the same changes to the other fabric.
Use software tools like Tivoli Storage Productivity Center (Standard Edition) to validate all changes to your SAN fabric.
Do not mix 62.5 and 50.0 micron technology.
Use port caps to disable inactive ports. In one amusing anecdote, he mention that an uncovered port was hit by sunlight every day, sending error messages that took a while to figure out.
Save your SAN configuration to non-SAN storage for backup
Consider firmware about two months old to be stable
Rule of thumb for estimating IOPS: 75-100 IOPS per 7200 RPM drive, 120-150 IOPS per 10K RPM drive, and 150-200 IOPS per 15K RPM drive.
Decide whether your shop is just-in-time or just-in-case provisioning. Just-in-time gets additional capacity on demand as needed, and just-in-case over-provisions to avoid scrambling last minute.
Avoid oversubscribing your inter-switch links (ISL). Aim for around 7:1 to 10:1 ratio.
Don't go cheap on bandwidth between sites for long-distance replication

Next Generation Network Fabrics - Strategy and Innovations

Mike Easterly, IBM Director of Global Field Marketing, presented IBM System Networking strategy, in light of IBM's recent acquisition of Blade Network Technologies (BNT). BNT is used in 350 of the Fortune 500 companies, and is ranked #2 behind Cisco in sales of non-core Ethernet switches (based on number of units sold).

Based on a recent survey, companies are upgrading their Ethernet networks for a variety of reasons:

56 percent for Live Partition Mobility and VMware Vmotion
45 percent for integrated compute stacks, like IBM CloudBurst
43 percent for private, public and hybrid cloud computing deployments
40 percent for network convergences

Many companies adopt a three-level approach, with core directors, distribution switches, and then access switches at the edge that connect servers and storage devices. IBM's BNT allows you to flatten the network to lower latency by collapsing the access and distribution levels into one.

IBM's strategy is to focus on BNT for the access/distribution level, and to continue its strategic partnerships for the core level.

IBM BNT provides better price/performance and lower energy consumption. To help with hot-aisle/cold-aisle rack deployments, IBM BNT provides both F and R models. F models have ports on the front, and R models have ports in the rear.

IBM BNT supports virtual fabric and HW-offload iSCSI traffic, and future-enabled for FCoE. Support for TRILL (transparent interconnect of lots of links) and OpenFlow will be implemented through software updates to the switches.

While Cisco Nexus 1000v is focused on VMware Enterprise Plus, IBM BNT's VMready works with VMware, Hyper-V, Linux KVM, XEN, OracleVM, and PowerVM. This allows single pane of management of VMready and ESX vSwitches.

In preparation for Converged Enhanced Ethernet (CEE), IBM BNT will provide full 40GbE support sometime next year, and offer switches that support 100GbE uplinks. IBM offers extended length cables, including passive SFP+ DAC at 8.5 meters, and 10Gbase-T Cat7 cables up to 100 meters.

Inter-datacenter Workload Mobility with VMware vSphere and SAN Volume Controller (SVC)

This session was co-presented between Bill Wiegand, IBM Advanced Technical Services, and Rawley Burbridge, IBM VMware and midrange storage consultant. IBM is the leader in storage virtualization product (SVC), and is the leading reseller of VMware.

Like MetroCluster on IBM N series, or EMC's VPLEX Metro, the IBM SAN Volume Controller can support a stretched cluster across distance that allows virtual machines to move seamlessly from one datacenter to another. This is a feature IBM introduced with SVC 5.1 back in 2009. This can be used for PowerVM Live Partition Mobility, VMware vMotion, and Hyper-V Quick Migration.

SVC stretched cluster can help with both Disaster Avoidance and Disaster Recovery. For Disaster Avoidance, in anticipation of an outage, VMs can be moved to the secondary datacenter. For Disaster Recover, additional automation, such as VMware High Availability (HA) is needed to restart the VMs at the secondary datacenter.

IBM stretched cluster is further improved with a feature called Volume Mirroring (formerly vDisk Mirroring) which creates two physical copies of one logical volume. To the VMware ESX hosts, there is only one volume, regardless of which datacenter it is in. The two physical copies can be on any kind of managed disk, as there is no requirement or dependency of copy services on the back-end storage arrays.

Another recent improvement is the idea of spreading the three quorum disks to three different locations or "failure domains". One in each data center, and a third one in a separate building, somewhere in between the other two, perhaps.

Of course, there are regional disasters that could affect both datacenters. For this reason, SVC stretched cluster volumes can be replicated to a third location up to 8000 km away. This can be done with any back-end disk arrays, as again there is not requirement for copy services from the managed devices. SVC takes care of it all.
Networking is going to be very important for a variety of transformational projects going forward in the next five years.
technorati tags: IBM, SAN, FCP, FICON, BNT, VMready, TRILL, OpenFlow, SVC, iSCSI, FCoE, CEE, VMware, ESX, vMotion, VPLEX, MetroCluster, PowerVM,
Well, it feels like Tuesday and you know what that means... "IBM Announcement Day!" Actually, today is Wednesday, but since Monday was Memorial Day holiday here in the USA, my week is day-shifted. Yesterday, IBM announced its latest IBM FlashCopy Manager v2.2 release. Fellow blogger, Del Hoobler (IBM) has also posted something on this out atthe [Tivoli Storage Blog].
IBM FlashCopy Manager replaces two previous products. One was called Tivoli Storage Manager for Copy Services, the other was called Tivoli Storage Manager for Advanced Copy Services. To say people were confused between these two was an understatement, the first was for Windows, and the second was for UNIX and Linux operating systems. The solution? A new product that replaces both of these former products to support Windows, UNIX and Linux! Thus, IBM FlashCopy Manager was born. I introduced this product back in 2009 in my post [New DS8700 and other announcements].
IBM Tivoli Storage FlashCopy Manager provides what most people with "N series SnapManager envy" are looking for: application-aware point-in-time copies. This product takes advantage of the underlying point-in-time interfaces available on various disk storage systems:
FlashCopy on the DS8000 and SAN Volume Controller (SVC)
Snapshot on the XIV storage system
Volume Shadow Copy Services (VSS) interface on the DS3000, DS4000, DS5000 and non-IBM gear that supports this Microsoft Windows protocol
For Windows, IBM FlashCopy Manager can coordinate the backup of Microsoft Exchange and SQL Server. The new version 2.2 adds support for Exchange 2010 and SQL Server 2008 R2. This includes the ability to recover an individual mailbox or mail item from an Exchange backup. The data can be recovered directly to an Exchange server, or to a PST file.
For UNIX and Linux, IBM FlashCopy Manager can coordinate the backup of DB2, SAP and Oracle databases. Version 2.2 adds support specific Linux and Solaris operating systems, and provides a new capability for database cloning. Basically, database cloning restores a database under a new name with all the appropriate changes to allow its use for other purposes, like development, test or education training. A new "fcmcli" command line interface allows IBM FlashCopy Manager to be used for custom applications or file systems.
A common misperception is that IBM FlashCopy Manager requires IBM Tivoli Storage Manager backup software to function. That is not true. You have two options:
Stand-alone Mode

In Stand-alone mode, it's just you, the application, IBM FlashCopy Manager and your disk system. IBM FlashCopy Manager coordinates the point-in-time copies, maintains the correct number of versions, and allows you to backup and restore directly disk-to-disk.

Unified Recovery Management with Tivoli Storage Manager

Of course, the risk with relying only on point-in-time copies is that in most cases, they are on the same disk system as the original data. The exception being virtual disks from the SAN Volume Controller. IBM FlashCopy Manager can be combined with IBM Tivoli Storage Manager so that the point-in-time copies can be copied off to a local or remote TSM server, so that if the disk system that contains both the source and the point-in-time copies fails, you have a backup copy from TSM. In this approach, you can still restore from the point-in-time copies, but you can also restore from the TSM backups as well.
IBM FlashCopy Manager is an excellent platform to connect application-aware fucntionality with hardware-based copy services.
technorati tags: IBM, Announcements, FlashCopy, FlashCopy+Manager, Microsoft, Windows, VSS, UNIX, AIX, Solaris, Linux, TSM, Exchange, SQL+Server, SAP, DB2, Oracle
Continuing my coverage of the annual [2010 System Storage Technical University], I participated in the storage free-for-all, which is a long-time tradition, started at SHARE User Group conference, and carried forward to other IT conferences. The free-for-all is a Q&A Panel of experts to allow anyone to ask any question. These are sometimes called "Birds of a Feather" (BOF). Last year, they were called "Meet the Experts", one for mainframe storage, and the other for storage attached to distributed systems. This year, we had two: one focused on Tivoli Storage software, and the second to cover storage hardware. This post provides a recap of the Storage Hardware free-for-all.
The emcee for the event was Scott Drummond. The other experts on the panel included Dan Thompson, Carlos Pratt, Jack Arnold, Jim Blue, Scott Schroder, Ed Baker, Mike Wood, Steve Branch, Randy Arseneau, Tony Abete, Jim Fisher, Scott Wein, Rob Wilson, Jason Auvenshine, Dave Canan, Al Watson, and myself, yours truly, Tony Pearson.
What can I do to improve performance on my DS8100 disk system? It is running a mix of sequential batch processing and my medical application (EPIC). I have 16GB of cache and everything is formatted as RAID-5.
We are familiar with EPIC. It does not "play well with others", so IBM recommends you consider dedicating resources for just the EPIC data. Also consider RAID-10 instead for the EPIC data.
How do I evaluate IBM storage solutions in regards to [
PCI-DSS
] requirements.
Well, we are not lawyers, and some aspects of the PCI-DSS requirements are outside the storage realm. In March 2010, IBM was named ["Best Security Company"] by SC Magazine, and we have secure storage solutions for both disk and tape systems.  IBM DS8000 and DS5000 series offer Full Disk Encryption (FDE) disk drives.  IBM LTO-4/LTO-5 and TS1120/TS1130 tape drives meet FIPS requirements for encryption.  We will provide you contact information on an encryption expert to address the other parts of your PCI-DSS specific concerns.
My telco will only offer FCIP routing for long-distance disk replication, but my CIO wants to use Fibre Channel routing over CWDM, what do I do?
IBM XIV, DS8000 and DS5000 all support FC-based long distance replication across CWDM. However, if you don't have dark fiber, and your telco won't provide this option, you may need to re-negotiate your options.
My DS4800 sometimes reboots repeatedly, what should I do.
This was a known problem with microcode level 760.28, it was detecting a failed drive. You need to replace the drive, and upgrade to the latest microcode.
Should I use VMware snapshots or DS5000 FlashCopy?
VMware snapshots are not free, you need to upgrade to the appropriate level of VMware to get this function, and it would be limited to your VMware data only. The advantage of DS5000 FlashCopy is that it applies to all of your operating systems and hypervisors in use, and eliminates the consumption of VMware overhead. It provides crash-consistent copies of your data. If your DS5000 disk system is dedicated to VMware, then you may want to compare costs versus trade-offs.
Any truth to the rumor that Fibre Channel protocol will be replaced by SAS?
SAS has some definite cost advantages, but is limited to 8 meters in length. Therefore, you will see more and more usage of SAS within storage devices, but outside the box, there will continue to be Fibre Channel, including FCP, FICON and FCoE. The Fibre Channel Industry Alliance [FCIA] has a healthy roadmap for 16 Gbps support and 20 Gbps interswitch link (ISL) connections.
What about Fibre Channel drives, are these going away?
We need to differentiate the connector from the drive itself. Manufacturers are able to produce 10K and 15K RPM drives with SAS instead of FC connectors. While many have suggested that a "Flash-and-Stash" approach of SSD+SATA would eliminate the need for high-speed drives, IBM predicts that there just won't be enough SSD produced to meet the performance needs of our clients over the next five years, so 15K RPM drives, more likely with SAS instead of FC connectors, will continue to be deployed for the next five years.  
We'd like more advanced hands-on labs, and to have the certification exams be more product-specific rather than exams for midrange disk or enterprise disk that are too wide-ranging.
Ok, we will take that feedback to the conference organizers.
IBM Tivoli Storage Manager is focused on disaster recovery from tape, how do I incorporate remote disk replication.
This is IBM's Unified Recovery Management, based on the seven tiers of disaster recovery established in 1983 at GUIDE conference.  You can combine local recovery with FastBack, data center server recovery with TSM and FlashCopy manager, and combine that with IBM Tivoli Storage Productivity Center for Replication (TPC-R), GDOC and GDPS to manage disk replication across business continuity/disaster recovery (BC/DR) locations.
IBM Tivoli Storage Productivity Center for Replication only manages the LUNs, what about server failover and mapping the new servers to the replicated LUNs?
There are seven tiers of disaster recovery. The sixth tier is to manage the storage replication only, as TPC-R does. The seventh tier adds full server and network failover. For that you need something like IBM GDPS or GDOC that adds this capability.
All of my other vendor kit has bold advertising, prominent lettering, neon lights, bright colors, but our IBM kit is just black, often not even identifying the specific make or model, just "IBM" or "IBM System Storage".
IBM has opted for simplified packaging and our sleek, signature "raven black" color, and pass these savings on to you.
Bring back the SHARK fins!
We will bring that feedback to our development team. ("Shark" was the codename for IBM's ESS 800 disk model.  Fiberglass "fins" were made as promotional items and placed on top of ESS 800 disk systems to help "identify them" on the data center floor.  Unfortunately, professional golfer [<a href="http://www.shark.com/">Greg Norman</a>] complained, so IBM discontinued the use of the codename back in 2005.)
Where is Infiniband?
Like SAS, Infiniband had limited distance, about 10 to 15 meters, which proved unusable for server-to-storage network connections across data center floorspace. However, there are now 150 meter optical cables available, and you will find Infiniband used in server-to-server communications and inside storage systems.  IBM SONAS uses Infiniband today internally.  IBM DCS9900 offers Infiniband host-attachment for HPC customers.

We need midrange storage for our mainframe please?
In addition to the IBM System Storage DS8000 series, the IBM SAN Volume Controller and IBM XIV are able to connect to Linux on System z mainframes.
We need "Do's and Don'ts" on which software to run with which hardware.
IBM [Redbooks] are a good source for that, and we prioritize our efforts based on all those cards and letters you send the IBM Redbooks team.
The new TPC v4 reporting tool requires a bit of a learning curve.
The new reporting tool, based on Eclipse's Business Intelligence Reporting Tool [BIRT], is now standardized across the most of the Tivoli portfolio. Check out the [Tivoli Common Reporting] community page for assistance.
An unfortunate side-effect of using server virtualization like VMware is that it worsens management and backup issues. We now have many guests on each blade server.
IBM is the leading reseller of VMware, and understands that VMware adds an added layer of complexity. Thankfully, IBM Tivoli Storage Manager backups uses a lightweight agent. IBM [System Director VMcontrol] can help you manage a variety of hypervisor environments.
This was a great interactive session. I am glad everyone stayed late Thursday evening to participate in this discussion.
technorati tags: IBM, Technical University, DS8100, EPIC, PCI-DSS, FDE, Encryption, XIV, CWDM, DS5000, SAS, InfiniBand, FCIA, FCoE, FICON, GUIDE, Tivoli, Productivity Center, TPC-R, GDPS, SONAS, SVC, BIRT, Systems Director, VMcontrol
Well, I'm back from my exhausting trip in New York City.
I had to rub my eyes when I saw the headlines about [HP accusing Oracle] of harassing their new CEO with a [subpoena in Oracle's suit against HP]. One thing perhaps can be said about this circus -- it may be more preferable for Oracle to talk about than the continued decline of the hardware business that it [acquired from Sun Microsystems] earlier this year.
Each quarter since 2006, the [IBM Migration Factory] team has tallied the number of clients who have moved to IBM severs and storage systems from competitive hardware. We'll I've just seen the latest numbers, for the third quarter of 2010, and it looks like we set a new quarterly record with nearly 400 total migrations to IBM from Oracle/Sun and HP.
It's clear that companies and governments worldwide are seeing greater value in IBM systems, while Oracle and HP watch their customer bases erode. In just this past 3Q 2010, nearly 400 clients have moved over to IBM -- almost all of them from Oracle/Sun and HP. Of these, 286 clients migrated to IBM Power Systems, running AIX, Linux and IBM i operating systems, from competitors alone -- nearly 175 from Oracle/Sun and nearly 100 from HP. The number of migrations to IBM Power Systems through the first three quarters of 2010 is nearly 800, already exceeding the total for all of last year by more than 200.
Let's do the math.... Since IBM established its Migration Factory program in 2006, more than 4,500 clients have switched to IBM. More than 1,000 from Oracle/Sun and HP joined the exodus this year alone. In less than five years, almost 3,000 of these clients -- including more than 1,500 from Oracle/Sun and more than 1,000 from HP -- have chosen to run their businesses on IBM's Power Systems. That's more than a client per day making the move to IBM!
And as the servers go, so goes the storage. Clients are re-discovering IBM as a server and storage powerhouse, offering a strong portfolio in servers, disk and tape systems, and how synergies between servers and storage can provide them real business benefits.
Adding it all up, it's clear that IBM's multi-billion dollar investment in helping to build a smarter planet with workload-optimized systems is paying off -- and that, more and more, clients are selecting IBM over the competition to help them meet their business needs.
technorati tags: , IBM, Migration Factory, Oracle, Sun, HP, lawsuit, subpoena
This week I was aboard the Queen Mary in Long Beach, California! This was a business event organized by [Key Info Systems], a valued IBM Business Partner. Key Info resells IBM servers, storage and switches.
The Queen Mary retired in 1967, and has been converted into a hotel and events venue. The locals just parked their car and walked on board, but I got to stay Tuesday through Thursday in one of the cabins. It was long and narrow, with round windows! There were four dials for the bathtub: Cold Salt, Hot Fresh, Cold Fresh, and Hot Salt.
Stepping on the boat was like walking back in time through history! If you decide to go see it, check out the [Art Deco bar at the front of the Promenade deck. The ship is still in the water, but is permanently docked. It is sectioned off to prevent the ocean waves from affecting it, so we did not have the nauseous moving back and forth normally associated with cruise ships.
(It is with a bit of irony that we are on the Queen Mary just days after the tragedy of the [Costa Concordia], the largest Italian cruise ship that ran aground near Isola de Giglio. The captain will have to explain how he [fell into a lifeboat] before he had a chance to wait for everyone else to get safely off the shipwreck. He was certainly no [Captain Sulley]! I am thankful that most of the 4,200 people survived the incident.)
Executive Welcome

Lief Morin, Founder and Chief Executive for Key Info Systems, kicked off the meeting with highlights of 2011 successes. I have known Lief for years, as Key Info comes to the Tucson EBC on a frequent basis. This event was designed to give his sellers an update of what is the latest for each product line, and what to look forward to in the next 12-18 months.

Power Systems

My colleague Pat O'Rourke from Austin EBC presented [IBM Power Systems], from the smallest [POWER-based blade servers for BladeCenter] to the largest [Power 795 server]. When it comes to UNIX servers, IBM is [kickin' butt and takin' names], leaving HP and Oracle/Sun to fend for scraps.

Vision Solutions

The next speaker was from Vision Solutions that provides High Availability solutions for IBM i on Power Systems. In 2010, their company nearly doubled in size with the acquisition of Double-Take, which provides data replication for x86 servers running Windows, Linux, VMware, Hyper-V and other hypervisors. The capabilities of Double-Take sounded similar to what IBM offers with [Tivoli Storage Manager FastBack] and [Tivoli Storage Manager for Virtual Environments].

Dinner at Sir Winston's

Rather than take the "Ghosts and Legends" tour, I opted for dinner at the Queen Mary's signature restaurant, Sir Winston's. This is a fancy place, so dress accordingly. If you want the Raspberry soufflé, order it early as it takes 30 minutes to prepare!

System Storage

I presented on a variety of storage topics:

Storage is an important part of the Key Info Systems revenue stream, so I was glad to have lots of questions and interactions from the audience.

Murder Mystery Dinner

The acting troupe from [Dinner Detective] put on quite the show for us! With all that is going on in the world, it is good to laugh out loud every now and then.

In other murder mystery dinners I have participated in, each person is assigned a "character" and given a script of what to say and when to say it. This was different, we got to pick our own characters. I chose "Doctor Watson", from the Sherlock Holmes series. Several attendees thought it was a double meaning with [IBM Watson], the computer that figured out the clues on Jeopardy! television game show, and has since been [put to work at Wellpoint] to help out the Healthcare industry.

After the "murder" happened, two actors portraying policemen selected members of the audience to answer questions. We didn't get a script of what to say, so everyone had to "ad lib". I was singled out as a suspect, and had fun playing along in character. One of the attendees afterwards said he was impressed that I was able to fabricate such amusing and elaborate responses to their personal and embarassing questions. As a public speaker for IBM, I have had a lot of practice thinking quickly on my feet.

Fibre Channel and Ethernet Switches

The next two speakers gave us an update on Fibre Channel and Ethernet switches, and their thoughts on the inevitability of Fibre Channel over Ethernet (FCoE). One of the exciting new developments is the [Brocade Network Subscription] which creates a flexible pay-per-use Ethernet port rental model for customers. This is especially timely given the Financial Accounting Standards Board proposed [FASB Change 13] that affects operating leases in the balance sheet.

With the Brocade Network Subscription, you pay monthly for the ports you are using. Need more ports, Brocade will install the added gear. Use fewer ports, Brocade will take the equipment back. There is no term endpoint or residual value like tradtional leasing, so when you are done using the equipment, give it back any time. This is ideal for companies that may need to have a lot of Ethernet ports for the next 2-3 years, but then plan to taper down, and don't want to get stuck with a long-term commitment or capital depreciation.

VMware

The last speaker was from VMware. IBM is the #1 reseller of VMware, and VMware commands an impressive 81 percent marketshare in the x86 virtualization space. The speaker presented VMware's strategy going forward, which aligns well with IBM's own strategy, to help companies Cloud-enable their existing IT infrastructures, in preparation for eventual moves to Hybrid or Public cloud deployments.
Special thanks to Lief Morin for sponsoring this event, Raquel Hernandez from IBM for coordinating my travel, and Pete, Christina and Kendrell from Key Info Systems for organizing the activities!
technorati tags: IBM, Queen Mary, Key Info, Art Deco, Costa Concordia, Lief Morin, Pat O'Rourke, Power 795, DS8000, XIV, SONAS, Tape, TS1140, LTFS, Storwize V7000, Unified storage, FCoE, BNS, VMware, Cloud Computing
I had an interesting query about my last blog post [Enterprise Systems are Security-Ready], basically asking me what I decided to do for Full-Disk Encryption (FDE) for my laptop.
Earlier this year, IBM mandated that every employee provided a laptop had to implement Full-Disk Encryption for their primary hard drive, and any other drive, internal or external, that contained sensitive information. An exception was granted to anyone who NEVER took their laptop out of the IBM building. At IBM Tucson, we have five buildings, so if you are in the habit of taking your laptop from one building to another, then encryption is required!
The need to secure the information on your laptop has existed ever since laptops were given to employees. In my blog post [Biggest Mistakes of 2006], I wrote the following:
"Laptops made the news this year in a variety of ways. #1 was exploding batteries, and #6 were the stolen laptops that exposed private personal information. Someone I know was listed in one of these stolen databases, so this last one hits close to home. Security is becoming a bigger issue now, and IBM was the first to deliver device-based encryption with the TS1120 enterprise tape drive."
Not surprisingly, IBM laptops are tracked and monitored. In my blog post [Using ILM to Save Trees], I wrote the following:
"Some assets might be declared a 'necessary evil' like laptops, but are tracked to the n'th degree to ensure they are not lost, stolen or taken out of the building. Other assets are declared "strategically important" but are readily discarded, or at least allowed to [walk out the door each evening]."
When it was [time for a new laptop] in 2010, I spent a week [re-partitioning the drive], [transfering files], [installing programs], [re-organizing my folders], and finally [testing my system]. It was dual-boot so that I could run either Windows or Linux, as needed, to demonstrate various software solutions at the IBM Tucson Executive Briefing Center.
Unfortunately, dual-boot environments won't cut it for Full-Disk Encryption. For Windows users, IBM has chosen Pretty Good Privacy [PGP]. For Linux users, IBM has chosen Linux Unified Key Setup [LUKS]. PGP doesn't work with Linux, and LUKS doesn't work with Windows.
For those of us who may need access to both Operating Systems, we have to choose. Select one as the primary OS, and run the other as a guest virtual machine. I opted for Red Hat Enterprise Linux 6 as my primary, with LUKS encryption, and Linux KVM to run Windows as the guest.
I am not alone. While I chose the Linux method voluntarily, IBM has decided that 70,000 employees must also set up their systems this way, switching them from Windows to Linux by year end, but allowing them to run Windows as a KVM guest image if needed.
Let's take a look at the pros and cons:
Pros
Cons

LUKS allows for up to 8 passphrases, so you can give one to your boss, one to your admin assistant, and in the event they leave the company, you can disable their passphrase without impacting anyone else or having to memorize a new one. PGP on Windows supports only a single passphrase.


Linux is a rock-solid operating system. I found that Windows as a KVM guest runs better than running it natively in a dual-boot configuration.


Linux is more secure against viruses. Most viruses run only on Windows operating systems. The Windows guest is well isolated from the Linux operating system files. Recovering from an infected or corrupted Windows guest is merely re-cloning a new "raw" image file.


Linux has a vibrant community of support. I am very impressed that anytime I need help, I can find answers or assistance quickly from other Linux users. Linux is also supported by our help desk, although in my experience, not as well as the community offers.


Employees that work with multiple clients can have a separate Windows guest for each one, preventing any cross-contamination between systems.

Linux is different from Windows, and some learning curve may be required. Not everyone is happy with this change.

(I often joke that the only people who are comfortable with change are babies with soiled diapers and prisoners on death row!)

Implementation is a full re-install of Linux, followed by a fresh install of Windows.


Not all software required for our jobs at IBM runs on Linux, so a Windows guest VM is a necessity. If you thought Windows ran slowly on a fully-encrypted disk, imagine how much slower it runs as a VM guest with limited memory resources.
In theory, I could have tried the Windows/PGP method for a few weeks, then gone through the entire process to switch over to Linux/LUKS, and then draw my comparisons that way. Instead, I just chose the Linux/LUKS method, and am happy with my decision.
technorati tags: IBM, Windows, PGP, Linux, LUKS, FDE, encryption
Recently, I spoke with Jarrett Potts, my long-time friend and former IBM colleague, who now works as Director of Strategic Marketing over at STORServer. If you have never heard of STORServer, it is a company that makes purpose-built backup appliances.
What is a Backup Appliance? It is an integrated solution of hardware and software that serves a single purpose: backup and recovery. STORServer Enterprise Backup Appliance (EBA) combines IBM's high-end x86 M4 server, IBM disk and tape storage, and IBM Tivoli Storage Manager (TSM) backup software.
(Fun Fact: The 2012 IBM year-end financial results were announced last month. IBM not only continues its #1 lead in servers overall, but has the #1 marketshare for high-end x86 servers, market-leading disk and tape storage hardware, and market leading backup software.)
To determine the appropriate size of your backup appliance, the folks at STORServer help you every step of the way. They figure out the number of TB you will backup every day, and even help configure all of the TSM server parameters to achieve the policies that make the most sense for your organization.
The appliance can backup every type of data, from databases and Virtual Machines (VMs) to documents, spreadsheets, and other unstructured data.
Are you then left with a solution too complicated to run yourself? No. The STORServer Console is an easy-to-use GUI for ongoing monitoring and maintenance. Plus, your friends at STORServer are only a phone call away in case you have any questions.
(FTC Disclosure: I work for IBM, and STORSever is an approved IBM Business Partner that uses IBM hardware and software to build their solution. I have no financial interest in STORServer, and was not paid by STORServer to mention their company or products on my blog. This post may be considered a celebrity endorsement of STORServer and its Enterprise Backup Appliances.)
Perhaps my readers feel that I am a bit biased in describing a TSM-based solution, and you want a second opinion. No worries, I understand. In the latest 165-page [2012 DCIG Backup Appliance Buyer's Guide], the STORServer models ranked very high. Here is an excerpt:
"Nowhere is this demand for purpose built appliances more evident than in the rise of purpose built backup appliances (PBBAs) over the last few years and their anticipated growth rate going forward. A recent market analysis performed by IDC found that worldwide PBBA revenue totaled $2.4 billion in 2011 which was a 42.4 percent increase over the prior year.

This scoring came into play in preparing this Buyer's Guide as the STORServer EBA 3100 model scored so highly overall that it fell outside of the two (2) standard deviations that DCIG generally uses as a guideline for inclusion and exclusion of products.

The reason DCIG included this model in this Buyer's Guide whereas in other situations it might not is that DCIG is unaware of any other backup appliance(s) from any other providers that come close to matching the EBA 3100's software and hardware attributes. As such, DCIG felt it would be doing STORServer specifically and the market generally a disservice by not highlighting in this Buyer's Guide that such a backup appliance existed and was generally available for purchase."



| | | | |
| --- | --- | --- | --- |
|   | Backup Appliance Models | Score | Ranking |
| 1. | STORServer EBA 3100 | 91.70 | ENTERPRISE |
| 2. | Symantec NetBackup 5220 Backup Appliance | 87.11 | Recommended |
| 3. | STORServer EBA 2100 | 86.90 | Recommended |
| 4. | STORServer EBA 1100 | 85.70 | Recommended |
| 5. | STORServer EBA 800 | 85.60 | Recommended |
| 6. | Symantec Backup Exec 3600 Appliance | 78.83 | Excellent |
| 7. | Unitrends Recovery-823 | 76.55 | Excellent |
| 8. | RackTop EBR-FE | 76.50 | Excellent |
| 9. | Unitrends Recovery-833 | 76.25 | Excellent |
| 10. | Unitrends Recovery-822 | 76.15 | Excellent |
The STORServer is ideal for small and medium-sized business (SMB), but can scale quite large to handle business growth. If you are currently unhappy with your current backup environment, and feel now is the time to look around for a better way of taking backups, you won't go wrong choosing a solution based on IBM's market-leading server and storage hardware with Tivoli Storage Manager software.
technorati tags: IBM, System Storage, Tivoli Storage Manager, STORServer
Last week, in my posting on
Toshiba's latest 1.8" drive
, Robert Pearson asks:
You may not be the right person to ask but I am asking everyone so "How do you see hybrid disk drives?"
(For the record, I am not immediately related to Robert. At onepoint, "Pearson" was the 12th most common surname in the USA, but now doesn't even make the Top 100.)
Robert, I would like to encourage you and everyone else to ask questions, don't worry if I am the wrong person to ask, asprobably I know the right person within IBM. Some people have called me the "Kevin Bacon" of Storage,as I am often less than six degrees away from the right person, having worked in IBM Storage for over 20 years.
For those not familiar with hybrid drives, there is a good write-up in Wikipedia.
Unfortunately, most of the people I would consult on this question, such as those from Market Intelligence or Research, are on vacation for the holidays, so, Robert, I will have to rely on my trusted 78-card Tarot deck and answer you with a five-card throw.
The tarot cards are never wrong, but certainly interpretations of the cards can be.
technorati tags: Robert Pearson, Kevin Bacon, IBM, storage, Tarot, card, deck, Hermit, Four-of-Cups, Coupling Facility, Chariot, SAN Volume Controller, SVC, SPC-1, SPC-2, benchmarks, Texas Memory Systems, Eight-of-Pentacles, World, Hybrid, SATA
[
Read More
]
Some job titles can be vague. Have you ever given your title to a person at a cocktail party, only to have to explain exactly what you do? With a title like "IBM Master Inventor and Senior Managing Consultant", this happens to me all the time. To help explain what we do at the Tucson Executive Briefing Center (EBC), I use the following analogy.
People who want to see or interact with animals have several options. One option is to go visit the animals in their natural habitat. A more convenient option, however, is to visit the animals in a zoo. Zoos bring together a wide variety of animals, making it convenient to visit all of them at one time.
I did not fully appreciate the advantage of zoos until I took a safari in Kenya, Africa a few years ago. The word safari means "long journey" in Swahili. For two weeks, we drove around in a Land Rover on bumpy roads across the country. The best time to see the animals was early in the morning and late in the afternoon. We would drive around for hours looking for a type animal we had not seen already. Most came to see the so-called "Big Five": Buffalo, Elephant, Leopard, Lion and Rhinoceros. After two weeks and hundreds of miles, we had seen the "Big Nine" which extends the Big Five to include the Cheetah, Zebra, Giraffe and Hippo, as well as seeing a variety of other, lesser known animals.
When it comes to zoos, there are two kinds.
Self-guided -- offering the basic zoo experience where you are handed a map to visit the animals on your own.
Docent-guided -- offering a richer zoo experience where the docent provides added value, leading visitors around the zoo, answering questions, providing education, and comparing the differences between the animals.
Over the past 15 years, IBM has been consolidating storage development in Tucson, Arizona moving storage-related projects from San Jose, CA, from Rochester, MN, and from Raleigh, NC. Tucson has the largest collection of IBM storage hardware and software development in North America. I am one of the three local "docents", guiding the clients that come to Tucson to visit the developers.
(Note: I have seen other analogies to discuss groups of developers. There is an old adage: engineers are [like mushrooms: kept in the dark, covered with manure, and then canned when they are old enough]. In 2008, I had a popular blog post relating [Software Programmers as Bees]. In referring to developers as animals in the zoo in this post, I am treating them in high esteem as the star attractions of the zoo. This blog is not meant as commentary on their hygiene.)
Here are some of the types of developers that our clients ask to interact with:
Research Scientists

A was hired into IBM back in 1986 as a Research Scientist. When clients want to hear about IBM's future direction over the next 10-15 years, we bring in someone from IBM Research.

Hardware Engineers

While disk systems may seem no more complicated as arranging books on a shelf, clients often want to talk to hardware engineers related to IBM's tape libraries, especially the IBM System Storage TS3500 library and the High-Density frame that can store multiple cartridges per slot in a spring-loaded manner.

Software Engineers

I have a Bachelor's degree in Computer Engineering and Master's degree in Electrical Engineering, so I am able to speak both sides of the hardware/software divide. Software engineers here in Tucson develop the microcode that runs on disk and tape hardware, the various GUI, CLI and SMI-S API interfaces, as well as Tivoli Storage software, especially Tivoli Storage Manager (TSM) and Tivoli Storage Productivity Center.

Testers

IBM Tucson has a huge test lab, and our testers are very familiar with all of the subtle nuances of interoperability between servers, HBAs, switches and storage devices. We have system and function testers for the individual products, ISV testers to validate software compatability, performance testers, and environment testers to verify the storage devices can handle extremes in temperature, humidity, vibration and noise.

System Architects

IBM has architects for each product line to help decide which features and functions are developed for each product release. While many software engineers have expertise narrowly focused on an individual component, the system architects need to have a broad awareness of the entire environment. Earlier in my career, I was the chief architect for DFSMS, the storage management element of the z/OS mainframe operating sytsem, and chief architect for what we now call Tivoli Storage Productivity Center.

Product and Portfolio Managers

Product and Portfolio managers are helpful to explain to clients why IBM invested more in some products than others. I had served as the Portfolio Manager for IBM tape systems. When clients want to talk about the business side of our products, such as pricing, licensing and leasing issues, we bring the product and portfolio managers in.

IBM Executives

For some clients, high level executives want to speak to their counterparts at IBM, vice president to vice president, executive to executive. Our local IBM executives often help kick off the briefing in the morning, or provide the executive summary and discuss next steps at the end of the day. Golfing, dinners and drinks, of course, are always a popular scheduing option.
On behalf of the rest of the Tucson EBC, I would like to thank all the developers who have helped us last year with client briefings. There are too many to mention, and most are too humble to let me put their names in this blog. Team, your assistance is very appreciated!
Many IBMers consider Tucson to be the headquarters for storage, and I have heard IBM executives refer to Tucson as the center of the universe for storage products. However, IBM is a global company. Just as zoos do not pretend to be complete collections of animals, IBM storage development is not entirely contained in Tucson. IBM Research for storage is also done in Almaden CA, Yorktown Heights NY, and Haifa, Israel. Hardware development is also done in Japan, Europe and Israel. Tivoli Storage has locations in Beaverton, Oregon, and Austin, Texas, to name a few. IBM is a big company, so if I left your favorite location off the list, let me know in the comments below.
Some clients, sales reps and business partners have complained that Tucson is not the most convenient location to get to. I get that. One rep asked why we don't have briefing centers somewhere more accessible, such as Chicago or Atlanta, both cities offer a major airline hub. As much as I personally enjoy cities like Chicago or Atlanta, people don't visit zoos just to see the docents, they come to see the animals. Having docents located in Chicago or Atlanta, standing sadly in front of empty cages with no animals to interact with, makes no sense at all.
With over 350 days of sunshine per year, Tucson is actually a well-kept secret. Clients who have never been to Tucson discover the wonders of the Sonoran desert. Coyotes chase roadrunners across our parking lot. Several clients who have come to visit us have ended up buying retirement homes here. If you haven't been to Tucson, or it has been a while since your last trip, I encourage you to [schedule a briefing]. The weather right now is ideal!
technorati tags: IBM, Tucson EBC
On Wikibon, David Floyer has an article titled [SAS Drives Tier 1 to New Levels of Green] that focuses on the energy efficiency benefits of newer Serial-Attach SCSI (SAS) drives over older Fibre Channel (FC) drives. This makes sense, as R&D budgets have been spent on making newer technologies more "green".
Fellow blogger Hu Yoshida (HDS) encourages people to [Invest in the Future with SAS, SATA and SFF], referring to Figure 1.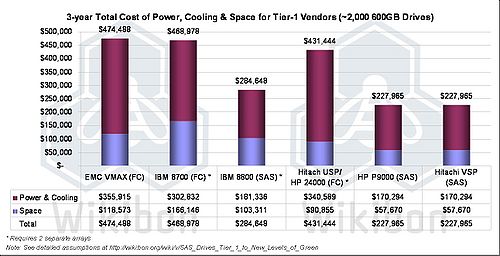 Of course, people might consider this an [apples-to-oranges] comparison. Not only are we changing from FC to SAS technology, we are also changing from 3.5-inch drives to small form factor (SFF) 2.5-inch drives. It seems odd to specify 2000 drives, when only two of the five scale up to that level. Few systems in production, from any vendor, have more than 1000 drives, so it would have seemed that would have been a fairer comparison.
However, Hu's conclusion that the combination of SAS and SFF provides better performance and energy efficiency for both IBM DS8800 and HDS VSP than FC-based alternatives from any vendor seems reasonably supported by the data.
Meanwhile, fellow blogger David Merrill (HDS) pokes fun at IBM DS8800 in Figure 2 in his post [Winner o' the green]. This second comparison was for 4PB of raw capacity, which 4 of the 5 can handle easily using 2TB SATA drives, but the DS8800 is based on SAS technology and does not support 2TB SATA drives. A performance-oriented configuration with four distinct DS8800 boxes employing 600GB SAS drives is used instead, causing the data for the DS8800 to stick out like a sore thumb, or perhaps more intentionally as a middle finger.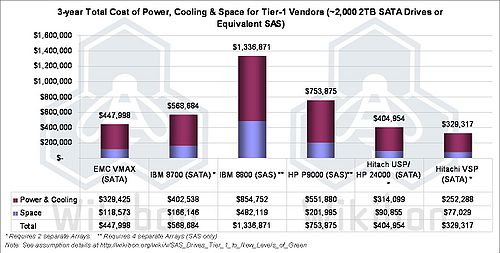 The main take-away here is that IBM offers both the DS8700 for capacity-optimized workloads, and the DS8800 for performance-optimized workloads. Some competitors may have been spreading FUD that the DS8700 was withdrawn last month, it wasn't. As you can see from the data presented, there are times where a DS8700 might be more preferable than a DS8800, depending on the type of workloads you plan to deploy. IBM offers both, and will continue to support existing DS8700 and DS8800 units in the field for many years to come.
technorati tags: IBM, DS8700, DS8800, Wikibon, Hu Yoshida, David Merrill, Davud Floyer