The developerWorks Connections Platform is now in read-only mode and content is only available for viewing. No new wiki pages, posts, or messages may be added. Please see our FAQ for more information. The developerWorks Connections platform will officially shut down on March 31, 2020 and content will no longer be available. More details available on our FAQ. (Read in Japanese.)
IBM wins lots of awards, but this time is unique: [IBM and Fox Networks Group have jointly won an Engineering Emmy® Award] for Innovation from the Academy of Television Arts & Sciences. According to the Academy, by improving the ability of media companies to capture, manage and exploit content in digital form, IBM and Fox have fundamentally changed the way that audio and video content is managed and stored. Here's an excerpt from the IBM Press Release:
"By standardizing technologies in this way, Fox can now use open-standard, file-based tape in all aspects of production, post-production and distribution functions – displacing costly proprietary tape formats and/or disk subsystems. This provides media companies with the consumer equivalent of having their entire library of DVDs online and available at any time, and the ability to go to a specific scene, in any one of the movies, in an instant.

In the early stage of the technology initiative, the IBM/Fox team applied IBM-patented technologies invented by IBM Research for high-speed data movement. They also integrated traditional broadcast transport and encoding standards with IT industry open standards. This allowed either Standard Definition (SD) or HD programming to be available in real time for digital recording and repurposing -- with improved economics."
Last year, in my posts [Double the Storage Capacity - Double the Fun!], [Happy E.A.R.T.H day!], [Local IBM Team recognized by Arizona Daily Star], and [On Cirago Docking Stations, IBM RDX and LTFS], I had referred to LTFS by its prior name, the Long Term File System. People keep archives on tape because it is a great medium for long term retention.
Unfortunately, people didn't like the name, but they loved the acronym, so it was renamed to Linear Tape File System. IBM offers LTFS single-drive edition on its LTO-5 and TS1140 tape drives, and LTFS library-edition across all of its tape libraries. Since everyone hates proprietary vendor lock-in, IBM has graciously shared LTFS as an open source standard with the rest of the Linear Tape Open consortium.
(Note: I was not there at the awards ceremony. The pictures were taken by Ed Childers, David Pease and Rainer Richter of each other. Additional photos are available on this [Flicr photo album].)
(1) Rainer Richter, Media Technology Market Partners LLC [MTMP], presenting the Emmy to Steve Canepa, IBM General Manager for Media and Entertainment industry. MTMP is an IBM Business Partner that offers integrated solutions for LTO and LTFS, consulting, services, and technology to the media and entertainment industry…
(2) Ed Childers, IBM manager of the Tape Drive Development team, holding the Emmy. Fellow IBM blogger Steve Hamm credits Ed on coming up with the idea for LTFS seven years ago, in his blog post [Coding and Loading in Las Vegas: How a Team of IBM Researchers Helped Transform the Way Video is Stored]. Ed wanted to make tape storage easier to use and to integrate it into the workflow of networks and studios, and suggested using an indexing system that would allow people to write software that would make video more accessible.
(3) David Pease, IBM Senior Technical Staff Member from the IBM Almaden Research Center, holding the Emmy. Along with Lucas Villa Real (IBM Brazil) and Michael Richmond (IBM Almaden), David and his team were able to come up with a working prototype in just four months. Michael discusses this in his posts [Tape? Does anyone care about Tape anymore?"] and [the Emmy goes to... LTFS].
If David and Ed look familiar, it is because I had their picture on my blog back in May when [LTFS won 2011 NAB Show Pick Hits award]. For more from the IBM Almaden Research team, see their blog post [We won an Emmy!]
Of course, Technology is only worthwhile if you put it to use. Our friends at FOX initially partnered with IBM to develop this video archive solution for the National Football League (NFL). If there is one place that "re-purposes" a lot of video footage, it is sports television. The technology proved so useful that FOX has since expanded it to other types of programming.
technorati tags: IBM, FOX, Emmy, Ed Childers, David Pease, Steve Canepa, Michael Richmond, Rainer Richter, MTMP, Almaden Research Center, LTFS, LTO-5, TS1140, Media and Entertainment, Steve Hamm
I have arrived safely to San Francisco, and was able to check-in at the hotel, pick up my registration badge for Oracle OpenWorld 2011, and attend the first keynote session. This is the largest Oracle OpenWorld event to-date, with over 45,000 attendees from 117 different countries. There are 520,000 square feet of exhibition floor, and over 2,400 educational sessions. The conference is spread across the different buildings of the Moscone center, as well as nearby hotels. On average, attendees will walk seven miles during the week.
Larry Ellison was the keynote speaker for this first kick-off session. He focused almost exclusively on server and storage hardware. He feels that business is all about moving data, not doing integer math.
Exadata

At the beginning of 2011, Oracle had only sold about 1,000 Exadata, but they have a sales target to sell an additional 3,000 Exadata boxes by year end. The Exadata offers up to 10x columnar compression, and has 10x faster bandwidth (40Gbps Infiniband versus 4Gbps FCP). If you have a 100TB database, it would take up only 10TB of disk with this approach. He claims that the 90TB of disk you don't have to buy can then be used to buy more DRAM and/or Flash SSD.

(Realistically, since SSD is 15x more expensive than spinning disk, you can only purchase about 6TB of Flash for the 90TB you save on disk!)

Larry claims the design point for Exadata and Exalogic was to offer a system that was more powerful than IBM's fastest P795 computer, but cheaper than commodity x86 hardware. His secret is to "Parallel everything" for faster performance, and no single points of failure (SPOF). Exadata offers up to 10-50x faster query, and 4-10x faster OLTP. To keep costs low, Exadata uses all commodity hardware except the Infiniband. He cited various customer examples:

A company replaced 36 Teradata with 3 Exadata and result was application was 8x faster.
Banco Chile 9x faster than previous system
Deutsche Post 60x faster
Sogetti gets 60x faster backups.
French bank BNP Paribas 17x faster and no change to applications.
Proctor & Gamble 18x faster
Merck 5x faster
Turkcell 250TB compressed to 25TB, 10x faster

The problem was that in each example, he said what it was compared against was the old previous system, which varies and could have been an older Sun system, or an old system from HP, IBM or Dell. Perhaps it was a freudian slip, but Larry mistakenly said "Paralyze" your applications, when he probably meant to "Parallelize".

SPARC Supercluster

Of all their 380,000 Oracle customers, 70 percent have SPARC/Solaris and/or Linux. Last week, Oracle announced the new SPARC-T4, which Larry claimed was 5x faster than the previous SPARC-T3. Larry feels that for the first time ever, a non-IBM CPU can challenge the long-standing rein of the IBM POWER series processor. Larry admitted that the IBM POWER7 chip actually did some tasks faster than the SPARC-T4, so his work is not yet done, but they plan to offer a new SPARC-T5 next year that will be 2x better than the SPARC-T4.

Larry compared the I/O bandwidth of serv ers based on SPARC-T4, compared to POWER7, and found that the SPARC-T4 has double the I/O bandwidth, for a cost that was only about 1/4 the cost of a mainframe. IBM offers both. POWER7-based servers for CPU-intensive workloads, and System z (S/390)-based systems for I/O-intensive workloads. Larry feels that even though POWER7 is superior than SPARC-T4 for mathematical calculations, all business applications are focused on I/O-bandwidth to move data, not computations.

(Fellow IBMer Carter O'Mahoney has already posted a response on his post [Challenging Oracle's SPARC SuperCluster Claims].)

Larry claims the new SPARC-T4 can do 1.2 million IOPS. He uses 40 Gbps Infiniband instead of traditional SAN-attached FCP solutions.

Exalytics

A new "box" called Exalytics, combines their commodity hardware platform with a hueristic adaptive in-memory cache, their latest "me-too" solution that compares with what IBM already offers in [IBM SolidDB]. In fact, their me-too is not even internally developed, but rather the result of an acquisition of a company called "Times Ten". I thought it was interesting that the only piece of Oracle software mentioned during Larry's 90-minute speach, was this piece of acquired technology. The new Exalytics product run on a small rack and grow, analyzing relational data, non-relational OLAP, as well as unstructured documents. The result is what Larry called "the Speed of Light".
He also mentioned that Bob Shimp would kick-off the Cloud later in the week. Given that Larry himself thought that Cloud was a stupid, over-marketed term that nobody has deployed over the past few years, to a complete believer, claiming that over 20 live demos will be given this year on Cloud.
Perhaps the funniest quote was his motivation to use Infiniband as the interconnect
"Ethernet was invented by Xerox when I was a child."
-- Larry Ellison
Here are some sessions that IBM is featuring on Monday. Note the first two are Solution Spotlight sessions at the IBM Booth #1111 where I will be most of the time.
IBM Cloud Computing Solutions for Oracle

10/03/11, 10:30 a.m. – 11:00 a.m., Solution Spotlight, Booth #1111 Moscone South
Presenter: Chuck Calio,Technical Strategist, IBM Systems & Technology Group
IBM is recognized in the IT industry as one of the "Big 6" cloud providers, along with Amazon, Google, Microsoft, Salesforce and Yahoo. This session will highlight how IBM Cloud offerings apply to Oracle applications.

Lowering Cost and increasing efficiency in your long term support of Oracle EPM and BI

10/03/11, 3:00 p.m. -- 3:30 p.m., Solution Spotlight, Booth #1111 Moscone South
Presenter: Matthew Angelstad, IBM Global Business Solutions - Oracle EPM (Hyperion) Practice Lead
In 2007, Oracle acquired Hyperion, a leading provider of performance management software. This session will show how IBM helps Oracle clients unify Enterprise Performance Management (EPM) and Business Intelligence (BI) in a cost-effective manner, supporting a broad range of strategic, financial and operational management processes.

Application Strategy: Charting the Course for Maximum Business Value

10/03/11, 3:30 p.m. – 4:30 p.m., OpenWorld session #39061
Presenter: Mike Marchildon, IBM
The industry is undergoing a shift from single Enteprise Resource Planning (ERP) application to second-generation platforms containing diverse yet interdependent systems. This shift presents opportunities and challenges for both IT and the business.
technorati tags: IBM, Oracle, Larry Ellison, keynote, SPARC-T4, Exadata, Exalogic, Exalytics, POWER7
Can you believe it has been five years since I started blogging?
(If you absolutely abhor the navel-gazing associated with blogging-about-blogging posts, then by all means stop reading now!)
Back in July 2005, IBM decided to merge together two brands, IBM eServer and IBM TotalStorage, into a single all-encompassing "IBM Systems" brand. Thus TotalStorage brand became the "IBM System Storage" product line of the "IBM Systems" brand. The next six months was spent renaming some (not all) of the products. The following January, I was named the Marketing Strategist for this new product line, with the mission to help promote the new naming convention.
We looked at possibly doing a regularly-scheduled podcast, but nobody back then, including myself, were familar with audio editing tools. Instead, we chose a blog. Most blogs at IBM are internal, safely hidden behind the firewall, accessible only to IBM employees. I wanted mine to be different, to be accessible to the public, clients, prospects, IBM Business Partners, and yes, even those working for IBM's various competitors. One thing I like about blogs is that if you have a typo, or make a mistake, you can go back and correct it after it has posted.
Marketing through social media is quite different than traditional marketing techniques. Management was supportive, but legal wanted to review and approval everything I wrote before I posted it onto my blog. Official IBM Press Releases, for example, go through a dozen reviews before they are finally made public. I refused. This kind of review and approval would ruin the blogging process.
Fortunately, this blog was not my first attempt at technical writing. Our legal counsel reviewed my past trip reports from various conferences, and decided to let me blog without review. Occasionally, someone will reivew my blog once already posted, and ask me to make some corrections. It reminds me of my favorite saying used heavily within IBM:
It is easier to get forgiveness than permission.
-- Arthur Bloch [Yale Book of Quotations]
Despite these delays, we managed to launch this blog in September 2006, just in time to celebrate the 50th anniversary of disk systems. IBM introduced the industry's first commercial disk system on September 13, 1956.
Over the years, this blog has helped sales reps and IBM Business Partners close deals, and address the FUD their prospects heard from competition. I have helped my readers get in touch with the right people within IBM. And, I have "sent the elevator back down", helping other IBMers launch their own blogs, including [Barry Whyte], [Elisabeth Stahl], and [Anthony Vandewerdt].
Today, bloggers have a profound impact on the world. Not everyone has a positive view on this. Bloggers and other users of social media have been seen as whistle-blowers for fraudulent corporations, as activists against corrupt governments and dictators, and as subject matter experts and fact checkers referenced during television and radio newscasts. In a recent movie, one of the major characters was a trouble-making blogger, and another character describes his blogging as nothing more than "graffiti with punctuation."
I want to thank all of my readers for making this the #1 most influential blog on IBM DeveloperWorks in 2011! This blog has been [published in a series of books], Inside System Storage Volume I and Volume II. And yes, before you all ask in the comments below, I am actively working on Volume III.
For a bit of nostalgia, I invite you to read my first 21 blog posts that I posted back in [September 2006].
technorati tags: IBM, anniversary, blogoversary, Lulu, TotalStorage, eServer, System Storage
This Thursday, June 16, 2011, marks IBM's Centennial 100 year anniversary. It happens to also be my 25th anniversary with IBM Storage. To avoid conflicts in celebrations, we decided to celebrate my induction into the "Quarter Century Club" (QCC) last Friday instead.
My colleague Harley Puckett was master of ceremonies. Here he is presenting me with a memorial plaque and keychain. Harley mentioned a few facts about 1986, the year I started working for IBM. Ronald Reagan was the US President, gasoline cost only 93 cents per gallon, and the US National Debt was only 2 trillion US dollars!
Here are my colleagues from DFSMShsm. From left to right: Ninh Le, Henry Valenzuela, Shannon Gallaher, and Stan Kissinger. I started in 1986 as aa software developer on DFHSM, and slowly worked my way up to be a lead architect of DFSMS.
Here are my colleagues from Tivoli Storage Manager (TSM). From left to right: Matt Anglin, Ken Hannigan and Mark Haye. I first met them when they worked in DFDSS, having moved from San Jose, CA down to Tucson. While I never worked on the TSM code itself, I did co-author some of the patents used in the product and other products like the 3494 Virtual Tape Server that makes use of TSM internally. I also traveled extensively to promote TSM, often with a TSM developer tagging along so they can learn the ropes about how to travel and make presentaitons.
Here are my colleagues from the disk team. From left to right: Joe Bacco, Carlos Pratt, Gary Albert, and Siebo Friesenborg. I worked on the SMI-S interface for the ESS 800 and DS8000 disk systems needed for the Tivoli Storage Productivity Center. Joe leads the "Disk Magic" tools team. Carlos and I worked on qualifying the various disk products to run with Linux on System z host attachment. Gary Albert is the Business Line Executive (BLE) of Enterprise Disk. Siebo Friesenborg was a disk expert on performance and disaster recovery, but is now enjoying his retirement.
Here are my colleagues from the support team. From left to right: Max Smith, Dave Reed, and Greg McBride. I used to work in Level 2 Support for DFSMS with Max and Dave, carrying a pager and managing the queue on RETAIN. We had enough people so that each Level 2 only had to carry the pager two weeks per year. On Monday afternoons, the person with the pager would give it to the next person on the rotation. On Monday, September 10, 2001, I got the pager, and the following morning, it went off to help all the many clients affected by the September 11 tragedy.
I worked with Greg McBride when he was in DFSMS System Data Mover (SDM), and then again in Tivoli Storage Productivity Center for Replication (TPC-R), and now he is supporting IBM Scale-Out Network Attached Storage (SONAS).
Standing in the light blue striped shirt is Greg Van Hise, my first office-mate and mentor when I first joined IBM. He went on to be part of the elite "DFHSM 2.4.0" prima donna team, then move on to be an architect for Tivoli Storage Manager (TSM).
I wasn't limited to inviting just coworkers, I was also able to invite friends and family. Here are Monica, Richard, and my mother. Normally, my parents head south for the summer, but they postponed their flights so that they could participate in my QCC celebration.
From left to right: my father, Greg Tevis, and myself. It was pure coincidence that my father would wear a loud darkly patterned shirt like mine. Honestly, we did not plan this in advance. Greg Tevis and I were lead architects for the Tivoli Storage Productivity Center, and Greg is now the Technology Strategist for the Tivoli Storage product line.
Here is Jack Arnold, fellow subject matter expert who works with me here at the Tucson Executive Briefing Center, sampling the food. We had quite the spread, including egg rolls, meatballs, luncheon meats, chicken strips, and fresh vegetables.
More colleagues from the Tucson Executive Briefing Center, from left to right, Joe Hayward, Lee Olguin, and Shelly Jost. Joe was a subject matter expert on Tape when I first joioned the EBC in 2007, but he has moved back to the Tape development/test team. Lee is our master "Gunny" sargeant to manage all of our briefing schedules. Shelly is our Client Support Manager, and was the one who organized all the food and preparations for this event!
Lastly, here are Brad Johns, myself, and Harley Puckett. Brad was my mentor for my years in Marketing, and has since retired from IBM and now works on his golf game. I would like to thank all of the Tucson EBC staff for pulling off such a great event, and all my coworkers, friends and family for coming out to celebrate this milestone in my career!
In addition to the plaque and keychain, Harley presented me with a book of congratulatory letters. If you would like to send a letter, it's not too late, contact Mysti Wood (mysti@us.ibm.com).
technorati tags: IBM, IBM100, QCC, Tucson, EBC, DFSMS, DFSMShsm, DFHSM, TSM, TPC
When I turned on the television last weekend, I saw large waves of water knock down rows of small houses. I thought I had caught the end of a bad Godzilla movie, but sadly it was not movie special effects. Mother Nature can be quite destructive. Over the past four days, Japan has been hit hard by a series of earthquakes and resulting tsunami.
(Note: Disasters can happen anywhere and at any time. Last month, New Zealand had an earthquake as well. It is best to always be prepared. If you haven't done so lately, check out the latest recommendations from the US Government [Ready.Gov] website.)
Several have asked me how this tragedy in Japan might affect IBM and its clients. Here is what I have gathered from various sources. All IBM Japan employees have survived, are safe and reporting no major injuries. IBM has four major facilities, near central part of the country around Tokyo, far from Sendai, the epicenter. All IBM buildings are still standing and operational. A few sections of Tokyo are affected by scheduled brown-outs in an effort to save electricity. Employees are asked to telecommute (a.k.a. work from home) to minimize traffic congestion.
Hakozaki - Headquarters and executive briefing center
Makuhari - Technical Center, where we often hold conferences and other events
Yamato - Research Facility, where R&D is done for IBM tape storage products
Toyosu - Service Delivery Center
I have been to Japan many times throughout my career. Back in the summer of 1995, IBM sent me to Osaka to help out clients in the aftermath of the Great Hanshin eartquake near Kobe. I remember it well, sending an email back to my team saying "It is 1995, and here in Japan it is 95 degrees and 95 percent humidiy." It was seven months after the earthquake, but people were still living in cardboard boxes and make-shift tents.
Many people asked if I will be going back to Japan to help out. I speak Japanese, can make sense of the Japanese Katakana characters on computer monitors, and am an expert in Disaster Recovery. However, the IBM Japan team is doing an awesome job helping our clients restore their data and recovery their business operations. Of course, if IBM needs me in Japan, I will gladly go, but so far, it doesn't seem that I am needed there.
Instead, I will support Japan remotely from my little office here in Tucson, Arizona. If you want to help, contribute to the Red Cross [Japan Earthquake and Pacific Tsunami] fund. 

technorati tags: IBM, Japan, Earthquate, Tokyo, Hakozaki, Makuhari, Yamato, Toyosu, Hanshin, Kobe, Osaka
| | |
| --- | --- |
| | Guest Post: The following post was written by Tom Rauchut, IBM Infrastructure Architect and Advanced Technical Sales Specialist for Tivoli Automation. Tom is at IBM Pulse 2011 for Las Vegas this week, and has offered to send his observations. |
---
The expo opened last night. There are so many fantastic demos and product experts. Las Vegas has a Tivoli buzz on right now.
I'm working in the Hands On Labs room. Pulse labs kicked off Sunday. The hot topics included Cloud, Storage, Automation, Asset Management, and BigFix (a company IBM [acquired and products will now be called Tivoli Endpoint Manager])
I'll try to get you a few updates along the way.
technorati tags: IBM, Pulse, #ibmpulse, BigFix, Cloud, Storage, Asset Management, Automation, BigFix
Actually, if the title confuses you, it is because it has a double meaning.
Meaning 1: IBM earned almost 100 Billion dollars (USD)

IBM's 2010 [earnings report is now available], for the full year 2010 and the fourth quarter. IBM had $99.9 Billion dollars (USD) in revenue, almost $100 Billion dollars that it had set out as a vision in the 1980s. IBM Storage contributed with 8 percent growth, not bad for a year Dave Barry considers [one of the worst years ever.].

IBM President and CEO Sam Palmisano granted me a chunk of IBM stock in appreciation of my efforts towards the 2010 success! Actually, he gave stock to a whole bunch of IBMers, not just me, and they all deserve it also.  Woo hoo!


Meaning 2: IBM is almost 100 years old

That's right, this upcoming June 16, 2011, IBM turns 100 years old. This Centennial date also happens to be my 25th year anniversary working in IBM Storage, which IBM calls joining the Quarter Century Club, or QCC for short. So, I am looking forward to plenty of cake and fireworks on that day!
I am looking forward to a year-long celebration on both counts!
technorati tags: IBM, Centenial, QCC, Revenues, Earnings, 4Q10, Dave Barry
Happy New Year, everyone!
Every year, I make [New Year's Resolutions]. Long time readers will recognize this has been a tradition on my blog. In 2007, I spread out my resolutions in a full week of posts: [Data Center Resolutions], [Staying on Budget], [Lighten Up!], [Hone your Tools and Skills]. In 2008, I was so busy blogging about IBM's acquisition of XIV that I did not get around to posting about my New Year's Resolutions until the [second week of January]. In 2009, I chose [more traditional resolutions], based in part on Albrecht Powell's [Top 10 Resolutions].
Last year, I took a different approach. I decided to NOT publicize my resolutions to see if that allowed me to stick to them better. Here is what I had resolved for 2010:
Adopt Austerity

The recession took quite a hit on my investments and retirement plans in 2009, so in 2010 I decided to increase my savings rate, and diversify my portfolio. I consider this one a success, with special thanks to the financial planners at Fidelity Investments for their assistance in this area. This was not a matter of sticking to a strict budget as much as not wasting money on so many expensive, frivolous things.

Publish "Inside System Storage: Volume II"

Yes, I finally got my latest book published last October, a follow-on to my 2007 hit "Inside System Storage: Volume I". I have already begun working on Volume III, so I consider this one a success.

Quit Exercising at the Gym

From 2003 to 2009, I had worked out consistently at my gym three times a week for an hour, under the supervision of a personal trainer, with 20 minutes of cardio work-out on a treadmill followed by 40 minutes of weight lifting with kettle-bells, free weights and resistance machines. During that time, I did not gain muscle mass nor lose body fat. Rather than admit their failure, my personal trainers indicated this is merely a "plateau". Armed with the Time article [Why Exercise Won't Make You Thin], I decided to save thousands of dollars in 2010 by discontinuing my gym membership and expire my contract with my personal trainer. End result? I was two pounds lighter after 12 months, so I consider this one a success.

Re-Decorate my Living Room

With all the money I saved, I resolved to re-decorate my living room. I hired a professional interior decorator, bought new furniture, and had the entire room re-painted to new colors. This also means keeping the room uncluttered, which I have managed to do so far. So, this one is also a success.

Learn Cloud Computing

This last one was work-related. Every year, IBM asks its employees to document their "Personal Business Commitments", or PBCs, which then forms the basis of your year-end appraisal. IBM is what the industry calls a "Results-Oriented Work Environment" [ROWE]. These PBCs are an opportunity to identify areas to stretch and grow, broaden your skills and strengthen your expertise. I was able to get access to IBM's cloud computing offerings to get hands-on experience, as well as research this topic on various fronts so that I could provide advice to clients and make presentations at various briefings and events. While there is still much more to learn, I consider this a success.

So, while I seem to have been more successful keeping my resolutions by not making them public up front, I think the more important pattern is that when I made many resolutions, I had only a 60 to 80 percent success rate, but when I had fewer, I was more likely to keep them all and be less stressed about it. This could also be psychological, in that feeling that you have completed 60 to 80 percent allows you to forgive yourself for not keeping some of the more difficult resolutions. Therefore, this year, I have decided to focus on a single resolution, to reduce my body fat percentage.

Rather than make you wait 12 months for my results, I plan to provide periodic updates in this blog on my progress. Over the vacation break, I bought and read Tim Ferriss' book [Four Hour Body]. Mo and I are in this together, and we have started Tim's [Slow-Carb diet] last Sunday. My doctor has advised me on which vitamins and supplements to take. Rather than go back to the gym, I will just focus on walking at least 20,000 steps per week, which works out roughly to 10 kilometers.

I'll keep you posted.

technorati tags: Tim Ferriss, Four Hour Body
Continuing my post-week coverage of the [Data Center 2010 conference], Wednesday evening we had six hospitality suites. These are fun informal get-togethers sponsored by various companies. I present them in the order that I attended them.
Intel - The Silver Lining

| | |
| --- | --- |
| | Intel called their suite "The Silver Lining". Magician Joel Bauer wowed the crowds with amazing tricks. |

| | |
| --- | --- |
| Intel handed out branded "Snuggies". I had to explain to this guy that he was wearing his backwards. | |

i/o - Wrestling with your Data Center?

| | |
| --- | --- |
| | New-comer "i/o" named their suite "Wrestling with your Data Center?" They invited attendees frustrated with their data centers to don inflated Sumo Wrestling suits. |

APC by Schneider Electric - Margaritaville

This will be the last year for Margaritaville, a theme that APC has used now for several years at this conference.

Cisco - Fire and Ice

| | |
| --- | --- |
| Cisco had "Fire and Ice" with half the room decorated in Red for fire, and White for ice. | |

| | |
| --- | --- |
| | This is Ivana, welcoming people to the "Ice" side. |

| | |
| --- | --- |
| This is Peter, on the "Fire" side. Cisco tried to have opposites on both sides, savory food on one side, sweets on the other. | |

CA Technologies - Can you Change the Game?

CA Technologies offered various "sports games", with a DJ named "Coach".

Compellent - Get "Refreshed" at the Fluid Data Hospitality Suite

Compellent chose a low-key format, "lights out" approach with a live guitarist. They had hourly raffles for prizes, but it was too dark to read the raffle ticket numbers.
Of the six, my favorite was Intel. The food was awesome, the Snuggies were hilarious, and the magician was incredibly good. I would like to think Intel for providing me super-secret inside access to their Cloud Computing training resources and for the Snuggie!
technorati tags: IBM, LSC29, Intel, Snuggie, APC, Schneider Electric, Margaritaville, CA+Technologies, Cisco, Compellent, Joel Bauer
On Wikibon, David Floyer has an article titled [SAS Drives Tier 1 to New Levels of Green] that focuses on the energy efficiency benefits of newer Serial-Attach SCSI (SAS) drives over older Fibre Channel (FC) drives. This makes sense, as R&D budgets have been spent on making newer technologies more "green".
Fellow blogger Hu Yoshida (HDS) encourages people to [Invest in the Future with SAS, SATA and SFF], referring to Figure 1.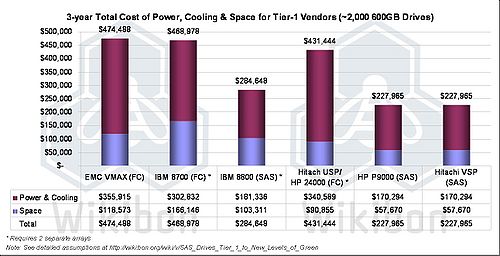 Of course, people might consider this an [apples-to-oranges] comparison. Not only are we changing from FC to SAS technology, we are also changing from 3.5-inch drives to small form factor (SFF) 2.5-inch drives. It seems odd to specify 2000 drives, when only two of the five scale up to that level. Few systems in production, from any vendor, have more than 1000 drives, so it would have seemed that would have been a fairer comparison.
However, Hu's conclusion that the combination of SAS and SFF provides better performance and energy efficiency for both IBM DS8800 and HDS VSP than FC-based alternatives from any vendor seems reasonably supported by the data.
Meanwhile, fellow blogger David Merrill (HDS) pokes fun at IBM DS8800 in Figure 2 in his post [Winner o' the green]. This second comparison was for 4PB of raw capacity, which 4 of the 5 can handle easily using 2TB SATA drives, but the DS8800 is based on SAS technology and does not support 2TB SATA drives. A performance-oriented configuration with four distinct DS8800 boxes employing 600GB SAS drives is used instead, causing the data for the DS8800 to stick out like a sore thumb, or perhaps more intentionally as a middle finger.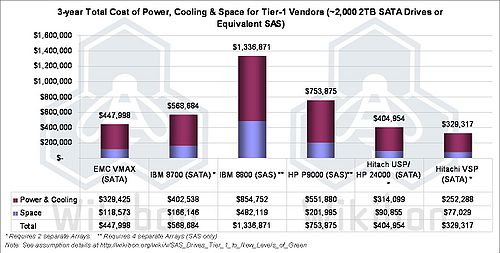 The main take-away here is that IBM offers both the DS8700 for capacity-optimized workloads, and the DS8800 for performance-optimized workloads. Some competitors may have been spreading FUD that the DS8700 was withdrawn last month, it wasn't. As you can see from the data presented, there are times where a DS8700 might be more preferable than a DS8800, depending on the type of workloads you plan to deploy. IBM offers both, and will continue to support existing DS8700 and DS8800 units in the field for many years to come.
technorati tags: IBM, DS8700, DS8800, Wikibon, Hu Yoshida, David Merrill, Davud Floyer
I've been so busy with travel and transitioning to my new laptop that I finally now have a chance to catch my breath.
I saw this great article by Nathan Willis on how to [Spring Clean your Photo Collection]. Since I took over 1100 pictures on my last vacation down the Great River Road, this seemed like a good weekend project. For more about my vacation, see my posts [Eight States in Eight Days], and [More Like Seven States in Nine Days].
I use two Cloud-Computing based photo-sharing services, [KodakGallery.com] and [Flickr.com], which serve two completely different purposes.
Kodak Gallery

Formerly, this was Ofoto, but was acquired by Kodak. I started using this service back in 2002, and had over 12,000 photos uploaded over the past 8 years. I was able to share all my photos with my friends and family, and they could simply order whichever prints they want and have them shipped directly to them. They have incredibly high-professional photo-based products, like calendars and coffee table books, that you can produce from your own photos.

Sadly, the fine folks at Kodak Gallery decided they did not want my business anymore, and purged my 36GB of files from their system. To be fair, they did hint that they were having financial problems with an "Archive CD" offering, which would have allowed me to get a set of CDs or DVDs holding the high-resolution graphics of all my uploaded photos. This would have cost $150 or so, and if you uploaded more photos, there was no option to get the "delta" of photos uploaded since your last archive, so it would have cost me $150 every year or so to get an updated "backup" of my files. It seemed expensive and unnecessary at the time, given that I was sure that Kodak was not going out of business anytime soon, and that I was sure they took their own backups of all the photos that people put in their charge.

The problem is that Kodak Gallery was a free service, subsidized by people ordering physical prints and other products. As such, I got lots of email from Kodak every month, offering me free shipping, special promotions, and seasonal discounts. It was so much that I had all email from them automatically routed to a different sub-folder, that I would never look at, unless I was about to make a purchase and needed to find the best coupon code or free shipping option currently offered. This also had the unintended consequence that I missed the following series of notes:

Important: From the Gallery's General Manager (April 17)
Second notice: Our storage policy has changed (April 24)
Final notice: Your stored photos may be deleted (May 8)
We don't want to delete your photos (May 22)

All the notes mentioned the new "Storage Policy", here is a quick excerpt:

"The fact is, we store billions of photos for our 75 million members. The quality storage service the Gallery provides is significant in terms of our business costs.

So that we can provide the highest level of service, we're now asking all Gallery customers to make an annual nominal purchase in exchange for photo storage. We've modified our Terms of Service policy accordingly: if your Gallery photo storage equals 2 gigabytes or less, we're asking you to spend $4.99 annually; if more than 2 gigabytes, $19.99 annually.*

One last thought: We value and appreciate your business, and we want to continue our relationship with you in a spirit of mutual support and benefit. That's always been the Kodak way."

Since they had no response from me, nor saw any purchase activity, my 36GB of files were deleted on June 17. I discovered all of this when I contacted Kodak to find out where my files were last weekend during my "Spring Cleaning". I asked if I could at least get the final set of "Archive CDs", but they told me they were purged completely.

I understand the economy is in a recession, and many free cloud-based services are losing money and going under.  I can understand they were faced with tough choices, Kodak opted to switch from a free service to fee-based service.

Albert Einstein defined Insanity as "doing the same thing over and over again and expecting different results." In general, if I am trying to get a hold of someone, and email isn't working, then I try something different, try them by phone, try them by snail mail, and so on. With the deluge of emails, people sometimes declare "email bankruptcy" by deleting everything in their inbox after coming back from vacation, or implement filters to automatically route mail to separate folders. I think it is unrealistic to expect that everybody reads every piece of email that you send them.

I would have liked for Kodak to have done at least one or more of the following, given that I had been such a long time customer, and they had earned hundreds of dollars in revenues from all the purchases, over the years, not just directly from me, but from my friends and family, of photos I uploaded to their website:

Send me a letter after not receiving any response from the first three notices. They sent me promotional materials and offers for 20 percent discounts, so they had my active snail mail address on file correctly. With 75 million users, it would have cost $33 million USD to send out snail mail letters to everyone, but for the subset of power-users who have more than 2GB of files, a snail mail letter might have gotten more $19.99 purchases they needed to stay in business.
Called me on the phone. Yes, they also had my phone number in their database.
Go ahead and charged my credit card on file $19.99 without a purchase, and given me a credit towards a future purchase. Something like: "You have not purchased anything in the last 12 months, so we charged your credit card, per our Terms of Service, but you can use this as a credit towards something in the next 60 days."

On the plus side, my "Spring Cleaning" project was done. You can't organize what you don't have anymore.

Flickr from Yahoo

I started using Flickr back in 2008 to hold photos and graphics for this blog. Flickr holds various sizes of photos that I can use directly with HTML tags. Clicking on the photo in the blog will take you to Flickr's service and allow you to see the large size resolution. The "Lotus Connections" that I have on IBM DeveloperWorks only offers 24MB of photo space, so Flickr was a nice alternative.

Unfortunately, Flickr had adopted a new policy that only the most recent 200 pictures would be visible, and I had already reached 170 photos. Rather than start deleting photos from my older blog posts, I opted to upgrade to the "Flickr Pro" account, with a fee of only $24.99 per year.

Hopefully, by paying an annual fee and choosing a successful and profitable Cloud-Computing company, I won't experience another traumatic loss. However, it does remind me that it is my responsibility to keep my own copies of these photos, just in case.
Fortunately, many "photo product" providers are connected to Flickr. For example, my publisher [<a href="http://www.lulu.com/">Lulu.com</a>] can access my Flickr photos to make photo-based coffee table books. As for my last eight years of memories that were lost, I will just have to treat it as if my house burned down. Rebuild and move on.
technorati tags: Spring Cleaning, photography, Kodak, Kodak Gallery, Flickr, Yahoo, Cloud Computing, Photo Sharing
Well, I'm back from my adventure. For those who did not follow my tweets, here is a quick recap. Not counting the day we flew from Tucson to Minneapolis, or the day we flew from Memphis back to Tucson, Mo and I spent nine days on the road, covering 1549 miles, or roughly two thirds of the Mississippi River. 

Well, now I have a lot of unread emails and blogs to get through! My next trip is the [IBM System Storage Technical University] in Washington DC, July 26-30.
Continuing my rant from Monday's post [Time for a New Laptop], I got my new laptop Wednesday afternoon. I was hoping the transition would be quick, but that was not the case. Here were my initial steps prior to connecting my two laptops together for the big file transfer:
Document what my old workstation has

Back in 2007, I wrote a blog post on how to [Separate Programs from Data]. I have since added a Linux partition for dual-boot on my ThinkPad T60.

| | | | | |
| --- | --- | --- | --- | --- |
| Partition | Size | Format | Mount | Description |
| /dev/sda1 | 26GB | NTFS | C: | Windows XP SP3 operating system and programs |
| /dev/sda2 | 12GB | ext3 | /(root) | Red Hat Enterprise Linux 5.4 |
| /dev/sda5 | 1GB | swap | swap | Linux swap |
| /dev/sda6 | 80GB | NTFS | D: | My Documents and other data |

I also created a spreadsheet of all my tools, utilities and applications. I combined and deduplicated the list from the following sources:

Control Panel -> Add/Remove programs
C:\Program Files
Start -> Programs panels
Program taskbar at bottom of screen
D:\Install-Files

The last one was critical. Over the years, I have gotten in the habit of saving those ZIP or EXE files that self-install programs into a separate directory, D:/Install-Files, so that if I had to unintsall an application, due to conflicts or compatability issues, I could re-install it without having to download them again.

So, I have a total of 134 applications, which I have put into the following rough categories:

AV - editing and manipulating audio, video or graphics
Files - backup, copy or manipulate disks, files and file systems
Browser - Internet Explorer, Firefox, Opera and Google Chrome
Communications - Lotus Notes and Lotus Sametime
Connect - programs to connect to different Web and Wi-Fi services
Demo - programs I demonstrate to clients at briefings
Drivers - attach or sync to external devices, cell phones, PDAs
Games - not much here, the basic solitaire, mindsweeper and pinball
Help Desk - programs to diagnose, test and gather system information
Projects - special projects like Second Life or Lego Mindstorms
Lookup - programs to lookup information, like American Airlines TravelDesk
Meeting - I have FIVE different webinar conferencing tools
Office - presentations, spreadsheets and documents
Platform - Java, Adobe Air and other application runtime environments
Player - do I really need SIXTEEN different audio/video players?
Printer - print drivers and printer management software
Scanners - programs that scan for viruses, malware and adware
Tools - calculators, configurators, sizing tools, and estimators
Uploaders - programs to upload photos or files to various Web services

Backup my new workstation

My new ThinkPad T410 has a dual-core i5 64-bit Intel processor, so I burned a 64-bit version of [Clonezilla LiveCD] and booted the new system with that. The new system has the following configuration:

| | | | | |
| --- | --- | --- | --- | --- |
| Partition | Size | Format | Mount | Description |
| /dev/sda1 | 320GB | NTFS | C: | Windows XP SP3 operating system, programs and data |

There were only 14.4GB of data, it took 10 minutes to backup to an external USB disk. I ran it twice: first, using the option to dump the entire disk, and the second to dump the selected partition. The results were roughly the same.

Run Workstation Setup Wizard

The Workstation Setup Wizard asks for all the pertinent location information, time zone, userid/password, needed to complete the installation.

Re-Partition Disk Drive

I burned a 64-bit version of [System Rescue CD] and ran [Gparted] to re-partition this disk into the following:

| | | | | |
| --- | --- | --- | --- | --- |
| Partition | Size | Format | Mount | Description |
| /dev/sda1 | 40GB | NTFS | C: | Windows XP SP3 operating system and programs |
| /dev/sda2 | 15GB | ext3 | /(root) | Ubuntu Desktop 10.04 LTS |
| /dev/sda3 | 15GB | ext3 | unused | unused |
| /dev/sda5 | 5GB | swap | swap | Linux swap |
| /dev/sda6 | 245GB | NTFS | D: | My Documents and other data |




Redefine Windows directory structure

I made two small changes to connect C: to D: drive.

Changed "My Documents" to point to D:\Documents which will move the files over from C: to D: to accomodate its new target location. See [Microsoft procedure] for details.
Edited C:\notes\notes.ini to point to D:\notes\data to store all the local replicas of my email and databases.

Install Ubuntu Desktop 10.04 LTS

My plan is to run Windows and Linux guests through virtualization. I decided to try out Ubuntu Desktop 10.04 LTS, affectionately known as Lucid Lynx, which can support a variety of different virtualization tools, including KVM, VirtualBox-OSE and Xen. I have two identical 15GB partitions (sda2 and sda3) that I can use to hold two different systems, or one can be a subdirectory of the other. For now, I'll leave sda3 empty.

Take another backup of my new workstation

I took a fresh new backup of paritions (sda1, sda2, sda6) with Clonezilla.
The next step involved a cross-over Ethernet cable, which I don't have. So that will have to wait until Thursday morning.
technorati tags: IBM, Lenovo, ThinkPad, T60, T410, Intel, Clonezilla, SysRescCD, Gparted, Windows, Ubuntu, Linux, Lucid, LTS
This week I got a comment on my blog post [IBM Announces another SSD Disk offering!]. The exchange involved Solid State Disk storage inside the BladeCenter and System x server line. Sandeep offered his amazing performance results, but we have no way to get in contact with him. So, for those interested, I have posted on SlideShare.net a quick five-chart presentation on recent tests with various SSD offerings on the eX5 product line here:
Sandeep, if you see this, we would also be interested in seeing your results as well.
technorati tags: , IBM, BladeCenter, eX5, server, solid state disk, SSD, PCIe
Well, it's Tuesday again, but this time, today we had our third big storage launch of 2009! A lot got announced today as part of IBM's big "Dynamic Infrastructure" marketing campaign. I will just focus on the disk-related announcements today:
IBM System Storage DS8700

IBM adds a new model to its DS8000 series with the [IBM System Storage DS8700]. Earlier this month, fellow blogger and arch-nemesis Barry Burke from EMC posted [R.I.P DS8300] on this mistaken assumption that the new DS8700 meant that DS8300 was going away, or that anyone who bought a DS8300 recently would be out of luck.  Obviously, I could not respond until today's announcement, as the last thing I want to do is lose my job disclosing confidential information.  BarryB is wrong on both counts:

IBM will continue to sell the DS8100 and DS8300, in addition to the new DS8700.
Clients can upgrade their existing DS8100 or DS8300 systems to DS8700.

BarryB's latest post [What's In a Name - DS8700] is fair game, given all the fun and ridicule everyone had at his expense over EMC's "V-Max" name.

So the DS8700 is new hardware with only 4 percent new software. On the hardware side, it uses faster POWER6 processors instead of POWER5+, has faster PCI-e buses instead of the RIO-G loops, and faster four-port device adapters (DAs) for added bandwidth between cache and drives. The DS8700 can be ordered as a single-frame dual 2-way that supports up to 128 drives and 128GB of cache, or as a dual 4-way, consisting of one primary frame, and up to four expansion frames, with up to 384GB of cache and 1024 drives.

Not mentioned explicitly in the announcements were the things the DS8700 does not support:

ESCON attachment - Now that FICON is well-established for the mainframe market, there is no need to support the slower, bulkier ESCON options. This greatly reduced testing effort. The 2-way DS8700 can support up to 16 four-port FICON/FCP host adapters, and the 4-way can support up to 32 host adapters, for a maximum of 128 ports. The FICON/FCP host adapter ports can auto-negotiate between 4Gbps, 2Gbps and 1Gbps as needed.


LPAR mode - When IBM and HDS introduced LPAR mode back in 2004, it sounded like a great idea the engineers came up with. Most other major vendors followed our lead to offer similar "partitioning". However, it turned out to be what we call in the storage biz a "selling apple" not a "buying apple". In other words, something the salesman can offer as a differentiating feature, but that few clients actually use. It turned out that supporting both LPAR and non-LPAR modes merely doubled the testing effort, so IBM got rid of it for the DS8700.

Update: I have been reminded that both IBM and HDS delivered LPAR mode within a month of each other back in 2004, so it was wrong for me to imply that HDS followed IBM's lead when obviously development happened in both companies for the most part concurrently prior to that. EMC was late to the "partition" party, but who's keeping track?

Initial performance tests show up to 50 percent improvement for random workloads, and up to 150 percent improvement for sequential workloads, and up to 60 percent improvement in background data movement for FlashCopy functions. The results varied slightly between Fixed Block (FB) LUNs and Count-Key-Data (CKD) volumes, and I hope to see some SPC-1 and SPC-2 benchmark numbers published soon.

The DS8700 is compatible for Metro Mirror, Global Mirror, and Metro/Global Mirror with the rest of the DS8000 series, as well as the ESS model 750, ESS model 800 and DS6000 series.

New 600GB FC and FDE drives

IBM now offers [600GB drives] for the DS4700 and DS5020 disk systems, as well as the EXP520 and EXP810 expansion drawers. In each case, we are able to pack up to 16 drives into a 3U enclosure.

Personally, I think the DS5020 should have been given a DS4xxx designation, as it resembles the DS4700 more than the other models of the DS5000 series. Back in 2006-2007, I was the marketing strategist for IBM System Storage product line, and part of my job involved all of the meetings to name or rename products. Mostly I gave reasons why products should NOT be renamed, and why it was important to name the products correctly at the beginning.

IBM System Storage SAN Volume Controller hardware and software

Fellow IBM master inventory Barry Whyte has been covering the latest on the [SVC 2145-CF8 hardware]. IBM put out a press release last week on this, and today is the formal announcement with prices and details. Barry's latest post [SVC CF8 hardware and SSD in depth] covers just part of the entire announcement.

The other part of the announcement was the [SVC 5.1 software] which can be loaded on earlier SVC models 8F2, 8F4, and 8G4 to gain better performance and functionality.

To avoid confusion on what is hardware machine type/model (2145-CF8 or 2145-8A4) and what is software program (5639-VC5 or 5639-VW2), IBM has introduced two new [Solution Offering Identifiers]:

5465-028 Standard SAN Volume Controller
5465-029 Entry Edition SAN Volume Controller

The latter is designed for smaller deployments, supports only a single SVC node-pair managing up to 150 disk drives, available in Raven Black or Flamingo Pink.

EXN3000 and EXP5060 Expansion Drawers

IBM offers the [EXN3000 for the IBM N series]. These expansion drawers can pack 24 drives in a 4U enclosure. The drives can either be all-SAS, or all-SATA, supporting 300GB, 450GB, 500GB and 1TB size capacity drives.

The [EXP5060 for the IBM DS5000 series] is a high-density expansion drawer that can pack up to 60 drives into a 4U enclosure. A DS5100 or DS5300 can handle up to eight of these expansion drawers, for a total of 480 drives.

IBM System Storage Productivity Center v1.4

The latest [System Storage Productivity Center (SSPC) v1.4] can manage all of your DS3000, DS4000, DS5000, DS6000, DS8000 series disk, and SAN Volume Controller. You can get the SSPC built in two modes:

Pre-installed with Tivoli Storage Productivity Center Basic Edition. Basic Edition can be upgraded with license keys to support Data, Disk and Standard Edition to extend support and functionality to report and manage XIV, N series, and non-IBM disk systems.
Pre-installed with Tivoli Key Lifecycle Manager (TKLM). This can be used to manage the Full Disk Encryption (FDE) encryption-capable disk drives in the DS8000 and DS5000, as well as LTO and TS1100 series tape drives.

IBM Tivoli Storage FlashCopy Manager v2.1

The [IBM Tivoli Storage FlashCopy Manager V2.1] replaces two products in one. IBM used to offer IBM Tivoli Storage Manager for Copy Services (TSM for CS) that protected Windows application data, and IBM Tivoli Storage Manager for Advanced Copy Services (TSM for ACS) that protected AIX application data.

The new product has some excellent advantages. FlashCopy Manager offers application-aware backup of LUNs containing SAP, Oracle, DB2, SQL server and Microsoft Exchange data. It can support IBM DS8000, SVC and XIV point-in-time copy functions, as well as the Volume Shadow Copy Services (VSS) interfaces of the IBM DS5000, DS4000 and DS3000 series disk systems. It is priced by the amount of TB you copy, not on the speed or number of CPU processors inside the server.

Don't let the name fool you. IBM FlashCopy Manager does not require that you use Tivoli Storage Manager (TSM) as your backup product. You can run IBM FlashCopy Manager on its own, and it will manage your FlashCopy target versions on disk, and these can be backed up to tape or another disk using any backup product. However, if you are lucky enough to also be using TSM, then there is optional integration that allows TSM to manage the target copies, move them to tape, inventory them in its DB2 database, and provide complete reporting.
Yup, that's a lot to announce in one day. And this was just the disk-related portion of the launch!
technorati tags: ds8000, disk, ds8700, exn3, svc, cf8, 2145-c58, DS5000, DS4000, DS3000, DS5020, DS4700, DS5100, DS5300, SSPC, TKLM, FlashCopy+Manager, Tivoli, Storage+Manager, TSM, DB2, Oracle, SAP, SQL, Microsoft+Exchange, VSS, Windows, AIX, N+series, XIV
This week was challenging, made worse by an email, which reminded me of this video from Tim Sanders called "Rule 1: No Bad News Over Email":
Rule 1: No Bad News Over Email from Tim Sanders on Vimeo.
I get a lot of suggestions for what to put on my blog.I realize that tweets are limited to 140 characters, so pointing to a video URL without muchexplanation or warning can be dangerous. An email can at least add appropriate warnings,such NSFW (Not Safe For Work) or "sorry if this offends you". The only warning I got fora video posted to YouTube by "StorageNetworkDud" was this short email:
"Sorry about the language they have used in some translations, but not sure who put this. It was on twitter."
Fortunately, I have my browser set up not to automatically play YouTube videos. The titlehelped warn me of the content, which turned out to be a [fan-subbed] scene from a World War II movie with brown-shirted tyrannical leader of an evil empire talking to his top generals. He dismisses all but threewith "Hollis, Burke, and Twomey stay in here" followed by a lengthy recap of EMC's recent troublesin the marketplace. At least in the video, the fuhrer correctly follows Tim Sander's advice:"if you have to tell someone bad news, say it in person."
While I understand that many people don't like EMC, the #3 storagevendor in the world, this type of "geek humor" hits a new low. The video was posted over amonth ago, but in light of the recent [shooting in Washington DC], I felt it was just notappropriate to post it here.
Readers, I appreciate all the suggestions, but give me some better warning next time!
technorati tags: IBM, Tim Sanders, Bad News, email
[
Read More
]
Continuing this week's theme on Cloud Computing, Dynamic Infrastructure and Data Center Networking, IBM unveiled details of an advanced computing system that will be able to compete with humans on
Jeopardy!
, America's favorite quiz television show. Additionally, officials from
Jeopardy!
announced plans to produce a human vs. machine competition on the renowned show.
For nearly two years, IBM scientists have been working on a highly advanced Question Answering (QA) system, codenamed "Watson" after IBM's first president, [Thomas J. Watson]. The scientists believe that the computing system will be able to understand complex questions and answer with enough precision and speed to compete on Jeopardy!Produced by Sony Pictures Television, the trivia questions on Jeopardy! cover a broad range of topics, such as history, literature, politics, film, pop culture, and science. It poses a grand challenge for a computing system due to the variety of subject matter, the speed at which contestants must provide accurate responses, and because the clues given to contestants involve analyzing subtle meaning, irony, riddles, and other complexities at which humans excel and computers traditionally do not. Watson will incorporate massively parallel analytical capabilities and, just like human competitors, Watson will not be connected to the Internet or have any other outside assistance.
If this all sounds familiar, you might remember some of the events that have led up to this:
In 1984, the movie ["The Terminator"] introduced the concept of [Skynet], a fictional computer system developed by the militarythat becomes self-aware from its advanced artificial intelligence.
In 1997, an IBM computer called Deep Blue defeated World Chess Champion [Garry Kasparov] in a famous battle of human versus machine. To compete at chess, IBM built an extremely fast computer that could calculate 200 million chess moves per second based on a fixed problem. IBM's Watson system, on the other hand, is seeking to solve an open-ended problem that requires an entirely new approach – mainly through dynamic, intelligent software – to even come close to competing with the human mind. Despite their massive computational capabilities, today's computers cannot consistently analyze and comprehend sentences, much less understand cryptic clues and find answers in the same way the human brain can.
In 2005, Ray Kurzweil wrote [The Singularity is Near] referring to the wonders that artificial intelligence will bring to humanity.
The research underlying Watson is expected to elevate computer intelligence and human-to-computer communication to unprecedented levels. IBM intends to apply the unique technological capabilities being developed for Watson to help clients across a wide variety of industries answer business questions quickly and accurately.
For more details, read the IBM[Press Release].
technorati tags: IBM, Cloud Computing, Dynamic Infrastructure, Data Center Networking, Jeopardy, Watson, Sony, quiz show, Terminator, Skynet, Deep Blue, Garry Kasparov, Ray Kurzweil, Singularity, HCI, AI, artificial intelligence
[
Read More
]
This week, I am in Costa Rica to blog about "Earth Day" which officially is this Wednesday, April 22.
Fellow published author Thomas Friedman has a book titled[Hot, Flat, and Crowded: Why We Need a Green Revolution - and How It Can Renew America] which serves as a call to action for Americans. His recent op-ed piece in the New York Times newspaper, titled [(No) Drill, Baby, Drill] is all about Costa Rica. Here is an excerpt:
"These days, visitors can still see amazing biodiversity all over Costa Rica — more than 25 percent of the country is protected area — thanks to a unique system it set up to preserve its cornucopia of plants and animals. Many countries could learn a lot from this system.

More than any nation I've ever visited, Costa Rica is insisting that economic growth and environmentalism work together. It has created a holistic strategy to think about growth, one that demands that everything gets counted. So if a chemical factory sells tons of fertilizer but pollutes a river — or a farm sells bananas but destroys a carbon-absorbing and species-preserving forest — this is not honest growth. You have to pay for using nature. It is called "payment for environmental services" — nobody gets to treat climate, water, coral, fish and forests as free anymore.

The process began in the 1990s when Costa Rica, which sits at the intersection of two continents and two oceans, came to fully appreciate its incredible bounty of biodiversity — and that its economic future lay in protecting it. So it did something no country has ever done: It put energy, environment, mines and water all under one minister.

"In Costa Rica, the minister of environment sets the policy for energy, mines, water and natural resources," explained Carlos M. Rodríguez, who served in that post from 2002 to 2006. In most countries, he noted, "ministers of environment are marginalized." They are viewed as people who try to lock things away, not as people who create value. Their job is to fight energy ministers who just want to drill for cheap oil.

But when Costa Rica put one minister in charge of energy and environment, "it created a very different way of thinking about how to solve problems," said Rodríguez, now a regional vice president for Conservation International. "The environment sector was able to influence the energy choices by saying: 'Look, if you want cheap energy, the cheapest energy in the long-run is renewable energy. So let's not think just about the next six months; let's think out 25 years.' "

As a result, Costa Rica hugely invested in hydro-electric power, wind and geo-thermal, and today it gets more than 95 percent of its energy from these renewables. In 1985, it was 50 percent hydro, 50 percent oil. More interesting, Costa Rica discovered its own oil five years ago but decided to ban drilling — so as not to pollute its politics or environment! What country bans oil drilling?

Rodríguez also helped to pioneer the idea that in a country like Costa Rica, dependent on tourism and agriculture, the services provided by ecosystems were important drivers of growth and had to be paid for. Right now, most countries fail to account for the "externalities" of various economic activities. So when a factory, farmer or power plant pollutes the air or the river, destroys a wetland, depletes a fish stock or silts a river — making the water no longer usable — that cost is never added to your electric bill or to the price of your shoes.

Costa Rica took the view that landowners who keep their forests intact and their rivers clean should be paid, because the forests maintained the watersheds and kept the rivers free of silt — and that benefited dam owners, fishermen, farmers and eco-tour companies downstream. The forests also absorbed carbon."
I start my visit at Arenal, where there is a hydro-electric dam at Lake Arenal that produces electricity, a large volcano, and natural hot springs.I found [more stats on Costa Rica's energy consumption] that provide more details.

At left is a photo I took of the Volcano Arenal. This is just one of the 112 volcanoes in thecountry.
At the [Springs Resort and Spa], they have clear (chlorinated) swimming pools maintained at three different temperatures. I asked our guide,Alan, if the pools were being heated from the electricity generated from the dam at the lake.No, they use green water for green energy. Taking advantage of "geo-thermal" energy, the natural hot springs are run through a [Heat Exchanger], to heat the pools. The waters do not mix, keeping the clean water clean. The process is similar to IBM's [Rear Door Heat eXchanger].
Why don't people just soak directly in the green water directly? Alan responded, "You can certainly enjoy soaking in the green water, but I recommend you buy some storage, which will cost you extra, as a souvenir."

The storage, shown here at right, holds cash and credit cards with a water-tight seal. Normal pool water won'teffect cash or credit cards, and I have certainly seen people pay for food and drinks with soggy dollars in other places. This water is literally green, and perhaps not for everyone. How green is it? Think watered-down version of [split-pea soup] and you will have a close approximation.I thoroughly enjoyed the experience, but am going to need some industrial-strength scum-and-lime remover to clean the glass face of my waterproof watch when I get back home.
Fortunately, I speak the Castellano dialect of Spanish that is spoken here in Costa Rica,and this will allow me to continue to gather more information about how Costa Rica leads the way in being more energy efficient and environmentally responsible.
technorati tags: IBM, Earth Day, Rear Door Heat eXchanger, geo-thermal,hydro-electric[Read More]

Tags:&nbsp green
Well, it is Tuesday, and that means IBM announcements. This week many of my colleagues are attending Storage Networking World [
SNW
] conference. Normally, the most exciting announcements are reserved for the weeks these conferences are held, but IBM apparently made an exception this week.
New Factory configurations for XIV

The first announcement is for new [factory configurations] for the IBM XIV disk system. In the past, you could only order a partial 6-module or a full 15-module rack. Today, IBM announced that there will also be 9-, 10-, 11-, 12-, 13- and 14-module configurations orderable as well.

Some FUD out in the blogosphere led some to believe that these partial configurations had to be made full 15 modules within 12 months. That is false. You can order any of these partial rack configurations and leave them as is until you need more capacity. There is no obligation to buy more capacity with these partial rack configurations.



IBM N series N6060 configurations

This second announcement indicates that the N6060 supports[672 drives]. The N6060 is the latest midrange model of IBM N series unified storage.

If you are asking "What is a 672 drive?" don't feel stupid. It actuallyrefers to the number of external drives that can be attached to the N6060. Previously, it was mis-reported that the N6060 could support as many as 840 drives, but this was not correct, and this announcement is to fixthat typo.



IBM Passport Advantage Sub-Capacity Licensing

This last announcement today relates to IBM Passport Advantage[sub-capacity licensing].Pricing products is always a challenge. You want to come up with a pricing methodology such that people who get the most use pay the most, and those who get less pay less, in a manner that everyone thinks is fair. With commodities, it is simple to price rice by the pound, or fabric by the yard, but what about IT solutions?

Some of the IBM software is based on number of processors used, so that people who have the software running on multiple machines, or machines with multiple cores, should pay more because they are getting more value. This makes sense if this software is the only thing running on that server, but today you can also have server virtualization and are running many guest operating systems, each with different applications. The solution is to use "sub-capacity" licensing. If you have a quad-core processor server, but have four guest operating systems using 25 percent of this, then each OS should only pay for one processor's worth of licensing. Since different processors have different clock speeds, IBM has standardized the calculations to a mythical "Processor Value Unit" or PVU, with a corresponding IBM License Metric Tool (ILMT).

Initially, this will cover specific versions of Citrix Xen Server, Microsoft Hyper-V and VMware, but IBM has made as a "statement of direction" that it will extend this sub-capacity licensing and ILMT support to IBM PowerVM capability for its POWER systems.

I have often heard clients complain that their third party software vendor does not support these hypervisors. Sometimes, this means the third party vendor will not fix or provide assistance if the problem occurs in this environment, and other times, it is that the pricing does not favor this environment, you get charged for all the processors, even if your slice of the processor is much smaller.
If you are at SNW this week, stop by and say "Hi" to my fellow IBM collegues for me.
technorati tags: IBM, SNW09, XIV, N6060, PVU, ILMT, Citrix, Xen, Hyper-V, VMware, ILMT
[
Read More
]
Well, it's Tuesday, so that means IBM announcements!
We had so much announced, that I will just cover the disk systems today, and deal with tape systems and software tomorrow.
IBM System Storage DS8000 series

IBM continues to invest heavily in its strategic [DS8000 series].For [existing 2107 machines], IBM's new DS8000 microcode supports:

1 TB 7200 rpm Serial ATA (SATA) Disk Drives

Now that IBM XIV has proven that 1TB SATA are safe for high-end tier-1 enterprise class use, we extended DS8000 support to include SATA support also. DS8000 supports RAID-6 and RAID-10 for these.

Intelligent Write Caching

IBM Research conducts extensive investigations into improved algorithms for cache management. Intelligent Write Caching boosts performance for both temporal and spatial locality.

Remote Pair FlashCopy®

This allows you to FlashCopy volume A to volume B, with Volume B remotely mirrored to Volume C at a secondary location, via Metro Mirror. This allows you to have a consistent copy of your data at both locations.

For[newly ordered 242x models], you get all the features above, plus the following additional support:

Full Disk Encryption (FDE)

IBM was the first in the industry to deliver tape-drive encryption, so it makes sense that IBM is also the first in the industry to deliver disk-drive encryption. These are 15K rpm drives in standard 146GB, 300GB and 450GB capacities. As with tape, encrypting at the disk device eliminates the huge overhead from server-based encryption methods.

Solid State Drive (SSD)

You can also have Solid State Disk drives in your DS8000, in 73GB and 146GB capacities, protected by RAID-5.If you are wondering what data to put on these much-faster drives, IBM has taken the work and worry out by havingintelligence in DB2 to optimize what gets placed on SSD to get the most performance improvement.





IBM System Storage XIV

Continuing the incredible marketplace excitement over its Cloud-Opimized Storage[XIV series], IBM now has announced[new capacity options]. The IBM XIV R2 that we announced last August 2008 was a fixed 15 module configuration. In thenew configurations, you can start with as little as six modules, representing a 40% partial rack of the originalfull model. Here is a table that shows the details:

| | | | | | | | | |
| --- | --- | --- | --- | --- | --- | --- | --- | --- |
| Total Modules | 6 | 9 | 10 | 11 | 12 | 13 | 14 | 15 |
| Useable Capacity (TB) | 27 | 43 | 50 | 54 | 61 | 66 | 73 | 79 |
| Interface Modules | 3 | 6 | 6 | 6 | 6 | 6 | 6 | 6 |
| Data Modules | 3 | 3 | 4 | 5 | 6 | 7 | 8 | 9 |
| Disk Drives | 72 | 108 | 120 | 132 | 144 | 156 | 168 | 180 |
| Fibre Channel Ports | 8 | 16 | 16 | 20 | 20 | 24 | 24 | 24 |
| iSCSI Ports | 0 | 4 | 4 | 6 | 6 | 6 | 6 | 6 |
| Cache Memory (GB) | 48 | 72 | 80 | 88 | 96 | 104 | 112 | 120 |

IBM System Storage N series

And last, but not least, we have two new models in IBM's[N6000 series].The [N6060]has model A12 (single controller) and model A22 (dual controller). These are disk-less controllers thatyou can configure in either appliance mode or gateway mode. In appliance mode, you can attachdisk drawers such as the EXN1000, EXN2000 or EXN4000. In gateway mode, you attach external disk systems, suchas the IBM DS8000 or XIV above.

Also, IBM introduces the new [2101 model N42 rack], which has the following features:

It's ruggedized to handle earthquakes. IBM brings a feature that we've had for a while on other disk systems to the N series with a collection of bolts and anchors to secure the rack from physical tremors.
It's instrumented for IBM Active Energy Manager, a component of IBM Systems Director. New iPDUs are designed to help measure and monitor energy management components. As companies get more concerned about thefate of the planet, monitoring energy consumption can help reduce carbon footprint.


I'll cover the rest of the announcements tomorrow!
technorati tags: IBM, DS8000, SATA, SSD, Encryption, SATA, RAID-5, RAID-6, RAID-10, FlashCopy, FDE, COS, XIV, N6060, EXN1000, EXN2000, EXN4000, N42, earthquakes, ruggedized, instrumented, iPDU, carbon footprint
[
Read More
]
In the post [
Flowing Workflow
], the folks over at
Eightbar
point to the latest 3D work being done with IBM Lotus Sametime.
IBM Sametime is IBM's instant messaging facility, which has been extended to include Voice over IP (VOIP) capability similar to Skype, and now is being developed as a launch point for 3D impromptu meetings "in-world", similar to [Second Life].
With many companies facing hard times and considering travel restrictions for face-to-faceinternal meetings, an information infrastructure that adopts this technology might be a reasonable alternative.
technorati tags: IBM, Lotus, Sametime, IM, chat, Eightbar, Skype, SecondLife, travel restrictions

[Read More]

Tags:&nbsp infrastructure
Well, it's Tuesday again, and that means more announcements from IBM!
In conjunction with IBM's new [System z10 Business Class (BC)] mainframe designed for Small and Medium-sized Businesses (SMB), IBM also announced related storage productenhancements.
DS6000 series

Yes, it's alive! Contrary to the FUD you might have read from our competitors, IBM continues to sell thousands and thousands of IBM System Storage DS6800 disk systems, and now enhances them with the optionfor 450GB 15K RPM drives. What is nice about these 450GB drives is that they are as fast or faster* than 300GBdrives, so the typical trade-off between performance and capacity do not apply.

(* I compared Seagate 15.6K (450GB) with 15.5K (300GB) models.

| | | |
| --- | --- | --- |
| | 450GB drives | 300GB drives |
| Avg Seek time (Read) | 3.4ms | 3.5 ms |
| Avg Seek time (Write) | 3.9ms | 4.0 ms |
| Full Seek time (Read) | 6.43ms | 6.7 ms |
| Full Seek time (Write) | 7.12ms | 7.4 ms |
| Sustained Bandwidth | 112-171 MB/sec | 73-125 MB/sec |

This may or may not result in application performance improvements, depending on workload pattern. Your mileage may vary.)

Our clients report back that these are incredibly stable systems that they don't have toworry about. This enhancement applies to both the [511/EX1 models] and [522/EX2 models].



DS8000 series

Understanding that clients want complete solutions from single vendors, IBM offers synergy between System z and the IBM System Storage DS8000 disk systems. The latest R4.1 microcode upgrade offers two key features onthe various models [2107,



2421, 2422, 2423, and 2424].

zHPF - High Performance FICON for System z. IBM was able to increase the throughput on 4 Gbps links. For OLTP workloads randomly accessing 4KB blocks, IBM internal tests showed zHPF doubled performance from 13,000 IOPSto 26,000 IOPS per channel. For sequential workloads, such as batch processing, zHPF increased performance 50 percent, from 350 MB/sec to 525 MB/sec.
In February, IBM previewed[IncrementalResync] for z/OS Metro Global Mirror. However, some concepts are better explained with pictures.


One way to set up a 3-site disaster recovery protection is to have your production synchronously mirrored to a second site nearby, and at the same time asynchronously mirrored to a remote location. On the System z, you can have site "A" using synchronous IBM System Storage Metro Mirror over to nearby site "B", and also have site "A" sending data over to site "C" asynchronously using z/OS Global Mirror. This is called "z/OS Metro Global Mirror".

In the past, if the disk system in site A failed, you would switch over to site B, which would have to resend send all the data again to site C to be resynchronized. This is because site B was not tracking what the System Data Mover (SDM) reader had or had not yet processed.

With DS8000 4.1, the "incremental resync" function that, along with using IBM HyperSwap, requires site B to only send and resync the data that was in-flight when the outage occurred. When you compare the difference in sending this limited amount of in-flight data with the traditional complete volume of data, you can see how "Incremental Resync" can resynchronize the data 95% faster, and also greatly decrease your bandwidth requirements. This reduces the risk in case a subsequent outage occurs.





TS7700 series

Introduced originally in 1997 as the IBM Virtual Tape Server (VTS), the [IBMSystem Storage TS7700] series supports Grid capabilityto replicate tape image data across locations. Here's a quick recap of today's announcement:

Existing TS7740 can be upgraded up to 9TB of disk cache. New models can have up to 13TB of disk cache.
A new "tape-less" TS7720 that has up to 70TB of disk cache.
Integrate Library Management support. I discussed[IntegratedRemovable Media Manager (IRMM)] before, and this is basically IRMM inside. For those with TS3500 tape libraries,this support eliminates the need for a separate IBM 3953 L05 Library Manager.
TS1130 back-end tape drive support. These are the fastest 1TB drives in the industry, with support of built-in encryption, and now can be used asthe physical tape back-end for the virtual tape TS7740 repository.
While our competitors might be boarding up their windows in preparation for the economic downturn in the USAeconomy, IBM remains generating solid results. San Jose Mercury News has an article that discusses this titled[IBM's 3Q profit strong on global sales].There has never been a better time to buy from, or invest in, IBM!
technorati tags: IBM, z10 BC, mainframe, SMB, DS6000, DS6800, 450GB, 15K, RPM, FUD, DS8100, DS8300, DS8000, zHPF, FICON, Incremental Resync, z/OS, MGM, HyperSwap, VTS, TS7700, TS7740, TS7720, tape-less, IRMM, TS1130, encryption, Mercury News, 3Q08, profit

[Read More]

Tags:&nbsp announcements tape disk
In Monday's post, [
IBM Information Infrastructure launches today
], I explained how this strategic initiative fit into IBM's New EnterpriseData Center vision. The launch was presented at the IBM Storage and Storage Networking Symposium to over 400 attendeesin Montpelier, France, with corresponding standing-room-only crowds in New York and Tokyo.
This post will focus on Information Retention, the third of the four-part series this week.
| | |
| --- | --- |
| | Here's another short 2-minute video, on Information Retention |
Let's start with some interesting statistics.Fellow blogger Robin Harris on his StorageMojo blog has an interesting post:[Our changing file workloads],which discusses the findings of study titled"Measurement and Analysis of Large-Scale Network File System Workloads"[14-page PDF]. This paper was a collaborationbetween researchers from University of California Santa Cruz and our friends at NetApp.Here's an excerpt from the study:
Compared to Previous Studies:

Both of our workloads are more write-oriented. Read to write byte ratios have significantly decreased.
Read-write access patterns have increased 30-fold relative to read-only and write-only access patterns.
Most bytes are transferred in longer sequential runs. These runs are an order of magnitude larger.
Most bytes transferred are from larger files. File sizes are up to an order of magnitude larger.
Files live an order of magnitude longer. Fewer than 50 percent are deleted within a day of creation.

New Observations:

Files are rarely re-opened. Over 66 percent are re-opened once and 95% fewer than five times.
Files re-opens are temporally related. Over 60 percent of re-opens occur within a minute of the first.
A small fraction of clients account for a large fraction of file activity. Fewer than 1 percent of clients account for50 percent of file requests.
Files are infrequently shared by more than one client. Over 76 percent of files are never opened by more than one client.
File sharing is rarely concurrent and sharing is usually read-only. Only 5 percent of files opened by multiple clients are concurrent and 90 percent of sharing is read-only.
Most file types do not have a common access pattern.
Why are files being kept ten times longer than before? Because the information still has value:
Provide historical context
Gain insight to specific situations, market segment demographics, or trends in the greater marketplace
Help innovate new ideas for products and services
Make better, smarter decisions
National Public Radio (NPR) had an interesting piece the other day. By analyzing old photos, a researcher for Cold War Analysis was able to identify an interesting [pattern for Russian presidents]. (Be sure to listen to the 3-minute audio to hear a hilarious song about the results!)

Which brings me to my own collection of "old photos". I bought my first digital camera in the year 2000,and have taken over 15,000 pictures since then. Before that,I used 35mm film camera, getting the negatives developed and prints made. Some of these date back to my years in High School and College. I have a mix of sizes, from 3x5, 4x6 and 5x7 inches,and sometimes I got double prints.Only a small portion are organized intoscrapbooks. The rest are in envelopes, prints and negatives, in boxes taking up half of my linen closet in my house.Following the success of the [Library of Congress using flickr],I decided the best way to organize these was to have them digitized first. There are several ways to do this.
Flat-bed scanner

This method is just too time consuming. Lift the lid place 1 or a few prints face down on the glass, close the lid,press the button, and then repeat. I estimate 70 percent of my photos are in [landscape orientation], and 30 percent in [portrait mode]. I can either spend extra time toorient each photo correctly on the glass, or rotate the digital image later.

Sheet-feed scanner

I was pleased to learn that my Fujitsu ScanSnap S510 sheet-feed scanner can take in a short stack (dozen or so) photos, and generate JPEG format files for each. I can select 150, 300 or 600dpi, and five levels of JPEG compression.All the photos feed in portrait mode, which I can then rotate later on the computer once digitized.A command line tool called [ImageMagick] can help automate the rotations.While I highly recommend the ScanSnap scanner, this is still a time-consuming process for thousands of photos.

Hire a professional service

Fellow blogger Matt on Unclutterer had a post[Have someone else digitize your old photos] that pointed me to this great service at [ScanMyPhotos.com]. From their Web site:

"The best way to save your valuable photos may be by eliminating the paper altogether. Consider making digital images of all your photos."

Here's how it works:You ship your prints (or slides, or negatives) totheir facility in Irvine, California. They have a huge machine that scans them all at 300dpi, no compression, andthey send back your photos and a DVD containing digitized versions in JPEG format, all for only 50 US dollars plusshipping and handling, per thousand photos. I don't think I could even hire someone locally to run my scanner for that!

The deal got better when I contacted them. For people like me with accounts on Facebook, flickr, MySpace or Blogger,they will [scan your first 1000 photos for free] (plus shipping and handling). I selected a thousand 4x6" photos from my vast collection, organized them into eight stacks with rubber bands,and sent them off in a shoe box. The photos get scanned in landscape mode, so I had spent about four hours in preparing what I sent them, making sure they were all face up, with the top of the picture oriented either to the top or left edge.For the envelopes that had double prints, I "deduplicated" them so that only one set got scanned.

The box weighed seven pounds, and cost about 10 US dollars to send from Tucson to Irvinevia UPS on Tuesday. They came back the following Monday, all my photos plus the DVD, for 20 US dollars shipping and handling. Each digital image is about 1.5MB in size, roughly 1800x1200 pixels in size, so easily fit on a single DVD. The quality is the sameas if I scanned them at 300dpi on my own scanner, and comparable to a 2-megapixel camera on most cell phones.Certainly not the high-res photos I take with my Canon PowerShot, but suitable enough for email or Web sites. So, for about 30 US dollars, I got my first batch of 1000 photos scanned.

ScanMyPhotos.com offers a variety of extra priced options, like rotating each file to the correct landscape or portrait orientation, color correction, exact sequence order, hosting them on their Web site online for 30 days to share with friends and family, and extra copies of the DVD.All of these represent a trade-off between having them do it for me for an additional fee, or me spending time doing it myself--either before in the preparation, or afterwards managing the digital files--so I can appreciate that.

Perhaps the weirdest option was to have your original box returned for an extra $9.95? If you don't have a hugecollection of empty shoe boxes in your garage, you can buy a similarly sized cardboard box for only $3.49 at the local office supply store, so I don't understand this one. The box they return all your photos in can easily be used for the next batch.

I opted not to get any of these extras. The one option I think they should add would be to have them just discardthe prints, and send back only the DVD itself. Or better yet, discard the prints, and email me an ISO file of the DVD that I can burn myself on my own computer.Why pay extra shipping to send back to me the entire box of prints, just so that I can dump the prints in the trash myself? I will keep the negatives, in case I ever need to re-print with high resolution.

Overall, I am thoroughlydelighted with the service, and will now pursue sending the rest of my photos in for processing, and reclaim my linen closet for more important things. Now that I know that a thousand 4x6 prints weighs 7 pounds, I can now estimate how many photos I have left to do, and decide on which discount bulk option to choose from.
With my photos digitized, I will be able to do all the things that IBM talks about with Information Retention:
Place them on an appropriate storage tier. I can keep them on disk, tape or optical media.
Easily move them from one storage tier to another. Copying digital files in bulk is straightforward, and as new techhologies develop, I can refresh the bits onto new media, to avoid the "obsolescence of CDs and DVDs" as discussed in this article in[PC World].
Share them with friends and family, either through email, on my Tivo (yes, my Tivo is networked to my Mac and PC and has the option to do this!), or upload themto a photo-oriented service like [Kodak Gallery or flickr].
Keep multiple copies in separate locations. I could easily burn another copy of the DVD myself and store in my safe deposit box or my desk at work.With all of the regional disasters like hurricanes, an alternative might be to backup all your files, including your digitized photos, with an online backup service like [IBM Information Protection Services] from last year's acquisition of Arsenal Digital.
If the prospect of preserving my high school and college memories for the next few decades seems extreme,consider the [Long Now Foundation] is focused on retaining information for centuries.They areeven suggesting that we start representing years with five digits, e.g., 02008, to handle the deca-millennium bug which will come into effect 8,000 years from now. IBM researchers are also working on [long-term preservation technologies and open standards] to help in this area.

For those who only read the first and last paragraphs of each post, here is my recap:Information Retention is about managing [information throughout its lifecycle], using policy-based automation to help with the placement, movement and expiration. An "active archive" of information serves to helpgain insight, innovate, and make better decisions. Disk, tape, and blended disk-and-tape solutions can all play a part in a tiered information infrastructure for long-term retention of information.
technorati tags: IBM, Information Infrastructure, Information Retention, ILM, Robin Harris, StorageMojo, UC Santa Cruz, NetApp, NPR, Russian, Presidents, digitize, scan, photos, photography, Library of Congress, flickr, Facebook, Fujitsu ScanSnap, scanner, ScanMyPhotos.com, professional services, DVD, Arsenal Digital, Information Protection Services, Kodak Gallery, Long Now, Haifa, deduplication, long-term retention

[Read More]

Tags:&nbsp disk infrastructure lifecycle tape
Next Monday, September 1, 2008, marks my two year "blogoversary" for this blog!
I won't be blogging on Monday, of course, because that is [Labor Day] holiday here in the United States.
(From a Canadian colleague: US is not the only country who celebrates Labor Day on the first weekend in September. Canada also celebrates Labour Day on the first weekend in September. It's the only holiday(other than Christmas/New Years) where we are in sync with US. Our Thanksgiving Days are different as is your July 4 vs our July 1. But for Labour Day we are one with the Borg...)

(From an Australian colleague: each province of Australia has its own day to celebrate Labor Day, see [Australia Public Holidays])
The rest of the world celebrates Labor Day on May 1, but the USA celebrates this on the first Monday of September, which this year lands on September 1.Originally, the day is intended to be a "day off for working citizens", IBM is kind enough to let managers and marketingpersonnel have the day off also. (Not that anyone is going to notice no press releases next Monday, right?)
I started this blog on September 1, 2006 as part of IBM's big["50 Years of Disk Systems Innovation"] campaign. IBM introduced the first commercial disk system on September 13, 1956 and so the 50th anniversary was in 2006. Last year, IBM celebrated the 55th anniversary of tape systems.
Several readers have asked me why I haven't talked about recent current events, such as the Olympic Games in Beijing, or the U.S. National Conventions for the race for U.S. President. I have to remind them of one of the key precepts of IBMblogging guidelines:
8. Respect your audience. Don't use ethnic slurs, personal insults, obscenity, or engage in any conduct that would not be acceptable in IBM's workplace. You should also show proper consideration for others' privacy and for topics that may be considered objectionable or inflammatory - such as politics and religion.
I made subtle references to my senator from Arizona, John McCain, in my post [ILM for my iPod], and to Barack Obama in my post [Searching for matching information]. I don't think anyone would mind that I send a "Happy Birthday!" wish to both of them.Senator McCain turns 72 years old today, and Senator Obama turned 47 years old earlier this month.
And lastly, Tucson itself [celebrates this entire month] its 233rd birthday. That's right,Tucson, the 32nd largest city of the USA, and headquarters for IBM System Storage, is older than the USA itself.While the Tucson area has been continuously inhabited by humans for over 3500 years, it officially became Tucsonon August 20, 1775.
Fellow blogger Justin Thorp has opined that [blogging is like jogging]. Somedays, you are just too busy to do it, and other days, you make time for it, because you know it is important.For the record, it is not my job to blog for IBM, that ended last September 2007. I continue to blog anyways because I have benefited from it, both personally and professionally.I want to thank all of you readers out there for making this blog a great success! Being named one of the top 10 blogs of the IT storage industry by Network World, two back-to-back Brand Impact awards from Liquid Agency, and recently earning a "31" Technorati ranking, has really helped keep me going.
So, I look forward to next month, and beginning my third year on this blog. I am sure there will be lots of surprises and announcements you can all look forward to in the next coming weeks and months that I will have plenty to write about.
technorati tags: IBM, blogoversary, anniversary, birthday, disk, tape, systems, Olympics, Olympic Games, Beijing, China, National Convention, John McCain, Senator, Arizona, Barack Obama, Tucson, Justin Thorp, Network World, Technorati
[
Read More
]
IBM TV has an interesting 8-minute video which includes highlights of the recentIBM Global CEO study. Worth a look!

For those who prefer a deeper look, you can [download the study],or [listen to the podcast].
technorati tags: IBM, Global CEO Study, IBM TV
[
Read More
]
We have successfully arrived to Mumbai, India. Since this is my first time in India, I decidedto check out the town by going to the local McDonald's® restaurant. As a former software engineer of McDonald's, I love the food, and try to visit a McDonald's in every country I visit. Wikipedia calls our transportation an [Auto Rickshaw], but the locals called it a "tuk-tuk". This is not my first time in one, they have them in Thailand and Mexico as well.

We had the hotel identify the address of the closest McDonald's to our hotel. From past experienceI know that tuk-tuk drivers will suggest alternatives, in an effort to earn a larger fare, or to redirectto a preferred location where the driver might get special kick-backs. Our driver was no different.
The traffic was treacherous, the roadswere in roughshod condition, and sad looking stray dogs digging through piles of rubbish were everywhere. The local "Daily News and Analysis" newspaper this week estimates that there are over 70,000 stray dogs in Mumbai alone.What to do with all of these strays is a matter of controversy. In preparation for the Olympic games, China hasasked its restaurants to [take"dog" off their menus].Having lived in one of the poorest countries, and one of the richest, nothing surprises me anymore.
My IBM colleague, Curtis Neal, decided to join me for this adventure. Finally, after about 20 minutes, our driver parks the tuk-tuk. He told us the restaurant is only aboutthree blocks away by foot, he would allow us to treat him to lunch, and then he will take us back to the hotel.While we appreciated his fantastic imagination, we told him we just wanted to be taken one-way to the restaurant, to drop us off at the front door, and we would find another tuk-tuk for the return.

After a bit of argument, we settled on being left only one block away, and we would walk the rest.While we could not see exactly where the restaurant was when we got out, he at least pointed us in the right direction.
The problem was that we approached the restaurant from behind, and came up to its equivalent of a "drive thru" window,ordered our food, and then went to the second window to pick up our order. We were eating on the street. It was not until I decided to take this photo of the restaurant, that we discovered there was an entire seating area upstairs, and around the cornerthe main entrance!

There were plenty of tuk-tuks picking up and dropping people off, so we have no idea why ourprevious driver was unwilling to take us the entire distance.
| | |
| --- | --- |
| Cows are sacred here in India, so thereare no beef-based hamburgers to choose from. My choices for sandwiches were: | |
Getting back was also a challenge. While we had no problem haling a tuk-tuk, we had no idea the address of ourhotel, and our driver had no idea where it was. We ended up driving around the city until we found a differenthotel, asked them if they knew where it was, and then eventually getting to our hotel. This is something I shouldhave planned for in advance, getting a card with the hotel details on it before leaving.
While it might seem like a simple trip, Curtis and I probably learned more about India this way than spending a week inside the comforts of our hotel.
technorati tags: IBM, Mumbai, India, McDonald's, China, stray dogs, restaurant, menu, Olympics, McChicken, Coke, tuk-tuk, auto rickshaw
[
Read More
]
Well, the weather here has turned awful, so I better turn off my computer to avoid lightning-strike damage.
For those looking for something to do to enjoy the "4th of July" US Independence day holiday tomorrow, thereis the [Team America: Sing-a-long at Tucson's Loft Cinemaat 6pm, you can still see the fireworks after the show is over. I did this last year and it was a lot of fun.
Also, you can check out the IBM Wimbledon build on Second Life. Here's the SLURL:[http://slurl.com/secondlife/IBM%207/133/180/23].Several IBMers will be "in world" at this virtual location on 4th of July. For all of my readers looking to check out Second Life, see what IBM can do, or talk to people who are familiar with this technology, here's your chance.

As for me, I'll be spending my "long weekend" in an airplane. Here's my travel schedule.
July 7-11: Tokyo, Japan - business meetings with IBM sales reps
July 13-18: Mumbai, India - business meetings with IBM business partners
July 24-27: San Diego, California - [Comic-Con] and [Octagon Global Recruiting] -- my thanks to ABC, theproducers of the TV show "LOST", and the [Dharma Initiative] for the invitation!
If you will be at any of these locations on any of these dates and want to meet up, please let me know.You can click on the "send e-mail to Tony Pearson" button on the right panel of my blog.
(I was hoping that while I was in Asia, I could stop over and visit the schools I helped in Nepal and my friends at the Open Learning Exchange [OLE Nepal] as part of the One Laptop PerChild [OLPC Nepal] program, but I did not get all my ducks lined up for this with the appropriate travel approvals, visas and logistics. My apologies to Bryan, Sulochan and the rest of the team. Perhaps next year!)
Enjoy your weekend!
technorati tags: IBM, Tokyo, Japan, Mumbai, India, Wimbledon, SecondLife, OLE Nepal, OLPC, ABC, LOST, Dharma Initiative, Octagon Global Recruiting

[Read More]

Tags:&nbsp secondlife
With price and joy, I shipped my baby off today. My "baby" in this case was an [
XS School Server
]that I built and configured with software as a platform to developan [
Educational Blogging System
] for[
Proyecto Ceibal
] who are the "One Laptop Per Child" groupin Uruguay [
OLPC Uruguay
].
(Earlier this year, I build a test XS School Server that was used to help and support [OLPC Nepal] by working with their local NGO team[OLE Nepal]. I wrote about this back in Februaryin my post [Understandingthe LAMP platform for Web 2.0 workloads].)
Based on this success, and perhaps because I am also fluent in Spanish, I was asked to help with Proyecto Ceibal, the team for OLPC Uruguay. Normally theXS school server resides at the school location itself, so that even if the internet connection is disrupted or limited, the school kids can continue to access each other and the web cache content until internet connection is resumed.However, with a diverse developmentteam with people in United States, Uruguay, and India, we first looked to Linux hosting providers that wouldagree to provide free or low-cost monthly access. We spent (make that "wasted") the month of May investigating.Most that I talked to were not interested in having a customized Linux kernel on non-standard hardware on their shop floor, and wanted instead to offer their own standard Linux build on existing standard servers, managed by theirown system administrators, or were not interested in providing it for free. Since the XS-163 kernel is customizedfor the x86 architecture, it is one of those exceptions where we could not host it on an IBM POWER or mainframe as a virtual guest.
This got picked up as an [idea] for the Google's[Summer of Code] and we are mentoring Tarun, a 19-year-old student to actas lead software developer. However, summer was fast approaching, and we wanted this ready for the next semester. In June, our project leader, Greg, came up with a new plan. Build a machine and have it connected at an internet service provider that would cover the cost of bandwidth, and be willing to accept this with remote administration. We found a volunteer organization to cover this -- Thank you Glen and Vicki!
We found a location, so the request to me sounded simple enough: put together a PC from commodity parts that meet the requirements of the customizedLinux kernel, the latest release being called [XS-163]. The server would have two disk drives, three Ethernet ports, and 2GB of memory; and be installed with the customized XS-163 software, SSHD for remote administration, Apache web server, PostgreSQL database and PHP programming language.Of course, the team wanted this for as little cost as possible, and for me to document the process, so that it could be repeated elsewhere. Some stretch goals included having a dual-boot with Debian 4.0 Etch Linux for development/test purposes, an alternative database such as MySQL for testing, a backup procedure, and a Recover-DVD in case something goes wrong.
Some interesting things happened:
The XS-163 is shipped as an ISO file representing a LiveCD bootable Linux that will wipe your system cleanand lay down the exact customized software for a one-drive, three-Ethernet-port server. Since it is based on Red Hat's Fedora 7 Linux base, I found it helpful to install that instead, and experiment moving sections of code over.This is similar to geneticists extracting the DNA from the cell of a pit bull and putting it into the cell for a poodle. I would not recommend this for anyone not familiar with Linux.

I also experimented with modifying the pre-built XS-163 CD image by cracking open the squashfs, hacking thecontents, and then putting it back together and burning a new CD. This provided some interesting insight, but in the end was able to do it all from the standard XS-163 image.

Once I figured out the appropriate "scaffolding" required, I managed to proceed quickly, with running versionsof XS-163, plain vanilla Fedora 7, and Debian 4, in a multi-boot configuration.
The BIOS "raid" capability was really more like BIOS-assisted RAID for Windows operating system drivers. This"fake raid" wasn't supported by Linux, so I used Linux's built-in "software raid" instead, which allowed somepartitions to be raid-mirrored, and other partitions to be un-mirrored. Why not mirror everything? With two160GB SATA drives, you have three choices:

No RAID, for a total space of 320GB
RAID everything, for a total space of 160GB
Tiered information infrastructure, use RAID for some partitions, but not all.

The last approach made sense, as a lot of of the data is cache web page images, and is easily retrievable fromthe internet. This also allowed to have some "scratch space" for downloading large files and so on. For example,90GB mirrored that contained the OS images, settings and critical applications, and 70GB on each drive for scratchand web cache, results in a total of 230GB of disk space, which is 43 percent improvement over an all-RAID solution.

While [Linux LVM2] provides software-based "storage virtualization" similar to the hardware-based IBM System Storage SAN Volume Controller (SVC), it was a bad idea putting different "root" directories of my many OS images on there. With Linux, as with mostoperating systems, it expects things to be in the same place where it last shutdown, but in a multi-boot environment, you might boot the first OS, move things around, and then when you try to boot second OS, it doesn'twork anymore, or corrupts what it does find, or hangs with a "kernel panic". In the end, I decided to use RAIDnon-LVM partitions for the root directories, and only use LVM2 for data that is not needed at boot time.
While they are both Linux, Debian and Fedora were different enough to cause me headaches. Settings weredifferent, parameters were different, file directories were different. Not quite as religious as MacOS-versus-Windows,but you get the picture.
During this time, the facility was out getting a domain name, IP address, subnet mask and so on, so I testedwith my internal 192.168.x.y and figured I would change this to whatever it should be the day I shipped the unit.(I'll find out next week if that was the right approach!)
Afraid that something might go wrong while I am in Tokyo, Japan next week (July 7-11), or Mumbai, India the following week (July 14-18), I added a Secure Shell [SSH] daemon that runs automaticallyat boot time. This involves putting the public key on the server, and each remote admin has their own private key on their own client machine.I know all about public/private key pairs, as IBM is a leader in encryption technology, and was the first todeliver built-in encryption with the IBM System Storage TS1120 tape drive.
To have users have access to all their files from any OS image required that I either (a) have identical copieseverywhere, or (b) have a shared partition. The latter turned out to be the best choice, with an LVM2 logical volumefor "/home" directory that is shared among all of the OS images. As we develop the application, we might findother directories that make sense to share as well.
For developing across platforms, I wanted the Ethernet devices (eth0, eth1, and so on) match the actual ports they aresupposed to be connected to in a static IP configuration. Most people use DHCP so it doesn't matter, but the XSsoftware requires this, so it did. For example, "eth0" as the 1 Gbps port to the WAN, and "eth1/eth2" as the two 10/100 Mbps PCI NIC cards to other servers.Naming the internet interfaces to specific hardware ports wasdifferent on Fedora and Debian, but I got it working.
While it was a stretch goal to develop a backup method, one that could perform Bare Machine Recovery frommedia burned by the DVD, it turned out I needed to do this anyways just to prevent me from losing my work in case thingswent wrong. I used an external USB drive to develop the process, and got everything to fit onto a single 4GB DVD. Using IBM Tivoli Storage Manager (TSM) for this seemed overkill, and [Mondo Rescue] didn't handle LVM2+RAID as well as I wanted, so I chose [partimage] instead, which backs up each primary partition, mirrored partition, or LVM2 logical volume, keeping all the time stamps, ownerships, and symbolic links in tact. It has the ability to chop up the output into fixed sized pieces, which is helpful if you are goingto burn them on 700MB CDs or 4.7GB DVDs. In my case, my FAT32-formatted external USB disk drive can't handle files bigger than 2GB, so this feature was helpful for that as well. I standardized to 660 GiB [about 692GB] per piece, sincethat met all criteria.

(The mainframe equivalent is DFSMShsm or DFSMSdss DUMP, which by the way can be used with Linux for System z DASD CKD partitions. See this helpful[HOWTO back up your Linux partitions and volumes through z/OS] guide.)

The folks at [SysRescCD] saved the day. The standard "SysRescueCD" assigned eth0, eth1, and eth2 differently than the three base OS images, but the nice folks in France that write SysRescCD created a customized[kernel parameter that allowed the assignments to be fixed per MAC address ] in support of this project. With this in place, I was able to make a live Boot-CD that brings up SSH, with all the users, passwords,and Ethernet devices to match the hardware. Install this LiveCD as the "Rescue Image" on the hard disk itself, and also made a Recovery-DVD that boots up just like the Boot-CD, but contains the 4GB of backup files.

For testing, I used Linux's built-in Kernel-based Virtual Machine [KVM]which works like VMware, but is open source and included into the 2.6.20 kernels that I am using. IBM is the leadingreseller of Vmware and has been doing server virtualization for the past 40 years, so I am comfortable with thetechnology. The XS-163 platform with Apache and PostgreSQL servers as a platform for [Moodle], an open source class management system, and the combination is memory-intensive enough that I did not want to incur the overheads running production this manner, but it wasgreat for testing!
With all this in place, it is designed to not need a Linux system admin or XS-163/Moodle expert at the facility. Instead, all we need is someone to insert the Boot-CD or Recover-DVD and reboot the system if needed.
Just before packing up the unit for shipment, I changed the IP addresses to the values they need at the destination facility, updated the [GRUB boot loader] default, and made a final backup which burned the Recover-DVD. Hopefully, it works by just turning on the unit,[headless], without any keyboard, monitor or configuration required. Fingers crossed!
So, thanks to the rest of my team: Greg, Glen, Vicki, Tarun, Marcel, Pablo and Said. I am very excited to bepart of this, and look forward to seeing this become something remarkable!
technorati tags: XS School Server, Proyecto, Ceibal, OLPC, Uruguay, OLE, Nepal, LAMP, Web2.0, Google, Summer of Code, SSH, sshd, Apache, PostgreSQL, PHP, Red Hat, Fedora, Debian, Linux, Ethernet, BIOS, RAID, fakeraid, LiveCD, Boot-CD, Recover-DVD, DFSMS, DFSMShsm, DFSMSdss, DUMP, mainframe, LVM2, SVC, TSM, GRUB, Mondo Rescue, partimage, SysRescCD, KVM, GRUB
[
Read More
]
| | |
| --- | --- |
| | You could buy 10 liters of gasoline in Venezuela with this coin. |
I'm back from South America, and am now in Chicago, Illinois. I'm having breakfast at the Starbucksdowntown, and thought I would make a post before all of my meetings today.
On this trip, I met with IBM Business Partners and sales reps from Argentina, Colombia, Ecuador and Venezuela. While I have visited thefirst three countries on past trips, this was my first time to Caracas, Venezuela. I grew up in La Paz, Bolivia, and speak Spanish fluently, so had no problemgetting around and holding discussions with everyone. While my friends in the US are oftensurprised I speak multiple languages, it doesn't surprise anyone I visit in other countries.If you are going to have worldwide job responsibilities for a global company that does businessin over 180 countries, the least you could do is learn a few additional languages. I suspect themajority of the 350,000 IBM employees speak at least two languages, the exceptions being mostly the 50,000 orso employees that live in the United States.
I flew on American Airlines from Tucson to Dallas to Caracas, and was only slightly delayed as a resultof all of the flight cancellations that happened earlier that week. Some companies designate a single "official airline" for their employees to use. That makessense if all of your employees are located in a single city, and that city is the hub for yourdesignated airline.IBM is too big, too spread out, and sells technology to nearly every airline to make sucha designation. Instead, IBM tries to spread its business out to multiple carriers, although all ofmy colleagues seems to have their own personal favorites. Mine are American Airlines, Singapore Airlines and Cathay Pacific.
While other people were upset over the delays, I found American Airlines did a great job keeping me informed,and all their employees I talked to seemed to be handling the situation fairly well. If youfly on American, I recommend you sign up for "text message" notifications. I did this for everyleg of my trip, and was kept up to date on times, gates and status. Very helpful!American Airlines even started their own corporate blog: [AA Conversation] (Special thanks to my friend[Paul Gillen] for pointing this out)
(I read somewhere that if you are going to travel anywhere, you need to remember to bringboth your sunscreen and your sense of humor, otherwise you are going to get burned. Goodadvice! Trust me, you don't even know how bad it can really be until you travel in the third world.)
Anyhoo, last week, IBM Venezuela celebrated its 70th anniversary. That's right, IBM has been doingbusiness in Venezuela for the past 70 years. Also last week, IBM put out its impressive [1Q08 quarterly results],including 10 percent growth for IBM System Storage product line worldwide, comparing what IBM earned this first quarter to what IBM earned the first quarter of last year. For just the Latin American countries,the growth for IBM System Storage was 20 percent!There are a lot of oil and gas companies in Venezuela. With a barrel of oil selling at more than$117 US dollars, these companies are looking to spend their newly earned profits on IBM systems, software and services.
As for the picture above, that is a one-thousand Bolivares coin, worth about 47 US cents atthis week's official exchange rate. As with many Latin American countries going through [years of high inflation], Venezuela was tired of all those zeros on their money. For example, a cheeseburger, freedom fries and a Cokeat McDonald's would set you back 20,000 Bolivares.This year the Venezuelan governmentcreated a new currency called "Bolivares Fuertes" (VEF), lopping off the last three zeros.So, the coin above would be replaced by a new coin with a big "1" on it instead, and an old 2000 Bolivares billwould be replaced by a new 2 Bolivares Fuertes bill. Unfortunately,I had to give all my new Venezuelan money back at the airport upon leaving, but they let me keep the coinabove, since it is old money, as a souvenir so that I could use it as a ball mark for playing golf.
(The term Bolivares is named after Simon Bolivar who was born in Caracas. He is famous throughoutSouth America, and was, and I am not making this up, the first president of Colombia, the secondpresident of Venezuela, the first president of Bolivia, and the sixth president of Peru. Here isthe [Wikipedia article] to learn more.)
Gasoline costs a mere 100 old Bolivares per liter.For those who don't do metric, gasoline therefore costsless than 18 cents per gallon. By comparison, in the USA, the average today was $3.47 US dollarsper gallon, of which 18.4 cents of this is Federal tax. That's right, we pay more just in taxes forgasoline than los venezolanos pay for it all.
The side effect of cheap gas is bad traffic. Everybody in Venezuela drives their own car, and nobody thinksabout the price of gasoline, carpooling, or taking public transportation, acting much like Americans used to, up until a few years ago. With some of the gridlock we faced, it might have been faster (but not safer)to walk there instead.
Which makes me wonder if American Airlines fills up their airplanes with fuel at these lower prices when theypick up people in Caracas to take them back to the United States. In 2002, fuel represented 10 percentof the average airline's operating expenses, but today it is now 25 percent. That is a drastic increase!
The same is happening in data centers. In the past, electricity was so cheap, and such a small percentof the total IT budget, nobody gave it much thought. But as the usage of electricity increased, andthe cost per KWh went up, this has a multiplying effect, and the growth in power and cooling costs isgrowing four times faster than the average IT hardware budget increase.
technorati tags: IBM, Venezuela, anniversary, American Airlines, Bolivares, Fuertes, gasoline, data center
[
Read More
]
Fellow blogger and cartoon writer Scott Adams writes in his
Dilbert Blog
posts about the [
Monte Hall problem
].Monte Hall was the host of the American game show
Let's Make a Deal
. Here is an excerpt:
"The set up is this. Game show host Monte Hall offers you three doors. One has a car behind it, which will be your prize if you guess that door. The other two doors have goats. In other words, you have a 1/3 chance of getting the car.

You pick a door, but before it is opened to reveal what is behind it, Monte opens one of the doors you did NOT choose, which he knows has a goat behind it. And he asks if you want to stick with your first choice or move to the other closed door. One of those two doors has a car behind it. Monte knows which one but you don't."
Mathematically, on your initial choice of doors, you have a 1/3 chance of picking the car, and 2/3 chance ofpicking a goat. But, after you make a choice, Monte knows which door(s) have goats behind them, and selectsone that exposes the goat. If you stay with your initial choice, you still have a 1/3 chance that you win acar, but if you change your mind and choose the other door, your odds double, you have a 2/3 chance of winning.This is not obvious at all to most people, so Scott points people to the [Wikipedia entry] that provides the mathematicaldetails.

What does this have to do with storage?

When you pick a disk system, you are hoping you pick the door with the car. You want a disk system that meets your performance requirements for your particular workload and easy to deploy, configure and manage, with a low total cost of ownership for the three, four or five years you plan to use it.However, with over forty different storage vendors, there are some doors that might have goats. Some vendorshave only 90 day warranties for their software, and I don't know any customers that replace their disk systems that often.
(It was pointed out to me that it was unfair in my last week's post about[Xiotech'slow cost RAID brick], that I singled out EMC offering minuscule 90day warranties for the software needed to run their disk systems. I apologize. I have sincelearned that HDS and HP also shaft their clients with 90 day warranties. Apparently thereare a lot of vendors out there who lack confidence in the quality of their software!)
It would be nice if everyone published all of their performance benchmarks so that you canchoose the right door with the car behind it, but sadly in the storage industry, not everyoneparticipates with industry-standard benchmarks like the[Storage Performance Council].

In other cases, people make their choices based on past decisions. Perhaps someone beforethem chose one vendor over another, and it seems simple enough just to stay with the originalchoice. It is amazing how often people stay with their company's original choice, what we call in the industry the "incumbent vendor", without exploring alternatives.

So, if you bought an EMC, HDS or HP disk system in the last 90 days, it's not too late for you.Tell your local IBM rep that you are afraid you picked the door with the goat, and that you want to change your mind, and choose the other door and go with IBM instead.

You will double your chances of being happier with your new choice!
technorati tags: Scott Adams, Dilbert, Monte Hall, probability, 90-day, warranty, disk, system, benchmarks, SPC, SPC-1, SPC-2, game show, HDS, HP, IBM, goat, door, car

[Read More]

Tags:&nbsp disk