The developerWorks Connections Platform is now in read-only mode and content is only available for viewing. No new wiki pages, posts, or messages may be added. Please see our FAQ for more information. The developerWorks Connections platform will officially shut down on March 31, 2020 and content will no longer be available. More details available on our FAQ. (Read in Japanese.)
IBM wins lots of awards, but this time is unique: [IBM and Fox Networks Group have jointly won an Engineering Emmy® Award] for Innovation from the Academy of Television Arts & Sciences. According to the Academy, by improving the ability of media companies to capture, manage and exploit content in digital form, IBM and Fox have fundamentally changed the way that audio and video content is managed and stored. Here's an excerpt from the IBM Press Release:
"By standardizing technologies in this way, Fox can now use open-standard, file-based tape in all aspects of production, post-production and distribution functions – displacing costly proprietary tape formats and/or disk subsystems. This provides media companies with the consumer equivalent of having their entire library of DVDs online and available at any time, and the ability to go to a specific scene, in any one of the movies, in an instant.

In the early stage of the technology initiative, the IBM/Fox team applied IBM-patented technologies invented by IBM Research for high-speed data movement. They also integrated traditional broadcast transport and encoding standards with IT industry open standards. This allowed either Standard Definition (SD) or HD programming to be available in real time for digital recording and repurposing -- with improved economics."
Last year, in my posts [Double the Storage Capacity - Double the Fun!], [Happy E.A.R.T.H day!], [Local IBM Team recognized by Arizona Daily Star], and [On Cirago Docking Stations, IBM RDX and LTFS], I had referred to LTFS by its prior name, the Long Term File System. People keep archives on tape because it is a great medium for long term retention.
Unfortunately, people didn't like the name, but they loved the acronym, so it was renamed to Linear Tape File System. IBM offers LTFS single-drive edition on its LTO-5 and TS1140 tape drives, and LTFS library-edition across all of its tape libraries. Since everyone hates proprietary vendor lock-in, IBM has graciously shared LTFS as an open source standard with the rest of the Linear Tape Open consortium.
(Note: I was not there at the awards ceremony. The pictures were taken by Ed Childers, David Pease and Rainer Richter of each other. Additional photos are available on this [Flicr photo album].)
(1) Rainer Richter, Media Technology Market Partners LLC [MTMP], presenting the Emmy to Steve Canepa, IBM General Manager for Media and Entertainment industry. MTMP is an IBM Business Partner that offers integrated solutions for LTO and LTFS, consulting, services, and technology to the media and entertainment industry…
(2) Ed Childers, IBM manager of the Tape Drive Development team, holding the Emmy. Fellow IBM blogger Steve Hamm credits Ed on coming up with the idea for LTFS seven years ago, in his blog post [Coding and Loading in Las Vegas: How a Team of IBM Researchers Helped Transform the Way Video is Stored]. Ed wanted to make tape storage easier to use and to integrate it into the workflow of networks and studios, and suggested using an indexing system that would allow people to write software that would make video more accessible.
(3) David Pease, IBM Senior Technical Staff Member from the IBM Almaden Research Center, holding the Emmy. Along with Lucas Villa Real (IBM Brazil) and Michael Richmond (IBM Almaden), David and his team were able to come up with a working prototype in just four months. Michael discusses this in his posts [Tape? Does anyone care about Tape anymore?"] and [the Emmy goes to... LTFS].
If David and Ed look familiar, it is because I had their picture on my blog back in May when [LTFS won 2011 NAB Show Pick Hits award]. For more from the IBM Almaden Research team, see their blog post [We won an Emmy!]
Of course, Technology is only worthwhile if you put it to use. Our friends at FOX initially partnered with IBM to develop this video archive solution for the National Football League (NFL). If there is one place that "re-purposes" a lot of video footage, it is sports television. The technology proved so useful that FOX has since expanded it to other types of programming.
technorati tags: IBM, FOX, Emmy, Ed Childers, David Pease, Steve Canepa, Michael Richmond, Rainer Richter, MTMP, Almaden Research Center, LTFS, LTO-5, TS1140, Media and Entertainment, Steve Hamm
I have arrived safely to San Francisco, and was able to check-in at the hotel, pick up my registration badge for Oracle OpenWorld 2011, and attend the first keynote session. This is the largest Oracle OpenWorld event to-date, with over 45,000 attendees from 117 different countries. There are 520,000 square feet of exhibition floor, and over 2,400 educational sessions. The conference is spread across the different buildings of the Moscone center, as well as nearby hotels. On average, attendees will walk seven miles during the week.
Larry Ellison was the keynote speaker for this first kick-off session. He focused almost exclusively on server and storage hardware. He feels that business is all about moving data, not doing integer math.
Exadata

At the beginning of 2011, Oracle had only sold about 1,000 Exadata, but they have a sales target to sell an additional 3,000 Exadata boxes by year end. The Exadata offers up to 10x columnar compression, and has 10x faster bandwidth (40Gbps Infiniband versus 4Gbps FCP). If you have a 100TB database, it would take up only 10TB of disk with this approach. He claims that the 90TB of disk you don't have to buy can then be used to buy more DRAM and/or Flash SSD.

(Realistically, since SSD is 15x more expensive than spinning disk, you can only purchase about 6TB of Flash for the 90TB you save on disk!)

Larry claims the design point for Exadata and Exalogic was to offer a system that was more powerful than IBM's fastest P795 computer, but cheaper than commodity x86 hardware. His secret is to "Parallel everything" for faster performance, and no single points of failure (SPOF). Exadata offers up to 10-50x faster query, and 4-10x faster OLTP. To keep costs low, Exadata uses all commodity hardware except the Infiniband. He cited various customer examples:

A company replaced 36 Teradata with 3 Exadata and result was application was 8x faster.
Banco Chile 9x faster than previous system
Deutsche Post 60x faster
Sogetti gets 60x faster backups.
French bank BNP Paribas 17x faster and no change to applications.
Proctor & Gamble 18x faster
Merck 5x faster
Turkcell 250TB compressed to 25TB, 10x faster

The problem was that in each example, he said what it was compared against was the old previous system, which varies and could have been an older Sun system, or an old system from HP, IBM or Dell. Perhaps it was a freudian slip, but Larry mistakenly said "Paralyze" your applications, when he probably meant to "Parallelize".

SPARC Supercluster

Of all their 380,000 Oracle customers, 70 percent have SPARC/Solaris and/or Linux. Last week, Oracle announced the new SPARC-T4, which Larry claimed was 5x faster than the previous SPARC-T3. Larry feels that for the first time ever, a non-IBM CPU can challenge the long-standing rein of the IBM POWER series processor. Larry admitted that the IBM POWER7 chip actually did some tasks faster than the SPARC-T4, so his work is not yet done, but they plan to offer a new SPARC-T5 next year that will be 2x better than the SPARC-T4.

Larry compared the I/O bandwidth of serv ers based on SPARC-T4, compared to POWER7, and found that the SPARC-T4 has double the I/O bandwidth, for a cost that was only about 1/4 the cost of a mainframe. IBM offers both. POWER7-based servers for CPU-intensive workloads, and System z (S/390)-based systems for I/O-intensive workloads. Larry feels that even though POWER7 is superior than SPARC-T4 for mathematical calculations, all business applications are focused on I/O-bandwidth to move data, not computations.

(Fellow IBMer Carter O'Mahoney has already posted a response on his post [Challenging Oracle's SPARC SuperCluster Claims].)

Larry claims the new SPARC-T4 can do 1.2 million IOPS. He uses 40 Gbps Infiniband instead of traditional SAN-attached FCP solutions.

Exalytics

A new "box" called Exalytics, combines their commodity hardware platform with a hueristic adaptive in-memory cache, their latest "me-too" solution that compares with what IBM already offers in [IBM SolidDB]. In fact, their me-too is not even internally developed, but rather the result of an acquisition of a company called "Times Ten". I thought it was interesting that the only piece of Oracle software mentioned during Larry's 90-minute speach, was this piece of acquired technology. The new Exalytics product run on a small rack and grow, analyzing relational data, non-relational OLAP, as well as unstructured documents. The result is what Larry called "the Speed of Light".
He also mentioned that Bob Shimp would kick-off the Cloud later in the week. Given that Larry himself thought that Cloud was a stupid, over-marketed term that nobody has deployed over the past few years, to a complete believer, claiming that over 20 live demos will be given this year on Cloud.
Perhaps the funniest quote was his motivation to use Infiniband as the interconnect
"Ethernet was invented by Xerox when I was a child."
-- Larry Ellison
Here are some sessions that IBM is featuring on Monday. Note the first two are Solution Spotlight sessions at the IBM Booth #1111 where I will be most of the time.
IBM Cloud Computing Solutions for Oracle

10/03/11, 10:30 a.m. – 11:00 a.m., Solution Spotlight, Booth #1111 Moscone South
Presenter: Chuck Calio,Technical Strategist, IBM Systems & Technology Group
IBM is recognized in the IT industry as one of the "Big 6" cloud providers, along with Amazon, Google, Microsoft, Salesforce and Yahoo. This session will highlight how IBM Cloud offerings apply to Oracle applications.

Lowering Cost and increasing efficiency in your long term support of Oracle EPM and BI

10/03/11, 3:00 p.m. -- 3:30 p.m., Solution Spotlight, Booth #1111 Moscone South
Presenter: Matthew Angelstad, IBM Global Business Solutions - Oracle EPM (Hyperion) Practice Lead
In 2007, Oracle acquired Hyperion, a leading provider of performance management software. This session will show how IBM helps Oracle clients unify Enterprise Performance Management (EPM) and Business Intelligence (BI) in a cost-effective manner, supporting a broad range of strategic, financial and operational management processes.

Application Strategy: Charting the Course for Maximum Business Value

10/03/11, 3:30 p.m. – 4:30 p.m., OpenWorld session #39061
Presenter: Mike Marchildon, IBM
The industry is undergoing a shift from single Enteprise Resource Planning (ERP) application to second-generation platforms containing diverse yet interdependent systems. This shift presents opportunities and challenges for both IT and the business.
technorati tags: IBM, Oracle, Larry Ellison, keynote, SPARC-T4, Exadata, Exalogic, Exalytics, POWER7
Can you believe it has been five years since I started blogging?
(If you absolutely abhor the navel-gazing associated with blogging-about-blogging posts, then by all means stop reading now!)
Back in July 2005, IBM decided to merge together two brands, IBM eServer and IBM TotalStorage, into a single all-encompassing "IBM Systems" brand. Thus TotalStorage brand became the "IBM System Storage" product line of the "IBM Systems" brand. The next six months was spent renaming some (not all) of the products. The following January, I was named the Marketing Strategist for this new product line, with the mission to help promote the new naming convention.
We looked at possibly doing a regularly-scheduled podcast, but nobody back then, including myself, were familar with audio editing tools. Instead, we chose a blog. Most blogs at IBM are internal, safely hidden behind the firewall, accessible only to IBM employees. I wanted mine to be different, to be accessible to the public, clients, prospects, IBM Business Partners, and yes, even those working for IBM's various competitors. One thing I like about blogs is that if you have a typo, or make a mistake, you can go back and correct it after it has posted.
Marketing through social media is quite different than traditional marketing techniques. Management was supportive, but legal wanted to review and approval everything I wrote before I posted it onto my blog. Official IBM Press Releases, for example, go through a dozen reviews before they are finally made public. I refused. This kind of review and approval would ruin the blogging process.
Fortunately, this blog was not my first attempt at technical writing. Our legal counsel reviewed my past trip reports from various conferences, and decided to let me blog without review. Occasionally, someone will reivew my blog once already posted, and ask me to make some corrections. It reminds me of my favorite saying used heavily within IBM:
It is easier to get forgiveness than permission.
-- Arthur Bloch [Yale Book of Quotations]
Despite these delays, we managed to launch this blog in September 2006, just in time to celebrate the 50th anniversary of disk systems. IBM introduced the industry's first commercial disk system on September 13, 1956.
Over the years, this blog has helped sales reps and IBM Business Partners close deals, and address the FUD their prospects heard from competition. I have helped my readers get in touch with the right people within IBM. And, I have "sent the elevator back down", helping other IBMers launch their own blogs, including [Barry Whyte], [Elisabeth Stahl], and [Anthony Vandewerdt].
Today, bloggers have a profound impact on the world. Not everyone has a positive view on this. Bloggers and other users of social media have been seen as whistle-blowers for fraudulent corporations, as activists against corrupt governments and dictators, and as subject matter experts and fact checkers referenced during television and radio newscasts. In a recent movie, one of the major characters was a trouble-making blogger, and another character describes his blogging as nothing more than "graffiti with punctuation."
I want to thank all of my readers for making this the #1 most influential blog on IBM DeveloperWorks in 2011! This blog has been [published in a series of books], Inside System Storage Volume I and Volume II. And yes, before you all ask in the comments below, I am actively working on Volume III.
For a bit of nostalgia, I invite you to read my first 21 blog posts that I posted back in [September 2006].
technorati tags: IBM, anniversary, blogoversary, Lulu, TotalStorage, eServer, System Storage
This Thursday, June 16, 2011, marks IBM's Centennial 100 year anniversary. It happens to also be my 25th anniversary with IBM Storage. To avoid conflicts in celebrations, we decided to celebrate my induction into the "Quarter Century Club" (QCC) last Friday instead.
My colleague Harley Puckett was master of ceremonies. Here he is presenting me with a memorial plaque and keychain. Harley mentioned a few facts about 1986, the year I started working for IBM. Ronald Reagan was the US President, gasoline cost only 93 cents per gallon, and the US National Debt was only 2 trillion US dollars!
Here are my colleagues from DFSMShsm. From left to right: Ninh Le, Henry Valenzuela, Shannon Gallaher, and Stan Kissinger. I started in 1986 as aa software developer on DFHSM, and slowly worked my way up to be a lead architect of DFSMS.
Here are my colleagues from Tivoli Storage Manager (TSM). From left to right: Matt Anglin, Ken Hannigan and Mark Haye. I first met them when they worked in DFDSS, having moved from San Jose, CA down to Tucson. While I never worked on the TSM code itself, I did co-author some of the patents used in the product and other products like the 3494 Virtual Tape Server that makes use of TSM internally. I also traveled extensively to promote TSM, often with a TSM developer tagging along so they can learn the ropes about how to travel and make presentaitons.
Here are my colleagues from the disk team. From left to right: Joe Bacco, Carlos Pratt, Gary Albert, and Siebo Friesenborg. I worked on the SMI-S interface for the ESS 800 and DS8000 disk systems needed for the Tivoli Storage Productivity Center. Joe leads the "Disk Magic" tools team. Carlos and I worked on qualifying the various disk products to run with Linux on System z host attachment. Gary Albert is the Business Line Executive (BLE) of Enterprise Disk. Siebo Friesenborg was a disk expert on performance and disaster recovery, but is now enjoying his retirement.
Here are my colleagues from the support team. From left to right: Max Smith, Dave Reed, and Greg McBride. I used to work in Level 2 Support for DFSMS with Max and Dave, carrying a pager and managing the queue on RETAIN. We had enough people so that each Level 2 only had to carry the pager two weeks per year. On Monday afternoons, the person with the pager would give it to the next person on the rotation. On Monday, September 10, 2001, I got the pager, and the following morning, it went off to help all the many clients affected by the September 11 tragedy.
I worked with Greg McBride when he was in DFSMS System Data Mover (SDM), and then again in Tivoli Storage Productivity Center for Replication (TPC-R), and now he is supporting IBM Scale-Out Network Attached Storage (SONAS).
Standing in the light blue striped shirt is Greg Van Hise, my first office-mate and mentor when I first joined IBM. He went on to be part of the elite "DFHSM 2.4.0" prima donna team, then move on to be an architect for Tivoli Storage Manager (TSM).
I wasn't limited to inviting just coworkers, I was also able to invite friends and family. Here are Monica, Richard, and my mother. Normally, my parents head south for the summer, but they postponed their flights so that they could participate in my QCC celebration.
From left to right: my father, Greg Tevis, and myself. It was pure coincidence that my father would wear a loud darkly patterned shirt like mine. Honestly, we did not plan this in advance. Greg Tevis and I were lead architects for the Tivoli Storage Productivity Center, and Greg is now the Technology Strategist for the Tivoli Storage product line.
Here is Jack Arnold, fellow subject matter expert who works with me here at the Tucson Executive Briefing Center, sampling the food. We had quite the spread, including egg rolls, meatballs, luncheon meats, chicken strips, and fresh vegetables.
More colleagues from the Tucson Executive Briefing Center, from left to right, Joe Hayward, Lee Olguin, and Shelly Jost. Joe was a subject matter expert on Tape when I first joioned the EBC in 2007, but he has moved back to the Tape development/test team. Lee is our master "Gunny" sargeant to manage all of our briefing schedules. Shelly is our Client Support Manager, and was the one who organized all the food and preparations for this event!
Lastly, here are Brad Johns, myself, and Harley Puckett. Brad was my mentor for my years in Marketing, and has since retired from IBM and now works on his golf game. I would like to thank all of the Tucson EBC staff for pulling off such a great event, and all my coworkers, friends and family for coming out to celebrate this milestone in my career!
In addition to the plaque and keychain, Harley presented me with a book of congratulatory letters. If you would like to send a letter, it's not too late, contact Mysti Wood (mysti@us.ibm.com).
technorati tags: IBM, IBM100, QCC, Tucson, EBC, DFSMS, DFSMShsm, DFHSM, TSM, TPC
When I turned on the television last weekend, I saw large waves of water knock down rows of small houses. I thought I had caught the end of a bad Godzilla movie, but sadly it was not movie special effects. Mother Nature can be quite destructive. Over the past four days, Japan has been hit hard by a series of earthquakes and resulting tsunami.
(Note: Disasters can happen anywhere and at any time. Last month, New Zealand had an earthquake as well. It is best to always be prepared. If you haven't done so lately, check out the latest recommendations from the US Government [Ready.Gov] website.)
Several have asked me how this tragedy in Japan might affect IBM and its clients. Here is what I have gathered from various sources. All IBM Japan employees have survived, are safe and reporting no major injuries. IBM has four major facilities, near central part of the country around Tokyo, far from Sendai, the epicenter. All IBM buildings are still standing and operational. A few sections of Tokyo are affected by scheduled brown-outs in an effort to save electricity. Employees are asked to telecommute (a.k.a. work from home) to minimize traffic congestion.
Hakozaki - Headquarters and executive briefing center
Makuhari - Technical Center, where we often hold conferences and other events
Yamato - Research Facility, where R&D is done for IBM tape storage products
Toyosu - Service Delivery Center
I have been to Japan many times throughout my career. Back in the summer of 1995, IBM sent me to Osaka to help out clients in the aftermath of the Great Hanshin eartquake near Kobe. I remember it well, sending an email back to my team saying "It is 1995, and here in Japan it is 95 degrees and 95 percent humidiy." It was seven months after the earthquake, but people were still living in cardboard boxes and make-shift tents.
Many people asked if I will be going back to Japan to help out. I speak Japanese, can make sense of the Japanese Katakana characters on computer monitors, and am an expert in Disaster Recovery. However, the IBM Japan team is doing an awesome job helping our clients restore their data and recovery their business operations. Of course, if IBM needs me in Japan, I will gladly go, but so far, it doesn't seem that I am needed there.
Instead, I will support Japan remotely from my little office here in Tucson, Arizona. If you want to help, contribute to the Red Cross [Japan Earthquake and Pacific Tsunami] fund. 

technorati tags: IBM, Japan, Earthquate, Tokyo, Hakozaki, Makuhari, Yamato, Toyosu, Hanshin, Kobe, Osaka
| | |
| --- | --- |
| | Guest Post: The following post was written by Tom Rauchut, IBM Infrastructure Architect and Advanced Technical Sales Specialist for Tivoli Automation. Tom is at IBM Pulse 2011 for Las Vegas this week, and has offered to send his observations. |
---
The expo opened last night. There are so many fantastic demos and product experts. Las Vegas has a Tivoli buzz on right now.
I'm working in the Hands On Labs room. Pulse labs kicked off Sunday. The hot topics included Cloud, Storage, Automation, Asset Management, and BigFix (a company IBM [acquired and products will now be called Tivoli Endpoint Manager])
I'll try to get you a few updates along the way.
technorati tags: IBM, Pulse, #ibmpulse, BigFix, Cloud, Storage, Asset Management, Automation, BigFix
Actually, if the title confuses you, it is because it has a double meaning.
Meaning 1: IBM earned almost 100 Billion dollars (USD)

IBM's 2010 [earnings report is now available], for the full year 2010 and the fourth quarter. IBM had $99.9 Billion dollars (USD) in revenue, almost $100 Billion dollars that it had set out as a vision in the 1980s. IBM Storage contributed with 8 percent growth, not bad for a year Dave Barry considers [one of the worst years ever.].

IBM President and CEO Sam Palmisano granted me a chunk of IBM stock in appreciation of my efforts towards the 2010 success! Actually, he gave stock to a whole bunch of IBMers, not just me, and they all deserve it also.  Woo hoo!


Meaning 2: IBM is almost 100 years old

That's right, this upcoming June 16, 2011, IBM turns 100 years old. This Centennial date also happens to be my 25th year anniversary working in IBM Storage, which IBM calls joining the Quarter Century Club, or QCC for short. So, I am looking forward to plenty of cake and fireworks on that day!
I am looking forward to a year-long celebration on both counts!
technorati tags: IBM, Centenial, QCC, Revenues, Earnings, 4Q10, Dave Barry
Happy New Year, everyone!
Every year, I make [New Year's Resolutions]. Long time readers will recognize this has been a tradition on my blog. In 2007, I spread out my resolutions in a full week of posts: [Data Center Resolutions], [Staying on Budget], [Lighten Up!], [Hone your Tools and Skills]. In 2008, I was so busy blogging about IBM's acquisition of XIV that I did not get around to posting about my New Year's Resolutions until the [second week of January]. In 2009, I chose [more traditional resolutions], based in part on Albrecht Powell's [Top 10 Resolutions].
Last year, I took a different approach. I decided to NOT publicize my resolutions to see if that allowed me to stick to them better. Here is what I had resolved for 2010:
Adopt Austerity

The recession took quite a hit on my investments and retirement plans in 2009, so in 2010 I decided to increase my savings rate, and diversify my portfolio. I consider this one a success, with special thanks to the financial planners at Fidelity Investments for their assistance in this area. This was not a matter of sticking to a strict budget as much as not wasting money on so many expensive, frivolous things.

Publish "Inside System Storage: Volume II"

Yes, I finally got my latest book published last October, a follow-on to my 2007 hit "Inside System Storage: Volume I". I have already begun working on Volume III, so I consider this one a success.

Quit Exercising at the Gym

From 2003 to 2009, I had worked out consistently at my gym three times a week for an hour, under the supervision of a personal trainer, with 20 minutes of cardio work-out on a treadmill followed by 40 minutes of weight lifting with kettle-bells, free weights and resistance machines. During that time, I did not gain muscle mass nor lose body fat. Rather than admit their failure, my personal trainers indicated this is merely a "plateau". Armed with the Time article [Why Exercise Won't Make You Thin], I decided to save thousands of dollars in 2010 by discontinuing my gym membership and expire my contract with my personal trainer. End result? I was two pounds lighter after 12 months, so I consider this one a success.

Re-Decorate my Living Room

With all the money I saved, I resolved to re-decorate my living room. I hired a professional interior decorator, bought new furniture, and had the entire room re-painted to new colors. This also means keeping the room uncluttered, which I have managed to do so far. So, this one is also a success.

Learn Cloud Computing

This last one was work-related. Every year, IBM asks its employees to document their "Personal Business Commitments", or PBCs, which then forms the basis of your year-end appraisal. IBM is what the industry calls a "Results-Oriented Work Environment" [ROWE]. These PBCs are an opportunity to identify areas to stretch and grow, broaden your skills and strengthen your expertise. I was able to get access to IBM's cloud computing offerings to get hands-on experience, as well as research this topic on various fronts so that I could provide advice to clients and make presentations at various briefings and events. While there is still much more to learn, I consider this a success.

So, while I seem to have been more successful keeping my resolutions by not making them public up front, I think the more important pattern is that when I made many resolutions, I had only a 60 to 80 percent success rate, but when I had fewer, I was more likely to keep them all and be less stressed about it. This could also be psychological, in that feeling that you have completed 60 to 80 percent allows you to forgive yourself for not keeping some of the more difficult resolutions. Therefore, this year, I have decided to focus on a single resolution, to reduce my body fat percentage.

Rather than make you wait 12 months for my results, I plan to provide periodic updates in this blog on my progress. Over the vacation break, I bought and read Tim Ferriss' book [Four Hour Body]. Mo and I are in this together, and we have started Tim's [Slow-Carb diet] last Sunday. My doctor has advised me on which vitamins and supplements to take. Rather than go back to the gym, I will just focus on walking at least 20,000 steps per week, which works out roughly to 10 kilometers.

I'll keep you posted.

technorati tags: Tim Ferriss, Four Hour Body
Continuing my post-week coverage of the [Data Center 2010 conference], Wednesday evening we had six hospitality suites. These are fun informal get-togethers sponsored by various companies. I present them in the order that I attended them.
Intel - The Silver Lining

| | |
| --- | --- |
| | Intel called their suite "The Silver Lining". Magician Joel Bauer wowed the crowds with amazing tricks. |

| | |
| --- | --- |
| Intel handed out branded "Snuggies". I had to explain to this guy that he was wearing his backwards. | |

i/o - Wrestling with your Data Center?

| | |
| --- | --- |
| | New-comer "i/o" named their suite "Wrestling with your Data Center?" They invited attendees frustrated with their data centers to don inflated Sumo Wrestling suits. |

APC by Schneider Electric - Margaritaville

This will be the last year for Margaritaville, a theme that APC has used now for several years at this conference.

Cisco - Fire and Ice

| | |
| --- | --- |
| Cisco had "Fire and Ice" with half the room decorated in Red for fire, and White for ice. | |

| | |
| --- | --- |
| | This is Ivana, welcoming people to the "Ice" side. |

| | |
| --- | --- |
| This is Peter, on the "Fire" side. Cisco tried to have opposites on both sides, savory food on one side, sweets on the other. | |

CA Technologies - Can you Change the Game?

CA Technologies offered various "sports games", with a DJ named "Coach".

Compellent - Get "Refreshed" at the Fluid Data Hospitality Suite

Compellent chose a low-key format, "lights out" approach with a live guitarist. They had hourly raffles for prizes, but it was too dark to read the raffle ticket numbers.
Of the six, my favorite was Intel. The food was awesome, the Snuggies were hilarious, and the magician was incredibly good. I would like to think Intel for providing me super-secret inside access to their Cloud Computing training resources and for the Snuggie!
technorati tags: IBM, LSC29, Intel, Snuggie, APC, Schneider Electric, Margaritaville, CA+Technologies, Cisco, Compellent, Joel Bauer
On Wikibon, David Floyer has an article titled [SAS Drives Tier 1 to New Levels of Green] that focuses on the energy efficiency benefits of newer Serial-Attach SCSI (SAS) drives over older Fibre Channel (FC) drives. This makes sense, as R&D budgets have been spent on making newer technologies more "green".
Fellow blogger Hu Yoshida (HDS) encourages people to [Invest in the Future with SAS, SATA and SFF], referring to Figure 1.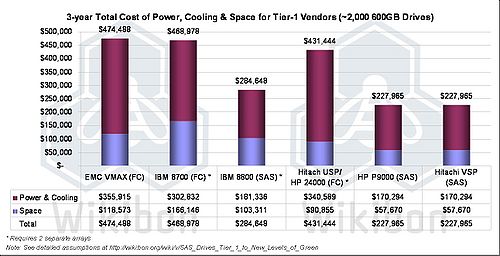 Of course, people might consider this an [apples-to-oranges] comparison. Not only are we changing from FC to SAS technology, we are also changing from 3.5-inch drives to small form factor (SFF) 2.5-inch drives. It seems odd to specify 2000 drives, when only two of the five scale up to that level. Few systems in production, from any vendor, have more than 1000 drives, so it would have seemed that would have been a fairer comparison.
However, Hu's conclusion that the combination of SAS and SFF provides better performance and energy efficiency for both IBM DS8800 and HDS VSP than FC-based alternatives from any vendor seems reasonably supported by the data.
Meanwhile, fellow blogger David Merrill (HDS) pokes fun at IBM DS8800 in Figure 2 in his post [Winner o' the green]. This second comparison was for 4PB of raw capacity, which 4 of the 5 can handle easily using 2TB SATA drives, but the DS8800 is based on SAS technology and does not support 2TB SATA drives. A performance-oriented configuration with four distinct DS8800 boxes employing 600GB SAS drives is used instead, causing the data for the DS8800 to stick out like a sore thumb, or perhaps more intentionally as a middle finger.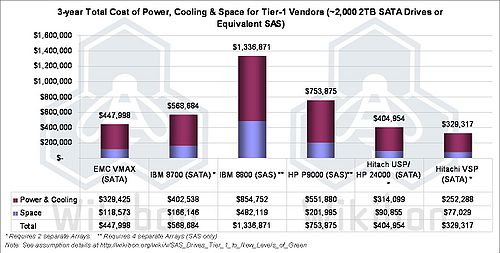 The main take-away here is that IBM offers both the DS8700 for capacity-optimized workloads, and the DS8800 for performance-optimized workloads. Some competitors may have been spreading FUD that the DS8700 was withdrawn last month, it wasn't. As you can see from the data presented, there are times where a DS8700 might be more preferable than a DS8800, depending on the type of workloads you plan to deploy. IBM offers both, and will continue to support existing DS8700 and DS8800 units in the field for many years to come.
technorati tags: IBM, DS8700, DS8800, Wikibon, Hu Yoshida, David Merrill, Davud Floyer