The developerWorks Connections platform will be sunset on December 31, 2019. On January 1, 2020, this blog will no longer be available. More details available on our FAQ.
Continuing my post-week coverage of the [Data Center 2010 conference], Wednesday evening we had six hospitality suites. These are fun informal get-togethers sponsored by various companies. I present them in the order that I attended them.
Intel - The Silver Lining

| | |
| --- | --- |
| | Intel called their suite "The Silver Lining". Magician Joel Bauer wowed the crowds with amazing tricks. |

| | |
| --- | --- |
| Intel handed out branded "Snuggies". I had to explain to this guy that he was wearing his backwards. | |

i/o - Wrestling with your Data Center?

| | |
| --- | --- |
| | New-comer "i/o" named their suite "Wrestling with your Data Center?" They invited attendees frustrated with their data centers to don inflated Sumo Wrestling suits. |

APC by Schneider Electric - Margaritaville

This will be the last year for Margaritaville, a theme that APC has used now for several years at this conference.

Cisco - Fire and Ice

| | |
| --- | --- |
| Cisco had "Fire and Ice" with half the room decorated in Red for fire, and White for ice. | |

| | |
| --- | --- |
| | This is Ivana, welcoming people to the "Ice" side. |

| | |
| --- | --- |
| This is Peter, on the "Fire" side. Cisco tried to have opposites on both sides, savory food on one side, sweets on the other. | |

CA Technologies - Can you Change the Game?

CA Technologies offered various "sports games", with a DJ named "Coach".

Compellent - Get "Refreshed" at the Fluid Data Hospitality Suite

Compellent chose a low-key format, "lights out" approach with a live guitarist. They had hourly raffles for prizes, but it was too dark to read the raffle ticket numbers.
Of the six, my favorite was Intel. The food was awesome, the Snuggies were hilarious, and the magician was incredibly good. I would like to think Intel for providing me super-secret inside access to their Cloud Computing training resources and for the Snuggie!
technorati tags: IBM, LSC29, Intel, Snuggie, APC, Schneider Electric, Margaritaville, CA+Technologies, Cisco, Compellent, Joel Bauer
On Wikibon, David Floyer has an article titled [SAS Drives Tier 1 to New Levels of Green] that focuses on the energy efficiency benefits of newer Serial-Attach SCSI (SAS) drives over older Fibre Channel (FC) drives. This makes sense, as R&D budgets have been spent on making newer technologies more "green".
Fellow blogger Hu Yoshida (HDS) encourages people to [Invest in the Future with SAS, SATA and SFF], referring to Figure 1.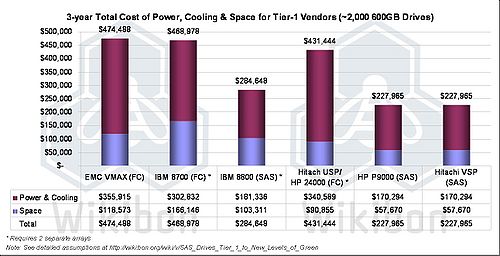 Of course, people might consider this an [apples-to-oranges] comparison. Not only are we changing from FC to SAS technology, we are also changing from 3.5-inch drives to small form factor (SFF) 2.5-inch drives. It seems odd to specify 2000 drives, when only two of the five scale up to that level. Few systems in production, from any vendor, have more than 1000 drives, so it would have seemed that would have been a fairer comparison.
However, Hu's conclusion that the combination of SAS and SFF provides better performance and energy efficiency for both IBM DS8800 and HDS VSP than FC-based alternatives from any vendor seems reasonably supported by the data.
Meanwhile, fellow blogger David Merrill (HDS) pokes fun at IBM DS8800 in Figure 2 in his post [Winner o' the green]. This second comparison was for 4PB of raw capacity, which 4 of the 5 can handle easily using 2TB SATA drives, but the DS8800 is based on SAS technology and does not support 2TB SATA drives. A performance-oriented configuration with four distinct DS8800 boxes employing 600GB SAS drives is used instead, causing the data for the DS8800 to stick out like a sore thumb, or perhaps more intentionally as a middle finger.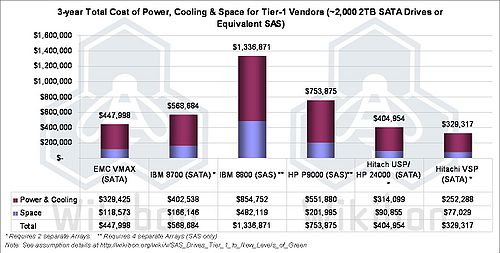 The main take-away here is that IBM offers both the DS8700 for capacity-optimized workloads, and the DS8800 for performance-optimized workloads. Some competitors may have been spreading FUD that the DS8700 was withdrawn last month, it wasn't. As you can see from the data presented, there are times where a DS8700 might be more preferable than a DS8800, depending on the type of workloads you plan to deploy. IBM offers both, and will continue to support existing DS8700 and DS8800 units in the field for many years to come.
technorati tags: IBM, DS8700, DS8800, Wikibon, Hu Yoshida, David Merrill, Davud Floyer
I've been so busy with travel and transitioning to my new laptop that I finally now have a chance to catch my breath.
I saw this great article by Nathan Willis on how to [Spring Clean your Photo Collection]. Since I took over 1100 pictures on my last vacation down the Great River Road, this seemed like a good weekend project. For more about my vacation, see my posts [Eight States in Eight Days], and [More Like Seven States in Nine Days].
I use two Cloud-Computing based photo-sharing services, [KodakGallery.com] and [Flickr.com], which serve two completely different purposes.
Kodak Gallery

Formerly, this was Ofoto, but was acquired by Kodak. I started using this service back in 2002, and had over 12,000 photos uploaded over the past 8 years. I was able to share all my photos with my friends and family, and they could simply order whichever prints they want and have them shipped directly to them. They have incredibly high-professional photo-based products, like calendars and coffee table books, that you can produce from your own photos.

Sadly, the fine folks at Kodak Gallery decided they did not want my business anymore, and purged my 36GB of files from their system. To be fair, they did hint that they were having financial problems with an "Archive CD" offering, which would have allowed me to get a set of CDs or DVDs holding the high-resolution graphics of all my uploaded photos. This would have cost $150 or so, and if you uploaded more photos, there was no option to get the "delta" of photos uploaded since your last archive, so it would have cost me $150 every year or so to get an updated "backup" of my files. It seemed expensive and unnecessary at the time, given that I was sure that Kodak was not going out of business anytime soon, and that I was sure they took their own backups of all the photos that people put in their charge.

The problem is that Kodak Gallery was a free service, subsidized by people ordering physical prints and other products. As such, I got lots of email from Kodak every month, offering me free shipping, special promotions, and seasonal discounts. It was so much that I had all email from them automatically routed to a different sub-folder, that I would never look at, unless I was about to make a purchase and needed to find the best coupon code or free shipping option currently offered. This also had the unintended consequence that I missed the following series of notes:

Important: From the Gallery's General Manager (April 17)
Second notice: Our storage policy has changed (April 24)
Final notice: Your stored photos may be deleted (May 8)
We don't want to delete your photos (May 22)

All the notes mentioned the new "Storage Policy", here is a quick excerpt:

"The fact is, we store billions of photos for our 75 million members. The quality storage service the Gallery provides is significant in terms of our business costs.

So that we can provide the highest level of service, we're now asking all Gallery customers to make an annual nominal purchase in exchange for photo storage. We've modified our Terms of Service policy accordingly: if your Gallery photo storage equals 2 gigabytes or less, we're asking you to spend $4.99 annually; if more than 2 gigabytes, $19.99 annually.*

One last thought: We value and appreciate your business, and we want to continue our relationship with you in a spirit of mutual support and benefit. That's always been the Kodak way."

Since they had no response from me, nor saw any purchase activity, my 36GB of files were deleted on June 17. I discovered all of this when I contacted Kodak to find out where my files were last weekend during my "Spring Cleaning". I asked if I could at least get the final set of "Archive CDs", but they told me they were purged completely.

I understand the economy is in a recession, and many free cloud-based services are losing money and going under.  I can understand they were faced with tough choices, Kodak opted to switch from a free service to fee-based service.

Albert Einstein defined Insanity as "doing the same thing over and over again and expecting different results." In general, if I am trying to get a hold of someone, and email isn't working, then I try something different, try them by phone, try them by snail mail, and so on. With the deluge of emails, people sometimes declare "email bankruptcy" by deleting everything in their inbox after coming back from vacation, or implement filters to automatically route mail to separate folders. I think it is unrealistic to expect that everybody reads every piece of email that you send them.

I would have liked for Kodak to have done at least one or more of the following, given that I had been such a long time customer, and they had earned hundreds of dollars in revenues from all the purchases, over the years, not just directly from me, but from my friends and family, of photos I uploaded to their website:

Send me a letter after not receiving any response from the first three notices. They sent me promotional materials and offers for 20 percent discounts, so they had my active snail mail address on file correctly. With 75 million users, it would have cost $33 million USD to send out snail mail letters to everyone, but for the subset of power-users who have more than 2GB of files, a snail mail letter might have gotten more $19.99 purchases they needed to stay in business.
Called me on the phone. Yes, they also had my phone number in their database.
Go ahead and charged my credit card on file $19.99 without a purchase, and given me a credit towards a future purchase. Something like: "You have not purchased anything in the last 12 months, so we charged your credit card, per our Terms of Service, but you can use this as a credit towards something in the next 60 days."

On the plus side, my "Spring Cleaning" project was done. You can't organize what you don't have anymore.

Flickr from Yahoo

I started using Flickr back in 2008 to hold photos and graphics for this blog. Flickr holds various sizes of photos that I can use directly with HTML tags. Clicking on the photo in the blog will take you to Flickr's service and allow you to see the large size resolution. The "Lotus Connections" that I have on IBM DeveloperWorks only offers 24MB of photo space, so Flickr was a nice alternative.

Unfortunately, Flickr had adopted a new policy that only the most recent 200 pictures would be visible, and I had already reached 170 photos. Rather than start deleting photos from my older blog posts, I opted to upgrade to the "Flickr Pro" account, with a fee of only $24.99 per year.

Hopefully, by paying an annual fee and choosing a successful and profitable Cloud-Computing company, I won't experience another traumatic loss. However, it does remind me that it is my responsibility to keep my own copies of these photos, just in case.
Fortunately, many "photo product" providers are connected to Flickr. For example, my publisher [<a href="http://www.lulu.com/">Lulu.com</a>] can access my Flickr photos to make photo-based coffee table books. As for my last eight years of memories that were lost, I will just have to treat it as if my house burned down. Rebuild and move on.
technorati tags: Spring Cleaning, photography, Kodak, Kodak Gallery, Flickr, Yahoo, Cloud Computing, Photo Sharing
Well, I'm back from my adventure. For those who did not follow my tweets, here is a quick recap. Not counting the day we flew from Tucson to Minneapolis, or the day we flew from Memphis back to Tucson, Mo and I spent nine days on the road, covering 1549 miles, or roughly two thirds of the Mississippi River. 

Well, now I have a lot of unread emails and blogs to get through! My next trip is the [IBM System Storage Technical University] in Washington DC, July 26-30.
Continuing my rant from Monday's post [Time for a New Laptop], I got my new laptop Wednesday afternoon. I was hoping the transition would be quick, but that was not the case. Here were my initial steps prior to connecting my two laptops together for the big file transfer:
Document what my old workstation has

Back in 2007, I wrote a blog post on how to [Separate Programs from Data]. I have since added a Linux partition for dual-boot on my ThinkPad T60.

| | | | | |
| --- | --- | --- | --- | --- |
| Partition | Size | Format | Mount | Description |
| /dev/sda1 | 26GB | NTFS | C: | Windows XP SP3 operating system and programs |
| /dev/sda2 | 12GB | ext3 | /(root) | Red Hat Enterprise Linux 5.4 |
| /dev/sda5 | 1GB | swap | swap | Linux swap |
| /dev/sda6 | 80GB | NTFS | D: | My Documents and other data |

I also created a spreadsheet of all my tools, utilities and applications. I combined and deduplicated the list from the following sources:

Control Panel -> Add/Remove programs
C:\Program Files
Start -> Programs panels
Program taskbar at bottom of screen
D:\Install-Files

The last one was critical. Over the years, I have gotten in the habit of saving those ZIP or EXE files that self-install programs into a separate directory, D:/Install-Files, so that if I had to unintsall an application, due to conflicts or compatability issues, I could re-install it without having to download them again.

So, I have a total of 134 applications, which I have put into the following rough categories:

AV - editing and manipulating audio, video or graphics
Files - backup, copy or manipulate disks, files and file systems
Browser - Internet Explorer, Firefox, Opera and Google Chrome
Communications - Lotus Notes and Lotus Sametime
Connect - programs to connect to different Web and Wi-Fi services
Demo - programs I demonstrate to clients at briefings
Drivers - attach or sync to external devices, cell phones, PDAs
Games - not much here, the basic solitaire, mindsweeper and pinball
Help Desk - programs to diagnose, test and gather system information
Projects - special projects like Second Life or Lego Mindstorms
Lookup - programs to lookup information, like American Airlines TravelDesk
Meeting - I have FIVE different webinar conferencing tools
Office - presentations, spreadsheets and documents
Platform - Java, Adobe Air and other application runtime environments
Player - do I really need SIXTEEN different audio/video players?
Printer - print drivers and printer management software
Scanners - programs that scan for viruses, malware and adware
Tools - calculators, configurators, sizing tools, and estimators
Uploaders - programs to upload photos or files to various Web services

Backup my new workstation

My new ThinkPad T410 has a dual-core i5 64-bit Intel processor, so I burned a 64-bit version of [Clonezilla LiveCD] and booted the new system with that. The new system has the following configuration:

| | | | | |
| --- | --- | --- | --- | --- |
| Partition | Size | Format | Mount | Description |
| /dev/sda1 | 320GB | NTFS | C: | Windows XP SP3 operating system, programs and data |

There were only 14.4GB of data, it took 10 minutes to backup to an external USB disk. I ran it twice: first, using the option to dump the entire disk, and the second to dump the selected partition. The results were roughly the same.

Run Workstation Setup Wizard

The Workstation Setup Wizard asks for all the pertinent location information, time zone, userid/password, needed to complete the installation.

Re-Partition Disk Drive

I burned a 64-bit version of [System Rescue CD] and ran [Gparted] to re-partition this disk into the following:

| | | | | |
| --- | --- | --- | --- | --- |
| Partition | Size | Format | Mount | Description |
| /dev/sda1 | 40GB | NTFS | C: | Windows XP SP3 operating system and programs |
| /dev/sda2 | 15GB | ext3 | /(root) | Ubuntu Desktop 10.04 LTS |
| /dev/sda3 | 15GB | ext3 | unused | unused |
| /dev/sda5 | 5GB | swap | swap | Linux swap |
| /dev/sda6 | 245GB | NTFS | D: | My Documents and other data |




Redefine Windows directory structure

I made two small changes to connect C: to D: drive.

Changed "My Documents" to point to D:\Documents which will move the files over from C: to D: to accomodate its new target location. See [Microsoft procedure] for details.
Edited C:\notes\notes.ini to point to D:\notes\data to store all the local replicas of my email and databases.

Install Ubuntu Desktop 10.04 LTS

My plan is to run Windows and Linux guests through virtualization. I decided to try out Ubuntu Desktop 10.04 LTS, affectionately known as Lucid Lynx, which can support a variety of different virtualization tools, including KVM, VirtualBox-OSE and Xen. I have two identical 15GB partitions (sda2 and sda3) that I can use to hold two different systems, or one can be a subdirectory of the other. For now, I'll leave sda3 empty.

Take another backup of my new workstation

I took a fresh new backup of paritions (sda1, sda2, sda6) with Clonezilla.
The next step involved a cross-over Ethernet cable, which I don't have. So that will have to wait until Thursday morning.
technorati tags: IBM, Lenovo, ThinkPad, T60, T410, Intel, Clonezilla, SysRescCD, Gparted, Windows, Ubuntu, Linux, Lucid, LTS