The developerWorks Connections Platform is now in read-only mode and content is only available for viewing. No new wiki pages, posts, or messages may be added. Please see our FAQ for more information. The developerWorks Connections platform will officially shut down on March 31, 2020 and content will no longer be available. More details available on our FAQ. (Read in Japanese.)
Well, it's that Back-To-School time again! Mo's thirteen-year-old reluctantly enters the eight grade, still upset the summer ended so abruptly. Richard's nephew returns to the University of Arizona for another year. Natalie has chosen to move to Phoenix and pursue a post-grad degree at Arizona State University. They all have two things in common, they all want a new computer, and they are all on a budget.
Fellow blogger Bob Sutor (IBM) pointed me to an excellent article on [How to Build Your Own $200 PC], which reminded me of the [XS server I built] for my 2008 Google Summer of Code project with the One Laptop per Child organization. Now that the project is over, I have upgraded it to Ubuntu Desktop 10.04 LTS, known as Lucid Lynx. Building your own PC with your student is a great learning experience in itself. Of course, this is just the computer itself, you still need to buy the keyboard, mouse and video monitor separately, if you don't already have these.
If you are not interested in building a PC from scratch, consider taking an old Windows-based PC and installing Linux to bring it new life. Many of the older PCs don't have enough processor or memory to run Windows Vista or the latest Windows 7, but they will all run Linux.
(If you think your old system has resale value, try checking out the ["trade-in estimator"] at the BestBuy website to straighten out your misperception. However, if you do decide to sell your system, consider replacing the disk drive with a fresh empty one, or wipe the old drive clean with one of the many free Linux utilities. Jason Striegel on Engadget has a nice [HOWTO Erase your old hard disk drive] article. If you don't have your original manufacturer's Windows installation discs, installing Linux instead may help keep you out of legal hot water.)
Depending on what your school projects require, you want to make sure that you can use a printer or scanner with your Linux system. Don't buy a printer unless it is supported by Linux. The Linux Foundation maintains a [Printer Compatability database]. Printing was one of the first things I got working for my Linux-based OLPC laptop, which I documented in my December 2007 post [Printing on XO Laptop with CUPS and LPR] and got a surprising following over at [OLPC News].
To reduce paper, many schools are having students email their assignments, or use Cloud Computing services like Google Docs. Both the University of Arizona and Arizona State University use Google Docs, and the students I have talked with love the idea. Whether they use a Mac, Linux or Windows PC, all students can access Google Docs through their browser. An alternative to Google Docs is Windows Live Skydrive, which has the option to upload and edit the latest Office format documents from the Firefox browser on Linux. Both offer you the option to upload GBs of files, which could be helpful transferring data from an old PC to a new one.
Lastly, there are many free video games for Linux, for when you need to take a break from all that studying. Ever since IBM's [36-page Global Innovation Outlook 2.0] study showed that playing video games made you a better business leader, I have been encouraging all students that I tutor or mentor that playing games is a more valuable use of your time than watching television. IBM considers video games the [future of learning]. Even the [Violent Video Games are Good for Kids]. It is no wonder that IBM provides the technology that runs all the major game platforms, including Microsoft Xbox360, Nintendo Wii and Sony PlayStation.
(FTC disclosure: I work for IBM. IBM has working relationships with Apple, Google, Microsoft, Nintendo and Sony. I use both Google Docs and Microsoft Live Skydrive for personal use, and base my recommendations purely on my own experience. I own stock in IBM, Google and Apple. I have friends and family that work at Microsoft.  I own an Apple Mac Mini and Sony PlayStation. I was a Linux developer earlier in my IBM career. IBM considers Linux a strategic operating system for both personal and professional use. IBM has selected Firefox as its standard browser internally for all employees. I run Linux both at home and at the office. I graduated from the University of Arizona, and have friends who either work or take classes there, as well as at Arizona State University.)
Linux skills are marketable and growing more in demand. Linux is used in everything from cellphones to mainframes, as well as many IBM storage devices such as the IBM SAN Volume Controller, XIV and ProtecTIER data deduplication solution. In addition to writing term papers, spreadsheets and presentations with OpenOffice, your Linux PC can help you learn programming skills, web design, and database administration.
To all the students in my life, I wish you all good things in the upcoming school year!
technorati tags: IBM, Linux, Bob Sutor, BestBuy, Ubuntu, Video Games, erase, hard+disk, Google Docs, Windows Live, Skydrive, Linux Foundation, OLPC, Google, Summer of Code, Firefox, xBox360, Nintendo, Wii, Sony, Playstation
Hello everyone!
For those of you worried about my mysterious absence on the blogosphere, I am getting better. Sorry for not posting much lately, I have had more serious issues to worry about. I am awaiting results on whether I have Dengue fever from Brazil, Avian flu from Thailand, Malaria from Kenya, or perhaps it is just food poisoning from the otherwise fabulous French cuisine I ate last week in the South Pacific. Well, I am back in town for a while, and hopefully will recover to full health, and have some time to reflect my thoughts on storage topics.
Speaking of which, a lot has happened while I was out. Let's take a quick look.
Following our introduction of the world's first encryption-capable tape drive, the TS1120, IBM now offers higher capacity 700GB cartridges, in standard 3592 format.
The DS8000 Turbo disk system now is being offered with a flexible choice of warranty periods, 1-year, 2-year, 3-year and 4-year. Since IBM was the only one to offer 4-year warranties, it was sometimes difficult to compare apples-to-apples with our competition that offered lesser warranty periods. Now, we can match the warranty period you need, so the focus can shift on the added value the DS8000 Turbo provides at the right price.
IBM's newest low-end half-high tape drive, the TS2230 Tape Drive Express Model H3L, part of our Express portfolio of offerings designed for small and medium-sized businesses (SMB). It supports the latest LTO Generation 3 specification, so fully compatible with our larger tape systems, as well as the LTO-based gear from HP and Quantum.
Stay tuned![
Read More
]
This week I was in Palm Springs in meetings with clients, prospects, business partners and IBM sales reps.
Tuesday consisted of "outdoor meetings", but the high winds caused some people to arrive late, and others to land in the various sand traps and water hazards. A "welcome reception" event allowed everyone to socialize and get to know the IBM experts and executives. Two of my colleagues, Mike Stanek and Dave Wyatt, were with me also in Australia last week, and so the three of us were discussing recovery from jet lag.
Wednesday was organized as a main tent event, where everyone met into one large room to hear our strategy,latest set of offerings, and customer testimonials. This was done indoors, of course, which was a good thing as the winds were now gusting up to 50 miles per hour, knocking over windmills and making the local news.
Here's a quick sample from the testimonials:
An insurance company virtualized their IBM DS8000, DS4000, ESS 800 and EMC DMX3 high-end disk with theIBM System Storage SAN Volume Controller and got higher availability and performance. Data migrationefforts that used to take six(6) hours of admin time now took less than one hour, and with no system downtime.They have a total of 350TB virtualized under SVC now, but plan to extend this for a variety of other projects.

A bank presented their success using "Global Mirror" (IBM's asynchronous two-site replication disk mirroring capability).Their previous "business continuity" plan was called 2-20-24 for 2 sites that were 20 miles apart and recovery time objective (RTO) of 24 hours. With the events of Hurricane Katrina, this was considered inadequate, and a new2-200-6 plan was requested, across 200 miles with a recovery time objective of only 6 hours. The chose to deploythis one application at a time, to learn and grow by experience in each phase. They started with Microsoft Exchange e-mail application running under VMware on BladeCenter servers, and wereable to recover remotely within 1 hour. They are now looking to refine and automate the recovery process, perhapswith IBM TotalStorage Productivity Center for Replication and Geographically Dispersed Open Clusters (GDOC).

A healthcare provider presented their success with tiered storage, managing a 475TB mix of IBM DS8000, DS6000,DS4000 and HP EVA disk arrays. The key was having centralized storage management from IBM, which allowedthem to shrink provisioning time from 3 weeks average, to now 96% of their storage provisioning requests are completedin less than 1 week. Moving data between storage tiers was non-disruptive, and the significantcosts savings greatly justified the change in "mindset" that required some training on the new environment.
Thursday we offered a series of "workshops" on specific topics. These were interactive sessions to discuss installation, design and deployment of various solutions. The event ended early enough so that people couldreturn home, or go to the practice range, which reminded me of this inspiring video on
How to play golf as well as Tiger Woods
.
The event got great reviews, and I look forward to the next one. Until then, enjoy the weekend!


technorati tags: IBM, customer, event, Palm, Desert, Springs, golf, Tiger Woods, Mike Stanek, Dave Wyatt, DS8000, DS6000, DS4000, tiered, GDOC, SVC, Global Mirror, virtualization, disk, DMX3, HP, EMC
[
Read More
]
Well, it's Tuesday again, and you know what that means... IBM announcements!
Last week, IBM had a big storage launch of various products, with the June 4 announcements at the IBM Edge 2012 conference. I provided highlights in my post [IBM Edge Announcements]. As promised, here are the rest of the announcements.
SONAS v1.3.2

SONAS v1.3.2 adds support for management by the newly announced IBM Tivoli Storage Productivity Center v5.1 release. Also, IBM now officially supports "Gateway configurations" that have the storage nodes connected to XIV or Storwize v7000 disk systems. These gateway configurations offer new flexible choices and options for our ever-expanding set of clients.

ProtecTIER appliances and gateways

IBM ProtecTIER line of data deduplication appliances and gateways add CIFS file system support. Rather than using OST or a VTL interface, you now have CIFS as a new option for host attach. Also, IBM introduces the new TS7620 Express model, with options for 5.4TB and 11TB in capacity, replacing the previous TS7610 entry level.

LTFS Storage Manager

The Linear Tape File System (LTFS) allows files to be stored on tape cartridges in a manner that allows them to be mounted as file systems, much like a USB memory stick. The new LTFS Storage Manager software allows you to manage a collection of files across a set of cartridges, moving files from one cartridge to another, consolidating valid data onto fewer cartridges, and removing files no longer needed. This is sometimes referred to as "lifecycle management".

Tape System Library Manager

When IBM first introduced the "shuttle" that allowed up to fifteen TS3500 tape libraries to be connected together into a single system, only HPSS customers could take advantage of this. Software was required to coordinate the movement of cartridges from one library to another. The new IBM Tape System Library Manager now offers an alternative to HPSS for coordinating this activity.

DS8000 v6.3 microcode

IBM now offers 400GB solid-state drives. IBM's market leading support for Full Disk Encryption (FDE) is now extended to cover all drive speeds, from the slowest 7200RPM NL-SAS drives up to the fastest solid-state. IBM Easy Tier extends its super-easy implementation to work across all three of these tiers including encryption.

Implementation Services

IBM now offers implementation services for IBM XIV Gen3 storage system, and the N series models 3220 and 3240.
This week I am on the road visiting various clients. Next week, Moscow Russia for the "Edge Comes to You" event!
technorati tags: IBM, SONAS, TPC, Tivoli Storage, Productivity Center, ProtecTIER, TS7650, TS7620, CIFS, OST, VTL, LTFS, Storage Manager, Tape System Library Manager, DS8000, DS8800, XIV Gen3, N3220, N3240, Edge, ECTY
I'm back. Thanks for all the comments.
For those who participated in Clark Hodge's "Where's Tony" contest,I was in Croatia, Bosnia and Herzogovina. There were optional side-tours to Montenegro and Slovenia, but I decided not to incur the added time and expense with those.
For those wondering where to go this Summer for vacation, I recommend Croatia. It is a beautiful country, with clean cities, good road conditions, and a calm Adriatic sea as we went from island to island.
And if you get to Mostar, don't let them talk you into jumping off the "old bridge". The water is terribly cold down there![Read More]
Last week, I participated in a special event!
IBM has been holding various "Hackathons" and "Meetups" as a new way to reach out to prospective clients. IBM sponsored a meetup at the Austin Executive Briefing Center (EBC) to discuss Machine Learning with TensorFlow on IBM Power systems, October 26, 2017.
This was a joint event, co-sponsored by [IBM Watson/Cognitive Austin] and [Big Data/AI Revealed] meetup groups. Special thanks to my colleague Cathy Cocco, IBM Executive IT Architect with the IBM Austin EBC, for coordinating this event with their organizers.
(What is a Meetup? [Meetup.com is an online social networking website that facilitates in-person local group meetings. Meetup allows members to find and join groups unified by a common interest, such as books, games, pets, technology, careers or hobbies. In 2017, there are 32 million users with 280 thousand groups available across 182 countries.)
Here was the agenda for the event:
| Time | Description |
| --- | --- |
| 6:30-7:00pm | Registration, Pizza & Soft drinks |
| 7:00-7:30pm | Tensorflow 101 presentation |
| 7:30-7:45pm | Demo: Using TensorFlow for Financial Market Predictions on IBM POWER Systems |
| 7:45-8:00pm | Lightning Talk: IBM Data Science Experience |
| 8:00-8:30pm | Networking |
Clarisse Taaffe-Hedglin: Intro to TensorFlow on IBM Power servers

Our guest speaker was my colleague Clarisse Taaffe-Hedglin, IBM Cognitive Senior Technical Architect, part of the same Worldwide Client Centers team that I work in. She flew in from Charlotte, NC.

Her topic was TensorFlow, an open source [Machine Learning] framework. TensorFlow was originally developed by Google, but was made open source in November 2015.

Machine Learning is popular in a variety of industries, from self-driving cars and trucks, speech recognition and video surveillance, to what movie to watch next on Netflix. There are three aspects to Machine Learning:

Data: Start with the data you want to analyze. This could be IoT sensor data, security logs, or social media feeds. Check out all that happens in an "Internet Minute"!

Compute: While mathematical computations can be performed on traditional CPUs, some frameworks are optimized and accelerated with Graphical Processing Units (GPU). These GPU can perform Teraflops of single and double precision calculations.

Technique: As methodology have gotten more complicated over the years, frameworks have evolved to match.

The [TensorFlow] framework is now one of the most popular among data scientists. You can download it for free at [Github].

Clarisse showed the various programming/calculation tools used by data scientists. The top five were: Python, R, SQL language, MapReduce, and Microsoft Excel.

Mathematical models come in many flavors. Clarisse explained they can be used to identify clusters of data that might have similar properties, or to perform classification, or linear regression. The results can be "descriptive", gaining a better understanding of what already is, or "predictive" for what might be.

Some frameworks like Chainer or Torch are more flexible, using a dynamic Build-by-Run approach. However, these do not scale well. Theano and TensorFlow, on the other hand, employ a Define-then-Run approach, which scales better for larger projects. With the growth in popularity with TensorFlow, the Theano framework has been "functionally stabilized".




Clarisse Taaffe-Hedglin: Financial Markets Demo

For the demo, Clarisse had historical stock closing data for USA, Australia and Asian stock markets. The hypothesis: We can determine a Buy/Sell for USA stocks based on the closing results of non-American stock results? This is a classic "Binary Classification" model. The other stock markets close 4-16 hours before the U.S. markets open, so this has real-world applicability.

Since the data was in different monetary units, she did some cleanup to normalize the data, removing out the trends, and converting everything to U.S. Dollars (USD).

Clarisse used "Supervised Learning" on 80 percent subset of the data, and then used the other 20 percent remaining data to validate how well it did.

As with any model, you measure how good it is by how close it results in the correct answer. Wrong answers are weighted by how bad they are. This is often referred to as "Loss" or "Cost". Different models can therefore be compared by minimizing the loss.

Using a simple y=wx+b mathematical model, she ran 30,000 iterations. After 5,000 iterations, the model was already guessing correctly 55 percent of the time, by the time we hit 30,000 this was up to 68 percent accuracy.

TensorFlow also supports "hidden layers", basically intermediate variables that are then used in subsequent layers for more complicated calculations. This is the way our brain works with neural networks. With two added layers, she re-ran the 30,000 iterations, and now was up to 73 percent accuracy.

Normally, this kind of analysis would take hours or days, but since TensorFlow takes advantage of the IBM Power8 CPU and NVidia Tesla K80 GPU in the IBM Power server, the whole thing finished in five minutes!

The demo is available to IBMers and IBM Business Partners on the [IBM Systems Client Experience Portal].




Tuhin Mahmed: Lightning Talk on IBM Data Science Experience (DSX)

Tuhin Mahmed, IBM Software Developer, is the organizer for the Big Data/AI meetup group. He wants to promote the idea of "Lightning Talks" where each person presents for just 10-15 minutes. This is a variant of the popular [Pecha Kucha] events.

To get things started, he presented 10-15 minutes on [IBM Data Science Experience], or DSX for short. Taking Multiple Listing Service (MLS) real estate data of closing prices on houses sold in a range of zip codes from the Austin Area, he mapped these on x-y axis. The x axis was square feet, and the y axis was closing price.

Using DSX, he was able to develop a mathematical model that estimates house closing prices based on their zip code and square footage.

This was a simple example, but it showed the power of Jupyter Notebooks, and how anyone can get a 30-day free trial of DSX for their own experimentation.
Currently, being a data scientist is more of an art than a science. This is one of those fields that takes only a few months to learn, but years to master.
Rather than building a model from scratch, data scientists can take existing models, and modify them to fit their needs. There are a variety of existing models available in what is called the "Model Zoo". Google has over 2,000 projects already.
Those interested in trying this out TensorFlow for themselves were directed to [Nimbix], a Cloud Service Provider that offers POWER servers with NVidia GPUs.
There were about 50 attendees, more than half identified themselves data scientists. As the first inaugural sponsored event for the IBM Austin EBC, I think this was a success!
If you are in the Austin area, the next meetup will be at the [Capital Factory] on Brazos Street on November 30, 2017.
technorati tags: IBM, hackathon, meetup, EBC, IBM Watson, Cognitive, Big Data, Artificial Intellgience, AI, TensorFlow, Data Science Experience, DSX, Clarisse Taaffe-Hedglin, machine learning, supervised learning, self-driving cars, self-driving trucks, video surveillance, speech recognition, Internet minute, CPU, GPU, POWER8, IBM Power, Nvidia K80, Github, Python, R Language, SQL, MapReduce, Microsoft Excel, Chainer, Torch, Theano, Stock Market, Binary Classification, Linear Regression, IBM Systems Client Experience Portal, Tuhin Mahmed, Lightning Talk, Pecha Kucha, MLS, Jupyter Notebook, Model Zoo, Google, Nimbix, Austin EBC, Capital Factor, Austin Texas
It's official!
On August 8, Brocade announced its intent to acquire McData corporation. IBM will continue to sell both Brocade and McData networking gear, as the acquisition will not be finalized until January 2007.
Read more about it directly from brocade www.brocade.com


technorati tags: IBM, SAN, Brocade, McDATA, acquisition
[
Read More
]
For those who missed it, IBM announced last Tuesday encryption capability for the TS1120 drive, our enterprise tape drive that read and write 3592 cartridges. Do you need special cartridges for this? No! Use the sames ones you have already been using!
You can read more about it www.ibm.com/storage/tape.


technorati tags: IBM, tape, systems, 3592, cartridges, TS1120, drive, encryption
[
Read More
]
As an alumni of the
University of Arizona
, it is always good to see any of the Arizona schools try something new and innovative. This time, it was our arch-rivals at
Arizona State University
(in Tempe, AZ, near Phoenix).
An article in InformationWeek reports that40,000 ASU Students Leap to Google Apps; University Pays Zero. The ASU president, Michael Crow, wants to make IT the primary driver in his ambitious "New American University" project.Last October, ASU became the first large institution to deploy Google Apps, a comprehensive suite of productivity applications that includes e-mail, search, calendars, instant messaging, and even word processing and spreadsheets.I've tried them out, they work, nothing fancy but certainly good enough for college homework assignments.
Already 40,000 students and faculty have switched their e-mail to Google, while keeping their asu.edu designation. (out of 65,000 student population, which Mr. Crow is trying to raise to 90,000 students!)
E-mail is a thorn in the side of storage administrators. Being "semi-structured" repositories, they cannot just delete or move files around, as there is context between notes and their attachments, that shouldn't be broken. E-mail systems are often the fastest growing consumer of storage for many organizations.
Switching from maintaining their own mail servers to Google is saving ASU $500,000 US dollars alone, not including the administrator labor savings. Again, some corporations might feel their e-mail is too "secret" to be outsourced like this, but for college students who spend all their creative talent posting things on MySpace and YouTube, and faculty who spend their careers TRYING to get published, they have nothing to hide from the rest of the world. It makes perfect sense.
Best of all, Google isn't charging ASU anything for this service. Google is able to cover the costs from advertising revenue instead. I can think of a lot of companies that might want to advertise to a demographic of "40,000 students who are mostly 18-25 years old and all live in or near Tempe, AZ".
In the list ofTop 10 Best Presentations Ever is Seth Godin talking about Marketing at Google. The video is worth watching.


technorati tags: ASU, Arizona State University, Google, Presentations, Marketing, Seth Godin, Tempe, Phoenix, e-mail
[
Read More
]
I've been so busy with travel and transitioning to my new laptop that I finally now have a chance to catch my breath.
I saw this great article by Nathan Willis on how to [Spring Clean your Photo Collection]. Since I took over 1100 pictures on my last vacation down the Great River Road, this seemed like a good weekend project. For more about my vacation, see my posts [Eight States in Eight Days], and [More Like Seven States in Nine Days].
I use two Cloud-Computing based photo-sharing services, [KodakGallery.com] and [Flickr.com], which serve two completely different purposes.
Kodak Gallery

Formerly, this was Ofoto, but was acquired by Kodak. I started using this service back in 2002, and had over 12,000 photos uploaded over the past 8 years. I was able to share all my photos with my friends and family, and they could simply order whichever prints they want and have them shipped directly to them. They have incredibly high-professional photo-based products, like calendars and coffee table books, that you can produce from your own photos.

Sadly, the fine folks at Kodak Gallery decided they did not want my business anymore, and purged my 36GB of files from their system. To be fair, they did hint that they were having financial problems with an "Archive CD" offering, which would have allowed me to get a set of CDs or DVDs holding the high-resolution graphics of all my uploaded photos. This would have cost $150 or so, and if you uploaded more photos, there was no option to get the "delta" of photos uploaded since your last archive, so it would have cost me $150 every year or so to get an updated "backup" of my files. It seemed expensive and unnecessary at the time, given that I was sure that Kodak was not going out of business anytime soon, and that I was sure they took their own backups of all the photos that people put in their charge.

The problem is that Kodak Gallery was a free service, subsidized by people ordering physical prints and other products. As such, I got lots of email from Kodak every month, offering me free shipping, special promotions, and seasonal discounts. It was so much that I had all email from them automatically routed to a different sub-folder, that I would never look at, unless I was about to make a purchase and needed to find the best coupon code or free shipping option currently offered. This also had the unintended consequence that I missed the following series of notes:

Important: From the Gallery's General Manager (April 17)
Second notice: Our storage policy has changed (April 24)
Final notice: Your stored photos may be deleted (May 8)
We don't want to delete your photos (May 22)

All the notes mentioned the new "Storage Policy", here is a quick excerpt:

"The fact is, we store billions of photos for our 75 million members. The quality storage service the Gallery provides is significant in terms of our business costs.

So that we can provide the highest level of service, we're now asking all Gallery customers to make an annual nominal purchase in exchange for photo storage. We've modified our Terms of Service policy accordingly: if your Gallery photo storage equals 2 gigabytes or less, we're asking you to spend $4.99 annually; if more than 2 gigabytes, $19.99 annually.*

One last thought: We value and appreciate your business, and we want to continue our relationship with you in a spirit of mutual support and benefit. That's always been the Kodak way."

Since they had no response from me, nor saw any purchase activity, my 36GB of files were deleted on June 17. I discovered all of this when I contacted Kodak to find out where my files were last weekend during my "Spring Cleaning". I asked if I could at least get the final set of "Archive CDs", but they told me they were purged completely.

I understand the economy is in a recession, and many free cloud-based services are losing money and going under.  I can understand they were faced with tough choices, Kodak opted to switch from a free service to fee-based service.

Albert Einstein defined Insanity as "doing the same thing over and over again and expecting different results." In general, if I am trying to get a hold of someone, and email isn't working, then I try something different, try them by phone, try them by snail mail, and so on. With the deluge of emails, people sometimes declare "email bankruptcy" by deleting everything in their inbox after coming back from vacation, or implement filters to automatically route mail to separate folders. I think it is unrealistic to expect that everybody reads every piece of email that you send them.

I would have liked for Kodak to have done at least one or more of the following, given that I had been such a long time customer, and they had earned hundreds of dollars in revenues from all the purchases, over the years, not just directly from me, but from my friends and family, of photos I uploaded to their website:

Send me a letter after not receiving any response from the first three notices. They sent me promotional materials and offers for 20 percent discounts, so they had my active snail mail address on file correctly. With 75 million users, it would have cost $33 million USD to send out snail mail letters to everyone, but for the subset of power-users who have more than 2GB of files, a snail mail letter might have gotten more $19.99 purchases they needed to stay in business.
Called me on the phone. Yes, they also had my phone number in their database.
Go ahead and charged my credit card on file $19.99 without a purchase, and given me a credit towards a future purchase. Something like: "You have not purchased anything in the last 12 months, so we charged your credit card, per our Terms of Service, but you can use this as a credit towards something in the next 60 days."

On the plus side, my "Spring Cleaning" project was done. You can't organize what you don't have anymore.

Flickr from Yahoo

I started using Flickr back in 2008 to hold photos and graphics for this blog. Flickr holds various sizes of photos that I can use directly with HTML tags. Clicking on the photo in the blog will take you to Flickr's service and allow you to see the large size resolution. The "Lotus Connections" that I have on IBM DeveloperWorks only offers 24MB of photo space, so Flickr was a nice alternative.

Unfortunately, Flickr had adopted a new policy that only the most recent 200 pictures would be visible, and I had already reached 170 photos. Rather than start deleting photos from my older blog posts, I opted to upgrade to the "Flickr Pro" account, with a fee of only $24.99 per year.

Hopefully, by paying an annual fee and choosing a successful and profitable Cloud-Computing company, I won't experience another traumatic loss. However, it does remind me that it is my responsibility to keep my own copies of these photos, just in case.
Fortunately, many "photo product" providers are connected to Flickr. For example, my publisher [<a href="http://www.lulu.com/">Lulu.com</a>] can access my Flickr photos to make photo-based coffee table books. As for my last eight years of memories that were lost, I will just have to treat it as if my house burned down. Rebuild and move on.
technorati tags: Spring Cleaning, photography, Kodak, Kodak Gallery, Flickr, Yahoo, Cloud Computing, Photo Sharing
I have arrived safely to Istanbul, Turkey for the [Systems Technical University 2014] conference. The conference will feature experts from IBM Power Systems, IBM System x, IBM PureSystems, and IBM System Storage.
Here is the view from my hotel window. Up until the 19th century, this was open countryside. Around 1890, the Bomonti brothers from Switzerland set up a brewery, which was moved to this section of town in 1902, becoming the first Turkish brewery. In 1934, the brewery was nationalized and became the Istanbul Tekel Beer Factory. The Hilton Bomonti hotel where the conference is being held is named after these brothers.
Since this is my first time to Istanbul, and I did not have meetings until later in the afternoon for the conference, I decided to a bit of sightseeing.
(A special thanks to Gail Godbey of [Encounter Tours/Kaletours] who organized this entire tour of sightseeing for me on such short notice!)
The hippodrome was a stadium for horse and chariot racing, but now is just a square with a few obelisks. This one is the Thutmosis Obelisk from Egypt. The word hippodrome comes from the Greek hippos, meaning horse, and dromos, meaning path or way. Hippodromes were common features of Greek cities in the Hellenistic, Roman and Byzantine eras. My tour guide Erol Azor did a great job explaining everything.
My favorite stop of the day was the Blue Mosque, named after the blue tiles used on the dome. It is 43 meters high, making it one of the tallest mosques in the city. There are over 3,000 mosques here in Istanbul. In Turkish, this place is called Sultan Ahmet Camii after the Sultan Ahmet that had it built from 1609-1616. There are six minarets. The legend goes that the Sultan asked for a "gold" minaret, but the word for "gold" in Arabic sounds a lot the number six in Turkish, so that is why there are six of them.
Right next to the Blue Mosque is the Hagia Sofia, which was a Christian church first, then converted to a mosque, and now is a musuem. It was closed on Mondays, so all I could do was take pictures from the outside. Tulips are in full bloom throughout the city this month of April. If you notice, the minaret on the right is different color. Often, new sultans would add a minaret to an existing mosque, using whatever materials were available at the time. Kind of like adding a bedroom to an existing house.
Underneath the ground is the Basilica Cistern which held the drinking water for the city. The water came in on viaduct, and was kept underground. Today, it has a foot of water, and some fish, for people to admire the architecture employed.
Of course, no visit to Istanbul is complete without stopping at the Grand Bazaar. With over 4,000 tiny shops, it is a madhouse of gold and silver jewelry, blue jeans, leather goods, scarves, persian rugs, and antiques. Some places offered me free samples of Turkish delight, which are delicious cubes of flavored gelatin.
My day ended at the Topkapi palace. The word Topkapi is Turkish for "Cannon Gate", as this castle sits overlooking the peninsula and bosphorus strait that separates the Europe side from the Asian side of the city. Like the palace of Versaille in France, or Buckingham palace in England, the Topkapi palace was home to 36 sultans from 1299 to 1922.
You can spend hours here. There are beautiful gardens and various buildings surrounded by five kilometers of castle wall. Inside the buildings are displays of the family jewels, the clothes the sultans wore, their weapons, and religious relics.
It was good to get a flavor of the city, and a sense of the Turkish culture.
technorati tags: IBM, #ibmtechu, Istanbul, Turkey
Last Friday, I helped students learn about Science, Technology, Engineering and Math (STEM). This was the annual [2017 Arizona STEM Adventure] event in Tucson, Arizona. Once again, Pima Community College Northwest Campus provided the venue.
The event hosted 1,200 students, ranging from fourth to eighth grades. Buses collected them from ten different school districts in the area. Home-schooled, private-schooled and charter-schooled children participated as well.
I was just one of 215 volunteers. IBM had 18 volunteers. [Apple], [Raytheon], [Pima Community College], [Agents of STEM], [SARSEF], [StemAZing], [Office of Pima County School Superintendent], [UA Stem Learning Center], and other individuals also volunteered their time to make this happen.
(This is the second time I volunteer. Read my blog post of my experiences of [Arizona 2015 STEM Adventure]!)
There were three dozen exhibits, some were indoors, and others in tents outside. The weather was delightful for November.
Bicycle Gyroscope

Citizens for Solar: Solar Cooking Demonstration

Vail School District: Boxerbots

Lunch and Logistics
This was a great day! There are plenty of problems that need to be solved in our world, and a shortage of scientists and engineers to solve them. Encouraging kids to pursue these careers is a good step forward.
technorati tags: IBM, AZSTEMAdventure, Pima Community College, PCC, SARSEF, StemAZing, University of Arizona, gyroscope, global warming, climate change, solar cooking, EPA, Science Magazine, carbon footprint, Boxerbots
Last Friday, I helped students learn about Science, Technology, Engineering and Math (STEM). This was the annual [2015 Arizona STEM Adventure] event in Tucson, Arizona. This year, Pima Community College Northwest Campus provided the venue.
The event hosted more than 900 students, ranging from fourth to eighth graders. Buses collected them from 31 schools across seven cities and towns in the Tucson area. Home-schooled, private-schooled and charter-schooled children participated as well.
I was just one of 130 volunteers. IBM, [Raytheon], [Pima Community College], [Agents of STEM], [SARSEF, [StemAZing], [Office of Pima County School Superintendent], [UA Stem Learning Center], and other individuals volunteered their time to make this happen.
As I arrived, students lined up to ride this "hover chair". A lawn-blower motor floated a chair attached to a platform. A blue tarp represented water. Volunteers would pull the hover chair across the tarp, giving the kids a fun ride. I wanted to ride it myself, but it was not engineered for my body weight!
Students chose among the most interesting of 50 exhibits. IBM led two of these exhibits.
First, we had the [Bike Wheel Gyroscope]. The students would stand on a rotating swivel platform, holding a spinning bicycle wheel. When the student tipped the wheel left or right, the students body would rotate on the platform!
Second, we had Share with Storyboarding. This is the one I volunteered for. IMHO, the best part of STEM is the Arts and Design aspect needed to make products usable. Perhaps we should rename STEM to STEAM to add "A" for Arts and Design.
We held six 30-minute sessions with each group of students. Our team lead, Brenton Elmore, IBM Design Principal, explained what storyboards are, and then gave the students five topics to choose from:
Adopting homeless pets
Improving communication with teachers
A short cartoon
An idea for a mobile phone app
An idea for a new video game
Children paired up in two-person teams based on their topic interest. Why teams? Many creative collaborations involve the strengths of different teammates. For example, an author and an illustrator work together to create a comics or children's book. Broadway musicals often have a writer and composer.
Each team spent 10 minutes to draw a six-panel storyboard on [Post-it notes]. These would be stuck to a single sheet of paper. The team then would write underneath each panel the narrative of what was occurring.
Brenton taped five or six of these to the wall to share with the rest of the class. Each team would then explain to the other students what they drew, and the narrative to go with it.
When there were an odd number of students, one of us volunteers paired up with a student. Shown here is Marilynn Franco, IBM Manager, helping young Bailey in explaining their storyboard. I helped young Lili with her storyboard about a new mobile phone app idea she had.
Storyboards are an essential part of IBM's [Design Thinking]. We use them in a variety of ways, from designing business strategies and product enhancements, to creating videos about the [IBM Tucson Executive Briefing Center]!
When I make presentations to clients at briefings or conferences, I use 36 slides per hour. Each PowerPoint slide serves like a storyboard panel, and I provide the narrative on each one.
Special thanks go to Kathy Carlisle, IBM Tucson Site Operations Manager, and Mike Hernandez, IBM IBM Corporate Citizenship and Corporate Affairs Manager, for setting this up!
To learn more, see [STEM Adventure Shows Students Science Up Close] by Mariana Dale, and [1,000 students visit STEM fair at Pima college] by Yoohyun Jung.
technorati tags: IBM, STEM, Raytheon, Pima Community College, SARSEF, Brenton Elmore, Marilynn Franco, Kathy Carlisle, Mike Hernandez, bike wheel gyroscope, storyboarding, Mariana Dale, Yoohyun Jung
As a consultant, I am often asked to help design the architecture for the information infrastructure. A usefulanalogy to gather requirements and preferences is the difference between
area rugs
and
wall-to-wall carpeting
. Arearugs are not secured to the floor and cover only a portion of the floor area. Carpets are generally tacked or cemented to the floor, often with an underlay of cushion padding, stretched across the entire floor surface, out to all four walls of each room.
Each has its pros and cons, and often is a matter of preference. Some people like area rugs because they can choosea different style for each room, match the decor and color scheme of furniture, and use these to define each livingspace. Ever since paleolithic man put animal skins on the floor of their cave, people recognize that cold, hard andugly floors could be covered up with something soft and more attractive.Others prefer wall-to-wall carpeting because they want to walk around the house barefoot, have their young children crawl on their hands and knees, and give the entire house a unified look and feel. This is often an inexpensive option when compared against the cost of individual rugs.
The same is true for an information infrastructure. For some, they prefer the "area rug" approach: this style ofstorage for their email, this other type of storage for their databases, and perhaps a third for their unstructuredfile systems. When customers ask what storage would I recommend for their SAP application, or their Microsoft Exchangeemail environment, or their Business Intelligence (BI) software, I recognize they are taking this "area rug" approach.

Like area rugs, having different storage can focus on specific attributes of the workload characteristics. It alsoinsulates against company-wide changes, the dreaded "rip-and-replace" of replacing all of your storage with somethingfrom a different vendor. With "area rug" storage, you can support a dual-vendor or multi-vendor strategy, and upgrade or replace each on its own schedule.

Thanks to open standards and industry-standard benchmarks, changing out one storage solution for another is assimple as rolling up an area rug, and putting another one in its place that is similar in size dimensions.
Others may prefer "wall-to-wall carpeting" approach: one disk system type, one tape library type,one network type, that provides unified management and minimizes the needs for unique skills. Generally, the choice of NAS, SAN or iSCSI infrastrucutre is done company-wide, and might strongly influence the set of products that will support that decision. For example, those with a mix of mainframe and distributed servers looking for SAN-attached storage may look at an [IBM System Storage DS8000] and [TS3500 tape library] that can provide support for FICON and FCP.

Those looking at NAS or iSCSI might consider the IBM System Storage N series products, "unified storage" supporting iSCSI, FCP and NAS protocols. If you want the "wall-to-wall" to stretch across all the sites in your globally integrated enterprise, IBM's scalable NAS product, Scale-Out File Services[SoFS], provides a global name spacein combination with a clustered file system that provides incredible scalability and performance based on field-proven technology used by the majority of the [Top 100 supercomputer] deployments.
IBM can help you design an information infrastructure that fits either approach.
technorati tags: IBM, DS8000, TS3500, NAS, SAN, iSCSI, FCP, FICON, mainframe, distributed, SoFS, supercomputer
[
Read More
]
Fellow blogger Chris Mellor from The Register has an interesting post titled [It's a ratchet: Old storage guard face incoming tech squeeze]. Chris opines that the big traditional storage vendors -- which he refers to as the "old guard": Dell EMC, HDS, HPE, IBM and NetApp -- are being squeezed out by startups with new technologies.
Last week, I saw the play [Fiddler on the Roof], a musical production by Arizona Theater Company (ATC), and thought of various parallels with Chris's post.
For those not familiar, the story centers around a father named Tevye and his wife trying to stick to tradition, with five daughters who are open to breaking with tradition to get married. The family lives in a small rural town, back in a time long ago when people were persecuted for their religious and ethnic background. Aren't you glad we live in [more enlightened times]!
Back to Chris Mellor, he writes in his post:
"This old guard has so far failed to squash newcomers in the all-flash array, hyperscale, object and software-defined storage areas. This is despite the established firms adopting these technologies and acquiring some startups."
Should the old guard try to squash newcomers? Often, these startups provide much needed innovations that move the IT industry forward.
In the play, Tevye wants to stick to tradition, whereby the town's matchmaker would find a husband for each daughter, and he, as father of each bride, would then provide his permission and blessing to the match.
Obviously, these startups are neither asking the old guard for their permission nor their blessing. While I can't speak for the rest of the "old guard", IBM is leading in these various spaces. Let's look at each of these new trends.
All-Flash Arrays (AFA)

The category of "All-Flash Arrays" include both purpose-built hardware as well as traditional devices based on solid-state drives (SSD). While the R&D investment needed for purpose-built hardware can limit this to some of the largest vendors, nearly any startup can slap commodity SSD into traditional HDD controllers and call it AFA.

IBM offers the world's fastest AFA, and has been a leader in the AFA category for the past three years, investing over $1 Billion USD on its FlashSystem, DS8000, Elastic Storage Server (ESS), SVC and Storwize product families.




Software-Defined Storage (SDS)

While the definition for SDS is still in a bit of flux, IDC has tried to identify three characteristics:

Storage software stack that can be installed on commodity resources (x86 hardware, hypervisors, or cloud) and/or off-the-shelf computing hardware
SDS should offer a full suite of storage services
Federation between the underlying persistent data placement resources to enable data mobility of its tenants between these resources

IBM has been ranked [Number 1 in Software Defined Storage] for several years now, investing over $1 Billion USD in its IBM Spectrum Storage family. This collection of software is implemented in a variety of offerings, including pre-built systems, software that you can deploy on commodity off-the-shelf servers, and in the Cloud.




Object storage

Object storage breaks tradition with block and file-based storage solutions. Rather than reading and writing files using POSIX, NFS or SMB protocols, objects are accessed via HTTP GET and PUT requests. The two most common protocols are Amazon S3 and OpenStack Swift.

Object storage is ideal for static and stable data that either never changes, or changes infrequently. A lot of new workloads are based on unstructured data that falls in this category, such as Big Data Analytics, High-performance Computing (HPC), and active archives.

In the latest IDC Marketscape, [IBM is ranked #1 in Object Storage]. IBM has actually three software-defined storage offerings that support Object access methods. IBM Spectrum Scale, IBM Spectrum Archive and IBM Cloud Object storage System. The latter from 2015 acquisition of Cleversafe.




Hyperscale storage

For those not familiar with hyperscale storage, here is a definition from [Hyperscale Storage for Dummies]:

"Hyperscale leverages commodity servers and a software-defined approach, scaling the resources needed for applications and storage separately. As storage needs grow, companies can add servers running software-defined storage (SDS) to the storage tier to expand capacity... Data is automatically distributed across the entire cluster of storage servers as new nodes are added to the system... With hyperscale, .. cluster nodes network together to form a storage resource pool."

This breaks from the tradition of dual-controller high-end arrays, which scale-up, rather than scale-out. IBM offers its IBM Spectrum Accelerate, IBM Spectrum Scale, and IBM Cloud Object Storage System to fill this hyperscale requirement.
In the play, Tevye realizes the world is changing all around him, he can either fight these changes and stick to tradition, or accept that he must change also, and move on. After 105 years, IBM continues to lead the IT industry, primarily by adopting new trends and technologies, moving to new business opportunities as they present themselves.
technorati tags: IBM, Chris Mellor, The Register, Fiddler on the Roof, Arizona Theater Company, All-Flash Array, AFA, FlashSystem, DS8000, Elastic Storage Server, ESS, SAN Volume Controller, SVC, , Storwize, IDC, Software-defined Stroage, SDS, Spectrum Storage, object storage, Spectrum Scale, Spectrum Archive, IBM Cloud Object Storage, POSIX, NFS, SMB, HTTP, Amazon S3, OpenStack Swift, Hyperscale Storage, Spectrum Accelerate
Well, it's Tuesday, which means IBM Announcements!
We have both disk and tape related announcements today.



2 TB Drives



Yes, they are finally here. IBM now offers [2 TB SATA drives for its IBM System Storage DCS9900 series] disk systems. These are 5400 RPM, slower than traditional 7200 RPM SATA drives. This increases the maximum capacity of a single DCS9900 from 1200 TB to 2400 TB. The DCS9900 is IBM's MAID system (Massive Array of Idle Disk) which allows for drive spin-down to reduce energy costs and is ideal for long term retention of archive data that must remain on disk for High Performance Computing or video streaming.






TS3000 System Console



The TS3000 System Console [provides improved features for service and support] of up to 24 tape library frames or 43 unique tape systems. Tape frames include those of the TS7740, TS7720 and TS7650. Tape systems include TS3500, TS3400 or 3494 libraries as well as stand-alone TS1120 and TS1130 drives. Having the TS3000 System Console in place is a benefit to both IBM and the customer, as it improves IBM's ability to provide service in a more timely manner.





Both announcements are part of IBM's strategy to provide cost-effective, energy-efficient, long-term retention storage for archive data.


technorati tags: IBM, DCS9900, 2TB, drive, disk, system, MAID, TS3000, System Console, , TS7740, TS7720, TS7650, TS3500, TS3400, 3494, TS1120, TS1130, green, long-term, retention, storage
"This week, IBM is launching a companywide effort to build the digital eminence of all IBMers. The goal is to arm you with the tools and knowledge to effectively use emerging technologies -- such as social, mobile, and cloud computing -- for strategic advantage."
This is how Rod Adkins, IBM Senior VP of Systems Technology Group, and my sixth-line manager, starts a memo to declare April "Digital IBMer awareness month". I am not sure if this is just for this April, or every April going forward. Included with this is a set of ten guidelines to improve CyberSecurity:
In honor of this, I will be spending the next two weeks traveling through Europe. Instead of bringing a large suitcase and my laptop, I have decided instead to only take:
The clothes I am wearing on the plane
A heavy jacket with lots of pockets
A backpack with 15 pounds of clothes
A hipsack with my smartphone, digital camera, MP3 player and all the related adapters, chargers and cables
My smartphone uses a GSM chip, so I should be able to get a European SIM when I arrive. I have not booked any hotels, tours, or transportation. Instead, I will rely on social media and cloud computing to take care of things on a daily basis.
(Why only 15 pounds of clothing? I just had major surgery two weeks ago, and my doctor advised me not to lift more than 15 pounds for the next six weeks!)
I plan to have a series of blog posts documenting what I learn from this trip. For those who want to follow along, I will be tweeting from @az990tony. You do not need a Twitter account to read my tweets. You can read them directly from [http://twitter.com/#!/az990tony].
I can't remember the last time I have gone this long without the comforts of my laptop or desktop, so it will be interesting how it works out!
It's Tuesday, which means IBM announcements, and today IBM made some major announcementsthat support a [
Dynamic Infrastructure
]! I hinted at this yesterday, choosing the week's theme to be all about Cloud Computing and Alternative Sourcing. I will briefly highlight today's announcements related to storage here, and try to go into more detail over the next few weeks.
Ethernet switches and routers

In support of Cloud Computing and Cloud Storage, IBM is now back in theEthernet networking business. This is part of storage as protocols likeiSCSI, CIFS and NFS are gaining prominence. Extending IBM's existing OEMrelationship with Brocade, there are four series:

IBM announced it will strengthen its partnership with Juniper Networks, and continues to consider Cisco a strategic partner as well. To help customer position themselves for Cloud Computing and Cloud Storage,IBM also launches some new services:





IBM System Storage DS5000 disk system

The IBM [DS5000] now supports self-encrypting disk drives, known also as "full-disk encryption" or FDE, for added security, and 8Gbps Fibre Channel (FC) ports for added performance. The DS5300 model in particular now supports up to 448 disk drives for added scalability.



Comprehensive Data Protection Solution

IBM's [Data Protection Solution] shows off IBM's awesome synergy between servers, storage and software. Combining System x servers, Tivoli Storage Manager FastBack software, and DS5000, DS4000 or DS3000 series disk systems. The solution is designed to both Windows-based servers and their applications, offering bare metal restores, and application–level protection for Oracle, SQL, Exchange and SAP.



Tivoli Storage Productivity Center

Last February, IBM previewed the renaming of TotalStorage Productivity Center to its new name,Tivoli Storage Productivity Center. Today, IBM announces [Tivoli Storage Productivity Center v4.1]. Some key changes include:

Productivity Center for Fabric has been merged into Productivity Center for Disk
Productivity Center for Replication is now integrated, but remains separately licensed
Productivity Center can now feed input to IBM's Novus Storage Enterprise Resource Planner [SERP]





TS7650 ProtecTIER Data Deduplication IP-based replication

IBM previews IP-based replication which allows the TS7650 appliance or TS7650G gateway to sendvirtual tape data over to a remote location. This is instead of having the underlying disk systemsperform the replication on its behalf. Having the TS7650 do the replication is preferred, as itcan maintain virtual cartridge integrity, when a virtual tape is unmounted the replication can beginat that point.


This is just a small subset of all the announcements. For more information, see this 28-pagepresentation [Manage the Explosion of Information with IBM Information Infrastructure].
technorati tags: IBM, Dynamic Infrastructure, Ethernet, switches, routers, Cloud Computing, Cloud Storage, Brocade, Juniper Networks, Cisco, IronStack, FCoE, FCoCEE, PoE, DS5000, FC, FDE, TSM, FastBack, TotalStorage, Tivoli, Storage, Productivity Center, Novus, SERP, TS7650, TS77650G, ProtecTIER, Information Infrastructure
[
Read More
]
On Wikibon, David Floyer has an article titled [SAS Drives Tier 1 to New Levels of Green] that focuses on the energy efficiency benefits of newer Serial-Attach SCSI (SAS) drives over older Fibre Channel (FC) drives. This makes sense, as R&D budgets have been spent on making newer technologies more "green".
Fellow blogger Hu Yoshida (HDS) encourages people to [Invest in the Future with SAS, SATA and SFF], referring to Figure 1.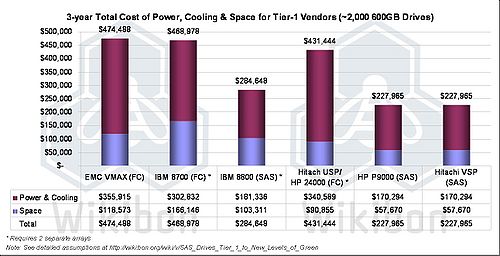 Of course, people might consider this an [apples-to-oranges] comparison. Not only are we changing from FC to SAS technology, we are also changing from 3.5-inch drives to small form factor (SFF) 2.5-inch drives. It seems odd to specify 2000 drives, when only two of the five scale up to that level. Few systems in production, from any vendor, have more than 1000 drives, so it would have seemed that would have been a fairer comparison.
However, Hu's conclusion that the combination of SAS and SFF provides better performance and energy efficiency for both IBM DS8800 and HDS VSP than FC-based alternatives from any vendor seems reasonably supported by the data.
Meanwhile, fellow blogger David Merrill (HDS) pokes fun at IBM DS8800 in Figure 2 in his post [Winner o' the green]. This second comparison was for 4PB of raw capacity, which 4 of the 5 can handle easily using 2TB SATA drives, but the DS8800 is based on SAS technology and does not support 2TB SATA drives. A performance-oriented configuration with four distinct DS8800 boxes employing 600GB SAS drives is used instead, causing the data for the DS8800 to stick out like a sore thumb, or perhaps more intentionally as a middle finger.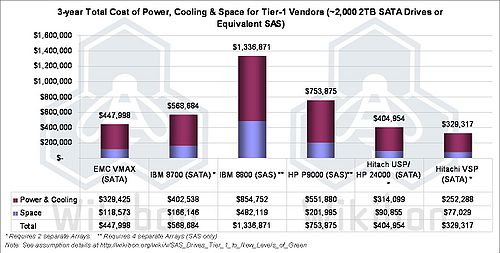 The main take-away here is that IBM offers both the DS8700 for capacity-optimized workloads, and the DS8800 for performance-optimized workloads. Some competitors may have been spreading FUD that the DS8700 was withdrawn last month, it wasn't. As you can see from the data presented, there are times where a DS8700 might be more preferable than a DS8800, depending on the type of workloads you plan to deploy. IBM offers both, and will continue to support existing DS8700 and DS8800 units in the field for many years to come.
technorati tags: IBM, DS8700, DS8800, Wikibon, Hu Yoshida, David Merrill, Davud Floyer
Today,
Apple and EMI announced
that EMI's entire music and video catalog will be available in May without any digital rights management (DRM) protection.Not only with the music be higher quality, but can be played on any player, presumably using MP3 format instead ofApple's proprietary AAC format. Being locked into any single vendor solution is undesirable. Similar issues abound for
Microsoft Office 2007
file formats.
On my iPod, I ripped all my CDs into MP3 format, not AAC. I love my iPod, but if I ever decided to chose a different MP3 player, I did not want to go through the time-consuming process or re-ripping them again.
A blog by Seth Godin feels this Apple-EMI announcement means thatDRM is dead.
Back when music labels added value by producing and distributing music in physical form, it made sense for them to take a cut. Mass-producing CDs and distributing them out to music stores across the country costs lots of money. However, for online music, music labels don't have these same overhead costs, but continue the process of paying the artists only a few pennies per dollar. Some artists have file lawsuits to get their fair share.
This process applies to any published work. For example, you can purchase Kevin Kelly's book in various formats, at different prices, from different distributors. For example:
In PDF for $2, directly from the author via PayPal
black-and-white hardcover, for $20, from Amazon
color softcopy, for $30, from Lulu
Each nets the author $1.50 in royalties per copy. You can decide how much in production and distribution costs you want to pay.
It's good to have choices again.


technorati tags: Apple, EMI, Microsoft, Office 2007, file formats, Open Office, Kevin Kelly, iTunes, Sony, iPod, music, downloads, publish, costs, royalties, choices
[
Read More
]
Continuing this week's theme on becoming a smarter planet, here is another[
IBM 2-minute video
]:
Special thanks for [
Eightbar
] for pointing me to this!
technorati tags: IBM, frozen chicken, carrots
[
Read More
]
Yesterday (September 7, 2006) the
Eclipse Foundation
announced that it has approved the creation of the Aperi Storage Management Framework Project.
There's been a lot of confusion out there about Aperi, so I thought I would post some facts and opinions about this exciting new project. A few years ago, I was thelead architect for IBM TotalStorage Productivity Center, IBM's infrastructure management product that helped launch the creation of Aperi.
From the latin word for "open", Aperi is an open source project that aims to simplify the management of storage environments, using the Storage Management Initiative - Specification (SMI-S) open standardto promote interoperability and eliminate complexity in today's storage environments.
Aperi should provide immediate value upon install with basic storage management capabilities, rather than just simply a collection of components that require costly integration. We've discussed requirements for functions such as:
Resource discovery, monitoring, and reporting
Fabric Topology mapping
Event management
Disk / Tape management
Device configuration & LUN assignment
SAN fabric management
Basic asset management
User Interface
The big confusion most people have is Aperi's relation to SMI-S and the Storage Networking Industry Association (SNIA)open standards group. The best way to explain this is to go backto your High School SAT college-entrance exams. Remember questions like this?
CRUMB : BREAD ::
(A) splinter : wood
(B) water : bucket
(C) cream : butter

(The answer: a crumb is to bread like a splinter is to wood.)
Aperi is an implementation of SMI-S standard, similar to MySQL or PostgreSQL areopen standard relational database implementations of Structured Query Language (SQL).These compete with proprietary database implementations such as IBM DB2 Universal Database,Oracle Database, Microsoft SQL Server, or Sybase.
Aperi: SMI-S ::
PostgreSQL : Structured Query Language (SQL)

It is often the case that the folks writing the code are different than the folks defining the standards. This is the case between the members of Aperi writing code, and the members of the SNIA writing standards. IBM happens tohave employees writing Aperi code, and other employees helping define SMI-S standards.What can I say, IBM is a big company and a leader in many areas.
A good analogyis how the Apache community has developed an awesome web server, and the Firefox Mozillacommunity have developed an awesome web browser, both of which are implementations of the HTTP/HTML standards adopted by the World Wide Web Consortium. Apache and Firefoxcompete with proprietary implementations, such as Microsoft Internet Information Services(IIS) web server and Internet Explorer web browser.
Aperi: SNIA ::
Apache : World Wide Web (WWW) Consortium

With this arrangement, Aperi and the SNIA will have very complementary roles in defining and driving standards across the entire storage market. To that end, Aperi will make extensive use of the SNIA's Technology Center and SNIA's "plugfests" to test the interoperability of the Aperi framework with the variety of 3rd-party storage offerings available. By providing a tested implementation of SMI-S, Aperi will drive broader industry availability of SMI-S, as well as offer the many benefits of an industry-backed open source community.
Check out this vote of confidence:
"Eclipse's Aperi Project will further advance the adoption of SNIA's SMI-S, benefiting the entire storage industry and IT community. Furthermore, the SNIA and Aperi will define plans to collaborate on new storage standards, standards testing programs, and storage interoperability programs."
--- Wayne M. Adams, chair, SNIA Board of directors
So, both proprietary and open source implementations have their place in the world.Proprietary products are needed for advanced, unique value-add, and opensource projects are for basic support focused on interoperability and flexibility.These can be combined, for example, proprietary "plug-ins" built on an open source base. The more choices the client has, the better.

Storage vendors benefit too. Vendors are tired of being in the "Y.A.C." business, building "Yet Another Configurator" for each new device developed, with basic functionsto carve LUNs, read performance stats, and so on. By shipping Aperi instead, storagevendors like IBM can invest their development dollars in real innovations, things thatmatter for the customer.

If you are unfamiliar withopen source, I highly recommend Eric Raymond's bookThe Cathedral and the Bazaar. It might just change the way you think aboutopen source usage in the workplace.


technorati tags: Eclipse, Aperi, IBM, TotalStorage, Productivity Center, open, storage management, Eric Raymond, open+source, SMI-S, SNIA, Cathedral, Bazaar

[Read More]

Tags:&nbsp infrastructure san disk tape announcements
Next Monday, September 1, 2008, marks my two year "blogoversary" for this blog!
I won't be blogging on Monday, of course, because that is [Labor Day] holiday here in the United States.
(From a Canadian colleague: US is not the only country who celebrates Labor Day on the first weekend in September. Canada also celebrates Labour Day on the first weekend in September. It's the only holiday(other than Christmas/New Years) where we are in sync with US. Our Thanksgiving Days are different as is your July 4 vs our July 1. But for Labour Day we are one with the Borg...)

(From an Australian colleague: each province of Australia has its own day to celebrate Labor Day, see [Australia Public Holidays])
The rest of the world celebrates Labor Day on May 1, but the USA celebrates this on the first Monday of September, which this year lands on September 1.Originally, the day is intended to be a "day off for working citizens", IBM is kind enough to let managers and marketingpersonnel have the day off also. (Not that anyone is going to notice no press releases next Monday, right?)
I started this blog on September 1, 2006 as part of IBM's big["50 Years of Disk Systems Innovation"] campaign. IBM introduced the first commercial disk system on September 13, 1956 and so the 50th anniversary was in 2006. Last year, IBM celebrated the 55th anniversary of tape systems.
Several readers have asked me why I haven't talked about recent current events, such as the Olympic Games in Beijing, or the U.S. National Conventions for the race for U.S. President. I have to remind them of one of the key precepts of IBMblogging guidelines:
8. Respect your audience. Don't use ethnic slurs, personal insults, obscenity, or engage in any conduct that would not be acceptable in IBM's workplace. You should also show proper consideration for others' privacy and for topics that may be considered objectionable or inflammatory - such as politics and religion.
I made subtle references to my senator from Arizona, John McCain, in my post [ILM for my iPod], and to Barack Obama in my post [Searching for matching information]. I don't think anyone would mind that I send a "Happy Birthday!" wish to both of them.Senator McCain turns 72 years old today, and Senator Obama turned 47 years old earlier this month.
And lastly, Tucson itself [celebrates this entire month] its 233rd birthday. That's right,Tucson, the 32nd largest city of the USA, and headquarters for IBM System Storage, is older than the USA itself.While the Tucson area has been continuously inhabited by humans for over 3500 years, it officially became Tucsonon August 20, 1775.
Fellow blogger Justin Thorp has opined that [blogging is like jogging]. Somedays, you are just too busy to do it, and other days, you make time for it, because you know it is important.For the record, it is not my job to blog for IBM, that ended last September 2007. I continue to blog anyways because I have benefited from it, both personally and professionally.I want to thank all of you readers out there for making this blog a great success! Being named one of the top 10 blogs of the IT storage industry by Network World, two back-to-back Brand Impact awards from Liquid Agency, and recently earning a "31" Technorati ranking, has really helped keep me going.
So, I look forward to next month, and beginning my third year on this blog. I am sure there will be lots of surprises and announcements you can all look forward to in the next coming weeks and months that I will have plenty to write about.
technorati tags: IBM, blogoversary, anniversary, birthday, disk, tape, systems, Olympics, Olympic Games, Beijing, China, National Convention, John McCain, Senator, Arizona, Barack Obama, Tucson, Justin Thorp, Network World, Technorati
[
Read More
]
Well, it's Tuesday again, and you know what that means... IBM Announcements!
This month, I am celebrating my six-year "blogoversary". I started blogging September 1, 2006 to celebrate [the 50th anniversary of disk system innovations].
This month, I am pleased to announce the new [IBM STG Executive Briefing Center] website, representing a huge improvement over the previous website we had been using over the past two years. STG refers to IBM's Systems and Technology Group, the division that focuses on servers, storage, switches and the system software that makes them run. This new website is for the dozen STG EBCs that span the globe. The new website reminds me of this famous quote:
"Perfection is achieved, not when there is nothing left to add, but when there is nothing left to take away"
-- Antoine de Saint-Exupery
Let's take a quick look at what makes it so much better.
Self-service Portal

The previous website required registration. At every briefing, those of us who work in the EBCs had to pass around a sign-up sheet for email addresses from each attendee so that we could send them an invitation to register for the site. We would have a hard time reading people's handwriting, resulting in some emails coming back rejected.

Inspired by self-service gas stations, automated teller machines, and the many self-service portals of Cloud Computing, the new website has everything up-front, without registration. IBM Business Partners and sales representatives can easily request a briefing at any of the dozen briefing centers represented!

IBM-managed and IBM-hosted

We had a difficult time explaining to our attendees why our previous website was hosted on a lone machine and maintained by a third party. Think about it, IBM manages the data centers of over 400 clients. IBM has provided web hosting to the most mission critical workloads, with high levels of availability and reliability, and is recognized as one of the "Big 5" Cloud companies. I have done web design myself in my career, and we were terribly disappointed with the third party chosen to create and maintain our previous website, constantly having to point out errors in their HTML and CSS.

For the new website, IBM took back control. Staff from each EBC, myself included, came up with a simple page to bring the essence of each location to life. Special thanks to my colleage Hal Jennings, from the Austin EBC, for bringing this altogether!

Simplified Navigation

Despite two years of manually registering attendees to use the previous website, Google Analytics showed that few people visited, and the few that did spent little time exploring the vast repository of content.

The new website is vastly simpler. The front page points to all twelve EBCs, and a single mouse click gets you to the location you are interested in, with all the details you need to make a decision to book a briefing, and the contact information to make it happen.

Elimination of Wasted and Duplicate Effort

In the previous website, we spent as much as 15 hours just to create, voice over, edit and produce a single 15-minute recorded presentation. Less than six percent of the previous website visitors watched more than five minutes of these videos, making us feel that most of our effort was wasted.

The EBC staff kept wasting their time, month after month, thanks to all-stick, no-carrot tactics that mandated minimums for contributions for more and more content that nobody was ever looking at. Even more disappointing was that much of our work duplicated the formal responsibilities of our IBM Marketing team. They weren't happy about this either, causing confusion between the roles of our two teams.

Finally, we said enough was enough! The new STG EBC website is a marvel in minimalism. If you want to see presentations, videos, expert profiles, or partake in on-going conversations, I welcome you to visit the [IBM Expert Network], the [IBM Storage YouTube Channel], and the [Storage Community] where they belong.
I invite you all to check out the new [IBM STG Executive Briefing Center] website. Let me know what you think in the comments below!
technorati tags: IBM, STG, EBC, Hal Jennings
Well, it's Tuesday again, and today I am announcing that we have a new IBM Storage blogger joining the Blogosphere: Raj Sharma!
Raj will be writing his blog [Storage and Technology Academy] on the [StorageCommunity.org] platform.
Raj hails from Toronto, Canada and will be able to provide the Canadian perspective on all things Storage. I had the pleasure to meet Raj in person here in Tucson when him and dozens of his cohorts came down for a multi-customer briefing at the [IBM Executive Briefing Center] where I work.
technorati tags: IBM, Raj Sharma, Storage, Technology, Academy, Storage Community, EBC, Tucson, Toronto, Canada
It's Tuesday, which means IBM makes its announcements. We had several for the IBM System Storage product line. Here's a quick recap.
Disk Systems

Tape Systems

Storage Networking

Archive and Retention
I'm off to Denver, Colorado this week. I hope it is cooler there than it is down here in Tucson, Arizona.


technorati tags: IBM, disk, system, storage, SAS, FC, DS3000, DS3200, DS3400, EXP3000, NAS, EXN1000, tape, virtualization, library, TS7740, grid, Copy Export, throughput, TS3400, TS3200, mainframe, LTO, Ultrium, Cisco, MDS, 9124, Express, Advantage, DS4000, DS4700, TS3200, GAM, Grid Archive Manager, 3996, optical, WORM, Denver, Colorado, Tucson, Arizona, announcements
[
Read More
]
The proof-of-concept that IBM Haifa research center developed back in 1998 became what we now call the iSCSI protocol.The book
iSCSI: The Universal Storage Connection
introduces the history as follows:
In the fall of 1999 IBM and Cisco met to discuss the possibility of combining their SCSI-over-TCP/IP efforts. After Cisco saw IBM's demonstration of SCSI over TCP/IP, the two companies agreed to develop a proposal that would be taken to the IETF for standardization.
There are three ways to introduce iSCSI into your data center:
Through a gateway, like the IBM System Storage N series gateway, that allows iSCSI-based servers connect to FC-based storage devices
Through a SAN switch or director, a FC-based server can access iSCSI-based storage, an iSCSI-based server accessing FC-based storage, or even iSCSI-based servers attaching to iSCSI-based storage.
Directly through the storage controller.
IBM has been delivering the first method with its successful IBM System Storage N series gateway products, buttoday we have announced additional support for the second and third methods.Here's a quick recap.
New SAN director blades

Supporting the second method, IBM TotalStorage SAN256B Director is enhanced to deliver iSCSI functionality with a new M48 iSCSI Blade, which includes 16 ports (8 Fibre Channel ports; and 8 Ethernet ports for iSCSI connectivity). We also announced a new Fibre Channel M48 Blade which provides 10 Gbps Fibre Channel Inter Switch Link (ISL) connectivity between SAN256B Directors.

Entry Level Disk Systems

Supporting the third method, IBM introduces new iSCSI-capabable disk systems, including the IBM System Storage DS3300 model using SAS drives, N3300 A10/A20 models and N3600 A10/A20 models supporting use of FC and SATA drives.The DS3000 Express models include frequently requested options, including appropriate host bus adapters (HBA) and cables. Likewise, we have announced hardware features for our IBM N series , such as TCP offload engine (TOE) network interface cards (NIC), HBA and cables.
With support for Boot-over-iSCSI, diskless rack-optimized and blade servers can boot Windows or Linux over Ethernet,eliminating the management hassles with internal disk.

All of this is part of IBM's overall push into the Small and Medium size Business marketplace, making it easier to shop for and buy from IBM and its many IBM Business Partners, easier to deploy and install storage, and easier tomanage the storage once you have it.


technorati tags: IBM, Cisco, iSCSI, gateways, announcement, DS3300, N3300, N3600, A10, A20, SAS, FC, SATA, HBA, TOE, NIC, cables, SCSI, TCP, boot-over-iSCSI, SMB, Ethernet

[Read More]

Tags:&nbsp san disk announcements
Well, it is Tuesday, and that means IBM announcements. This week many of my colleagues are attending Storage Networking World [
SNW
] conference. Normally, the most exciting announcements are reserved for the weeks these conferences are held, but IBM apparently made an exception this week.
New Factory configurations for XIV

The first announcement is for new [factory configurations] for the IBM XIV disk system. In the past, you could only order a partial 6-module or a full 15-module rack. Today, IBM announced that there will also be 9-, 10-, 11-, 12-, 13- and 14-module configurations orderable as well.

Some FUD out in the blogosphere led some to believe that these partial configurations had to be made full 15 modules within 12 months. That is false. You can order any of these partial rack configurations and leave them as is until you need more capacity. There is no obligation to buy more capacity with these partial rack configurations.



IBM N series N6060 configurations

This second announcement indicates that the N6060 supports[672 drives]. The N6060 is the latest midrange model of IBM N series unified storage.

If you are asking "What is a 672 drive?" don't feel stupid. It actuallyrefers to the number of external drives that can be attached to the N6060. Previously, it was mis-reported that the N6060 could support as many as 840 drives, but this was not correct, and this announcement is to fixthat typo.



IBM Passport Advantage Sub-Capacity Licensing

This last announcement today relates to IBM Passport Advantage[sub-capacity licensing].Pricing products is always a challenge. You want to come up with a pricing methodology such that people who get the most use pay the most, and those who get less pay less, in a manner that everyone thinks is fair. With commodities, it is simple to price rice by the pound, or fabric by the yard, but what about IT solutions?

Some of the IBM software is based on number of processors used, so that people who have the software running on multiple machines, or machines with multiple cores, should pay more because they are getting more value. This makes sense if this software is the only thing running on that server, but today you can also have server virtualization and are running many guest operating systems, each with different applications. The solution is to use "sub-capacity" licensing. If you have a quad-core processor server, but have four guest operating systems using 25 percent of this, then each OS should only pay for one processor's worth of licensing. Since different processors have different clock speeds, IBM has standardized the calculations to a mythical "Processor Value Unit" or PVU, with a corresponding IBM License Metric Tool (ILMT).

Initially, this will cover specific versions of Citrix Xen Server, Microsoft Hyper-V and VMware, but IBM has made as a "statement of direction" that it will extend this sub-capacity licensing and ILMT support to IBM PowerVM capability for its POWER systems.

I have often heard clients complain that their third party software vendor does not support these hypervisors. Sometimes, this means the third party vendor will not fix or provide assistance if the problem occurs in this environment, and other times, it is that the pricing does not favor this environment, you get charged for all the processors, even if your slice of the processor is much smaller.
If you are at SNW this week, stop by and say "Hi" to my fellow IBM collegues for me.
technorati tags: IBM, SNW09, XIV, N6060, PVU, ILMT, Citrix, Xen, Hyper-V, VMware, ILMT
[
Read More
]
Well it's Tuesday, which means its time to look at recent announcements.While I was on vacation last week, IBM made a lot of storage announcements October 23.Josh Krischer gives his summary on WikiBon [
October 2007 Review
].Austin Modine of the
The Register
went so far as to say that [
IBM goes crazy with storage system updates
].
IBM System Storage DS8000 series

This is "Release 3" software/microcode upgrades on our existing "Turbo" hardware.

IBM FlashCopy SE -- Here "SE" stands for Space Efficient. Rather than allocating a full 100% of the space for the FlashCopy destination, you can set aside just a fraction, and this will hold all the changed blocks, similar to whatIBM already offers on the DS4000 series.
Dynamic Volume Expansion -- In the past, if you needed more space for a LUN, you had to carve out a newer one elsewhere, and then copy the data over from the old to the new, leaving the old LUN around to be re-used or leftstranded. With this enhancement, you can just upgrade the LUN in place, making it bigger as needed, similar to whatIBM already offers on the DS4000 series and SAN Volume Controller. This applies to CKD volumes for the System zmainframe users out there as well.
Storage Pool Striping -- striping volumes across RAID ranks to eliminate or reduce hot-spots, and provide betterload balancing. Many used SAN Volume Controller in front of the DS8000 to do this, but now you can do it natively inthe DS8000 itself.
z/OS Global Mirror Multiple Reader -- for System z customers, "z/OS Global Mirror" is the new name for XRC. Thisenhancement improves the throughput of sending updates to the remote disaster recovery location.
DS Storage Manager enhancements, the element manager software has been enhanced, and is pre-installed on the new IBM System Storage Productivity Center, which I will talk about below.
Intermix of DS8000 machine types -- this is especially useful to allow new frames to have co-terminating warrantieswith the base units. In other words, as you expand your system, you can ensure that the entire chunk of iron runs outof warranty all at the same time, to simplify your decision making process to upgrade or contract for extended service.

See the [DS8000 Announcement Letter] for more details.

IBM System Storage SAN Volume Controller 4.2.1

BarryW summarizes the updates in the[Announced SVC 4.2.1] release.If you have problems with the link he provides in his post, here is the [SVC 4.2.1 Announcement Letter].

IBM System Storage Productivity Center

One of the biggest complaints about IBM TotalStorage Productivity Center is that it is software that needs to beinstalled on its own server, and that this installation process can take a day or two. Why wait? Now you can havea hardware console that has the DS8000 Storage Manager software, SVC Admin Console software, and IBM TotalStorageProductivity Center "Basic Edition" pre-installed. Here are the key features.

Pre-installed and tested console
DS8000 R3 GUI integration
Cohabitation of SVC 4.2.1 GUI and CIMOM
Automated device discovery
Asset and capacity reporting, including tape library support
Device configuration
Advanced topology viewer

See the[System Storage Productivity Center - Announcement letter] for more details."Basic Edition" can be upgraded to "Standard Edition" to get full functionality.

IBM System Storage N series

Our "Release 9" applies across the board, from N3000 to N5000 to N7000 series models, includingnew host bus adapters, and the new Data OnTAP 7.2.4 release level.

The Virtual File Manager (VFM) was announced as one of our latest [Storage Virtualization Solutions]. VFMprovides a global namespace that aggregates the file systems from Linux, UNIX, and Windows file servers, as well asN series storage, into a consolidated environment.

See the [N series Announcement Letter] for more details.

IBM TS7520 Virtualization Engine

IBM's virtual tape library (VTL) for the distributed systems platform, has been enhanced to provide:

Up to 12TB of disk cache, using 750GB SATA disk.
F05 Tape Frames installed as TS7520 base units through a 32 port fibre channel switch
Support for LTO generation 4 tape drives, both as virtual tape drives and as physical tape drives within IBM automated tape libraries attached to the TS7520. This allows you to use Encryption capabilities of LTO4.

See the [TS7520 Announcement Letter] for more details.

IBM System Storage DS6000 series

The latest 300GB 15K RPM drives are now supported.

IBM System Storage DS4000 series

This was a software/microcode upgrade release for the DS4000 series.

RAID-6 support on the DS4700 Express models and the DS4200 Model 7V
Support for greater than 2 TB volumes on selected supported operating systems
8K cache block size
DS4000 Storage Manager v10.10 increases the number of FlashCopy tasks, remote mirror pairs, and storage partitions.

See the [DS4000 Announcement Letter] for more details.

IBM System Storage DS3000 series

DS3000 series now supports SATA disk, and can be attached to AIX and Linux on System p servers. This appliesto the DS3200, DS3300 and DS3400 models.See the [DS3000 Announcement Letter] for more details.

IBM System Storage TS2240

These are LTO4 Half-High drives, which can support encryption.See the [TS2240 Announcement Letter] for details.
Perhaps Austin is right, we might have gone crazy announcing all of this at once.
technorati tags: Josh Krischer, Austin Modine, IBM, DS8000, Turbo, FlashCopy, SE, space efficient, dynamic volume expansion, DVE, striping, z/OS Global Mirror, XRC, System Storage, Productivity Center, TotalStorage, Basic Edition, topology viewer, ONTAP, VFM, global namespace, TS7520, Virtualization Engine, virtual tape library, VTL, F05, SATA, LTO, LTO4, LTO-4, DS6000, DS4000, RAID6, RAID-6, AIX, Linux, System p, servers, TS2240, half-high, drives
[
Read More
]
Well, its Tuesday, and that means more IBM announcements!!!
Let's do a quick recap of what was announced for storage:
Disk Systems

We now support 1000GB SATA-II drives in the DS4000 series. This is available for the DS4200 model 7V, DS4700, DS4800 as well as the expansion drawers EXP420 and EX810. When I asked our marketing team why we weren't going to say "1TB" like everyone else, they thought 1000GB sounds bigger. I guess I should not have asked that on April Fool's day. For more details, see the IBM press releases for the [DS4200/EXP420and DS4700/DS4800/EXP810].



Tape Systems

IBM announced new machine code Release 1.4a for the The IBM Virtualization Engine™ TS7700 virtual tape library for our System z mainframe customers.Various features come with this new level of machine code. See the IBM [Press Release] for more details.

Load balancing across the grid
Host control over the copy of logical volumes on a cluster by cluster basis
Option to gracefully remove an individual cluster from an existing grid
Initial-state reset for TS7700 database for cluster cleanup
Option to upgrade single-cache to dual-cache configuration

Also announced were updates to the 7214 model 1U2. Technically this is not in the IBM System Storage product line,but instead is designed specifically for our System p server line. This is a "media drawer" that allows you to havetape on one side, and optical on the other, in a single enclosure. IBM announced that you can now have DAT160 80GBdrives that is read-write compatible with DAT72 and DDS4 drives, and half-high LTO-4 drives that can read LTO-2 media, and is read-write compatible with LTO-3 media.Read the IBM [Press Release] for details.

Finally, if you are in the United States, Canada or the Carribean, there is a special discount promotionfor tape libraries purchased before June 20, 2008. This includes IBM TS3100, TS3200, TS3310 and TS3500 libraries.See the [Promotion Details] for eligibility.



Storage Software

IBM has added capability to the IBM TotalStorage Productivity Center for Replication. A quick review of the differentoptions for this component.

base Replication (uni-directional from primary to disaster site)
Two-site replication (bi-directional, including failover and failback)
Three-site replication (site awareness for all the copy sessions between all three sites in all situations)

Productivity Center for Replication supported all these levels for DS8000, DS6000 and ESS 800 disk models, butfor SVC it only supported FlashCopy and Metro Mirror for the uni-directional base. IBM announced version 3.4 today that has added support for SVC for Global Mirror (asynchronous disk mirroring) and bi-directional failover/failback. This supports lets you have "practice volumes" that allow IT managers to perform "disaster recovery exercises" without disrupting production workloads.

Also, for the DS8000, there is support for the new Space Efficient FlashCopy and DynamicVolume Expansion features. Here is the IBM



The Productivity Center for Replication server can run on either a Windows/Linux-x86 server or a z/OS mainframe server.The Productivity Center for Replication on System z offers all the same new support for SVC and DS8000, as well asincorporated Basic HyperSwap capability that I mentioned in my post last February[DS8000 Enhancements for the IBM System z10 EC].

Here are the IBM press releases for the TotalStorage Productivity Center for Replication on[Windows/Linux-x86and System z] servers.
I'm at a Business Partner conference today, discussing these announcements and other topics, so need to go back to those festivities.
technorati tags: IBM, SATA, SATA-II, 1000GB, 1TB, DS4000, DS4200, DS4700, DS4800, EXP420, EXP810, TS7700, TS7740, R1.4a, grid, cluster, 7214-1U2, DAT160, DAT72, DDS4, LTO-2, LTO-3, LTO-4, TS3100, TS3200, TS3310, TS3500, discount, promotion, Productivity Center, Replication, two-site, three-site, failover, failback, SVC, DS8000, DS6000, ESS800, Windows, Linux, z/OS, System z, z10 EC
[
Read More
]