The developerWorks Connections Platform is now in read-only mode and content is only available for viewing. No new wiki pages, posts, or messages may be added. Please see our FAQ for more information. The developerWorks Connections platform will officially shut down on March 31, 2020 and content will no longer be available. More details available on our FAQ. (Read in Japanese.)
I have arrived safely to Istanbul, Turkey for the [Systems Technical University 2014] conference. The conference will feature experts from IBM Power Systems, IBM System x, IBM PureSystems, and IBM System Storage.
Here is the view from my hotel window. Up until the 19th century, this was open countryside. Around 1890, the Bomonti brothers from Switzerland set up a brewery, which was moved to this section of town in 1902, becoming the first Turkish brewery. In 1934, the brewery was nationalized and became the Istanbul Tekel Beer Factory. The Hilton Bomonti hotel where the conference is being held is named after these brothers.
Since this is my first time to Istanbul, and I did not have meetings until later in the afternoon for the conference, I decided to a bit of sightseeing.
(A special thanks to Gail Godbey of [Encounter Tours/Kaletours] who organized this entire tour of sightseeing for me on such short notice!)
The hippodrome was a stadium for horse and chariot racing, but now is just a square with a few obelisks. This one is the Thutmosis Obelisk from Egypt. The word hippodrome comes from the Greek hippos, meaning horse, and dromos, meaning path or way. Hippodromes were common features of Greek cities in the Hellenistic, Roman and Byzantine eras. My tour guide Erol Azor did a great job explaining everything.
My favorite stop of the day was the Blue Mosque, named after the blue tiles used on the dome. It is 43 meters high, making it one of the tallest mosques in the city. There are over 3,000 mosques here in Istanbul. In Turkish, this place is called Sultan Ahmet Camii after the Sultan Ahmet that had it built from 1609-1616. There are six minarets. The legend goes that the Sultan asked for a "gold" minaret, but the word for "gold" in Arabic sounds a lot the number six in Turkish, so that is why there are six of them.
Right next to the Blue Mosque is the Hagia Sofia, which was a Christian church first, then converted to a mosque, and now is a musuem. It was closed on Mondays, so all I could do was take pictures from the outside. Tulips are in full bloom throughout the city this month of April. If you notice, the minaret on the right is different color. Often, new sultans would add a minaret to an existing mosque, using whatever materials were available at the time. Kind of like adding a bedroom to an existing house.
Underneath the ground is the Basilica Cistern which held the drinking water for the city. The water came in on viaduct, and was kept underground. Today, it has a foot of water, and some fish, for people to admire the architecture employed.
Of course, no visit to Istanbul is complete without stopping at the Grand Bazaar. With over 4,000 tiny shops, it is a madhouse of gold and silver jewelry, blue jeans, leather goods, scarves, persian rugs, and antiques. Some places offered me free samples of Turkish delight, which are delicious cubes of flavored gelatin.
My day ended at the Topkapi palace. The word Topkapi is Turkish for "Cannon Gate", as this castle sits overlooking the peninsula and bosphorus strait that separates the Europe side from the Asian side of the city. Like the palace of Versaille in France, or Buckingham palace in England, the Topkapi palace was home to 36 sultans from 1299 to 1922.
You can spend hours here. There are beautiful gardens and various buildings surrounded by five kilometers of castle wall. Inside the buildings are displays of the family jewels, the clothes the sultans wore, their weapons, and religious relics.
It was good to get a flavor of the city, and a sense of the Turkish culture.
technorati tags: IBM, #ibmtechu, Istanbul, Turkey
Last Friday, I helped students learn about Science, Technology, Engineering and Math (STEM). This was the annual [2017 Arizona STEM Adventure] event in Tucson, Arizona. Once again, Pima Community College Northwest Campus provided the venue.
The event hosted 1,200 students, ranging from fourth to eighth grades. Buses collected them from ten different school districts in the area. Home-schooled, private-schooled and charter-schooled children participated as well.
I was just one of 215 volunteers. IBM had 18 volunteers. [Apple], [Raytheon], [Pima Community College], [Agents of STEM], [SARSEF], [StemAZing], [Office of Pima County School Superintendent], [UA Stem Learning Center], and other individuals also volunteered their time to make this happen.
(This is the second time I volunteer. Read my blog post of my experiences of [Arizona 2015 STEM Adventure]!)
There were three dozen exhibits, some were indoors, and others in tents outside. The weather was delightful for November.
Bicycle Gyroscope

Citizens for Solar: Solar Cooking Demonstration

Vail School District: Boxerbots

Lunch and Logistics
This was a great day! There are plenty of problems that need to be solved in our world, and a shortage of scientists and engineers to solve them. Encouraging kids to pursue these careers is a good step forward.
technorati tags: IBM, AZSTEMAdventure, Pima Community College, PCC, SARSEF, StemAZing, University of Arizona, gyroscope, global warming, climate change, solar cooking, EPA, Science Magazine, carbon footprint, Boxerbots
Last Friday, I helped students learn about Science, Technology, Engineering and Math (STEM). This was the annual [2015 Arizona STEM Adventure] event in Tucson, Arizona. This year, Pima Community College Northwest Campus provided the venue.
The event hosted more than 900 students, ranging from fourth to eighth graders. Buses collected them from 31 schools across seven cities and towns in the Tucson area. Home-schooled, private-schooled and charter-schooled children participated as well.
I was just one of 130 volunteers. IBM, [Raytheon], [Pima Community College], [Agents of STEM], [SARSEF, [StemAZing], [Office of Pima County School Superintendent], [UA Stem Learning Center], and other individuals volunteered their time to make this happen.
As I arrived, students lined up to ride this "hover chair". A lawn-blower motor floated a chair attached to a platform. A blue tarp represented water. Volunteers would pull the hover chair across the tarp, giving the kids a fun ride. I wanted to ride it myself, but it was not engineered for my body weight!
Students chose among the most interesting of 50 exhibits. IBM led two of these exhibits.
First, we had the [Bike Wheel Gyroscope]. The students would stand on a rotating swivel platform, holding a spinning bicycle wheel. When the student tipped the wheel left or right, the students body would rotate on the platform!
Second, we had Share with Storyboarding. This is the one I volunteered for. IMHO, the best part of STEM is the Arts and Design aspect needed to make products usable. Perhaps we should rename STEM to STEAM to add "A" for Arts and Design.
We held six 30-minute sessions with each group of students. Our team lead, Brenton Elmore, IBM Design Principal, explained what storyboards are, and then gave the students five topics to choose from:
Adopting homeless pets
Improving communication with teachers
A short cartoon
An idea for a mobile phone app
An idea for a new video game
Children paired up in two-person teams based on their topic interest. Why teams? Many creative collaborations involve the strengths of different teammates. For example, an author and an illustrator work together to create a comics or children's book. Broadway musicals often have a writer and composer.
Each team spent 10 minutes to draw a six-panel storyboard on [Post-it notes]. These would be stuck to a single sheet of paper. The team then would write underneath each panel the narrative of what was occurring.
Brenton taped five or six of these to the wall to share with the rest of the class. Each team would then explain to the other students what they drew, and the narrative to go with it.
When there were an odd number of students, one of us volunteers paired up with a student. Shown here is Marilynn Franco, IBM Manager, helping young Bailey in explaining their storyboard. I helped young Lili with her storyboard about a new mobile phone app idea she had.
Storyboards are an essential part of IBM's [Design Thinking]. We use them in a variety of ways, from designing business strategies and product enhancements, to creating videos about the [IBM Tucson Executive Briefing Center]!
When I make presentations to clients at briefings or conferences, I use 36 slides per hour. Each PowerPoint slide serves like a storyboard panel, and I provide the narrative on each one.
Special thanks go to Kathy Carlisle, IBM Tucson Site Operations Manager, and Mike Hernandez, IBM IBM Corporate Citizenship and Corporate Affairs Manager, for setting this up!
To learn more, see [STEM Adventure Shows Students Science Up Close] by Mariana Dale, and [1,000 students visit STEM fair at Pima college] by Yoohyun Jung.
technorati tags: IBM, STEM, Raytheon, Pima Community College, SARSEF, Brenton Elmore, Marilynn Franco, Kathy Carlisle, Mike Hernandez, bike wheel gyroscope, storyboarding, Mariana Dale, Yoohyun Jung
As a consultant, I am often asked to help design the architecture for the information infrastructure. A usefulanalogy to gather requirements and preferences is the difference between
area rugs
and
wall-to-wall carpeting
. Arearugs are not secured to the floor and cover only a portion of the floor area. Carpets are generally tacked or cemented to the floor, often with an underlay of cushion padding, stretched across the entire floor surface, out to all four walls of each room.
Each has its pros and cons, and often is a matter of preference. Some people like area rugs because they can choosea different style for each room, match the decor and color scheme of furniture, and use these to define each livingspace. Ever since paleolithic man put animal skins on the floor of their cave, people recognize that cold, hard andugly floors could be covered up with something soft and more attractive.Others prefer wall-to-wall carpeting because they want to walk around the house barefoot, have their young children crawl on their hands and knees, and give the entire house a unified look and feel. This is often an inexpensive option when compared against the cost of individual rugs.
The same is true for an information infrastructure. For some, they prefer the "area rug" approach: this style ofstorage for their email, this other type of storage for their databases, and perhaps a third for their unstructuredfile systems. When customers ask what storage would I recommend for their SAP application, or their Microsoft Exchangeemail environment, or their Business Intelligence (BI) software, I recognize they are taking this "area rug" approach.

Like area rugs, having different storage can focus on specific attributes of the workload characteristics. It alsoinsulates against company-wide changes, the dreaded "rip-and-replace" of replacing all of your storage with somethingfrom a different vendor. With "area rug" storage, you can support a dual-vendor or multi-vendor strategy, and upgrade or replace each on its own schedule.

Thanks to open standards and industry-standard benchmarks, changing out one storage solution for another is assimple as rolling up an area rug, and putting another one in its place that is similar in size dimensions.
Others may prefer "wall-to-wall carpeting" approach: one disk system type, one tape library type,one network type, that provides unified management and minimizes the needs for unique skills. Generally, the choice of NAS, SAN or iSCSI infrastrucutre is done company-wide, and might strongly influence the set of products that will support that decision. For example, those with a mix of mainframe and distributed servers looking for SAN-attached storage may look at an [IBM System Storage DS8000] and [TS3500 tape library] that can provide support for FICON and FCP.

Those looking at NAS or iSCSI might consider the IBM System Storage N series products, "unified storage" supporting iSCSI, FCP and NAS protocols. If you want the "wall-to-wall" to stretch across all the sites in your globally integrated enterprise, IBM's scalable NAS product, Scale-Out File Services[SoFS], provides a global name spacein combination with a clustered file system that provides incredible scalability and performance based on field-proven technology used by the majority of the [Top 100 supercomputer] deployments.
IBM can help you design an information infrastructure that fits either approach.
technorati tags: IBM, DS8000, TS3500, NAS, SAN, iSCSI, FCP, FICON, mainframe, distributed, SoFS, supercomputer
[
Read More
]
Fellow blogger Chris Mellor from The Register has an interesting post titled [It's a ratchet: Old storage guard face incoming tech squeeze]. Chris opines that the big traditional storage vendors -- which he refers to as the "old guard": Dell EMC, HDS, HPE, IBM and NetApp -- are being squeezed out by startups with new technologies.
Last week, I saw the play [Fiddler on the Roof], a musical production by Arizona Theater Company (ATC), and thought of various parallels with Chris's post.
For those not familiar, the story centers around a father named Tevye and his wife trying to stick to tradition, with five daughters who are open to breaking with tradition to get married. The family lives in a small rural town, back in a time long ago when people were persecuted for their religious and ethnic background. Aren't you glad we live in [more enlightened times]!
Back to Chris Mellor, he writes in his post:
"This old guard has so far failed to squash newcomers in the all-flash array, hyperscale, object and software-defined storage areas. This is despite the established firms adopting these technologies and acquiring some startups."
Should the old guard try to squash newcomers? Often, these startups provide much needed innovations that move the IT industry forward.
In the play, Tevye wants to stick to tradition, whereby the town's matchmaker would find a husband for each daughter, and he, as father of each bride, would then provide his permission and blessing to the match.
Obviously, these startups are neither asking the old guard for their permission nor their blessing. While I can't speak for the rest of the "old guard", IBM is leading in these various spaces. Let's look at each of these new trends.
All-Flash Arrays (AFA)

The category of "All-Flash Arrays" include both purpose-built hardware as well as traditional devices based on solid-state drives (SSD). While the R&D investment needed for purpose-built hardware can limit this to some of the largest vendors, nearly any startup can slap commodity SSD into traditional HDD controllers and call it AFA.

IBM offers the world's fastest AFA, and has been a leader in the AFA category for the past three years, investing over $1 Billion USD on its FlashSystem, DS8000, Elastic Storage Server (ESS), SVC and Storwize product families.




Software-Defined Storage (SDS)

While the definition for SDS is still in a bit of flux, IDC has tried to identify three characteristics:

Storage software stack that can be installed on commodity resources (x86 hardware, hypervisors, or cloud) and/or off-the-shelf computing hardware
SDS should offer a full suite of storage services
Federation between the underlying persistent data placement resources to enable data mobility of its tenants between these resources

IBM has been ranked [Number 1 in Software Defined Storage] for several years now, investing over $1 Billion USD in its IBM Spectrum Storage family. This collection of software is implemented in a variety of offerings, including pre-built systems, software that you can deploy on commodity off-the-shelf servers, and in the Cloud.




Object storage

Object storage breaks tradition with block and file-based storage solutions. Rather than reading and writing files using POSIX, NFS or SMB protocols, objects are accessed via HTTP GET and PUT requests. The two most common protocols are Amazon S3 and OpenStack Swift.

Object storage is ideal for static and stable data that either never changes, or changes infrequently. A lot of new workloads are based on unstructured data that falls in this category, such as Big Data Analytics, High-performance Computing (HPC), and active archives.

In the latest IDC Marketscape, [IBM is ranked #1 in Object Storage]. IBM has actually three software-defined storage offerings that support Object access methods. IBM Spectrum Scale, IBM Spectrum Archive and IBM Cloud Object storage System. The latter from 2015 acquisition of Cleversafe.




Hyperscale storage

For those not familiar with hyperscale storage, here is a definition from [Hyperscale Storage for Dummies]:

"Hyperscale leverages commodity servers and a software-defined approach, scaling the resources needed for applications and storage separately. As storage needs grow, companies can add servers running software-defined storage (SDS) to the storage tier to expand capacity... Data is automatically distributed across the entire cluster of storage servers as new nodes are added to the system... With hyperscale, .. cluster nodes network together to form a storage resource pool."

This breaks from the tradition of dual-controller high-end arrays, which scale-up, rather than scale-out. IBM offers its IBM Spectrum Accelerate, IBM Spectrum Scale, and IBM Cloud Object Storage System to fill this hyperscale requirement.
In the play, Tevye realizes the world is changing all around him, he can either fight these changes and stick to tradition, or accept that he must change also, and move on. After 105 years, IBM continues to lead the IT industry, primarily by adopting new trends and technologies, moving to new business opportunities as they present themselves.
technorati tags: IBM, Chris Mellor, The Register, Fiddler on the Roof, Arizona Theater Company, All-Flash Array, AFA, FlashSystem, DS8000, Elastic Storage Server, ESS, SAN Volume Controller, SVC, , Storwize, IDC, Software-defined Stroage, SDS, Spectrum Storage, object storage, Spectrum Scale, Spectrum Archive, IBM Cloud Object Storage, POSIX, NFS, SMB, HTTP, Amazon S3, OpenStack Swift, Hyperscale Storage, Spectrum Accelerate
Well, it's Tuesday, which means IBM Announcements!
We have both disk and tape related announcements today.



2 TB Drives



Yes, they are finally here. IBM now offers [2 TB SATA drives for its IBM System Storage DCS9900 series] disk systems. These are 5400 RPM, slower than traditional 7200 RPM SATA drives. This increases the maximum capacity of a single DCS9900 from 1200 TB to 2400 TB. The DCS9900 is IBM's MAID system (Massive Array of Idle Disk) which allows for drive spin-down to reduce energy costs and is ideal for long term retention of archive data that must remain on disk for High Performance Computing or video streaming.






TS3000 System Console



The TS3000 System Console [provides improved features for service and support] of up to 24 tape library frames or 43 unique tape systems. Tape frames include those of the TS7740, TS7720 and TS7650. Tape systems include TS3500, TS3400 or 3494 libraries as well as stand-alone TS1120 and TS1130 drives. Having the TS3000 System Console in place is a benefit to both IBM and the customer, as it improves IBM's ability to provide service in a more timely manner.





Both announcements are part of IBM's strategy to provide cost-effective, energy-efficient, long-term retention storage for archive data.


technorati tags: IBM, DCS9900, 2TB, drive, disk, system, MAID, TS3000, System Console, , TS7740, TS7720, TS7650, TS3500, TS3400, 3494, TS1120, TS1130, green, long-term, retention, storage
"This week, IBM is launching a companywide effort to build the digital eminence of all IBMers. The goal is to arm you with the tools and knowledge to effectively use emerging technologies -- such as social, mobile, and cloud computing -- for strategic advantage."
This is how Rod Adkins, IBM Senior VP of Systems Technology Group, and my sixth-line manager, starts a memo to declare April "Digital IBMer awareness month". I am not sure if this is just for this April, or every April going forward. Included with this is a set of ten guidelines to improve CyberSecurity:
In honor of this, I will be spending the next two weeks traveling through Europe. Instead of bringing a large suitcase and my laptop, I have decided instead to only take:
The clothes I am wearing on the plane
A heavy jacket with lots of pockets
A backpack with 15 pounds of clothes
A hipsack with my smartphone, digital camera, MP3 player and all the related adapters, chargers and cables
My smartphone uses a GSM chip, so I should be able to get a European SIM when I arrive. I have not booked any hotels, tours, or transportation. Instead, I will rely on social media and cloud computing to take care of things on a daily basis.
(Why only 15 pounds of clothing? I just had major surgery two weeks ago, and my doctor advised me not to lift more than 15 pounds for the next six weeks!)
I plan to have a series of blog posts documenting what I learn from this trip. For those who want to follow along, I will be tweeting from @az990tony. You do not need a Twitter account to read my tweets. You can read them directly from [http://twitter.com/#!/az990tony].
I can't remember the last time I have gone this long without the comforts of my laptop or desktop, so it will be interesting how it works out!
It's Tuesday, which means IBM announcements, and today IBM made some major announcementsthat support a [
Dynamic Infrastructure
]! I hinted at this yesterday, choosing the week's theme to be all about Cloud Computing and Alternative Sourcing. I will briefly highlight today's announcements related to storage here, and try to go into more detail over the next few weeks.
Ethernet switches and routers

In support of Cloud Computing and Cloud Storage, IBM is now back in theEthernet networking business. This is part of storage as protocols likeiSCSI, CIFS and NFS are gaining prominence. Extending IBM's existing OEMrelationship with Brocade, there are four series:

IBM announced it will strengthen its partnership with Juniper Networks, and continues to consider Cisco a strategic partner as well. To help customer position themselves for Cloud Computing and Cloud Storage,IBM also launches some new services:





IBM System Storage DS5000 disk system

The IBM [DS5000] now supports self-encrypting disk drives, known also as "full-disk encryption" or FDE, for added security, and 8Gbps Fibre Channel (FC) ports for added performance. The DS5300 model in particular now supports up to 448 disk drives for added scalability.



Comprehensive Data Protection Solution

IBM's [Data Protection Solution] shows off IBM's awesome synergy between servers, storage and software. Combining System x servers, Tivoli Storage Manager FastBack software, and DS5000, DS4000 or DS3000 series disk systems. The solution is designed to both Windows-based servers and their applications, offering bare metal restores, and application–level protection for Oracle, SQL, Exchange and SAP.



Tivoli Storage Productivity Center

Last February, IBM previewed the renaming of TotalStorage Productivity Center to its new name,Tivoli Storage Productivity Center. Today, IBM announces [Tivoli Storage Productivity Center v4.1]. Some key changes include:

Productivity Center for Fabric has been merged into Productivity Center for Disk
Productivity Center for Replication is now integrated, but remains separately licensed
Productivity Center can now feed input to IBM's Novus Storage Enterprise Resource Planner [SERP]





TS7650 ProtecTIER Data Deduplication IP-based replication

IBM previews IP-based replication which allows the TS7650 appliance or TS7650G gateway to sendvirtual tape data over to a remote location. This is instead of having the underlying disk systemsperform the replication on its behalf. Having the TS7650 do the replication is preferred, as itcan maintain virtual cartridge integrity, when a virtual tape is unmounted the replication can beginat that point.


This is just a small subset of all the announcements. For more information, see this 28-pagepresentation [Manage the Explosion of Information with IBM Information Infrastructure].
technorati tags: IBM, Dynamic Infrastructure, Ethernet, switches, routers, Cloud Computing, Cloud Storage, Brocade, Juniper Networks, Cisco, IronStack, FCoE, FCoCEE, PoE, DS5000, FC, FDE, TSM, FastBack, TotalStorage, Tivoli, Storage, Productivity Center, Novus, SERP, TS7650, TS77650G, ProtecTIER, Information Infrastructure
[
Read More
]
On Wikibon, David Floyer has an article titled [SAS Drives Tier 1 to New Levels of Green] that focuses on the energy efficiency benefits of newer Serial-Attach SCSI (SAS) drives over older Fibre Channel (FC) drives. This makes sense, as R&D budgets have been spent on making newer technologies more "green".
Fellow blogger Hu Yoshida (HDS) encourages people to [Invest in the Future with SAS, SATA and SFF], referring to Figure 1.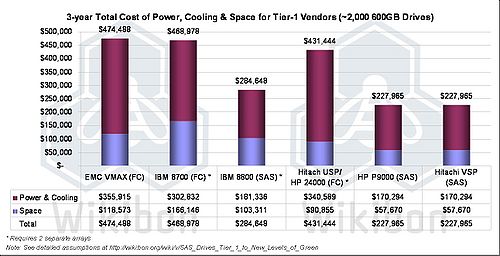 Of course, people might consider this an [apples-to-oranges] comparison. Not only are we changing from FC to SAS technology, we are also changing from 3.5-inch drives to small form factor (SFF) 2.5-inch drives. It seems odd to specify 2000 drives, when only two of the five scale up to that level. Few systems in production, from any vendor, have more than 1000 drives, so it would have seemed that would have been a fairer comparison.
However, Hu's conclusion that the combination of SAS and SFF provides better performance and energy efficiency for both IBM DS8800 and HDS VSP than FC-based alternatives from any vendor seems reasonably supported by the data.
Meanwhile, fellow blogger David Merrill (HDS) pokes fun at IBM DS8800 in Figure 2 in his post [Winner o' the green]. This second comparison was for 4PB of raw capacity, which 4 of the 5 can handle easily using 2TB SATA drives, but the DS8800 is based on SAS technology and does not support 2TB SATA drives. A performance-oriented configuration with four distinct DS8800 boxes employing 600GB SAS drives is used instead, causing the data for the DS8800 to stick out like a sore thumb, or perhaps more intentionally as a middle finger.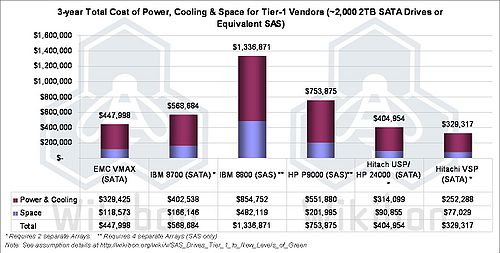 The main take-away here is that IBM offers both the DS8700 for capacity-optimized workloads, and the DS8800 for performance-optimized workloads. Some competitors may have been spreading FUD that the DS8700 was withdrawn last month, it wasn't. As you can see from the data presented, there are times where a DS8700 might be more preferable than a DS8800, depending on the type of workloads you plan to deploy. IBM offers both, and will continue to support existing DS8700 and DS8800 units in the field for many years to come.
technorati tags: IBM, DS8700, DS8800, Wikibon, Hu Yoshida, David Merrill, Davud Floyer
Today,
Apple and EMI announced
that EMI's entire music and video catalog will be available in May without any digital rights management (DRM) protection.Not only with the music be higher quality, but can be played on any player, presumably using MP3 format instead ofApple's proprietary AAC format. Being locked into any single vendor solution is undesirable. Similar issues abound for
Microsoft Office 2007
file formats.
On my iPod, I ripped all my CDs into MP3 format, not AAC. I love my iPod, but if I ever decided to chose a different MP3 player, I did not want to go through the time-consuming process or re-ripping them again.
A blog by Seth Godin feels this Apple-EMI announcement means thatDRM is dead.
Back when music labels added value by producing and distributing music in physical form, it made sense for them to take a cut. Mass-producing CDs and distributing them out to music stores across the country costs lots of money. However, for online music, music labels don't have these same overhead costs, but continue the process of paying the artists only a few pennies per dollar. Some artists have file lawsuits to get their fair share.
This process applies to any published work. For example, you can purchase Kevin Kelly's book in various formats, at different prices, from different distributors. For example:
In PDF for $2, directly from the author via PayPal
black-and-white hardcover, for $20, from Amazon
color softcopy, for $30, from Lulu
Each nets the author $1.50 in royalties per copy. You can decide how much in production and distribution costs you want to pay.
It's good to have choices again.


technorati tags: Apple, EMI, Microsoft, Office 2007, file formats, Open Office, Kevin Kelly, iTunes, Sony, iPod, music, downloads, publish, costs, royalties, choices
[
Read More
]