Continuing my coverage of the Data Center 2010 conference, Monday I attended four keynote sessions.
Opening Remarks

The first keynote speaker started out with an [English proverb]: Turbulent waters make for skillful mariners. He covered the state of the global economy and how CIOs should address the challenge. We are on the flat end of an "L-shaped" recovery in the United States. GDP growth is expected to be only 4.7 percent Latin America, 2.3 percent in North America, 1.5 percent Europe. Top growth areas include 8.0 percent India and 8.6 percent China, with an average of 4.7 growth for the entire Asia Pacific region.

On the technical side, the top technologies that CIOs are pursuing for 2011 are Cloud Computing, Virtualization, Mobility, and Business Intelligence/Analytics. He asked the audience if the "Stack Wars" for integrated systems are hurting or helping innovation in these areas.

Move over "conflict diamonds", companies now need to worry about [conflict minerals].

He proposed an alternative approach called Fabric-Based Infrastructure. In this new model, a shared pool of servers is connected to a shared pool of storage over an any-to-any network. In this approach, IT staff spend all of their time just stocking up the vending machine, allowing end-users to get the resources they need.

Crucial Trends You Need to Watch

The second speaker covered ten trends to watch, but these were not limited to just technology trends.

Virtualization is just beginning - even though IBM has had server virtualization since 1967 and storage virtualization since 1974, the speaker felt that adoption of virtualization is still in its infancy. Ten years ago, average CPU utilization for x86 servers of was only 5-7 percent. Thanks to server virtualization like VMware and Hyper-V, companies have increased this to 25 percent, but many projects to virtualized have stalled.
Big Data is the elephant in the room - storage growth is expected to grow 800 percent over the next 5 years.
Green IT - Datacenters consume 40 to 100 times more energy than the offices they support. Six months ago, Energy Star had announced [standards for datacenters] and energy efficiency initiatives.
Unified Communications - Voice over IP (VoIP) technologies, collaboration with email and instant messages, and focus on Mobile smartphones and other devices combines many overlapping areas of communication.
Staff retention and retraining - According to US Labor statistics, the average worker will have 10 to 14 different jobs by the time they reach 38 years of age. People need to broaden their scope and not be so vertically focused on specific areas.
Social Networks and Web 2.0 - the keynote speaker feels this is happening, and companies that try to restrict usage at work are fighting an uphill battle. Better to get ready for it and adopt appropriate policies.
Legacy Migrations - companies are stuck on old technology like Microsoft Windows XP, Internet Explorer 6, and older levels of Office applications. Time is running out, but migration to later releases or alternatives like Red Hat Linux with Firefox browser are not trivial tasks.
Compute Density - Moore's Law that says compute capability will double every 18 months is still going strong. We are now getting more cores per socket, forcing applications to re-write for parallel processing, or use virtualization technologies.
Cloud Computing - every session this week will mention Cloud Computing.
Converged Fabrics - some new approaches are taking shape for datacenter design. Fabric-based infrastructure would benefit from converging SAN and LAN fabrics to allow pools of servers to communicate freely to pools of storage.

He sprinkled fun factoids about our world to keep things entertaining.

50 percent of today's 21-year-olds have produced content for the web. 70 percent of four-year-olds have used a computer. The average teenager writes 2,282 text messages on their cell phone per month.
This year, Google averaged 31 billion searches per month, compared 2.6 billion searches per month in 2007.
More video has been uploaded to YouTube in the last two months than the three major US networks (ABC, NBC, CBS) have aired since 1948.
Wikipedia averages 4300 new articles per day, and now has over 13 million articles.
This year, Facebook reached 500 million users. If it were a country, it would be ranked third. Twitter would be ranked 7th, with 69% of their growth being from people 32-50 years old.
In 1997, a GB of flash memory cost nearly $8000 to manufacture, today it is only $1.25 instead.
The computer in today's cell phone is million times cheaper, and thousand times more powerful, than a single computer installed at MIT back in 1965. In 25 years, the compute capacity of today's cell phones could fit inside a blood cell. See [interview of Ray Kurzweil] on the Singularity for more details.

The Virtualization Scenario: 2010 to 2015

The third keynote covered virtualization. While server virtualization has helped reduce server costs, as well as power and cooling energy consumption, it has had a negative effect on other areas. Companies that have adopted server virtualization have discovered increased costs for storage, software and test/development efforts.

The result is a gap between expectations and reality. Many virtualization projects have stalled because there is a lack of long-term planning. The analysts recommend deploying virtualization in stages, tackle the first third, so called "low hanging fruit", then proceed with the next third, and then wait and evaluate results before completing the last third, most difficult applications.

Virtualization of storage and desktop clients are completely different projects than server virtualization and should be handled accordingly.

Cloud Computing: Riding the Storm Out

The fourth keynote focus on the pros and cons of Cloud Computing. First they start by defining the five key attributes of Cloud: self-service, scalable elasticity, shared pool of resources, metered and paid per use, over open standard networking technologies.

In addition to IaaS, PaaS and SaaS classifications, the keynote speaker mentioned a fourth one: Business Process as a Service (BPaaS), such as processing Payroll or printing invoices.

While the debate rages over the benefits between private and public cloud approaches, the keynote speaker brings up the opportunites for hybrid and community clouds. In fact, he felt there is a business model for a "cloud broker" that acts as the go-between companies and cloud service providers.

A poll of the audience found the top concerns inhibiting cloud adoption were security, privacy, regulatory compliance and immaturity. Some 66 percent indicated they plan to spend more on private cloud in 2011, and 20 percent plan to spend more on public cloud options. He suggested six focus areas:

Test and Development
Prototyping / Proof-of-Concept efforts
Web Application serving
SaaS like email and business analytics
Department-level applications
Select workloads that lend themselves to parallelization

The session wrapped up with some stunning results reported by companies. Server provisioning accomplished in 3-5 minutes instead of 7-12 weeks. Reduced cost of email by 70 percent. Four-hour batch jobs now completed in 20 minutes. 50 percent increase in compute capacity with flat IT budget. With these kind of results, the speaker suggests that CIOs should at least start experimenting with cloud technologies and start to profile their workloads and IT services to develop a strategy.
That was just Monday morning, this is going to be an interesting week!
technorati tags: IBM, GDP, Cloud Computing, virtualization, mobility, BI, CIO, Big Data, Green IT, Google, Twitter, Facebook, IaaS, PaaS, SaaS, BPaaS
This week I am in beautiful Las Vegas for the Data Center 2010 Conference. While the conference officially starts Monday, I arrived on Sunday to help set up the IBM Booth (Booth "Z").
| | |
| --- | --- |
| | (Note: This is my third year attending this conference. IBM is a platinum sponsor for this event. The analyst company that runs this event has kindly asked me not to mention their name on this blog, display any of their logos, mention the names of any of their employees, include photos of any of their analysts, include slides from their presentations, or quote verbatim any of their speech at this conference. This is all done to protect and respect their intellectual property that their members pay for. This is all documented in a lengthy document in case I forget. So, if the picture of the conference backpack appears lopped off at the top, this was done intentionally to comply with their request. The list of sponsors at this event represents a "who's who" of the IT industry.) |
Orientation

The pre-conference orientation is for people who are first-timers, or for those who have not attended this conference in a while. The conference includes 7 keynote presentations and 68 sessions organized into seven "tracks" plus one "virtual track" which crosses the other seven:

Virtualization
Cloud Computing
IT Operations
Getting Agile
Servers and Operating Systems
Storage
Business Continuity
Cost Optimization "Virtual Track"

Each session is further classified as foundational versus advanced, business versus technical, and practical versus strategic.

The speaker also presented some unique methodologies that will be used this week, including "Magic Quadrant", "MarketScope", "Hype Cycle" and "IT Market Clock" which provide graphical representation to help attendees better understand the conference materials.

Welcome Reception

The Welcome Reception was sponsored by VCE, formerly known as Acadia, the coalition comprised of VMware, Intel, Cisco and EMC. I joked that this should be "VICE" so that Intel does not feel left out.

| | |
| --- | --- |
| While we enjoyed drinks and snacks, we listened to live music from the all-violin band [Phat Strad]. | |

The CEO of VCE, Michael Capellas, recognized me from across the room and came over to ask me how IBM was doing. We had a nice friendly chat about the IT industry and the economy.
technorati tags: IBM, LSC29, VCE, Phat Strad
Next week, once again, I will be blogging from beautiful Caesars Palace hotel in Las Vegas, Nevada to report on what I see and hear at the 29th annual Data Center Conference. Here are my posts from 12 months ago when I attended this conference in 2009:
Again we will have a Solutions Showcase with a Portable Modular Data Center (PMDC) and various exhibits. I will be manning the booths, stop on by. Plus, on Tuesday, I will be be speaking! My topic will be "Choosing the right storage for your server virtualization environment."
Those of you on twitter can follow me at [@az990tony] and hash tag #LSC29. I will be available for one-on-one consultations sessions. I am arriving Sunday morning, Dec. 5, and staying through Thursday afternoon, December 9.
Just in time for [Cyber Monday], Volume II of my "Inside System Storage" book series is now available. As I mentioned in my post on the [October 7th Launch announcement], I finally got past all the internal restrictions that prevented this volume from being published earlier.
| | |
| --- | --- |
| | My first book covered my initial 12 months of blogging experience, from September 2006 to August 2007. This book covers the history of my career transition from software engineer developer to marketing strategist. |
| | |
| --- | --- |
| My second book covers the next 8 months, from September 2007 to April 2008, spanning the acquisitions of XIV and Diligent companies that were part of an overall strategic re-alignment of storage within the broader "Systems and Technology Group" of IBM. | |
The books come in a variety of formats, including hardcover with dust jacket, paperback, and online eBook (PDF). My publisher, Lulu, now supports ePub format, so I am investigating the time and effort required to build this format from the source files.
Of course, if reading isn't your cup of tea, you can always go for more traditional gifts, such as [fine silver jewelry] or [Southwestern-style jewelry] offered by my close friends here in Tucson.
Either way, I hope you can help out the US economy get back on its feet!
| | |
| --- | --- |
| | The client that bought these dozen IBM System Storage DS8800 disk systems also bought three DS8700 systems. |
Governor's Celebration of Innovation [GCOI] is an annual awards gala, with attendees who include technologists, corporate executives, entrepreneurs, investors, and policymakers. Last week, IBM was awarded "Innovator of the Year" in the Large Company category for its Easy Tier feature of the IBM DS8700 that allows optimal use of Solid-State Drives through sub-LUN automatic movement of data. IBM's Long Term File System (LTFS) was also a finalist under consideration.
The award was presented to Cindy Grossman, IBM VP and Senior Location Executive for Tucson. Joining her were Dr. Krishna Nathan, Ed Childers, Glen Jaquette, Vincent Hsu, Rick Krebsbach, Gene Leo, Denise Lopez, Hironobu Nagura, Calline Sanchez, Johnny Smith, and Dr. Cheng-Chung Song.
To learn more, read the articles in the [Arizona Business & Money] and [Phoenix Business Journal]
And for my readers in the United States, Happy Thanksgiving!
technorati tags: IBM, GCOI, Cindy Grossman, DS8800, DS8700, Easy Tier, LTFS
This week, IBM launched the new [IBM Expert Network] that provides presentation materials from subject matter experts. I am honored to be one of the 20-plus experts selected for PRO accounts on SlideShare.Net to help seed this with initial materials.
I have a bit of behind-the-scenes history to share on this. Back in 2008, I first discovered SlideShare.net as an excellent resource to get ideas for presentations. Much like YouTube is for videos and FlickR is for photos, SlideShare.Net is for presentations. In my June 2008 post, [Summer Jobs and the Singularity], I embedded someone's presentation from SlideShare.
Earlier this year, I uploaded a presentation on [IBM Solid State Disk in eX5 servers], and a presentation that I gave publicly to the Institute of Management Accountants (IMA), which I embedded in my post [Cloud Computing for Accountants].
This latter one got me in a bit of trouble internally. Neither presentation had anything secret or controversial, so I didn't see the issue. Several other bloggers had asked how I got "permission" to use an external Software-as-a-Service (SaaS) like SlideShare.net for my blog. I never asked for permission! I explained that since IBM's internal Lotus Connections software we use for blogging did not have a feature to embed PowerPoint (PPT) or Open Document Format (ODP) presentations, I chose an external service instead. Yes, I guess I could have converted each page to a JPG or PNG graphic instead, or I could have put the PDF on an FTP download area of the "Files" feature of Lotus Connections, but I chose SlideShare.net instead.
The result? IBM communications decided to make an official list, it's actually three lists. A "white list" of services that we are allowed to use, a "grey list" of services under evaluation or negotiation, and a "black list" of services we are not allowed to use, and sadly Slideshare.Net was on the black list. I protested, argued that unless IBM offered something to replace it, to re-evaluate this external service. I got it back on the "grey list" and now, this week, it is officially on the "white list".
Of course, this probably involved negotiation on EULA terms and conditions, but I am not a lawyer and have no idea what went on behind closed doors to make this happen. I am just glad it did.
So please, check out the new IBM Expert Network at: [
http://www.slideshare.net/ibm
]. Let me know what you think!
technorati tags: IBM, expert network, slideshare, cloud computing, singularity, IMA, PPT, ODP
On Wikibon, David Floyer has an article titled [SAS Drives Tier 1 to New Levels of Green] that focuses on the energy efficiency benefits of newer Serial-Attach SCSI (SAS) drives over older Fibre Channel (FC) drives. This makes sense, as R&D budgets have been spent on making newer technologies more "green".
Fellow blogger Hu Yoshida (HDS) encourages people to [Invest in the Future with SAS, SATA and SFF], referring to Figure 1.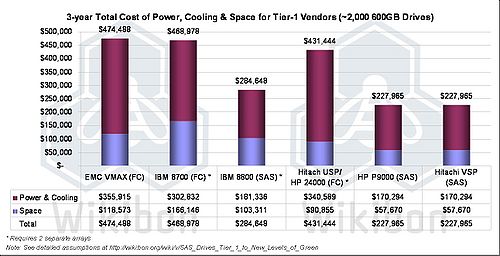 Of course, people might consider this an [apples-to-oranges] comparison. Not only are we changing from FC to SAS technology, we are also changing from 3.5-inch drives to small form factor (SFF) 2.5-inch drives. It seems odd to specify 2000 drives, when only two of the five scale up to that level. Few systems in production, from any vendor, have more than 1000 drives, so it would have seemed that would have been a fairer comparison.
However, Hu's conclusion that the combination of SAS and SFF provides better performance and energy efficiency for both IBM DS8800 and HDS VSP than FC-based alternatives from any vendor seems reasonably supported by the data.
Meanwhile, fellow blogger David Merrill (HDS) pokes fun at IBM DS8800 in Figure 2 in his post [Winner o' the green]. This second comparison was for 4PB of raw capacity, which 4 of the 5 can handle easily using 2TB SATA drives, but the DS8800 is based on SAS technology and does not support 2TB SATA drives. A performance-oriented configuration with four distinct DS8800 boxes employing 600GB SAS drives is used instead, causing the data for the DS8800 to stick out like a sore thumb, or perhaps more intentionally as a middle finger.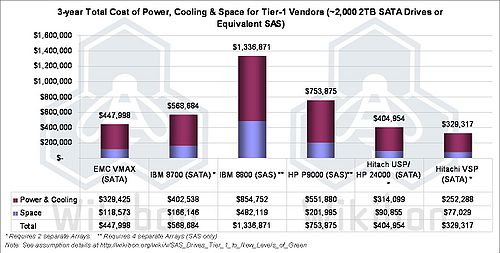 The main take-away here is that IBM offers both the DS8700 for capacity-optimized workloads, and the DS8800 for performance-optimized workloads. Some competitors may have been spreading FUD that the DS8700 was withdrawn last month, it wasn't. As you can see from the data presented, there are times where a DS8700 might be more preferable than a DS8800, depending on the type of workloads you plan to deploy. IBM offers both, and will continue to support existing DS8700 and DS8800 units in the field for many years to come.
technorati tags: IBM, DS8700, DS8800, Wikibon, Hu Yoshida, David Merrill, Davud Floyer
This year marks the 10 year anniversary of IBM's introduction of LTO tape technology. IBM is a member of the Linear Tape Open consortium which consists of IBM, HP and Quantum, referred to as "Technology Provider Companies" or TPCs. In an earlier job role, I was the "portfolio manager" for both LTO and Enterprise tape product lines.
Today, we held a celebration in Tucson, with cake and refreshments.

IBM Executives Doug Balog, IBM VP of Storage Platform, and Sanjay Tripathi, the new IBM Director and Business Line Executive for Tape, VTL and Archive systems, presented the successes of LTO tape over the past 10 years.

To date over 3.5 million LTO tape drives, and over 150 million LTO tape media cartridges have been shipped which is a testament to the remarkable marketplace acceptance of the technology.
In honor of this event, I decided to interview Bruce Master, IBM Senior Program Manager for Data Protection Systems, about this 10 year anniversary.
10 years of LTO technology is a great milestone. How is this especially significant to IBM and its clients?
According to IDC data, IBM has held the #1 leader position in market share for total world wide branded tape revenue for over 7 years and that IBM is still #1 in branded midrange tape revenue which includes the LTO tape technologies. IBM was the first drive manufacturer to deliver LTO-1 drives, back in September 2000, the first to deliver tape drive encryption to the marketplace on LTO-4 drives, and is shipping LTO generation 5 drives and libraries. IBM is the author of the new Linear Tape File System (LTFS) specification that has been adopted by the TPCs. This file system revolutionizes how tape can be used as if it were a giant 1.5 terabyte removable USB memory stick with the capability to be accessed with directory tree structures and drag and drop functionality. With LTO's built-in real-time compression, a single tape cartridge can hold up to 3TB of data.
The Linear Tape File System has been getting a lot of attention. Where can we learn more about it?
Researchers at IBM's Almaden Research Center invented the [Linear Tape File System], released it as Open Source under the name [IBM Long Term File System], and contributed the specification to the LTO consortium. On the [Ultrium.com] website, you can read articles written about the file system, the specification [60-page PDF] document and a [video demo] of the file system in action. There is also an article out on [Wikipedia].
Why is tape still a critical part of a storage infrastructure?
Tape is low cost and provides critical off-line portable storage to help protect data from attacks that can occur with on-line data. For instance, on-line data is at risk of attack from a virus, hacker, system error, disgruntled employee, and more. Since tape is off-line, not accessible by the system, it protects against these forms of corruption. LTO technology also provides write-once read-many (WORM) tape media to help address compliance issues that specify non-erasable, non-rewriteable (NENR) storage, hardware encryption to secure data, as well as a low cost long term archive media. When data cools off, or becomes infrequently accessed, why keep it on spinning disk? Move it to tape where it is much greener and lower cost. A tape in a slot on a shelf consumes minimal energy.
So tape is not dead?
Ha! Far from it. Seems like disk-only "specialty shop" storage vendors that don't have tape in their sales portfolio are the ones that propagate that myth. In reality, storage managers are tasked with meeting complex objectives for performance, compliance, security, data protection, archive and total cost of ownership. Optimally, a blend of disk and tape in a tiered infrastructure can best address these objectives. You can't build a house with just a hammer. IBM has a rich tool kit of storage offerings including disk, tape, software, services and deduplication technologies to help clients address their needs.
Do you have an example of a client who was saved by tape?
Yes indeed. Estes Express, a large trucking firm, was hit by a hurricane that flooded their data center and destroyed all systems. Fortunately the company survived because the night before they had backed up all data on to IBM tape and moved the cartridges offsite! The company survived and has since implemented a best practices data protection strategy with a combination of disk-to-disk-to-tape (D2D2T) using LTO tape at the primary site, and a remote global mirrored site that is also backed up to LTO tape.
So tape saved the day. What is the outlook for tape innovation in the future?
The future is bright for tape. Earlier this year, IBM and Fujifilm were able to [demonstrate a tape density achievement] that could enable a native 35TB tape cartridge capacity! This shows a long roadmap ahead for tape and a continued good night's sleep for storage managers knowing that their precious data will be safe.
Of course, LTO tape is just one of the many reasons IBM is a successful and profitable leader in the IT storage industry. Doug Balog talked about his experiences in London for the [October 7th launch] of IBM DS8800, Storwize V7000 and SAN Volume Controller 6.1. Sanjay Tripathi showed recent successes with IBM's ProtecTIER Data Deduplication Solution and Information Archive products.
I would like to thank Bruce Master for his time in completing this interview. To learn more about IBM tape and storage offerings, visit [ibm.com/storage].
technorati tags: IBM, Linear Tape Open, LTO, LTO-1, LTO-2, LTO-3, LTO-4, LTO-5, Doug Balog, Sanjay Tripathi, Bruce Master
Well, I'm back from my exhausting trip in New York City.
I had to rub my eyes when I saw the headlines about [HP accusing Oracle] of harassing their new CEO with a [subpoena in Oracle's suit against HP]. One thing perhaps can be said about this circus -- it may be more preferable for Oracle to talk about than the continued decline of the hardware business that it [acquired from Sun Microsystems] earlier this year.
Each quarter since 2006, the [IBM Migration Factory] team has tallied the number of clients who have moved to IBM severs and storage systems from competitive hardware. We'll I've just seen the latest numbers, for the third quarter of 2010, and it looks like we set a new quarterly record with nearly 400 total migrations to IBM from Oracle/Sun and HP.
It's clear that companies and governments worldwide are seeing greater value in IBM systems, while Oracle and HP watch their customer bases erode. In just this past 3Q 2010, nearly 400 clients have moved over to IBM -- almost all of them from Oracle/Sun and HP. Of these, 286 clients migrated to IBM Power Systems, running AIX, Linux and IBM i operating systems, from competitors alone -- nearly 175 from Oracle/Sun and nearly 100 from HP. The number of migrations to IBM Power Systems through the first three quarters of 2010 is nearly 800, already exceeding the total for all of last year by more than 200.
Let's do the math.... Since IBM established its Migration Factory program in 2006, more than 4,500 clients have switched to IBM. More than 1,000 from Oracle/Sun and HP joined the exodus this year alone. In less than five years, almost 3,000 of these clients -- including more than 1,500 from Oracle/Sun and more than 1,000 from HP -- have chosen to run their businesses on IBM's Power Systems. That's more than a client per day making the move to IBM!
And as the servers go, so goes the storage. Clients are re-discovering IBM as a server and storage powerhouse, offering a strong portfolio in servers, disk and tape systems, and how synergies between servers and storage can provide them real business benefits.
Adding it all up, it's clear that IBM's multi-billion dollar investment in helping to build a smarter planet with workload-optimized systems is paying off -- and that, more and more, clients are selecting IBM over the competition to help them meet their business needs.
technorati tags: , IBM, Migration Factory, Oracle, Sun, HP, lawsuit, subpoena
This week I am in New York City to meet with clients, IBM Business Partners, Independent Software Vendors (ISV) and Industry Solution Resellers (ISR). I'll be at IBM's [Wall Street Center of Excellence]. IBM has over 120 client centers worldwide.