The developerWorks Connections Platform is now in read-only mode and content is only available for viewing. No new wiki pages, posts, or messages may be added. Please see our FAQ for more information. The developerWorks Connections platform will officially shut down on March 31, 2020 and content will no longer be available. More details available on our FAQ. (Read in Japanese.)
This week, IBM launched the new [IBM Expert Network] that provides presentation materials from subject matter experts. I am honored to be one of the 20-plus experts selected for PRO accounts on SlideShare.Net to help seed this with initial materials.
I have a bit of behind-the-scenes history to share on this. Back in 2008, I first discovered SlideShare.net as an excellent resource to get ideas for presentations. Much like YouTube is for videos and FlickR is for photos, SlideShare.Net is for presentations. In my June 2008 post, [Summer Jobs and the Singularity], I embedded someone's presentation from SlideShare.
Earlier this year, I uploaded a presentation on [IBM Solid State Disk in eX5 servers], and a presentation that I gave publicly to the Institute of Management Accountants (IMA), which I embedded in my post [Cloud Computing for Accountants].
This latter one got me in a bit of trouble internally. Neither presentation had anything secret or controversial, so I didn't see the issue. Several other bloggers had asked how I got "permission" to use an external Software-as-a-Service (SaaS) like SlideShare.net for my blog. I never asked for permission! I explained that since IBM's internal Lotus Connections software we use for blogging did not have a feature to embed PowerPoint (PPT) or Open Document Format (ODP) presentations, I chose an external service instead. Yes, I guess I could have converted each page to a JPG or PNG graphic instead, or I could have put the PDF on an FTP download area of the "Files" feature of Lotus Connections, but I chose SlideShare.net instead.
The result? IBM communications decided to make an official list, it's actually three lists. A "white list" of services that we are allowed to use, a "grey list" of services under evaluation or negotiation, and a "black list" of services we are not allowed to use, and sadly Slideshare.Net was on the black list. I protested, argued that unless IBM offered something to replace it, to re-evaluate this external service. I got it back on the "grey list" and now, this week, it is officially on the "white list".
Of course, this probably involved negotiation on EULA terms and conditions, but I am not a lawyer and have no idea what went on behind closed doors to make this happen. I am just glad it did.
So please, check out the new IBM Expert Network at: [
http://www.slideshare.net/ibm
]. Let me know what you think!
technorati tags: IBM, expert network, slideshare, cloud computing, singularity, IMA, PPT, ODP
On Wikibon, David Floyer has an article titled [SAS Drives Tier 1 to New Levels of Green] that focuses on the energy efficiency benefits of newer Serial-Attach SCSI (SAS) drives over older Fibre Channel (FC) drives. This makes sense, as R&D budgets have been spent on making newer technologies more "green".
Fellow blogger Hu Yoshida (HDS) encourages people to [Invest in the Future with SAS, SATA and SFF], referring to Figure 1.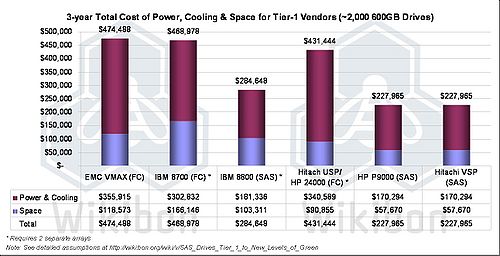 Of course, people might consider this an [apples-to-oranges] comparison. Not only are we changing from FC to SAS technology, we are also changing from 3.5-inch drives to small form factor (SFF) 2.5-inch drives. It seems odd to specify 2000 drives, when only two of the five scale up to that level. Few systems in production, from any vendor, have more than 1000 drives, so it would have seemed that would have been a fairer comparison.
However, Hu's conclusion that the combination of SAS and SFF provides better performance and energy efficiency for both IBM DS8800 and HDS VSP than FC-based alternatives from any vendor seems reasonably supported by the data.
Meanwhile, fellow blogger David Merrill (HDS) pokes fun at IBM DS8800 in Figure 2 in his post [Winner o' the green]. This second comparison was for 4PB of raw capacity, which 4 of the 5 can handle easily using 2TB SATA drives, but the DS8800 is based on SAS technology and does not support 2TB SATA drives. A performance-oriented configuration with four distinct DS8800 boxes employing 600GB SAS drives is used instead, causing the data for the DS8800 to stick out like a sore thumb, or perhaps more intentionally as a middle finger.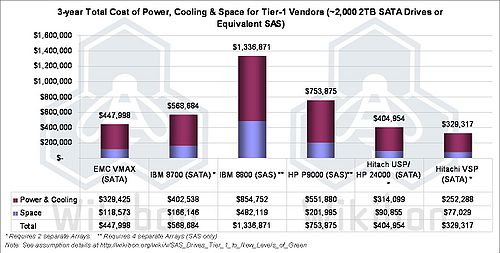 The main take-away here is that IBM offers both the DS8700 for capacity-optimized workloads, and the DS8800 for performance-optimized workloads. Some competitors may have been spreading FUD that the DS8700 was withdrawn last month, it wasn't. As you can see from the data presented, there are times where a DS8700 might be more preferable than a DS8800, depending on the type of workloads you plan to deploy. IBM offers both, and will continue to support existing DS8700 and DS8800 units in the field for many years to come.
technorati tags: IBM, DS8700, DS8800, Wikibon, Hu Yoshida, David Merrill, Davud Floyer
This year marks the 10 year anniversary of IBM's introduction of LTO tape technology. IBM is a member of the Linear Tape Open consortium which consists of IBM, HP and Quantum, referred to as "Technology Provider Companies" or TPCs. In an earlier job role, I was the "portfolio manager" for both LTO and Enterprise tape product lines.
Today, we held a celebration in Tucson, with cake and refreshments.

IBM Executives Doug Balog, IBM VP of Storage Platform, and Sanjay Tripathi, the new IBM Director and Business Line Executive for Tape, VTL and Archive systems, presented the successes of LTO tape over the past 10 years.

To date over 3.5 million LTO tape drives, and over 150 million LTO tape media cartridges have been shipped which is a testament to the remarkable marketplace acceptance of the technology.
In honor of this event, I decided to interview Bruce Master, IBM Senior Program Manager for Data Protection Systems, about this 10 year anniversary.
10 years of LTO technology is a great milestone. How is this especially significant to IBM and its clients?
According to IDC data, IBM has held the #1 leader position in market share for total world wide branded tape revenue for over 7 years and that IBM is still #1 in branded midrange tape revenue which includes the LTO tape technologies. IBM was the first drive manufacturer to deliver LTO-1 drives, back in September 2000, the first to deliver tape drive encryption to the marketplace on LTO-4 drives, and is shipping LTO generation 5 drives and libraries. IBM is the author of the new Linear Tape File System (LTFS) specification that has been adopted by the TPCs. This file system revolutionizes how tape can be used as if it were a giant 1.5 terabyte removable USB memory stick with the capability to be accessed with directory tree structures and drag and drop functionality. With LTO's built-in real-time compression, a single tape cartridge can hold up to 3TB of data.
The Linear Tape File System has been getting a lot of attention. Where can we learn more about it?
Researchers at IBM's Almaden Research Center invented the [Linear Tape File System], released it as Open Source under the name [IBM Long Term File System], and contributed the specification to the LTO consortium. On the [Ultrium.com] website, you can read articles written about the file system, the specification [60-page PDF] document and a [video demo] of the file system in action. There is also an article out on [Wikipedia].
Why is tape still a critical part of a storage infrastructure?
Tape is low cost and provides critical off-line portable storage to help protect data from attacks that can occur with on-line data. For instance, on-line data is at risk of attack from a virus, hacker, system error, disgruntled employee, and more. Since tape is off-line, not accessible by the system, it protects against these forms of corruption. LTO technology also provides write-once read-many (WORM) tape media to help address compliance issues that specify non-erasable, non-rewriteable (NENR) storage, hardware encryption to secure data, as well as a low cost long term archive media. When data cools off, or becomes infrequently accessed, why keep it on spinning disk? Move it to tape where it is much greener and lower cost. A tape in a slot on a shelf consumes minimal energy.
So tape is not dead?
Ha! Far from it. Seems like disk-only "specialty shop" storage vendors that don't have tape in their sales portfolio are the ones that propagate that myth. In reality, storage managers are tasked with meeting complex objectives for performance, compliance, security, data protection, archive and total cost of ownership. Optimally, a blend of disk and tape in a tiered infrastructure can best address these objectives. You can't build a house with just a hammer. IBM has a rich tool kit of storage offerings including disk, tape, software, services and deduplication technologies to help clients address their needs.
Do you have an example of a client who was saved by tape?
Yes indeed. Estes Express, a large trucking firm, was hit by a hurricane that flooded their data center and destroyed all systems. Fortunately the company survived because the night before they had backed up all data on to IBM tape and moved the cartridges offsite! The company survived and has since implemented a best practices data protection strategy with a combination of disk-to-disk-to-tape (D2D2T) using LTO tape at the primary site, and a remote global mirrored site that is also backed up to LTO tape.
So tape saved the day. What is the outlook for tape innovation in the future?
The future is bright for tape. Earlier this year, IBM and Fujifilm were able to [demonstrate a tape density achievement] that could enable a native 35TB tape cartridge capacity! This shows a long roadmap ahead for tape and a continued good night's sleep for storage managers knowing that their precious data will be safe.
Of course, LTO tape is just one of the many reasons IBM is a successful and profitable leader in the IT storage industry. Doug Balog talked about his experiences in London for the [October 7th launch] of IBM DS8800, Storwize V7000 and SAN Volume Controller 6.1. Sanjay Tripathi showed recent successes with IBM's ProtecTIER Data Deduplication Solution and Information Archive products.
I would like to thank Bruce Master for his time in completing this interview. To learn more about IBM tape and storage offerings, visit [ibm.com/storage].
technorati tags: IBM, Linear Tape Open, LTO, LTO-1, LTO-2, LTO-3, LTO-4, LTO-5, Doug Balog, Sanjay Tripathi, Bruce Master
Well, I'm back from my exhausting trip in New York City.
I had to rub my eyes when I saw the headlines about [HP accusing Oracle] of harassing their new CEO with a [subpoena in Oracle's suit against HP]. One thing perhaps can be said about this circus -- it may be more preferable for Oracle to talk about than the continued decline of the hardware business that it [acquired from Sun Microsystems] earlier this year.
Each quarter since 2006, the [IBM Migration Factory] team has tallied the number of clients who have moved to IBM severs and storage systems from competitive hardware. We'll I've just seen the latest numbers, for the third quarter of 2010, and it looks like we set a new quarterly record with nearly 400 total migrations to IBM from Oracle/Sun and HP.
It's clear that companies and governments worldwide are seeing greater value in IBM systems, while Oracle and HP watch their customer bases erode. In just this past 3Q 2010, nearly 400 clients have moved over to IBM -- almost all of them from Oracle/Sun and HP. Of these, 286 clients migrated to IBM Power Systems, running AIX, Linux and IBM i operating systems, from competitors alone -- nearly 175 from Oracle/Sun and nearly 100 from HP. The number of migrations to IBM Power Systems through the first three quarters of 2010 is nearly 800, already exceeding the total for all of last year by more than 200.
Let's do the math.... Since IBM established its Migration Factory program in 2006, more than 4,500 clients have switched to IBM. More than 1,000 from Oracle/Sun and HP joined the exodus this year alone. In less than five years, almost 3,000 of these clients -- including more than 1,500 from Oracle/Sun and more than 1,000 from HP -- have chosen to run their businesses on IBM's Power Systems. That's more than a client per day making the move to IBM!
And as the servers go, so goes the storage. Clients are re-discovering IBM as a server and storage powerhouse, offering a strong portfolio in servers, disk and tape systems, and how synergies between servers and storage can provide them real business benefits.
Adding it all up, it's clear that IBM's multi-billion dollar investment in helping to build a smarter planet with workload-optimized systems is paying off -- and that, more and more, clients are selecting IBM over the competition to help them meet their business needs.
technorati tags: , IBM, Migration Factory, Oracle, Sun, HP, lawsuit, subpoena
This week I am in New York City to meet with clients, IBM Business Partners, Independent Software Vendors (ISV) and Industry Solution Resellers (ISR). I'll be at IBM's [Wall Street Center of Excellence]. IBM has over 120 client centers worldwide.