with Tags:
ibm
X
Can you believe it has been five years since I started blogging?
(If you absolutely abhor the navel-gazing associated with blogging-about-blogging posts, then by all means stop reading now!)
Back in July 2005, IBM decided to merge together two brands, IBM eServer and IBM TotalStorage, into a single all-encompassing "IBM Systems" brand. Thus TotalStorage brand became the "IBM System Storage" product line of the "IBM Systems" brand. The next six months was spent renaming some (not all) of the products. The following January, I was named the Marketing Strategist for this new product line, with the mission to help promote the new naming convention.
We looked at possibly doing a regularly-scheduled podcast, but nobody back then, including myself, were familar with audio editing tools. Instead, we chose a blog. Most blogs at IBM are internal, safely hidden behind the firewall, accessible only to IBM employees. I wanted mine to be different, to be accessible to the public, clients, prospects, IBM Business Partners, and yes, even those working for IBM's various competitors. One thing I like about blogs is that if you have a typo, or make a mistake, you can go back and correct it after it has posted.
Marketing through social media is quite different than traditional marketing techniques. Management was supportive, but legal wanted to review and approval everything I wrote before I posted it onto my blog. Official IBM Press Releases, for example, go through a dozen reviews before they are finally made public. I refused. This kind of review and approval would ruin the blogging process.
Fortunately, this blog was not my first attempt at technical writing. Our legal counsel reviewed my past trip reports from various conferences, and decided to let me blog without review. Occasionally, someone will reivew my blog once already posted, and ask me to make some corrections. It reminds me of my favorite saying used heavily within IBM:
It is easier to get forgiveness than permission.
-- Arthur Bloch [Yale Book of Quotations]
Despite these delays, we managed to launch this blog in September 2006, just in time to celebrate the 50th anniversary of disk systems. IBM introduced the industry's first commercial disk system on September 13, 1956.
Over the years, this blog has helped sales reps and IBM Business Partners close deals, and address the FUD their prospects heard from competition. I have helped my readers get in touch with the right people within IBM. And, I have "sent the elevator back down", helping other IBMers launch their own blogs, including [Barry Whyte], [Elisabeth Stahl], and [Anthony Vandewerdt].
Today, bloggers have a profound impact on the world. Not everyone has a positive view on this. Bloggers and other users of social media have been seen as whistle-blowers for fraudulent corporations, as activists against corrupt governments and dictators, and as subject matter experts and fact checkers referenced during television and radio newscasts. In a recent movie, one of the major characters was a trouble-making blogger, and another character describes his blogging as nothing more than "graffiti with punctuation."
I want to thank all of my readers for making this the #1 most influential blog on IBM DeveloperWorks in 2011! This blog has been [published in a series of books], Inside System Storage Volume I and Volume II. And yes, before you all ask in the comments below, I am actively working on Volume III.
For a bit of nostalgia, I invite you to read my first 21 blog posts that I posted back in [September 2006].
technorati tags: IBM, anniversary, blogoversary, Lulu, TotalStorage, eServer, System Storage
This Thursday, June 16, 2011, marks IBM's Centennial 100 year anniversary. It happens to also be my 25th anniversary with IBM Storage. To avoid conflicts in celebrations, we decided to celebrate my induction into the "Quarter Century Club" (QCC) last Friday instead.
My colleague Harley Puckett was master of ceremonies. Here he is presenting me with a memorial plaque and keychain. Harley mentioned a few facts about 1986, the year I started working for IBM. Ronald Reagan was the US President, gasoline cost only 93 cents per gallon, and the US National Debt was only 2 trillion US dollars!
Here are my colleagues from DFSMShsm. From left to right: Ninh Le, Henry Valenzuela, Shannon Gallaher, and Stan Kissinger. I started in 1986 as aa software developer on DFHSM, and slowly worked my way up to be a lead architect of DFSMS.
Here are my colleagues from Tivoli Storage Manager (TSM). From left to right: Matt Anglin, Ken Hannigan and Mark Haye. I first met them when they worked in DFDSS, having moved from San Jose, CA down to Tucson. While I never worked on the TSM code itself, I did co-author some of the patents used in the product and other products like the 3494 Virtual Tape Server that makes use of TSM internally. I also traveled extensively to promote TSM, often with a TSM developer tagging along so they can learn the ropes about how to travel and make presentaitons.
Here are my colleagues from the disk team. From left to right: Joe Bacco, Carlos Pratt, Gary Albert, and Siebo Friesenborg. I worked on the SMI-S interface for the ESS 800 and DS8000 disk systems needed for the Tivoli Storage Productivity Center. Joe leads the "Disk Magic" tools team. Carlos and I worked on qualifying the various disk products to run with Linux on System z host attachment. Gary Albert is the Business Line Executive (BLE) of Enterprise Disk. Siebo Friesenborg was a disk expert on performance and disaster recovery, but is now enjoying his retirement.
Here are my colleagues from the support team. From left to right: Max Smith, Dave Reed, and Greg McBride. I used to work in Level 2 Support for DFSMS with Max and Dave, carrying a pager and managing the queue on RETAIN. We had enough people so that each Level 2 only had to carry the pager two weeks per year. On Monday afternoons, the person with the pager would give it to the next person on the rotation. On Monday, September 10, 2001, I got the pager, and the following morning, it went off to help all the many clients affected by the September 11 tragedy.
I worked with Greg McBride when he was in DFSMS System Data Mover (SDM), and then again in Tivoli Storage Productivity Center for Replication (TPC-R), and now he is supporting IBM Scale-Out Network Attached Storage (SONAS).
Standing in the light blue striped shirt is Greg Van Hise, my first office-mate and mentor when I first joined IBM. He went on to be part of the elite "DFHSM 2.4.0" prima donna team, then move on to be an architect for Tivoli Storage Manager (TSM).
I wasn't limited to inviting just coworkers, I was also able to invite friends and family. Here are Monica, Richard, and my mother. Normally, my parents head south for the summer, but they postponed their flights so that they could participate in my QCC celebration.
From left to right: my father, Greg Tevis, and myself. It was pure coincidence that my father would wear a loud darkly patterned shirt like mine. Honestly, we did not plan this in advance. Greg Tevis and I were lead architects for the Tivoli Storage Productivity Center, and Greg is now the Technology Strategist for the Tivoli Storage product line.
Here is Jack Arnold, fellow subject matter expert who works with me here at the Tucson Executive Briefing Center, sampling the food. We had quite the spread, including egg rolls, meatballs, luncheon meats, chicken strips, and fresh vegetables.
More colleagues from the Tucson Executive Briefing Center, from left to right, Joe Hayward, Lee Olguin, and Shelly Jost. Joe was a subject matter expert on Tape when I first joioned the EBC in 2007, but he has moved back to the Tape development/test team. Lee is our master "Gunny" sargeant to manage all of our briefing schedules. Shelly is our Client Support Manager, and was the one who organized all the food and preparations for this event!
Lastly, here are Brad Johns, myself, and Harley Puckett. Brad was my mentor for my years in Marketing, and has since retired from IBM and now works on his golf game. I would like to thank all of the Tucson EBC staff for pulling off such a great event, and all my coworkers, friends and family for coming out to celebrate this milestone in my career!
In addition to the plaque and keychain, Harley presented me with a book of congratulatory letters. If you would like to send a letter, it's not too late, contact Mysti Wood (mysti@us.ibm.com).
technorati tags: IBM, IBM100, QCC, Tucson, EBC, DFSMS, DFSMShsm, DFHSM, TSM, TPC
When I turned on the television last weekend, I saw large waves of water knock down rows of small houses. I thought I had caught the end of a bad Godzilla movie, but sadly it was not movie special effects. Mother Nature can be quite destructive. Over the past four days, Japan has been hit hard by a series of earthquakes and resulting tsunami.
(Note: Disasters can happen anywhere and at any time. Last month, New Zealand had an earthquake as well. It is best to always be prepared. If you haven't done so lately, check out the latest recommendations from the US Government [Ready.Gov] website.)
Several have asked me how this tragedy in Japan might affect IBM and its clients. Here is what I have gathered from various sources. All IBM Japan employees have survived, are safe and reporting no major injuries. IBM has four major facilities, near central part of the country around Tokyo, far from Sendai, the epicenter. All IBM buildings are still standing and operational. A few sections of Tokyo are affected by scheduled brown-outs in an effort to save electricity. Employees are asked to telecommute (a.k.a. work from home) to minimize traffic congestion.
Hakozaki - Headquarters and executive briefing center
Makuhari - Technical Center, where we often hold conferences and other events
Yamato - Research Facility, where R&D is done for IBM tape storage products
Toyosu - Service Delivery Center
I have been to Japan many times throughout my career. Back in the summer of 1995, IBM sent me to Osaka to help out clients in the aftermath of the Great Hanshin eartquake near Kobe. I remember it well, sending an email back to my team saying "It is 1995, and here in Japan it is 95 degrees and 95 percent humidiy." It was seven months after the earthquake, but people were still living in cardboard boxes and make-shift tents.
Many people asked if I will be going back to Japan to help out. I speak Japanese, can make sense of the Japanese Katakana characters on computer monitors, and am an expert in Disaster Recovery. However, the IBM Japan team is doing an awesome job helping our clients restore their data and recovery their business operations. Of course, if IBM needs me in Japan, I will gladly go, but so far, it doesn't seem that I am needed there.
Instead, I will support Japan remotely from my little office here in Tucson, Arizona. If you want to help, contribute to the Red Cross [Japan Earthquake and Pacific Tsunami] fund. 

technorati tags: IBM, Japan, Earthquate, Tokyo, Hakozaki, Makuhari, Yamato, Toyosu, Hanshin, Kobe, Osaka
| | |
| --- | --- |
| | Guest Post: The following post was written by Tom Rauchut, IBM Infrastructure Architect and Advanced Technical Sales Specialist for Tivoli Automation. Tom is at IBM Pulse 2011 for Las Vegas this week, and has offered to send his observations. |
---
The expo opened last night. There are so many fantastic demos and product experts. Las Vegas has a Tivoli buzz on right now.
I'm working in the Hands On Labs room. Pulse labs kicked off Sunday. The hot topics included Cloud, Storage, Automation, Asset Management, and BigFix (a company IBM [acquired and products will now be called Tivoli Endpoint Manager])
I'll try to get you a few updates along the way.
technorati tags: IBM, Pulse, #ibmpulse, BigFix, Cloud, Storage, Asset Management, Automation, BigFix
Actually, if the title confuses you, it is because it has a double meaning.
Meaning 1: IBM earned almost 100 Billion dollars (USD)

IBM's 2010 [earnings report is now available], for the full year 2010 and the fourth quarter. IBM had $99.9 Billion dollars (USD) in revenue, almost $100 Billion dollars that it had set out as a vision in the 1980s. IBM Storage contributed with 8 percent growth, not bad for a year Dave Barry considers [one of the worst years ever.].

IBM President and CEO Sam Palmisano granted me a chunk of IBM stock in appreciation of my efforts towards the 2010 success! Actually, he gave stock to a whole bunch of IBMers, not just me, and they all deserve it also.  Woo hoo!


Meaning 2: IBM is almost 100 years old

That's right, this upcoming June 16, 2011, IBM turns 100 years old. This Centennial date also happens to be my 25th year anniversary working in IBM Storage, which IBM calls joining the Quarter Century Club, or QCC for short. So, I am looking forward to plenty of cake and fireworks on that day!
I am looking forward to a year-long celebration on both counts!
technorati tags: IBM, Centenial, QCC, Revenues, Earnings, 4Q10, Dave Barry
Continuing my post-week coverage of the [Data Center 2010 conference], Wednesday evening we had six hospitality suites. These are fun informal get-togethers sponsored by various companies. I present them in the order that I attended them.
Intel - The Silver Lining

| | |
| --- | --- |
| | Intel called their suite "The Silver Lining". Magician Joel Bauer wowed the crowds with amazing tricks. |

| | |
| --- | --- |
| Intel handed out branded "Snuggies". I had to explain to this guy that he was wearing his backwards. | |

i/o - Wrestling with your Data Center?

| | |
| --- | --- |
| | New-comer "i/o" named their suite "Wrestling with your Data Center?" They invited attendees frustrated with their data centers to don inflated Sumo Wrestling suits. |

APC by Schneider Electric - Margaritaville

This will be the last year for Margaritaville, a theme that APC has used now for several years at this conference.

Cisco - Fire and Ice

| | |
| --- | --- |
| Cisco had "Fire and Ice" with half the room decorated in Red for fire, and White for ice. | |

| | |
| --- | --- |
| | This is Ivana, welcoming people to the "Ice" side. |

| | |
| --- | --- |
| This is Peter, on the "Fire" side. Cisco tried to have opposites on both sides, savory food on one side, sweets on the other. | |

CA Technologies - Can you Change the Game?

CA Technologies offered various "sports games", with a DJ named "Coach".

Compellent - Get "Refreshed" at the Fluid Data Hospitality Suite

Compellent chose a low-key format, "lights out" approach with a live guitarist. They had hourly raffles for prizes, but it was too dark to read the raffle ticket numbers.
Of the six, my favorite was Intel. The food was awesome, the Snuggies were hilarious, and the magician was incredibly good. I would like to think Intel for providing me super-secret inside access to their Cloud Computing training resources and for the Snuggie!
technorati tags: IBM, LSC29, Intel, Snuggie, APC, Schneider Electric, Margaritaville, CA+Technologies, Cisco, Compellent, Joel Bauer
On Wikibon, David Floyer has an article titled [SAS Drives Tier 1 to New Levels of Green] that focuses on the energy efficiency benefits of newer Serial-Attach SCSI (SAS) drives over older Fibre Channel (FC) drives. This makes sense, as R&D budgets have been spent on making newer technologies more "green".
Fellow blogger Hu Yoshida (HDS) encourages people to [Invest in the Future with SAS, SATA and SFF], referring to Figure 1.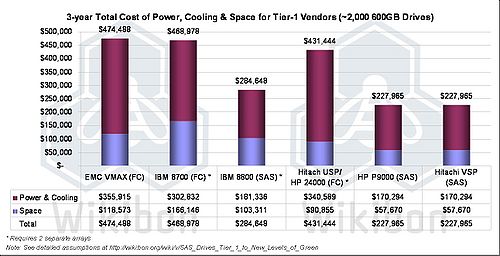 Of course, people might consider this an [apples-to-oranges] comparison. Not only are we changing from FC to SAS technology, we are also changing from 3.5-inch drives to small form factor (SFF) 2.5-inch drives. It seems odd to specify 2000 drives, when only two of the five scale up to that level. Few systems in production, from any vendor, have more than 1000 drives, so it would have seemed that would have been a fairer comparison.
However, Hu's conclusion that the combination of SAS and SFF provides better performance and energy efficiency for both IBM DS8800 and HDS VSP than FC-based alternatives from any vendor seems reasonably supported by the data.
Meanwhile, fellow blogger David Merrill (HDS) pokes fun at IBM DS8800 in Figure 2 in his post [Winner o' the green]. This second comparison was for 4PB of raw capacity, which 4 of the 5 can handle easily using 2TB SATA drives, but the DS8800 is based on SAS technology and does not support 2TB SATA drives. A performance-oriented configuration with four distinct DS8800 boxes employing 600GB SAS drives is used instead, causing the data for the DS8800 to stick out like a sore thumb, or perhaps more intentionally as a middle finger.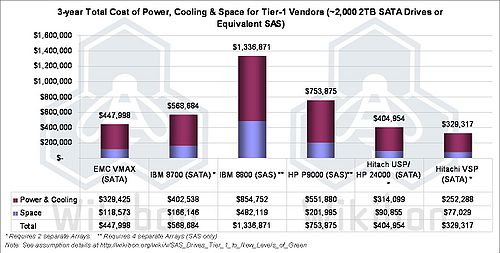 The main take-away here is that IBM offers both the DS8700 for capacity-optimized workloads, and the DS8800 for performance-optimized workloads. Some competitors may have been spreading FUD that the DS8700 was withdrawn last month, it wasn't. As you can see from the data presented, there are times where a DS8700 might be more preferable than a DS8800, depending on the type of workloads you plan to deploy. IBM offers both, and will continue to support existing DS8700 and DS8800 units in the field for many years to come.
technorati tags: IBM, DS8700, DS8800, Wikibon, Hu Yoshida, David Merrill, Davud Floyer
Well, I'm back from my adventure. For those who did not follow my tweets, here is a quick recap. Not counting the day we flew from Tucson to Minneapolis, or the day we flew from Memphis back to Tucson, Mo and I spent nine days on the road, covering 1549 miles, or roughly two thirds of the Mississippi River. 

Well, now I have a lot of unread emails and blogs to get through! My next trip is the [IBM System Storage Technical University] in Washington DC, July 26-30.
Continuing my rant from Monday's post [Time for a New Laptop], I got my new laptop Wednesday afternoon. I was hoping the transition would be quick, but that was not the case. Here were my initial steps prior to connecting my two laptops together for the big file transfer:
Document what my old workstation has

Back in 2007, I wrote a blog post on how to [Separate Programs from Data]. I have since added a Linux partition for dual-boot on my ThinkPad T60.

| | | | | |
| --- | --- | --- | --- | --- |
| Partition | Size | Format | Mount | Description |
| /dev/sda1 | 26GB | NTFS | C: | Windows XP SP3 operating system and programs |
| /dev/sda2 | 12GB | ext3 | /(root) | Red Hat Enterprise Linux 5.4 |
| /dev/sda5 | 1GB | swap | swap | Linux swap |
| /dev/sda6 | 80GB | NTFS | D: | My Documents and other data |

I also created a spreadsheet of all my tools, utilities and applications. I combined and deduplicated the list from the following sources:

Control Panel -> Add/Remove programs
C:\Program Files
Start -> Programs panels
Program taskbar at bottom of screen
D:\Install-Files

The last one was critical. Over the years, I have gotten in the habit of saving those ZIP or EXE files that self-install programs into a separate directory, D:/Install-Files, so that if I had to unintsall an application, due to conflicts or compatability issues, I could re-install it without having to download them again.

So, I have a total of 134 applications, which I have put into the following rough categories:

AV - editing and manipulating audio, video or graphics
Files - backup, copy or manipulate disks, files and file systems
Browser - Internet Explorer, Firefox, Opera and Google Chrome
Communications - Lotus Notes and Lotus Sametime
Connect - programs to connect to different Web and Wi-Fi services
Demo - programs I demonstrate to clients at briefings
Drivers - attach or sync to external devices, cell phones, PDAs
Games - not much here, the basic solitaire, mindsweeper and pinball
Help Desk - programs to diagnose, test and gather system information
Projects - special projects like Second Life or Lego Mindstorms
Lookup - programs to lookup information, like American Airlines TravelDesk
Meeting - I have FIVE different webinar conferencing tools
Office - presentations, spreadsheets and documents
Platform - Java, Adobe Air and other application runtime environments
Player - do I really need SIXTEEN different audio/video players?
Printer - print drivers and printer management software
Scanners - programs that scan for viruses, malware and adware
Tools - calculators, configurators, sizing tools, and estimators
Uploaders - programs to upload photos or files to various Web services

Backup my new workstation

My new ThinkPad T410 has a dual-core i5 64-bit Intel processor, so I burned a 64-bit version of [Clonezilla LiveCD] and booted the new system with that. The new system has the following configuration:

| | | | | |
| --- | --- | --- | --- | --- |
| Partition | Size | Format | Mount | Description |
| /dev/sda1 | 320GB | NTFS | C: | Windows XP SP3 operating system, programs and data |

There were only 14.4GB of data, it took 10 minutes to backup to an external USB disk. I ran it twice: first, using the option to dump the entire disk, and the second to dump the selected partition. The results were roughly the same.

Run Workstation Setup Wizard

The Workstation Setup Wizard asks for all the pertinent location information, time zone, userid/password, needed to complete the installation.

Re-Partition Disk Drive

I burned a 64-bit version of [System Rescue CD] and ran [Gparted] to re-partition this disk into the following:

| | | | | |
| --- | --- | --- | --- | --- |
| Partition | Size | Format | Mount | Description |
| /dev/sda1 | 40GB | NTFS | C: | Windows XP SP3 operating system and programs |
| /dev/sda2 | 15GB | ext3 | /(root) | Ubuntu Desktop 10.04 LTS |
| /dev/sda3 | 15GB | ext3 | unused | unused |
| /dev/sda5 | 5GB | swap | swap | Linux swap |
| /dev/sda6 | 245GB | NTFS | D: | My Documents and other data |




Redefine Windows directory structure

I made two small changes to connect C: to D: drive.

Changed "My Documents" to point to D:\Documents which will move the files over from C: to D: to accomodate its new target location. See [Microsoft procedure] for details.
Edited C:\notes\notes.ini to point to D:\notes\data to store all the local replicas of my email and databases.

Install Ubuntu Desktop 10.04 LTS

My plan is to run Windows and Linux guests through virtualization. I decided to try out Ubuntu Desktop 10.04 LTS, affectionately known as Lucid Lynx, which can support a variety of different virtualization tools, including KVM, VirtualBox-OSE and Xen. I have two identical 15GB partitions (sda2 and sda3) that I can use to hold two different systems, or one can be a subdirectory of the other. For now, I'll leave sda3 empty.

Take another backup of my new workstation

I took a fresh new backup of paritions (sda1, sda2, sda6) with Clonezilla.
The next step involved a cross-over Ethernet cable, which I don't have. So that will have to wait until Thursday morning.
technorati tags: IBM, Lenovo, ThinkPad, T60, T410, Intel, Clonezilla, SysRescCD, Gparted, Windows, Ubuntu, Linux, Lucid, LTS
This week I got a comment on my blog post [IBM Announces another SSD Disk offering!]. The exchange involved Solid State Disk storage inside the BladeCenter and System x server line. Sandeep offered his amazing performance results, but we have no way to get in contact with him. So, for those interested, I have posted on SlideShare.net a quick five-chart presentation on recent tests with various SSD offerings on the eX5 product line here:
Sandeep, if you see this, we would also be interested in seeing your results as well.
technorati tags: , IBM, BladeCenter, eX5, server, solid state disk, SSD, PCIe
Well, it's Tuesday again, and you know what that means! IBM announcements!
Today, I am in New York visiting clients. The weather is a lot nicer than I expected. Here is a picture of the Hudson River through some trees with leaves turning color. Something we don't see in Tucson! Our cactus and pine trees stay green year-round!
The announcements today center around the IBM PureSystems family of expert integrated systems. The PureFlex is based on Flex System components. The Flex System chassis is 10U high that hold 14 bays, consisting of 7 rows by 2 columns. Computer and Storage nodes fit in the front, and switches, fans and power supplies in the back. Here is a quick recap:
IBM Flex System Compute Nodes

The x220 Compute Node is a single-bay low-power 2-socket x86 server. The x440 Compute Node is a powerful double-bay (1 row, 2 columns). The p260 Compute Node is a single-bay server based on the latest POWER7+ CPU processor.

IBM Flex System Expansion Nodes

Do you remember those old movies where a motorcycle would have a sidecar that could hold another passenger, or extra cargo? IBM introduces "Expansion Nodes" for the x200 series single-bay Compute nodes. The idea here is that in a single column, you have one bay for the Compute node, and then on the side in the next bay (same column) you have an Expanions node. There are two choices:

Storage Expansion Node allows you to have eight additional drives
PCIe Expansion Node allows to to have four PCIe cards, which could include the SSD-based PCIe cards from IBM's recent acquisition, Texas Memory Systems.

There are times where one or two internal drives are just not enough storage for a single server, and these expanion nodes could just be the perfect solution for some use cases.

IBM Flex System V7000 Storage Node

I saved the best for last! The Flex System V7000 Storage Node is basically the IBM Storwize V7000 repackaged to fit into the Flex System chassis. This means that in the front of the chassis, the Flex System V7000 takes up four bays (2 rows by 2 columns). In the back of the chassis are the power supplies, fans and switches.

The new Flex System V7000 supports everything the Storwize V7000 does except the upgrade to "Unified" through file modules. For those who want to have Storwize V7000 Unified in their PureFlex systems, IBM will continue to offer the outside-the-chassis original Storwize V7000 that can have two file modules added for NFS, CIFS, HTTPS, FTP and SCP protocol support.

IBM Flex System Converged Network Switch

The Converged Network Switch provide Fibre Channel over Ethernet (FCoE) directly from the chassis. This eliminates the need for a separate "Top-of-Rack" switch, and allows the new Flex System V7000 Storage Node to externally virtualize FCoE-based disk arrays.

Patterns of Expertise for Infrastructure

The original patterns of expertise focused on the PureApplication Systems. Now IBM has added some for the Infrastructure on PureFlex systems.
IBM has sold over 1,000 Flex System and PureFlex systems, across 40 different countries around the world, since their introduction a few months ago in April! These latest enhancements will help solidify IBM's industry leadership,
technorati tags: IBM, PureFlex, Storwize V7000, Flex System V7000, PureSystems, PureApplication, Patters of Expertise
Every year, I teach hundreds of sellers how to sell IBM storage products. I have been doing this since the late 1990s, and it is one task that has carried forward from one job to another as I transitioned through various roles from development, to marketing, to consulting.
This week, I am in the city of Taipei [Taipei] to teach Top Gun sales class, part of IBM's [Sales Training] curriculum. This is only my second time here on the island of Taiwan.
As you can see from this photo, Taipei is a large city with just row after row of buildings. The metropolitan area has about seven million people, and I saw lots of construction for more on my ride in from the airport.
The student body consists of IBM Business Partners and field sales reps eager to learn how to become better sellers. Typically, some of the students might have just been hired on, just finished IBM Sales School, a few might have transferred from selling other product lines, while others are established storage sellers looking for a refresher on the latest solutions and technologies.
I am part of the teach team comprised of seven instructors from different countries. Here is what the week entails for me:
Monday - I will present "Selling Scale-Out NAS Solutions" that covers the IBM SONAS appliance and gateway configurations, and be part of a panel discussion on Disk with several other experts.


Tuesday - I have two topics, "Selling Disk Virtualization Solutions" and "Selling Unified Storage Solutions", which cover the IBM SAN Volume Controller (SVC), Storwize V7000 and Storwize V7000 Unified products.


Wednesday - I will explain how to position and sell IBM products against the competition.


Thursday - I will present "Selling Infrastructure Management Solutions" and "Selling Unified Recovery Management Solutions", which focus on the IBM Tivoli Storage portfolio, including Tivoli Storage Productivity Center, Tivoli Storage Manager (TSM), and Tivoli Storage FlashCopy Manager (FCM). The day ends with the dreaded "Final Exam".


Friday - The students will present their "Team Value Workshop" presentations, and the class concludes with a formal graduation ceremony for the subset of students who pass. A few outstanding students will be honored with "Top Gun" status.
These are the solution areas I present most often as a consultant at the IBM Executive Briefing Center in Tucson, so I can provide real-life stories of different client situations to help illustrate my examples.
To learn more about a Top Gun class in your area, see the [Top Gun class schedule].
The weather here in Taipei calls for rain every day! I was able to take this photo on Sunday morning while it was still nice and clear, but later in the afternoon, we had quite the downpour. I am glad I brought my raincoat!
technorati tags: IBM, Sales Training, Top Gun, Taipei, Taiwan, NAS, SONAS, disk, virtualization, unified+storage, SAN Volume Controller, SVC, Storwize V7000, Storwize V7000 Unified, Infrastructure Management, Tivoli Storage, Productivity Center, TPC, Unified Recovery Management, TSM, FlashCopy, FCM
Well it's Tuesday again, and you know what that means.. IBM announcements! Today, IBM announces that next Monday marks the 60th anniversary of first commercial digital tape storage system! I am on the East coast this week visiting clients, but plan to be back in Tucson in time for the cake and fireworks next Monday.
Note that I said first commercial tape system as tape itself, in various forms, [has been around since 4000 B.C.]. A little historical context might help:
1845 - surgical tape
1921 - the Band-Aid, self-adhesive bandage
1925 - masking tape (which 3M sold under its newly announced Scotch® brand)
1930 - clear cellulose-based tape (today, when people say Scotch tape, they usually are referring to the cellulose version)
1935 - Allgemeine Elektrizitatsgesellschaft (AEG) presents Magnetophon K1, audio recording on analog tape
1942 - Duct tape
1947 - Bing Crosby adopts audio recording for his radio program. This eliminated him doing the same program live twice per day, perhaps the first example of using technology for "deduplication".
According to the IBM Archives the [IBM 726 tape drive was formally announced May 21, 1952]. It was the size of a refrigerator, and the tape reel was the size of a large pizza. The next time you pull a frozen pizza from your fridge, you can remember this month's celebration!
When I first joined IBM in 1986, there were three kinds of IBM tape. The round reel called 3420, and the square cartridge called 3480, and the tubes that contained a wide swath of tape stored in honeycomb shelves called the [IBM 3850 Mass Storage System].
My first job at IBM was to work on DFHSM, which was specifically started in 1977 to manage the IBM 3850, and later renamed to the DFSMShsm component of the DFSMS element of the z/OS operating system. This software was instrumental in keeping disk and tape at high 80-95 percent utilization rates on mainframe servers.
While visiting a client in Detroit, the client loved their StorageTek tape automation silo, but didn't care for the StorageTek drives inside were incompatible with IBM formats. They wanted to put IBM drives into the StorageTek silos. I agreed it was a good idea, and brought this back to the attention of development. In a contentious meeting with management and engineers, I presented this feedback from the client.
Everyone in the room said IBM couldn't do that. I asked "Why not?" The software engineers I spoke to already said they could support it. With StorageTek at the brink of Chapter 11 bankruptcy, I argued that IBM drives in their tape automation would ease the transition of our mainframe customers to an all-IBM environment.
Was the reason related to business/legal concerns, or was their a hardware issue? It turned out to be a little of both. On the business side, IBM had to agree to work with StorageTek on service and support to its mutual clients in mixed environments. On the technical side, the drive had to be tilted 12 degrees to line up with the robotic hand. A few years later, the IBM silo-compatible 3592 drive was commercially available.
Rather than put StorageTek completely out of business, it had the opposite effect. Now that IBM drives can be put in StorageTek libraries, everyone wanted one, basically bringing StorageTek back to life. This forced IBM to offer its own tape automation libraries.
In 1993, I filed my first patent. It was for the RECYCLE function in DFHSM to consolidate valid data from partial tapes to fresh new tapes. Before my patent, the RECYCLE function selected tapes alphabetically, by volume serial (VOLSER). My patent evaluated all tapes based on how full they were, and sorted them least-full to most-full, to maximize the return of cartridges.
Different tape cartridges can hold different amounts of data, especially with different formats on the same media type, with or without compression, so calculating the percentage full turned out to be a tricky algorithm that continues to be used in mainframe environments today.
The patent was popular for cross-licensing, and IBM has since filed additional patents for this invention in other countries to further increase its license revenue for intellectual property.
In 1997, IBM launched the IBM 3494 Virtual Tape Server (VTS), the first virtual tape storage device, blending disk and tape to optimal effect. This was based off the IBM 3850 Mass Storage Systems, which was the first virtual disk system, that used 3380 disk and tape to emulate the older 3350 disk systems.
In the VTS, tape volume images would be emulated as files on a disk system, then later moved to physical tape. We would call the disk the "Tape Volume Cache", and use caching algorithms to decide how long to keep data in cache, versus destage to tape. However, there were only a few tape drives, and sometimes when the VTS was busy, there were no tape drives available to destage the older images, and the cache would fill up.
I had already solved this problem in DFHSM, with a function called pre-migration. The idea was to pre-emptively copy data to tape, but leave it also on disk, so that when it needed to be destaged, all we had to do was delete the disk copy and activate the tape copy. We patented using this idea for the VTS, and it is still used in the successor models of IBM Sysem Storage TS7740 virtual tape libraries today.
Today, tape continues to be the least expensive storage medium, about 15 to 25 times less expensive, dollar-per-GB, than disk technologies. A dollar of today's LTO-5 tape can hold 22 days worth of MP3 music at 192 Kbps recording. A full TS1140 tape cartridge can hold 2 million copies of the book "War and Peace".
(If you have not read the book, Woody Allen took a speed reading course and read the entire novel in just 20 minutes. He summed up the novel in three words: "It involves Russia." By comparison, in the same 20 minutes, at 650MB/sec, the TS1140 drive can read this novel over and over 390,000 times.)
If you have your own "war stories" about tape, I would love to hear them, please consider posting a comment below.
technorati tags: IBM, AEG, Bing Crosby, Duct+Tape, Band Aid, DFHSM, RECYCLE, DFSMShsm, z/OS, StorageTek, VTS, VTL, LTO-5, TS1140, LTFS, Woody Allen
This week, I am in beautiful Sao Paulo, Brazil, teaching Top Gun class to IBM Business Partners and sales reps. Traditionally, we have "Tape Thursday" where we focus on our tape systems, from tape drives, to physical and virtual tape libraries. IBM is the number #1 tape vendor, and has been for the past eight years.
(The alliteration doesn't translate well here in Brazil. The Portuguese word for tape is "fita", and Thursday here is "quinta-feira", but "fita-quinta-feira" just doesn't have the same ring to it.)
In the class, we discussed how to handle common misperceptions and myths about tape. Here are a few examples:
Myth 1: Tape processing is manually intensive

Myth 2: Tape media is less reliable than disk media

Myth 3: Most tape restores fail

Myth 4: Vendors and Manufacturers are no longer investing in tape technology
Next month, IBM celebrates the 60th anniversary for tape. It is good to see that tape continues to be a vibrant part of the IT industry, and to IBM's storage business!
technorati tags: IBM, Google, Microsoft, EMC, Brazil, LTO, TS2900, TS3500, Space Shuttle, Challenger
Five years ago, I sprayed coffee all over my screen from something I read on a blog post from fellow blogger Hu Yoshida from HDS. You can read what cased my reaction in my now infamous post [Hu Yoshida should know better]. Subsequently, over the years, I have disagreed with Hu on a variety of of topics, as documented in my 2010 blog post [Hu Yoshida Does It Again].
(Apparently, I am not alone, as the process of spraying one's coffee onto one's computer screen while reading other blog posts has been referred to as "Pulling a Tony" or "Doing a Tony" by other bloggers!)
Fortunately, my IBM colleague David Sacks doesn't drink coffee. Last month, David noticed that Hu had posted a graph in a recent blog entry titled [Additional Storage Performance Efficiencies for Mainframes], comparing the performance of HDS's Virtual Storage Platform (VSP) to IBM's DS8000.
For those not familiar with disk performance graphs, flatter is better, lower response time and larger IOPS are always desired. This graph implies that the HDS disk system is astonishingly faster than IBM's DS8000 series disk system. Certainly, the HDS VSP qualifies as a member of the elite [Super High-End club] with impressive SPC benchmark numbers, and is generally recognized as a device that works in IBM mainframe environments. But this new comparison graph is just ridiculous!
(Note: While SPC benchmarks are useful for making purchase decisions, different disk systems respond differently to different workloads. As the former lead architect of DFSMS for z/OS, I am often brought in to consult on mainframe performance issues in complex situations. Several times, we have fixed performance problems for our mainframe clients by replacing their HDS systems with IBM DS8000 series!)
Since Hu's blog entry contained very little information about the performance test used to generate the graph, David submitted a comment directly to Hu's blog asking a few simple questions to help IBM and Hu's readers determine whether the test was fair. Here is David's comment as submitted:
"Hello, Hu,
(Disclosure: I work for IBM. This comment is my own.)

I was quite surprised by the performance shown for the IBM DS8000 in the graph in your blog. Unfortunately, you provided very little detail about the benchmark. That makes it rather difficult (to say the least) to identify factors behind the results shown and to determine whether the comparison was a fair one.

Of the little information provided, an attribute that somewhat stands out is that the test appears to be limited to a single volume at least, that's my interpretation of "LDEV: 1*3390-3"? IBM's internal tests for this kind of case show far better response time and I/Os per second than the graph you published.

Here are a few examples of details you could provide to help readers determine whether the benchmark was fair and whether the results have any relevance to their environment.

What DS8000 model was the test run on? (the DS8000 is a family of systems with generations going back 8 years. The latest and fastest model is the DS8800.)
What were the hardware and software configurations of the DS8000 and VSP systems, including the number and speed of performance-related components?
What were the I/O workload characteristics (e.g., read:write ratio and block size(s))?
What was the data capacity of each volume? (Allocated and used capacity.)
What were the cache sizes and cache hit ratios for each system? (The average I/O response times under 1.5 milliseconds for each system imply the cache hit ratios were relatively high.)
How many physical drives were volumes striped across in each system?"
Unlike my blog on IBM, HDS bloggers like Hu are allowed to reject or deny comments before they appear on his blog post. We were disappointed that HDS never posted David's comment nor responded to it. That certainly raises questions about the quality of the comparison.
So, perhaps this is yet another case of [Hitachi Math], a phrase coined by fellow blogger Barry Burke from EMC back in 2007 in reference to outlandish HDS claims. My earliest mention was in my blog post [Not letting the Wookie Win].
By the way, since the test was about z/OS Extended Address Volumes (EAV), it is worth mentioning that IBM's DS8700 and DS8800 support 3390 volume capacities up to 1 TB each, while the HDS VSP is limited to only 223 GB per volume. Larger volume capacities help support ease-of-growth and help reduce the number of volumes storage administrators need to manage; that's just one example of how the DS8000 series continues to provide the best storage system support for z/OS environments.
Personally, I am all for running both IBM and HDS boxes side-by-side and publishing the methodology, the workload characteristics, the configuration details, and the results. Sunshine is always the best disinfectant!
technorati tags: IBM, DS8000, DS8800, HDS, Hu Yoshida, USP, VSP, mainframe, EAV