with Tags:
ibm
X
The weather has warmed up here in Tucson so I started my Spring Cleaning early this year and unearthed from my garage a [Bankers Box] full of floppy diskettes.
| | |
| --- | --- |
| | IBM invented the floppy disk back in 1971, and continued to make improvements and enhancements through the 1980s and 1990s. It will be one of the many inventions celebrated as part of IBM's Centennial (100-year) anniversary. Here is an example [T-shirt] |
IBM needed a way to send out small updates and patches for microcode of devices out in client locations. IBM had drives that could write information, and sent out "read-only" drives to the customer locations to receive these updates. These were flexible plastic circles with a magnetic coating, and placed inside a square paper sleeve. Imagine a floppy disk the size of a piece of standard paper. The 8-inch floppy fit conveniently in a manila envelope, sendable by standard mail, and could hold nearly 80KB of data.
I've been using floppies for the past thirty years. Here's some of my fondest memories:
While still in high school, my friend Franz Kurath and I formed "Pearson Kurath Systems", a software development firm. We wrote computer programs to run on UNIX and Personal Computers for small businesses here in Tucson. Whenever we developed a clever piece of code, a subroutine or procedure, we would save it on a floppy disk and re-use it for our next project. We wrote in the BASIC language, and our databases were simple Comma-Separated-Variable (CSV) flat files.

The 5.25-inch floppies we used could hold 360KB, and were flexible like the 8-inch models. Later versions of these 5.25-inch floppies would be able to hold as much as 1.2MB of data. We would convert single-sided floppies into double-sided ones by cutting out a notch in the outer sleeve. Covering up the notches would mark them as read-only.

The 3.5-inch floppies were introduced with a hard plastic shell, with the selling point that you can slap on a mailing label and postage and send it "as is" without the need for a separate envelope. These new 3.5-inch floppies would carry "HD" for high density 720KB, and double-sided versions could hold 1.44MB of data. The term "diskette" was used to associate these new floppies with [hard-shelled tape cassettes]. Sliding a plastic tab would allow floppies to be marked "read-only". IBM has the patent on this clever invention.

Continuing our computer programming business in college, Franz and I took out a bank loan to buy our first Personal Computer, for over $5000 dollars USD. Until then, we had to use equipment belonging to each client. The banks we went to didn't understand why we needed a computer, and suggested we just track our expenses on traditional green-and-white ledger paper. Back then, peronsal computers were for balancing your checkbook, playing games and organizing your collection of cooking recipies. But for us, it was a production machine. A computer with both 5.25-inch and 3.5-inch drives could copy files from one format to another as needed. The boost in productivity paid for itself within months.

Apple launched its Macintosh computer in 1984, with a built-in 3.5-inch disk drive as standard equipment. Here is a YouTube video of an [astronaut ejecting a floppy disk] from an Apple computer in space.

In my senior year at the University of Arizona, my roommate Dave had borrowed my backpack to hold his lunch for a bike ride. He thought he had taken everything out, but forgot to remove my 3.5-inch floppy diskette containing files for my senior project. By the time he got back, the diskette was covered in banana pulp. I was able to rescue my data by cracking open the plastic outer shell, cleaning the flexible magnetic media in soapy water, placing it back into the plastic shell of a second diskette, and then copied the data off to a third diskette.

After graduating from college, Franz and I went our separate ways. I went to work for IBM, and Franz went to work for [Chiat/Day], the advertising agency famous for the 1984 Macintosh commercial. We still keep in touch through Facebook.

At IBM, I was given a 3270 terminal to do my job, and would not be assigned a personal computer until years later. Once I had a personal computer at home and at work, the floppy diskette became my "briefcase". I could download a file or document at work, take it home, work on it til the wee hours of the morning, and then come back the next morning with the updated effort.

To help prepare me for client visits and public speaking at conferences, IBM loaned me out to local schools to teach. This included teaching Computer Science 101 at Pima Community College. When asked by a student whether to use "disc" or "disk", I wrote a big letter "C" on the left side of the chalkboard, and a big letter "K" on the right side. If it is round, I told the students while pointing at the letter "C", like a CD-ROM or DVD, use "disc". If it has corners, pointing to corners of the letter "K", like a floppy diskette or hard disk drive, use "disk".

On one of my business trips to visit a client, we discovered the client had experienced a problem that we had just recently fixed. Normally, this would have meant cutting a Program Trouble Fix (PTF) to a 3480 tape cartridge at an IBM facility, and send it to the client by mail. Unwilling to wait, I offered to download the PTF onto a floppy diskette on my laptop, upload it from a PC connected to their systems, and apply it there. This involved a bit of REXX programming to deal with the differences between ASCII and EBCDIC character sets, but it worked, and a few hours later they were able to confirm the fix worked.

In 1998, Apple would signal the begining of the end of the floppy disk era, announcing their latest "iMac" would not come with an internal built-in floppy drive. David Adams has a great article on this titled [The iMac and the Floppy Drive: A Conspiracy Theory]. You can get external floppy drives that connect via USB, so not having an internal drive is no longer a big deal.

While teaching a Top Gun class to a mix of software and hardware sales reps, one of the students asked what a "U" was. He had noticed "2U" and "3U" next to various products and wondered what that was referring to. The "U" represents the [standard unit of measure for height of IT equipment in standard racks]. To help them visualize, I explained that a 5.25-inch floppy disk was "3U" in size, and a 3.5-inch floppy diskette was "2U". Thus, a "U" is 1.75 inches, the thinnest dimension on a two-by-four piece of lumber. Servers that were only 1U tall would be referred to as "pizza boxes" for having similar dimensions.

Every year, right around November or so, my friends and family bring me their old computers for me to wipe clean. Either I would re-load them with the latest Ubuntu Linux so that their kids could use it for homework, or I would donate it to charity. Last November, I got a computer that could not boot from a CD-ROM, forcing me to build a bootable floppy. This gave me a chance to check out the various 1-disk and 2-disk versions of Linux and other rescue disks. I also have a 3-disk set of floppies for booting OS/2 in command line mode.
So while this unexpected box of nostalgia derailed my efforts to clean out my garage this weekend, it did inspire me to try to get some of the old files off them and onto my PC hard drive. I have already retrieved some low-res photographs, some emails I sent out, and trip reports I wrote. While floppy diskettes were notorious for being unreliable, and this box of floppies has been in the heat and cold for many Arizonan summers and winters, I am amazed that I was able to read the data off most of them so far, all the way back to data written in 1989. While the data is readable, in most cases I can't render it into useful information. This brings up a few valuable lessons:
Backups are not Archives

Some of the files are in proprietary formats, such as my backups for TurboTax software. I would need a PC running a correct level of Windows operating system, and that particular software, just to restore the data. TurboTax shipped new software every year, and I don't know how forward or backward-compatible each new release was.

Another set of floppies are labeled as being in "FDBACK" format. I have no idea what these are. Each floppy has just two files, "backup.001" and "control.001", for example.

Backups are intended solely to protect against unexpected loss from broken hardware or corrupted data. If you plan to keep data as archives for long-term retention, use archive formats that will last a long time, so that you can make sense of them later.

Operating System Compatibility


Windows 7 and all of my favorite flavors of Linux are able to recognize the standard "FAT" file system that nearly all of my floppies are written in. Sadly, I have some files that were compressed under OS/2 operating system using software called "Stacker". I may have to stand up an OS/2 machine just to check out what is actually on those floppies.

You can't judge a book by its cover

Floppies were a convenient form of data interchange. Sometimes, I reused commercially-labeled floppies to hold personal files. So, just because a floppy says "America On-Line (AOL) version 2.5 Installation", I can't just toss it away. It might actually contain something else entirely. This means I need to mount each floppy to check on its actual contents.
So what will I do with the floppies I can't read, can't write, and can't format? I think I will convert them into a [retro set of coasters], to protect my new living room furniture from hot and cold beverages.
technorati tags: IBM, Centennial, Patent, Floppy, Disk, Diskette, Apple, Chiat/Day, Pima Community College, Macintosh, iMac, Franz Kurath, Pearson Kurath Systems
With all the announcements we had in June, it is easy for some of the more subtle enhancements to get overlooked. While I was at Orlando for the IBM Edge conference, I was able to blog about some of the key featured announcements. Then, later, when I got back from Orlando to Tucson, I was able to then blog about [More IBM Storage Announcements]. For IBM's Scale-Out Network Attach Storage (SONAS), I had simply:
"SONAS v1.3.2 adds support for management by the newly announced IBM Tivoli Storage Productivity Center v5.1 release. Also, IBM now officially supports Gateway configurations that have the storage nodes connected to XIV or Storwize V7000 disk systems. These gateway configurations offer new flexible choices and options for our ever-expanding set of clients."
In my defense, IBM numbers its software releasees with version.release.modification, so 1.3.2 is Version 1, Release 3, Modification 2. Generally, modification announcements don't get much attention. The big announcement for v1.3.0 of SONAS happened last October, see my blog post [October 2011 Announcements - Part I] or the nice summary post [IBM Scale-out Network Attached Storage 1.3.0] from fellow blogger Roger Luethy.
Here is a diagram showing the three configurations of SONAS.
I have covered the SONAS Appliance model in depth in previous blogs, with options for fast and slow disk speeds, choice of RAID protection levels, a collection of enterprise-class software features provided at no additional charge, and interfaces to support a variety of third party backup and anti-virus checking software.
The basics haven't changed. The SONAS appliance consists of 2 to 32 interface nodes, 2 to 60 storage nodes, and up to 7,200 disk drives. The maximum configuration takes up 17 frames and holds 21.6PB of raw disk capacity, which is about 17PB usable space when RAID6 is configured. An interface nodes has one or two hex-core processors with up to 144GB of RAM to offer up to 3.5GB/sec performance each. This makes IBM SONAS the fastest performing and most scalable disk system in IBM's System Storage product line.
I thought I would go a bit deeper on the gateway models. These models support up to ten storage nodes, organized in pairs. The key difference is that instead of internal disk controllers, the storage nodes connect to external disk systems. There is enough space in the base SONAS rack to hold up to six interface nodes, or you can add a second rack if you need more interface nodes for increased performance.
SONAS with XIV gateway

XIV offers a clever approach to storage that allows for incredibly fast access to data on relatively slow 7200 RPM drives. By scattering data across all drives and taking advantage of parallel processing, rebuild times for a failed 3TB drive are less than 75 minutes. Compare that to typical rebuild times for 3TB drives that could take as much as 9-10 hours under active I/O loads!

In the configuration, each pair of storage nodes can connect to external SAN Fabric switches that then connect to one or two XIV storage systems. How simple is that? These can be the original XIV systems that support 1TB and 2TB drives, or the new XIV Gen3 systems that support 400GB Solid-state drives (SSD) and 3TB spinning disk drives. In both cases, you can acquire additional storage capacity as little as 12 drives at a time (one XIV module holds 12 drives).

The maximum configuration of ten XIV boxes could hold 1,800 drives. At 3TB drive per drive, that would be 2.4PB usable capacity.

The SONAS with XIV gateway does not require the XIV devices to be dedicated for SONAS purposes. Rather, you can assign some XIV storage space for the SONAS, and the rest is available for other servers. In this manner, SONAS just looks like another set of Linux-based servers to the XIV storage system. This in effect gives you "Unified Storage", with a full complement of NAS protocols from the SONAS side (NFS, CIFS, FTP, HTTPS, SCP) as well as block-based protocols directly from the XIV (FCP, iSCSI).

SONAS with Storwize V7000 gateway

The other gateway offering is the SONAS with Storwize V7000. Like the SONAS with XIV gateway model, you connect a pair of SONAS storage nodes to 1 or 2 Storwize V7000 disk systems. However, you do not need a SAN Fabric switch in between. You can instead connect the SONAS storage nodes directly to the Storwize V7000 control enclosures.

To acquire additional storage capacity, you can purchase a single drive at a time. That's right. Not 12 drives, or 60 drives, at a time, but one at a time. The Storwize V7000 supports a wide range of SSD, SAS and NL-SAS drives at different sizes, speeds and capacities. The drives can be configured into various RAID protection levels: RAID 0, 1, 3, 5, 6 and 10.

Each Storwize V7000 control enclosure can have up to nine expansion drawers. If you choose the 2.5-inch 24-bay models, you can have up to 480 drives per storage node pair, for a total of 2,400 drives. If you choose the 3.5-inch 12-bay models, you can have up to 240 drives per node pair, 1,200 drives total. At 3TB per drive, this could be 3.6PB of raw capacity. The usable PB would depend on which RAID level you selected. Of course, you don't have to limit yourself all to one size or the other. Feel free to mix 2.5-inch and 3.5-inch drawers to provide different storage pool capabilities.
All three SONAS configurations support Active Cloud Engine. This is a collection of features that differentiate SONAS from the other scale-out NAS wannabees in the marketplace:
Policy-driven Data Placement -- Different files can be directed to different storage pools. You no longer have to associate certain file systems to certain storage technologies.


High-speed Scan Engine -- SONAS can scan 10 million files per minute, per node. These scans can be used to drive data migration, backups, expirations, or replications, for example. It is over 100 times faster than traditional walk-the-directory-tree approaches employed by other NAS solutions.


Policy-driven Migration -- You can migrate files from one storage pool to another, based on age, days since last reference, size, and other criteria. The files can be moved from disk to disk, or move out of SONAS and stored on external media, such as tape or a virtual tape library. A lot of data stored on NAS systems is dormant, with little or no likelihood of being looked at again. Why waste money keeping that kind of data on expensive disk? With SONAS, you can move those files to tape can save lots of money. The files are stubbed in the SONAS file system, so that an access request to a file will automatically trigger a recall to fetch the data from tape back to the SONAS system.


Policy-driven Expiration -- SONAS can help you keep your system clean, by helping you decide what files should be deleted. This is especially useful for things like logs and traces that tend to just hang around until some deletes them manually.


WAN Caching -- This allows one SONAS to act as a "Cloud Storage Gateway" for another SONAS at a remote location connected by Wide Area Network (WAN). Let's say your main data center has a large SONAS repository of files, and a small branch office has a smaller SONAS. This allows all locations to have a "Global" view of the all the interconnected SONAS systems, with a high-speed user experience for local LAN-based access to the most recent and frequently used files.
If you want to learn more, see the [IBM SONAS landing page]. Next week, I will be across the Pacific Ocean in [Taipei], to teach IBM Top Gun class to sales reps and IBM Business Partners. "Selling SONAS" will be one of the topics I will be covering!
technorati tags: IBM, SONAS, gateway, disk, tape, scale-out, NAS, RAID, rebuild
This week, IBM celebrates its Centennial, 100 years since its incorporation on June 16, 1911.
A few months ago, the Tucson Executive Briefing Center ordered its latest IBM System Storage [DS8800] to be on display for demos. This was manufactured in Vác, Hungary (about an hour north of Budapest), and was going to be shipped over to the United States.
However, Sam Palmisano, IBM Chairman and CEO, was in Hannover, Germany for the [CeBIT conference] and wanted this DS8800 to be re-directed to Germany first for this event. He was kind enough to sign it for us. Brian Truskowski, IBM General Manager for Storage, and Rod Adkins, IBM Senior Vice President for IBM Systems Technolgoy Group (and my fifth-line manager), also signed this as well!
I am pleased to say this "signed" DS8000 has arrived to Tucson. This is the latest model in a family of market-leading high-end enterprise-class disk systems designed to attach to all computers, including System z mainframes, POWER systems running AIX and IBM i, as well as servers running HP-UX, Solaris, Linux or Windows.
For more on IBM's other innovations over the past 100 years, check out the [Icons of Progress], which includes these storage innovations:
If you are planning a visit to Tucson, please ask for a tour to see this DS8800, a historic monument to disk innovation!
technorati tags: IBM, Tucson, EBC, DS8800, CEO, Chairman, Sam Palmisano, Brian Trukowski, Rod Adkins, mainframe, AIX, Linux, Windows
 In keeping with the spirit to be a more kinder, gentler 2011, I decided last week to refrain from being the rain on someone else's parade that occurs immediately before, during or after a competitor's announcement or annual conference, and let EMC have their few moments in the spotlight last week. This of course allows me more time to learn about the announcements and reflect on marketplace reactions. Here's a quick look at the [EMC Press Release]:
A new VNXe disk system

Of the 41 new storage technologies and products EMC announced last week, the VNXe is EMC's "me-too" product to compete against other low-end disk systems like the IBM System Storage DS3524 and N3000 series. It looks truly new, developed organically from the ground up, with a new architecture, new OS. It comes in either the 2U-high VNXe3100 or the 3U-high VNXe3300. These employ 3.5-inch SAS drives to provide Ethernet-based NFS, CIFS and iSCSI host attachment. The $10K USD price tag appears to be for the hardware only. As is typical for EMC, they charge software features in bundles or "suites", so the actual TCO will be much higher. I have not seen any announcements whether Dell plans to resell either the VNXe nor the VNX models, now that they have acquired Compellent.

A new VNX disk system

Despite having a similar name as the VNXe, the VNX appears to be a re-hash of the Celerra/CLARiiON mess that EMC has been selling already, based on the old FLARE and DART operating systems of these older disk systems. This scales from 75 to 1000 SAS drives. While EMC calls the VNX "unified", it currently is only available in block-only and file-only models, with a future promise from EMC that they will offer a combined block-and-file version sometime in the future. EMC claims that the VNX will be faster than the predecessors, so hopefully that means EMC has joined the rest of the planet and will publish SPC-1 and SPC-2 benchmarks to back up that claim. They can compare against the SPC-1 benchmarks that our friends at NetApp ran against EMC CLARiiON.

New software for the VMAX

A long time ago, EMC announced they would provide non-disruptive automated tiering. Their first delivery "FAST V1" handled entire LUNs at a time. EMC now has finally "FAST VP" which we expected was going to be called "FAST V2", which provides sub-LUN automated tiering between Solid-state and spinning disk drives.. Meanwhile, IBM has been delivering "Easy Tier" on the IBM System Storage DS8000 series, SAN Volume Controller, and Storwize V7000 disk systems.

Data Domain Archiver

Competing against IBM, HP and Oracle in the tape arena, EMC's latest addition to the Data Domain family is designed for the long-term retention of backups? Archives of backups? Backups are short-lived, protecting against the unexpected loss from hardware failure or data corruption. Keeping backups as "archives" is generally a bad mistake, as it makes it hard to e-Discover the data you need when you need it, and may not have the appropriate hardware tor restore these old backups when you do find them.
I will have to dig deeper into all of these different technologies in separate posts in the future.
Back in Februray, my blog post [A Box Full of Floppies] mentioned that I uncovered some diskettes compressed with OS/2 Stacker. Jokingly, I suggested that I may have to stand up an OS/2 machine just to check out what is actually on those floppies. Each floppy contains only three files: README.STC, STACKER.EXE and a hidden STACKVOL.DSK file. The README.STC explains that the disk is compressed by Stacker, a program developed by [Stac Electronics, Inc.]. The STACKER.EXE would not run on Windows XP, Vista or Windows 7. The STACKVOL.DSK is just a huge binary file, like a ZIP file, compressed with [Lempel-Ziv-Stac] algorithm that combines Lempel-Ziv with Huffman coding.
In my follow-up post [Like Sands in an Hourglass], I explained how there are many ways I could have tackled this project. I could either use the Emulation approach and try to build an OS/2 guest image under a hypervisor like VMware, KVM or VirtualBox, or just take the Museum approach and try taking one of my half dozen old machines, wipe it clean and stand up OS/2 on it bare metal. This turned out to be more challenging than I expected. The systems I have that are modern and powerful enough to run hypervisors don't have floppy drives, so I opted for the Museum approach.
(A quick [history of OS/2] might be helpful. IBM and Microsoft jointly developed OS/2 back in 1985. By 1990, Microsoft decided it's own Windows operating system was more popular with the ladies, and decided to break off with IBM. In 1992, IBM release OS/2 version 2.0, touted as "a better DOS than DOS and a better Windows than Windows!" Both parties maintained ownership rights, Microsoft renamed OS/2 to Windows NT. The "NT" stood for New Technology, the basis for all of the enterprise-class Windows servers used today. IBM named its version of OS/2 version 3 and 4 "WARP", with the last version 4.52 released in 2001. In its heyday, OS/2 ran the majority of Automated Teller Machines (ATMs), was used for hardware management consoles (HMC), and was used worldwide to run various Railway systems. After 2001, IBM encouraged people to transition from Windows or OS/2 over to Java and Linux. For those that can't or won't leave OS/2, IBM partnered with Serenity Systems to continue OS/2 under the brand [eComStation].)
Working with an IBM [ThinkCentre 8195-E2U Pentium 4 machine] with 640MB RAM and 80GB hard disk, a CD-rom and one 3.5-inch floppy drive, I first discovered that OS/2 is limited to very small amounts of hard disk. There are limits on [file systems and partition sizes] as well as the infamous [1024-cylinder limit] for bootable operating systems. Having a completely empty drive didn't work, as the size of the disk was too big. Carving out a big partition out of this also failed, as it exceeded the various limits. Each time, it felt the partition table was corrupted because the values were so huge. Even modern Disk Partitioning tools ([SysRescueCD] or [PartedMagic]) didn't work, as these create partitions not recognizable to OS/2.
The next obstacle I knew I would encounter would be device drivers. OS/2 comes as a set of three floppy diskettes and a CD-rom. The bootable installation disk was referred to affectionately as "Disk 0", then Disk 1, then Disk 2. Once all drivers have been loaded into memory, then it can start looking at the CDrom, and continue with the installation. In searching for updated drivers, I came across [Updated OS/2 Warp 4 Installation Diskettes] to address problems with newer display monitors. It also addresses the 8.4GB volume limit.
The updates were in the form of EXE files that only execute in a running DOS or OS/2 environment, expanded onto a floppy diskette. It seemed like [Catch-22], I need a working DOS or OS/2 system to run the update programs to create the diskettes, but need the diskettes to build a working system.
To get around this, I decided to take a "scaffolding" approach. Using DOS 6 bootable floppy, I was able to re-partition the drive with FDISK into two small 1.9GB partitions. I have the full five-floppy IBM DOS 6 set, I hid the first partition for OS/2, and install the DOS 6 GUI on the second partition. I went ahead and added a few new subdirectories: BOOT to hold Grub2, PERSONAL to hold the data I decompress from the floppies, and UTILS to hold additional utilities. This little DOS system worked, and I now have new OS/2 "Disk 1" and "Disk 2" for the installation process.
(If you don't have a full set of DOS installation diskettes, you can make due with "FORMAT C: /S" from a [DOS boot disk], and then just copy over all the files from the boot disk to your C: drive. You won't have a nice DOS GUI, but the command line prompt will be enough to proceed.)
Like DOS, OS/2 expects to be installed on the C: drive. I hid the second partition (DOS), and marked the first partition installable and bootable. The OS/2 installation involves a lot of reboots, and the hard drive is not natively bootable in the intermediate stages. This means having to boot from Disk 0, then putting in Disk 1, then disk 2, before continuing the next phase of the installation. I tried to keep the installation as "Plain Vanilla" as possible.
I had to figure out what to include, and what to exclude, and this involved a lot of trial and error. For example, one of the choices was for "external diskette support". Since I had an "internal diskette drive", I didn't think I needed it. But after a full install, I discovered that it would not read or write floppy diskettes, so it appears that I do indeed need this support.
OS/2 supports two different file systems, FAT16 and the High Performance File System (HPFS). Since my partition was only 1.9GB in size, I chose just to use FAT16. HPFS supported larger disk partitions, longer file names, and faster performance, none of which I need for these purposes.
I thought it would be nice to get TCP/IP networking to work with my Ethernet card. However, after many attempts, I decided against this. I needed to focus on my mission, which was to decompress floppy diskettes. It was amusing to see that OS/2 supported all kinds of networking, including Token Ring, System Management, Remote Access, Mobile Access Services, File and Print.
Once all the options are chosen, OS/2 installation then proceeds to unpack and copy all the programs to the C: drive. During this process, IBM had informational splash screens. Here's one that caught my eye, titled "IBM Means Three Things" that listed three reasons to partner with IBM:
Providing global solutions for a small planet
Creating and Applying advanced technologies to improve with which customers run their businesses
Constantly improving customer service with the products and services we provide
You might wonder how these OS/2 splash screens, written over 10 years ago, can appear almost identical to IBM's current [Smarter Planet] campaign. Actually, it is not that odd. IBM has been keeping to these same core principles since 1911, only the words to describe and promote these core values have changed.
To access both OS/2 and DOS partitions, I installed Grand Unified Bootloader [Grub2] on the DOS partition under C:/BOOT/GRUB directory. However, when I boot OS/2, I cannot see the DOS partition. And when I boot DOS, I cannot see the OS/2 partition. Each operating system thinks its C: drive is the only partition on the system.
Now that I had OS/2 running, I was then able to install Stacker from two floppy diskettes. With this installed, I can compress and decompress data on either the hard disk, or on floppy diskettes. Most of the files were flat text documents and digital photos. After copying the data off the compressed disks onto my hard drive, I now can copy them off to a safe place.
To finish this project, I installed Ubuntu Linux on the remaining 76GB of disk space, which can access both the OS/2 and DOS drives FAT16 file systems natively. This allows me to copy files from OS/2 to DOS or vice versa.
Now that I know what data types are on the diskettes, I determined that I could have decompressed the data in just a few steps:
Set up a DOS partition on C: drive
Insert one of the compressed diskettes into the floppy drive
Copy the STACKER.EXE program from the floppy to the C: drive
Run "STACKER A:" to decompress the floppy diskette
However, now that I have a working DOS and OS/2 system, I can possibly review the rest of my floppy diskettes, some of which may require running programs natively on OS/2 or DOS. This brings me to an important lesson. If you are going to keep archive data for long-term retention, you need to choose file formats that can be read by current operating systems and programs. Installing older operating systems and programs to access proprietary formats can be quite time-consuming, and may not always be possible or desirable.
technorati tags: IBM, Stac, Stacker, OS/2, DOS, Microsoft, Windows, ThinkCentre, Compression, Liv-Zempel
Actually, if the title confuses you, it is because it has a double meaning.
Meaning 1: IBM earned almost 100 Billion dollars (USD)

IBM's 2010 [earnings report is now available], for the full year 2010 and the fourth quarter. IBM had $99.9 Billion dollars (USD) in revenue, almost $100 Billion dollars that it had set out as a vision in the 1980s. IBM Storage contributed with 8 percent growth, not bad for a year Dave Barry considers [one of the worst years ever.].

IBM President and CEO Sam Palmisano granted me a chunk of IBM stock in appreciation of my efforts towards the 2010 success! Actually, he gave stock to a whole bunch of IBMers, not just me, and they all deserve it also.  Woo hoo!


Meaning 2: IBM is almost 100 years old

That's right, this upcoming June 16, 2011, IBM turns 100 years old. This Centennial date also happens to be my 25th year anniversary working in IBM Storage, which IBM calls joining the Quarter Century Club, or QCC for short. So, I am looking forward to plenty of cake and fireworks on that day!
I am looking forward to a year-long celebration on both counts!
technorati tags: IBM, Centenial, QCC, Revenues, Earnings, 4Q10, Dave Barry
Am I dreaming? On his Storagezilla blog, fellow blogger Mark Twomey (EMC) brags about EMC's standard benchmark results, in his post titled [Love Life. Love CIFS.]. Here is my take:
A Full 180 degree reversal

For the past several years, EMC bloggers have argued, both in comments on this blog, and on their own blogs, that standard benchmarks are useless and should not be used to influence purchase decisions. While we all agree that "your mileage may vary", I find standard benchmarks are useful as part of an overall approach in comparing and selecting which vendors to work with, and which architectures or solution approaches to adopt, and which products or services to deploy. I am glad to see that EMC has finally joined the rest of the planet on this. I find it funny this reversal sounds a lot like their reversal from "Tape is Dead" to "What? We never said tape was dead!"

Impressive CIFS Results

The Standard Performance Evaluation Corporation (SPEC) has developed a series of NFS benchmarks, the latest, [SPECsfs2008] added support for CIFS. So, on the CIFS side, EMC's benchmarks compare favorably against previous CIFS tests from other vendors.

On the NFS side, however, EMC is still behind Avere, BlueArc, Exanet, and IBM/NetApp. For example, EMC's combination of Celerra gateways in front of V-Max disk systems resulted in 110,621 OPS with overall response time of 2.32 milliseconds. By comparison, the IBM N series N7900 (tested by NetApp under their own brand, FAS6080) was able to do 120,011 OPS with 1.95 msec response time.

Even though Sun invented the NFS protocol in the early 1980s, they take an EMC-like approach against standard benchmarks to measure it. Last year, fellow blogger Bryan Cantrill (Sun) gives his [Eulogy for a Benchmark]. I was going to make points about this, but fellow blogger Mike Eisler (NetApp) [already took care of it]. We can all learn from this. Companies that don't believe in standard benchmarks can either reverse course (as EMC has done), or continue their downhill decline until they are acquired by someone else.

(My condolences to those at Sun getting laid off. Those of you who hire on with IBM can get re-united with your former StorageTek buddies! Back then, StorageTek people left Sun in droves, knowing that Sun didn't understand the mainframe tape marketplace that StorageTek focused on. Likewise, many question how well Oracle will understand Sun's hardware business in servers and storage.)

What's in a Protocol?

Both CIFS and NFS have been around for decades, and comparisons can sometimes sound like religious debates. Traditionally, CIFS was used to share files between Windows systems, and NFS for Linux and UNIX platforms. However, Windows can also handle NFS, while Linux and UNIX systems can use CIFS. If you are using a recent level of VMware, you can use either NFS or CIFS as an alternative to Fibre Channel SAN to store your external disk VMDK files.

The Bigger Picture

There is a significant shift going on from traditional database repositories to unstructured file content. Today, as much as [80 percent of data is unstructured]. Shipments this year are expected to grow 60 percent for file-based storage, and only 15 percent for block-based storage. With the focus on private and public clouds, NAS solutions will be the battleground for 2010.
So, I am glad to see EMC starting to cite standard benchmarks. Hopefully, SPC-1 and SPC-2 benchmarks are forthcoming?
technorati tags: IBM, tape, EMC, Mark+Twomey, Storagezilla, CIFS, NFS, Celerra, V-Max, N7900, VMware, VMDK, Sun, Oracle, StorageTek, tape, benchmarks, SPEC, SPECsfs, SPECsfs2008, SPC, SPC-1, SPC-2, NetApp, FAS6080
Well, it's Tuesday again, and today I am announcing that we have a new IBM Storage blogger joining the Blogosphere: Raj Sharma!
Raj will be writing his blog [Storage and Technology Academy] on the [StorageCommunity.org] platform.
Raj hails from Toronto, Canada and will be able to provide the Canadian perspective on all things Storage. I had the pleasure to meet Raj in person here in Tucson when him and dozens of his cohorts came down for a multi-customer briefing at the [IBM Executive Briefing Center] where I work.
technorati tags: IBM, Raj Sharma, Storage, Technology, Academy, Storage Community, EBC, Tucson, Toronto, Canada
Well, it's Tuesday again, and you know what that means... IBM Announcements!
This month, I am celebrating my six-year "blogoversary". I started blogging September 1, 2006 to celebrate [the 50th anniversary of disk system innovations].
This month, I am pleased to announce the new [IBM STG Executive Briefing Center] website, representing a huge improvement over the previous website we had been using over the past two years. STG refers to IBM's Systems and Technology Group, the division that focuses on servers, storage, switches and the system software that makes them run. This new website is for the dozen STG EBCs that span the globe. The new website reminds me of this famous quote:
"Perfection is achieved, not when there is nothing left to add, but when there is nothing left to take away"
-- Antoine de Saint-Exupery
Let's take a quick look at what makes it so much better.
Self-service Portal

The previous website required registration. At every briefing, those of us who work in the EBCs had to pass around a sign-up sheet for email addresses from each attendee so that we could send them an invitation to register for the site. We would have a hard time reading people's handwriting, resulting in some emails coming back rejected.

Inspired by self-service gas stations, automated teller machines, and the many self-service portals of Cloud Computing, the new website has everything up-front, without registration. IBM Business Partners and sales representatives can easily request a briefing at any of the dozen briefing centers represented!

IBM-managed and IBM-hosted

We had a difficult time explaining to our attendees why our previous website was hosted on a lone machine and maintained by a third party. Think about it, IBM manages the data centers of over 400 clients. IBM has provided web hosting to the most mission critical workloads, with high levels of availability and reliability, and is recognized as one of the "Big 5" Cloud companies. I have done web design myself in my career, and we were terribly disappointed with the third party chosen to create and maintain our previous website, constantly having to point out errors in their HTML and CSS.

For the new website, IBM took back control. Staff from each EBC, myself included, came up with a simple page to bring the essence of each location to life. Special thanks to my colleage Hal Jennings, from the Austin EBC, for bringing this altogether!

Simplified Navigation

Despite two years of manually registering attendees to use the previous website, Google Analytics showed that few people visited, and the few that did spent little time exploring the vast repository of content.

The new website is vastly simpler. The front page points to all twelve EBCs, and a single mouse click gets you to the location you are interested in, with all the details you need to make a decision to book a briefing, and the contact information to make it happen.

Elimination of Wasted and Duplicate Effort

In the previous website, we spent as much as 15 hours just to create, voice over, edit and produce a single 15-minute recorded presentation. Less than six percent of the previous website visitors watched more than five minutes of these videos, making us feel that most of our effort was wasted.

The EBC staff kept wasting their time, month after month, thanks to all-stick, no-carrot tactics that mandated minimums for contributions for more and more content that nobody was ever looking at. Even more disappointing was that much of our work duplicated the formal responsibilities of our IBM Marketing team. They weren't happy about this either, causing confusion between the roles of our two teams.

Finally, we said enough was enough! The new STG EBC website is a marvel in minimalism. If you want to see presentations, videos, expert profiles, or partake in on-going conversations, I welcome you to visit the [IBM Expert Network], the [IBM Storage YouTube Channel], and the [Storage Community] where they belong.
I invite you all to check out the new [IBM STG Executive Briefing Center] website. Let me know what you think in the comments below!
technorati tags: IBM, STG, EBC, Hal Jennings
On Wikibon, David Floyer has an article titled [SAS Drives Tier 1 to New Levels of Green] that focuses on the energy efficiency benefits of newer Serial-Attach SCSI (SAS) drives over older Fibre Channel (FC) drives. This makes sense, as R&D budgets have been spent on making newer technologies more "green".
Fellow blogger Hu Yoshida (HDS) encourages people to [Invest in the Future with SAS, SATA and SFF], referring to Figure 1.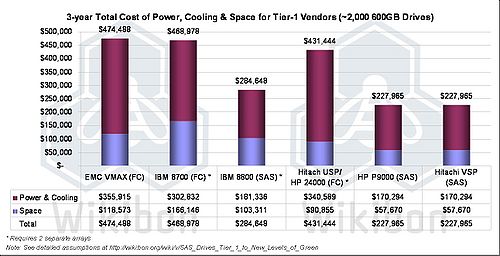 Of course, people might consider this an [apples-to-oranges] comparison. Not only are we changing from FC to SAS technology, we are also changing from 3.5-inch drives to small form factor (SFF) 2.5-inch drives. It seems odd to specify 2000 drives, when only two of the five scale up to that level. Few systems in production, from any vendor, have more than 1000 drives, so it would have seemed that would have been a fairer comparison.
However, Hu's conclusion that the combination of SAS and SFF provides better performance and energy efficiency for both IBM DS8800 and HDS VSP than FC-based alternatives from any vendor seems reasonably supported by the data.
Meanwhile, fellow blogger David Merrill (HDS) pokes fun at IBM DS8800 in Figure 2 in his post [Winner o' the green]. This second comparison was for 4PB of raw capacity, which 4 of the 5 can handle easily using 2TB SATA drives, but the DS8800 is based on SAS technology and does not support 2TB SATA drives. A performance-oriented configuration with four distinct DS8800 boxes employing 600GB SAS drives is used instead, causing the data for the DS8800 to stick out like a sore thumb, or perhaps more intentionally as a middle finger.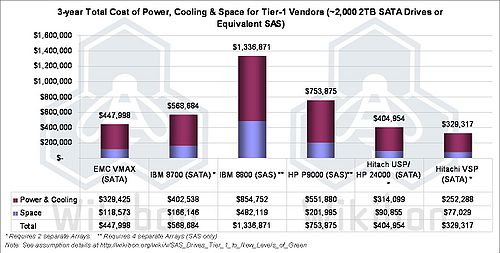 The main take-away here is that IBM offers both the DS8700 for capacity-optimized workloads, and the DS8800 for performance-optimized workloads. Some competitors may have been spreading FUD that the DS8700 was withdrawn last month, it wasn't. As you can see from the data presented, there are times where a DS8700 might be more preferable than a DS8800, depending on the type of workloads you plan to deploy. IBM offers both, and will continue to support existing DS8700 and DS8800 units in the field for many years to come.
technorati tags: IBM, DS8700, DS8800, Wikibon, Hu Yoshida, David Merrill, Davud Floyer
"This week, IBM is launching a companywide effort to build the digital eminence of all IBMers. The goal is to arm you with the tools and knowledge to effectively use emerging technologies -- such as social, mobile, and cloud computing -- for strategic advantage."
This is how Rod Adkins, IBM Senior VP of Systems Technology Group, and my sixth-line manager, starts a memo to declare April "Digital IBMer awareness month". I am not sure if this is just for this April, or every April going forward. Included with this is a set of ten guidelines to improve CyberSecurity:
In honor of this, I will be spending the next two weeks traveling through Europe. Instead of bringing a large suitcase and my laptop, I have decided instead to only take:
The clothes I am wearing on the plane
A heavy jacket with lots of pockets
A backpack with 15 pounds of clothes
A hipsack with my smartphone, digital camera, MP3 player and all the related adapters, chargers and cables
My smartphone uses a GSM chip, so I should be able to get a European SIM when I arrive. I have not booked any hotels, tours, or transportation. Instead, I will rely on social media and cloud computing to take care of things on a daily basis.
(Why only 15 pounds of clothing? I just had major surgery two weeks ago, and my doctor advised me not to lift more than 15 pounds for the next six weeks!)
I plan to have a series of blog posts documenting what I learn from this trip. For those who want to follow along, I will be tweeting from @az990tony. You do not need a Twitter account to read my tweets. You can read them directly from [http://twitter.com/#!/az990tony].
I can't remember the last time I have gone this long without the comforts of my laptop or desktop, so it will be interesting how it works out!
Well, it's Tuesday again, and you know what that means... IBM announcements!
Last week, IBM had a big storage launch of various products, with the June 4 announcements at the IBM Edge 2012 conference. I provided highlights in my post [IBM Edge Announcements]. As promised, here are the rest of the announcements.
SONAS v1.3.2

SONAS v1.3.2 adds support for management by the newly announced IBM Tivoli Storage Productivity Center v5.1 release. Also, IBM now officially supports "Gateway configurations" that have the storage nodes connected to XIV or Storwize v7000 disk systems. These gateway configurations offer new flexible choices and options for our ever-expanding set of clients.

ProtecTIER appliances and gateways

IBM ProtecTIER line of data deduplication appliances and gateways add CIFS file system support. Rather than using OST or a VTL interface, you now have CIFS as a new option for host attach. Also, IBM introduces the new TS7620 Express model, with options for 5.4TB and 11TB in capacity, replacing the previous TS7610 entry level.

LTFS Storage Manager

The Linear Tape File System (LTFS) allows files to be stored on tape cartridges in a manner that allows them to be mounted as file systems, much like a USB memory stick. The new LTFS Storage Manager software allows you to manage a collection of files across a set of cartridges, moving files from one cartridge to another, consolidating valid data onto fewer cartridges, and removing files no longer needed. This is sometimes referred to as "lifecycle management".

Tape System Library Manager

When IBM first introduced the "shuttle" that allowed up to fifteen TS3500 tape libraries to be connected together into a single system, only HPSS customers could take advantage of this. Software was required to coordinate the movement of cartridges from one library to another. The new IBM Tape System Library Manager now offers an alternative to HPSS for coordinating this activity.

DS8000 v6.3 microcode

IBM now offers 400GB solid-state drives. IBM's market leading support for Full Disk Encryption (FDE) is now extended to cover all drive speeds, from the slowest 7200RPM NL-SAS drives up to the fastest solid-state. IBM Easy Tier extends its super-easy implementation to work across all three of these tiers including encryption.

Implementation Services

IBM now offers implementation services for IBM XIV Gen3 storage system, and the N series models 3220 and 3240.
This week I am on the road visiting various clients. Next week, Moscow Russia for the "Edge Comes to You" event!
technorati tags: IBM, SONAS, TPC, Tivoli Storage, Productivity Center, ProtecTIER, TS7650, TS7620, CIFS, OST, VTL, LTFS, Storage Manager, Tape System Library Manager, DS8000, DS8800, XIV Gen3, N3220, N3240, Edge, ECTY
Well, it's that Back-To-School time again! Mo's thirteen-year-old reluctantly enters the eight grade, still upset the summer ended so abruptly. Richard's nephew returns to the University of Arizona for another year. Natalie has chosen to move to Phoenix and pursue a post-grad degree at Arizona State University. They all have two things in common, they all want a new computer, and they are all on a budget.
Fellow blogger Bob Sutor (IBM) pointed me to an excellent article on [How to Build Your Own $200 PC], which reminded me of the [XS server I built] for my 2008 Google Summer of Code project with the One Laptop per Child organization. Now that the project is over, I have upgraded it to Ubuntu Desktop 10.04 LTS, known as Lucid Lynx. Building your own PC with your student is a great learning experience in itself. Of course, this is just the computer itself, you still need to buy the keyboard, mouse and video monitor separately, if you don't already have these.
If you are not interested in building a PC from scratch, consider taking an old Windows-based PC and installing Linux to bring it new life. Many of the older PCs don't have enough processor or memory to run Windows Vista or the latest Windows 7, but they will all run Linux.
(If you think your old system has resale value, try checking out the ["trade-in estimator"] at the BestBuy website to straighten out your misperception. However, if you do decide to sell your system, consider replacing the disk drive with a fresh empty one, or wipe the old drive clean with one of the many free Linux utilities. Jason Striegel on Engadget has a nice [HOWTO Erase your old hard disk drive] article. If you don't have your original manufacturer's Windows installation discs, installing Linux instead may help keep you out of legal hot water.)
Depending on what your school projects require, you want to make sure that you can use a printer or scanner with your Linux system. Don't buy a printer unless it is supported by Linux. The Linux Foundation maintains a [Printer Compatability database]. Printing was one of the first things I got working for my Linux-based OLPC laptop, which I documented in my December 2007 post [Printing on XO Laptop with CUPS and LPR] and got a surprising following over at [OLPC News].
To reduce paper, many schools are having students email their assignments, or use Cloud Computing services like Google Docs. Both the University of Arizona and Arizona State University use Google Docs, and the students I have talked with love the idea. Whether they use a Mac, Linux or Windows PC, all students can access Google Docs through their browser. An alternative to Google Docs is Windows Live Skydrive, which has the option to upload and edit the latest Office format documents from the Firefox browser on Linux. Both offer you the option to upload GBs of files, which could be helpful transferring data from an old PC to a new one.
Lastly, there are many free video games for Linux, for when you need to take a break from all that studying. Ever since IBM's [36-page Global Innovation Outlook 2.0] study showed that playing video games made you a better business leader, I have been encouraging all students that I tutor or mentor that playing games is a more valuable use of your time than watching television. IBM considers video games the [future of learning]. Even the [Violent Video Games are Good for Kids]. It is no wonder that IBM provides the technology that runs all the major game platforms, including Microsoft Xbox360, Nintendo Wii and Sony PlayStation.
(FTC disclosure: I work for IBM. IBM has working relationships with Apple, Google, Microsoft, Nintendo and Sony. I use both Google Docs and Microsoft Live Skydrive for personal use, and base my recommendations purely on my own experience. I own stock in IBM, Google and Apple. I have friends and family that work at Microsoft.  I own an Apple Mac Mini and Sony PlayStation. I was a Linux developer earlier in my IBM career. IBM considers Linux a strategic operating system for both personal and professional use. IBM has selected Firefox as its standard browser internally for all employees. I run Linux both at home and at the office. I graduated from the University of Arizona, and have friends who either work or take classes there, as well as at Arizona State University.)
Linux skills are marketable and growing more in demand. Linux is used in everything from cellphones to mainframes, as well as many IBM storage devices such as the IBM SAN Volume Controller, XIV and ProtecTIER data deduplication solution. In addition to writing term papers, spreadsheets and presentations with OpenOffice, your Linux PC can help you learn programming skills, web design, and database administration.
To all the students in my life, I wish you all good things in the upcoming school year!
technorati tags: IBM, Linux, Bob Sutor, BestBuy, Ubuntu, Video Games, erase, hard+disk, Google Docs, Windows Live, Skydrive, Linux Foundation, OLPC, Google, Summer of Code, Firefox, xBox360, Nintendo, Wii, Sony, Playstation
In his blog post, [The Lure of Kit-Cars], fellow blogger Chuck Hollis (EMC) uses an excellent analogy delineating the differences between kit-cars you build from parts, versus fully-integrated systems that you can drive off the car dealership showroom lot. The analogy holds relatively well, as IT departments can also build their infrastructure from parts, or you can get fully-integrated systems from a variety of vendors.
| | |
| --- | --- |
| | Is this what your data center looks like? |
Certainly, this debate is not new. In my now infamous 2007 post [Supermarkets and Specialty Shops], I explained that there were clients that preferred to get their infrastructure from a single IT supermarket, like IBM or HP, while others were lured into thinking that buying separate parts from butchers, bakers and candlestick makers and other specialty shops was somehow a better idea.
Chuck correctly explains that in the early years of the automobile industry, before major car manufacturers had mass-production assembly lines, putting a car together from parts was the only way cars were made. Today, only the few most avid enthusiasts build cars this way. The majority get cars from a single seller and drive away. In my post [Resolving the Identity Crisis], I postulated that EMC appeared to be trying to shed itself of the "disk-only specialty shop" image and over to be more like IBM. Not quite a full IT Supermarket, but perhaps more like a [Trader Joe's] premium-priced retailer.
(If you find that EMC's focus on integrated systems appears to be a 180-degree about-face from their historical focus on selling individual best-of-breed products, see my previous discussion of Chuck's contradictions in my blog post: [Is Storage the Next Confusopoly].)
While companies like EMC might be making this transition, there is a lot of resistance and inertia from the customer marketplace. I agree with Chuck, companies should not be building kit-cars or IT infrastructures from parts, certainly not from parts sold from different vendors. In my post [Talking about Solutions not Products], I explained how difficult it was to change behavior. CIOs, IT directors and managers need to think differently about their infrastructure. Let's take a quick look at some choices:
Oracle

Following Chuck's argument, it makes no sense to build a "kit-car" combining Oracle/Sun servers with EMC storage. Oracle would argue it makes more sense to run on integrated systems, business logic on their "Exalogic" system, and database processing on their "Exadata". Benchmark after benchmark, however, IBM is able to demonstrate that Oracle applications and databases run faster on IBM systems. Customers that want to run Oracle applications can run either on a full Oracle stack, or a full IBM stack, and both do better than a kit-car including EMC parts.

Hewlett-Packard (HP)

HP has been working hard to keep up with IBM in this area. With their their partnership with Microsoft, and acquisitions of EDS, 3Com and 3PAR, they can certainly make a case for getting a full HP stack rather than a kit-car mixing HP servers with EMC disk storage. The problem is that HP is focused on a converged infrastructure for private cloud computing, but Microsoft is focused on Azure and public cloud computing. It will be interesting when these two big companies sort this out. Definitely watch this space.

Dell

If you squint your eyes and focus on the part of the world that only has x86 machines, then Dell can be seen as an IT supermarket. In my post about [Entry-Level iSCSI Offerings], I discuss how Dell's acquisition of EqualLogic was a signal that it was trying to get away from selling EMC specialty shop products, and building up its own set of offerings internally.

Cisco

Cisco is new on the server scene, but has already made quite a splash. Here, I have to agree with Chuck's logic: the only time it makes sense to buy EMC disk storage at all is when it is part of an integrated "V-block". This is not really an IT supermarket situation, instead you park your car at the "Acadia Mini-Mall" and get what you need from Trader Joe's, Cisco UCS, and VMware stores.

But wait, if what you want is running VMware on Cisco servers, you might be better off with IBM System Storage N series or NetApp storage. In his blog post about [Enhanced Secure Multi-Tenancy], fellow Blogger Val Bercovici (NetApp) provides a convincing argument of why Cisco and VMware run better on an "N-block" rather than a "V-block". IBM N series provides A-SIS deduplication, and IBM Real-time Compression can provide additional capacity and performance improvements.  That might be true, but whether you get your storage from EMC, NetApp or IBM, to me, you are still working with three different vendors in any case.

IBM

| | |
| --- | --- |
| Of course, following Chuck's logic, it makes more sense for people with IBM servers, whether they be mainframes, POWER systems or x86 machines, to integrate these with IBM storage, IBM software and IBM services. IBM is the leading reseller of VMware, but also has a lot of business with Microsoft Hyper-V, Citrix Xen, Linux KVM, PowerVM, PR/SM and z/VM. While IBM has market leading servers, disk and tape systems, to compete for those RFP bids that just ask for one component or another, it prefers to sell fully-integrated systems, which IBM has been doing successfully since the 1950s. | |

Back in 2007, I mentioned how IBM's fully-integrated InfoSphere Balanced Warehouse [Trounced HP and Sun]. For business analytics, IBM offers the fully-integrated [IBM Smart Analytics Systems]. Today, IBM expanded its line of fully-integrated private cloud service delivery platforms with the announcement of the [IBM CloudBurst for on Power Systems], which does for POWER7 what the IBM CloudBurst for System x, Oracle Exalogic, or Acadia's V-block, do for x86. IBM estimates that private clouds built on Power systems can be up to 70 percent less expensive than stand alone x86 servers.
Before he earned his PhD in Mechanical Engineering, my father was a car mechanic. I spent much of my teenage years covered in grease, helping my father assembling cars, lifting engines, and rebuilding carburetors. Certainly this was good father-son time, and I certainly did learn something in the process. Like the automobile industry, the IT industry has matured, and it makes no financial sense to build your own IT infrastructure from parts from different vendors.
For a test drive of the industry's leading integrated IT systems, see your IBM sales rep or IBM Business Partner.
technorati tags: IBM, kit-cars, supermarkets, specialty-shops, EMC, Chuck Hollis, Oracle, HP, Sun, Dell, NetApp, InfoSphere Balanced Warehouse, Smart Analytics, CloudBurst, VMware, Cisco, Acadia
IBM makes another breakthrough today with an announcement about tape data density. Unlike hard disk drive technologies that are hitting physical limits, IBM is proving that tape technology still has plenty of life in its future. When I first started working for IBM in Tucson, back in 1986, a 3420 tape reel held only 180MB of data, and a 3480 tape cartridge improved this to 200MB of data. Today's enterprise tapes, like 3592 cartridges for the TS1130 drives, or LTO4 cartridges for the IBM TS1040 drives, are half-inch wide, half-mile long, and can store 1 TB or more of data per cartridge, depending on how well the data can compress. To increase cartridge capacity, designers can make changes in three dimensions:
Wider tape: The film industry tried this, going from 35mm to 70mm film, only to find that most cinemas did not want to upgrade their equipment. Keeping the media dimensions to half inch wide allows much of the engineering hardware to continue unchanged.
Longer tape: The problem with longer tape is that either the reel inside gets fatter, or you need to develop flatter media to fit within the existing cartridge dimensions. Wider reels means a bigger tape cartridge external dimensions, forcing changes to shelving units, cartridge trays, and carrying units. The media just can't get any flatter without risking getting more brittle.
Denser bit recording: once a convenient width and length were established, improving bit density turned out to be the best way to increase cartridge capacity.
Working with FujiFilm Corporation of Japan, my colleagues at IBM Research facility in Zurich were able to demonstrate an incredible 29.5 Gigabits per square inch, nearly 40 times more dense than today's commercial tape technology. In the near future, we will be able to hold a 35TB tape cartridge in our hand. There was actually a lot to make this happen, improved giant magentoresistive read/write heads, better servo patterns to stay on track, thinner tracks less than a micron thick, and better signal-to-noise processing to accomplish this. To learn more, you can read the [Press Release] or watch this quick [4-minute YouTube video].
Tape -- You've come a long way, baby!
technorati tags: density, breakthrough, lto, Fujifilm, cartridge, IBM, research, tape, zurich, reel, gmr