with Tags:
ibm
X
  Next week, October 2-6, I am in San Francisco to support the IBM exhibition boot at [Oracle OpenWorld 2011] conference. IBM is a Grand Level Sponsor for this event. IBM and Oracle have been partners since 1986, and IBM is a [Diamond Level Partner in the Oracle OpenNetwork], the highest level available. I will be joined by dozens of other subject matter experts from various parts of IBM. Here is my schedule:
Day
Time
Description
Sunday
5:30pm - 7:00pm
Keynote session, Moscone North, Hall D
7:15pm - 10:30pm
IBM Team Dinner
Monday
8:00am - 9:15am
Keynote session, Moscone North, Hall D
9:45am - 4:30pm
IBM Booth #1111, Moscone South
5:00pm - 7:00pm
JD Edwards Customer Appreciation Event
Tuesday
8:00am - 9:15am
Keynote session, Moscone North, Hall D
9:45am - 6:00pm
IBM Booth #1111, Moscone South
7:00pm - 9:30pm
Titan Award Gala, SF City Hall
Wednesday
8:00am - 9:15am
Keynote session, Moscone North, Hall D
9:45am - 4:00pm
IBM Booth #1111, Moscone South
I won't have my laptop at the IBM booth, so if you need to reach me, send me an SMS text message to my cell phone, or send me a tweet on my Twitter account: [@az990tony]
IBM will also have experts in the following areas throughout the week:
Intel: Booth #711 at Moscone South
Java One: Booth #5608 at the Hilton San Francisco, Continental Ballroom
JD Edwards Pavilion: Booth HSJ-002 at the Westin St. Francis Hotel
Netezza, a newly acquired IBM company: Booth #3723 at Moscone West
I arrive Sunday afternoon. If you arrive Sunday, here are some things IBM is featuring:
Network with Other Quest IBM Customers on PeopleSoft

10/02/11, 10:00 a.m. – 11:00 a.m., OpenWorld session #29020
Presenter: Steve Johnston, IBM
Discuss topics of interest with your peers in this special interest group meeting for IBM customers using Oracle's PeopleSoft Enterprise applications.

Network with Other Quest IBM Customers on JD Edwards

10/02/11, 11:15 a.m. – 12:15 p.m., OpenWorld session #29001
Presenter: Steve Johnston, IBM
Discuss topics of interest with your peers in this special interest group meeting for IBM customers using Oracle's JD Edwards EnterpriseOne or JD Edwards World applications.

IOUG: Oracle Business Intelligence Enterprise Edition/Oracle Business Intelligence Applications (27380)

10/02/11, 12:15 p.m. – 1:15 p.m., OpenWorld session #27380
Presenters: Shyam Nath, IBM; Florian Schouten, Oracle
This session looks at Oracle Business Intelligence Enterprise Edition (OBIEE) and Oracle Business Intelligence Applications solutions. Hear what's new in OBIEE Release 11.1.1.5 and how that affects Oracle BI Applications implementations. Learn how mobile BI support in OBIEE adds new meaning to pervasive BI.

IOUG: Oracle Exadata Customer Panel

10/02/11, 1:30 p.m. – 2:30 p.m., OpenWorld session #27261
Presenters: Shyam Nath, IBM; Vinod Haval, Bank of America
This moderated panel discussion includes Oracle Exadata customers, Oracle product managers, and implementers who will share their real work implementation experiences and how they overcame the challenges in the process.

Managing Your Oracle Applications in Today's Economy: Ask the Experts

10/02/11, 1:30 p.m. – 3:30 p.m., OpenWorld session #29280
Presenter: Frances Wells, IBM
Attend a panel discussion of your peers as they discuss how effective data management strategies have helped them reduce costs, streamline test and development projects, and improve Oracle application performance while increasing IT efficiencies.
Download IBM's mobile app for Oracle OpenWorld and receive a Starbucks gift card! (While supplies last!)
Visit [myIBMmobile.com] and get the IBM mobile app—your guide to navigating IBM events at Oracle OpenWorld 2011. Optimized for mobile devices—tablet friendly.
Uncover the best award-winning restaurants in San Fransisco with the free Zagat guide to local restaurants
Easily navigate the show floor and the city with special tools
Stay on schedule with a helpful list of all IBM sessions
Learn more about the IBM/Oracle relationship
Find Starbucks locations close to Moscone Center
Of course, IBM is going all out on the social media side as well:
Learn more about how IBM and Oracle can help you transform your enterprise at: [ibm.com/solutions/oracle/us/en/] Access a wealth of knowledge from our resource library at: [ibm.com/oracle/openworld]
technorati tags: IBM, Oracle, OpenWorld, San Francisco
It's that time again. Every year, IBM hosts the "System Storage Technical University". I have been going to these since they first started in the 1990s. This time we are at the lovely [Hilton Orlando] in Orlando, Florida.
For those who want to relive past events, here are my blog posts from this event in 2010:
The list of sessions that I will be presenting this week were detailed last month in my post [Don't Miss IBM Storage Technical University 2011].
As was the case last year, IBM once again will run this conference alongside the [IBM System x Technical University] the same week, in the same hotel. This allows attendees to cross over to the other side to see a few sessions of the other conference. I took advantage of this last year, and plan to do so again this year as well!
For those on Twitter, you can follow my tweets at [@az990tony] or search on the hash tag #ibmtechu.
technorati tags: IBM, TPC, ILM, Green, DataCenter, Grid, SOA, Cloud Computing, zEnterprise
First day of the [IBM System Storage Technical University 2011] started with some keynote sessions.
Maria Boonie

Maria Boonie is the IBM Director for IBM Worldwide Training and Technical Conferences. She indicated that there were 1500 attendees this week crossing both the System Storage and System x conferences at this hotel. There are 35 vendors that have sponsored this event, and they will be at the "Solutions Center" being held Monday through Wednesday this week.

She took this opportunity to plug IBM's latest education offerings, including Guaranteed-to-Run implementation classes, and Instructor-Led Online (ILO) technical classes.

Brian Truskowski

Brian Truskowski is IBM General Manager for System Storage and Networking. I used to directly report to him in a previous role, and a few years ago he used to be the IBM CIO that helped with IBM's internal IT transformation.

Brian indicates that the previous approach to growth was to "Just Buy More", but this has some unintended consequences. He argued that companies need to adopt one or more of the following approaches to growth:

Stop storing so much - reduce data footprint using storage efficiency capabilities like data deduplication and compression
Store more with what is already on the floor - improve storage utilization with technologies like storage virtualization and thin provisioning
Move data to the right place - implement automated tiering, such as "Flash & Stash" between Solid-state drives and spinning disk, and/or Information Lifecycle Management (ILM) between disk and tape. Studies at some clients have found over 70 percent of data has not beed touched in the last 90 days

This time of dramatic change is the result of a "perfect storm" of influences, including the rising costs and risks associated with losing data, the increased need to index and search data, the desire for "Business Analytics", and the expectation for 100 percent up-time. This is driving IBM to offer hyper-efficient backup, Continuous Data Availability, and Smart Archive solutions.

The case study of SPRINT is a good example. SPRINT is a Telecommunications provider for cell phone users. They were challenged with 35 percent utilization, 165 storage arrays from six different vendors, and an expected 100 percent increase in their IT maintenance costs. After implementing IBM SAN Volume Controller (SVC) and Tivoli Storage Productivity Center (TPC) to manager 2.9 PB of data, SPRINT increased their utilization to 82 percent, reduced down to 70 storage arrays from only three vendors, and reduced their maintenance costs by 57 percent. Today, SPRINT now manages over 5 PB of data with SVC and TPC, have reduced their power and cooling by 3.5 million KWh, representing $320,000 USD in savings.

He covered the latest XIV Gen3 announcement, including the amazing boost in performance that I covered in detail in last week's post [IBM Announcements for July 2011 - XIV Gen 3, and more].

Roland Hagan

Roland Hagan is the IBM Vice President for the System x server platform. He talked about the "IT Conundrum" that represents a vicious cycle of "IT Sprawl", "Untrusted Data" and "Inflexible IT" that seem to feed each other. IBM is trying to change behavior, from thinking and dealing with physical boxes representing servers, storage and network gear, to a more holistic view focused on workloads, shared resource pools, independent scaling, and automated management.

IBM is leading the server marketplace, in part because of clever things IBM is doing, especially in developing the eX5 chipset that surrounds x86 commondity processors, and in part because of actions or decisions the competition have taken:

It doesn't break IBM's heart that Oracle decided to drop software support of their database on Itanium, which focued entirley against HP. Oracle runs on IBM servers better than Oracle/Sun or HP servers today, so it does not impact us, other than IBM has had a lot of people leaving HP to switch over to IBM.
HP has taken on a new CEO and reduced their R&D budget, causing them to be late-to-market on some of their offerings.
Dell continues to focus on the small and medium sized customer, and have not really broken into the "Enterprise".
Newcomer Cisco has some great technology that only seems to be adoptable in "Green Field" situations, as it does not integrate well with existing data center infrastructures.

The combination of ex5 chip-set architecture, Max5 memory expansion capabilities and Virtual Network Interface Cards (NICs), provide for a very VM-aware platform. For those who are not ready to fully adopt an integrated stack like IBM CloudBurst, IBM offers the Tivoli Service Automation software on its own, and a new [IBM BladeCenter Foundation for Cloud] as stepping stones to get there.
There are certainly more attendees here than last year, which reflects either the change in location (Orlando, Florida rather than Washington DC) as well as the economic recovery. I'm looking forward to an excellent week!
technorati tags: IBM, Storage University, Brian Truskowski, Roland Hagan, keynote sessions, SPRINT, SVC, TPC, conundrum, vicious cycle, XIV Gen3, ex5, Max5, CloudBurst, BladeCenter
First day of the [IBM System Storage Technical University 2011] continued with more keynote sessions.
Jim Rymarczyk

Jim is an IBM Fellow for IBM Systems and Technology Group. There are only 73 IBM Fellows currently working for IBM, and this is the highest honor IBM can bestow on an employee. He has been working with IBM since 1968.

He is tasked with predicting the future of IT, and help drive strategic direction for IBM. Cost pressures, requirements for growth, accelerating innovation and changing business needs help influence this direction.

IBM's approach is to integrate four different "IT building blocks":

Scale-up Systems, like the IBM System Storage DS8000 and TS3500 Tape Library
Resource Pools, such as IBM Storage Pools formed from managed disks by IBM SAN Volume Controller (SVC)
Integrated stacks and appliances, integrated software and hardware stacks, from Storwize V7000 to full rack systems like IBM Smart Analytics Server or CloudBurst.
Clouds, such as IBM's [Smart Cloud Enterprise]

Mobility of workloads and resources requires unified end-to-end service management. Fortunately, IBM is the #1 leader in IT Service Management solutions.

Jim addressed three myths:

Myth 1: IT Infrastructures will be homogenous.

Jim feels that innovations are happening too rapidly for this to ever happen, and is not a desirable end-goal. Instead, a focus to find the right balance of the IT building blocks might be a better approach.

Myth 2: All of your problems can be solved by replacing everything with product X.

Jim feels that the days of "rip-and-replace" are fading away. As IBM Executive Steve Mills said, "It isn't about the next new thing, but how well new things integrate with established applications and processes."

Myth 3: All IT will move to the Cloud model.

Jim feels a substantial portion of IT will move to the Cloud, but not all of it. There will always be exceptions where the old traditional ways of doing things might be appropriate. Clouds are just one of the many building blocks to choose from.

Jim's focus lately has been finding new ways to take advantage of virtualization concepts. Server, storage and network virtualization are helping address these challenges through four key methods:

Sharing - virtualization that allows a single resource to be used by multiple users. For example, hypervisors allow several guest VM operating systems share common hardware on a single physical server.
Aggregation - virtualization that allows multiple resources to be managed as a single pool. For example, SAN Volume Controller can virtualize the storage of multiple disk arrays and create a single storage pool.
Emulation - virtualization that allows one set of resources to look and feel like a different set of resources. Some hypervisors can emulate different kinds of CPU processors, for example.
Insulation - virtualization that hides the complexity from the end-user application or other higher levels of infrastructure, making it easier to make changes of the underlying managed resources. For example, both SONAS and SAN Volume Controller allow disk capacity to be removed and replaced without disruption to the application.

In today's economy, IT transformation costs must be low enough to yield near-term benefits. The long-term benefits are real, but near-term benefits are needed for projects to get started.

What set's IBM ahead of the pack? Here was Jim's list:

100 Years of Innovation, including being the U.S. Patent leader for the last 18 years in a row
IBM's huge investment in IBM Research, with labs all over the globe
Leadership products in a broad portfolio
Workload-optimized designs with integration from middleware all the way down to underlying hardware
Comprehensive management software for IBM and non-IBM equipment

Clod Barrera

Clod is an IBM Distinguished Engineer and Chief Technical Strategist for IBM System Storage. His presentation focused on trends and directions in the IT storage industry. Clod started with five workload categories:

Transaction/Database
Data Analytics
Business Logic/Apps
Web/Collaboration
Archive/Retention

To address these unique workload categories, IBM will offer workload-optimized systems. The four drivers on the design for these are performance, efficiency, scalability, and integration. For example, to address performance, companies can adopt Solid-State Drives (SSD). Unfortunately, these are 20 times more expensive dollar-per-GB than spinning disk, and the complexity involved in deciding what data to place on SSD was daunting. IBM solved this with an elegant solution called IBM System Storage Easy Tier, which provides automated data tiering for IBM DS8000, SAN Volume Controller (SVC) and Storwize V7000.

For scalability, IBM has adopted Scale-Out architectures, as seen in the XIV, SVC, and SONAS. SONAS is based on the highly scalable IBM General Parallel File System (GPFS). File systems are like wine, they get better with age. GPFS was introduced 15 years ago, and is more mature than many of the other "scalable file systems" from our competition.

Areal Density advancements on Hard Disk Drives (HDD) are slowing down. During the 1990s, the IT industry enjoyed 60 to 100 percent annual improvement in areal density (bits per square inch). In the 2000s, this dropped to 25 to 40 percent, as engineers are starting to hit various physical limitations.

Storage Efficiency features like compression have been around for a while, but are being deployed in new ways. For example, IBM invented WAN compression needed for Mainframe HASP. WAN compression became industry standard. Then IBM introduced compression on tape, and now compression on tape is an industry standard. ProtecTIER and Information Archive are able to combine compression with data deduplication to store backups and archive copies. Lastly, IBM now offers compression on primary data, through the IBM Real-Time Compression appliance.

For the rest of this decade, IBM predicts that tape will continue to enjoy (at least) 10 times lower dollar-per-GB than the least expensive spinning disk. Disk and Tape share common technologies, so all of the R&D investment for these products apply to both types of storage media.

For integration, IBM is leading the effort to help companies converge their SAN and LAN networks. By 2015, Clod predicts that there will be more FCoE purchased than FCP. IBM is also driving integration between hypervisors and storage virtualization. For example, IBM already supports VMware API for Array Integration (VAAI) in various storage products, including XIV, SVC and Storwize V7000.

Lastly, Clod could not finish a presentation without mentioning Cloud Computing. Cloud storage is expected to grow 32 percent CAGR from year 2010 to 2015. Roughly 10 percent of all servers and storage will be in some type of cloud by 2015.
As is often the case, I am torn between getting short posts out in a timely manner versus spending some more time to improve the length and quality of information, but posted much later. I will spread out the blog posts in consumable amounts throughout the next week or two, to achieve this balance.
technorati tags: IBM, Jim Rymarczyk, Clod Barrera, Storage University, Scale-Up, DS8000, TS3500, Cloud, Middleware, Scale-Out, XIV, SVC, SONAS, GPFS, HDD, SSD, VAAI, VMware, SAN, LAN, convergence, FCoE
I finished of the first day of the [IBM System Storage Technical University 2011] by presenting two topics. These were repeated on day 3 for those who missed it today.
IBM Information Archive for email, files and eDiscovery

Not too many people have heard of IBM's Smart Archive strategy and the storage products IBM offers to meet compliance regulations. This session covered the following:

The differences between backup and archive, including a few of my own personal horror stories helping companies who had foolishly thought that keeping backup copies for years would adequately serve as their archive strategy
The differences between optical media, Write-Once Read-Many (WORM) media, and Non-Erasable, Non-Rewriteable (NENR) storage options.
Why putting a [space heater] on your data center floor is a bad idea, driving up power and cooling costs for little business value to the enterprise once the unit is full of rarely accessed read-only data.
An overview of the [IBM Information Archive], an integrated stack of servers, storage and software that replaces previous offerings such as the IBM System Storage DR550 and the IBM Grid Medical Archive Solution (GMAS).
The marketing bundle known as the [Information Archive for Email, Files and eDiscovery] that combines the Information Archive storage appliance with Content Collectors for email and file systems, as well as eDiscovery tools, and implementation services for a solution that can support a small or medium size business, up to 1400 employees.

IBM Tivoli Storage Productivity Center v4.2 Overview and Update

Many of the concerns raised when I [presented v4.1 at this conference last year] were addressed this year in v4.2, including full performance statistics for IBM XIV storage system, storage resource agent support for HP-UX and Solaris, and a variety of other issues.

I presented this overview in stages:

"Productivity Center Basic Edition" that comes pre-installed on the IBM System Storage Productivity Center hardware console, that provides discover of devices, basic configuration, and a clever topology viewer of what is connected to what.
"Productivity Center for Disk" and "Productivity Center for Disk Midrange Edition (MRE)" that provides real-time and historical performance monitoring, asset and capacity reporting.
"Productivity Center for Replication" which supports monitoring, failover and failback for FlashCopy, Metro Mirror and Global Mirror on the SVC, Storwize V7000, DS8000, DS6000 and ESS 800.
"Productivity Center for Data" which supports reporting on files, file systems and databases on DAS, SAN and NAS attached storage from a Operating System viewpoint.
"Productivity Center Standard Edition" which includes all of the above except "Replication", and adds performance monitoring of SAN Fabric gear, and some very clever analytics to improver performance and problem determination.

One of the questions that came up was "How big does my company have to be to consider using Productivity Center?" which I answered as follows:

"If you are a small company, and the "IT Person" has responsibilities outside the IT, and managing the few pieces of kit is just part of his job, then consider just using the web-based GUI through a Firefox or similar browser. If you are a medium sized company with dedicated IT personnel, but mostly run by system admins or database admins that manage storage and networks on the side, you might want to consider the "Storage Control" plug-in for IBM Systems Director. But if you are larger shop, and there are employees with the title "Storage Administrator" and/or "SAN Administrator", then Tivoli Storage Productivity Center is for you."

Tivoli Storage Productivity Center has matured into a fine piece of software that truly can help medium and large sized data centers manage their storage and storage networking infrastructure.
I like speaking the first day of these events. Often people come in just to hear the keynote speakers, and stay the afternoon to hear a few break-out sessions before they leave Tuesday or Wednesday for other meetings.
technorati tags: IBM, IA, DR550, Information Archive, email, files, eDiscovery, WORM, NENR, compliance, CAS, EMC Centera, TPC, Tivoli Storage, Productivity Center, Storage Administrator, Management Tools
There were several break-out sessions on the second day of the [IBM System Storage Technical University 2011] related to Cloud Storage.
Storage for Cloud Computing

Clod Barrera is an IBM Distinguished Engineer and Chief Technical Strategist for IBM System Storage. He predicts that by 2015, 10 percent of the servers and storage purchases, as well as 25 percent of the network gear purchases, will be related to Cloud deployments. Cloud Storage is expected to grow at a compound annual growth rate (CAGR) of 32 percent through 2015, compared to only 3.8 percent growth for non-Cloud storage.

Cloud Computing is allowing companies to rethink their IT infrastructure, and reinvent their business. Clod presented an interesting chart on the "Taxonomy" of storage in Cloud environments. On the left he had examples of Storage that was part of a Cloud Compute application. On the right he had storage that was accessed directly through protocols or APIs. Under each he had several examples for transactional data, stream data, backups and archives.

Clod feels the only difference between Private and Public clouds is a matter of ownership. In private clouds, these are owned by the company that uses them via their private Intranet network. Public clouds are owned by Cloud Service providers and are accessed over the public Internet. Clod presented IBM's strategy to deliver Cloud at five levels:

Private Cloud: on-site equipment, behind company firewall, managed by IT staff
Managed Private Cloud: on-site equipment, behind company firewall, managed by IBM or other Cloud Service provider
Hosted Private Cloud: dedicated, off-premises equipment, located and managed by IBM or other Cloud Service Provider, and access through VPN
Shared Cloud Services: shared, off-premises equipment, located at IBM or other Cloud Service Provider, managed by IBM or Cloud Service provider, and access through VPN. The facility is intended for enterprises only, on a contractual basis, and will be auditable for compliance to government regulations, etc.
Public Cloud: shared, off-premises equipment, located and managed by IBM or other Cloud Service provider, targeted to offer cloud compute and storage resources, with standardized platforms of operating systems and middleware, for individuals, small and medium sized businesses.

As with storage in traditional data center deployments, storage in clouds will be tiered, with Tier 0 being the fastest tier, to Tier 4 for "deep and cheap" archive storage. IBM SONAS is an example of Cloud-ready storage that can help make these tiers accessible through standard Ethernet protocols. Cloud Service providers will use metering and Service Level Agreements (SLAs) to offer different rates for different tiers of storage in the cloud.

Clod wrapped up his session explaining IBM's Cloud Computing Reference Architecture (CCRA). This is an all-encompassing diagram that shows how all of IBM's hardware, software and services fit into Cloud deployments.


SONAS and the Smart Business Storage Cloud

This is a presentation I often give at the [IBM Executive Briefing Center] in Tucson, Arizona. I cover the following points:

IBM positioning between its two strategic NAS products: N series and SONAS
The history of SONAS, from Storage Tank and SAN File System to the Scale-out File Services offering
How SONAS is designed differently than N series GX Cluster mode and other mount-point aggregators
Independent Scaling of performance and capacity, allowing companies to design a solution that fits their particular workload characteristics
World Record Performance results for a moderately-sized SONAS deployment, for a single file system entirely on spinning disk, based on SPECsfs2008 benchmark
IBM's Smart Business Storage Cloud, which combines the base SONAS product with IBM services to offer unique solutions optimized for specific industries, clients and workloads
These sessions served as a preview for later presentations in the week that got into more detail on SONAS specifically.
technorati tags: IBM, Clod Barrera, Cloud Computing, Cloud Storage, SONAS, Smart Business Storage Cloud, SBSC, Storage University
Since the [IBM System Storage Technical University 2011] runs concurrently with the System x Technical University, attendees are allowed to mix-and-match. I attended several presentations regarding server virtualization and hypervisors.
Hypervisor Architecture

Matt Archibald is an IT Management Consultant in IBM's Systems Agenda Delivery team. He started with a history of hypervisors, from IBM's early CP/CMS in 1967, through the latest VMware Vsphere 5 just announced.

He explained that there are three types of Hypervisor architectures today:

Type 1 - often referred to as "Bare Metal" runs directly on the server host hardware, and allows different operating system virtual machines to run as guests. IBM's System z [PR/SM] and [PowerVM] as well as the popular VMware ESXi are examples of this type.
Type 2 - often referred to as "Hosted" runs above an existing operating system, and allows different operating system virtual machines to run as guests. The popular [Oracle/Sun VirtualBox] is an example of this type.
OS Containers - runs above an existing operating system base, and allows multiple "guests" that all run the same operating system as the base. This affords some isolation between applications. [Parallels Virtuozzo Containers] is an example of this type.

The dominant architecture is Type 1. For x86, IBM is the number one reseller of VMware. VMware recently announced [Vsphere 5], which changes its licensing model from CPU-based to memory-based. For example, a virtual machine with 32 virtual CPUs and 1TB of virtual RAM (VRAM) would cost over $73,000 per year to license the VMware "Enterprise Plus" software. The only plus-side to this new licensing is that the "memory" entitlement transfers during Disaster Recovery to the remote location.

"Xen is dead." was the way Matt introduced the section discussing Hybrid Type-1 hypervisors like Xen and Hyper-V. These run bare-metal, but require networking and storage I/O to be processed by a single bottleneck partition referred to as "Dom 0". As such, this hybrid approach does not scale well on larger multi-sock host servers. So, his Xen-is-dead message was referring to all Hybrid-based Hypervisors including Hyper-V, not just those based on Xen itself.

The new up-and-comer is "Linux KVM". Last year, in my blog post about [System x KVM solutions], I mentioned the confusion over KVM acronym used with two different meanings. Many people use KVM to refer to Keyboard-Video-Mouse switches that allow access to multiple machines. IBM has renamed these switches to Local Console Managers (LCM) and Global Console Manager (GCM). This year, the System x team have adopted the use of "Linux KVM" to refer to the second meaning, the [Kernel-based Virtual Machine] hypervisor.

Linux KVM is not a product, but an open-source project. As such, it is built into every Linux kernel. Red Hat has created two specific deliverables under the name Red Hat Enterprise Virtualization (RHEV):

RHEV-H, a tiny ESXi-like bare-metal hypervisor that fits in 78MB, making it small enough to be on a USB stick, CD-rom or memory chip.
RHEV-M, a vCenter-like management software to manage multiple virtual machines across multiple hosts.

Personally, I run RHEL 6.1 with KVM on my IBM laptop as my primary operating system, with a Windows XP guest image to run a few Windows-specific applications.

A complaint of the current RHEV 2.2 release from Linux fanboys is that RHEV-M requires a Windows server, and uses Windows Powershell for scripting. The next release of RHEV is likely to provide a Linux-based option for management server.

Of the various hypervisors evaluated, KVM appears to be poised to offer the best scalability for multi-socket host machines. The next release is expected to support up to 4096 threads, 64TB of RAM, and over 2000 virtual machines. Compare that to VMware Vsphere 5 that supports only 160 threads, 2TB of RAM and up to 512 virtual machines.

Linux KVM Overview

Matt also presented a session focused on Linux KVM. While IBM is the leading reseller of VMware for the x86 server platform, it has chosen Linux KVM to run all of its internal x86 Cloud Computing facilities, as it can offer 40 to 80 percent savings, based on Total Cost of Ownership (TCO).

Linux KVM can run unmodified Windows and Linux guest operating systems as guest images with less than 5 percent overhead. Since KVM is built into the Linux kernel, any certification testing automatically benefits KVM as well. KVM takes advantage of modern CPU extensions like Intel's VT and AMD's AMD-V.

For high availability, in the event that a host fails, KVM can restart the guest images on other KVM hosts. RHEV offers "prioritized restart order" which allows mision-critical images to be started before less important ones.

RHEV also provides "Virtual Desktop Infrastructure", known as VDI. This allows a lightweight client with a browser to access an OS image running on a KVM host. Matt was able to demonstrate this with Firefox browser running on his Android-based Nexus One smartphone.

RHEV also adds features that make it ideal for cloud deployments, including hot-pluggable CPU, network and storage; service Level Agreement monitoring for CPU, memory and I/O resources; storage live migrations to move the raw image files while guests are running; and a self-service user portal.
IBM has been doing server virtualization for decades. When I first started at IBM in 1986, I was doing z/OS development and testing on z/VM guest images. Later, around 1999, I started working with the "Linux on z" team, running multiple Linux images under PR/SM and z/VM. While the server virtualization solutions most people are familiar with (VMware, Hyper-V, Xen) have only been around the last five years or so, IBM has a much deeper and robust understanding and long heritage. This helps to set IBM apart from the competition when helping clients.
technorati tags: IBM, Hypervisor, PRSM, zVM, VMware, Vsphere, ESXi, VirtualBox, Parellels, Matt Archibald, Linux, KVM, RHEV, Hyper-V, RHEV-H, RHEV-M, Xen
I gotten several emails expressing worry that I have fallen off the face of th earth. The last two weeks have been educational and eye-opening for me. I can't provide details in my blog, so I will just say that it involved government agencies that IBM refers to as "dark accounts", and that I am now back safely in the USA. Between adjusting to time zone differences, ridiculously long hours, and restricted access to the internet, I was unable to blog lately.
Instead, I will resume my coverage of the [IBM System Storage Technical University 2011]. The "Solutions Expo" runs Monday evening through Wednesday lunch. This is a chance for people to explore all the solutions that are part of IBM's large "eco-system" for IBM System storage and System x products. There were several sponsors for this event.
As is often the case at these conferences, the various booths hand out fun items. The hot items this year were tie-dyed tee-shirts from Qlogic, and propeller beanies from the IBM rack and power systems team. Here is Amanda, one of the bartenders showing off the latter.
After the expo on Tuesday night, my friends at [Texas Memory Systems] held an after-party. Unlike the pens, tee-shirts and keychains at the Expo, these guys had a raffle for real storage products. Here is Erik Eyberg handing out a RamSan PCIe card, valued at $14,000 or so. IBM recently certified the TMS RamSan as External SSD storage for the IBM SAN Volume Controller (SVC). The SVC can optimize performance using this for automated sub-LUN tiering with the IBM System Storage Easy Tier feature.
technorati tags: IBM, Storage, University, Qlogic, TMS, RamSan, SVC, Easy Tier
Storage Networking is part of the IBM System Storage team. There were several break-out sessions on the third day at the [IBM System Storage Technical University 2011] related to storage networking.
SAN Best Practices

I always try to catch a session from Jim Blue, who works in our "SAN Central" center of competency team. This session was a long list of useful hints and tips, based on his many years of experience helping clients.

SAN Zoning works by inclusion, limiting the impact of failing devices. The best approach is to zone by individual initiator port. The default policy for your SAN zoning should be "deny".
Ports should be named to identify who, what, where and how.
While many people know not to mix both disk and tape devices on the same HBA, Jim also recommends not mixing dissimilar disks, test and production, FCP and FICON.
The sweet spot is FOUR paths. Too many paths can impact performance.
When making changes to redundant fabrics, make changes to the first fabric, then allow sufficient time before making the same changes to the other fabric.
Use software tools like Tivoli Storage Productivity Center (Standard Edition) to validate all changes to your SAN fabric.
Do not mix 62.5 and 50.0 micron technology.
Use port caps to disable inactive ports. In one amusing anecdote, he mention that an uncovered port was hit by sunlight every day, sending error messages that took a while to figure out.
Save your SAN configuration to non-SAN storage for backup
Consider firmware about two months old to be stable
Rule of thumb for estimating IOPS: 75-100 IOPS per 7200 RPM drive, 120-150 IOPS per 10K RPM drive, and 150-200 IOPS per 15K RPM drive.
Decide whether your shop is just-in-time or just-in-case provisioning. Just-in-time gets additional capacity on demand as needed, and just-in-case over-provisions to avoid scrambling last minute.
Avoid oversubscribing your inter-switch links (ISL). Aim for around 7:1 to 10:1 ratio.
Don't go cheap on bandwidth between sites for long-distance replication

Next Generation Network Fabrics - Strategy and Innovations

Mike Easterly, IBM Director of Global Field Marketing, presented IBM System Networking strategy, in light of IBM's recent acquisition of Blade Network Technologies (BNT). BNT is used in 350 of the Fortune 500 companies, and is ranked #2 behind Cisco in sales of non-core Ethernet switches (based on number of units sold).

Based on a recent survey, companies are upgrading their Ethernet networks for a variety of reasons:

56 percent for Live Partition Mobility and VMware Vmotion
45 percent for integrated compute stacks, like IBM CloudBurst
43 percent for private, public and hybrid cloud computing deployments
40 percent for network convergences

Many companies adopt a three-level approach, with core directors, distribution switches, and then access switches at the edge that connect servers and storage devices. IBM's BNT allows you to flatten the network to lower latency by collapsing the access and distribution levels into one.

IBM's strategy is to focus on BNT for the access/distribution level, and to continue its strategic partnerships for the core level.

IBM BNT provides better price/performance and lower energy consumption. To help with hot-aisle/cold-aisle rack deployments, IBM BNT provides both F and R models. F models have ports on the front, and R models have ports in the rear.

IBM BNT supports virtual fabric and HW-offload iSCSI traffic, and future-enabled for FCoE. Support for TRILL (transparent interconnect of lots of links) and OpenFlow will be implemented through software updates to the switches.

While Cisco Nexus 1000v is focused on VMware Enterprise Plus, IBM BNT's VMready works with VMware, Hyper-V, Linux KVM, XEN, OracleVM, and PowerVM. This allows single pane of management of VMready and ESX vSwitches.

In preparation for Converged Enhanced Ethernet (CEE), IBM BNT will provide full 40GbE support sometime next year, and offer switches that support 100GbE uplinks. IBM offers extended length cables, including passive SFP+ DAC at 8.5 meters, and 10Gbase-T Cat7 cables up to 100 meters.

Inter-datacenter Workload Mobility with VMware vSphere and SAN Volume Controller (SVC)

This session was co-presented between Bill Wiegand, IBM Advanced Technical Services, and Rawley Burbridge, IBM VMware and midrange storage consultant. IBM is the leader in storage virtualization product (SVC), and is the leading reseller of VMware.

Like MetroCluster on IBM N series, or EMC's VPLEX Metro, the IBM SAN Volume Controller can support a stretched cluster across distance that allows virtual machines to move seamlessly from one datacenter to another. This is a feature IBM introduced with SVC 5.1 back in 2009. This can be used for PowerVM Live Partition Mobility, VMware vMotion, and Hyper-V Quick Migration.

SVC stretched cluster can help with both Disaster Avoidance and Disaster Recovery. For Disaster Avoidance, in anticipation of an outage, VMs can be moved to the secondary datacenter. For Disaster Recover, additional automation, such as VMware High Availability (HA) is needed to restart the VMs at the secondary datacenter.

IBM stretched cluster is further improved with a feature called Volume Mirroring (formerly vDisk Mirroring) which creates two physical copies of one logical volume. To the VMware ESX hosts, there is only one volume, regardless of which datacenter it is in. The two physical copies can be on any kind of managed disk, as there is no requirement or dependency of copy services on the back-end storage arrays.

Another recent improvement is the idea of spreading the three quorum disks to three different locations or "failure domains". One in each data center, and a third one in a separate building, somewhere in between the other two, perhaps.

Of course, there are regional disasters that could affect both datacenters. For this reason, SVC stretched cluster volumes can be replicated to a third location up to 8000 km away. This can be done with any back-end disk arrays, as again there is not requirement for copy services from the managed devices. SVC takes care of it all.
Networking is going to be very important for a variety of transformational projects going forward in the next five years.
technorati tags: IBM, SAN, FCP, FICON, BNT, VMready, TRILL, OpenFlow, SVC, iSCSI, FCoE, CEE, VMware, ESX, vMotion, VPLEX, MetroCluster, PowerVM,
I have been working on Information Lifecycle Management (ILM) since before they coined the phrase. There were several break-out sessions on the third day at the [IBM System Storage Technical University 2011] related to new twists to ILM.
The Intelligent Storage Service Catalog (ISSC) and Smarter ILM

Hans Ammitzboll, Solution Rep for IBM Global Technology Services (GTS), presented an approach to ILM focused on using different storage products for different tiers. Is this new? Not at all! The original use of the phrase "Information Lifecycle Management" was coined in the early 1990s by StorageTek to help sell automated tape libraries.

Unfortunately, disk-only vendors started using the term ILM to refer to disk-to-disk tiering inside the disk array. Hans feels it does not make sense to put the least expensive penny-per-GB 7200 RPM disk inside the most expense enterprise-class high-end disk arrays.

IBM GTS manages not only IBM's internal operations, but the IT operations of hundreds of other clients. To help manage all this storage, they developed software to supplement reporting, monitoring and movement of data from one tier to another.

The Intelligent Storage Service Catalog (ISSC) can save up to 80 percent of planning time for managing storage. What did people use before? Hans poked fun at chargeback and showback systems that "offer savings" but don't actually "impose savings". He referred to these as Name-and-Shame, where the top 10 offenders of storage usage.

His storage pyramid involves a variety of devices, with IBM DS8000, SVC and XIV for the high-end, midrange disk like Storwize V7000, and blended disk-and-tape solutions like SONAS and Information Archive (IA) for the lower tiers.

To help people understand these concepts, IBM developed the [Thinking Worlds Player] game.

Managing your Data with Policies on SONAS

Mark Taylor, IBM Advanced Technical Services, presented the policy-driven automation of IBM's Scale-Out NAS (SONAS). A SONAS system can hold 1 to 256 file systems, and each file system is further divided into fileset containers. Think of fileset containers like 'tree branches' of the file system.es.

SONAS supports policies for file placement, file movement, and file deletion. These are SQL-like statements that are then applied to specific file systems in the SONAS. Input variables include date last modified, date last accessed, file name, file size, fileset container name, user id and group id. You can choose to have the rules be case-sensitive or case-insensitive. The rules support macros. A macro pre-processor can help simplify calculations and other definitions that are used repeatedly.

Each file system in SONAS consists of one or more storage pools. For file systems with multiple pools, file placement policies can determine which pool to place each file. Normally, when a set of files are in a specific sub-directory on other NAS systems, all the files will be on the same type of disk. With SONAS, some files can be placed on 15K RPM drives, and other files on slower 7200 RPM drives. This file virtualization separates the logical grouping of files from the physical placement of them.

Once files are placed, other policies can be written to migrate from one disk pool to another, migrate from disk to tape, or delete the file. Migrating from one disk pool to another is done by relocation. The next time the file is accessed, it will be accessed directly from the new pool. When migrating from disk to tape, a stub is left in the directory structure metadata, so that subsequent access will cause the file to be recalled automatically from tape, back to disk. Policies can determine which storage pool files are recalled to when this happens.

Migrating from disk to tape involves sending the data from SONAS to external storage pool manager, such as IBM Tivoli Storage Manager (TSM) server connected to a tape library. SONAS supports pre-migration, which allows the data to be copied to tape, but left on disk, until space is needed to be freed up. For example, a policy with THRESHOLD(90,70,50) will kick in when the file system is 90 percent full, file will be migrated (moved) to tape until it reaches 70 percent, and then files will be pre-migrated (copied) to tape until it reaches 50 percent.

Policies to delete files can apply to both disk and tape pools. Files deleted on tape remove the stub from the directory structure metadata and notify the external storage pool manager to clean up its records for the tape data.

If this all sounds like a radically new way of managing data, it isn't. Many of these functions are based on IBM's Data Facility Storage Management Subsystem (DFSMS) for the mainframe. In effect, SONAS brings mainframe-class functionality to distributed systems.

Understanding IBM SONAS Use Cases

For many, the concept of a scale-out NAS is new. Stephen Edel, IBM SONAS product offering manager, presented a variety of use cases where SONAS has been successful.

First, let's consider backup. IBM SONAS has built-in support for Tivoli Storage Manager (TSM), as well as supporting the NDMP industry standard protocol, for use with Symantec NetBackup, Commvault Simpana, and EMC Legato Networker. While many NAS solutions support NDMP, IBM SONAS can support up to 128 session per interface node, and up to 30 interface nodes, for parallel processing. SONAS has a high-speed file scan to identify files to be backed up, and will pre-fetch the small files into cache to speed up the backup process. A SONAS system can support up to 256 systems, and each file system can be backed up on its own unique schedule if you like. Different file systems can be backed up to different backup servers.

SONAS also has anti-virus support, with your choice of Symantec or McAfee. An anti-virus scan can be run on demand, as needed, or as files are individually accessed. When a Windows client reads a file, SONAS will determine if it has been already scanned with the most recent anti-virus signatures, and if not, will scan before allowing the file to be read. SONAS will also scan new files created.

Successful SONAS deployments addressed the following workloads:

content capture including video capture
content distribution
file production/rendering
high performance computing, research and business analytics
"Cheap and Deep" archive
worldwide information exchange and geographically distant collaboration
cloud hosting

SONAS is selling well in Government, Universities, Healthcare, and Media/Entertainment, but is not limited to these industries. It can be used for private cloud deployments and public cloud deployments. Having centralized management for Petabytes of data can be cost-effective either way.
IBM SONAS brings the latest techologies to bring a Smarter ILM to a variety of workloads and use cases.
technorati tags: , IBM, ILM, SONAS, ISSC, GTS, Hans Ammitzbol, Mark Taylor, Stephen Edel, Scale-Out, NAS, NDMP, Symantec, McAfee, Anti-Virus, Policy-Driven Automation
Day 4 of the [IBM System Storage Technical University 2011] had sessions on strategy, including Cloud Computing and System Networking.
IBM Storage Strategy for the Smarter Computing Era

I presented this session on Thursday morning. It is a session I give frequently at the IBM Tucson Executive Briefing Center (EBC). IBM launched [Smarter Computing initiative at IBM Pulse conference]. My presentation covered the role of storage in Business Analytics, Workload Optimized Systems, and Cloud Computing.

Layer 8: Cloud Computing and the new IT Delivery Model

Ed Batewell, IBM Field Technical Support Specialist, presented this overview on Cloud Computing. The "Layer 8" is a subtle reference to the [7-layer OSI Model] for networking protocols. Ed cites insights from the [2011 IBM Global CIO Survey]. Of the 3000 companies surveyed, 60 percent plan to use or deploy clouds. In USA, 70 percent of CIOs have significant plans for cloud within the next 3-5 years. These numbers are double the statistics gleamed from the 2009 Global CIO survey. Clouds are one of IBM's big four initiatives, expecting to generate $7 Billion USD annual revenues by 2015.

IBM is recognized in the industry as one of "Big 5" vendors (Google, Yahoo, Microsoft, and Amazon round out the rest). As such, IBM has contributed to the industry a set of best practices known as the [Cloud Computing Reference Architect (36-page document)]. As is typical for IBM, this architecture is end-to-end complete, covering the three main participants for successful cloud deployments:

Consumers: the people and systems that use cloud computing services
Providers: the people, infrastructure and business operations needed to deliver IT services to consumers
Developers: the people and their development tools that create apps and platforms for cloud computing

IBM is working hard to eliminate all barriers to adoption for Cloud Computing. [Mirage image management] can patch VM images offline to address "Day 0" viruses. [Hybrid Cloud Integrator can help integrate new Cloud technologies to legacy applications. [IBM Systems Director VMcontrol] can manage VM images from z/VM on the mainframe, to PowerVM on UNIX servers, to VMware, Microsoft, Xen and KVM for x86 servers. IBM's [Cloud Service Provider Platform (CSP2)] is designed for Telecoms to offer Cloud Computing services. IBM CloudBurst is a "Cloud-in-a-Can" optimized stack of servers, storage and switches that can be installed in five days and comes in various "tee-shirt sizes" (Small, Medium, Large and Extra Large), depending on how many VMs you want to run.

Ed mentioned that companies trying to build their own traditional IT applications and environments, in an effort to compete against the cost-effective Clouds, reminded him of Thomas Thwaites' project of building a toaster from scratch. You can watch the [TED video, 11 minutes]:

An interesting project is [Reservoir] which IBM is working with other industry leaders to develop a way to seamlessly migrate VMs from one location to another, globally, without requiring shared storage, SAN zones or Ethernet subnets. This is similar to how energy companies buy and sell electricity to each other, as needed, or the way telecommunications companies allow roaming acorss each others networks.

IBM System Networking - Convergence

Jeff Currier, IBM Executive Consultant for the new IBM System Networking group, presented this session on Network Convergence. Storage is expected to grow 44x, from 0.8 [Zettabytes] in 2009, to 35 Zetabytes by the year 2020. The role of the network is growing in importance. IBM refers to this converged loss-less Ethernet network as "Convergence Enhanced Ethernet" (CEE), which Cisco uses the term "Data Center Ethernet" (DCE), and the rest of the industry uses "Data Center Bridging" (DCB).

To make this happen, we need to replace Spanning Tree Protocol [STP] that eliminates walking in circles in a multi-hop network configuration, with a new Layer 2 Multipathing (L2MP) protocol. The two competing for the title are Shortest Path Bridging (IEEE 802.1aq) and Transparent Interconnect of Lots of Links (IETF TRILL).

All roads lead to Ethernet. While FCoE has not caught on as fast as everyone hoped, iSCSI has benefited from all the enhancements to the Ethernet standard. iSCSI works in both lossy and lossless versions of Ethernet, and seems to be the preferred choice for new greenfield deployments for Small and Medium sized Businesses (SMB). Larger enterprises continue to use Fibre Channel (FCP and FICON), but might use single-hop FCoE from the servers to top-of-rack switches. Both iSCSI and FCoE scale well, but FCoE is considered more efficient.
IBM has a strategy, and is investing heavily in these standards, technologies, and core competencies.
technorati tags: IBM, Smarter+Computing, Cloud Computing, CCRA, CloudBurst, VMcontrol, Mirage, Thomas+Thwaites, Ed Batewell, Jeff Currier, Reservoir, System+Networking, Convergence, CEE, DCE, DCB, iSCSI, FCoE,
Continuing my coverage of the [IBM System Storage Technical University 2011], I participated in the storage free-for-all, which is a long-time tradition, started at SHARE User Group conference, and carried forward to other IT conferences. The free-for-all is a Q&A Panel of experts to allow anyone to ask any question. These are sometimes called "Birds of a Feather" (BOF). Last year, we had two: one focused on Tivoli Storage software, and the second to cover storage hardware. This year, we had two, one for System x called "Ask the eXperts", and one for System Storage called "Storage Free-for-All". This post covers the latter.
(Disclaimer: Do not shoot the messenger! We had a dozen or more experts on the panel, representing System Storage hardware, Tivoli Storage software, and Storage services. I took notes, trying to capture the essence of the questions, and the answers given by the various IBM experts. I have spelled out acronyms and provided links to relevant materials. The answers from individual IBMers may not reflect the official position of IBM management. Where appropriate, my own commentary will be in italics.)
Are there any plans to improve the use of BRMS [
Backup Recovery and Media Services for IBM i
] with [
Tivoli Storage Manager (TSM)
]?
It should be against the law to connect these two together. IBM has no plans to make any further improvements.
When will [
IBM BladeCenter S
] support 2.5-inch drives?
You are in the wrong session! Go to "Ask the eXperts" session next door!
The TSM GUI sucks! Are there any plans to improve it?
Yes, we are aware that products like IBM XIV have raised the bar for what people expect from graphical user interfaces. We have plans to improve the TSM GUI. IBM's new GUI for the SAN Volume Controller and Storwize V7000 has been well-received, and will be used as a template for the GUIs of other storage hardware and software products. The GUI uses the latest HTML5, Dojo widgets and AJAX technologies, eliminating Java dependencies on the client browser.
Can we run the TSM Admin GUI from a non-Windows host?
IBM has plans to offer this. Most likely, this will be browser-based, so that any OS with a modern browser can be used.
As hard disk drives grow larger in capacity, RAID-5 becomes less viable. What is IBM doing to address this?
IBM is aware of this problem. IBM offers RAID-DP on the IBM N series, RAID-X on the IBM XIV, and RAID-6 on its other disk systems.
TPC licensing is outrageous! What is IBM going to do about it?
IBM introduced the [Tivoli Storage Productivity Center for Disk Midrange Edition (MRE)] to help address the cost when Small and Medium-sized Businesses managing SVC, Storwize V7000, DS5000 and DS3000 disk systems.
What is the adoption rate of IBM Easy Tier?
About 25 percent of DS8000 disk systems have SSD installed. Now that IBM DS8000 Easy Tier supports "any two" tiers, roughly 50 percent of DS8000 now have Easy Tier activated. No idea on how Easy Tier has been adopted on SVC or Storwize V7000.
We have an 8-node SVC cluster, should we put 8 SSD drives into a single node-pair, or spread them out?
We recommend putting a separate Solid-State Drive in each SVC node, with RAID-1 between nodes of a node-pair. By separating the SSD across I/O groups, you can reduce node-to-node traffic.
How well has SVC 6.2 been adopted?
The inventory call-home data is not yet available. The only SVC hardware model that does not support this level of software was the 2145-4F2 introduced in 2003. Every other model since then can be updated to this level.
Will IBM offer 600GB FDE drives for the IBM DS8700?
Currently, IBM offers 300GB and 450GB 15K RPM drives with the Full-Disk Encryption (FDE) capability for the DS8700, and 450GB and 600GB 10K RPM drives with FDE for the IBM DS8800. IBM is working with its disk suppliers to offer FDE on other disk capacities, and on SSD and NL-SAS drives as well, so that all can be used with IBM Easy Tier.
Is there a reason for the feature lag between the Easy Tier capabilities of the DS8000, and that of the SVC/Storwize V7000?
We have one team for Easy Tier, so they implement it first on DS8000, then port it over to SVC/Storwize V7000.
Does it even make sense to have separate storage tiers, especially when you factor in the cost of SVC and TPC to make it manageable?
It depends! We understand this is a trade-off between cost and complexity. Most data centers have three or more storage tiers already, so products like SVC can help simplify interoperability.
Are there best practices for combining SVC with DS8000? Can we share one DS8000 system across two or more SVC clusters?
Yes, you can share one DS8000 across multiple SVC clusters. DS8000 has auto-restripe, so consider having two big extent pools. The queue depth is 3 to 60, so aim to have up to 60 managed disks on your DS8000 assigned to SVC. The more managed disks the better.
The IBM System Storage Interopability Center (SSIC) site does not seem to be designed well for SAN Volume Controller.
Yes, we are aware of that. It was designed based on traditional Hardware Compatability Lists (HCL), but storage virtualization presents unique challenges.
How does the 24-hour learning period work for IBM Easy Tier? We have batch processing that runs from 2am to 8am on Sundays.
You can have Easy Tier monitor across this batch job window, and turn Easy Tier management between tiers on and off as needed.
Now that NetApp has acquired LSI, is the DS3000 still viable?
Yes, IBM has a strong OEM relationship with both NetApp and LSI, and this continues after the acquisition.
If have managed disks from a DS8000 multi-rank extent pool assigned to multiple SVC clusters, won't this affect performance?
Yes, possibly. Keep managed disks on seperate extent pools if this is a big concern. A PERL script is available to re-balance SVC striped volumes as needed after these changes.
Is the IBM [
TPC Reporter
] a replacement for IBM Tivoli Storage Productivity Center?
No, it is software, available at no additional charge, that provides additional reporting to those who have already licensed Tivoli Storage Productivity Center 4.1 and above. It will be updated as needed when new versions of Productivity Center are released.
We are experiencing lots of stability issues with SDD, SDD-PCM and SDD-DSM multipathing drivers. Are these getting the development attention they deserve?
IBM's direction is to shift toward native OS-based multipathing drivers.
Is anyone actually thinking of deploying public cloud storage in the near-term?
A few hands in the audience were raised.
None of the IBM storage devices seem to have [
REST API
]. Cloud storage providers are demanding this. What are IBM plans?
IBM plans to offer REST on SONAS. IBM uses SONAS internally for its own cloud storage offerings.
If you ask a DB2 specialist, an AIX specialist, and a System Storage specialist, on how to configure System p and System Storage for optimal performance, you get three different answers. Are there any IBMers who are cross-functional that can help?
Yes, for example, Earl Jew is an IBM Field Technical Support Specialist (FTSS) for both System p and Storage, and can help you with that.
Both Oracle and Microsoft recommend RAID-10 for their applications.
Don't listen to them. Feel free to use RAID-5, RAID-6 or RAID-X instead.
Resizing SVC source volumes forces ongoing FlashCopy or Metro Mirror relatiohships to be stopped. Does IBM plan to address this?
Currently, you have to stop, resize both source and target, then start the relationship again. Consider getting IBM Tivoli Storage Productivity Center for Replication (TPC-R).
What ever happened to IBM [
Grid Medical Archive Solution (GMAS)
]?
IBM continues to support this for exising clients. For new deployments, IBM offers SONAS and the Information Archive (IA).
When will I be able to move SVC volumes between I/O groups?
You can today, but it is disruptive to the operating system. IBM is investigating making this less disruptive.
Will XIV ever support the mainframe?
It does already, with support for both Linux and z/VM today. For VSE support, use SVC with XIV. For those with the new zBX extension, XIV storage can be used with all of the POWER and x86-based operating systems supported. IBM has no plans to offer direct FICON attachment for z/OS or z/TPF.
Not a question - Kudos to the TSM and ProtecTIER team in supporting native IP-based replication!
Thanks!
When will IBM offer POWER-based models of the XIV, SVC and other storage devices?
IBM's decision to use industry-standard x86 technology has proven quite successful. However, IBM re-looks at this decision every so many years. Once again, the last iteration determined that it was not worth doing. A POWER-based model might not beat the price/performance of current x86 models, and maintaining two separate code bases would hinder development of new innovations.
We have both System i and System z, what is IBM doing to address the fact that PowerHA and GDPS are different?
IBM TPC-R has a service offering extension to support "IBM i" environments. GDPS plans to support multi-platform environments as well.
This was a great interactive session. I am glad everyone stayed late Thursday evening to participate in this discussion.
technorati tags: IBM, storage, Tivoli, BRMS, TSM, BladeCenter, GUI, HTML5, AJAX, Dojo, SVC, Storwize V7000, RAID-10, RAID-5, RAID-6, RAID-DP, RAID-X, , DS3000, DS8000, MRE, FDE, SSIC, NetApp, LSI, PERL, SDD, Cloud, REST, SONAS, GDPS, TPC-R, TPC, Productivity Center, Earl Jew
Wrapping up my coverage of the [IBM System Storage Technical University 2011], I attended a few sessions on Friday morning. The last session was Glenn Anderson's "IT Game Changers: the IT Professional's Guide to Becoming a Technology Trailblazer." Glenn used to run the Storage University events, but now is the conference manager for the System z mainframe events.
Glenn organized this talk from lessons from the following books:
Glen suggested that IT professionals should understand the dissatisfaction with IT that is driving companies to switch over to Cloud Computing. IT professionals should adopt a service-oriented approach, realize the full potential of new disruptive technologies, and know when to "jump the curve" to the next generation of technology. For example, IT professionals should lead the movement to Cloud. If you build your own private cloud, or purchase some time for instances on a public cloud, you will be in a better position to be the "trusted advisor" to IT management.
CIOs should encourage IT to be part of the corporate strategy, but may have to fix the broken IT funding model. The IT department should be a "value center" not a "cost center" as it has been traditionally treated. When treated as a "cost center", IT departments only focus on cost reductions, and not looking at ways that the IT department can help drive revenues, improve customer service, or enhance employee productivity. A well-orgnized IT department can be a competitive advantage.
Taking a "service-oriented" approach allows IT and Business Process to come together. Often times, IT and business professionals don't communicate well, and this new service-oriented approach can bridge the gap. Service Oriented Architecture [SOA] can help connect existing legacy applications to the new Cloud Computing environment.
IT budgets should consist of two parts. Strategic funding for new IT projects, and an operational budget for keeping current applications running. Roughly 45 percent of capital investment in USA goes toward IT. Too often, the IT department is focused on itself, on technology and reducing costs, and not enough on aligning IT with business transformation. When IT is used in conjunction with a sound business strategy, their can be significant payoff.
After 550 years, the printing press and printed materials are being pushed from center. While other electronic media like radio and television have been around for a while, the internet and digital publishing are constantly available, and represent a shift from traditional printed materials.
When evaluating new technologies, IT professionals should ask themselves a few questions. Is it easy to use? Does it enable people to connect in new ways? Is it more cost-effective, or tap new sources of revenue? Does it shift power from one player to another? A new intellectual ethic is taking hold. Becoming an IT Game Changer can help stay one step ahead as Cloud Computing and other new IT platforms are adopted.
technorati tags: IBM, SOA, Peter Weill, Nicholas Carr, , Sarv Devaraj, Rajiv Kohli, Cloud Computing,
This week, July 26-30, 2010, I am in Washington DC for the annual [2010 System Storage Technical University]. As with last year, we have joined forces with the System x team. Since we are in Washington DC this time, IBM added a "Federal Track" to focus on government challenges and solutions. So, basically, offering attendees the option to attend three conferences for one low price.
This conference was previously called the "Symposium", but IBM changed the name to "Technical University" to emphasize the technical nature of the conference. No marketing puffery like "Journey to the Private Cloud" here! Instead, this is bona fide technical training, qualifying attendees to count this towards their Continuing Professional Education (CPE).
(Note to my readers:The blogosphere is like a playground. In the center are four-year-olds throwing sand into each other's faces, while mature adults sit on benches watching the action, and only jumping in as needed. For example, fellow blogger Chuck Hollis (EMC) got sand in his face for promising to resign if EMC ever offered a tacky storage guarantee, and then [failed to follow through on his promise] when it happened.

Several of my readers asked me to respond to another EMC blogger's latest [fistful of sand]. A few months ago, fellow blogger Barry Burke (EMC) committed to [stick to facts] in posts on his Storage Anarchist blog. That didn't last long! BarryB apparently has fallen in line with EMC's over-promise-then-under-deliver approach. Unfortunately, I will be busy covering the conference and IBM's robust portfolio of offerings, so won't have time to address BarryB's stinking pile of rumor and hearsay until next week or later. I am sorry to disappoint.)
This conference is designed to help IT professionals make their business and IT infrastructure more dynamic and, in the process, help reduce costs, mitigate risks, and improve service. This technical conference event is geared to IT and Business Managers, Data Center Managers, Project Managers, System Programmers, Server and Storage Administrators, Database Administrators, Business Continuity and Capacity Planners, IBM Business Partners and other IT Professionals. This week will offer over 300 different sessions and hands-on labs, certification exams, and a Solutions Center.
For those who want a quick stroll through memory lane, here are my posts from past events:
In keeping up with IBM's leadership in Social Media, IBM Systems Lab Services and Training team running this event have their own [Facebook Fan Page] and [blog]. IBM Technical University has a Twitter account [@ibmtechconfs], and hashtag #ibmtechu. You can also follow me on Twitter [@az990tony].
technorati tags: IBM, Technical University, Federal, System Storage, System x, Washington DC, CPE, EMC, Facebook, Twitter
Continuing my week in Washington DC for the annual [2010 System Storage Technical University], here is my quick recap of the keynote sessions presented Monday morning. Marlin Maddy, Worldwide Technical Events Executive for IBM Systems Lab Services and Training, served as emcee.
Roland Hagen

Roland Hagan, IBM Vice President for IBM System x server platform, presented on how IBM is redefining the x86 computing experience. More than 50 percent of all servers are x86 based. These x86 servers are easy to acquire, enjoy a large application base, and can take advantage of readily available skilled workforce for administration. The problem is that 85 percent of x86 processing power remains idle, energy costs are 8 times what they were 12 years ago, and management costs are now 70 percent of the IT budget.

IBM has the number one market share for scalable x86 servers. Roland covered the newly announced eX5 architecture that has been deployed in both rack-optimized models as well as IBM BladeCenter blade servers. These can offer 2x the memory capacity as competitive offerings, which is important for today's server virtualization, database and analytics workloads. This includes 40 and 80 DIMM models of blades, and 64 to 96 DIMM models of rack-optimized systems. IBM also announced eXFlash, internal Solid State Drives accessible at bus speeds. FlexNode allows a 4-node system to dynamically change to 2 separate 2-node systems.

By 2013, analysts estimate that 69 percent of x86 workloads will be virtualized, and that 22 percent of servers will be running some form of hypervisor software. By 2015, this grows to 78 percent of x86 workloads being virtualized, and 29 percent of servers running hypervisor.

Doug Balog

Doug Balog, IBM Vice President and Disk Storage Business Line Executive, presented how the growth of information results in a "perfect storom" for the storage industry. Storage Admins are focused on managing storage growth and the related costs and complexity, proper forecasting and capacity planning, and backup administration. IBM's strategy is to help clients in the following areas:

Storage Efficiency - getting the most use out of the resources you invest
Service Delivery - ensuring that information gets to the right people at the right time, simplify reporting and provisioning
Data Protection - protecting data against unethical tampering, unauthorized access, and unexpected loss and corruption

He wrapped up his talk covering the success of DS8700 and XIV. In fact, 60 percent of XIV sales are to EMC customers. The TCO of an XIV is less than half the TCO of a comparable EMC VMAX disk system.

Dave McQueeney

Dave McQueeney, IBM Vice President for Strategy and CTO for US Federal, covered how IBM's Smarter Planet vision for smarter cities, smarter healthcare, smarter energy grid and smarter traffic are being adopted by the public sector. Almost every data center in US Federal government is out of power, floor space and/or cooling capability. An estimated 80 percent of US Federal government IT budgets are spent on maintenance and ongoing operations, leaving very little left over for the big transformational projects that President Barack Obama wants to accomplish.

Who has the most active Online Transaction Processing (OLTP)? You might guess a big bank, but it is the US Department of Homeland Security (DHS), with a system processing 600 million transactions per day. Another government agency is #2, and the top Banking application is finally #3. The IBM mainframe has solved problems 10 to 15 years ago that the distributed systems are just now encountering today. Worldwide, more than 80 percent of banks use mainframes to handle their financial transactions.

IBM's recent POWER7 set of servers are proving successful in the field. For example, Allianz was able to consolidate 60 servers to 1. Running DB2 on POWER7 server is 38 percent less expensive than Oracle on x86 Nehalem processors. For Java, running JVM on POWER7 is 73 percent better than JVM on x86 Nehalem.

The US federal government ingests a large amount of data. It has huge 10-20 PB data warehouses. In fact, the amount of GB received every year by the US federal government alone exceed the production of all disk drives produced by all drive manufacturers. This means that all data must be processed through "data reduction" or it is gone forever.

Clod Barrera

The last keynote for Monday was given by Clod Barrera, IBM Distinguished Engineer and Chief Technical Strategist for System Storage. He started out shocking the audience with his view that the "disk drive industry is a train wreck". While R&D in disk drives enjoyed a healthy improvement curve up to about 2004, it has now slowed down, getting more difficult and more expensive to improve performance and capacity of disk drives. The rest of his presentation was organized around three themes:

Integrated Stacks - while new-comers like Oralce/Sun and the VCE coalition are promoting the benefits of integrated stacks, IBM has been doing this for the past five decades. New advancements in Server and Storage virtualization provide exciting new opportunities.
Integrated Systems - solutions like IBM Information Archive and SONAS, and new features like Easy Tier that help adopt SSD transparently. As it gets harder and harder to scale-up, IBM has moved to innovative scale-out architectures.
Integrated Data Center management - companies are now realizing that management and governance are critical factors of success, and that this needs to be integrated between traditional IT, private, public and hybrid cloud computing.
This was a great inspiring start for what looks like an awesome week!
technorati tags: IBM, Technical University, Marlin Maddy, Roland Hagen, Doug Balog, Dave McQueeney, Clod Barrera, x86, eX5, FlexNode, Barack Obama, DHS, OLTP, DB2, POWER7, Oracle, JVM, Intel, Nehalem
Continuing my week in Washington DC for the annual [2010 System Storage Technical University], I presented a session on Storage for the Green Data Center, and attended a System x session on Greening the Data Center. Since they were related, I thought I would cover both in this post.
Storage for the Green Data Center

I presented this topic in four general categories:

Drivers and Metrics - I explained the three key drivers for consuming less energy, and the two key metrics: Power Usage Effectiveness (PUE) and Data Center Infrastructure Efficiency (DCiE).
Storage Technologies - I compared the four key storage media types: Solid State Drives (SSD), high-speed (15K RPM) FC and SAS hard disk, slower (7200 RPM) SATA disk, and tape. I had comparison slides that showed how IBM disk was more energy efficient than competition, for example DS8700 consumes less energy than EMC Symmetrix when compared with the exact same number and type of physical drives. Likewise, IBM LTO-5 and TS1130 tape drives consume less energy than comparable HP or Oracle/Sun tape drives.
Integrated Systems - IBM combines multiple storage tiers in a set of integrated systems managed by smart software. For example, the IBM DS8700 offers [Easy Tier] to offer smart data placement and movement across Solid-State drives and spinning disk. I also covered several blended disk-and-tape solutions, such as the Information Archive and SONAS.
Actions and Next Steps - I wrapped up the talk with actions that data center managers can take to help them be more energy efficient, from deploying the IBM Rear Door Heat Exchanger, or improving the management of their data.

Greening of the Data Center

Janet Beaver, IBM Senior Manager of Americas Group facilities for Infrastructure and Facilities, presented on IBM's success in becoming more energy efficient. The price of electricity has gone up 10 percent per year, and in some locations, 30 percent. For every 1 Watt used by IT equipment, there are an additional 27 Watts for power, cooling and other uses to keep the IT equipment comfortable. At IBM, data centers represent only 6 percent of total floor space, but 45 percent of all energy consumption. Janet covered two specific data centers, Boulder and Raleigh.

At Boulder, IBM keeps 48 hours reserve of gasoline (to generate electricity in case of outage from the power company) and 48 hours of chilled water. Many power outages are less than 10 minutes, which can easily be handled by the UPS systems. At least 25 percent of the Computer Room Air Conditioners (CRAC) are also on UPS as well, so that there is some cooling during those minutes, within the ASHRAE guidelines of 72-80 degrees Fahrenheit. Since gasoline gets stale, IBM runs the generators once a month, which serves as a monthly test of the system, and clears out the lines to make room for fresh fuel.

The IBM Boulder data center is the largest in the company: 300,000 square feet (the equivalent of five football fields)! Because of its location in Colorado, IBM enjoys "free cooling" using outside air temperature 63 percent of the year, resulting in a PUE of 1.3 rating. Electricity is only 4.5 US cents per kWh. The center also uses 1 Million KwH per year of wind energy.

The Raleigh data center is only 100,000 Square feet, with a PUE 1.4 rating. The Raleigh area enjoys 44 percent "free cooling" and electricity costs at 5.7 US cents per kWh.  The Leadership in Energy and Environmental Design [LEED] has been updated to certify data centers.  The IBM Boulder data center has achieved LEED Silver certification, and IBM Raleigh data center has LEED Gold certification.

Free cooling, electricity costs, and disaster susceptibility are just three of the 25 criteria IBM uses to locate its data centers. In addition to the 7 data centers it manages for its own operations, and 5 data centers for web hosting, IBM manages over 400 data centers of other clients.
It seems that Green IT initiatives are more important to the storage-oriented attendees than the x86-oriented folks. I suspect that is because many System x servers are deployed in small and medium businesses that do not have data centers, per se.
technorati tags: IBM, Technical University, Green Data Center, PUE, DCiE, Free Cooling, ASHRAE, LEED, SSD, Disk, Tape, SONAS, Archive
Continuing my week in Washington DC for the annual [2010 System Storage Technical University], here is my quick recap of the keynote sessions presented Monday morning. Marlin Maddy, Worldwide Technical Events Executive for IBM Systems Lab Services and Training, served as emcee.
Jim Northington

Jim Northington, IBM System x Business Line Executive, covered the IT industry's "Love/Hate Relationship" with x86 platform. Many of the physical limitations that were previously a pain on this platform are now addressed, through a combination of IBM's new innovative eX5 architecture and virtualization technologies.

Jim also presented the [IBM CloudBurst] solution. IBM CloudBurst is one of the many "Integrated Systems" designed to help simplify deployment. Based on IBM BladeCenter, the IBM CloudBurst is basically a Private Cloud rack for those that are ready to deploy in their own data center.

Jim feels that server virtualization on x86 platforms is still in its infancy. IBM calls it the 70/30 rule: 70 percent of x86 workloads are running virtualized on 30 percent of the physical servers.

Maria Azua

Maria Azua, IBM Vice President of Cloud Computing Enablement, presented on Cloud Computing. Technology is being adopted at faster rates. It took 40 years for radio to get 60 million listeners, 20 years for 60 million television viewers, 3 years to get 60 million surfers on the Internet, but it only took 4 months to get 60 million players on Farmville!

Maria covered various aspects of Cloud Computing: virtualization images, service catalog, provisioning elasticity, management and billing services, and virtual networks. With Cloud Computing, the combination of virtualization technologies, standardization, and automation can reduce costs and improve flexibility.

We've seen this happen before. Telcos transitioned from human operators to automated digital switches. Manufacturers went from having small teams of craftsmen to assembly lines of robots. Banks went from long lines of bank tellers to short lines at the ATM.

Maria said that companies are faced with three practical choices:

Do-it-Yourself, buy the servers, storage and switches and connect everything together.
Purchase pre-installed "integrated systems" to simplify deployment.
Subscribe to Cloud computing, allowing a service provider do all this for you.

In countries where network access is not ubiquitous, IBM has developed tools for the cloud that work in "offline" mode. IBM has also developed or modified tools to run better in the cloud. Launching a computer instance from the cloud from the service catalog is so easy to do, your 5-year-old child can do this!

Want to see Cloud Computing in action? Check out [Innovation.ed.gov], which is run in the IBM cloud, for the US Department of Education's website to foster innovation.

Whether you adopt public, private or a hybrid cloud computing approach, Maria suggests you take time to plan, test your applications for standardization, examine all risks, and explore new workloads that might be good candidates. Otherwise, moving to the cloud might just mean "More mess for less". Maria provided a list of applications that IBM considers good fit for Cloud Computing today.
I heard several audience members indicate that this is the first time someone finally explained Cloud Computing to them in a way that made sense!
technorati tags: IBM, Technical University, eX5, CloudBurst, x86, Maria Azua, cloud computing, Department of Education, private cloud, public cloud, hybrid cloud
Continuing my coverage of the annual [2010 System Storage Technical University], I gave three sessions, some twice to accommodate the size of the rooms. The first was the ["Storage for a Green Data Center"] I covered in my previous post. This post covers the other two.
IBM Tivoli Storage Productivity Center version 4.1 Overview

In conferences like these, there are two types of product-level presentations. An "Overview" explains how products work today to those who are not familiar with it. An "Update" explains what's new in this version of the product for those who are already familiar with previous releases. This session was an Overview of [Tivoli Storage Productivity Center], plus some information of IBM's Storage Enterprise Resource Planner [SERP] from IBM's acquisition of NovusCG.

I was one of the original lead architects of Productivity Center many years ago, and was able to share many personal experiences about its evolution in development and in the field at client facilities. Analysts have repeatedly rated IBM Productivity Center as one of the top Storage Resource Management (SRM) tools available in the marketplace.

I would like to thank my colleague Harley Puckett for his assistance in putting the finishing touches on this presentation. This was my best attended session of the week, indicating there is a lot of interest in this product in particular, and managing a heterogeneous mix of storage devices in general. To hear a quick video introduction, see Harley Puckett's presentation at the [IBM Virtual Briefing Center].

Information Lifecycle Management (ILM) Overview

Can you believe I have been doing ILM since 1986? I was the lead architect for DFSMS which provides ILM support for z/OS mainframes. In 2003-2005, I spent 18 months in the field performing ILM assessments for clients, and now there are dozens of IBM practitioners in Global Services and Lab Services that do this full time. This is a topic I cover frequently at the IBM Executive Briefing Center [EBC], because it addresses several top business challenges:

Reducing costs and simplifying management
Improving efficiency of personnel and application workloads
Managing risks and regulatory compliance

IBM has a solution based on five "entry points". The advantage of this approach is that it allows our consultants to craft the right solution to meet the specific requirements of each client situation. These entry points are:

Enterprise Content Management [ECM]
Tiered Information Infrastructure - we don't limit ourselves to just "Tiered Storage" as storage is only part of a complete[information infrastructure] of servers,networks and storage
Storage Optimization and Virtualization - including virtual disk, virtual tape and virtual file solutions
Process Enhancement and Automation - an important part of ILM are the policies and procedures, such as IT Infrastructure Library [ITIL] best practices
Archive and Retention - space management and data retention solutions for email, database and file systems

When I presented ILM last year, I did not get many attendees. This time I had more, perhaps because of the recent announcement of ILM and HSM support in IBM SONAS and our April announcement of IBM DS8700 Easy Tier has renewed interest in this area.
I have safely returned back to Tucson, but have still a lot of notes of the other sessions I attended, so will cover them this week.
Continuing coverage of my week in Washington DC for the annual [2010 System Storage Technical University], I attended several XIV sessions throughout the week. There were many XIV sessions. I could not attend all of them. Jack Arnold, one of my colleagues at the IBM Tucson Executive Briefing Center, often presents XIV to clients and Business Partners. He covered all the basics of XIV architecture, configuration, and features like snapshots and migration. Carlos Lizarralde presented "Solving VMware Challenges with XIV". Ola Mayer presented "XIV Active Data Migration and Disaster Recovery".
Here is my quick recap of two in particular that I attended:
XIV Client Success Stories - Randy Arseneau

Randy reported that IBM had its best quarter ever for the XIV, reflecting an unexpected surge shortly after my blog post debunking the DDF myth last April. He presented successful case studies of client deployments. Many followed a familiar pattern. First, the client would only purchase one or two XIV units. Second, the client would beat the crap out of them, putting all kinds of stress from different workloads. Third, the client would discover that the XIV is really as amazing as IBM and IBM Business Partners have told them. Finally, in the fourth phase, the client would deploy the XIV for mission-critical production applications.

A large US bank holding company managed to get 5.3 GB/sec from a pair of XIV boxes for their analytics environment. They now have 14 XIV boxes deployed in mission-critical applications.
A large equipment manufacturer compared the offerings among seven different storage vendors, and IBM XIV came out the winner. They now have 11 XIV boxes in production and another four boxes for development/test. They have moved their entire VMware infrastructure to IBM XIV, running over 12,000 guest instances.
A financial services company bought their first XIV in early 2009 and now has 34 XIV units in production attached to a variety of Windows, Solaris, AIX, Linux servers and VMware hosts. Their entire Microsoft Exchange was moved from HP and EMC disk to IBM XIV, and experienced noticeable performance improvement.
When a University health system replaced two competitive disk systems with XIV, their data center temperature dropped from 74 to 68 degrees Fahrenheit. In general, XIV systems are 20 to 30 percent more energy efficient per usable TB than traditional disk systems.
A service provider that had used EMC disk systems for over 10 years evaluated the IBM XIV versus upgrading to EMC V-Max. The three year total cost of ownership (TCO) of EMC's V-Max was $7 Million US dollars higher, so EMC counter-proposed CLARiiON CX4 instead. But, in the end, IBM XIV proved to be the better fit, and now the customer is happy having made the switch.
The manager of an information communications technology service provider was impressed that the XIV was up and running in just a couple of days. They now have over two dozen XIV systems.
Another XIV client had lost all of their Computer Room Air Conditioning (CRAC) units for several hours. The data center heated up to 126 degrees Fahrenheit, but the customer did not lose any data on either of their two XIV boxes, which continued to run in these extreme conditions.

Optimizing XIV Performance - Brian Cormody

This session was an update from the [one presented last year] by Izhar Sharon. Brian presented various best practices for optimizing the performance when using specific application workloads with IBM XIV disk systems.

Oracle ASM: Many people allocate lots of small LUNs, because this made sense a long time ago when all you had was just a bunch of disks (JBOD). In fact, many of the practices that DBAs use to configure databases across disks become unnecessary with XIV. Wth XIV, you are better off allocating a few number of very large LUNs from the XIV. The best option was a 1-volume ASM pool with 8MB AU stripe. A single LUN can contain multiple Oracle databases. A single LUN can be used to store all of the logs.
VMware: Over 70 percent of XIV customers use it with VMware. For VMFS, IBM recommends allocating a few number of large LUNs. You can specify the maximum of 2181 GB. Do not use VMware's internal LUN extension capability, as IBM XIV already has thin provisioning and works better to allow XIV to do this for you. XIV Snapshots provide crash-consistent copies without all the VMware overhead of VMware Snapshots.
SAP: For planning purposes, the "SAPS" unit equates roughly to 0.4 IOPS for ERP OLTP workloads, and 0.6 IOPS for BW/BI OLAP workloads. In general, an XIV can deliver 25-30,000 IOPS at 10-15 msec response time, and 60,000 IOPS at 30 msec response time. With SAP, our clients have managed to get 60,000 IOPS at less than 15 msec.
Microsoft Exchange: Even my friends in Redmond could not believe how awesome XIV was during ESRP testing. Five Exchange 2010 servers connected two a pair of XIV boxes using the new 2TB drawers managed 40,000 mailboxes at the high profile (0.15 IOPS per mailbox). Another client found four XIV boxes (720 drives) was able to handle 60,000 mailboxes (5GB max), which would have taken over 4000 drives if internal disk drives were used instead. Who said SANs are obsolete for MS Exchange?
Asynchronous Replication: IBM now has an "Async Calculator" to model and help design an XIV async replication solution. In general, dark fiber works best, and MPLS clouds had the worst results. The latest 10.2.2 microcode for the IBM XIV can now handle 10 Mbps at less than 250 msec roundtrip. During the initial sync between locations, IBM recommends setting the "schedule=never" to consume as much bandwidth as possible. If you don't trust the bandwidth measurements your telco provider is reporting, consider testing the bandwidth yourself with [iPerf] open source tool.
Several members of the XIV team thanked me for my April 5th post [Double Drive Failure Debunked: XIV Two Years Later]. Since April 5th, IBM has sold more XIV units this quarter than any prior quarters. I am glad to have helped!
technorati tags: IBM, Technical University, XIV, HP, EMC, CLARiiON, VMAX, TCO, CRAC, JBOD, SAP, Oracle, ASM, Microsoft Exchange, ESRP
Continuing my coverage of the annual [2010 System Storage Technical University], I participated in the storage free-for-all, which is a long-time tradition, started at SHARE User Group conference, and carried forward to other IT conferences. The free-for-all is a Q&A Panel of experts to allow anyone to ask any question. These are sometimes called "Birds of a Feather" (BOF). Last year, they were called "Meet the Experts", one for mainframe storage, and the other for storage attached to distributed systems. This year, we had two: one focused on Tivoli Storage software, and the second to cover storage hardware. This post provides a recap of the Storage Hardware free-for-all.
The emcee for the event was Scott Drummond. The other experts on the panel included Dan Thompson, Carlos Pratt, Jack Arnold, Jim Blue, Scott Schroder, Ed Baker, Mike Wood, Steve Branch, Randy Arseneau, Tony Abete, Jim Fisher, Scott Wein, Rob Wilson, Jason Auvenshine, Dave Canan, Al Watson, and myself, yours truly, Tony Pearson.
What can I do to improve performance on my DS8100 disk system? It is running a mix of sequential batch processing and my medical application (EPIC). I have 16GB of cache and everything is formatted as RAID-5.
We are familiar with EPIC. It does not "play well with others", so IBM recommends you consider dedicating resources for just the EPIC data. Also consider RAID-10 instead for the EPIC data.
How do I evaluate IBM storage solutions in regards to [
PCI-DSS
] requirements.
Well, we are not lawyers, and some aspects of the PCI-DSS requirements are outside the storage realm. In March 2010, IBM was named ["Best Security Company"] by SC Magazine, and we have secure storage solutions for both disk and tape systems.  IBM DS8000 and DS5000 series offer Full Disk Encryption (FDE) disk drives.  IBM LTO-4/LTO-5 and TS1120/TS1130 tape drives meet FIPS requirements for encryption.  We will provide you contact information on an encryption expert to address the other parts of your PCI-DSS specific concerns.
My telco will only offer FCIP routing for long-distance disk replication, but my CIO wants to use Fibre Channel routing over CWDM, what do I do?
IBM XIV, DS8000 and DS5000 all support FC-based long distance replication across CWDM. However, if you don't have dark fiber, and your telco won't provide this option, you may need to re-negotiate your options.
My DS4800 sometimes reboots repeatedly, what should I do.
This was a known problem with microcode level 760.28, it was detecting a failed drive. You need to replace the drive, and upgrade to the latest microcode.
Should I use VMware snapshots or DS5000 FlashCopy?
VMware snapshots are not free, you need to upgrade to the appropriate level of VMware to get this function, and it would be limited to your VMware data only. The advantage of DS5000 FlashCopy is that it applies to all of your operating systems and hypervisors in use, and eliminates the consumption of VMware overhead. It provides crash-consistent copies of your data. If your DS5000 disk system is dedicated to VMware, then you may want to compare costs versus trade-offs.
Any truth to the rumor that Fibre Channel protocol will be replaced by SAS?
SAS has some definite cost advantages, but is limited to 8 meters in length. Therefore, you will see more and more usage of SAS within storage devices, but outside the box, there will continue to be Fibre Channel, including FCP, FICON and FCoE. The Fibre Channel Industry Alliance [FCIA] has a healthy roadmap for 16 Gbps support and 20 Gbps interswitch link (ISL) connections.
What about Fibre Channel drives, are these going away?
We need to differentiate the connector from the drive itself. Manufacturers are able to produce 10K and 15K RPM drives with SAS instead of FC connectors. While many have suggested that a "Flash-and-Stash" approach of SSD+SATA would eliminate the need for high-speed drives, IBM predicts that there just won't be enough SSD produced to meet the performance needs of our clients over the next five years, so 15K RPM drives, more likely with SAS instead of FC connectors, will continue to be deployed for the next five years.  
We'd like more advanced hands-on labs, and to have the certification exams be more product-specific rather than exams for midrange disk or enterprise disk that are too wide-ranging.
Ok, we will take that feedback to the conference organizers.
IBM Tivoli Storage Manager is focused on disaster recovery from tape, how do I incorporate remote disk replication.
This is IBM's Unified Recovery Management, based on the seven tiers of disaster recovery established in 1983 at GUIDE conference.  You can combine local recovery with FastBack, data center server recovery with TSM and FlashCopy manager, and combine that with IBM Tivoli Storage Productivity Center for Replication (TPC-R), GDOC and GDPS to manage disk replication across business continuity/disaster recovery (BC/DR) locations.
IBM Tivoli Storage Productivity Center for Replication only manages the LUNs, what about server failover and mapping the new servers to the replicated LUNs?
There are seven tiers of disaster recovery. The sixth tier is to manage the storage replication only, as TPC-R does. The seventh tier adds full server and network failover. For that you need something like IBM GDPS or GDOC that adds this capability.
All of my other vendor kit has bold advertising, prominent lettering, neon lights, bright colors, but our IBM kit is just black, often not even identifying the specific make or model, just "IBM" or "IBM System Storage".
IBM has opted for simplified packaging and our sleek, signature "raven black" color, and pass these savings on to you.
Bring back the SHARK fins!
We will bring that feedback to our development team. ("Shark" was the codename for IBM's ESS 800 disk model.  Fiberglass "fins" were made as promotional items and placed on top of ESS 800 disk systems to help "identify them" on the data center floor.  Unfortunately, professional golfer [<a href="http://www.shark.com/">Greg Norman</a>] complained, so IBM discontinued the use of the codename back in 2005.)
Where is Infiniband?
Like SAS, Infiniband had limited distance, about 10 to 15 meters, which proved unusable for server-to-storage network connections across data center floorspace. However, there are now 150 meter optical cables available, and you will find Infiniband used in server-to-server communications and inside storage systems.  IBM SONAS uses Infiniband today internally.  IBM DCS9900 offers Infiniband host-attachment for HPC customers.

We need midrange storage for our mainframe please?
In addition to the IBM System Storage DS8000 series, the IBM SAN Volume Controller and IBM XIV are able to connect to Linux on System z mainframes.
We need "Do's and Don'ts" on which software to run with which hardware.
IBM [Redbooks] are a good source for that, and we prioritize our efforts based on all those cards and letters you send the IBM Redbooks team.
The new TPC v4 reporting tool requires a bit of a learning curve.
The new reporting tool, based on Eclipse's Business Intelligence Reporting Tool [BIRT], is now standardized across the most of the Tivoli portfolio. Check out the [Tivoli Common Reporting] community page for assistance.
An unfortunate side-effect of using server virtualization like VMware is that it worsens management and backup issues. We now have many guests on each blade server.
IBM is the leading reseller of VMware, and understands that VMware adds an added layer of complexity. Thankfully, IBM Tivoli Storage Manager backups uses a lightweight agent. IBM [System Director VMcontrol] can help you manage a variety of hypervisor environments.
This was a great interactive session. I am glad everyone stayed late Thursday evening to participate in this discussion.
technorati tags: IBM, Technical University, DS8100, EPIC, PCI-DSS, FDE, Encryption, XIV, CWDM, DS5000, SAS, InfiniBand, FCIA, FCoE, FICON, GUIDE, Tivoli, Productivity Center, TPC-R, GDPS, SONAS, SVC, BIRT, Systems Director, VMcontrol
Continuing my coverage of the annual [2010 System Storage Technical University], I attended some sessions from the System x and Federal track side of this conference.
Grid, SOA and Cloud Computing

Bill Bauman, IBM System x Field Technical Support Specialist and System x University celebrity, presented the differences between Grid, SOA and Cloud Computing. I thought this was an odd combination to compare and contrast, but his presentation was well attended.

Grid - this is when two or more independently owned and managed computers are brought together to solve a problem. Some research facilities do this. IBM helped four hospitals connect their computers together into a grid to help analyze breast cancer. IBM also supports the [World Community Grid] which allows your personal computer to be connected to the grid and help process calculations.
SOA - SOA, which stands for Service Oriented Architecture, is an approach to building business applications as a combination of loosely-coupled black-box components orchestrated to deliver a well-defined level of service by linking together business processes. I often explain SOA as the the business version of Web 2.0. You can download a free copy of the eBook "SOA for Dummies" at the [IBM Smart SOA] landing page.
Cloud - A Cloud is a dynamic, scalable, expandable, and completely contractible architecture. It may consist of multiple, disparate, on-premise and off-premise hardware and virtualized platforms hosting legacy, fully installed, stateless, or virtualized instances of operating systems and application workloads.

Bill has his own blog, and has an interesting post [Cloud Computing, What it Is, and What it is Not] that appears to be the basis of this presentation.

Chaos to Cloud

Tom Vezina, IBM Advanced Technical Sales Specialist, presented "Chaos to Cloud Computing". Survey results show that roughly 70 percent of cloud spend will be for private clouds, and 30 percent for public, hybrid or community clouds. Of the key motivations for public cloud, 77 percent or respondents cited reducing costs, 72 percent time to value, and 50 percent improving reliability.

Tom ran over 500 "server utilization" studies for x86 deployments during the past eight years. Of these, the worst was 0.52 percent CPU utilization, the best was 13.4 percent, and the average was 6.8 percent.  When IBM mentions that 85 percent of server capacity is idle, it is mostly due to x86 servers.  At this rate, it seems easy to put five to 20 guest images onto a machine. However, many companies encounter "VM stall" where they get stuck after only 25 percent of their operating system images virtualized.

He feels the problem is with the fact most Physical-to-Virtual (P2V) migrations are manual efforts. There are tools available like Novell [PlateSpin Recon] to help automate and reduce the total number of hours spent per migration.

System x KVM Solutions

Boy, I walked into this one. Many of IBM's cloud offerings are based on the Linux hypervisor called Kernel-based Virtual Machine [a href="http://www.linux-kvm.org/page/Main_Page">KVM] instead of VMware or Microsoft Hyper-V. However, this session was about the "other KVM": keyboard video and mouse switches, which thankfully, IBM has renamed to Console Managers to avoid confusion. Presenters Ben Hilmus (IBM) and Steve Hahn (Avocent) presented IBM's line of Local Console Managers (LCM) and Global Console Managers (GCM) products.

LCM are the traditional KVM switches that people are familiar with. A single keyboard, video and mouse can select among hundreds of servers to perform maintenance or check on status. GCM adds KVM-over-IP capabilities, which means that now you can access selected systems over the Ethernet from a laptop or personal computer. Both LCM and GCM allow for two-level tiering, which means that you can have an LCM in each rack, and an LCM or GCM that points to each rack, greatly increasing the number of servers that can be managed from a single pane of glass.

Many severs have a "service processor" to manage the rest of the machine. IBM RSA II, HP iLO, and Dell DRAC4 are some examples. These allow you to turn on and off selected servers. IBM BladeCenter offers an Management Module that allows the chassis to be connected to a Console Manager and select a specific blade server inside. These can also be used with VMware viewer, Virtual Network Computing (VNC), or Remote Desktop Protocol (RDP).

IBM's offerings are unique it that you can have an optical CD/DVD drive or USB external storage attached at the LCM or GCM, and make it look like the storage is attached to the selected server. This can be used to install or upgrade software, transfer log files, and so on. Another great use, and apparently the motivation for having this session in the "Federal Track", is that the USB can be used to attach a reader for a smart card, known as a Common Access Card [CAC] used by various government agencies. This provides two-factor authentication [TFA]. For example, to log into the system, you enter your password (something you know) and swipe your employee badge smart card (something you have). The combination are validated at the selected server to provide access.
I find it amusing that server people limit themselves to server sessions, and storage people to storage sessions. Sometimes, you have to step "outside your comfort zone" and learn something new, something different. Open your eyes and look around a bit. You might just be surprised what you find.
(FTC note: I work for IBM. IBM considers Novell a strategic Linux partner. Novell did not provide me a copy of Platespin Recon, I have no experience using it, and I mention it only in context of the presentation made. IBM resells Avocent solutions, and we use LCM gear in the Tucson Executive Briefing Center.)
technorati tags: IBM, Technical University, Grid, SOA, Cloud Computing, P2V, VMware, Novell, Platespin, x86, KVM, LCM, GCM, Avocent, CAC, TFA
Wrapping up my coverage of the annual [2010 System Storage Technical University], I attended what might be perhaps the best session of the conference. Jim Nolting, IBM Semiconductor Manufacturing Engineer, presented the new IBM zEnterprise mainframe, "A New Dimension in Computing", under the Federal track.
The zEnterprises debunks the "one processor fits all" myth. For some I/O-intensive workloads, the mainframe continues to be the most cost-effective platform. However, there are other workloads where a memory-rich Intel or AMD x86 instance might be the best fit, and yet other workloads where the high number of parallel threads of reduced instruction set computing [RISC] such as IBM's POWER7 processor is more cost-effective. The IBM zEnterprise combines all three processor types into a single system, so that you can now run each workload on the processor that is optimized for that workload.
IBM zEnterprise z196 Central Processing Complex (CPC)

Let's start with the new mainframe z196 central processing complex (CPC). Many thought this would be called the z11, but that didn't happen. Basically, the z196 machine has a maximum 96 cores versus z10's 64 core maximum, and each core runs 5.2GHz instead of z10's cores running at 4.7GHz.  It is available in air-cooled and water-cooled models. The primary operating system that runs on this is called "z/OS", which when used with its integrated UNIX System Services subsystem, is fully UNIX-certified. The z196 server can also run z/VM, z/VSE, z/TPF and Linux on z, which is just Linux recompiled for the z/Architecture chip set. In my June 2008 post [Yes, Jon, there is a mainframe that can help replace 1500 servers], I mentioned the z10 mainframe had a top speed of nearly 30,000 MIPS (Million Instructions per Second). The new z196 machine can do 50,000 MIPS, a 60 percent increase!

(Update: Back in 2007, IBM and Sun mutually supported [OpenSolaris on an IBM System z mainframe]. Unfortunately, after Oracle acquired Sun, the OpenSolaris Governing Board has [grown uneasy over Oracle's silence] about the future of OpenSolaris on any platform. The OpenSolaris [download site] identifies 2009.06 as the latest release, but only for x86 and SPARC chip sets. Apparently, the 2010.03 release expected five months ago in March has slipped. Now it looks official that [OpenSolaris is Dead].)

The z196 runs a hypervisor called PR/SM that allows the box to be divided into dozens of logical partitions (LPAR), and the z/VM operating system can also act as a hypervisor running hundreds or thousands of guest OS images. Each core can be assigned a specialty engine "personality": GP for general processor, IFL for z/VM and Linux, zAAP for Java and XML processing, and zIIP for database, communications and remote disk mirroring. Like the z9 and z10, the z196 can attach to external disk and tape storage via ESCON, FICON or FCP protocols, and through NFS via 1GbE and 10GbE Ethernet.

IBM zEnterprise BladeCenter Extension (zBX)

There is a new frame called the zBX that basically holds two IBM BladeCenter chassis, each capable of 14 blades, so total of 28 blades per zBX frame. For now, only select blade servers are supported inside, but IBM plans to expand this to include more as testing continues. The POWER-based blades can run native AIX, IBM's other UNIX operating system, and the x86-based blades can run Linux-x86 workloads, for example. Each of these blade servers can run a single OS natively, or run a hypervisor to have multiple guest OS images.  IBM plans to look into running other POWER and x86-based operating systems in the future.

If you are already familiar with IBM's BladeCenter, then you can skip this paragraph. Basically, you have a chassis that holds 14 blades connected to a "mid-plane". On the back of the chassis, you have hot-swappable modules that snap into the other side of the mid-plane. There are modules for FCP, FCoE and Ethernet connectivity, which allows blades to talk to each other, as well as external storage. BladeCenter Management modules serve as both the service processor as well as the keyboard, video and mouse Local Console Manager (LCM). All of the IBM storage options available to IBM BladeCenter apply to zBX as well.

Besides general purpose blades, IBM will offer "accelerator" blades that will offload work from the z196. For example, let's say an OLAP-style query is issued via SQL to DB2 on z/OS. In the process of parsing the complicated query, it creates a Materialized Query Table (MQT) to temporarily hold some data. This MQT contains just the columnar data required, which can then be transferred to a set of blade servers known as the Smart Analytics Optimizer (SAO), then processes the request and sends the results back. The Smart Analytics Optimizer comes in various sizes, from small (7 blades) to extra large (56 blades, 28 in each of two zBX frames).   A 14-blade configuration can hold about 1TB of compressed DB2 data in memory for processing.


IBM zEnterprise Unified Resource Manager

You can have up to eight z196 machines and up to four zBX frames connected together into a monstrously large system. There are two internal networks. The Inter-ensemble data network (IEDN) is a 10GbE that connects all the OS images together, and can be further subdivided into separate virtual LANs (VLAN). The Inter-node management network (INMN) is a 1000 Mbps Base-T Ethernet that connects all the host servers together to be managed under a single pane of glass known as the Unified Resource Manager. It is based on IBM Systems Director.

By integrating service management, the Unified Resource Manager can handle Operations, Energy Management, Hypervisor Management, Virtual Server Lifecycle Management, Platform Performance Management, and Network Management, all from one place.

IBM Rational Developer for System z Unit Test (RDz)

But what about developers and testers, such as those Independent Software Vendors (ISV) that produce mainframe software. How can IBM make their lives easier?

Phil Smith on z/Journal provides a history of [IBM Mainframe Emulation]. Back in 2007, three emulation options were in use in various shops:

Open Mainframe, from Platform Solutions, Inc. (PSI)
FLEX-ES, from Fundamental Software, Inc.
Hercules, which is an open source package

None of these are viable options today. Nobody wanted to pay IBM for its Intellectual Property on the z/Architecture or license the use of the z/OS operating system. To fill the void, IBM put out an officially-supported emulation environment called IBM System z Professional Development Tool (zPDT) available to IBM employees, IBM Business Partners and ISVs that register through IBM Partnerworld. To help out developers and testers who work at clients that run mainframes, IBM now offers IBM Rational Developer for System z Unit Test, which is a modified version of zPDT that can run on a x86-based laptop or shared IBM System x server. Based on the open source [Eclipse IDE], the RDz emulates GP, IFL, zAAP and zIIP engines on a Linux-x86 base. A four-core x86 server can emulate a 3-engine mainframe.

With RDz, a developer can write code, compile and unit test all without consuming any mainframe MIPS. The interface is similar to Rational Application Developer (RAD), and so similar skills, tools and interfaces used to write Java, C/C++ and Fortran code can also be used for JCL, CICS, IMS, COBOL and PL/I on the mainframe. An IBM study ["Benchmarking IDE Efficiency"] found that developers using RDz were 30 percent more productive than using native z/OS ISPF. (I mention the use of RAD in my post [Three Things to do on the IBM Cloud]).
What does this all mean for the IT industry? First, the zEnterprise is perfectly positioned for [three-tier architecture] applications. A typical example could be a client-facing web-server on x86, talking to business logic running on POWER7, which in turn talks to database on z/OS in the z196 mainframe. Second, the zEnterprise is well-positioned for government agencies looking to modernize their operations and significantly reduce costs, corporations looking to consolidate data centers, and service providers looking to deploy public cloud offerings. Third, IBM storage is a great fit for the zEnterprise, with the IBM DS8000 series, XIV, SONAS and Information Archive accessible from both z196 and zBX servers.
To learn more, see the [12-page brochure] or review the collection of [IBM Redbooks]. Check out the [IBM Conferences schedule] for an event near you. Next year, the IBM Storage University will be held July 18-22, 2011 in Orlando, Flordia.
technorati tags: IBM, Technical University, zEnterprise, x86, POWER7, RISC, z/OS, Linux, AIX, OpenSolaris, Oracle, FICON, NFS, z196, zBX, DB2, SAO, IEDN, INMN, RDz, ISV, Eclipse, Cloud Computing
I have arrived safely to San Francisco, and was able to check-in at the hotel, pick up my registration badge for Oracle OpenWorld 2011, and attend the first keynote session. This is the largest Oracle OpenWorld event to-date, with over 45,000 attendees from 117 different countries. There are 520,000 square feet of exhibition floor, and over 2,400 educational sessions. The conference is spread across the different buildings of the Moscone center, as well as nearby hotels. On average, attendees will walk seven miles during the week.
Larry Ellison was the keynote speaker for this first kick-off session. He focused almost exclusively on server and storage hardware. He feels that business is all about moving data, not doing integer math.
Exadata

At the beginning of 2011, Oracle had only sold about 1,000 Exadata, but they have a sales target to sell an additional 3,000 Exadata boxes by year end. The Exadata offers up to 10x columnar compression, and has 10x faster bandwidth (40Gbps Infiniband versus 4Gbps FCP). If you have a 100TB database, it would take up only 10TB of disk with this approach. He claims that the 90TB of disk you don't have to buy can then be used to buy more DRAM and/or Flash SSD.

(Realistically, since SSD is 15x more expensive than spinning disk, you can only purchase about 6TB of Flash for the 90TB you save on disk!)

Larry claims the design point for Exadata and Exalogic was to offer a system that was more powerful than IBM's fastest P795 computer, but cheaper than commodity x86 hardware. His secret is to "Parallel everything" for faster performance, and no single points of failure (SPOF). Exadata offers up to 10-50x faster query, and 4-10x faster OLTP. To keep costs low, Exadata uses all commodity hardware except the Infiniband. He cited various customer examples:

A company replaced 36 Teradata with 3 Exadata and result was application was 8x faster.
Banco Chile 9x faster than previous system
Deutsche Post 60x faster
Sogetti gets 60x faster backups.
French bank BNP Paribas 17x faster and no change to applications.
Proctor & Gamble 18x faster
Merck 5x faster
Turkcell 250TB compressed to 25TB, 10x faster

The problem was that in each example, he said what it was compared against was the old previous system, which varies and could have been an older Sun system, or an old system from HP, IBM or Dell. Perhaps it was a freudian slip, but Larry mistakenly said "Paralyze" your applications, when he probably meant to "Parallelize".

SPARC Supercluster

Of all their 380,000 Oracle customers, 70 percent have SPARC/Solaris and/or Linux. Last week, Oracle announced the new SPARC-T4, which Larry claimed was 5x faster than the previous SPARC-T3. Larry feels that for the first time ever, a non-IBM CPU can challenge the long-standing rein of the IBM POWER series processor. Larry admitted that the IBM POWER7 chip actually did some tasks faster than the SPARC-T4, so his work is not yet done, but they plan to offer a new SPARC-T5 next year that will be 2x better than the SPARC-T4.

Larry compared the I/O bandwidth of serv ers based on SPARC-T4, compared to POWER7, and found that the SPARC-T4 has double the I/O bandwidth, for a cost that was only about 1/4 the cost of a mainframe. IBM offers both. POWER7-based servers for CPU-intensive workloads, and System z (S/390)-based systems for I/O-intensive workloads. Larry feels that even though POWER7 is superior than SPARC-T4 for mathematical calculations, all business applications are focused on I/O-bandwidth to move data, not computations.

(Fellow IBMer Carter O'Mahoney has already posted a response on his post [Challenging Oracle's SPARC SuperCluster Claims].)

Larry claims the new SPARC-T4 can do 1.2 million IOPS. He uses 40 Gbps Infiniband instead of traditional SAN-attached FCP solutions.

Exalytics

A new "box" called Exalytics, combines their commodity hardware platform with a hueristic adaptive in-memory cache, their latest "me-too" solution that compares with what IBM already offers in [IBM SolidDB]. In fact, their me-too is not even internally developed, but rather the result of an acquisition of a company called "Times Ten". I thought it was interesting that the only piece of Oracle software mentioned during Larry's 90-minute speach, was this piece of acquired technology. The new Exalytics product run on a small rack and grow, analyzing relational data, non-relational OLAP, as well as unstructured documents. The result is what Larry called "the Speed of Light".
He also mentioned that Bob Shimp would kick-off the Cloud later in the week. Given that Larry himself thought that Cloud was a stupid, over-marketed term that nobody has deployed over the past few years, to a complete believer, claiming that over 20 live demos will be given this year on Cloud.
Perhaps the funniest quote was his motivation to use Infiniband as the interconnect
"Ethernet was invented by Xerox when I was a child."
-- Larry Ellison
Here are some sessions that IBM is featuring on Monday. Note the first two are Solution Spotlight sessions at the IBM Booth #1111 where I will be most of the time.
IBM Cloud Computing Solutions for Oracle

10/03/11, 10:30 a.m. – 11:00 a.m., Solution Spotlight, Booth #1111 Moscone South
Presenter: Chuck Calio,Technical Strategist, IBM Systems & Technology Group
IBM is recognized in the IT industry as one of the "Big 6" cloud providers, along with Amazon, Google, Microsoft, Salesforce and Yahoo. This session will highlight how IBM Cloud offerings apply to Oracle applications.

Lowering Cost and increasing efficiency in your long term support of Oracle EPM and BI

10/03/11, 3:00 p.m. -- 3:30 p.m., Solution Spotlight, Booth #1111 Moscone South
Presenter: Matthew Angelstad, IBM Global Business Solutions - Oracle EPM (Hyperion) Practice Lead
In 2007, Oracle acquired Hyperion, a leading provider of performance management software. This session will show how IBM helps Oracle clients unify Enterprise Performance Management (EPM) and Business Intelligence (BI) in a cost-effective manner, supporting a broad range of strategic, financial and operational management processes.

Application Strategy: Charting the Course for Maximum Business Value

10/03/11, 3:30 p.m. – 4:30 p.m., OpenWorld session #39061
Presenter: Mike Marchildon, IBM
The industry is undergoing a shift from single Enteprise Resource Planning (ERP) application to second-generation platforms containing diverse yet interdependent systems. This shift presents opportunities and challenges for both IT and the business.
technorati tags: IBM, Oracle, Larry Ellison, keynote, SPARC-T4, Exadata, Exalogic, Exalytics, POWER7
Monday morning of the [Oracle OpenWorld 2011] conference had Joe Tucci, CEO of EMC, present the keynote. Joe indicated that I.T. stands for "Industry in Transition". He had a chart that showed the history of IT, from the mainframe and mini-computer, to the PC and client/server era, and now to the Cloud era. He called these "waves of disruption". The catalysts for change are a "Budge Dilemma", "Information Deluge" and "Cyber Security". The keynote was very similar to what EMC presented at [VMworld] conference earlier this summer.
"We have failed our customers. Over the past 10 years, they spend 73% to maintain their existing systems, and only 27% for new."
--- Joe Tucci, EMC
While many people equate "EMC" and "Failure", I believe Joe was referring not just to his own company, but most of the other IT vendors as well. Analysts predict that from January 1, 2010 to December 31, 2019, the world of stored data will grow from 0.9 ZB to 35.2 ZB, which represents a 44x increase. During that same time, IT staff is only expected to grow 50 percent. A staggering 90 percent of this data will be unstructured (non-database) content. Meanwhile, the average company gets cyber-attacked 300 times per week.
The answer is Cloud Computing. A few years ago, EMC was trying to get people to go "private cloud" route instead of "public cloud", they now have a more realistic "hybrid cloud" approach similar to IBM. Of the clients that EMC works with, 35 percent are implementing some form of cloud, and another 30 percent are planning to. The tenents of Hybrid Cloud are "Efficiency", "Control" and "Choice" which equals "Agility".
Joe also mentioned that there is now a new "layering" for IT. Instead of storage, switches and servers, we have a cloud platform of shared resources, mobile devices like smartphones and tablets, and management.
Joe feels there is a massive opportunity where Cloud meets Big Data. A cute video showed a driver wearing a motorcycle helmet so you can't see his face get into an under-powered car with "VNXe" on the license plate. He punches in "Cloud and Big Data" into the GPS navigation system, and starts out on city streets. Then the car transforms to an under-utilized family sedan "VNX" on a highway in the middle of the desert, then transforms to an over-priced sports car labeled "VMAX" as it climbs into the mountains surrounded by fog. The video borrowed the "CARS" theme from the videos IBM developed for its 2008 launch of "Information Infrastructure" initiative.
EMC's Pat Gelsinger (CTO) and fellow blogger Chad Sakac did some demos of VMware vCenter. They called the VMware vSphere "the Datacenter-wide OS" indicating that EMC storage has 75 points of integration with their "partner" (VMware is majority-owned by EMC, so I am not sure if partner is the right term). If you don't count Itanium, SPARC, POWER and IBM Syste z architectures, VMware enjoys over 80 percent marketshare for server virtualization.
(Full disclosure: IBM is the leading reseller of VMware.)
Pat claims that 40 percent of Oracle Apps at EMC run VMware. For the longest time, Oracle refused support its apps on VMware, but they relaxed this restrictive policy back in 2009. Today, nearly 25 percent of Oracle Apps run virtualized. EMC claims that they can support 5 million VMs on a single VMAX, and can generate 1 million IOPS from a single VMware ESX host.
Chad did a demo of vFabric which allows a vCenter plug-in to kick up Database instances of OracleDB, MySQL, Hadoop, PostgreSQL, and GreenPlum (GreenPlum is EMC's version of open-source PostgreSQL).
Chad showed that VMware vMition could move workloads from servers without solid-state, to servers that are flash-enabled. Lightweight workloads can be moved from DAS-enabled servers to compute-enabled storage devices like their EMC Isilon. (EMC acquired Isilon to offer their me-too version of IBM's Scale-Out NAS [SONAS] product.) EMC announced their first "Solid-State on a PCIe card" from their Project Lightning initiative. These are 320 GB capacity, so they sounded like a me-too versino of IBM's [Fusion-io IOdrive] cards that IBM has had available for quite some time now.
Next, Pat and Chad talked about Big Data. The world is transforming from a manual scale-up model to an automated scale-out architecture. Moving from "islands" to "pools". They used a cute example of Car Insurance. Business Analytics were able to review a safe drivers record, including the driver's Facebook and Twitter activity, and give him a discount, and then review the bad driving habits of another driver, and raise the bad driver's rates.
EMC announced their "GreenPlum Analytics Platform" (GAP?). I often tell people that if you want to predict what EMC will announce next, just look at what IBM announced 18 months ago. This new platform sounds like their me-too version of IBM's [Smart Analytics System].
After EMC, Judith Sim from Oracle introduced the Ed Lee, the Mayor of San Francisco which was just named the "Greenest city in North America". He thanked the audience for contributing an estimated $100 million USD to his local economy. Also, he was happy that by eliminating paper-based handouts and conference materials, the audience saved 1,636 trees.
Mark Hurd, formerly CEO of HP, and now president of Oracle, gave some highlights of 2011, and what Oracle's strategy is going forward. He said that Oracle plans to provide complete stacks, complete choice, and have each component of the stack be best-of-breed. In 2011, Oracle introduced the new MySQL 5.5 database, Java 7 programming language, and the Solaris 11 operating system with ZFS file system. Oracle spent $4 Billion in R&D, and gained 20 percent growth in software licenses, which gave them 33 percent growth fiscally for 2011 year. Oracle acquired Larry Ellison's [Pillar Data] storage company. Oracle also launched a [Database Appliance].
Thomas Kurian, another Oracle executive, finished the keynote session. He started with yet another chart showing the historical transition from Mainframe to Tablet. He indicated that leading-edge OracleDB and their Fusion middleware combined with industry standard hardware provides 5-30x faster queries, 4-10x less disk space, and simplifies the data center footprint. Their Exadata provides what he likes to call "Hierarchical Storage Management" between DRAM, Flash Solid-State, and spinning disk.
(Note: I started my career at IBM in 1986 working on a product called DFHSM, the Data Facility Hierarchical Storage Manager! It is now a vibrant component of DFSMS, part of IBM's z/OS mainframe operating system.)
ps this new announcement is to address that deficiency.
Finally, Oracle announced their "Exadata Storage Expansion Rack". Many people realized that the Exadata was under-provisioned for storage, which explains why they have only sold a few thousand of them, so perha
If you are attending Oracle OpenWorld, here are sessions for Tuesday that IBM is featuring. Note the first two are Solution Spotlight sessions at the IBM Booth #1111 where I will be most of the time.
Securing Heterogeneous Database Infrastructures: A Comprehensive Approach

10/04/11, 9:45 a.m. -- 10:15 a.m., Solution Spotlight, Booth #1111 Moscone South
Presenter: Al Cooley, Director, IBM InfoSphere Guardium


IBM Business Analystics for Oracle Solutions

10/04/11, 2:15 p.m. -- 2:45 p.m., Solution Spotlight, Booth #1111 Moscone South
Presenter: John Strazdins, ERP Strategy Executive


Consolidated Global View of Your Customer with One Global Billing System

10/04/11, 3:30 p.m. -- 4:30 p.m., OpenWorld session #23650
Presenter: John Waterman, IBM
Enterprise billing system technologies are emerging to assist with global customer views and other challenges banks struggle with today. In this session, Citi discusses its challenges and successes in implementing a global billing system.

Upgrading Your Siebel CRM with Reduced Risk and Lowered Cost: Customer Successes

10/04/11, 3:30 p.m. -- 4:30 p.m., OpenWorld session #18222
Presenters: Arnaud Wingelaar, IBM; Geetha Sundaram; Agnes Zhang, Oracle
Hear customer success stories about upgrading Siebel CRM. Learn best practices on upgrading with lowered cost, or achieving a high-availability upgrade with zero downtime and reduced risk.
technorati tags: IBM, Oracle, Larry Ellison, Mark Hurd, EMC, Joe+Tucci, Pat Gelsinger, Chad Sakac, Isilon, GreenPlum, OpenWorld, SONAS, Fusion-io, Project+Lightning, VMware, vCenter, vMotion, Exadata, Solaris, MySQL, Java7
Tuesday morning at the [Oracle OpenWorld 2011] conference started with another keynote session. This time, Michael Dell, founder, chairman and CEO of Dell, Inc., presented. Over the past nine years, he feels "the line between business and IT is going away." Michael claims that "Dell is no longer a PC company", and instead is focusing on data center solutions and services to be more like IBM.
John Fowler, Executive VP for Oracle Hardware, claims that Oracle has a single team for hardware development. The SPARC-T4 is their newest chip, with 8 cores and 64 dynamic threads, running at 3.0 GHz. It has on-chip 10GbE ethernet, PCIe, DDR3 Memory controllers and Crypto features. For storage, Oracle now offers four different offerings:
Exadata (as Database storage)
ZFS Storage Array (NAS)
Pillar Axiom (block-level I/O)
StorageTek tape
Edward Screven, Chief Corporate Architect at Oracle, indicated that the new Oracle Linux kernel allows for zero downtime patches, meaning that you can update the OS while applications are running without a reboot. The OracleVM (based on open-source XEN) supports both x86 and SPARC-based server hosts. On x86, it can run Linux, Solaris and Windows guests. On SPARC, it can run Linux and Solaris guests.
John Loaiza, Oracle Senior VP, explained the Exadata. It has 168 disk drives and 56 PCIe Flash Cards, connected via 40Gbps Infiniband. The Exadata keeps all data on spinning disk, with "warm data" cached on Flash, and "hot data" cached on DRAM. This is similar to IBM's Easy Tier feature on the DS8000, SVC and Storwize V7000.
Brad Cameron, Senior Director, explained Exalogic, which pre-dates Oracle's acquisition of Sun Microsystems. The idea was to build an x86 machine for running Java applications on Oracle WebLogic. The Exalogic can connect via Infiniband to an Exadata to access database information, and to 10GbE ethernet for the rest of the servers and clients. Whether you get the quarter, half or full-rack system, you get 40TB of NAS storage.
Ganesh Ramamurthy, Oracle VP of Hardware Engineering, presented the SPARC Supercluster. This combines the storage cells from Exadata, the compute nodes from Exalogic, shared NAS storage using ZFS file system, and Solaris 11 with OracleVM. Taking a cue from IBM's zEnterprise Unified Resource Manager, Oracle is offering centralized management for all the layers in their SPARC Supercluster stack. The SPARC Supercluster is intended as general purpose machine, and can be used to run non-Oracle applications like SAP. From a storage perspective, he claims that the storage in the SPARC Supercluster is 2.5x better than EMC VMAX, which basically puts it comparable to IBM XIV pricing.
For my readers in San Francisco attending Oracle OpenWorld, here are some sessions that IBM is featuring on Wednesday. Note the first two are Solution Spotlight sessions at the IBM Booth #1111 where I will be most of the time.
Data Management Best Practices for Oracle Applications

10/05/11, 9:30 a.m. -- 10:00 a.m., Solution Spotlight, Booth #1111 Moscone South
Presenters: Vineet Goel, Technical Product Manager, Infosphere Optim - Siebel; Dhan Patel, Technical Product Manager, Infosphere Optim - eBusiness Suite


Oracle RAC and Cloud: Tips from IBM Global Business Services

10/05/11, 10:00 a.m. -- 11:00 a.m., OpenWorld session #15733
Presenters: David Simpson, IBM; Nalin Sahoo, Oracle
In this session, gain valuable insight into high-availability systems leveraging Oracle Database 11g Release 2 and Oracle Real Application Clusters (Oracle RAC). Hear best practices and lessons learned with these Oracle technologies as well as how IBM utilizes cloud infrastructure with Oracle Clusterware and server pools.

In the Heat of the Oracle Fusion Decision-Making Process: What's Your Next Move?

10/05/11, 10:00 a.m. -- 11:00 a.m., OpenWorld session #9423
Presenter: Esther Parker, IBM
This session discusses how companies can embrace Oracle Fusion so they can meet their business objectives today and in the future.
technorati tags: IBM, Oracle, John Fowler, Exadata, Exalogic, SPARC, SPARC-T4, Supercluster, Easy+Tier
Wednesday morning at the [Oracle OpenWorld 2011] conference started with another keynote session. This time, Safra Catz, CFO and President of Oracle, introduced John Chambers, CEO of Cisco.
John says Cisco is helping to "empower the customer through market transitions." This includes helping customers decide how to deploy new technology, choosing between integrated stacks and interoperable components, scaling the business with a flat IT budget, and how/when to decide on moving to the cloud.
(FTC Disclosure: IBM resells Cisco switches and directors and are considered a partner in this sense. If you are going to buy Cisco switches and directors, please consider buying them through IBM.)
The information economy is transitioning to a networked one. Access to information is not as important as access to expertise. Process and Procedures are not as important as Communities and Relationships. The old style Command-and-Control management is giving way to Collaboration. He showed a chart that showed the evolution from routed/bridged networks to packet/mobile and video. He also had a chart that showed the evolution from Mainframe/Mini-computers, to Client/Server and Web, to Virtualization in the Cloud. He also indicated that Google's acquisition of Motorola was indicative of the "Death of the PC".
High Tech companies must re-invent themselves to stay relevant. Here were Cisco's five "Foundational Priorities":
Leadership in the Core. This refers to his core business of high-end Ethernet and Fibre Channel directors.
Collaboration. This was the original promise of networking computers together, was to bring people together also. He feels that "Collaboration" will take off in the 2010's.
Data Center/Virtualization/Cloud. Cisco is now in the business of selling computers. They are now #2 in North America for x86 server sales, and #3 globally. In this regard, they are a direct competitor to both IBM and Oracle at this conference. John wants to create "borderless" networks between Private and Public clouds. He claims that they have now 8,228 Ciscu UCS customers over the past 18 months. This was a slam at Oracle, who hasn't sold half that many new systems in the same time period.
Video. John indicated that every product in the Cisco family is video-enabled, from the Cius tablet, to WebEx, to TelePresence, to all of his switches and directors. In theory, the "Flip" video cam that Cisco dropped in their latest round of layoffs would have also been counted in that category. John indicates that he envisions video will take over as the predominant communication mechanism. Back in 2006, at Oracle OpenWorld, John showed a chart that indicated that people will transition from passive TV-watchers to active video producers. Here we are five years later, and while 24 hours' worth of video are uploaded to YouTube every second, most people are still TV-watchers.
Architectures for Business Transformation. He elaborated on this to refer to issues like reliability, security, and products that are designed to work together. Business and Government leaders are focused on their business, not technology.
He gave a demo of Cisco UCS. This is a 4U collection of server blades, with up to 384GB of DRAM using 8GB DIMMs, or 192GB using much-cheaper 4GB DIMMs. There are 2 switches with 8 ports each 10GbE, for a total of 160 Gbps, that can carry both Ethernet and FCoE traffic. The UCS System Manager is similar to IBM's Unified Resource Manager in that it manages the entire box. A "service profile" has 40 to 50 BIOS settings that can be applied to give each x86 blade a specific personality. You can re-provision these by changing their service profile as needed.
The next demo was really cool. They took video that involved people talking, and had it "machine transcribed" so that you can read the words being said in the video. Type in a word like "tolerances" in the search engine, and the video advances exactly to the spot where that word is uttered.
The next demo after that involved a special camera for monitoring High-Occupancy Vehicle (HOV) lanes in traffic. In an example used in London, UK, the camera can see inside the car and confirm there are enough people to justify HOV usage, and if not, scan the license plate and charge the owner of the vehicle a fine. (In a sense, "Big Data" analytics combined with Cisco's vision of ubiquitous video equals [Big Brother])
In another slam against Oracle, John actually backed up his claims with published benchmarks. He wrapped up his talk with: "If I have done my job well, then you will all leave this room a bit uncomfortable." Not surprisingly, John didn't mention either the vBlock relationship with EMC, or the FlexPod relationship with NetApp.
technorati tags: IBM, Oracle, OpenWorld, Cisco, John Chambers, Keynote
Wednesday afternoon at the [Oracle OpenWorld 2011] conference started with another keynote session. In a last minute substitution, Oracle OpenWorld rescheduled Salesforce.com CEO Marc Benioff's keynote from Wednesday to a Thursday 8:00am morning general session, to make room for S. D. Shibulal, CEO of InfoSys Consulting.
(Forbes Magazine considers InfoSys the #15 [most innovative company]. To give this some context, Salesforce.com and Amazon.com are #1 and #2, Google and Apple are in the top 10, and Oracle is #77. )
S.D. started out saying that "Today is October 4, a very important day in history!" This was October 6, so everybody was a bit confused, checking their watches and tablets to confirm what day it was. What he was referring to was the first trans-pacific flight that happened October 4 exactly 80 years ago, the pilots were awarded medals and accolades for this tremendous achievement. This year, trans-pacific flights happen every day, and nobody raises an eyebrow. I looked this up, and the first trans-pacific flight happened [June 9, 1928] from California to Australia involved stops in Hawaii and Fiji, but [Clyde Edward Pangborn] is remembered for his October 4, 1931 flight as the first non-stop flight, from Japan to Seattle, Washington. His point, however, is that innovation has a lot of "firsts" that people don't realize until things are commonplace.
If you look at the 1991 list of Fortune 500 companies, only 25 percent of these still are in operation today (IBM is one of them!) The rest failed to stay relevant, to reach and scale as needed for market transitions. He gave examples of travel agencies and the Encyclopedia Brittanica that failed to adapt in the face of [disintermediation]. Success in today's marketplace requires three things:
Predicting and sensing tomorrow's demand
Influencing tomorrow's demand
Fulfilling tomorrow's demand
Ming Tsai, Managing Director and Chief Client Office of InfoSys, asked a series of questions:
"Is Market Research dead?" In 2010, over 4 EB of data were generated. Marketeers do not need to conduct surveys to generate more data, they are drowning in data that is all around them. 80 percent of profits come from 20 percent of your clients.
"Who controls the message?" This was perhaps a tip of the hat to ousted Marc Benioff of Salesforce.com for being able to organize his own last-minute keynote at the St. Regis hotel using twitter and other social media. I was not there, but apparently the place was packed with a line around the building to hear Marc talk.
"Is Product Development backwards? This is referring to the standard waterfall approach of designing a product, shipping a product, with the first interaction with the end customer being the last stage. In new "agile" development models, customers are engaged up front, with highly iterative deployments, to ensure that the final product meets customer requirements.
He showed a product called "Social Edge" from InfoSys that determines "sentiment analysis". Users can co-create their own user experience.
Paul Gottsegen, InfoSys, explained how "Mobility" is challenging existing business models. Their latest product "mConnect" offers to link web applications to any mobile device. This includes healthcare monitoring, cash for the 50 percent of the world that are "unbanked", and even Cable TV on an iPad. He brought on stage Bill Tucker, VP of IT at Nordstrom, a retail outlet of fine clothing.
(I have a collection of Nordstrom jackets that I had bought in San Francisco Union Square throughout the years. Every time that I fly from Tucson to San Francisco, especially in the summer, it is freezing cold, and I need to buy a jacket. This time I was prepared, and brought several of me jackets with me.)
Bill explained that people are not comparing their end-user experience at Nordstrom's with direct competitors like Macy's, but rather with all of their other end-user experiences like that at Starbuck's coffee, or the Apple store. This raises the bar in customer expectations. Nordstrom has been force to make drastic improvements to keep up with these expectations.
Prasad Thirkutam, InfoSys, asked if supply chains are agile and adaptive enough. He mentioned that 40 percent of Flash memory and 60 percent of circuit boards are made in Japan that were recently hit by an earthquake and tsunami. He explained product "Demand-to-Deliver" solution from InfoSys that provides multi-level inventory, identifying the safety stock levels based on various analytics. This reduces waste by 7 percent, and shortens cash from 60 days to 40 days.
Prasad introduced Vin Melvin, CIO of Arrow Electronics. His focus is to get data "correct". To increase end-to-end speed to handle order changes and cancelations, and to optimize and re-balance supply chain as needed.
(FTC Disclosure: Arrow is a distributor of IBM equipment. I have worked with Arrow many years.)
technorati tags: IBM, Oracle, OpenWorld, InfoSys
The last keynote session of the [Oracle OpenWorld 2011] conference was Oracle making a few major announcements.
Steve Miranda, Senior VP for Oracle Applications, explained the new "Fusion 11g Apps" which are now generally available. Basically, they took all the scattered applications they have from acquisitions of PeopleSoft, JD Edwards, Siebel and so on, and re-wrote them to industry-standard Java so that they would all run either on-premise or in the Cloud. The Enterprise Apps come in seven categories: Financials like General Ledger and Payroll; Human Capital Management (HCM) formerly known as Human Resources; Supply Chain Management (SCM); Customer Relationship Management (CRM); Governance Risk and Compliance (GRC); Procurement; and Project/Portfolio Management (PPM). Oracle also has "Industry Apps" for specific verticals.
All of these apps have "embedded BI" (business intelligence), such as dashboards, multi-dimensional calculations, decision support, and real-time optimization. This is intended to help the end-user answer four questions:
What do you need to do today?
How to get it done?
What you need to know today?
Who can help you?
Larry Ellison, Oracle CEO, said that it took six years to rewrite all the Fusion Apps. They used an "agile" development model with over 200 early adopters to ensure that these applications were successful. They were under a "controlled release program" but now that is over, and the applications are generally available. Larry indicates that these applications were developed under the concepts of Service Oriented Architecture [SOA], which neither Salesforce.com nor SAP R3 have.
(This made me chuckle. SOA was initially developed by IBM and Microsoft, but is now industry standard. There is no reason not to develop software that isn't SOA.)
Following the IBM model, Oracle has built-in the security at the OS, Database and Middleware layer, rather than in each application. As IBM has understood for several decades, a secure infrastructure is the way to go so that all applications are secure.
With all these Fusion Apps now re-written so that they work on industry-standard Java (J2EE, actually), allowing them to run either on-premise or out on the Cloud, Larry Ellison said "I guess we need a Cloud!" This started his announcement of the "Oracle Public Cloud" [OPC]. OPC has both PaaS and SaaS. The PaaS would offer VM instances with support for database and Java services. The SaaS would be all the Fusion Apps rented on the "as-a-service" model. Rather than force everyone to Oracle 11g, you can run any Oracle database on OPC, and you can run any Java or J2EE application on the OPC.
Your data is portable. Larry is pro-choice, and wants people to be able to move from any cloud to any cloud. Since it's based on industry-standard Java, applications can move seamlessly between OPC, Amazon EC2 and IBM SmartCloud. IBM has been a major force behind [Open Cloud Standards], so it is always good that other major vendors follow suit.
He quoted [someone as saying "Beware of False Clouds"] This was Salesforce.com CEO Marc Benioff's attack against all "Private Cloud" IT vendors. Larry twisted this to say he agrees, "True Clouds" are based on open industry standards, and "False Clouds" are vendor-lockin. OPC is based on Java, J2EE, XML, BPEL and Ruby on Rails, whereas Salesforce.com is based on proprietary Heroku and APEX. He called Salesforce.com the "Roach Motel of Cloud Computing" .. you can check in, but you can't check out.
OPC plans to offer some "data sources", including Dun&Bradstreet news feed, Twitter, Facebook and other social networks. It is based on a monthly subscription using a self-service portal. The resources are elastic, with capacity delivered on demand. He claims that Salesforce.com is rate-limited, and cancels long-running jobs if they are consuming too many resources. Larry said OPC would never do that.
Larry said that there are private-only offerings like SAP R3, and public-only offerings like Salesforce.com, Workday, and Taleo, but Oracle instead has adopted the IBM model of supporting choice between private, public and hybrid clouds.
Larry then attacked "Multi-tenancy", specifically, the idea that SaaS providers often use a single database instance, but then create a column to identify which records belong to which tenants. He said this was state-of-the-art 15 years ago, but is a bad idea now. Too risky. Instead, Larry's OPC has unique database instances for each tenant through virtualization.
Larry also announced the Oracle Social Network (OSN). This is a corporate-version of Facebook, that supports collaboration and file-sharing, similar to IBM [LotusLive], Google Docs, or Microsoft Office365. All of the Fusion Apps are written to interface directly with the OSN or any of these other social networks through APIs. This includes navigation and integrated social networking. He also indicated that all Fusion Apps run on mobile devices. He showed the SAP R3 GUI, and said it reminded him of "the fins on a 1968 Cadillac!"
Larry said that other CRM SaaS focus on helping sales managers track their employees, but Oracle's CRM helps sellers sell more.
He then gave an example of a mythical sales manager Bob, and his sales employee Julian, selling two Exadata boxes for $4.8 Million USD. A "safe harbor" statement was shown at the beginning of this keynote, to make sure nobody asks to buy Exadata boxes this cheap.
technorati tags: IBM, SmartCloud, LotusLive, Oracle, OpenWorld, Larry Ellison, Marc Bernioff, Salesforce.com, Workday, Taleo, SAP, Oracle Public Cloud, Oracle Social Network, SaaS, PaaS,
This post concludes my series of posts on Oracle OpenWorld 2011 conference. Here are some pictures from Wednesday and Thursday.
IBM as the yardstick by which everyone measures against

Larry's Sailing Vessel

On the Streets of San Francisco

Rest in Peace, Steve Jobs, 1955-2011

Rock Concert - Wednesday night
Despite the sad news about Steve Jobs, I had a great time at this conference. I learned a lot about what other IT vendors are doing, talked to dozens of IBM clients at the booth, and got to make some new friends that work in other parts of IBM.
(FTC Disclosure: I work for IBM. IBM and Apple are technology partners. I proudly own an Apple iPod, several Mac Mini computers and shares of stock in both IBM and Apple, Inc.)
technorati tags: IBM, Violin+Memory, GPFS, Americas+Cup, Netezza, DB2, POWER, HP, Salesforce.com, Steve Jobs, Hilton, Union Square, Standford University, , Treasure Island, Sting, Tom Petty, English Beat
I took over a hundred pictures at this event. Here are a few of my favorites from Monday and Tuesday.
The IBM Booth #1111 Moscone South

IBM Customer Appreciation Events

Titan Gala Award Reception

The "Booth Babes" Controversy
I want to thank the IBM-Oracle Alliance team, especially Nancy Spurry and Carolann Kohler for having me involved in these events.
technorati tags: IBM, JD Edwards, Oracle, OpenWorld, EoS, Weinstein Gallery, Integer Math, Power 795, EMC, Booth Babes, San Francisco, Moscone, City Hall, Nancy Spurry, Carolann Kohler
The weather has warmed up here in Tucson so I started my Spring Cleaning early this year and unearthed from my garage a [Bankers Box] full of floppy diskettes.
| | |
| --- | --- |
| | IBM invented the floppy disk back in 1971, and continued to make improvements and enhancements through the 1980s and 1990s. It will be one of the many inventions celebrated as part of IBM's Centennial (100-year) anniversary. Here is an example [T-shirt] |
IBM needed a way to send out small updates and patches for microcode of devices out in client locations. IBM had drives that could write information, and sent out "read-only" drives to the customer locations to receive these updates. These were flexible plastic circles with a magnetic coating, and placed inside a square paper sleeve. Imagine a floppy disk the size of a piece of standard paper. The 8-inch floppy fit conveniently in a manila envelope, sendable by standard mail, and could hold nearly 80KB of data.
I've been using floppies for the past thirty years. Here's some of my fondest memories:
While still in high school, my friend Franz Kurath and I formed "Pearson Kurath Systems", a software development firm. We wrote computer programs to run on UNIX and Personal Computers for small businesses here in Tucson. Whenever we developed a clever piece of code, a subroutine or procedure, we would save it on a floppy disk and re-use it for our next project. We wrote in the BASIC language, and our databases were simple Comma-Separated-Variable (CSV) flat files.

The 5.25-inch floppies we used could hold 360KB, and were flexible like the 8-inch models. Later versions of these 5.25-inch floppies would be able to hold as much as 1.2MB of data. We would convert single-sided floppies into double-sided ones by cutting out a notch in the outer sleeve. Covering up the notches would mark them as read-only.

The 3.5-inch floppies were introduced with a hard plastic shell, with the selling point that you can slap on a mailing label and postage and send it "as is" without the need for a separate envelope. These new 3.5-inch floppies would carry "HD" for high density 720KB, and double-sided versions could hold 1.44MB of data. The term "diskette" was used to associate these new floppies with [hard-shelled tape cassettes]. Sliding a plastic tab would allow floppies to be marked "read-only". IBM has the patent on this clever invention.

Continuing our computer programming business in college, Franz and I took out a bank loan to buy our first Personal Computer, for over $5000 dollars USD. Until then, we had to use equipment belonging to each client. The banks we went to didn't understand why we needed a computer, and suggested we just track our expenses on traditional green-and-white ledger paper. Back then, peronsal computers were for balancing your checkbook, playing games and organizing your collection of cooking recipies. But for us, it was a production machine. A computer with both 5.25-inch and 3.5-inch drives could copy files from one format to another as needed. The boost in productivity paid for itself within months.

Apple launched its Macintosh computer in 1984, with a built-in 3.5-inch disk drive as standard equipment. Here is a YouTube video of an [astronaut ejecting a floppy disk] from an Apple computer in space.

In my senior year at the University of Arizona, my roommate Dave had borrowed my backpack to hold his lunch for a bike ride. He thought he had taken everything out, but forgot to remove my 3.5-inch floppy diskette containing files for my senior project. By the time he got back, the diskette was covered in banana pulp. I was able to rescue my data by cracking open the plastic outer shell, cleaning the flexible magnetic media in soapy water, placing it back into the plastic shell of a second diskette, and then copied the data off to a third diskette.

After graduating from college, Franz and I went our separate ways. I went to work for IBM, and Franz went to work for [Chiat/Day], the advertising agency famous for the 1984 Macintosh commercial. We still keep in touch through Facebook.

At IBM, I was given a 3270 terminal to do my job, and would not be assigned a personal computer until years later. Once I had a personal computer at home and at work, the floppy diskette became my "briefcase". I could download a file or document at work, take it home, work on it til the wee hours of the morning, and then come back the next morning with the updated effort.

To help prepare me for client visits and public speaking at conferences, IBM loaned me out to local schools to teach. This included teaching Computer Science 101 at Pima Community College. When asked by a student whether to use "disc" or "disk", I wrote a big letter "C" on the left side of the chalkboard, and a big letter "K" on the right side. If it is round, I told the students while pointing at the letter "C", like a CD-ROM or DVD, use "disc". If it has corners, pointing to corners of the letter "K", like a floppy diskette or hard disk drive, use "disk".

On one of my business trips to visit a client, we discovered the client had experienced a problem that we had just recently fixed. Normally, this would have meant cutting a Program Trouble Fix (PTF) to a 3480 tape cartridge at an IBM facility, and send it to the client by mail. Unwilling to wait, I offered to download the PTF onto a floppy diskette on my laptop, upload it from a PC connected to their systems, and apply it there. This involved a bit of REXX programming to deal with the differences between ASCII and EBCDIC character sets, but it worked, and a few hours later they were able to confirm the fix worked.

In 1998, Apple would signal the begining of the end of the floppy disk era, announcing their latest "iMac" would not come with an internal built-in floppy drive. David Adams has a great article on this titled [The iMac and the Floppy Drive: A Conspiracy Theory]. You can get external floppy drives that connect via USB, so not having an internal drive is no longer a big deal.

While teaching a Top Gun class to a mix of software and hardware sales reps, one of the students asked what a "U" was. He had noticed "2U" and "3U" next to various products and wondered what that was referring to. The "U" represents the [standard unit of measure for height of IT equipment in standard racks]. To help them visualize, I explained that a 5.25-inch floppy disk was "3U" in size, and a 3.5-inch floppy diskette was "2U". Thus, a "U" is 1.75 inches, the thinnest dimension on a two-by-four piece of lumber. Servers that were only 1U tall would be referred to as "pizza boxes" for having similar dimensions.

Every year, right around November or so, my friends and family bring me their old computers for me to wipe clean. Either I would re-load them with the latest Ubuntu Linux so that their kids could use it for homework, or I would donate it to charity. Last November, I got a computer that could not boot from a CD-ROM, forcing me to build a bootable floppy. This gave me a chance to check out the various 1-disk and 2-disk versions of Linux and other rescue disks. I also have a 3-disk set of floppies for booting OS/2 in command line mode.
So while this unexpected box of nostalgia derailed my efforts to clean out my garage this weekend, it did inspire me to try to get some of the old files off them and onto my PC hard drive. I have already retrieved some low-res photographs, some emails I sent out, and trip reports I wrote. While floppy diskettes were notorious for being unreliable, and this box of floppies has been in the heat and cold for many Arizonan summers and winters, I am amazed that I was able to read the data off most of them so far, all the way back to data written in 1989. While the data is readable, in most cases I can't render it into useful information. This brings up a few valuable lessons:
Backups are not Archives

Some of the files are in proprietary formats, such as my backups for TurboTax software. I would need a PC running a correct level of Windows operating system, and that particular software, just to restore the data. TurboTax shipped new software every year, and I don't know how forward or backward-compatible each new release was.

Another set of floppies are labeled as being in "FDBACK" format. I have no idea what these are. Each floppy has just two files, "backup.001" and "control.001", for example.

Backups are intended solely to protect against unexpected loss from broken hardware or corrupted data. If you plan to keep data as archives for long-term retention, use archive formats that will last a long time, so that you can make sense of them later.

Operating System Compatibility


Windows 7 and all of my favorite flavors of Linux are able to recognize the standard "FAT" file system that nearly all of my floppies are written in. Sadly, I have some files that were compressed under OS/2 operating system using software called "Stacker". I may have to stand up an OS/2 machine just to check out what is actually on those floppies.

You can't judge a book by its cover

Floppies were a convenient form of data interchange. Sometimes, I reused commercially-labeled floppies to hold personal files. So, just because a floppy says "America On-Line (AOL) version 2.5 Installation", I can't just toss it away. It might actually contain something else entirely. This means I need to mount each floppy to check on its actual contents.
So what will I do with the floppies I can't read, can't write, and can't format? I think I will convert them into a [retro set of coasters], to protect my new living room furniture from hot and cold beverages.
technorati tags: IBM, Centennial, Patent, Floppy, Disk, Diskette, Apple, Chiat/Day, Pima Community College, Macintosh, iMac, Franz Kurath, Pearson Kurath Systems
With all the announcements we had in June, it is easy for some of the more subtle enhancements to get overlooked. While I was at Orlando for the IBM Edge conference, I was able to blog about some of the key featured announcements. Then, later, when I got back from Orlando to Tucson, I was able to then blog about [More IBM Storage Announcements]. For IBM's Scale-Out Network Attach Storage (SONAS), I had simply:
"SONAS v1.3.2 adds support for management by the newly announced IBM Tivoli Storage Productivity Center v5.1 release. Also, IBM now officially supports Gateway configurations that have the storage nodes connected to XIV or Storwize V7000 disk systems. These gateway configurations offer new flexible choices and options for our ever-expanding set of clients."
In my defense, IBM numbers its software releasees with version.release.modification, so 1.3.2 is Version 1, Release 3, Modification 2. Generally, modification announcements don't get much attention. The big announcement for v1.3.0 of SONAS happened last October, see my blog post [October 2011 Announcements - Part I] or the nice summary post [IBM Scale-out Network Attached Storage 1.3.0] from fellow blogger Roger Luethy.
Here is a diagram showing the three configurations of SONAS.
I have covered the SONAS Appliance model in depth in previous blogs, with options for fast and slow disk speeds, choice of RAID protection levels, a collection of enterprise-class software features provided at no additional charge, and interfaces to support a variety of third party backup and anti-virus checking software.
The basics haven't changed. The SONAS appliance consists of 2 to 32 interface nodes, 2 to 60 storage nodes, and up to 7,200 disk drives. The maximum configuration takes up 17 frames and holds 21.6PB of raw disk capacity, which is about 17PB usable space when RAID6 is configured. An interface nodes has one or two hex-core processors with up to 144GB of RAM to offer up to 3.5GB/sec performance each. This makes IBM SONAS the fastest performing and most scalable disk system in IBM's System Storage product line.
I thought I would go a bit deeper on the gateway models. These models support up to ten storage nodes, organized in pairs. The key difference is that instead of internal disk controllers, the storage nodes connect to external disk systems. There is enough space in the base SONAS rack to hold up to six interface nodes, or you can add a second rack if you need more interface nodes for increased performance.
SONAS with XIV gateway

XIV offers a clever approach to storage that allows for incredibly fast access to data on relatively slow 7200 RPM drives. By scattering data across all drives and taking advantage of parallel processing, rebuild times for a failed 3TB drive are less than 75 minutes. Compare that to typical rebuild times for 3TB drives that could take as much as 9-10 hours under active I/O loads!

In the configuration, each pair of storage nodes can connect to external SAN Fabric switches that then connect to one or two XIV storage systems. How simple is that? These can be the original XIV systems that support 1TB and 2TB drives, or the new XIV Gen3 systems that support 400GB Solid-state drives (SSD) and 3TB spinning disk drives. In both cases, you can acquire additional storage capacity as little as 12 drives at a time (one XIV module holds 12 drives).

The maximum configuration of ten XIV boxes could hold 1,800 drives. At 3TB drive per drive, that would be 2.4PB usable capacity.

The SONAS with XIV gateway does not require the XIV devices to be dedicated for SONAS purposes. Rather, you can assign some XIV storage space for the SONAS, and the rest is available for other servers. In this manner, SONAS just looks like another set of Linux-based servers to the XIV storage system. This in effect gives you "Unified Storage", with a full complement of NAS protocols from the SONAS side (NFS, CIFS, FTP, HTTPS, SCP) as well as block-based protocols directly from the XIV (FCP, iSCSI).

SONAS with Storwize V7000 gateway

The other gateway offering is the SONAS with Storwize V7000. Like the SONAS with XIV gateway model, you connect a pair of SONAS storage nodes to 1 or 2 Storwize V7000 disk systems. However, you do not need a SAN Fabric switch in between. You can instead connect the SONAS storage nodes directly to the Storwize V7000 control enclosures.

To acquire additional storage capacity, you can purchase a single drive at a time. That's right. Not 12 drives, or 60 drives, at a time, but one at a time. The Storwize V7000 supports a wide range of SSD, SAS and NL-SAS drives at different sizes, speeds and capacities. The drives can be configured into various RAID protection levels: RAID 0, 1, 3, 5, 6 and 10.

Each Storwize V7000 control enclosure can have up to nine expansion drawers. If you choose the 2.5-inch 24-bay models, you can have up to 480 drives per storage node pair, for a total of 2,400 drives. If you choose the 3.5-inch 12-bay models, you can have up to 240 drives per node pair, 1,200 drives total. At 3TB per drive, this could be 3.6PB of raw capacity. The usable PB would depend on which RAID level you selected. Of course, you don't have to limit yourself all to one size or the other. Feel free to mix 2.5-inch and 3.5-inch drawers to provide different storage pool capabilities.
All three SONAS configurations support Active Cloud Engine. This is a collection of features that differentiate SONAS from the other scale-out NAS wannabees in the marketplace:
Policy-driven Data Placement -- Different files can be directed to different storage pools. You no longer have to associate certain file systems to certain storage technologies.


High-speed Scan Engine -- SONAS can scan 10 million files per minute, per node. These scans can be used to drive data migration, backups, expirations, or replications, for example. It is over 100 times faster than traditional walk-the-directory-tree approaches employed by other NAS solutions.


Policy-driven Migration -- You can migrate files from one storage pool to another, based on age, days since last reference, size, and other criteria. The files can be moved from disk to disk, or move out of SONAS and stored on external media, such as tape or a virtual tape library. A lot of data stored on NAS systems is dormant, with little or no likelihood of being looked at again. Why waste money keeping that kind of data on expensive disk? With SONAS, you can move those files to tape can save lots of money. The files are stubbed in the SONAS file system, so that an access request to a file will automatically trigger a recall to fetch the data from tape back to the SONAS system.


Policy-driven Expiration -- SONAS can help you keep your system clean, by helping you decide what files should be deleted. This is especially useful for things like logs and traces that tend to just hang around until some deletes them manually.


WAN Caching -- This allows one SONAS to act as a "Cloud Storage Gateway" for another SONAS at a remote location connected by Wide Area Network (WAN). Let's say your main data center has a large SONAS repository of files, and a small branch office has a smaller SONAS. This allows all locations to have a "Global" view of the all the interconnected SONAS systems, with a high-speed user experience for local LAN-based access to the most recent and frequently used files.
If you want to learn more, see the [IBM SONAS landing page]. Next week, I will be across the Pacific Ocean in [Taipei], to teach IBM Top Gun class to sales reps and IBM Business Partners. "Selling SONAS" will be one of the topics I will be covering!
technorati tags: IBM, SONAS, gateway, disk, tape, scale-out, NAS, RAID, rebuild
This week, IBM celebrates its Centennial, 100 years since its incorporation on June 16, 1911.
A few months ago, the Tucson Executive Briefing Center ordered its latest IBM System Storage [DS8800] to be on display for demos. This was manufactured in Vác, Hungary (about an hour north of Budapest), and was going to be shipped over to the United States.
However, Sam Palmisano, IBM Chairman and CEO, was in Hannover, Germany for the [CeBIT conference] and wanted this DS8800 to be re-directed to Germany first for this event. He was kind enough to sign it for us. Brian Truskowski, IBM General Manager for Storage, and Rod Adkins, IBM Senior Vice President for IBM Systems Technolgoy Group (and my fifth-line manager), also signed this as well!
I am pleased to say this "signed" DS8000 has arrived to Tucson. This is the latest model in a family of market-leading high-end enterprise-class disk systems designed to attach to all computers, including System z mainframes, POWER systems running AIX and IBM i, as well as servers running HP-UX, Solaris, Linux or Windows.
For more on IBM's other innovations over the past 100 years, check out the [Icons of Progress], which includes these storage innovations:
If you are planning a visit to Tucson, please ask for a tour to see this DS8800, a historic monument to disk innovation!
technorati tags: IBM, Tucson, EBC, DS8800, CEO, Chairman, Sam Palmisano, Brian Trukowski, Rod Adkins, mainframe, AIX, Linux, Windows
 In keeping with the spirit to be a more kinder, gentler 2011, I decided last week to refrain from being the rain on someone else's parade that occurs immediately before, during or after a competitor's announcement or annual conference, and let EMC have their few moments in the spotlight last week. This of course allows me more time to learn about the announcements and reflect on marketplace reactions. Here's a quick look at the [EMC Press Release]:
A new VNXe disk system

Of the 41 new storage technologies and products EMC announced last week, the VNXe is EMC's "me-too" product to compete against other low-end disk systems like the IBM System Storage DS3524 and N3000 series. It looks truly new, developed organically from the ground up, with a new architecture, new OS. It comes in either the 2U-high VNXe3100 or the 3U-high VNXe3300. These employ 3.5-inch SAS drives to provide Ethernet-based NFS, CIFS and iSCSI host attachment. The $10K USD price tag appears to be for the hardware only. As is typical for EMC, they charge software features in bundles or "suites", so the actual TCO will be much higher. I have not seen any announcements whether Dell plans to resell either the VNXe nor the VNX models, now that they have acquired Compellent.

A new VNX disk system

Despite having a similar name as the VNXe, the VNX appears to be a re-hash of the Celerra/CLARiiON mess that EMC has been selling already, based on the old FLARE and DART operating systems of these older disk systems. This scales from 75 to 1000 SAS drives. While EMC calls the VNX "unified", it currently is only available in block-only and file-only models, with a future promise from EMC that they will offer a combined block-and-file version sometime in the future. EMC claims that the VNX will be faster than the predecessors, so hopefully that means EMC has joined the rest of the planet and will publish SPC-1 and SPC-2 benchmarks to back up that claim. They can compare against the SPC-1 benchmarks that our friends at NetApp ran against EMC CLARiiON.

New software for the VMAX

A long time ago, EMC announced they would provide non-disruptive automated tiering. Their first delivery "FAST V1" handled entire LUNs at a time. EMC now has finally "FAST VP" which we expected was going to be called "FAST V2", which provides sub-LUN automated tiering between Solid-state and spinning disk drives.. Meanwhile, IBM has been delivering "Easy Tier" on the IBM System Storage DS8000 series, SAN Volume Controller, and Storwize V7000 disk systems.

Data Domain Archiver

Competing against IBM, HP and Oracle in the tape arena, EMC's latest addition to the Data Domain family is designed for the long-term retention of backups? Archives of backups? Backups are short-lived, protecting against the unexpected loss from hardware failure or data corruption. Keeping backups as "archives" is generally a bad mistake, as it makes it hard to e-Discover the data you need when you need it, and may not have the appropriate hardware tor restore these old backups when you do find them.
I will have to dig deeper into all of these different technologies in separate posts in the future.
Back in Februray, my blog post [A Box Full of Floppies] mentioned that I uncovered some diskettes compressed with OS/2 Stacker. Jokingly, I suggested that I may have to stand up an OS/2 machine just to check out what is actually on those floppies. Each floppy contains only three files: README.STC, STACKER.EXE and a hidden STACKVOL.DSK file. The README.STC explains that the disk is compressed by Stacker, a program developed by [Stac Electronics, Inc.]. The STACKER.EXE would not run on Windows XP, Vista or Windows 7. The STACKVOL.DSK is just a huge binary file, like a ZIP file, compressed with [Lempel-Ziv-Stac] algorithm that combines Lempel-Ziv with Huffman coding.
In my follow-up post [Like Sands in an Hourglass], I explained how there are many ways I could have tackled this project. I could either use the Emulation approach and try to build an OS/2 guest image under a hypervisor like VMware, KVM or VirtualBox, or just take the Museum approach and try taking one of my half dozen old machines, wipe it clean and stand up OS/2 on it bare metal. This turned out to be more challenging than I expected. The systems I have that are modern and powerful enough to run hypervisors don't have floppy drives, so I opted for the Museum approach.
(A quick [history of OS/2] might be helpful. IBM and Microsoft jointly developed OS/2 back in 1985. By 1990, Microsoft decided it's own Windows operating system was more popular with the ladies, and decided to break off with IBM. In 1992, IBM release OS/2 version 2.0, touted as "a better DOS than DOS and a better Windows than Windows!" Both parties maintained ownership rights, Microsoft renamed OS/2 to Windows NT. The "NT" stood for New Technology, the basis for all of the enterprise-class Windows servers used today. IBM named its version of OS/2 version 3 and 4 "WARP", with the last version 4.52 released in 2001. In its heyday, OS/2 ran the majority of Automated Teller Machines (ATMs), was used for hardware management consoles (HMC), and was used worldwide to run various Railway systems. After 2001, IBM encouraged people to transition from Windows or OS/2 over to Java and Linux. For those that can't or won't leave OS/2, IBM partnered with Serenity Systems to continue OS/2 under the brand [eComStation].)
Working with an IBM [ThinkCentre 8195-E2U Pentium 4 machine] with 640MB RAM and 80GB hard disk, a CD-rom and one 3.5-inch floppy drive, I first discovered that OS/2 is limited to very small amounts of hard disk. There are limits on [file systems and partition sizes] as well as the infamous [1024-cylinder limit] for bootable operating systems. Having a completely empty drive didn't work, as the size of the disk was too big. Carving out a big partition out of this also failed, as it exceeded the various limits. Each time, it felt the partition table was corrupted because the values were so huge. Even modern Disk Partitioning tools ([SysRescueCD] or [PartedMagic]) didn't work, as these create partitions not recognizable to OS/2.
The next obstacle I knew I would encounter would be device drivers. OS/2 comes as a set of three floppy diskettes and a CD-rom. The bootable installation disk was referred to affectionately as "Disk 0", then Disk 1, then Disk 2. Once all drivers have been loaded into memory, then it can start looking at the CDrom, and continue with the installation. In searching for updated drivers, I came across [Updated OS/2 Warp 4 Installation Diskettes] to address problems with newer display monitors. It also addresses the 8.4GB volume limit.
The updates were in the form of EXE files that only execute in a running DOS or OS/2 environment, expanded onto a floppy diskette. It seemed like [Catch-22], I need a working DOS or OS/2 system to run the update programs to create the diskettes, but need the diskettes to build a working system.
To get around this, I decided to take a "scaffolding" approach. Using DOS 6 bootable floppy, I was able to re-partition the drive with FDISK into two small 1.9GB partitions. I have the full five-floppy IBM DOS 6 set, I hid the first partition for OS/2, and install the DOS 6 GUI on the second partition. I went ahead and added a few new subdirectories: BOOT to hold Grub2, PERSONAL to hold the data I decompress from the floppies, and UTILS to hold additional utilities. This little DOS system worked, and I now have new OS/2 "Disk 1" and "Disk 2" for the installation process.
(If you don't have a full set of DOS installation diskettes, you can make due with "FORMAT C: /S" from a [DOS boot disk], and then just copy over all the files from the boot disk to your C: drive. You won't have a nice DOS GUI, but the command line prompt will be enough to proceed.)
Like DOS, OS/2 expects to be installed on the C: drive. I hid the second partition (DOS), and marked the first partition installable and bootable. The OS/2 installation involves a lot of reboots, and the hard drive is not natively bootable in the intermediate stages. This means having to boot from Disk 0, then putting in Disk 1, then disk 2, before continuing the next phase of the installation. I tried to keep the installation as "Plain Vanilla" as possible.
I had to figure out what to include, and what to exclude, and this involved a lot of trial and error. For example, one of the choices was for "external diskette support". Since I had an "internal diskette drive", I didn't think I needed it. But after a full install, I discovered that it would not read or write floppy diskettes, so it appears that I do indeed need this support.
OS/2 supports two different file systems, FAT16 and the High Performance File System (HPFS). Since my partition was only 1.9GB in size, I chose just to use FAT16. HPFS supported larger disk partitions, longer file names, and faster performance, none of which I need for these purposes.
I thought it would be nice to get TCP/IP networking to work with my Ethernet card. However, after many attempts, I decided against this. I needed to focus on my mission, which was to decompress floppy diskettes. It was amusing to see that OS/2 supported all kinds of networking, including Token Ring, System Management, Remote Access, Mobile Access Services, File and Print.
Once all the options are chosen, OS/2 installation then proceeds to unpack and copy all the programs to the C: drive. During this process, IBM had informational splash screens. Here's one that caught my eye, titled "IBM Means Three Things" that listed three reasons to partner with IBM:
Providing global solutions for a small planet
Creating and Applying advanced technologies to improve with which customers run their businesses
Constantly improving customer service with the products and services we provide
You might wonder how these OS/2 splash screens, written over 10 years ago, can appear almost identical to IBM's current [Smarter Planet] campaign. Actually, it is not that odd. IBM has been keeping to these same core principles since 1911, only the words to describe and promote these core values have changed.
To access both OS/2 and DOS partitions, I installed Grand Unified Bootloader [Grub2] on the DOS partition under C:/BOOT/GRUB directory. However, when I boot OS/2, I cannot see the DOS partition. And when I boot DOS, I cannot see the OS/2 partition. Each operating system thinks its C: drive is the only partition on the system.
Now that I had OS/2 running, I was then able to install Stacker from two floppy diskettes. With this installed, I can compress and decompress data on either the hard disk, or on floppy diskettes. Most of the files were flat text documents and digital photos. After copying the data off the compressed disks onto my hard drive, I now can copy them off to a safe place.
To finish this project, I installed Ubuntu Linux on the remaining 76GB of disk space, which can access both the OS/2 and DOS drives FAT16 file systems natively. This allows me to copy files from OS/2 to DOS or vice versa.
Now that I know what data types are on the diskettes, I determined that I could have decompressed the data in just a few steps:
Set up a DOS partition on C: drive
Insert one of the compressed diskettes into the floppy drive
Copy the STACKER.EXE program from the floppy to the C: drive
Run "STACKER A:" to decompress the floppy diskette
However, now that I have a working DOS and OS/2 system, I can possibly review the rest of my floppy diskettes, some of which may require running programs natively on OS/2 or DOS. This brings me to an important lesson. If you are going to keep archive data for long-term retention, you need to choose file formats that can be read by current operating systems and programs. Installing older operating systems and programs to access proprietary formats can be quite time-consuming, and may not always be possible or desirable.
technorati tags: IBM, Stac, Stacker, OS/2, DOS, Microsoft, Windows, ThinkCentre, Compression, Liv-Zempel
Actually, if the title confuses you, it is because it has a double meaning.
Meaning 1: IBM earned almost 100 Billion dollars (USD)

IBM's 2010 [earnings report is now available], for the full year 2010 and the fourth quarter. IBM had $99.9 Billion dollars (USD) in revenue, almost $100 Billion dollars that it had set out as a vision in the 1980s. IBM Storage contributed with 8 percent growth, not bad for a year Dave Barry considers [one of the worst years ever.].

IBM President and CEO Sam Palmisano granted me a chunk of IBM stock in appreciation of my efforts towards the 2010 success! Actually, he gave stock to a whole bunch of IBMers, not just me, and they all deserve it also.  Woo hoo!


Meaning 2: IBM is almost 100 years old

That's right, this upcoming June 16, 2011, IBM turns 100 years old. This Centennial date also happens to be my 25th year anniversary working in IBM Storage, which IBM calls joining the Quarter Century Club, or QCC for short. So, I am looking forward to plenty of cake and fireworks on that day!
I am looking forward to a year-long celebration on both counts!
technorati tags: IBM, Centenial, QCC, Revenues, Earnings, 4Q10, Dave Barry
Am I dreaming? On his Storagezilla blog, fellow blogger Mark Twomey (EMC) brags about EMC's standard benchmark results, in his post titled [Love Life. Love CIFS.]. Here is my take:
A Full 180 degree reversal

For the past several years, EMC bloggers have argued, both in comments on this blog, and on their own blogs, that standard benchmarks are useless and should not be used to influence purchase decisions. While we all agree that "your mileage may vary", I find standard benchmarks are useful as part of an overall approach in comparing and selecting which vendors to work with, and which architectures or solution approaches to adopt, and which products or services to deploy. I am glad to see that EMC has finally joined the rest of the planet on this. I find it funny this reversal sounds a lot like their reversal from "Tape is Dead" to "What? We never said tape was dead!"

Impressive CIFS Results

The Standard Performance Evaluation Corporation (SPEC) has developed a series of NFS benchmarks, the latest, [SPECsfs2008] added support for CIFS. So, on the CIFS side, EMC's benchmarks compare favorably against previous CIFS tests from other vendors.

On the NFS side, however, EMC is still behind Avere, BlueArc, Exanet, and IBM/NetApp. For example, EMC's combination of Celerra gateways in front of V-Max disk systems resulted in 110,621 OPS with overall response time of 2.32 milliseconds. By comparison, the IBM N series N7900 (tested by NetApp under their own brand, FAS6080) was able to do 120,011 OPS with 1.95 msec response time.

Even though Sun invented the NFS protocol in the early 1980s, they take an EMC-like approach against standard benchmarks to measure it. Last year, fellow blogger Bryan Cantrill (Sun) gives his [Eulogy for a Benchmark]. I was going to make points about this, but fellow blogger Mike Eisler (NetApp) [already took care of it]. We can all learn from this. Companies that don't believe in standard benchmarks can either reverse course (as EMC has done), or continue their downhill decline until they are acquired by someone else.

(My condolences to those at Sun getting laid off. Those of you who hire on with IBM can get re-united with your former StorageTek buddies! Back then, StorageTek people left Sun in droves, knowing that Sun didn't understand the mainframe tape marketplace that StorageTek focused on. Likewise, many question how well Oracle will understand Sun's hardware business in servers and storage.)

What's in a Protocol?

Both CIFS and NFS have been around for decades, and comparisons can sometimes sound like religious debates. Traditionally, CIFS was used to share files between Windows systems, and NFS for Linux and UNIX platforms. However, Windows can also handle NFS, while Linux and UNIX systems can use CIFS. If you are using a recent level of VMware, you can use either NFS or CIFS as an alternative to Fibre Channel SAN to store your external disk VMDK files.

The Bigger Picture

There is a significant shift going on from traditional database repositories to unstructured file content. Today, as much as [80 percent of data is unstructured]. Shipments this year are expected to grow 60 percent for file-based storage, and only 15 percent for block-based storage. With the focus on private and public clouds, NAS solutions will be the battleground for 2010.
So, I am glad to see EMC starting to cite standard benchmarks. Hopefully, SPC-1 and SPC-2 benchmarks are forthcoming?
technorati tags: IBM, tape, EMC, Mark+Twomey, Storagezilla, CIFS, NFS, Celerra, V-Max, N7900, VMware, VMDK, Sun, Oracle, StorageTek, tape, benchmarks, SPEC, SPECsfs, SPECsfs2008, SPC, SPC-1, SPC-2, NetApp, FAS6080
Well, it's Tuesday again, and today I am announcing that we have a new IBM Storage blogger joining the Blogosphere: Raj Sharma!
Raj will be writing his blog [Storage and Technology Academy] on the [StorageCommunity.org] platform.
Raj hails from Toronto, Canada and will be able to provide the Canadian perspective on all things Storage. I had the pleasure to meet Raj in person here in Tucson when him and dozens of his cohorts came down for a multi-customer briefing at the [IBM Executive Briefing Center] where I work.
technorati tags: IBM, Raj Sharma, Storage, Technology, Academy, Storage Community, EBC, Tucson, Toronto, Canada
Well, it's Tuesday again, and you know what that means... IBM Announcements!
This month, I am celebrating my six-year "blogoversary". I started blogging September 1, 2006 to celebrate [the 50th anniversary of disk system innovations].
This month, I am pleased to announce the new [IBM STG Executive Briefing Center] website, representing a huge improvement over the previous website we had been using over the past two years. STG refers to IBM's Systems and Technology Group, the division that focuses on servers, storage, switches and the system software that makes them run. This new website is for the dozen STG EBCs that span the globe. The new website reminds me of this famous quote:
"Perfection is achieved, not when there is nothing left to add, but when there is nothing left to take away"
-- Antoine de Saint-Exupery
Let's take a quick look at what makes it so much better.
Self-service Portal

The previous website required registration. At every briefing, those of us who work in the EBCs had to pass around a sign-up sheet for email addresses from each attendee so that we could send them an invitation to register for the site. We would have a hard time reading people's handwriting, resulting in some emails coming back rejected.

Inspired by self-service gas stations, automated teller machines, and the many self-service portals of Cloud Computing, the new website has everything up-front, without registration. IBM Business Partners and sales representatives can easily request a briefing at any of the dozen briefing centers represented!

IBM-managed and IBM-hosted

We had a difficult time explaining to our attendees why our previous website was hosted on a lone machine and maintained by a third party. Think about it, IBM manages the data centers of over 400 clients. IBM has provided web hosting to the most mission critical workloads, with high levels of availability and reliability, and is recognized as one of the "Big 5" Cloud companies. I have done web design myself in my career, and we were terribly disappointed with the third party chosen to create and maintain our previous website, constantly having to point out errors in their HTML and CSS.

For the new website, IBM took back control. Staff from each EBC, myself included, came up with a simple page to bring the essence of each location to life. Special thanks to my colleage Hal Jennings, from the Austin EBC, for bringing this altogether!

Simplified Navigation

Despite two years of manually registering attendees to use the previous website, Google Analytics showed that few people visited, and the few that did spent little time exploring the vast repository of content.

The new website is vastly simpler. The front page points to all twelve EBCs, and a single mouse click gets you to the location you are interested in, with all the details you need to make a decision to book a briefing, and the contact information to make it happen.

Elimination of Wasted and Duplicate Effort

In the previous website, we spent as much as 15 hours just to create, voice over, edit and produce a single 15-minute recorded presentation. Less than six percent of the previous website visitors watched more than five minutes of these videos, making us feel that most of our effort was wasted.

The EBC staff kept wasting their time, month after month, thanks to all-stick, no-carrot tactics that mandated minimums for contributions for more and more content that nobody was ever looking at. Even more disappointing was that much of our work duplicated the formal responsibilities of our IBM Marketing team. They weren't happy about this either, causing confusion between the roles of our two teams.

Finally, we said enough was enough! The new STG EBC website is a marvel in minimalism. If you want to see presentations, videos, expert profiles, or partake in on-going conversations, I welcome you to visit the [IBM Expert Network], the [IBM Storage YouTube Channel], and the [Storage Community] where they belong.
I invite you all to check out the new [IBM STG Executive Briefing Center] website. Let me know what you think in the comments below!
technorati tags: IBM, STG, EBC, Hal Jennings
On Wikibon, David Floyer has an article titled [SAS Drives Tier 1 to New Levels of Green] that focuses on the energy efficiency benefits of newer Serial-Attach SCSI (SAS) drives over older Fibre Channel (FC) drives. This makes sense, as R&D budgets have been spent on making newer technologies more "green".
Fellow blogger Hu Yoshida (HDS) encourages people to [Invest in the Future with SAS, SATA and SFF], referring to Figure 1.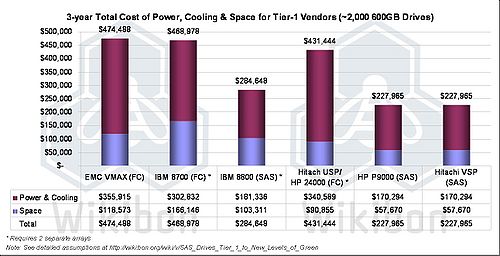 Of course, people might consider this an [apples-to-oranges] comparison. Not only are we changing from FC to SAS technology, we are also changing from 3.5-inch drives to small form factor (SFF) 2.5-inch drives. It seems odd to specify 2000 drives, when only two of the five scale up to that level. Few systems in production, from any vendor, have more than 1000 drives, so it would have seemed that would have been a fairer comparison.
However, Hu's conclusion that the combination of SAS and SFF provides better performance and energy efficiency for both IBM DS8800 and HDS VSP than FC-based alternatives from any vendor seems reasonably supported by the data.
Meanwhile, fellow blogger David Merrill (HDS) pokes fun at IBM DS8800 in Figure 2 in his post [Winner o' the green]. This second comparison was for 4PB of raw capacity, which 4 of the 5 can handle easily using 2TB SATA drives, but the DS8800 is based on SAS technology and does not support 2TB SATA drives. A performance-oriented configuration with four distinct DS8800 boxes employing 600GB SAS drives is used instead, causing the data for the DS8800 to stick out like a sore thumb, or perhaps more intentionally as a middle finger.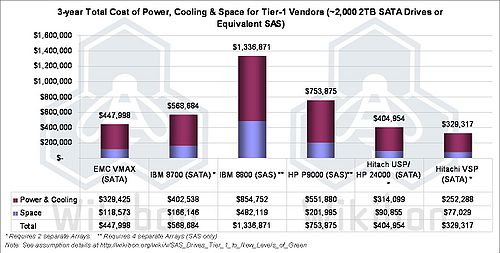 The main take-away here is that IBM offers both the DS8700 for capacity-optimized workloads, and the DS8800 for performance-optimized workloads. Some competitors may have been spreading FUD that the DS8700 was withdrawn last month, it wasn't. As you can see from the data presented, there are times where a DS8700 might be more preferable than a DS8800, depending on the type of workloads you plan to deploy. IBM offers both, and will continue to support existing DS8700 and DS8800 units in the field for many years to come.
technorati tags: IBM, DS8700, DS8800, Wikibon, Hu Yoshida, David Merrill, Davud Floyer
"This week, IBM is launching a companywide effort to build the digital eminence of all IBMers. The goal is to arm you with the tools and knowledge to effectively use emerging technologies -- such as social, mobile, and cloud computing -- for strategic advantage."
This is how Rod Adkins, IBM Senior VP of Systems Technology Group, and my sixth-line manager, starts a memo to declare April "Digital IBMer awareness month". I am not sure if this is just for this April, or every April going forward. Included with this is a set of ten guidelines to improve CyberSecurity:
In honor of this, I will be spending the next two weeks traveling through Europe. Instead of bringing a large suitcase and my laptop, I have decided instead to only take:
The clothes I am wearing on the plane
A heavy jacket with lots of pockets
A backpack with 15 pounds of clothes
A hipsack with my smartphone, digital camera, MP3 player and all the related adapters, chargers and cables
My smartphone uses a GSM chip, so I should be able to get a European SIM when I arrive. I have not booked any hotels, tours, or transportation. Instead, I will rely on social media and cloud computing to take care of things on a daily basis.
(Why only 15 pounds of clothing? I just had major surgery two weeks ago, and my doctor advised me not to lift more than 15 pounds for the next six weeks!)
I plan to have a series of blog posts documenting what I learn from this trip. For those who want to follow along, I will be tweeting from @az990tony. You do not need a Twitter account to read my tweets. You can read them directly from [http://twitter.com/#!/az990tony].
I can't remember the last time I have gone this long without the comforts of my laptop or desktop, so it will be interesting how it works out!
Well, it's Tuesday again, and you know what that means... IBM announcements!
Last week, IBM had a big storage launch of various products, with the June 4 announcements at the IBM Edge 2012 conference. I provided highlights in my post [IBM Edge Announcements]. As promised, here are the rest of the announcements.
SONAS v1.3.2

SONAS v1.3.2 adds support for management by the newly announced IBM Tivoli Storage Productivity Center v5.1 release. Also, IBM now officially supports "Gateway configurations" that have the storage nodes connected to XIV or Storwize v7000 disk systems. These gateway configurations offer new flexible choices and options for our ever-expanding set of clients.

ProtecTIER appliances and gateways

IBM ProtecTIER line of data deduplication appliances and gateways add CIFS file system support. Rather than using OST or a VTL interface, you now have CIFS as a new option for host attach. Also, IBM introduces the new TS7620 Express model, with options for 5.4TB and 11TB in capacity, replacing the previous TS7610 entry level.

LTFS Storage Manager

The Linear Tape File System (LTFS) allows files to be stored on tape cartridges in a manner that allows them to be mounted as file systems, much like a USB memory stick. The new LTFS Storage Manager software allows you to manage a collection of files across a set of cartridges, moving files from one cartridge to another, consolidating valid data onto fewer cartridges, and removing files no longer needed. This is sometimes referred to as "lifecycle management".

Tape System Library Manager

When IBM first introduced the "shuttle" that allowed up to fifteen TS3500 tape libraries to be connected together into a single system, only HPSS customers could take advantage of this. Software was required to coordinate the movement of cartridges from one library to another. The new IBM Tape System Library Manager now offers an alternative to HPSS for coordinating this activity.

DS8000 v6.3 microcode

IBM now offers 400GB solid-state drives. IBM's market leading support for Full Disk Encryption (FDE) is now extended to cover all drive speeds, from the slowest 7200RPM NL-SAS drives up to the fastest solid-state. IBM Easy Tier extends its super-easy implementation to work across all three of these tiers including encryption.

Implementation Services

IBM now offers implementation services for IBM XIV Gen3 storage system, and the N series models 3220 and 3240.
This week I am on the road visiting various clients. Next week, Moscow Russia for the "Edge Comes to You" event!
technorati tags: IBM, SONAS, TPC, Tivoli Storage, Productivity Center, ProtecTIER, TS7650, TS7620, CIFS, OST, VTL, LTFS, Storage Manager, Tape System Library Manager, DS8000, DS8800, XIV Gen3, N3220, N3240, Edge, ECTY
Well, it's that Back-To-School time again! Mo's thirteen-year-old reluctantly enters the eight grade, still upset the summer ended so abruptly. Richard's nephew returns to the University of Arizona for another year. Natalie has chosen to move to Phoenix and pursue a post-grad degree at Arizona State University. They all have two things in common, they all want a new computer, and they are all on a budget.
Fellow blogger Bob Sutor (IBM) pointed me to an excellent article on [How to Build Your Own $200 PC], which reminded me of the [XS server I built] for my 2008 Google Summer of Code project with the One Laptop per Child organization. Now that the project is over, I have upgraded it to Ubuntu Desktop 10.04 LTS, known as Lucid Lynx. Building your own PC with your student is a great learning experience in itself. Of course, this is just the computer itself, you still need to buy the keyboard, mouse and video monitor separately, if you don't already have these.
If you are not interested in building a PC from scratch, consider taking an old Windows-based PC and installing Linux to bring it new life. Many of the older PCs don't have enough processor or memory to run Windows Vista or the latest Windows 7, but they will all run Linux.
(If you think your old system has resale value, try checking out the ["trade-in estimator"] at the BestBuy website to straighten out your misperception. However, if you do decide to sell your system, consider replacing the disk drive with a fresh empty one, or wipe the old drive clean with one of the many free Linux utilities. Jason Striegel on Engadget has a nice [HOWTO Erase your old hard disk drive] article. If you don't have your original manufacturer's Windows installation discs, installing Linux instead may help keep you out of legal hot water.)
Depending on what your school projects require, you want to make sure that you can use a printer or scanner with your Linux system. Don't buy a printer unless it is supported by Linux. The Linux Foundation maintains a [Printer Compatability database]. Printing was one of the first things I got working for my Linux-based OLPC laptop, which I documented in my December 2007 post [Printing on XO Laptop with CUPS and LPR] and got a surprising following over at [OLPC News].
To reduce paper, many schools are having students email their assignments, or use Cloud Computing services like Google Docs. Both the University of Arizona and Arizona State University use Google Docs, and the students I have talked with love the idea. Whether they use a Mac, Linux or Windows PC, all students can access Google Docs through their browser. An alternative to Google Docs is Windows Live Skydrive, which has the option to upload and edit the latest Office format documents from the Firefox browser on Linux. Both offer you the option to upload GBs of files, which could be helpful transferring data from an old PC to a new one.
Lastly, there are many free video games for Linux, for when you need to take a break from all that studying. Ever since IBM's [36-page Global Innovation Outlook 2.0] study showed that playing video games made you a better business leader, I have been encouraging all students that I tutor or mentor that playing games is a more valuable use of your time than watching television. IBM considers video games the [future of learning]. Even the [Violent Video Games are Good for Kids]. It is no wonder that IBM provides the technology that runs all the major game platforms, including Microsoft Xbox360, Nintendo Wii and Sony PlayStation.
(FTC disclosure: I work for IBM. IBM has working relationships with Apple, Google, Microsoft, Nintendo and Sony. I use both Google Docs and Microsoft Live Skydrive for personal use, and base my recommendations purely on my own experience. I own stock in IBM, Google and Apple. I have friends and family that work at Microsoft.  I own an Apple Mac Mini and Sony PlayStation. I was a Linux developer earlier in my IBM career. IBM considers Linux a strategic operating system for both personal and professional use. IBM has selected Firefox as its standard browser internally for all employees. I run Linux both at home and at the office. I graduated from the University of Arizona, and have friends who either work or take classes there, as well as at Arizona State University.)
Linux skills are marketable and growing more in demand. Linux is used in everything from cellphones to mainframes, as well as many IBM storage devices such as the IBM SAN Volume Controller, XIV and ProtecTIER data deduplication solution. In addition to writing term papers, spreadsheets and presentations with OpenOffice, your Linux PC can help you learn programming skills, web design, and database administration.
To all the students in my life, I wish you all good things in the upcoming school year!
technorati tags: IBM, Linux, Bob Sutor, BestBuy, Ubuntu, Video Games, erase, hard+disk, Google Docs, Windows Live, Skydrive, Linux Foundation, OLPC, Google, Summer of Code, Firefox, xBox360, Nintendo, Wii, Sony, Playstation
In his blog post, [The Lure of Kit-Cars], fellow blogger Chuck Hollis (EMC) uses an excellent analogy delineating the differences between kit-cars you build from parts, versus fully-integrated systems that you can drive off the car dealership showroom lot. The analogy holds relatively well, as IT departments can also build their infrastructure from parts, or you can get fully-integrated systems from a variety of vendors.
| | |
| --- | --- |
| | Is this what your data center looks like? |
Certainly, this debate is not new. In my now infamous 2007 post [Supermarkets and Specialty Shops], I explained that there were clients that preferred to get their infrastructure from a single IT supermarket, like IBM or HP, while others were lured into thinking that buying separate parts from butchers, bakers and candlestick makers and other specialty shops was somehow a better idea.
Chuck correctly explains that in the early years of the automobile industry, before major car manufacturers had mass-production assembly lines, putting a car together from parts was the only way cars were made. Today, only the few most avid enthusiasts build cars this way. The majority get cars from a single seller and drive away. In my post [Resolving the Identity Crisis], I postulated that EMC appeared to be trying to shed itself of the "disk-only specialty shop" image and over to be more like IBM. Not quite a full IT Supermarket, but perhaps more like a [Trader Joe's] premium-priced retailer.
(If you find that EMC's focus on integrated systems appears to be a 180-degree about-face from their historical focus on selling individual best-of-breed products, see my previous discussion of Chuck's contradictions in my blog post: [Is Storage the Next Confusopoly].)
While companies like EMC might be making this transition, there is a lot of resistance and inertia from the customer marketplace. I agree with Chuck, companies should not be building kit-cars or IT infrastructures from parts, certainly not from parts sold from different vendors. In my post [Talking about Solutions not Products], I explained how difficult it was to change behavior. CIOs, IT directors and managers need to think differently about their infrastructure. Let's take a quick look at some choices:
Oracle

Following Chuck's argument, it makes no sense to build a "kit-car" combining Oracle/Sun servers with EMC storage. Oracle would argue it makes more sense to run on integrated systems, business logic on their "Exalogic" system, and database processing on their "Exadata". Benchmark after benchmark, however, IBM is able to demonstrate that Oracle applications and databases run faster on IBM systems. Customers that want to run Oracle applications can run either on a full Oracle stack, or a full IBM stack, and both do better than a kit-car including EMC parts.

Hewlett-Packard (HP)

HP has been working hard to keep up with IBM in this area. With their their partnership with Microsoft, and acquisitions of EDS, 3Com and 3PAR, they can certainly make a case for getting a full HP stack rather than a kit-car mixing HP servers with EMC disk storage. The problem is that HP is focused on a converged infrastructure for private cloud computing, but Microsoft is focused on Azure and public cloud computing. It will be interesting when these two big companies sort this out. Definitely watch this space.

Dell

If you squint your eyes and focus on the part of the world that only has x86 machines, then Dell can be seen as an IT supermarket. In my post about [Entry-Level iSCSI Offerings], I discuss how Dell's acquisition of EqualLogic was a signal that it was trying to get away from selling EMC specialty shop products, and building up its own set of offerings internally.

Cisco

Cisco is new on the server scene, but has already made quite a splash. Here, I have to agree with Chuck's logic: the only time it makes sense to buy EMC disk storage at all is when it is part of an integrated "V-block". This is not really an IT supermarket situation, instead you park your car at the "Acadia Mini-Mall" and get what you need from Trader Joe's, Cisco UCS, and VMware stores.

But wait, if what you want is running VMware on Cisco servers, you might be better off with IBM System Storage N series or NetApp storage. In his blog post about [Enhanced Secure Multi-Tenancy], fellow Blogger Val Bercovici (NetApp) provides a convincing argument of why Cisco and VMware run better on an "N-block" rather than a "V-block". IBM N series provides A-SIS deduplication, and IBM Real-time Compression can provide additional capacity and performance improvements.  That might be true, but whether you get your storage from EMC, NetApp or IBM, to me, you are still working with three different vendors in any case.

IBM

| | |
| --- | --- |
| Of course, following Chuck's logic, it makes more sense for people with IBM servers, whether they be mainframes, POWER systems or x86 machines, to integrate these with IBM storage, IBM software and IBM services. IBM is the leading reseller of VMware, but also has a lot of business with Microsoft Hyper-V, Citrix Xen, Linux KVM, PowerVM, PR/SM and z/VM. While IBM has market leading servers, disk and tape systems, to compete for those RFP bids that just ask for one component or another, it prefers to sell fully-integrated systems, which IBM has been doing successfully since the 1950s. | |

Back in 2007, I mentioned how IBM's fully-integrated InfoSphere Balanced Warehouse [Trounced HP and Sun]. For business analytics, IBM offers the fully-integrated [IBM Smart Analytics Systems]. Today, IBM expanded its line of fully-integrated private cloud service delivery platforms with the announcement of the [IBM CloudBurst for on Power Systems], which does for POWER7 what the IBM CloudBurst for System x, Oracle Exalogic, or Acadia's V-block, do for x86. IBM estimates that private clouds built on Power systems can be up to 70 percent less expensive than stand alone x86 servers.
Before he earned his PhD in Mechanical Engineering, my father was a car mechanic. I spent much of my teenage years covered in grease, helping my father assembling cars, lifting engines, and rebuilding carburetors. Certainly this was good father-son time, and I certainly did learn something in the process. Like the automobile industry, the IT industry has matured, and it makes no financial sense to build your own IT infrastructure from parts from different vendors.
For a test drive of the industry's leading integrated IT systems, see your IBM sales rep or IBM Business Partner.
technorati tags: IBM, kit-cars, supermarkets, specialty-shops, EMC, Chuck Hollis, Oracle, HP, Sun, Dell, NetApp, InfoSphere Balanced Warehouse, Smart Analytics, CloudBurst, VMware, Cisco, Acadia
IBM makes another breakthrough today with an announcement about tape data density. Unlike hard disk drive technologies that are hitting physical limits, IBM is proving that tape technology still has plenty of life in its future. When I first started working for IBM in Tucson, back in 1986, a 3420 tape reel held only 180MB of data, and a 3480 tape cartridge improved this to 200MB of data. Today's enterprise tapes, like 3592 cartridges for the TS1130 drives, or LTO4 cartridges for the IBM TS1040 drives, are half-inch wide, half-mile long, and can store 1 TB or more of data per cartridge, depending on how well the data can compress. To increase cartridge capacity, designers can make changes in three dimensions:
Wider tape: The film industry tried this, going from 35mm to 70mm film, only to find that most cinemas did not want to upgrade their equipment. Keeping the media dimensions to half inch wide allows much of the engineering hardware to continue unchanged.
Longer tape: The problem with longer tape is that either the reel inside gets fatter, or you need to develop flatter media to fit within the existing cartridge dimensions. Wider reels means a bigger tape cartridge external dimensions, forcing changes to shelving units, cartridge trays, and carrying units. The media just can't get any flatter without risking getting more brittle.
Denser bit recording: once a convenient width and length were established, improving bit density turned out to be the best way to increase cartridge capacity.
Working with FujiFilm Corporation of Japan, my colleagues at IBM Research facility in Zurich were able to demonstrate an incredible 29.5 Gigabits per square inch, nearly 40 times more dense than today's commercial tape technology. In the near future, we will be able to hold a 35TB tape cartridge in our hand. There was actually a lot to make this happen, improved giant magentoresistive read/write heads, better servo patterns to stay on track, thinner tracks less than a micron thick, and better signal-to-noise processing to accomplish this. To learn more, you can read the [Press Release] or watch this quick [4-minute YouTube video].
Tape -- You've come a long way, baby!
technorati tags: density, breakthrough, lto, Fujifilm, cartridge, IBM, research, tape, zurich, reel, gmr
For most of us in the United States, it is cold out there, so you better "bundle up!"
Today, IBM announces the [IBM Storwize Rapid Application Storage] bundle, an integrated solution that improves storage efficiency and application availability. It comes in two offerings:
Basic

The "Basic" offering includes a single IBM Storwize V7000 controller enclosure, and three year warranty package that includes software licenses for IBM Tivoli Storage FlashCopy Manager (FCM) and IBM Tivoli Storage Productivity Center for Disk - Midrange Edition (MRE). Planning, configuration and testing services for the software are included and can be performed by either IBM or an IBM Business Partner.

Standard

The "Standard" offering allows for multiple IBM Storwize V7000 enclosures, provides three year warranty package for the FCM and MRE software, and includes implementation services for both the hardware and the software components. These services can be performed by IBM or an IBM Business Partner.
Why bundle? Here are the key advantages for these offerings:
Increased storage utilization! First introduced in 2003, IBM SAN Volume Controller is able to improve storage utilization by 30 percent through virtualization and thin provisioning. IBM Storwize V7000 carries on this tradition. Space-efficient FlashCopy is included in this bundle at no additional charge and can reduce the amount of storage normally required for snapshots by 75 percent or more. IBM Tivoli Storage FlashCopy Manager can manage these FlashCopy targets easily.
Improved storage administrator productivity! The new IBM Storwize V7000 Graphical User Interface can help improve administrator productivity up to 2 times compared to other midrange disk solutions. The IBM Tivoli Storage Productivity Center for Disk - Midrange Edition provides real-time performance monitoring for faster analysis time.
Increased application performance! This bundle includes the "Easy Tier" feature at no additional charge. Easy Tier is IBM's implementation of sub-LUN automated tiering between Solid-State Drives (SSD) and spinning disk. Easy Tier can help improve application throughput up to 3 times, and improve response time up to 60 percent. Easy Tier can help meet or exceed application performance levels with its internal "hot spot" analytics.
Increased application availability! IBM Tivoli Storage FlashCopy Manager provides easy integration with existing applications like SAP, Microsoft Exchange, IBM DB2, Oracle, and Microsoft SQL Server. Reduce application downtime to just seconds with backups and restores using FlashCopy. The built-in online migration feature, included at no additional charge, allows you to seamlessly migrate data from your old disk to the new IBM Storwize V7000.
Significantly reduced implementation time! This bundle will help you cut implementation time in half, with little or no impact to storage administrator staff. This will help you realize your return on investment (ROI) much sooner.
To learn more, check out the IBM [landing page].
technorati tags: IBM, bundle, Storwize V7000, Tivoli, FlashCopy Manager, Productivity Center, TPC, MRE, SSD, Easy Tier, SAP, Exchange, DB2, Oracle, Microsoft, SQL Server
This week, I am in beautiful Sao Paulo, Brazil, teaching Top Gun class to IBM Business Partners and sales reps. Traditionally, we have "Tape Thursday" where we focus on our tape systems, from tape drives, to physical and virtual tape libraries. IBM is the number #1 tape vendor, and has been for the past eight years.
(The alliteration doesn't translate well here in Brazil. The Portuguese word for tape is "fita", and Thursday here is "quinta-feira", but "fita-quinta-feira" just doesn't have the same ring to it.)
In the class, we discussed how to handle common misperceptions and myths about tape. Here are a few examples:
Myth 1: Tape processing is manually intensive

Myth 2: Tape media is less reliable than disk media

Myth 3: Most tape restores fail

Myth 4: Vendors and Manufacturers are no longer investing in tape technology
Next month, IBM celebrates the 60th anniversary for tape. It is good to see that tape continues to be a vibrant part of the IT industry, and to IBM's storage business!
technorati tags: IBM, Google, Microsoft, EMC, Brazil, LTO, TS2900, TS3500, Space Shuttle, Challenger
Can you believe it has been five years since I started blogging?
(If you absolutely abhor the navel-gazing associated with blogging-about-blogging posts, then by all means stop reading now!)
Back in July 2005, IBM decided to merge together two brands, IBM eServer and IBM TotalStorage, into a single all-encompassing "IBM Systems" brand. Thus TotalStorage brand became the "IBM System Storage" product line of the "IBM Systems" brand. The next six months was spent renaming some (not all) of the products. The following January, I was named the Marketing Strategist for this new product line, with the mission to help promote the new naming convention.
We looked at possibly doing a regularly-scheduled podcast, but nobody back then, including myself, were familar with audio editing tools. Instead, we chose a blog. Most blogs at IBM are internal, safely hidden behind the firewall, accessible only to IBM employees. I wanted mine to be different, to be accessible to the public, clients, prospects, IBM Business Partners, and yes, even those working for IBM's various competitors. One thing I like about blogs is that if you have a typo, or make a mistake, you can go back and correct it after it has posted.
Marketing through social media is quite different than traditional marketing techniques. Management was supportive, but legal wanted to review and approval everything I wrote before I posted it onto my blog. Official IBM Press Releases, for example, go through a dozen reviews before they are finally made public. I refused. This kind of review and approval would ruin the blogging process.
Fortunately, this blog was not my first attempt at technical writing. Our legal counsel reviewed my past trip reports from various conferences, and decided to let me blog without review. Occasionally, someone will reivew my blog once already posted, and ask me to make some corrections. It reminds me of my favorite saying used heavily within IBM:
It is easier to get forgiveness than permission.
-- Arthur Bloch [Yale Book of Quotations]
Despite these delays, we managed to launch this blog in September 2006, just in time to celebrate the 50th anniversary of disk systems. IBM introduced the industry's first commercial disk system on September 13, 1956.
Over the years, this blog has helped sales reps and IBM Business Partners close deals, and address the FUD their prospects heard from competition. I have helped my readers get in touch with the right people within IBM. And, I have "sent the elevator back down", helping other IBMers launch their own blogs, including [Barry Whyte], [Elisabeth Stahl], and [Anthony Vandewerdt].
Today, bloggers have a profound impact on the world. Not everyone has a positive view on this. Bloggers and other users of social media have been seen as whistle-blowers for fraudulent corporations, as activists against corrupt governments and dictators, and as subject matter experts and fact checkers referenced during television and radio newscasts. In a recent movie, one of the major characters was a trouble-making blogger, and another character describes his blogging as nothing more than "graffiti with punctuation."
I want to thank all of my readers for making this the #1 most influential blog on IBM DeveloperWorks in 2011! This blog has been [published in a series of books], Inside System Storage Volume I and Volume II. And yes, before you all ask in the comments below, I am actively working on Volume III.
For a bit of nostalgia, I invite you to read my first 21 blog posts that I posted back in [September 2006].
technorati tags: IBM, anniversary, blogoversary, Lulu, TotalStorage, eServer, System Storage
Last week, I presented "An Introduction to Cloud Computing" for two hours to the local Institute of Management Accountants [IMA] for their Continuing Professional Education [CPE]. Since I present IBM's leadership in Cloud Storage offerings, I have had to become an expert in Cloud Computing overall. The audience was a mix of bookkeepers, accountants, auditors, comptrollers, CPAs, and accounting teachers.
I have posted my charts on Slideshare.Net:
Here is a sample of the questions I took during and after my presentation:
If I need to shut down host machine, I lose all my virtual machines as well?
No, it is possible to seemlessly move virtual machines from one host to another. If you need to shut down a host machine, move all the VMs to other hosts, then you can shut down the empty host without impacting business.
Does the SaaS provider have to build their own app, can they not buy an app and then rent it out?
Yes, but they won't have competitive differentiation, and the software development they buy from will want a big cut of the action. SaaS developers that build their own applications can keep more of the profits for themselves.
How do backups work in cloud computing? Do I have to contact someone at the cloud computing company to find the backup tape?
Large datacenters often keep the most recent backups on disk, and older versions on tape in automated tape libraries that can fetch your backup in less than 2 minutes. Because of this, there is no need to talk to anyone, you can schedule or invoke your own backups, and often perform the recovery yourself using self-service tools.
Last month, my sister tried to rent a car during the week the Tucson Gem Show, but they were out of cars she wanted to drive. Could this happen with Cloud Computing?
Not likely. With rental cars, the cars have to be physically in Tucson to rent them. Rental companies could have brought cars down from Phoenix to satisfy demand. With Cloud Computing, it is all accessible over the global network, you are not limited to the cloud providers nearest you.
Is there a reason why Amazon Web Services (AWS) charges more for a Windows image than a Linux image?
Yes, Amazon and Microsoft have a patent cross-licensing agreement where Amazon pays Microsoft for the priveledge of offering Windows-based images on their EC2 cloud infrastructure. It just makes business sense to pass those costs onto the consumer. Linux is a free open source operating system, and is often the better choice.
So if we rent a machine from Amazon, they send it to my accounting office? What exactly am I getting for 12 cents per hour?
No. The computer remains in their datacenter. You get a virtual machine that runs 1.2Ghz Intel processor, with 1700MB of RAM, and 160GB of hard disk space, with Windows operating system running on it, comparable to a machine you can get at the local BestBuy, but instead of it running in the next room, it is running in a datacenter somewhere else in the United States with electricity and air conditioning. You access it remotely from your desktop or laptop PC.
Why would I ever rent more than one computer?
It depends on your workload. For example, Derek Gottfrid at the New York Times needed to convert 11 million articles from TIFF format to PDF format so that he could put them up on the web. This would have taken him months using a single computer, so he rented 100 computers and got the entire stack converted in 24 hours, for a cost of about $240. See the articles [Self-Service, Prorated, Super Computing] and [TimesMachine] for details.
What about throughput? Won't I need to run cables from my accounting office to this cloud computing data center?
You will need connectivity, most likely from connections provided by your local telephone or cable company, or through the Internet. Certainly, there can be cases where direct privately-owned fiber optic cables, known as "dark fiber", can directly connect consumers to local Cloud service providers, for added security.
What about medical records? Will Cloud Computing help the Healthcare industry?
Yes, hospitals are finding that digitizing their records greatly reduces costs. IBM offers the Grid Medical Archive Solution [GMAS] as a private cloud storage solution to store X-ray images and other electronic medical records on disk and tape, and these records can be accessed from multiple hospitals and clinics, wherever the doctor or patient happens to be.
The advantage of personal computers was individualization, I could put on my own choices of software, and customize my own settings, won't we lose this with Cloud Computing?
Yes, customized software and settings cost companies millions of dollars with help desk calls. Cloud Computing attempts to provide some standardization, reducing the amount of effort to support IT operations.
Won't putting all the computers into a big datacenter make them more vulnerable to hackers?
Security is a well-known concern, but this is being addressed with encryption, access control lists, multi-tenancy isolation, and VPN connections.
My daughter has a BlackBerry or iPod or something, and when we mentioned that someone in Phoenix wore a monkey suit to avoid photo-radar speed cameras, she was able to pull up a picture on her little hand-held thing, is this the future?
Yes, mobile phones and other hand-held devices now have internet access to take advantage of Cloud Computing services. People will be able to access the information they need from wherever they happen to be. (You can see the picture here: [Man Dons Mask for Speed-Camera Photos])
IBM offers a variety of Cloud Computing services, as well as customized solutions and integrated systems that can be deployed on-premises behind your corporate firewall. To learn more, go to [ibm.com/cloud].
The second speaker was local celebrity Dan Ryan presenting the financials for the upcoming [Rosemont Copper] mining operations. Copper is needed for emerging markets, such as hybrid vehicles and wind turbines. Copper is a major industry in Arizona.
technorati tags: , IBM, Cloud Computing, IMA, CPE, IaaS, PaaS, SaaS, Amazon, AWS, Linux, Eucalyptus, Ubuntu, Rosemont Copper
This week I am in beautiful Las Vegas for the Data Center 2010 Conference. While the conference officially starts Monday, I arrived on Sunday to help set up the IBM Booth (Booth "Z").
| | |
| --- | --- |
| | (Note: This is my third year attending this conference. IBM is a platinum sponsor for this event. The analyst company that runs this event has kindly asked me not to mention their name on this blog, display any of their logos, mention the names of any of their employees, include photos of any of their analysts, include slides from their presentations, or quote verbatim any of their speech at this conference. This is all done to protect and respect their intellectual property that their members pay for. This is all documented in a lengthy document in case I forget. So, if the picture of the conference backpack appears lopped off at the top, this was done intentionally to comply with their request. The list of sponsors at this event represents a "who's who" of the IT industry.) |
Orientation

The pre-conference orientation is for people who are first-timers, or for those who have not attended this conference in a while. The conference includes 7 keynote presentations and 68 sessions organized into seven "tracks" plus one "virtual track" which crosses the other seven:

Virtualization
Cloud Computing
IT Operations
Getting Agile
Servers and Operating Systems
Storage
Business Continuity
Cost Optimization "Virtual Track"

Each session is further classified as foundational versus advanced, business versus technical, and practical versus strategic.

The speaker also presented some unique methodologies that will be used this week, including "Magic Quadrant", "MarketScope", "Hype Cycle" and "IT Market Clock" which provide graphical representation to help attendees better understand the conference materials.

Welcome Reception

The Welcome Reception was sponsored by VCE, formerly known as Acadia, the coalition comprised of VMware, Intel, Cisco and EMC. I joked that this should be "VICE" so that Intel does not feel left out.

| | |
| --- | --- |
| While we enjoyed drinks and snacks, we listened to live music from the all-violin band [Phat Strad]. | |

The CEO of VCE, Michael Capellas, recognized me from across the room and came over to ask me how IBM was doing. We had a nice friendly chat about the IT industry and the economy.
technorati tags: IBM, LSC29, VCE, Phat Strad
Continuing my coverage of the Data Center 2010 conference, Monday I afternoon included presentations from IBM executives.
Blueprint for a Smart data center

Steve Sams, IBM Vice President, Global Site and Facilities Services, is well known at this conference. In charge of designing and building data center facilities for IBM and its clients, he has lots of experience in various datacenter configurations.

The presentation was an update from last year's [Data Center Cost Saving Actions Your CFO Will Love]. 70 cents of every IT dollar is spent on just keeping the existing systems running, leaving only 30 percent to handle growth and business transformation. Over 70 percent of datacenters are more than seven years old, and may not be designed to handle today's density in IT equipment.

Many companies wanting to virtualize are stalled. IBM's Server Virtualization Analytics services can help cut this transformation time in half, with an ROI of only 6-18 months for complex Wintel environments. This is just one of the 17 end-to-end datacenter analytics tools IBM offers. The results have been 220 percent more VM instances per admin FTE than traditional deployments. IBM drinks its own champagne, having saved over $4 Billion USD in its own datacenter consolidation and virtualization projects.

Want to Cut the Cost of Storage in Half? Here's How

The speaker of this session started out with a startling prediction: the amount of storage purchased in the five years 2010-2014 will be 25x what was purchased in 2009, on a PB basis. Most attempts to stem this capacity growth have failed. Therefore, the focus to cut storage costs need to be elsewhere.

The first concern is poor utilization. Utilization on DAS averages 10 percent, SANs 40-50 percent. Thin provisioning can raise this to 60-75 percent. Thin Provisioning was first introduced for the mainframe storage in the 1990s by StorageTek which IBM resold as the IBM RAMAC Virtual Array (RVA), but many credit 3PAR for porting this over to distributed operating systems in 2002. Other options include data deduplication and compression to reduce the cost of storing data on disk.

The second approach is use of storage tiering. In this case, the speaker felt SATA was 3x cheaper ($/GB) but can also be 3x lower performance. Moving data between faster FC/SAS 10K and 15K RPM drives to slower 7200 RPM drives can offer some cost reductions.

Implementing "quotas" in email, file systems or other applications is one of the worst financial decisions an IT department can make, as it merely shifts the storage management from experts (IT staff) to non-experts (end users). The speaker recommended using archive instead. Keeping backup tapes for long-term is not archive, backups should not be older than eight weeks old.

Interactive polls of the audience gave some interesting insight:

When asked expected storage capacity "compound annual growth rate" (CAGR) for the next few years, 26 percent estimate 35-50 CAGR, 30 percent estimate 50-75 CAGR, and 15 estimate greater than 75 percent CAGR.
For thin provisioning, 43 percent of the audience already are using it, and 33 percent plan to next year.
Similarly , 41 percent of audience is using data deduplication for their primary data, and 30 percent plan to next year.
For automated tiering that moves portions of data automatically between fast and slow tiers of storage to optimize performance, like IBM's Easy Tier, 20 percent are already using it, and 44 percent plan to next year.
41 percent already have some archiving for file systems, 17 percent plan to next year.
Only 6 percent have an all-disk backup/replication environment, but 20 percent plan to adopt this next year.

The downsize of trying to squeeze out costs with these approaches and technologies is that there can be negative impact to performance. The speaker suggested a balanced approach of adding lower cost storage to existing fast storage to meet both capacity and performance requirements.

Smarter Infrastructures Deliver Better Economics

Elaine Lennox, IBM Vice President and Business Line Executive for System Software, presented the "3 D's" of a Smarter Infrastructure: design, data and delivery.

Design: new technologies and approaches are forcing people to reconsider the design of their applications, their infrastructure and their facilities.
Data: on average, companies store 17 copies of the same piece of production data. Data needs to be managed better in the future.
Delivery: new types of cloud computing are changing the way IT services can be delivered, and how they are consumed by end users.

Roadmap to Enterprise Cloud Computing

This was a combo vendor/customer presentation. Rex Wang from Oracle presented an overview of Oracle's service and product offerings, and then Jonathan Levine, COO of LinkShare, presented his experiences deploying Oracle ExaData.

Rex presented Oracle's "Cloud maturity model" that has its customers go through the following steps:

Silo: each application on its own stack of software, server and storage.
Grid: virtualization for shared infrastructure and platforms (internal IaaS and PaaS).
Private cloud: self-service, policy-based management, metered chargeback and capacity planning.
Hybrid Cloud: workloads portable between private and public clouds, offering federation, cloud bursting, and interoperability.

Rex felt the standard "Buy vs Rent" argument in the business world applies to IT as well, and that there could be break-even points over long-term TCO analysis that favors one over the other. He cited internal research that showed 28 percent of Oracle customers have internal or private cloud, and 14 percent use public cloud. 25 percent use Application PaaS, 21 percent database PaaS, 5 percent Identity management PaaS, 10 percent Compute IaaS, 18 percent storage IaaS, and 15 percent Test/Dev IaaS.

Rex felt that in all the hype around taking a single host and dividing it into multiple VMs, people have forgotten that the opposite approach of taking multiple instances into clusters is also important. He also felt you have to look at the entire "Application Lifecycle" that goes from:

IT sets up the equipment as an internal PaaS or IaaS
Developers write the application
End users are trained and use the application
Application owners manage and monitor the application
IT meters the usage and does chargeback to each application owner

Oracle's ExaData and ExaLogic compete directly against IBM's Smart Analytics System, IBM CloudBurst, and IBM Smart Business Storage Cloud.

Next up was Jonathan Levine, COO of [LinkShare], a subsidiary of Rakutan in Japan. This is an [Affiliated Marketing] company. Instead of pay-per-view or pay-per-click web advertising, this company only gets paid when the "end user" actually buys something when clicking on web advertising.

The business runs on an 8TB data warehouse and 1 TB OLTP database, ingesting 50GB daily, with 400 million transactions per day with 8.5 GB/sec throughput.

They discovered that the Oracle ExaData did not work right out of the box. In fact, it took them about a year to get it working for them, roughly the same amount of months it took them on their last Oracle 10 to Oracle 11 conversion.

Part of their business allows advertisers and web content publishers to generate reports on activity. Jonathan indicates that if the response is longer than 5 seconds, it might as well be an hour. He called this the "Excel" rule, that results need to be as fast as local PC Microsoft Excel pivot table processing.

With the new Exadata, they met this requirement. Over 84 percent of their transactions happen under 2 seconds, 9 percent take 2-4 seconds, and another 4 percent in the 4-8 second range. They hope that as they approach the winter holiday season that they can handle 2-3x more traffic without negatively impacting this response time.

Attendees who want a copy of the IBM presentations can go to the IBM [Literature Fullfillment] website.

technorati tags: IBM, Steve Sams, Elaine Lennox, Oracle, ExaData, LinkShare, RVA
Continuing my coverage of the Data Center 2010 conference, Monday I attended four keynote sessions.
Opening Remarks

The first keynote speaker started out with an [English proverb]: Turbulent waters make for skillful mariners. He covered the state of the global economy and how CIOs should address the challenge. We are on the flat end of an "L-shaped" recovery in the United States. GDP growth is expected to be only 4.7 percent Latin America, 2.3 percent in North America, 1.5 percent Europe. Top growth areas include 8.0 percent India and 8.6 percent China, with an average of 4.7 growth for the entire Asia Pacific region.

On the technical side, the top technologies that CIOs are pursuing for 2011 are Cloud Computing, Virtualization, Mobility, and Business Intelligence/Analytics. He asked the audience if the "Stack Wars" for integrated systems are hurting or helping innovation in these areas.

Move over "conflict diamonds", companies now need to worry about [conflict minerals].

He proposed an alternative approach called Fabric-Based Infrastructure. In this new model, a shared pool of servers is connected to a shared pool of storage over an any-to-any network. In this approach, IT staff spend all of their time just stocking up the vending machine, allowing end-users to get the resources they need.

Crucial Trends You Need to Watch

The second speaker covered ten trends to watch, but these were not limited to just technology trends.

Virtualization is just beginning - even though IBM has had server virtualization since 1967 and storage virtualization since 1974, the speaker felt that adoption of virtualization is still in its infancy. Ten years ago, average CPU utilization for x86 servers of was only 5-7 percent. Thanks to server virtualization like VMware and Hyper-V, companies have increased this to 25 percent, but many projects to virtualized have stalled.
Big Data is the elephant in the room - storage growth is expected to grow 800 percent over the next 5 years.
Green IT - Datacenters consume 40 to 100 times more energy than the offices they support. Six months ago, Energy Star had announced [standards for datacenters] and energy efficiency initiatives.
Unified Communications - Voice over IP (VoIP) technologies, collaboration with email and instant messages, and focus on Mobile smartphones and other devices combines many overlapping areas of communication.
Staff retention and retraining - According to US Labor statistics, the average worker will have 10 to 14 different jobs by the time they reach 38 years of age. People need to broaden their scope and not be so vertically focused on specific areas.
Social Networks and Web 2.0 - the keynote speaker feels this is happening, and companies that try to restrict usage at work are fighting an uphill battle. Better to get ready for it and adopt appropriate policies.
Legacy Migrations - companies are stuck on old technology like Microsoft Windows XP, Internet Explorer 6, and older levels of Office applications. Time is running out, but migration to later releases or alternatives like Red Hat Linux with Firefox browser are not trivial tasks.
Compute Density - Moore's Law that says compute capability will double every 18 months is still going strong. We are now getting more cores per socket, forcing applications to re-write for parallel processing, or use virtualization technologies.
Cloud Computing - every session this week will mention Cloud Computing.
Converged Fabrics - some new approaches are taking shape for datacenter design. Fabric-based infrastructure would benefit from converging SAN and LAN fabrics to allow pools of servers to communicate freely to pools of storage.

He sprinkled fun factoids about our world to keep things entertaining.

50 percent of today's 21-year-olds have produced content for the web. 70 percent of four-year-olds have used a computer. The average teenager writes 2,282 text messages on their cell phone per month.
This year, Google averaged 31 billion searches per month, compared 2.6 billion searches per month in 2007.
More video has been uploaded to YouTube in the last two months than the three major US networks (ABC, NBC, CBS) have aired since 1948.
Wikipedia averages 4300 new articles per day, and now has over 13 million articles.
This year, Facebook reached 500 million users. If it were a country, it would be ranked third. Twitter would be ranked 7th, with 69% of their growth being from people 32-50 years old.
In 1997, a GB of flash memory cost nearly $8000 to manufacture, today it is only $1.25 instead.
The computer in today's cell phone is million times cheaper, and thousand times more powerful, than a single computer installed at MIT back in 1965. In 25 years, the compute capacity of today's cell phones could fit inside a blood cell. See [interview of Ray Kurzweil] on the Singularity for more details.

The Virtualization Scenario: 2010 to 2015

The third keynote covered virtualization. While server virtualization has helped reduce server costs, as well as power and cooling energy consumption, it has had a negative effect on other areas. Companies that have adopted server virtualization have discovered increased costs for storage, software and test/development efforts.

The result is a gap between expectations and reality. Many virtualization projects have stalled because there is a lack of long-term planning. The analysts recommend deploying virtualization in stages, tackle the first third, so called "low hanging fruit", then proceed with the next third, and then wait and evaluate results before completing the last third, most difficult applications.

Virtualization of storage and desktop clients are completely different projects than server virtualization and should be handled accordingly.

Cloud Computing: Riding the Storm Out

The fourth keynote focus on the pros and cons of Cloud Computing. First they start by defining the five key attributes of Cloud: self-service, scalable elasticity, shared pool of resources, metered and paid per use, over open standard networking technologies.

In addition to IaaS, PaaS and SaaS classifications, the keynote speaker mentioned a fourth one: Business Process as a Service (BPaaS), such as processing Payroll or printing invoices.

While the debate rages over the benefits between private and public cloud approaches, the keynote speaker brings up the opportunites for hybrid and community clouds. In fact, he felt there is a business model for a "cloud broker" that acts as the go-between companies and cloud service providers.

A poll of the audience found the top concerns inhibiting cloud adoption were security, privacy, regulatory compliance and immaturity. Some 66 percent indicated they plan to spend more on private cloud in 2011, and 20 percent plan to spend more on public cloud options. He suggested six focus areas:

Test and Development
Prototyping / Proof-of-Concept efforts
Web Application serving
SaaS like email and business analytics
Department-level applications
Select workloads that lend themselves to parallelization

The session wrapped up with some stunning results reported by companies. Server provisioning accomplished in 3-5 minutes instead of 7-12 weeks. Reduced cost of email by 70 percent. Four-hour batch jobs now completed in 20 minutes. 50 percent increase in compute capacity with flat IT budget. With these kind of results, the speaker suggests that CIOs should at least start experimenting with cloud technologies and start to profile their workloads and IT services to develop a strategy.
That was just Monday morning, this is going to be an interesting week!
technorati tags: IBM, GDP, Cloud Computing, virtualization, mobility, BI, CIO, Big Data, Green IT, Google, Twitter, Facebook, IaaS, PaaS, SaaS, BPaaS
Continuing my coverage of the [Data Center 2010 conference], Tuesday afternoon I presented "Choosing the Right Storage for your Server Virtualization". In 2008 and 2009, I attended this conference as a blogger only, but this time I was also a presenter.
| | |
| --- | --- |
| | The conference asked vendors to condense their presentations down to 20 minutes. I am sure this was inspired by the popular 18-minute lectures from the [TED conference] or perhaps the [Pecha Kucha] night gatherings in Japan where each presenter speaks while showing 20 slides for 20 seconds each, This forces the presenters to focus on their key points and not fill the time slot with unnecessary marketing fluff. This also allows more vendors to have a chance to pitch their point of view. |
Here are my charts on SlideShare.net:
I am thankful I had a great turn-out, with nearly every seat taken.
technorati tags: IBM, Storwize V7000, VMware, Hyper-V, PowerVM, zLPAR, Xen, OracleVM, Citrix, KVM, Redhat, RHEV, SVC, TED.com, Pecha Kucha
Mastering the art of stretching out a week-long event into two weeks' worth of blog posts, I continue my coverage of the [Data Center 2010 conference], Tuesday afternoon I attended several sessions that focused on technologies for Cloud Computing.
(Note: It appears I need to repeat this. The analyst company that runs this event has kindly asked me not to mention their name on this blog, display any of their logos, mention the names of any of their employees, include photos of any of their analysts, include slides from their presentations, or quote verbatim any of their speech at this conference. This is all done to protect and respect their intellectual property that their members pay for. The pie charts included on this series of posts were rendered by Google Charting tool.)
Converging Storage and Network Fabrics

The analysts presented a set of alternative approaches to consolidating your SAN and LAN fabrics. Here were the choices discussed:

Fibre Channel over Ethernet (FCoE) - This requires 10GbE with Data Center Bridging (DCB) standards, what IBM refers to as Converged Enhanced Ethernet (CEE). Converged Network Adapters (CNAs) support FC, iSCSI, NFS and CIFS protocols on a single wire.
Internet SCSI (iSCSI) - This works on any flavor of Ethernet, is fully routable, and was developed in the 1990s by IBM and Cisco. Most 1GbE and all 10GbE Network Interface Cards (NIC) support TCP Offload Engine (TOE) and "boot from SAN" capability. Native suppot for iSCSI is widely available in most hypervisors and operating systems, including VMware and Windows. DCB Ethernet is not required for iSCSI, but can be helpful. Many customers keep their iSCSI traffic in a separate network (often referred to as an IP SAN) from the rest of their traditional LAN traffic.
Network Attached Storage (NAS) - NFS and CIFS have been around for a long time and work with any flavor of Ethernet. Like iSCSI, DCB is not required but can be helpful. NAS went from being for files only, to be used for email and database, and now is viewed as the easiest deployment for VMware. Vmotion is able to move VM guests from one host to another within the same LAN subnet.
Infiniband or PCI extenders - this approach allows many servers to share fewer number of NICs and HBAs. While Infiniband was limited in distance for its copper cables, recent advances now allow fiber optic cables for 150 meter distances.

Interactive poll of the audience offered some insight on plans to switch from FC/FICON to Ethernet-based storage:

Interactive poll of the audience offered some insight on what portion storage is FCP/FICON attached:

Interactive poll of the audience offered some insight on what portion storage is Ethernet-attached:

Interactive poll of the audience offered some insight on what portion of servers are already using some Ethernet-attached storage:

Each vendor has its own style. HP provides homogeneous solutions, having acquired 3COM and broken off relations with Cisco. Cisco offers tight alliances over closed proprietary solutions, publicly partnering with both EMC and NetApp for storage. IBM offers loose alliances, with IBM-branded solutions from Brocade and BNT, as well as reselling arrangements with Cisco and Juniper. Oracle has focused on Infiniband instead for its appliances.

The analysts predict that IBM will be the first to deliver 40 GbE, from their BNT acquisition. They predict by 2014 that Ethernet approaches (NAS, iSCSI, FCoE) will be the core technology for all but the largest SANs, and that iSCSI and NAS will be more widespread than FCoE. As for cabling, the analysts recommend copper within the rack, but fiber optic between racks. Consider SAN management software, such as IBM Tivoli Storage Productivity Center.

The analysts felt that the biggest inhibitor to merging SAN and LANs will be organizational issues. SAN administrators consider LAN administrators like "Cowboys" undisciplined and unwilling to focus on 24x7 operational availability, redundancy or business continuity. LAN administrators consider SAN administrators as "Luddites" afraid or unwilling to accept FCoE, iSCSI or NAS approaches.

Driving Innovation through Innovation

Mr. Shannon Poulin from Intel presented their advancements in Cloud Computing. Let's start with some facts and predictions:

Today:

About 25 percent of the [world's population] is connected to the Internet
There are over 2.5 billion photos on Facebook, which runs on 30,000 servers
30 billion videos viewed every month
Nearly all Internet-connected devices are either computers or phones

By 2015:

An additional billion people on the Internet
Cars, televisions, and households will also be connected to the Internet
The world will need 8x more network bandwidth, 12x more storage, and 20x more compute power

To avoid confusion between on-premise and off-premise deployments, Intel defines "private cloud" as "single tenant" and "public cloud" as "multi-tenant". Clouds should be automated, efficient, simple, secure, and interoperable enough to allow federation of resources across providers. He also felt that Clouds should be "client-aware" so that it know what devices it is talking to, and optimizes the results accordingly. For example, if watching video on a small 320x240 smartphone screen, it makes no sense for the Cloud server to push out 1080p. All devices are going through a connected/disconnected dichotomy. They can do some things while disconnected, but other things only while connected to the Internet or Cloud provider.

An internal Intel task force investigated what it would take to beat MIPS and IBM POWER processors and found that their own Intel chips lacked key functionality. Intel plans to address some of their shortcomings with a new chip called "Sandbridge" sometime next year. They also plan a series of specialized chips that support graphics processing (GPU), network processing (NPU) and so on. He also mentioned Intel released "Tukwilla" earlier this year, the latest version of Itanium chip. HP is the last major company to still use Itanium for their servers.

Shannon wrapped up the talk with a discussion of two Cloud Computing initiatives. The first is [Intel® Cloud Builders], a cross-industry effort to build Cloud infrastructures based on the Intel Xeon chipset. The second is the [Open Data Center Alliance], comprised of leading global IT managers who are working together to define and promote data center requirements for the cloud and beyond.

Fabric-Based Infrastructure

The analysts feel that we need to switch from thinking about "boxes" (servers, storage, networks) to "resources". To this end, they envision a future datacenter where resources are connected to an any-to-any fabric that connects compute, memory, storage, and networking resources as commodities. They feel the current trend towards integrated system stacks is just a marketing ploy by vendors to fatten their wallets. (Ouch!)

A new concept to "disaggregate" caught my attention. When you make cookies, you disaggregate a cup of sugar from the sugar bag, a teaspoon of baking soda from the box, and so on. When you carve a LUN from a disk array, you are disaggregating the storage resources you need for a project. The analysts feel we should be able to do this with servers and network resources as well, so that when you want to deploy a new workload you just disaggregate the bits and pieces in the amounts you actually plan to use and combine them accordingly. IBM calls these combinations "ensembles" of Cloud computing.

Very few workloads require "best-of-breed" technologies. Rather, this new fabric-based infrastructure recognizes the reality that most workloads do not. One thing that IT Data Center operations can learn from Cloud Service Providers is their focus on "good enough" deployment.

This means however that IT professionals will need new skill sets. IT administrators will need to learn a bit of application development, systems integration, and runbook automation. Network adminis need to enter into 12-step programs to stop using Command Line Interfaces (CLI). Server admins need to put down their screwdrivers and focus instead on policy templates.
Whether you deploy private, public or hybrid cloud computing, the benefits are real and worth the changes needed in skill sets and organizational structure.
technorati tags: IBM, FCoE, iSCSI, NAS, NFS, CIFS, DCB, CEE, CNA, TOE, SAN, LAN, Convergence, FICON, Ethernet, BNT, Cisco, HP, 3COM, Intel, ODCA, CLI
Continuing my coverage of the Data Center 2010 conference, Tuesday morning I attended several sessions. The first was a serious IT discussion with Mazen Rawashdeh, Technology Executive from eBay, and the second was a lighthearted review of the benefits from Cloud Computing from humorist Dave Barry, and the third focused on re-architecting backup strategies.
eBay – How One Fast Growing Company is Solving its Infrastructure and Data Center Challenges

"It is not the strongest of the species that survives, nor the most intelligent that survives. It is the one that is the most adaptable to change." -- Charles Darwin

So far, this has been the best session I have attended. eBay operates in 32 countries in seven languages, helping 90 million users to buy or sell 245 million items in 50,000 categories. Let's start with some statistics of the volume of traffic that eBay handles:

$2000 traded every second
cell phone sold every six seconds
pair of shoes sold every nine seconds
a major appliance sold every minute
93 billion database actions every day
50 TB of daily ingested daily
code changes to the eBay application are rolled in every day

In 2007, eBay discovered a disturbing trend, that infrastructure costs matched linear growth to business listing volume, which was an unsustainable model. Mazen Rawashdeh, eBay Marketplace Technology Operations, presented their strategy to break free from this problem. They want to double the number of listings without doubling their costs. They are 2 years into their 4 year plan:

Switched from expensive 12U high servers consuming 3 Kilowatts over to open source software on commodity 1-2U server hardware. Mazen owns all the costs from cement floor up to the web server.
Replaced team-optimized key performance indicators (KPI) with a common KPI. The server team focused on transactions per minute. The storage team was focused on utilization. The network team was focused on MB/sec bandwidth. The problem is that changes to optimize one might have negative impact to other teams. The new KPI was "Watts per listing" that allowed all teams to focus on a common goal.
Focused on changing the corporate culture for communicating clear measurable goals so that everyone understands the why and how of this new KPI. You have to spend money to save money in the long run. Consider costs at least 36 months out.
Changed from purchasing servers and depreciating them over 3 years to a lease model with server replacement tech refresh every 18 months. It is a bad idea to keep IT equipment after full depreciation, as energy savings alone on new equipment easily justifies 18-month replacement.
Adopted storage tiers. Storage is purchased not leased because it is more difficult to swap out disk arrays. They have 10-40 PB of disk. They do not use traditional backup, but rather use disk replication across distant locations. They are quick to delete or archive data that does not belong on their production systems.

Their results so far? They have reduced the Watts per listing by 70 percent over the past two years. They were able to double their volume with a relatively flat IT budget.

The Wit and Wisdom of Dave Barry, Humorist and Author




Dave Barry is a humor columnist. For 25 years he was a syndicated columnist whose work appeared in more than 500 newspapers in the United States and abroad, including the [Funny Times] that I subscribe to. In 1988 he won the Pulitzer Prize for Commentary about the election and politics in general. Dave has also written a total of 30 books, of which two of his books were used as the basis for the CBS TV sitcom "Dave's World," in which Harry Anderson played a much taller version of Dave.

I first met Dave about ten years ago at a SHARE conference in Minneapolis, MN. It was good to see him again.

Backup and Beyond




The analyst covered the "Three C's" of backup: cost, capability and complexity. There are many ways to implement backup, and he predicts that 30 percent of all companies will re-evaluate and re-architect their backup strategy, or at least change their backup software, by 2014 to address these three issues. Another survey indicates that 43 percent of companies are considering backup the primary reason they are investigating public cloud service providers.

The top three primary backup software vendors for the audience were Symantec, IBM, and Commvault. An interactive poll of the audience offered some insight:

| | |
| --- | --- |
| | There appears to be shift away from using disk to emulate tape (Virtual Tape Library) and instead use direct disk interfaces. |

Some of the recommended actions were:

Exploit backup software features. On average, people keep 11 versions of backup, try cutting this down to four versions. IBM Tivoli Storage Manager allows this to be done via management class policies.
Implement a separate archive. Once data is archived and backed up, it reduces the backup load of production systems. Any chance to backup semi-static data less frequently will help.
Switch to capacity-based pricing which will allow more flexibility on server options to run backup software.
Implement data deduplication and compression, such as with IBM ProtecTIER data deduplication solution.
Consider a tiered recovery approach, where less critical applications have less backup protection. Many keep 1-2 years of backups, but 90 percent of all recoveries are for backups from the most recent 27 days. Reduce backup retention to 90 days.
Consider adopting a "Unified Recovery Management" strategy that protects laptops and desktops, remote office and branch offices, mission critical applications, and provide for business continuity and disaster recovery.
regularly test your recovery to validate your procedures and assumptions of your recoverability.
While the conference is divided into seven major tracks, it quickly becomes obvious that many of these IT datacenter issues overlap, and that approaches and decisions in one area can easily impact other areas.
technorati tags: IBM, eBay, Marzen Rawashdeh, Dave Barry, TSM, Backup, Unified Recovery
Continuing my post-week coverage of the [Data Center 2010 conference], we had receptions on the Show floor. This started at the Monday evening reception and went on through a dessert reception Wednesday after lunch. I worked the IBM booth, and also walked around to make friends at other booths.
| | |
| --- | --- |
| | Here are my colleagues at the IBM booth. David Ayd, on the left, focuses on servers, everything from IBM System z mainframes, to POWER Systems that run IBM's AIX version of UNIX, and of course the System x servers for the x86 crowd. Greg Hintermeister, on the right, focuses on software, including IBM Systems Director and IBM Tivoli software. I covered all things storage, from disk to tape. For attendees that stopped by the booth expressing interest in IBM offerings, we gave out Starbucks gift cards for coffee, laptop bags, 4GB USB memory sticks and copies of my latest book: "Inside System Storage: Volume II". |
Across the aisle were our cohorts from IBM Facilities and Data Center services. They had the big blue Portable Modular Data Center (PMDC). Last year, there were three vendors that offered these: IBM, SGI, and HP. Apparently, IBM won the smack-down, as IBM has returned victorious, as SGI only had the cooling portion of their "Ice Cube" and HP had no container whatsoever.
| | |
| --- | --- |
| IBM's PMDC is fully insulated so that you can use it in cold weather below 50 degrees F like Alaska, to the hot climates up to 150 degrees F like Iraq or Afghanistan, and everything in between. They come in three lengths, 20, 40 and 53 feet, and can be combined and stacked as needed into bigger configurations. The systems include their own power generators, cooling, water chillers, fans, closed circuit surveillance, and fire suppression. Unlike the HP approach, IBM allows all the equipment to be serviced from the comfort inside. | |
| | |
| --- | --- |
| | This is Mary, one of the 200 employees secunded to the new VCE. Michael Capellas, the CEO of VCE, offered to give a hundred dollars to the [Boys and Girls Club of America], a charity we both support, if I agreed to take this picture. The Boys and Girls Club inspires and enables young people to realize their full potential as productive, responsible, and caring citizens, so it was for a good cause. |
The show floor offers attendees a chance to see not just the major players in each space, but also all the new up-and-coming start-ups.
technorati tags: IBM, booth, LSC29, David Ayd, Greg Hintermeister, PMDC, SGI, HP, VCE, Michael Capellas
Continuing my post-week coverage of the [Data Center 2010 conference], Wednesday evening we had six hospitality suites. These are fun informal get-togethers sponsored by various companies. I present them in the order that I attended them.
Intel - The Silver Lining

| | |
| --- | --- |
| | Intel called their suite "The Silver Lining". Magician Joel Bauer wowed the crowds with amazing tricks. |

| | |
| --- | --- |
| Intel handed out branded "Snuggies". I had to explain to this guy that he was wearing his backwards. | |

i/o - Wrestling with your Data Center?

| | |
| --- | --- |
| | New-comer "i/o" named their suite "Wrestling with your Data Center?" They invited attendees frustrated with their data centers to don inflated Sumo Wrestling suits. |

APC by Schneider Electric - Margaritaville

This will be the last year for Margaritaville, a theme that APC has used now for several years at this conference.

Cisco - Fire and Ice

| | |
| --- | --- |
| Cisco had "Fire and Ice" with half the room decorated in Red for fire, and White for ice. | |

| | |
| --- | --- |
| | This is Ivana, welcoming people to the "Ice" side. |

| | |
| --- | --- |
| This is Peter, on the "Fire" side. Cisco tried to have opposites on both sides, savory food on one side, sweets on the other. | |

CA Technologies - Can you Change the Game?

CA Technologies offered various "sports games", with a DJ named "Coach".

Compellent - Get "Refreshed" at the Fluid Data Hospitality Suite

Compellent chose a low-key format, "lights out" approach with a live guitarist. They had hourly raffles for prizes, but it was too dark to read the raffle ticket numbers.
Of the six, my favorite was Intel. The food was awesome, the Snuggies were hilarious, and the magician was incredibly good. I would like to think Intel for providing me super-secret inside access to their Cloud Computing training resources and for the Snuggie!
technorati tags: IBM, LSC29, Intel, Snuggie, APC, Schneider Electric, Margaritaville, CA+Technologies, Cisco, Compellent, Joel Bauer
Continuing my post-week coverage of the [Data Center 2010 conference], Wendesday afternoon included a mix of sessions that covered storage and servers.
Enabling 5x Storage Efficiency

Steve Kenniston, who now works for IBM from recent acquisition of Storwize Inc, presented IBM's new Real-Time Compression appliance. There are two appliances, one handles 1 GbE networks, and the other supports mixed 1GbE/10GbE connectivity. Files are compressed in real-time with no impact to performance, and in some cases can improve performance because there is less data written to back-end NAS devices. The appliance is not limited to IBM's N series and NetApp, but is vendor-agnostic. IBM is qualifying the solution with other NAS devices in the market. The compression can compress up to 80 percent, providing a 5x storage efficiency.

Townhall - Storage

The townhall was a Q&A session to ask the analysts their thoughts on Storage. Here I will present the answer from the analyst, and then my own commentary.

Are there any gotchas deploying Automated Storage Tiering?

Analyst: you need to fully understand your workload before investing any money into expensive Solid-State Drives (SSD).

Commentary: IBM offers Easy Tier for the IBM DS8000, SAN Volume Controller, and Storwize V7000 disk systems. Before buying any SSD, these systems will measure the workload activity and IBM offers the Storage Tier Advisory Tool (STAT) that can help identify how much SSD will benefit each workload. If you don't have these specific storage devices, IBM Tivoli Storage Productivity Center for Disk can help identify disk performance to determine if SSD is cost-justified.

Wouldn't it be simpler to just have separate storage arrays for different performance levels?

Analyst: No, because that would complicate BC/DR planning, as many storage devices do not coordinate consistency group processing from one array to another.

Commentary: IBM DS8000, SAN Volume Controller and Storwize V7000 disk systems support consistency groups across storage arrays, for those customers that want to take advantage of lower cost disk tiers on separate lower cost storage devices.

Can storage virtualization play a role in private cloud deployments?

Analyst: Yes, by definition, but today's storage virtualization products don't work with public cloud storage providers. None of the major public cloud providers use storage virtualization.

Commentary: IBM uses storage virtualization for its public cloud offerings, but the question was about private cloud deployments. IBM CloudBurst integrated private cloud stack supports the IBM SAN Volume Controller which makes it easy for storage to be provisioned in the self-service catalog.

Can you suggest one thing we can do Monday when we get back to the office?

Analyst: Create a team to develop a storage strategy and plan, based on input from your end-users.

Commentary: Put IBM on your short list for your next disk, tape or storage software purchase decision. Visit [ibm.com/storage] to re-discover all of IBM's storage offerings.

What is the future of Fibre Channel?

Analyst 1: Fibre Channel is still growing, will go from 8Gbps to 16Gbps, the transition to Ethernet is slow, so FC will remain the dominant protocol through year 2014. Analyst 2: Fibre Channel will still be around, but NAS, iSCSI and FCoE are all growing at a faster pace. Fibre Channel will only be dominant in the largest of data centers.

Commentary: Ask a vague question, get a vague answer. Fibre Channel will still be around for the next five years. However, SAN administrators might want to investigate Ethernet-based approaches like NAS, iSCSI and FCoE where appropriate, and start beefing up their Ethernet skills.

Will Linux become the Next UNIX?

Linux in your datacenter is inevitable. In the past, Linux was limited to x86 architectures, and UNIX operating systems ran on specialized CPU architectures: IBM AIX on POWER7, Solaris on SPARC, HP-UX on PA-RISC and Itanium, and IBM z/OS on System z Architecture, to name a few. But today, Linux now runs on many of these other CPU chipsets as well.

Two common workloads, Web/App serving and DBMS, are shifting from UNIX to Linux. Linux Reliability, Availability and Serviceability (RAS) is approaching the levels of UNIX. Linux has been a mixed blessing for UNIX vendors, with x86 server margins shrinking, but the high-margin UNIX market has shrunk 25 percent in the past three years.

UNIX vendors must make the "mainframe argument" that their flavor of UNIX is more resilient than any OS that runs on Intel or AMD x86 chipsets. In 2008, Sun Solaris was the number #1 UNIX, but today, it is IBM AIX with 40 percent marketshare. Meanwhile HP has focused on extending its Windows/x86 lead with a partnership with Microsoft.

The analyst asks "Are the three UNIX vendors in it for the long haul, or are they planning graceful exits?" The four options for each vendor are:

Milk it as it declines
Accelerate the decline by focusing elsewhere
Impede the market to protect margins
Re-energize UNIX base through added value

Here is the analyst's view on each UNIX vendor.

| | |
| --- | --- |
| | IBM AIX now owns 40 percent marketshare of the UNIX market. While the POWER7 chipset supports multiple operating systems, IBM has not been able to get an ecosystem to adopt Linux-on-POWER. The "Other" includes z/OS, IBM i, and other x86-based OS. |

| | |
| --- | --- |
| HP has multi-OS Itanium from Intel, but is moving to Multi-OS blades instead. Their "x86 plus HP-UX" strategy is a two-pronged attack against IBM AIX and z/OS. Intel Nehalem chipset is approaching the RAS of Itanium, making the "mainframe argument" more difficult for HP-UX. | |

| | |
| --- | --- |
| | Before Oracle acquired Sun Microsystems, Oracle was focused on Linux as a UNIX replacement. After the acquisition, they now claim to support Linux and Solaris equally. They are now focused on trying to protect their rapidly declining install base by keeping IBM and HP out. They will work hard to differentiate Solaris as having "secret sauce" that is not in Linux. They will continue to compete head-on against Red Hat Linux. |

An interactive poll of the audience indicated that the most strategic Linux/UNIX platform over the next next five years was Red Hat Linux. This beat out AIX, Solaris and HP-UX, as well as all of the other distributions of Linux.
The rooms emptied quickly after the last session, as everyone wanted to get to the "Hospitality Suites".
technorati tags: IBM, Steve Kenniston, Real-Time Compression, LSC29, NAS, Easy Tier, DS8000, Storwize V7000, iSCSI, FCoE, AIX, Oracle, Solaris, HP, HP-UX, RedHat, Linux
Continuing my post-week coverage of the [Data Center 2010 conference], Wednesday morning started with another keynote session, followed by some break-out sessions.
Realities of IT Investment

Tighter budgets mean more business decisions. Future investments will come from cost savings. The analysts report that 77 percent of IT decisions are made by CFOs. Most organizations are spending less now than back in 2008 before the recession.

How we innovate through IT is changing. In bad times, risk trumps return, but only 21 percent of the audience have a formal "risk calculation" as part of their purchase plans.

Divestment matters as much as investment. Reductions in complexity have the greatest long-term cost savings. Try to retire at least 20 percent of your applications next year. With the advent of Cloud Computing, companies might just retire it and go entirely with public cloud offerings. Note that this graph the years are different than the ones above, in groups of half-decade increments.

It is important to identify functional dependencies and link your IT risks to business outcomes. Focus on making costs visible, and re-think how you communicate IT performance measurements and their impact to business. Try to change the culture and mind-set so that projects are not referred to as "IT projects" focused on technology, but rather they are "business projects" focused on business results.

Moving to the Cloud

Richard Whitehead from Novell presented challenges in moving to Cloud Computing. There are risks and challenges managing multiple OS environments. Users should have full access to all IT resources they need to do their jobs. Computing should be secure, compliant, and portable. Here is the shift he sees from physical servers to virtual and cloud deployments, years 2010 to 2015:

Richard considers a "workload" as being the combination of the operating system, middleware, and application. He then defines "Business Service" as an appropriate combination of these workloads. For example, a business service that provides a particular report might involve a front-end application, talking through business logic workload server, talking to a back-end database workload server.

To address this challenge, Novell introduces "Intelligent Workload Management", called WorkloadIQ. This manages the lifecycle to build, secure, deploy, manage and measure each workload. Their motto was to take the mix of physical, virtual and cloud workloads all "make it work as one". IBM is a business partner with Novell, and I am a big fan of Novell's open-source solutions including SUSE Linux.

A Funny Thing Happened on the Way to the Cloud....

Bud Albers, CTO of Disney, shared their success in deploying their hybrid cloud infrastructure. Everyone recognizes the Disney brand for movies and theme parks, but may not aware that they also own ABC News and ESPN television, Travel cruises, virtual worlds, mobile sites, and deploy applications like Fantasy Football and Fantasy Fishing.

Two years ago, each Line of Business (LOB) owned their own servers, they were continually out of space, power and HVAC issues forced tactical build-outs of their datacenters. But in 2008, the answer to all questions was Cloud Computing, it slices and dices like something invented by [Ron Popeill], with no investment or IT staff required. However, continuing to ask the CFO for CAPEX to purchase assets that were only 1/7th used was not working out either. That's right, over 75 percent of their servers were running less than 15 percent CPU utilization.

The compromise was named "D*Cloud". Internal IT infrastructure would be positioned for Cloud Computing, by adopting server virtualization, implementing REST/SOAP interfaces, and replicating the success across their various Content Distribution Networks (CDN). Disney is no stranger to Open Source software, using Linux and PHP. Their [Open Source] web page shows tools available from Disney Animation studios.

At the half-way point, they had half their applications running virtualized on just 4 percent of their servers. Today, they run over 20 VMs per host and have 65 percent of their apps virtualized. Their target is 80 percent of their apps virtualized by 2014.

Bud used the analogy that public clouds will be the "gas stations" of the IT industry. People will choose the cheapest gas among nearby gas stations. By focusing on "Application management" rather than "VM instance management", Disney is able to seamlessly move applications as needed from private to public cloud platforms.

Their results? Disney is now averaging 40 percent CPU utilization across all servers. Bud feels they have achieved better scalability, better quality of service, and increased speed, all while saving money. Disney is spending less on IT now than in 2008,

UPMC Maximizes Storage Efficiency with IBM

Kevin Muha, UPMC Enterprise Architect & Technology Manager for Storage and Data Protection Services, was unable to present this in person, so Norm Protsman (IBM) presented Kevin's charts on the success at the University of Pittsburgh Medical Center [UPMC]. UPMC is Western Pennsylvania's largest employer, with roughly 50,000 employees across 20 hospitals, 400 doctors' offices and outpatient sites. They have frequently been rated one of the best hospitals in the US.

Their challenge was storage growth. Their storage environment had grown 328 percent over the past three years, to 1.6PB of disk and nearly 7 PB of physical tape. To address this, UPMC deployed four IBM TS7650G ProtecTIER gateways (2 clusters) and three XIV storage systems for their existing IBM Tivoli Storage Manager (TSM) environment. Since they were already using TSM over a Fibre Channel SAN, the implementation took only three days.

UPMC was backing up nearly 60TB per day, in a 15-hour back window. Their primary data is roughly 60 percent Oracle, with the rest being a mix of Microsoft Exchange, SQL Server, and unstructured data such as files and images.

Their results? TSM reclamation is 30 percent faster. Hardware footprint reduced from 9 tiles to 5. Over 50 percent reduction in recovery time for Oracle DB, and 20 percent reduction in recovery of SQL Server, Microsoft Exchange, and Epic Cache. They average 24:1 deduplication overall, which can be broken down by data category as follows:

29:1 Cerner Oracle
18:1 EPIC Cache
10:1 Microsoft SQL Server
8:1 Unstructured files
6:1 Microsoft Exchange

UPMC still has lots of LTO-4 tapes onsite and offsite from before the change-over, so the next phase planned is to implement "IP-based remote replication" between ProtecTIER gateways to a third data center at extended distance. The plan is to only replicate the backups of production data, and not replicate the backups of test/dev data.

The presentation and supporting case study details on this is available on the [IBM Literature Fullfilment] website.
The show floor closed after Wednesday's lunch, so many people made their last attempts to meet the folks at the booth.
technorati tags: IBM, CFO, Novell, WorkloadIQ, Disney, UPMC, ProtecTIER, TS7650G, deduplication, XIV, Kevin Muha, Norm Protsman, Bud Albers
Wrapping up my post-week coverage of the [Data Center 2010 conference], I stuck through the end to get my money's worth at this conference. As the morning went on, it became obvious many people booked flights or started their weekends prior to the official 3:15pm ending of the last day.
Strategies for Data Life Cycle Management

I prefer the term "Information Lifecycle Management", but the two analysts presenting decided to use DLM instead. Let's start with the biggest challenge faced by the audience.

The problem is not meeting Service Level Agreements (SLA) but Service Level Expectations. When looking at the real business value of IT, you should link IT strategy to business outcomes and directives, align with your CIO's pet initiatives, and position storage as a technology supporting IT Directors goals. Here were the top five goals:

Backup/Recovery Re-architecture
Curtailing Storage Sprawl
Compliance and e-Discovery
Improving Service Levels for Data Availability and Protection
Moving to Cloud Computing

The analysts reviewed both a "Tops Down" and "Bottoms Up" approach. They recommend what they call an "Enterprise Infomration Archive" (what IBM calls Smart Archive, by the way) that provides a better understanding of all data. No greater lie has been told than "Storage is Cheap". Currently, only 10 percent of companies hvae a formal "deletion policy", but the analysts predict this will rise to 50 percent by 2013.

The "Bottoms Up" approach is focused on modernizing the data center at the storage technology level. There has been a resurgence in interest in ILM solutions, implementing storage tiers, and storage efficiency features like thin provisioning, data deduplication and real-time compression. Cloud Computing can help off-load this effort to someone else.

ILM provides real business value, such as reduce costs, improve quality of service, and mitigate risks. The analysts felt that if you are not partnering with a storage vendor that offers five essential technologies, you should probably change vendors. What are those five essential technologies? I am glad you asked. Watch this [YouTube video] to find out.





Getting the Most From Your Storage Vendor Relationships

The analyst mentioned there are two kinds of storage vendors. Suppliers that sell you solutions, and Partners that work with you to develop unique functionality. He offered some advice:

Allow vendors to analyze and profile your workloads, such as IOPS, MB/sec bandwidth, average blocksize, and so on.
Review your Service level agreements (SLAs), procedures and asset management strategies
Identify upgrade risks, conversion costs, and unintended consequences
Take advantage of vendor engineers and technical staff for skills transfer, best practices, industry trends, and competitive comparisons
Explore different solutions and approaches
Avoid big pitfalls by negotiating and locking in upgrade and maintenance costs, scheduling conversions, and getting any guarantees in writing.

Asking the audience how they currently interact with their storage vendors:

The analyst's "Do's and Don'ts" were good advice for nearly any kind of business negotiation:

Do's:

Keep language simple and enforceable
Limit diagnostic time
Be reasonble with rolling time-lines
Design remedies that keep you whole and are implementable in your environment

Dont's:

Make remedies punitive
Use qualitative measures
Rely on vendor's metrics only
Set terms that expire during life of system

Let the vendor provide best practices after installation, set reasonable expectations, schedule regular reviews, and insist on cross-vendor cooperation, have zero tolerance for finger-pointing between vendors. Depreciate storage equipment quickly.

Crisis Management: Managing Behavioral Consequences

This was the last session of the conference, a workshop to deal with irrational behavior during unexpected events that could disrupt or impact business operations. In the exercise, each table was a fictitious company, and the 7-8 people sitting at each table represented different department heads who had to make recommendations to upper management on how to deal with each disastrous situation presented to us. Decisions had to be made with limited and incomplete information. Each table had to come to a consensus on each action, and a single spokesperson from each table would present the recommendations. Winners of each round got prizes.
Final thoughts?
Plenty of coffee, not enough juice. Power and Cooling were top of mind. The rooms were cold, designed for people wearing suits I imagine. I enjoyed plenty of hot coffee throughout the event. Everyone complained that their smartphones and iPads were running out of electricity. The conference had "recharge" stations with plugs for all kinds of different phones, but the Micro-USB plugs that I needed for my Samsung Vibrant, and the apple connections needed by everyone else's iPhones and iPads, were always taken. I remember when you could charge your cell phone once a week, because you hardly used it to make calls, and now that they can be used to follow Twitter feeds, surf websites, and other actions between sessions, power runs out quickly.
Information Overload. I was one of those following tweets on the HootSuite app on my Android-based smart phone. I was able to meet some of the people I have exchanged blog comments and tweets. One told me that his tweets was his way of taking notes, so that his trip report would be done when he got back to the office. I used to write trip reports also, before blogging and tweeting.
The mood was positive. Overall, all the rival competitors got along well. I had friendly chats with people from Oracle, HP, Cisco, EMC, VCE, and others. People are overall optimistic that the IT industry is set for economic growth in 2011.
The only people who look forward to change are babies in soiled diapers. My impression is that people who were threatened by Cloud Computing now have a better understanding on what they need to do going forward. Yes, this means learning new skills, re-evaluating your backup/recovery procedures, reviewing your BC/DR contingency plans, and a variety of other changes. Those who don't like frequent change should consider getting out of the IT industry. Just sayin'
I suspect this will be my last post of 2010. I will be taking a much-needed break, celebrating the Winter Solstice. To all my readers, I wish you good times over the next few weeks, and a Happy New Year!
technorati tags: IBM, ILM, DLM, SLA, Crisis Management
Continuing my post-week coverage of the [Data Center 2010 conference], Thursday morning had some interesting sessions for those that did not leave town last night.
Interactive Session Results

In addition to the [Profile of Data Center 2010] that identifies the demographics of this year's registrants, the morning started with highlights of the interactive polls during the week.

External or Heterogeneous Storage Virtualization

The analyst presented his views on the overall External/Heterogeneous Storage Virtualization marketplace. He started with the key selling points.

Avoid vendor lock-in. Unlike the IBM SAN Volume Controller, many of the other storage virtualization products result in vendor lock-in.
Leverage existing back-end capacity. Limited to what back-end storage devices are supported.
Simplify and unify management of storage. Yes, mostly.
Lower storage costs. Unlike the IBM SAN Volume Controller, many using other storage virtualization discover an increase in total storage costs.
Migration tools. Yes, as advertised.
Consolidation/Transition. Yes, over time.
Better functionality. Potentially.

Shortly after several vendors started selling external/heterogeneous storage virtualization solutions, either as software or pre-installed appliances, major storage vendors that were caught with their pants down immediately started calling everything internally as also "storage virtualization" to buy some time and increase confusion.

While the analyst agreed that storage virtualization simplifies the view of storage from the host server side, it can complicate the management of storage on the storage end. This often comes up at the Tucson Briefing Center. I explain this as the difference between manual and automatic transmission cars. My father was a car mechanic, and since he is the sole driver and sole mechanic, he prefers manual transmission cars, easier to work on. However, rental car companies, such as Hertz or Avis, prefer automatic transmission cars. This might require more skills on behalf of their mechanics, but greatly simplifies the experience for those driving.

The analyst offered his views on specific use cases:

Data Migration. The analyst feels that external virtualization serves as one of the best tools for data migration. But what about tech refresh of the storage virtualization devices themselves? Unlike IBM SAN Volume Controller, which allows non-disruptive upgrades of the nodes themselves, some of the other solutions might make such upgrades difficult.
Consolidation/Transition. External virtualization can also be helpful, depending on how aggressive the schedule for consolidation/transition is performed.
Improved Functionality/Usability. IBM SAN Volume Controller is a good example, an unexpected benefit. Features like thin provisioning, automated storage tiering, and so on, can be added to existing storage equipment.

The analyst mentioned that there were different types of solutions. The first category were those that support both internal storage and external storage virtualization, like the HDS USP-V or IBM Storwize V7000. He indicated that roughly 40 percent of HDS USP-V are licensed for virtualization. The second category were those that support external virtualization only, such as IBM SAN Volume Controller, HP Lefthand and SVSP, and so on. The third category were software-only Virtual Guest images that could provide storage virtualization capabilities.

The analyst mentioned EMC's failed product Invista, which sold less than 500 units over the past five years. The low penetration for external virtualization, estimated between 2-5 percent, could be explained from the bad taste that left in everyone considering their options. However, the analyst predicts that by 2015, external virtualization will reach double digit marketshare.
Having a feel for the demographics of the registrants, and specific interactive polling in each meeting, provides a great view on who is interested in what topic, and some insight into their fears and motivations.
technorati tags: IBM, ITIL, storage growth, unstructured data, external, storage virtualization, SVC, Storwize V7000, HDS, USP-V, EMC, Invista, HP, Lefthand, SVSP
Hi everyone! It's Sunday, and I have arrived safely to Orlando, Florida. It actually took me 25 hours to get here, due to mechanical problems on the plane, and an unexpected overnight stay in Chicago. My checked bags unfortunately got misplaced in Chicago, and will hopefully arrive later today.
In past years, IBM ran three separate storage events. One for IT executives, one for technical storage administrators, and one for IBM Business Partners. This year, we have combined all three into one event: IBM Edge. There are three distinct venues: Executive Edge is for the CIOs and IT Directors, Technical Edge for the storage administrators, and Winning Edge is for the IBM Business Partners.
I will be spending most of my time at the Technical Edge events. This year, I was on the review board, and spent much of the last three weeks reviewing a good portion of the 249 presentation topics that will be given this week.
If you have never been to IBM storage events in the past, or it has been awhile since your last one, you can review my blog posts from prior years to get familiar. I have them collected here in my January post [Mark your Calendars - Upcoming Events].
Here is my tentative plan for the week, in case you want to find me. The table is color-coded. White for sessions I am merely attending, and yellow for those sessions that I am presenting or participating as part of a panel.
| | | |
| --- | --- | --- |
| Monday | Topic | Room |
| 8:00-10:00am | Opening General Session | Bonnet Creek Ballroom |
| 10:30-12:00 | Technical Edge Main Tent | Waldorf Astoria Ballroom |
| 1:00-2:15pm | Understanding Your Options for Storing Archive Data to Meet Compliance Challenges | Flagler room |
| 2:30-3:45pm | IBM TotalStorage Productivity Center: New Features and Functions | Hamilton & Indian |
| 4:15-5:30pm | IBM Watson: How it Works and What it Means for Society Beyond Winning Jeopardy! | Gilchrist |
| Evening | Reception and Concert | Solution Center |
| Tuesday | Topic | Room |
| 9:00-10:15 | IBM Building Blocks for Technical Computing | Manatee |
| 10:30-11:45 | IBM Tivoli Storage Manager as a Cloud Backup Service | Dade |
| 1:00-2:15 | IBM SMB Solutions for Cloud | Manatee |
| 2:30-3:45 | Introducing the IBM SmartCloud Virtual Storage Center | Citrus |
| 4:15-5:30 | Using Social Media for IBM System Storage Birds of a Feather | Flagler |
| Wednesday | Topic | Room |
| 9:00-10:15 | Data Footprint Reduction: Understanding IBM Storage Efficiency Options | Orange |
| 10:30-11:45 | IBM Active Cloud Engine Implementation on IBM SONAS 1.3 and IBM Storwize V7000 Unified | Columbia |
| 1:00-2:15 | Introducing VMware vSphere Storage Features | Hamilton & Indian |
| 2:30-3:45 | IBM's Storage Strategy in the Smarter Computing Era | Bonnet Creek Salon |
| 4:15-5:30 | IBM SONAS and the IBM Cloud Storage Taxonomy | Dade |
| Evening | Dinner and Concert | SeaWorld |
| Thursday | Topic | Room |
| 9:00-10:15 | IBM Watson: How it Works and What it Means for Society Beyond Winning Jeopardy! | Bonnet Creek Salon |
| 10:30-11:45 | IBM Tivoli Storage Productivity Center Overview and Update | Bonnet Creek Salon |
| 1:00-2:15 | Encryption and Key Management in the Cloud: The Top 6 Concerns to Ensure a Secure and Reliable Solution | Nassau |
| 2:30-3:45 | IBM SmartCloud Enterprise -- Object Storage | Hamilton & Indian |
| 4:15-5:30 | Smarter Storage for Smarter Computing | Sarasota |
| 5:30-??? | Storage "Free-for-All" moderated by Scott Drummond | Ballroom I |
| Friday | Topic | Room |
| 9:00-10:15 | How Real-Time Compression Can Maximize Storage Efficiency for Production Applications | Hamilton & Indian |
| 10:30-11:45 | NAS File Systems: Access and Authentication | Citrus |
It's going to be a fun and busy week! I will be tweeting throughout the week. You can follow me on Twitter at [@az990tony]. You can also follow tweets marked #IBMstorage and #IBMedge from others.
technorati tags: IBM, Edge, Executive Edge, Technical Edge, Winning Edge, Twitter, @az990tony, #IBMedge
This week, I will be in Las Vegas for the 30th annual [Data Center Conference]. For those on Twitter, follow the conference on hashtag #GartnerDC, and follow me at [@az990tony].
t Once again, I will be working the IBM Exhibition Booth of the Solution Showcase, attending keynote and break-out sessions, and meeting with clients and analysts. Today is mostly setting up the booth, getting my registration badge and materials, an orientation meeting for first-timers, and finish off the evening with a networking event to get the party started!
Traffic to and from the hotel was a mess today because of the [Las Vegas Strip at Night Rock-n-Roll Marathon]. The entire Las Vegas Boulevard was blocked off from 2pm to 11pm, causing taxis some headaches getting to and from each hotel. This marathon included a "Stiletto Dash" where women had to run in shoes that had at least three inch heels! (Only in Las Vegas!)
The conference is organized into 8 tracks:
Navigating the Journey to Cloud-Delivered Services
Achieving and Maintaining IT Operational Excellence
Modernizing Your Storage Strategy to Keep Pace with Burgeoning Demand
Ensuring Your Business Continuity Management Plan Reflects Today's Realities and Tomorrow's Challenges
Virtualization: Moving at Light Speed While Leveraging Your Existing Investments
The Future of Servers and Operating Systems
Data Center Modernization: Staying Agile in Chaotic Times
Pervasive Mobility: What Infrastructure and Operations Needs to Know Now
I am glad to see that storage got its own track this year! If you are attending the conference, here are the sessions that IBM is featuring for Monday:
IBM: Watson and Your Data Center

This is a lunch-time talk. Steve Sams, IBM VP of Sites and Facilities, will explain how to leverage Watson-like analytic approaches to provide flexible, cost-effective data center solutions. Analytics can be used to better align IT to the business needs, optimize server, storage and network utilization and improve data center design.

IBM: University of Rochester Medical Center cracks the code on data growth

Rick Haverty, Director of Infrastructure for University of Rochester Medical Center (URMC), will discuss how his team built a storage strategy that transformed their environment to bring savings right to their bottom line without sacrificing the speed, criticality and performance requirements of their imaging and EMR systems. I will be there to introduce Rick at the beginning, and then moderate the Q&A after the talk.

Solution Showcase Reception

The Solution Showcase opens up Monday night with a reception, serving food and drinks. Look for the IBM Portable Mobile Data Center (PMDC), the big trailer on the show floor. We also have an exhibit booth, across from the PMDC, to ask questions and talk with various IBM experts. You can look for me and the other experts wearing white lab coats!
It's gearing up to be a great week in Vegas!
This week, I will be in Las Vegas for the 30th annual [Data Center Conference]. For those on Twitter, follow the conference on hashtag #GartnerDC, and follow me at [@az990tony]. IBM is a Global Partner and Platinum Sponsor for this event. Here is a recap of some of the Monday morning keynote sessions:
Welcome and Introduction

Monday morning kicked off with a welcome introduction from the conference coordinators. This is the highest attendance for this conference in its 30 year history, with 60 percent of the attending for their first time, and 18 percent only once before. This is the fourth time I am attending. Half of the attendees represent corporations with 20,000 employees or more, the other half from smaller companies and government agencies. The top five industries represented are financial services, public sector, healthcare, manufacturing, and energy.

This conference uses a clever "interactive polling" where hand-held devices can be used to select choices, and results of over 800 voters are presented immediately on the big screen. For IT budgets, 42 percent plan to increase next year, 32 percent flat, and 26 percent lower, which are similar to the numbers last year. Of nine different IT challenges, the top three were managing storage growth, power/cooling issues, and adopting a Cloud strategy.

Top 10 Trends and how they will impact Data Center IT

The analyst presented top 10 business, technology and societal trends that will impact IT. He added a last-minute eleventh issue that he felt will impact everyone in 2012:

Consumerization and the Tablet. Back in 1997, a GB of flash memory cost $7,992 US dollars, and today that same GB costs only 25 cents. Employees are bringing their own devices to the workplace, and expecting IT support.
Infinite Data Center. You may never have to expand your floorspace again. Improvements in server and storage density can allow you to continually upgrade in place.
Energy Management. Data centers consume 100x more energy than the offices they support. The cost of energy is on part with IT equipment. Energy management is becoming an enterprise-wide discipline. A key performance indicator (KPI) can be "compute per kW" or "compute per Square foot".
Context Awareness. There are hundreds of thousands of apps for Android-based smart phones and iPhones. Context awareness allows an app to help business travelers in airports know what restaurants are nearby, their flight status, and alternate flights available, based entirely on their location.
Hybrid Clouds. By 2013, over 60 percent of cloud adoption will be to redeploy existing apps like email. Some 80 percent of cloud initiatives will be private or hybrid configurations. Customers want "good enough" technology, and thus Cloud will be mostly an augmentation strategy.
Fabric Computing. The opposite of fully-integrated stacks is the notion of having compute, memory and storage joined together via an interconnect fabric with software to manage the entire environment.
IT Complexity. Robert Glass's Law states that for every 25 percent increase in functionality, there is a 100 percent increase in complexity. See Roger Session's whitepaper [The IT Complexity Crisis: Danger and Opportunity] for more on this.
Patterns and Analytics. Big data and business analytics is a key platform. This is expected to grow 60 percent CAGR.
Impact of Virtualization. Virtualizing your environment should be considered a continuous process, not a one-time project. Many companies are running x86 servers at less than 55 percent, which the speaker considers under-utilized. Virtual Desktop Infrastructure (VDI) is a trade-off, may cost more but have other business benefits to consider. The problem is that many IT shops are organized vertially (a server team, storage team, network team) but problems surface horizontally, and there is no "ownership" for the resolution. Some use "tiger teams" to address this. Companies should reward lateral thinking.
Social Media. Of the ommunications on cell phones by college students, 98.4 percent are text messages, and only 1.6 percent voice phone calls. People search Google for "what was", but they search Twitter for "what is". Most of the growth on Twitter are in the 39-52 year-old demographic. The analyst felt that if your company is blocking or restricting access to facebook, twitter, youtube or other social networking sites, then shame on you. I agree!
Flooding in Thailand. Over two million square feet of HDD production space were flooded, and this will impact HDD prices for 2012. Already, a 2TB drive that was selling for $79 at local store is now selling for $190.

How To Get Your CFO's Support For Strategy and Funding

In the first of a series of "mastermind interviews", the analyst interviewed their own CFO Chris Lafond. Ultimately, it is about business results. They have grown annual 15-20 percent, from 250 million in 2003 to 1.3 billion US dollars in 2011 for annual revenue, 4600 employees, doing business in 85 countries. The company is focused on three business areas: Research, Consulting, and Events like this one. Chris does not approve 3-5 year projects, and instead requests projects be broken up into year-long phases. ROI can be very misleading, and he asks instead for benefits and contributions to initiatives.

It is important to keep the horse in front of the cart. Accounting departments should not drive business decisions. For example, companies should not move to the public cloud just so that the accounting department can shift from CAPex to OPex. Try to depreciate as soon as possible. Likewise, green technologies and social responsibility are factors, but not drivers of business decisions. Acquisitions are a natural evolution of the market, so risk mitigation strategies should be in place in case your vendor of choice is acquired by someone you don't like.

For BC/DR planning, the analyst has a single Data Center approach, but Chris indicated that IT is looking to expand this. Their single datacenter for one part of their business was in Florida, and the other in Massachusetts, and both impacted by Hurricanes or Earthquakes recently.

The "lightning round" asked Chris his thoughts, either thumbs up, thumbs down, or neutral, on single ideas or concepts. I liked this part of the interview!

Chargeback? Thumbs down. He doesn't feel you should have internal fighting over charge rates. He prefers showback instead.
BYO Device with stipend? Thumbs down, but inevitable. Giving people a chunk of money to buy their own laptop, smart phone or tablet of choice may wreak havoc on the IT department for support and service.
Telepresence? Thumbs down. Cool, but very expensive. I don't think people are prepared to exploit the benefits of this.
Corporate apps on public "app stores"? Thumbs down. Concerns over security and integration is main issue.
Access to Social Networks? Thumbs up. This is how employees communicate and collaborate. Don't stifle them doing the right things just because you are afraid they might waste 20 minutes on Facebook per day.
Your IT budget? It's up slightly 1-5 percent for 2012.
Cloud? Promising, some challenges related to integration and security.

Chris finished up with a story about an application team that indicated that they would need to make 100 customizations to an off-the-shelf general ledger financial application. Chris and the other executives asked to be presented each and every customization, and he was able to eliminate most of them.
Positive comments I heard from the audience was that these keynotes had real "meat" to them, and not just full of cliches and platitudes that is common for keynote sessions. I would have to agree.
technorati tags: IBM, #GartnerDC, Tablet, Consumerization, Hybrid+Cloud, KPI, Thailand, HDD, Chargeback, Showback, CFO
Continuing my coverage of the 30th annual [Data Center Conference]. Here is a recap of the Monday afternoon sessions:
IBM Watson and your Data Center

Steve Sams, IBM VP of Site and Facilities Services, cleverly used IBM Watson as a way to explain how analytics can be used to help manage your data center. Sadly, most of the people at my table missed the connection between IBM Watson and Analytics. How does answering a single trivia question in under three seconds relate to the ongoing operations of a data center? If you were similarly confused, take a peak at my series of IBM Watson blog posts:




Devising a Cloud Computing Strategy

The analyst who presented this topic was probably the fastest-speaking Texan I have met. He covered various aspects of Cloud Computing that people need to consider. Why hasn't Cloud taken off sooner? The analyst feels that Cloud Computing wasn't ready for us, and we weren't ready for Cloud Computing. The fundamentals of Cloud Computing have not changed, but we as a society have. Now that many end users are comfortable consuming public cloud resources, from Facebook to Twitter to Gmail, they are beginning to ask for similar from their corporate IT.

Legal issues - see this hour-long video, [Cloud Law & Order], which discusses legal issues related to Cloud Computing.
Employee staffing - need to re-tool and re-train IT employees to start thinking of their IT as a service provider internally.
Hybrid Cloud - rather than struggle choosing between private and public cloud methodologies, consider a combination of both.




University of Rochester Medical Center (URMC) Cracks Code on Data Growth

Often times, the hour is split, 30 minutes of the sponsor talking about various products, followed by 30 minutes of the client giving a user experience. Instead, I decided to let the client speak for 45 minutes, and then I moderated the Q&A for the remaining 15 minutes. This revised format seemed to be well-received!

University of Rochester is in New York, about 60 miles east of Buffalo, and 90 miles from Toronto across Lake Ontario. Six years ago, Rick Haverty joined URMC as the Director of Infrastructure services, managing 130 of the 300 IT personnel at the Medical Center. I met Rick back in May, when he presented at the IBM [Storage Innovation Executive Summit] in New York City.

URMC has DS8000, DS5000, XIV, SONAS, Storwize V7000 and is in the process of deploying Storwize V7000 Unified. He presented how he has used these for continuous operations and high availability, while controlling storage growth and costs.

The Q&A was lively, focusing on how his team manages 1PB of disk storage with just four storage administrators, his choice of a "Vendor Neutral Archive" (VNA), and his experiences with integration.
This was a great afternoon, and I was glad to get all my speaking gigs done early in the week. I would like to thank Rick Haverty of URMC for doing a great job presenting this afternoon!
technorati tags: IBM, Steve Sams, Watson, Analytics, Cloud Computing, Hybrid Cloud, University of Rochester, Medical Center, URMC, Rick Haverty, SONAS, Storwize V7000, XIV, DS8000, DS5000
The first day had various breakout sessions in the afternoon.
Understanding Your Options for Storing Archive Data to Meet Compliance Challenges

I presented IBM's Smart Archive strategy and the storage products IBM offers to archive data and meet compliance regulations:

The differences between backup and archive, including a few of my own personal horror stories helping companies who had foolishly thought that keeping backup copies for years would adequately serve as their archive strategy
The differences between Write-Once Read-Many (WORM) media, and Non-Erasable, Non-Rewriteable (NENR) storage options.
How disk-only archive solutions become "space heaters" for your data center.
An overview of the various storage hardware options from IBM.
How LTFS can be incorporated into an archive solution, such as [Crossroads Systems' StrongBox® solution].
An explanation of the different IBM software offerings to help complement the storage hardware choices.

 

IBM TotalStorage Productivity Center (TPC): New Features and Functions

Mike Griese, IBM program manager for TPC, presented the latest in TPC 5.1 version announced this week. His session was organized into four key sections:

Insights - TPC 5.1 integrates COGNOS reporting, which allows custonmization of reports and ad-hoc exploration and analysis. Since the reports are not binary-compiled into the product, IBM can ship new COGNOS reports as templates outside the normal TPC release schedule. Also, TPC 5.1 got smarter on reporting on server virtualization hypervisor environments to avoid double-counting.


Recommendations - TPC 5.1 can analyze your usage patterns across the entire data center and make recommendations to move data from one storage tier to another. You can then act on these recommendations by moving data from one tier to another, either "up-tier" to faster storage, or "down-tier" to less expensive storage, using a storage hypervisor like IBM SAN Volume Controller. This is complementary to features like Easy Tier which optimize within a single disk system.


Performance - TPC 5.1 uses a new web-based GUI, based on AJAX, HTML5 and Dojo widgets, inspired by the IBM XIV GUI, and similar to the web-based GUI of SAN Volume Controller, Storwize V7000 and SONAS.


Optimization - TPC 5.1 allows you to optimize for Cloud by introducing a new RESTful API for storage provisioning and support for SONAS environments. This will allow upward-integration to products like [IBM Service Delivery Manager] and [Tivoli Storage Automation Manager].

Mike also explained the new TPC 5.1 packaging. Instead of having a variety of components like "TPC for Disk", "TPC for Data", and "TPC for Replication", the new packaging simplifies this down to two levels of functionality. The basic level supports block-level devices, including disk performance, replication and SAN fabric management. The advanced level adds support for files and databases, including support for Cloud management such as SONAS environments.

Dan Zehnpfennig, Solution Architect, talked about his experiences installing TPC 5.1 and how this was much improved over previous TPC versions.

IBM Watson: How it Works and What it Means for Society Beyond Winning Jeopardy!

I presented how IBM Watson works, how it played the Jeopardy! game show last year, and how IBM has helped clients use the technology to solve real-world problems.

Understanding the IBM Grand Challenge, how it compares to the IBM Deep Blue chess playing computer
How IBM Watson works, the hardware, the software, and the algorithms involved
How to build your own "Watson Jr." in your own basement, based on my [popular instructions I published last year].
Examples of how the technology is being used in Healthcare and Financial Services

If you missed it, I will be repeating this session on IBM Watson on Thursday.
Tonight we have the grand opening reception of the Solution Center and a concert featuring Grace Potter & the Nocturnals!
technorati tags: IBM, Archive, Compliance, WORM, NENR, Mike Griese, , Dan Zehnpfennig, Tivoli Storage, Productivity Center, TPC, Watson, Healthcare, Financial Services, Wellpoint, Seton, CitiGroup
This week, I am in Orlando, Florida presenting, blogging and tweeting at the IBM Edge conference. The first day began with opening main tent sessions. Deon Newman, IBM VP of Marketing, was the emcee. The four-person [Bella Electric Strings] rocked the house with some electric violins.
Game Change on a Smarter Planet: A New Era in IT

Rod Adkins, IBM Senior VP for the Systems and Technology Group, presented IBM's Smarter Computing strategy. For those not familiar with this, a little context might help.

Back in 2008, IBM launched its corporate-wide strategy called "Smarter Planet", which focused on solving the world's biggest problems through the effective use of Information Technology. To get there, everything needs to be instrumented to monitor and gather information, interconnected with centralized processing, and analyzed through intelligent algorithms.

Over the past few years, this general approach has been made more specific to tackle problems in particular industries. Detailed approaches like Smarter Cities, Smarter Energy, Smarter Education, Smarter Retail, Smarter Water and Smarter Food, are a few examples of this.

As IBM pursued solutions in each of these areas, clients realized they needed some guidance on the underlying IT infrastructure needed to deploy these solutions. Last year, IBM launched the Smarter Computing, which I [explained in great detail in my blog post last March].

Designed for the Data - to be fair, IBM systems have always been designed for the data. When the System/360 first came out, the bulk of data was stored in structured databases, so systems were designed for this. Today, over 80 percent of data is unstructured, not in a database, so the design and approach for systems today must reflect that new reality. For example, Big Data analytics is often used against spreadsheets, documents, social media feeds, and other unstructured sources.


Workload-Optimized Systems - There are two ways to have a workload-optimized system. The first is to start with general purpose components and tune them, and the second is to integrate expertise into the design.


Managed with Cloud technologies - Cloud computing has introduced new levels of standardization, automation and virtualization.

Rod wrapped up his session discussing the IBM PureSystems family of expert-integrated systems that IBM announced in April. This includes the PureFlex infrastructure system and the PureApplication platform system.

A New Approach to Storage

Brian Truskowski, IBM General Manager for System Storage and Networking, presented IBM's new approach to storage to support Smarter Computing environments.

Efficient by Design - Storage needs to be designed for the data, to store it efficiently, and be able to scale in the expected growth, driven by trends such as Big Data analytics.


Self-Optimizing - Storage needs to be self-optimizing for their particular application workloads, to avoid manual performance tuning efforts. Policies to handle Qualities of Service help optimize performance and costs based on business requirements.


Cloud Agile - Storage needs to be part of a virtualized environment, managed by Cloud technologies. This includes working seemlessly in environments with server hypervisors, storage hypervisors, virtual LANs, SANs and tape libraries.

With this new approach, clients will be able to increase competitiveness, while reducing both capital and operational expenses.

Snowball Studios

Yoni Cohen is the founder and CEO of Snowball Studios. They started with five artists, and grew to 60 people in a few years to take on bigger projects. They produce digital animation for television shows and commercials.

Despite their small size, they have a dedicated "IT" department. In addition to developing in-house tools for the artists to produce animation, they also were tasked to find the best storage solutions. Files storing 3D video can be quite large. After exhausting research into all the storage options, they chose IBM, and complemented this with the Real-Time Compression appliance for their NAS environments.

The results were stunning. A project that took 417GB before took only 148GB. a 64 percent data footprint reduction! He found he got this 3x reduction across his environment.

University of Rochester Medical Center (URMC)

University of Rochester is in New York state, about 60 miles east of Buffalo, and 90 miles from Toronto across Lake Ontario. Six years ago, Rick Haverty joined URMC as the Director of Infrastructure services, managing 130 of the 300 IT personnel at the Medical Center. I met Rick last year, when he presented at the [IBM Storage Innovation Executive Summit] in New York City. Last December, I co-presented with Rick on a session for SONAS at the [Data Center Conference].

URMC has DS8000, DS5000, XIV, SONAS, Storwize V7000 and is in the process of deploying Storwize V7000 Unified. He presented how he has used these for his Vendor Neutral Archive (VNA). For Rick, the IT Infrastructure has become the new "dial tone", everyone expects it to work 100 percent of the time.

For those not familiar with VNA, Rick has 36 different departments, and each was storing archives of their medical images in separate silos of storage. Using software from [Acuo Technologies], he was able to have all 36 different PACS systems store data onto a single storage repository. The side benefit is that all medical images are now readily available to the Electronic Medical Records (EMR) system.

Main Tent for Technical Edge

After the opening session, the folks in Technical Edge moved to a different room for the main tent session. Mike Kuhn, IBM VP of Systems Lab Services, was the emcee. There were three guest speakers:

Clod Barrera, IBM Distinguished Engineer and Chief Technical Strategist for IBM System Storage, presented on storage trends and directions, and how this will influence workload-optimized systems, Cloud computing, Easy Tier, and Active Cloud Engine.
Jeff Jonas, IBM Fellow and Chief Scientist for IBM Entity Analytics, presented "Fantasy Analytics" which explained his work in the Business Analytics. He used "jigsaw puzzles" as an analogy to help explain for the type of work he is researching.
Dan McMillan, Chief Comedy Officer of his own company, was formerly an engineer, but now stand-up comedian. He poked fun at the IT industry, how things have changed since he was an engineer, and his ideal "Universal Business Translator".
This was a great way to kick off the week!
technorati tags: IBM, Deon Newman, Bella Electric Strings, Rod Adkins, Smarter Planet, Smarter Computing, Brian Truskowski, Smarter Storage, Yoni Cohen, Snowball Studios, Rick Haverty, URMC, SONAS, Storwize V7000, VNA, Acuo Technologies
Continuing my coverage of the 30th annual [Data Center Conference]. Here is a recap of the other Monday morning keynote sessions:
Driving Innovation to Achieve Dramatic Improvements

What is Innovation? It is a process that starts with one or more ideas, that results in change, that creates value. Easier said than done!

Innovation drives business growth. The analyst indicated that the IT infrastructure can either be in the way to impede business growth, neutral to enable growth, or contributing to business growth. Companies often find downtime as an inhibitor to business growth. The analyst gave these typical numbers.

| | | |
| --- | --- | --- |
| Category | Unplanned downtime (hours per year) | Planned Downtime (hours per year) |
| Important | 61 | <200 |
| Business Critical | 26 | <50 |
| Mission Critical | 5 | <12 |

A big inhibitor to change is "cultural inertia", which states that the way things are prevent what they could be. Change requires both rewards and measures. Employees are often uncomfortable with change. Motivation should be with carrots not sticks.

(I often joke that the only people who are comfortable with change are babies with soiled diapers and prisoners on death row!)

The impedence to change is further amplified by leadership because what got them into their positions was their history of success, and often leaders perpetuate what worked for them in the past.

"There is nothing so useless as doing efficiently that which should not be done at all."
--- Peter Drucker

Nothing lasts forever, and companies should not try to avoid the inevitable. Innovators need to see themselves as change agents. the analyst feels that less than 10 percent of IT will adopt innovation to enact dramatic change. The analyst took a poll of the audience asking: Why isn't your IT Infrastructure and Operations more innovative? Over 800 attendees responded. Here were the results:

The analyst suggests treating Innovation like a team sport, with small 2-5 person teams. Search for breakthrough opportunities by setting audacious goals to inspire innovative thinking. What approach are most people doing today? Here are some polling results:

The analyst suggest it is more important to establish a culture of innovation first, and process second. Skunkworks projects are back in favor. IT folks should avoid the worship of so-called "best practices" as a reason to avoid change in trying something different. To think "outside-the-box" you need to get outside the box, or office, or cubicle, or wherever you work that prevents you from interacting with your internal or external customers. Customers can bring great insights on new approaches to take.

One new approach, born in the Cloud and now coming to the Enterprise is the concept of [DevOps], which consists of promoting collaboration between the "Appplication Development" half of IT, with the "Operations" half. If you never had heard of DevOps before, you are not alone, most of the attendees at this conference hadn't either. Here are the poll results:

Some companies have instituted a "Fresh Eyes" program, asking new-hires and early-tenure employees questions like: What surprised you the most when you joined the company? Was there anything that didn't make sense to you? Do you have any ideas to improve the way we do things?

"In a time of crisis we all have the potential to morph up to a new level and do things we never thought possible"
– Stuart Wilde

Why wait for a crisis?

Facebook: Efficient Infrastructure at a Massive Scale

Frank Frankovsky, the Director of Hardware and Design and Supply Chain at Facebook, was sitting right next to me in the audience. I didn't know this until it was his turn to speak, and he jumps up and walks to the stage! For those who live under a rock and/or are over 40 years old, Facebook is a social media site that allows people to maintain personal profiles, share photos, news and messages, play games, and create groups to organize events. They now support over 800 million accounts, a healthy percentage of the 1.9 billion people on the internet today.

Started in 2004, Facebook was originally hosted on standard server and storage hardware in colocation facilities. Facebook saved 38 percent costs by bringing their operations in-house, building their own servers from parts, and using no third-party software. Facebook has the advantage of owning their entire software stack, leveraging open source as much as possible. They even re-wrote their own PHP compiler, which they pronounce "Hip-Hop", short for high-performance-PHP.

Facebook can stand up a new data center in less than 10 months, from breaking ground to serving users. Most of Facebook's data centers sport a PUE less than 1.5, but their newest one in Prineville, Oregon is down to an amazing 1.07 level for a 7.5 Megawatt facility! How did they do it? Here are a few of their tricks:

Use Scale-Out architecture. Having lots of small servers, scattered in various data centers, allows them to survive a server failure, as well as having the luxury to shut down a datacenter when needed for maintenance reasons.
Free Cooling. Instead of air-conditioning, they pump in cold air from the outside, and send the heated exhaust back outdoors. Frank does not believe servers should be treated like humans, so their data centers run uncomfortably hot. The 50-year climate data is used to determine data center locations that have the optimal "free cooling" opportunities.
Eliminate UPS and PDU energy losses. Rather than running 480 VAC power through UPS that represent a 6 to 12 percent loss, and then PDU that introduce another 3 percent loss getting down to 208 or 120 VAC, Frank's team builds servers that feed direclty off the 480 VAC from the power company. For backup power, they use 48VDC batteries. One set of batteries can backup six racks of servers.
Target 6 to 8 KW per rack. Low-density racks are easier to keep cool.
Build their own IT equipment. Rather than buying commercially-available servers, Frank's team builds 1.5 U servers based on Intel "Westmere" chipset. 1.5U allows for larger fan radius than standard 1U pizza box format. (IBM's iDataPlex uses 2U fans for the same reason!) Facebook has a "Vanity free" design philosophy, so no fancy plastic bezels. In most cases, the covers are left off. Most (65 percent) of their servers are web front-ends. They plan new IT equipment based on Intel's "Sandy Bridge" chipset.
Use SATA drives. They buy the largest SATA drives available, directly from manufacturers, in direct-attach storage (DAS) in their servers. Data is organized in a Hadoop cluster, and they have developed their own internal "Haystack" for photo storage. Despite the floods in Thailand, Facebook has secured all the SATA disk they plan to buy for 2012 from their suppliers.
Use Solid-State drives. Their Database tier uses 100 percent Solid-State drives.

Frank is also a founder for the [Open Compute Project], which takes an "Open source" approach to IT hardware.

Facebook does not bother with hypervisors. Instead, they have adapted their own software to make full use of the CPU natively. This eliminates the "I/O Tax" penalty associated with VMware and other hypervisors.
Of course, not everyone owns their entire software stack, and can build their own servers! It was nice to hear how a company without such limitations can innovate to their advantage.
technorati tags: IBM, Innovation, Peter Drucker, Stuart Wilde, Facebook, Frank Frankovsky, Hadoop, Open Compute
Well it's Tuesday again, and you know what that means... IBM announcements! Yesterday, at the IBM Edge conference here in Orlando, Florida, IBM announced its new apporach to storage, and a whole bunch of storage products, enhancements, and services. I will focus on some key ones here, and save the rest for next week.
IBM SAN Volume Controller (SVC) v6.4

The SVC is IBM's enterprise-class storage hypervisor. The latest software release, v6.4, can be installed on any SVC hardware, from the 2145-8F2 introduced back in 2005, to newer models like the 2145-CG8. Here are the key features:

Fibre Channel over Ethernet (FCoE) -- This is complete end-to-end support. For SVC units with 10GbE ports, these ports can be now be used for FCoE. This allows hosts to attach to SVC via FCoE, allows SVC node-to-node communication for clustering, and allows SVC to communicate to back-end devices via FCoE.


Real-Time Compression -- IBM ported over the patent Random Access Compression Engine (RACE) from the Real-Time Compression Appliances to SVC v6.4. This allows primary data, accessed via block-based protocols, to be compressed up to 80 percent. This feature is an extra priced feature by TB.


Non-Disruptive Volume move between I/O Groups -- If you don't already have SVC, you don't need to worry about this. For existing SVC customers, this allows volumes to be associated with two or more I/O groups, and that you can add or remove I/O groups non-disruptively. For example, if you want to move a volume from IOG1 to IOG2, then you add IOG2 to the list of I/O groups for the volume, let the multi-pathing software discover the additional paths, the remove IOG1, which then marks the previous IOG1 paths inactive. All this can be done while applications read and write data.


Dedicate FCP ports for Replication -- If you activate the two 10GbE Ethernet ports for FCoE, you can free up two FCP ports that you can dedicate for long-distance Metro Mirror or Global Mirror.

If you have SVC today, but are running an old release like v4.3 or v5.1, I recommennd you upgrade up to at least v6.2.05 release now. This release has been out for a year and is very stable, and serves as a great platform for a later upgrade to SVC v6.4.

IBM Storwize V7000 v6.4

The Storwize V7000 is IBM's midrange storage hypervisor. The latest software release, v6.4, can be installed on existing block-only Storwize V7000 units in the field. The Storwize V7000 v6.4 gets all the features listed above, as well as the following:

Four-way clustering -- Previously, you could cluster two Storwize V7000 controller enclosures together (4 canisters total). To cluster three or four controllers required an RPQ. Now, IBM supports up to four Storwize V7000 controller enclosures (8 canisters) without an RPQ.


Direct Fibre Channel attach -- A lot of people are using Storwize V7000 inside single-rack configurations, so it makes sense not to require a SAN switch for just a few Windows, Linux or VMware servers. An RPQ is now available to allow this to happen.

 

IBM Tivoli Storage Productivity Center (TPC) v5.1

TPC is already ranked one of the best Storage Infrastructure Management software in the market, and this release will just solidify its lead. Key features include:

Upward integration to higher level management systems
A new, intuitive, easy-to-use web-based GUI inspired by the XIV GUI
Integration of COGNOS to be able to generate and customize reports
Support for SONAS systems

There are several presentations on TPC this week that will go into more detail. Check out the [TPC Facebook page].

My latest book Inside System Storage: Volume IV is now available!

Yes, can you believe it? I have published my fourth volume in my "Inside System Storage" series! It is available in three formats:

Hardcover with dust jacket
Paperback
eBook (Adobe Acrobat PDF)

You can order this, and all my other books, in all formats, directly from my [Author Spotlight] page. The paperback will also be available soon from other online booksellers, search for ISBN 978-1-105-72213-4.

IBM DS3500 Express

The DS3500 is our entry-level block-based device, designed specifically for random I/O workloads. This includes databases, email repositories, traditional business applications, and on-line transactional workloads. Here are the new features:

Dynamic Disk Pooling, similar to what XIV does to reduce disk rebuild times, but using a RAID-6 like approach per chunk of data.
Thin Provisioning using Dynamic Disk Pooling
Asynchronous Logical Unit Access (ALUA) failover
Enhanced FlashCopy, improved scalability, consistency groups and rollback support
VMware API for Array Integration (VAAI) support. This includes Write Same, Extended Copy, and Atomic Test & Set.

The DS3500 replaces the previous models of DS3200, DS3300 and DS3400 models.

IBM DCS3700

The DCS3700 is our entry-level/midrange block-based device, replacing the DCS9900 model, designed specifically for sequential I/O workloads. This includes Big Data analytics, Hadoop, High Performance Computing (HPC), video surveillance, and television broadcasting. It holds 60 drives in a 4U controller enclosure.
For more on any of these announcements, see the [June 4th Announcement Page], or follow the Twitter tag #transformITnow.
technorati tags: IBM, SVC, Storwize V7000, Tivoli Storage, Productivity Center, TPC, DS3500, DCS37000
This week I am in Orlando, Florida for the IBM Edge conference. Tuesday afternoon we had a Birds-of-a-Feather (BOF) session to discuss social media. I was the moderator. We had two independent bloggers on the panel: [Jon Toigo] and [Steve Foskett]. We had several IBM social media experts, including Jack Arnold, Scott Drummond, Mary Hall, Nick Harris, and Rich Swain. Also joining us was Alex Hollingworth, social media expert from Emulex.
At the opening session, Deon Newman suggest we re-tweet him, isn't that plagiarism? What is your take on this?
The important thing is to give credit where it is due. Avoid screen scraping others and passing it off as your own. When you re-tweet someone, you give them credit for their original tweet. You are basically saying, "I could not have said it better myself!" With blogs, you can do the same by linking to other blog posts.
I am active in social media, but am having trouble getting the older colleagues in the IT department to participate. I want them to write down all the knowledge in their heads.
The best way to get employees to do anything new or different is to show them how it benefits them. For example, if the elders are tired of answering the same questions over and over, have them start an internal wiki, blog or knowledgebase to capture the answers to frequent questions. This will save them time, so they can see value for themselves. I suggest looking at IBM Lotus Connections which provides collaboration tools inside your firewall, accessible only to internal employees of the company.
How do we differentiate facts from opinions in our social media writings?
You can always be explicit, for example IMHO stands for "In my humble opinion". I find that blogs are 99 percent opinion, and 1 percent fact, so it is easier to point out the facts linking or citing sources, and let the rest of your writing be considered opinion.
I would like to find people on Linkedin to establish business relationships with the storage administrators, decision makers and influencers within the companies I want to sell to, how do I best do that?
Nobody likes cold calls. If you upgrade to a "Pro" account on LinkedIn, you can send 15 to 25 "Inmail" emails through their system to introduce yourself. Otherwise, consider finding someone in your network that knows them, and arrange for them to provide the mutual introduction for you.
How do I find people to follow related to the topics I am interested in, like storage?
There are tools like [Tweetadder] to help you find people to follow. Or, just search on certain hashtags, and add people you find that use them.
I am concerned about privacy? What can I do to protect my privacy?
Decide up front which topics are off-limits in your blog or other social media. For services like Facebook, check your privacy settings every 30 days. Several people have opted to create a special "Facebook Page" that represents their professional brand, so that the rest of Facebook can be used for friends and family.
I want to start a new blog, which service should I use?
Services like Blogger, Blogspt and TypePad are generally easy to set up. Wordpress is more advanced, but can be more complicated to set up.
I don't care for writing a blog, how can I set up a video blog, or vlog?
Consider creating a channel on YouTube. Another popular site is Vimeo. A "Pro" account of Vimeo provides added features.
I am new to Twitter, what tools should I look into?
I suggest you look at HootSuite. This lets you post to Twitter, Facebook and Linkedin. You can schedule when a tweet will be posted, so you can right them in advance and schedule them for a certain date and time. Also, if you have a blog, you can have Hootsuite send out tweets automatically with the titles and link to each blog post.
How much effort should we put in to Social Media?
As much or as little as you want. Don't force yourself to spend more time than you want. Typically, people spend 1-2 hours per day. Cut down how much you spend watching television to make up the difference. Set up "Google Alerts" that can send you emails when certain phrases appear anywhere. There are also social bookmarking tools like Instapaper, Delicious or Diigo that can save bookmarks in the cloud for things that you want to read, but don't have time to read now.
Which social media would be the best to get chicks.
Writing a technical blog with good quality content. Girls want to be with you. Guys want to be you.
How can I use social media to provide feedback about specific products?
IBM now has a [Reviews and Ratings] for its IBM System Storage products. Consider writing a review today!
Thanks to all of the panel for their help with this!
technorati tags: IBM, IBMedge, BOF, Social Media, Twitter, Linked, Facebook
This week several IBM executives will present at the 28th Annual Data Center Conference here in Las Vegas. Here is a quick recap:
Steve Sams: Data Center Cost Saving Actions Your CFO Will Love

A startling 78 percent of today's data centers were built in the last century, before the "dot com" era and the adoption of high-density blade servers. IBM Vice President of Global Site and Facility Services, Steve Sams, presented actions that can help extend the life of existing data centers, help rationalize the infrastructure across the company, and design a new data center that is flexible and responsive to changing needs.

In one example, an 85,000 square foot datacenter in Lexington had reached 98 percent capacity based on power/cooling requirements. They estimated it would take $53 million US dollars to either upgrade the facility or build a new facility to meet projected growth. Instead, IBM was able to consolidate servers six-to-one, an 85 percent reduction. IBM also was able to make changes to the cooling equipment, redirect airflow and changed out the tiles, re-oriented the servers for more optimal placement, and implement measurement and management tools. The end result? The facility now has eight times the compute capability and enjoys 15 percent headroom for additonal growth. All this for only 1.5 million US dollar investment, instead of 53 million.

IBM builds hundreds of data centers for clients large and small. In addition to the "Portable Modular Data Center"(PMDC) shipping container on display at the Solution Showcase, IBM offers the "Scalable Modular Data Center", a turn-key system with a small 500 to 2500 square foot size for small customers. For larger deployments, the "Enterprise Modular Data Center" offers standardized deployments in 5000 square foot increments. IBM also offers "High Density Zones" which can be perfect way to avoid a full site retrofit.

Helene Armitage: IT-wide Virtualization

Helene is IBM General Manager of the newly formed IBM System Software division. A smarter planet will require more dynamic infrastructures, which is IBM's approach to helping clients through the virtualization journey. The virtualization of resources, workloads and business processes will require end-to-end management. To help, IBM offers IBM Systems Director.

Helene indicated that there are four stages of adoption:

Physical consolidation - VMware and Hyper-V are the latest examples of running many applications on fewer physical servers. Of course, IBM has been doing this for decades with mainframes, and has had virtualization on System i and System p POWER systems as well. A quick survey of the audience found that about 20 percent were doing server virtualization on non-x86 platforms (for example, PowerVM or System z mainframe z/VM)
Pools of resources - SAN Volume Controller is an example solution to manage storage as a pool of disparate storage resources. Supercomputers manage pools of servers.
Integrated Service Management - in the past, resources were managed by domain, resulting in islands of management. Now, with IBM Systems Director, you can manage AIX, IBM i, Linux and Windows servers, including non-IBM servers running Linux and Windows. Service management can provide monitoring, provisioning, service catalog, self-service, and business-aligned processes.
Cloud computing - Helene agreed that not everyone will get to this stage. Some will adopt cloud computing, whether public, private or some kind of hybrid, and others may be fine at stage 3.

For those clients that want assistance, IBM offers three levels of help:

Help me decide what is best for me
Help me implement what I have decided to do
Help me manage and run my operations
With IBM's compelling vision for the future, best of breed solutions, leadership in management software, extensive experience in services, and solid business industry knowledge, it makes sense to tap IBM to help with your next IT transformation.
technorati tags: IBM, GDC09, LSC28, Steve Sams, Helene Armitage, CFO, PMDC, SVC
Continuing my coverage of the 30th annual [Data Center Conference]. we had a Solution Showcase booth open Monday, Tuesday and part of Wednesday.
Here is the IBM System z114 mainframe with David Ayd in his white lab coat.
Dana Grove in the white lab coat shows off the "IBM Watson" simulator to Steve Sams.
Here is a side view, to see how thin the "IBM watson" simulator is.
Across the aisle was the ever-popular IBM Portable Modular Data Center (PMDC)
We were conveniently positioned between the wine and dessert areas. The Solution Showcase is a great opportunity to catch up with the latest technologies and vendors.
technorati tags: IBM, z114, mainframe, David Ayd, Dana Grove, Steve Sams, PMDC
Continuing my coverage of the 30th annual [Data Center Conference]. Here is a recap of some of the Tuesday afternoon sessions:
Brocade: Maximizing Your Cloud: How Data Centers Must Evolve

This was a session sponsored by Brocade to promote their concept of the "Ethernet Fabric". The first speaker, John McHugh, was from Brocade, and the second speaker was a client testimonial, Jamie Shepard, EVP for International Computerware, Inc.

John had an interesting take on today's network challenges. He feels that most LANs are organized for "North-South" traffic, referring to upload/downloads between clients and servers. However, the networks of tomorrow will need to focus on "East-West" traffic, referring to servers talking to other servers.

John was also opposed to integrated stacks that combine servers, storage and networking into a single appliance, as this prevents independent scaling of resources.

The Future of Backup is Not Backup

Primary data is growing at 40 to 60 percent compound annual growth rate (CAGR), but backup data is growing faster. Why? Because data that was not backed up before are now being backed up, including test data, development data, and mobile application data.

Backup costs are 19x more expensive than production software costs. There is an enormous gap in data protection because companies fail to factor this into their budgets. It is not uncommon for IT departments to use multiple backup tools, for example one tool for VMs, and another tool for servers, and a third product for desktops.

part of the problem is identifying who "buys" the backup software. The server team might focus on the operating systems supported. The storage team focuses on the disk and tape media supported. The application owners focus on the features and capabilities for backup that minimize impact to their application.

The analyst organized these issues into three "C's" of backup concerns: Cost, Capability and Complexity. Cost is not just the software license fee for the backup software, but the cost of backup media, courier fees, and transmisison bandwidth. Capability refers to the features and functions, and IT folks are tired of having to augment their backup solution with additional tools and scripts to compensate for lack of capability. Complexity refers to the challenges trying to get existing backup software to tackle new sources like Virtual Machines, Mobile apps, and so on.

Has everyone moved to a tape-less backup system? Polling results found that people are shifting back to tape, either in a tape-only environment, or to supplement their disk or disk-based virtual tape library (VTL). Here are the polling results:

The poll also showed the top three backup software vendors were Symantec, IBM and Commvault, which is consistent with marketshare. However, the analyst feels that by 2014, an estimated 30 percent of companies will change their backup softwar vendor out of frustration over cost, capability and/or complexity.

There are a lot new backup software products specific to dealing with Virtual Machines. Some are focused exclusively on VMware. When asked what tool people used to backup their VMs, the polling results showed the following. NOte that 20 percent for Other includes products from major vendors, like IBM Tivoli Storage Manager for Virtual Environments, as the analyst was more interested in the uptake of backup software from startups.

Some companies are considering Cloud Computing for backup. This is one area where having the cloud service provider at a distance is an actual advantage for added protection. A poll asking whether some or most data is backed up to the Cloud, either already today, or plans for the near future within the next 12 or 24 months, showed the following:

In addition to backup service providers, there are now several startups that offer file sharing, and some are adding "versioning" to this that can serve as an alternative to backup. These include DropBox, SugarSync, iCloud, SpiderOak and ShareFile.

The final topic was Snapshot and Disk Replication. These tend to be hardware-based, so they may not have options for versioning, scheduling, or application-aware capabilities normally associated with backup software. Space-efficient snapshots, which point unchanged data back to the original source, may not provide full data protection that disparate backup copies would provide. Here were polling results on whether snapshot/replication was used to augment or replace some or most of their backups:

Some of his observations and recommendations:

Maintenance is more expensive than acquisition cost. Don't focus on the tip of the iceberg. Some backup software is more efficient for bandwidth and media which will save tons of money in the long run.
Try to optimize what you have. He calls this the "Starbuck's effect". If you just need one coffee, then paying $4.50 for a cup makes sense. But if you need 100 coffees, you might be better off buying the beans.
Design backups to meet service level agreements (SLAs). In the past, backup was treated as one-size-fits-all, but today you can now focus on a workload by workload basis.
Be conservative in adopting new technologies until you have your backup procedures in place to handle data protection.
Backup is for operational recovery, not long-term retention of data. A poll showed two-thirds of the audience kept backup versions for longer than 60 days! Re-evaluate how long you keep backups, and how many versions you keep. If you need long-term retention, use archive process instead.
Recovery testing is a dying art. Practice recovery procedures so that you can do it safely and correctly when it matters most.

The analyst had a series of awesome pictures of large structures, the pyramids of Giza, the Chrysler building, and so on, and how they would look without their foundations in place. Backup is a foundation and should be treated as such in all IT planning purposes.
IT is evolving, but some basic needs like networking and backup procedures don't change. As companies re-evaluate their IT operations for Big Data, Cloud Computing and other new technologies, it is best to remember that some basic needs must be met as part of those evaluations.
Continuing my coverage of the 30th annual [Data Center Conference]. Here is a recap of the Tuesday morning sessions:
Wells Fargo: Data Center Lessons Learned from the Wachovia Acquisition

This was the next in their "Mastermind Interview" series. The analyst interviewed Scott Dillon, EVP and Head of Technology Infrastructure Services for Wells Fargo bank. Some 13 years ago, Wells Fargo merged with Norwest, and three years ago, Wells Fargo merged again, this time with Wachovia bank. Today, the new merged Wells Fargo manages 1.2 Trillion USD in assets, some 12,000 ATMs, and 9,000 branch offices within two miles of 50 percent of the US population.

On the technical side, Scott's team has to deal with 10,000 IT changes per month, spanning 85 discrete businesses that Wells Fargo is involved in. To help drive the consolidation, they formed a culture group called "One Wells Fargo".

Often, Wells Fargo and Wachovia used different applications for the same function. The consolidation team took the A-or-B-but-not-C approach, which means they would either choose the existing application that Wells Fargo was already using (A), or the one that Wachovia was already using (B), but not look for a replacement (C). They also wanted to avoid re-platforming any apps during the merger. This simplified the process of developing target operating models (TOMs).

Before each application cut-over, the consolidation team did dry-run, dress rehearsals and walkthroughs over the phone to ensure smooth success. They wanted a Wachovia account holder to be able to walk into the bank on one day, and then come back the next day as a Wells Fargo account holder, into the same branch office but now with Wells Fargo signage, with minimal disruption.

Wells Fargo also adopted a test-to-learn approach of choosing small test markets to see how well the transition would work before tackling larger, more complicated markets. For example, they started in Colorado, where Wells Fargo has a huge presence, but Wachovia had a small presence.

This was first and foremost a business merger, not just an IT merger. Each decision to 6-18 months to act on, and the IT team spent the last three years working every weekend to make this a reality.

A Satirical Look at Business and Technology

Comedian Bob Hirschfeld presented a light-hearted look at the IT industry. Bob actually attended sessions on Monday at this conference so his satire was exceptionally hard-hitting. He took jabs at the latest IT job requirements, padding on light poles, IBM Watson, social media's impact on dictators, various industry acronyms, virtualization, the various reasons why printer ink is so expensive, and the evil masterminds behind Powerpoint.

Storing Big Data takes a Village

Two analysts co-presented this session on the 12 dimensions of information management that revolve around the volume, variety and velocity of "Big Data".

In the past, it took a while to gather data, and a while to process the data, so annual, quarterly and monthly reports were common. Today, with high-velocity streams like Twitter, especially during cultural events or natural disasters, data is produced and analyzed quickly. It is important to sort the steady-state from the anomalies.

Myth 1: All data fits nicely into relational databases. The analysts feel the concept of putting everything into one big data base is dead. Some data sets are so complicated that traditional database joins would cause smoke to come out of the sides of the servers. Instead, new technologies have emerged, including NoSQL, Cassandra, Hadoop, Columnar databases, and In-memory databases. XML has helped to bring together disparate data formats.

Companies need to adapt to this new reality of Business Analytics. Here is a poll of the audience on how many are in what stage of adaptation:

Myth 2: Everyone will do Big Data with commodity hardware. Businesses want commmercial offerings that don't fail every day. (For example, instead of using open-source Hadoop, consider IBM's [InfoSphere BigInsights] commercial product based on Hadoop designed for the Enterprise).

Myth 3: Big Data is too big for backup. Certainly, traditional full-plus-incremental approaches fail to scale, but that is not the only option you have. Consider disk replication, snapshots, and integrated disk-and-tape blended solutions that adopt a more progressive backup methodology.

Capacity forecasting can be difficult with Big Data. Scale-out NAS systems, including IBM SONAS and the various me-too competitive offerings, were originally focused on High Performance Computing (HPC) and the Media & Entertainment (M&E) industries, are now ready for prime-time and appropriate for other use cases.

It's like the game of Clue, but instead of Professor Plum with the candlestick in the library, it was Chuck with the Cluster in the Closet. To avoid shadow IT creating huge Hadoop Clusters in your closets, encourage the use of Cloud Computing for "sandbox" projects. IBM, Amazon and others offer hosted MapReduce engines for this purpose.

What type of storage do you plan to use for Big Data? The top five, weighted from a list during a poll of the audience were: (78) traditional disk arrays, (71) Scale-out NAS, (46) pre-configured appliances, (30) Hadoop clusters, and (23) Cloud Storage.

Big Data is about doing things differently. Do your employees understand analytical techniques? Your company may need to start thinking about policies for capturing Big Data, storing it correctly, and analyzing it for insights and patterns needed to stay competitive.
It was good to mix reality with a bit of humor. Some of these conference attendees take themselves too seriously, and it is good to be reminded that IT is just part of the overall business operation.
technorati tags: IBM, Wells Fargo, Wachovia, Scott Dillon, , Bob Hirschfeld, Big Data, SONAS, NoSQL, Cassandra, Hadoop, Columnar databases, business analytics
This week I am in Orlando, Florida for the IBM Edge conference. Here is a recap of Day 3.
Data Footprint Reduction: Understanding IBM Storage Efficiency Options

Earlier this year, I wrote a Web article titled [Data Footprint Reduction] which covered data deduplication and compression, and was asked to present this at IBM Edge. I have expanded it to include:

Thin Provisioning
Space-Efficient Point-in-Time copies
Data Deduplication
Compression

After I presented the basic concepts, Sanjay Bhikot, a Unix and Storage admin at RICOH, presented his real-world experiences with data deduplication using the IBM ProtecTIER and real-time compression Beta experience using the SAN Volume Controller (SVC).

IBM Active Cloud Engine Implementation on IBM SONAS 1.3 and IBM Storwize V7000 Unified

John Sing (IBM) presented the latest enhancements in the v1.3.2 release of SONAS and Storwize V7000 Unified.

Introducing VMware vSphere Storage Features

Fellow blogger Stephen Foskett presented this session on VMware's storage features. This included VMware APIs for Array Integration (VAAI), VMware Array Storage Awareness (VASA), vCenter plug-ins, and a new concept he called "vVol" which de-multiplexes the "I/O Blender" that server hypervisors do by tagging individual requests to individual OS guests to provide added benefit. IBM is a leading reseller of VMware, so it makes sense that most of our storage meets all of Steve's requirements for recommendation.

IBM's Storage Strategy in the Smarter Computing Era

Last year, I presented this on the fourth day of the conference, and feedback we received from attendees was that this should have been presented sooner in the week, as it provides great context for the more detailed product presentations.

To address this concern, the IBM executives presented IBM strategy on Monday's keynote session, but allowed me to present this on Wednesday for several reasons:

You may have missed the keynote session. For example, you may not have arrived in time to hear the executives speak due to weather or mechanical problems causing travel delays.
You may have attended the keynote session, but want to hear it again. Maybe you were a bit hung-over, or just may have been overwhelmed with the size and scope of this event. I have read for strategic topics, audiences may have to hear the message five to seven times before they truly appreciate and understand it.
You may want to ask questions, and explore the implications in more detail. While keynote sessions can reach a broader audience, the communication is very much uni-directional. With break-out sessions with a few hundred people, the venue is more intimate and can afford opportunties for information exchange.

This was well attended, so the plan worked!

IBM SONAS and the Cloud Storage Taxonomy