Next week, once again, I will be blogging from beautiful Caesars Palace hotel in Las Vegas, Nevada to report on what I see and hear at the 29th annual Data Center Conference. Here are my posts from 12 months ago when I attended this conference in 2009:
Again we will have a Solutions Showcase with a Portable Modular Data Center (PMDC) and various exhibits. I will be manning the booths, stop on by. Plus, on Tuesday, I will be be speaking! My topic will be "Choosing the right storage for your server virtualization environment."
Those of you on twitter can follow me at [@az990tony] and hash tag #LSC29. I will be available for one-on-one consultations sessions. I am arriving Sunday morning, Dec. 5, and staying through Thursday afternoon, December 9.
Just in time for [Cyber Monday], Volume II of my "Inside System Storage" book series is now available. As I mentioned in my post on the [October 7th Launch announcement], I finally got past all the internal restrictions that prevented this volume from being published earlier.
| | |
| --- | --- |
| | My first book covered my initial 12 months of blogging experience, from September 2006 to August 2007. This book covers the history of my career transition from software engineer developer to marketing strategist. |
| | |
| --- | --- |
| My second book covers the next 8 months, from September 2007 to April 2008, spanning the acquisitions of XIV and Diligent companies that were part of an overall strategic re-alignment of storage within the broader "Systems and Technology Group" of IBM. | |
The books come in a variety of formats, including hardcover with dust jacket, paperback, and online eBook (PDF). My publisher, Lulu, now supports ePub format, so I am investigating the time and effort required to build this format from the source files.
Of course, if reading isn't your cup of tea, you can always go for more traditional gifts, such as [fine silver jewelry] or [Southwestern-style jewelry] offered by my close friends here in Tucson.
Either way, I hope you can help out the US economy get back on its feet!
| | |
| --- | --- |
| | The client that bought these dozen IBM System Storage DS8800 disk systems also bought three DS8700 systems. |
Governor's Celebration of Innovation [GCOI] is an annual awards gala, with attendees who include technologists, corporate executives, entrepreneurs, investors, and policymakers. Last week, IBM was awarded "Innovator of the Year" in the Large Company category for its Easy Tier feature of the IBM DS8700 that allows optimal use of Solid-State Drives through sub-LUN automatic movement of data. IBM's Long Term File System (LTFS) was also a finalist under consideration.
The award was presented to Cindy Grossman, IBM VP and Senior Location Executive for Tucson. Joining her were Dr. Krishna Nathan, Ed Childers, Glen Jaquette, Vincent Hsu, Rick Krebsbach, Gene Leo, Denise Lopez, Hironobu Nagura, Calline Sanchez, Johnny Smith, and Dr. Cheng-Chung Song.
To learn more, read the articles in the [Arizona Business & Money] and [Phoenix Business Journal]
And for my readers in the United States, Happy Thanksgiving!
technorati tags: IBM, GCOI, Cindy Grossman, DS8800, DS8700, Easy Tier, LTFS
This week, IBM launched the new [IBM Expert Network] that provides presentation materials from subject matter experts. I am honored to be one of the 20-plus experts selected for PRO accounts on SlideShare.Net to help seed this with initial materials.
I have a bit of behind-the-scenes history to share on this. Back in 2008, I first discovered SlideShare.net as an excellent resource to get ideas for presentations. Much like YouTube is for videos and FlickR is for photos, SlideShare.Net is for presentations. In my June 2008 post, [Summer Jobs and the Singularity], I embedded someone's presentation from SlideShare.
Earlier this year, I uploaded a presentation on [IBM Solid State Disk in eX5 servers], and a presentation that I gave publicly to the Institute of Management Accountants (IMA), which I embedded in my post [Cloud Computing for Accountants].
This latter one got me in a bit of trouble internally. Neither presentation had anything secret or controversial, so I didn't see the issue. Several other bloggers had asked how I got "permission" to use an external Software-as-a-Service (SaaS) like SlideShare.net for my blog. I never asked for permission! I explained that since IBM's internal Lotus Connections software we use for blogging did not have a feature to embed PowerPoint (PPT) or Open Document Format (ODP) presentations, I chose an external service instead. Yes, I guess I could have converted each page to a JPG or PNG graphic instead, or I could have put the PDF on an FTP download area of the "Files" feature of Lotus Connections, but I chose SlideShare.net instead.
The result? IBM communications decided to make an official list, it's actually three lists. A "white list" of services that we are allowed to use, a "grey list" of services under evaluation or negotiation, and a "black list" of services we are not allowed to use, and sadly Slideshare.Net was on the black list. I protested, argued that unless IBM offered something to replace it, to re-evaluate this external service. I got it back on the "grey list" and now, this week, it is officially on the "white list".
Of course, this probably involved negotiation on EULA terms and conditions, but I am not a lawyer and have no idea what went on behind closed doors to make this happen. I am just glad it did.
So please, check out the new IBM Expert Network at: [
http://www.slideshare.net/ibm
]. Let me know what you think!
technorati tags: IBM, expert network, slideshare, cloud computing, singularity, IMA, PPT, ODP
On Wikibon, David Floyer has an article titled [SAS Drives Tier 1 to New Levels of Green] that focuses on the energy efficiency benefits of newer Serial-Attach SCSI (SAS) drives over older Fibre Channel (FC) drives. This makes sense, as R&D budgets have been spent on making newer technologies more "green".
Fellow blogger Hu Yoshida (HDS) encourages people to [Invest in the Future with SAS, SATA and SFF], referring to Figure 1.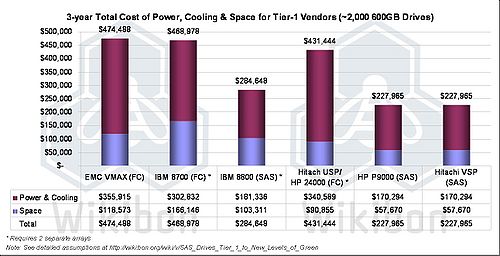 Of course, people might consider this an [apples-to-oranges] comparison. Not only are we changing from FC to SAS technology, we are also changing from 3.5-inch drives to small form factor (SFF) 2.5-inch drives. It seems odd to specify 2000 drives, when only two of the five scale up to that level. Few systems in production, from any vendor, have more than 1000 drives, so it would have seemed that would have been a fairer comparison.
However, Hu's conclusion that the combination of SAS and SFF provides better performance and energy efficiency for both IBM DS8800 and HDS VSP than FC-based alternatives from any vendor seems reasonably supported by the data.
Meanwhile, fellow blogger David Merrill (HDS) pokes fun at IBM DS8800 in Figure 2 in his post [Winner o' the green]. This second comparison was for 4PB of raw capacity, which 4 of the 5 can handle easily using 2TB SATA drives, but the DS8800 is based on SAS technology and does not support 2TB SATA drives. A performance-oriented configuration with four distinct DS8800 boxes employing 600GB SAS drives is used instead, causing the data for the DS8800 to stick out like a sore thumb, or perhaps more intentionally as a middle finger.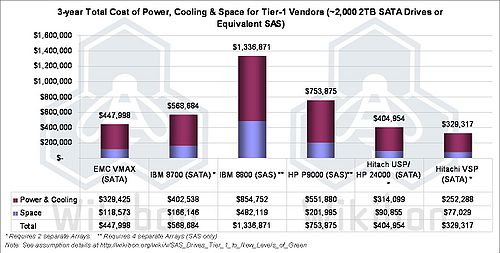 The main take-away here is that IBM offers both the DS8700 for capacity-optimized workloads, and the DS8800 for performance-optimized workloads. Some competitors may have been spreading FUD that the DS8700 was withdrawn last month, it wasn't. As you can see from the data presented, there are times where a DS8700 might be more preferable than a DS8800, depending on the type of workloads you plan to deploy. IBM offers both, and will continue to support existing DS8700 and DS8800 units in the field for many years to come.
technorati tags: IBM, DS8700, DS8800, Wikibon, Hu Yoshida, David Merrill, Davud Floyer