What Weather Operations Dashboard can do for your business
Experience weather visualization in virtually all your locations in one, easy-to-use weather dashboard
Help you quickly identify actions needed in specific locations that have upcoming severe weather
Have the ability to identify in advance new weather-driven opportunities
Operations Dashboard will equip you with the information you need to help deliver proactive direction to leadership in individual locations
Help you deliver a prioritized action list for personnel at specific locations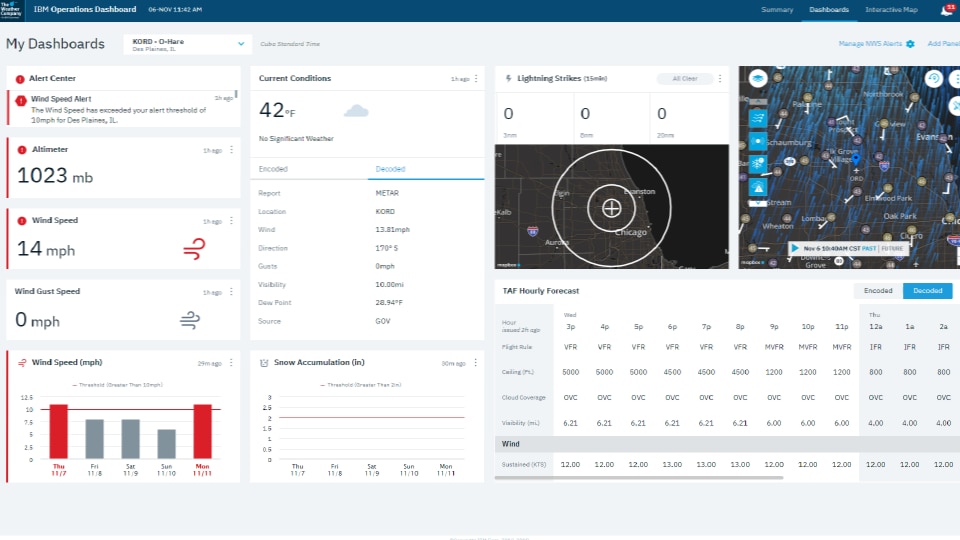 Enhance weather visibility
See weather forecasts for all service locations at a glance in our weather dashboard and drill down to individual locations that may require action or focused staff attention.
Help improve response times
Based on information within the Operations Dashboard, you can determine the safety actions to employ in specific locations due to severe weather, such as tornadoes or lightning at sporting events.
Optimize weather-driven opportunities
Knowing weather forecasts in advance may present business opportunities for increased sales of specific products or services. You can use this data to entice customers with proactive communications.
Key features
Current weather visualization
Near real-time weather alerts upon reaching preset threshold
More accurate predictions can lead to better decisions
Intuitive weather dashboard
Security and privacy in the cloud
IBM enables companies to scale and adapt quickly to changing business needs without compromising security, privacy or risk levels when using IBM cloud offerings.

Learn more about IBM Cloud security
Product images