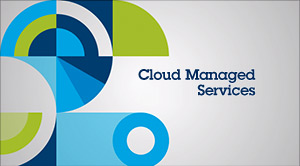 Watch the Cloud Managed Services Demo (3:42m)
Let's talk about managed cloud services
Using IBM Cloud Managed Services
Managed cloud infrastructure and services
For production workloads, dev/test and new opportunities
IBM Cloud Managed Services, previously known as SmartCloud Enterprise+, is specifically designed for running critical enterprise workloads (including Oracle and SAP applications), as well as managed enterprise-grade cloud infrastructure for critical web, mobile and social applications, dev and test, industry-specific solutions (electronics and transportation) and data center transformation.
Not all workloads are meant to run on commodity-based, share-everything infrastructure. With Cloud Managed Services you can confidently reap the benefits of cloud with:
Dedicated, shared or hybrid environments in IBM data centers
IBM Power Systems and System x servers with XIV Tier-1b storage
Redundant system design from power supplies to networks
Enterprise-leading IBM PowerVM and VMWare hypervisors
An AT&T NetBond VPN option for enhanced performance
ITIL-compliant OS management: monitoring, patching, security, etc.
"We needed to implement infrastructure that was secure and scalable, as efficiently and effectively as possible. IBM SCE+ has freed us to focus our time and resources on bringing our service to market."
- Brian Mofford, Vice President, Drivewyze
Successfully eliminating costly IT infrastructure
In 2012 Drivewyze launched PreClear, a subscription-based SaaS service that uses in-vehicle displays and sounds to enable pre-registered commercial drivers to bypass time-consuming weigh stations. Drivewyze initially built and hosted its SaaS solution onsite. The company's IT stretched to maintain the infrastructure while developing and managing the application. As the business grew, building out the infrastructure to scale with demand proved costly and inefficient, threatening to impede growth.
Drivewyze partnered with IBM and migrated its production environment to the SmartCloud Enterprise+ infrastructure. The security-rich, production-ready cloud environment offers Drivewyze complete control of its infrastructure, helping them to efficiently scale with demand and swiftly launch new products. And because IBM hosts data centers in both the United States and Canada, Drivewyze can manage where it stores sensitive government data for compliance.
"Choosing to partner with IBM was a fairly easy decision, and the advantage of leveraging IBM resources to help manage our infrastructure was a big deciding factor."
- Brian Mofford, Vice President, Drivewyze
Creating the Panasonic Global Workplace
Panasonic leveraged IBM SmartCloud Enterprise+ to consolidate data centers and deliver cloud-based collaboration to bring efficiency and innovation to their business. They implemented multiple deployment models to reach their desired outcomes in a program they call the Panasonic Global Workplace.
Running SAP and Oracle environments
(and other ERP/CRM production workloads)
Confidently move critical enterprise applications to cloud
As business-critical SAP and Oracle environments proliferate, organizations are looking to improve service delivery speed and quality. Cloud-based solutions built upon Cloud Managed Services meet this need by delivering SAP and Oracle environments with fully managed, security-rich and scalable cloud infrastructures and processes, delivering:
Faster provisioning
Greater flexibility
Improved service
Optimized with proven IBM best practices and supported by migration services and expert personnel, our SAP and Oracle cloud offerings combine Cloud Managed Services with standard processes and tools to deliver virtually unparalleled environment choice, control and flexibility.
This managed service offering provides SAP platform as a service on Cloud Managed Services for all SAP Business Suite and SAP Business Objects.
Uses cloud technologies built on Cloud Managed Services to transform your SAP implementation end to end—from sandbox to production, available for SAP ECC, BW, Solution Manager and most SAP products.
IBM Cloud Managed Services for Oracle Applications provides managed cloud services designed to deliver scalable, flexible, fast, reliable and highly secure Oracle environments (for a full range of leading Oracle applications).
Managed cloud for web, mobile, social
Reach new digital channel opportunities
Cloud managed services provides flexible and quick-to-deploy cloud environments that help clients more effectively deploy and manage high-performance enterprise web sites and apps, including mobile and social applications.
Enables great scalability with dynamic, rapidly deployable capacity
Facilitates differentiation for competitive advantage with flexibility
Reduces CAPEX and your footprint at home (floor space, power)
Using the IBM Cloud Managed Services infrastructure and IBM expertise can help you securely and confidently enhance the performance, reliability and scalability of your web presence and your online and mobile applications. World-class cloud data centers on five continents enable a global reach, while IBM-backed SLAs guarantee response times, availability and operating systems—helping you to confidently realize the benefits of cloud.
Managed development and test
An end-to-end dev/test cloud solution for production workloads
With Cloud Managed Services' cloud infrastructure, IT teams can set up new application environments in days—versus weeks—as well as improve quality by reducing configuration errors. Because IBM manages the infrastructure, developers can focus on developing innovative applications and services to drive growth. Cloud Managed Services goes beyond most basic public IaaS with:
Support for Unix, Linux and Windows
Enterprise strength IBM Power Systems and System x servers
Enterprise-leading IBM PowerVM and VMWare hypervisors
In addition to managing the infrastructure, IBM manages above the hypervisor from the OS to the application level with services for patch management, database management, security and end-to-end monitoring of applications. You can develop your new enterprise application, test it and then move it to production all on Cloud Managed Services for consistency and quality, eliminating the need for a second set of production testing.
Read how migrating production workloads to a managed cloud minimizes complexity and improves quality.
SmartCloud Service Delivery for Electronics
An on-ramp to innovation and transformation
The fully managed services of IBM Cloud Managed Services are ideal for many business-specific solutions, acting as an on-ramp to innovation and transformation. IBM Cloud Service Delivery for Electronics is a business solution that sits on top of SmartCloud Enterprise+. It is designed for electronic device manufacturers to quickly bring to market innovative services—like the global delivery of smart interactive services to TVs and other consumer devices, providing:
Competitive advantage through fast, flexible innovation
A predictable cost model with per-device pay-as-you-go pricing
Flexible capacity—particularly valuable to seasonal retail
For example, TPVision quickly brought to market smart interactive services available to millions of TV viewers in more than 30 countries with a delivery platform and services portal powered by Cloud Managed Services, formerly SmartCloud Enterprise+.
"The choice for IBM was primarily based on the expertise and because we know that this was a...strategic move from our end. We know how to make good TVs that look great, but we need to have IBM's expertise to run it in a way that it fits our consumers' preferences."
- Albert Mombarg, Head of Smart TV, TPVision
Read more
Press release: IBM Cloud to Deliver New Home Entertainment Services for Philips Smart TVs