Cloud solutions for SAP applications
As business-critical SAP environments proliferate and the scope of SAP workloads expands, organisations are looking to improve their service delivery speed and quality.
IBM cloud-based solutions for SAP clients meet this need by delivering SAP environments with security-rich, cost-effective and scalable cloud infrastructures and business processes. Optimised with proven IBM best practices and supported by expert personnel, our wide range of cloud offerings designed for SAP workloads use standard processes and tools to deliver unparalleled choice, control and flexibility. This can allow businesses—regardless of size, industry or location—to improve agility and reduce costs with:
Faster provisioning of SAP applications
Greater flexibility in SAP environments
Improved service levels for SAP users
SLAs up through the application layer
Quick international deployment
---
We're here to help
Questions? Contact an IBM-SAP specialist.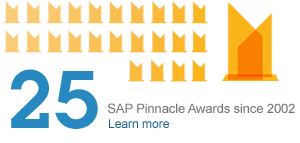 Specialised SmartCloud Deployment for SAP HANA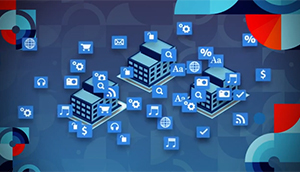 An array of IBM cloud solutions for midsize to enterprise SAP clients
IBM SmartCloud for SAP Applications
Managed SAP services for enterprises
IBM SmartCloud for SAP Applications delivers SAP environments that offer faster provisioning, greater flexibility and improved service delivery and quality compared to traditional environments. This managed service offering provides SAP platform as a service (PaaS) on IBM Cloud Managed Services for all SAP Business Suite and SAP Business Objects products to support reduced SAP TCO and complexity while facilitating improved service levels.
Automates and standardises provisioning and managing SAP environments
Reduces infrastructure costs and complexity with a managed cloud infrastructure
Accelerates service delivery with on-demand provisioning of systems, refreshes
Improves quality with automation, standardised processes and certified staff
Moving your SAP applications to IBM's flexible, managed cloud infrastructure can reduce your SAP costs and improve flexibility.
" Given the attention to cloud-based solutions, it's easy to be overwhelmed with comparisons and multiple options. However, when it comes to critical applications like SAP, we were looking for a mature model that could scale and cater to our unique prerequisites. The IBM Cloud Managed Services offering fits this need very well and had the backing of a reliable global partner. "
Yuri Aguiar, Senior Partner, CIO Ogilvy & Mather
Global Energy company spins off subsidiary and leverages IBM Cloud Services (SC4SAP) to rapidly migrate and create SAP system for the new business.  Operational within 60 days of announcement to sell.
---
Major beverage manufacturer uses
Cloud Computing to reshape their SAP Development/Test Environment, globally distribute resources, reduce time to updates and new applications by 80% and target reducing Dev/Test costs by as much as 30%.
IBM Express Solutions for SAP Business All-in-One
Packaged SAP solutions for midsize businesses
SAP Business All-in-One is the acknowledged leading ERP solution for the middle market due to its incredible power and depth of functionality combined with a price point and implementation process attractive to midsize businesses.
IBM Express Business Solutions for SAP Business All-in-One are based on prepackaged templates that incorporate industry-specific best-practice processes. These packaged solutions contain the full functionality and deliver the same benefits as their mainstream parent—but are designed for rapid implementation and low cost—and require minimal support from business and technical specialists.
Extremely fast implementation—typically only 16 weeks
Customisation is carried out by IBM's SAP specialists
Eliminates approx. 80% of traditional SAP configuration
Total SAP operating costs can be significantly reduced
" As a relatively small company, we started looking at smaller packages. After speaking with IBM and SAP, it started to dawn on us that it was possible to have this top-of-the-line solution at a price that worked. "
Alan Novick, Director of IS, Pressman Toy
SAP CRM Rapid Deployment Solutions (RDS) on the IBM Cloud
No-compromise, enterprise-class cloud for SAP CRM
The IBM solution for the rapid deployment of SAP CRM is built on an IBM-secured cloud using enterprise-class software, servers and storage that are sized to meet your needs and budget with predictable, dynamic pricing based on metered usage. Enterprise-class hardware is partitioned to smoothly scale to meet demanding, changing requirements.
This complete solution includes plug-and-play features that virtually eliminate installation complexity. Implementation is quick, risks are lowered and flexibility increased. Basic services and support—including real-time security and monitoring with 24x7 response—are included, with options for expanded services.
Optimised by IBM DB2 and IBM POWER7
Easily lowers your infrastructure costs
Includes SAP's pre-configured CRM licenses
Reduces need for higher system management skills
Provides flexibility to scale as your business grows
Life cycle as a service (LCaaS)
IBM's LifeCycle-as-a-Service (LCaaS) utilised cloud technologies built upon
IBM Cloud Managed Services managed IaaS to transform your SAP implementation end to end - from sandbox to production. It enables you to create SAP instances as required in a single day from your own online images or from our catalogue.
And the results can be impressive
Reduced Implementation Costs 7-15%
Accelerated time to Value 10-25%
Continued Saving  20-30% over traditional hosting
IBM SAP HANA Appliance
Deliver real-time analytics via the cloud
Instantly explore and analyse SAP transactional and analytical information from across your enterprise in near real time to accelerate business analytics. Release applications and monitor user feedback immediately to speed business intelligence, reporting and analysis.
Drill down to critical marketing, sales and supply chain insights
Get the information needed to make decisions quickly
Scalable across an organisation's largest SAP HANA needs
Speed-of-thought analytics
The IBM SAP High Performance Analytics Appliance (HANA) is an integrated managed service which includes a physical appliance using SAP HANA in-memory database technology. The service works with IBM SmartCloud for SAP Applications and is hosted on IBM Cloud Managed Services. (In addition, a virtual SAP HANA Appliance is currently in early stage development and test, hosted on IBM SmartCloud Enterprise.)
For more information, watch IBM announces a specialised deployment for SAP HANA (00:00:59)
" With the IBM SAP HANA Appliance we can now process more complex and comprehensive requests within seconds, providing a range of new insights that were simply not available without in-memory processing. "
Alexander Weiss, Team Leader, Processes and Business Warehouse, Migros-Genossenschafts-Bund