Supercharge your innovation with enterprise software as a service
You've heard it all before. The pace of change continues to accelerate. Competition is fiercer than ever. You must innovate fast to remain a leader, or the competition will eat your lunch.
You need to roll out new services with a lightning-fast model—not with yesterday's slow-as-molasses methods—or you'll be a dinosaur and you know it. Innovate fast with more than 80 ready-to-run enterprise-grade software-as-a-service applications from IBM, all with the security, availability and elasticity you can count on to:
Accelerate business process innovation
Deliver business analytics at point of impact
Connect people with collaborative business networks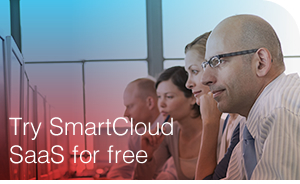 SmartCloud for Social Business (US)
60-day no charge
30-day no charge
IBM Software as a service
For more cloud business solutions,
check out our comprehensive SaaS page.