What's new
New capabilities on IBM Cloud
August 2015
Verse
File Viewer updates
A new feature in IBM Verse allows subscribers to open attachments or links previews in a new browser window, so they can work in Verse and with the previewed files and links at the same time. Another new capability, the "Upload to Files" button has also been added to the viewer, allowing subscribers to upload direct to their cloud files
Team Analytics Updates
The Team Analytics UI has been updated to improve the user experience.  Changes include:
Adding the number of addresses to the information in the header of the Team Analytics display
Showing initials instead of a silhouette when a photo isn't available
Making your location in the report to chain more prominent by adding a "You" graphic just below your location
Updating the layout of the grid for individuals who are external to your organization or not included in the report to chain and making it collapsible
Send Encrypted Mail
IBM Verse now offers the ability to send signed and/or encrypted mail from within the Verse client experience.
Business cards help identify correct mail recipient
Open the business card of any suggested name in type ahead to make sure it is going to the right person.
Open Notes applications from Verse and SmartCloud Notes web
Subscribers that open messages containing Lotusscript or Formula language buttons will see a message at the top of the message such as "This message contains content that needs to be viewed using IBM Notes or IBM Client Application Access".  Once the subscriber clicks the "Open" button, the message will be opened in IBM Notes or IBM Client Application Access (ICAA).
SmartCloud Notes
Audio and Video Chat in Web Experience
Audio and video has been added to chat in SmartCloud Notes Web.
Chat
Chat from the navigation bar
Chat is easier than ever with a new user experience that allows access to chat options directly from the top navigation bar.
Social
Move communities for better organization
A new feature supports the ability to move communities - either standalone communities to sub-communities of another parent community or from a sub-community to a parent community.
Access File Preview from more places
IBM has expanded how to can access file preview. File preview will open from a file link from wikis, blogs, and forums.
Verse
Preview More File Types
View more of the content you need straight from mail with a new feature that allows you to instantly view Microsoft Office and OpenOffice documents and PDFs. View documents, spreadsheets and presentations in Microsoft Office binary formats like .ppt, .doc, OpenOffice formats like .odt, .ods, as well as Microsoft Office XML based formats like .docx or .xlsx.
Act on mail from thread view
A new feature is available to help you act more quickly on mail. From the thread view you now have the same actions available to you as the messages in your Inbox. These actions are visible when you hover over the date of an threaded message and select Trash, Remove from Inbox, or Mark as Needs Action.
Follow people from business card
A new feature makes it easier to add people to your social network direct from the mail experience. You can follow a person directly from their business card to see their activities and status updates.
Verse Mobile
IBM Verse for iOS app update
Primary targeted new enhancements:
iPad, iPhone 6+ tailored experience
Selectively subscribe/unsubscribe, add/rename/delete personal folders
Social
Upload large files from Outlook
In June IBM introduced a feature to share files, communicate with your teams, and engage with your communities from the Connections sidebar for Microsoft Outlook. This month brings the added capability of uploading large files (up to 2GB) to Files.
Save files directly to Community Files from MS Office
A new feature now supports sharing files with Communities with the IBM Connections Desktop Plug-ins.
Share files with Communities with Mac
Share files direct from your Mac desktop with your team. You can share with Communities (or individuals) and give everyone reader or editor access.
File details in search results
When you search for a file, you can get a convenient and quick view of a file right from search results.
File Preview and Details
You can now see the contents of a File and the details in a single view from the "About this File" icon.
Chat
Enable automatic updates to the Sametime desktop client
This feature lets subscribers set automatic updates for their Sametime rich client so they never miss a new feature! This feature is not on by default but can be turned on by subscribers. This capability is available for the Sametime stand-alone client and will not apply to the embedded client in Notes.
Privacy list in chat
Privacy lists allow you to set who can see you when you're online. A new visual indicator is coming that lets you see when your privacy list is enabled and clicking the icon displays the privacy settings.
Multi Party Audio Video in Meetings
New multi-party video capabilities in meetings is available from either the browser or the Connections meetings mobile application, and supports continuous video presence for a more interactive and social experience.
Video conferencing is available at no additional charge for customers with subscriptions from IBM Connections Cloud S1, S2, and Meetings.
For more effective extranet collaboration, meeting guests can also use audio and video during online meetings.
IBM is providing tools for administrators to selectively choose which subscribers have access to these capabilities. You can use policies to control which users have access to audio and video features.
Android app available for IBM Verse
A new IBM Verse for Android application, available here as of end of May, offers a simple, elegant mail, calendar, people (contacts), and actions experience. This IBM Verse for Android application is an app update (replacement) of the IBM Notes Traveler for Android app.

Primary new enhancements:
App name change to IBM Verse
New look and feel across mail, calendar, people
See mail from people important to you
Set people you interact with often as Important
Manage items that need follow up
Track who owes you a response and when
Work with your calendar seamlessly
Interact with all of your contacts
New Today widget allows you to focus on what's important
This app works for both subscribers with SmartCloud Notes and Traveler subscription, as well as those with additional Verse entitlement. (Note: Those without Verse entitlement will not see the 'Important People' features in the app, nor have Connections Profile pictures pulled in for People pictures.)
Verse Web Experience
Add mail signature
IBM Verse now allows subscribers to personalize their email with a signature that can include text and images.
More detail on hover over with Team Analytics
New fields have been added in the Team Analytics view that enable subscribers to understand job relationships in context. When subscribers click on the Team Analytics action button all expanded nodes now have a label with the user name under it. Hovering over the node will replace that label by a balloon with user name and job title.
Getting Started Guide
An interactive getting started guide is available to help subscribers quickly learn essential tasks in Verse. They can see guidance on tasks and take action with your own email and information in the same browser view.
SmartCloud Notes and Verse Web
IBM Client Application Access
This lightweight solution helps clients who want to move to a browser-based interface for email (IBM SmartCloud Notes web, or IBM Verse), while continuing to work with existing Notes and Domino applications on-premise. This complete solution helps subscribers work efficiently, benefiting from all the new capabilities of IBM SmartCloud Notes and IBM Verse, with easier access to applications.
Meetings
New Meetings Welcome Screen
The new meetings welcome screen makes it easier to share your screen or a file.
Navigation changes
Navigation options have been moved to support a more intuitive user experience. Desktop plugins and other downloads are available by selecting Downloads and Setup found under the subscriber's photo. This option was previously on the Apps menu. We've also added new Legal Notices link on the Help menu takes you to the product's terms, privacy, Impressum, trademarks, and notices.
New file viewer experience
An updated file viewer experience with new tabs for file details, comments, sharing, and versions is coming. Previously only file details were available.
Administrators: Verse theme is now available everywhere
Connections Cloud has a new look with updated colors, icons, and a new theme. It's now available for all Connections Cloud applications, including browser-based chat and meetings. Administrators can select this theme from the Administrator console.
Integration
Microsoft Outlook sidebar
IBM® Connections Plug-in for Microsoft Outlook is an Outlook email sidebar application that provides easy, full-featured access to IBM Connections content. The plug-in lets subscribers collaborate on files, share email using IBM Connections, view communities' content, and socialize with colleagues from the convenience of the Outlook email client.
This feature is available for S1, S2, and Connections Social, and Connections Files.
Third-party embedded experience
This feature supports bringing third-party applications into a single, integrated update stream to help companies move with agility and speed.
Languages
Arabic, Hebrew, Slovak available for all subscribers
Connections Cloud offerings are now available in Arabic, Hebrew, and Slovak languages.
IBM Verse - Share an email attachment.
Now you can share a file direct to the cloud where others can download it, comment on it, or share new versions.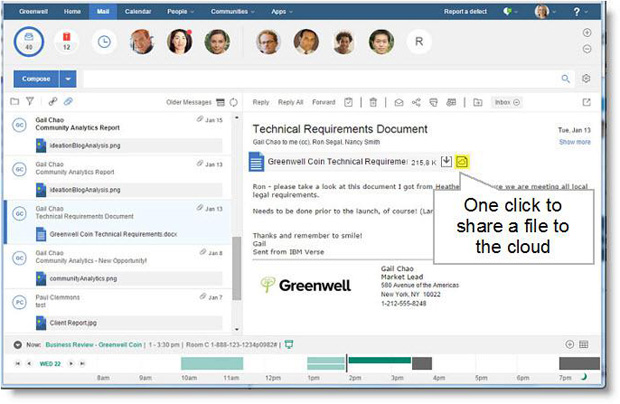 IBM Verse View team report to structure
When an email is selected, subscribers (who use the full social capabilities of S1) can select the team analytics button to see the reporting structure for the email recipients who are in your organization. Administrators need to update user profiles with reporting data and submit changes with the Integration Server to support this feature.
May 2015: IBM Verse - Share an email attachment with one click
IBM Verse for iPhones
IBM Verse for iPhones is coming! Once available on the iTunes app store, you can download it and start using it to:
See mail from people important to you
Set people you interact with often as Important
Manage items that need follow up
Track who owes you a response and when
Work with your calendar seamlessly
Interact with all of your contacts
IBM Verse for Apple devices is an IBM created mobile app for iOS, and is available on the Apple app store. However, you can continue to use IBM Traveler with the built in Apple provided mail, calendar, and contacts apps on your iOS device, along with the IBM Traveler To Do and Companion apps.
---
Customize Community layout and navigation
More customization is available for Communities, with the ability to collapse sidebar navigation and customize the Community Overview page with:
Select a compelling new layout for the overview page. For example, three columns with a banner.
Change the community description to reflect the aims and aspirations of your community.
Easily change the location of apps to maximize impact and screen real estate. Just drag and drop apps to new locations.
Change app titles to reflect what your apps will really be used for. For example, change "Wiki" to "Knowledge Center"
---
Find what you need faster with Type Ahead Search
When you start typing in the search box, the system will suggest what you are looking for. Connections Cloud remembers where you've been and who you have recently collaborated with, helping you to find content faster and more effectively.
---
New optional theme aligned to Verse design
Administrators can select to use a new theme with a streamlined look and feel in the social web experience for their entire organization. This theme aligns to the new Verse design and extends the clean uncluttered look to the social areas for a consistent user experience for subscribers that will be using Verse. Administrators can choose to enable the new theme.
---
Policy to Disable Chat History or File Transfer
To better enable administrators to configure the service so it is aligned to their organization's security and compliance needs, administrators can now set a policy to disable chat history and/or file transfer. This policy can prevent chats from being saved or prevent file transfer through chat. Updates to this policy are performed using the integration server.
---
Traveler - Apple Push Notifications for To Do (available on or after April 29)
Now SmartCloud Notes subscribers using Apple devices can stay up to date with what they need to do from anywhere. A new capability is coming that notifies subscribers with the IBM To Do application for iOS when changes to To Dos occur in the user's mail database. The change notification is reflected as a badge indicator on the application icon. When the application is open, a notification will cause the application to automatically sync the changes.
---
Traveler – Google Cloud Messaging (available on or after April 29)
SmartCloud Notes subscribers with Traveler can use Google Cloud Messaging (GCM) for real time push notifications to keep Mail, Calendar, Contact and To Do data on Android clients up to date. Using GCM can greatly improve the battery life of Android devices as IBM Traveler no longer needs to stay constantly connected via HTTP to the IBM Traveler server for push notifications.
IBM Verse General Availability on March 31
Mail that understands you, clears the clutter and creates more clarity, and connects me to we. See it in action here:
IBM Verse will be generally available for new subscription purchases on March 31.
IBM Verse offers:
Web-based mail, calendar and contact information in the cloud, including tracking of actions that need attention, analytics based identification of important people and content, in depth search, in line preview of attachments and Connections Files, team analytics services, support for mail threads, and entitlement to IBM Notes client (includes software download).
50 gigabytes of mail box storage allocated for each IBM SaaS user
Spam and anti-virus protection
Integrated instant messaging
Ability to upload, store, and share personal files
30 gigabytes Personal File storage
Post and view status updates
Create profile and work with profiles in your organization and network
Mobile access for email
IBM Connections Files on Cloud generally available
We're introducing an exciting new standalone offering that enables customers who don't want the full set of social capabilities in IBM Connections Social Cloud to buy file sharing, profiles, file sync and more. See it in action here:
This offering includes:
secure file sharing in the cloud
file sync with desktop and mobile devices to make sure you always have the right version
profiles for business contact information
updates and notifications in an activity stream to learn what others in your network are working on
API access to presence and chat
Now you can use chat and presence awareness directly in your business applications. Using new APIs you can integrate cloud based instant messaging with other cloud and on-premises applications. This is available for customers with chat enabled subscriptions.
New Offering
We're introducing an exciting new standalone offering that enables customers who don't want the full set of social capabilities in IBM Connections Social Cloud to buy filesharing, profiles, file sync and more. This offering includes:
secure file sharing in the cloud
file sync with desktop and mobile devices to make sure you always have the right version
profiles for business contact information
updates and notifications in an activity stream to learn what others in your network are working on.
You can quickly get started in the cloud with this standalone offering and grow into other cloud services whenever your business demands. It will be available in March 2015
See Meeting Invitee status while on the go
Traveler subscribers can see Invitee status for iOS, Android, BlackBerry 10, Windows Phone, Windows Tablet. The meeting chair can view the status of each invitee's response to the current version of the meeting. Additionally, the Android client can show a status of delegated.
Assign tasks more effectively across teams
Assign To Dos to one or more members of an Activity to work more easily across teams. Select people from the Activity members list.
Work with larger files in Activities
We're continuing to make it easier to work with more content, continuing the improvements announced last year with storage increases for Files, Communities, and Wikis. Now you can upload files as large as 2 GB when you use a modern browser such as Firefox, Chrome, or Safari. Additional browser support is coming soon.
View relationship history in your contacts
Now you can view the relationship history for each of your contacts. See when a contact is created, when a network invitation is accepted, when a contact is modified, and when a contact is forwarded. This gives you important information about the timeline of your relationships.
Live Demos to learn new ways to use Connections Cloud!
We've added great new sessions for you to come learn more about different IBM Connections Cloud topics, including:
Live "Ask The Experts" sessions with IBM Software Engineers
New SmartCloud Notes live demos
Additional live demo sessions to accommodate even more timezones
See the Live Demo schedule to learn more.
Storage quota increases
Now it's easier to share and collaborate across a wider range of file sizes. The new storage quotas are:

Files - 1 TB
Communities - 50 GB
Wikis - 5 GB
SmartCloud Notes - 50 GB
Audio Video Chats from your Mobile Device
Work more effectively across your network on the go with audio and video calls on tablets and smartphones for iOS and Android.
Sync files from Mac to Cloud!
Sync files and work effectively between desktop and cloud with the new ability to use IBM Connections Desktop Plug-ins for Mac.
You can:
Get notifications instantly on the desktop or mobile when there is a change to a file
Upload files from your Mac
Share uploaded files with people
Work on files locally and publish to Files
Lock a file to prevent file conflicts
Social App Features
New features help improve how you work with your network, manage communities, find content, and more:
Upload larger files: Support for files up to 2GB from Firefox / Safari and Chrome browsers See at a glance who you've invited to join as a guest and invitations to your network
Customize and Control experiences more flexibly in Communities
Preview files, read content, and work more easily with contacts from your Mobile device
Annotate your Meetings
A new whiteboarding tool lets you call attention to content, comment, and brainstorm new ideas – whether you're in a browser or working from a mobile device.
We have a new name!
IBM SmartCloud for Social Business just got updated. No actions are required on your part, no updates are needed, and no URLs are changing.
IBM understands Healthcare…Security…Privacy
New for Healthcare Customers.
The IBM Connections Cloud services are managed to security, governance, and operations controls specified by the HIPAA act. IBM is pleased to announce our ability to enter into Business Associate Agreements (BAA) with Healthcare customers seeking the benefits of SaaS.
New Offering – IBM Connections Chat Cloud
IBM Connections Chat Cloud is IBM's instant messaging application with enterprise-grade security in the cloud. Available with IBM Connections Cloud S1 and S2, Connections Chat Cloud is now available as a stand-alone offering for organizations who need chat only.
IBM Connections Chat Cloud enables you to instantly communicate with colleagues inside and outside your organization and includes: text, audio and video chat; file transfer; screen capture; create list; and chat status.
Files Enhancements
File Sync - Manage your files on the go with File Sync, make edits offline, and automatically sync with cloud when you reconnect for the latest and most up-to-date information (available for Windows with Desktop Plug-in).
Microsoft Office Integration - Work more effectively in Office with the ability to comment, share, and lock files directly through Desktop Plug-in.
More Social
Enhanced Profiles - Explore content and communities more intelligently with a view into what your network contacts have in common with you. Expand your reach to new ideas and experts with the ability to request introductions from your network.
Enhanced People Search - Find experts more easily in enhanced people search with keywords and type ahead suggestions