Don't miss the cloud event of the year. Immerse yourself in cognitive, the Internet of Things and the latest in cloud security.
Need to know where to start with the Bluemix Garage Method?
Need to know where to start with the Bluemix Garage Method?
The Bluemix Garage Method breaks down DevOps into everything your development, testing and operations teams need. It includes how-to guides on culture, best practices, tools, self-guided or hands-on training and even sample code and architectures. See how the Garage Method can help turn your organization from a slow set of siloed teams to a self-managing, solution-oriented, bottleneck-free, go-fast team!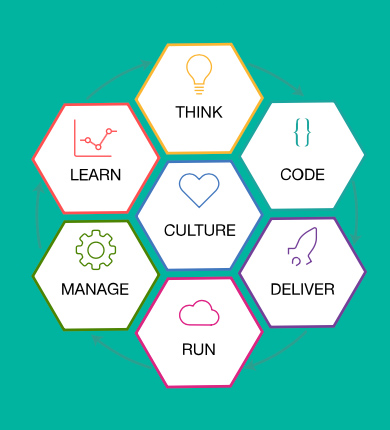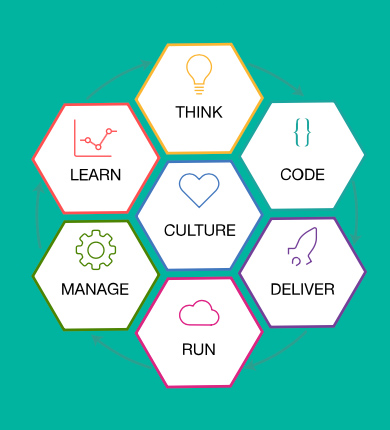 Thinking about how to scale your DevOps pilot to the enterprise?
The Bluemix Garage Method provides virtually everything you need to scale from a small pilot to the enterprise.
Tracks provide a guided path for your teams through the practices, toolchains and tools that are used to develop a solution. The track that you follow depends on your business and transformation goals.
Courses and Bluemix Garage workshops enable your teams to get the education they need in best practices, tools and processes in order to work more effectively together. Technical assessment/transformation dashboards enable you to monitor your team's progress as you scale.
Want to understand how to build complex, hybrid applications?
The Bluemix Garage Method provides reference architectures that enable you to scale your development beyond simple apps. The application architecture solutions include code that you can clone and customize, live demos to try, automated deployments and step-by-step instructions to re-create an application in your environment.
You can use the information provided with each architecture to integrate cloud services into your solutions. Toolchains in the Method are a set of tool integrations that support development, deployment and operations tasks. The collective power of a toolchain is greater than the sum of its individual tool integrations.
You can assemble all of the services that your IBM Bluemix® project needs to succeed, such as issue tracking, source control, testing, monitoring and notifications, and have them working together in minutes.
Find the tools and services to get your apps up and running
See what's new in the Bluemix Garage Method.
Rapidly deliver apps with the Bluemix cloud platform.
Extend your learning with Bluemix Garage and cloud lab services.
Put theory into practice with Bluemix DevOps services.
Sign into the Bluemix Garage Method to customize your experience
Track progress, suggest new content and more.