IBM DevOps
Become your organization's chief reinvention officer.
Digitally reinvent yourself, your team and your business.
Why your organization needs IBM DevOps
IBM DevOps helps you to:
Respond to the market faster and ensure an outstanding customer experience.
Scale DevOps successfully without disrupting your business.
Build a startup culture that brings business, IT and operations together.
Introducing IBM Cloud Continuous Delivery
Simplify and scale your software delivery pipeline. Integrate your favorite tools into an open, scalable DevOps toolchain. Automate build, test and deployment, and add availability monitoring and security testing for your apps.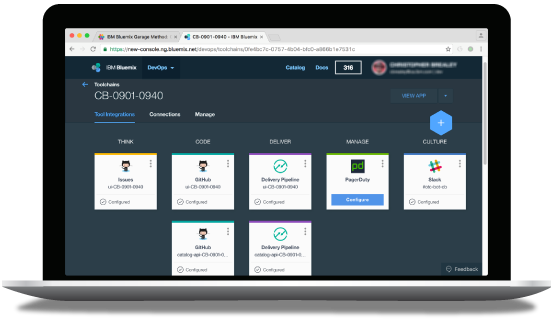 Breaking DevOps barriers
Silos get in the way of DevOps and create bottlenecks. With flexible and open tools for continuous delivery, software development and testing and application management, your team can relieve bottlenecks, automate manual work, manage applications and innovate, without disrupting your business.
Software development and testing
Testing is no longer a bottleneck when you're able to test earlier with production-like environments.
Continuous delivery
Release applications more often and with better quality, using a continuous delivery approach.
Application management
Eliminate application performance blind spots and understand customer behavior, with continuous feedback.
The method to the madness of DevOps
IBM Cloud Garage Method breaks down DevOps into everything your development, testing and operations teams need. It includes how-to guides on culture, as well as best DevOps practices, tools, self-guided or hands-on training—even sample code and architectures for developers.
IBM's method for DevOps can turn your organization from slow, siloed teams to a self-managing, solution-oriented, bottleneck-free, go-fast team.
Solutions and products
Continuously deliver software innovation with IBM DevOps tools and methodologies.
Nationwide Insurance gets to market faster with IBM DevOps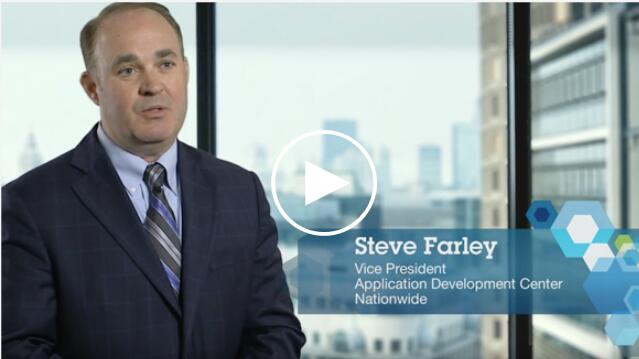 Nationwide needed to respond to changing market conditions and support new channels for customer interactions. The results were so positive that DevOps ensured a new way to work.
"Collaboration has become an expected part of our culture and is built into our office space and practices."

—Steve Farley, Vice President, Nationwide Insurance
Resources
Learn the basics of DevOps.
Get started on your DevOps journey
Answer a few simple questions for a personalized DevOps assessment.
Learn how IBM Cloud can help you reinvent your DevOps environment and your business
Talk to an expert:
Australia: 1800 557 343
New Zealand: 0800 426 431
Priority Code 109HG03W