Share this post:
With rapidly evolving technologies, many enterprise-level organizations find themselves behind their competition in the market.  The traditional boundaries between industries are being blurred by new business models.  Like Uber and Instagram, new business models are being powered by disruptive technologies such as cloud, mobile, social, and cognitive computing.
A small group of people with an innovative idea can quickly become a strong competitor leveraging pre-built cloud services available through APIs.  In other words, highly efficient and commoditized IT resources provide a massive venue for innovation parties anywhere in the world.
So if you are an enterprise-level organization, the challenge is how to accomplish IT efficiency to a cloud level while innovating your services.  How can you overcome this challenge?
The key is to create your own strategy based upon the golden rule.  The golden rule is to identify the sweet spot balancing efficiency and innovation which lays out the shortest route to the destination.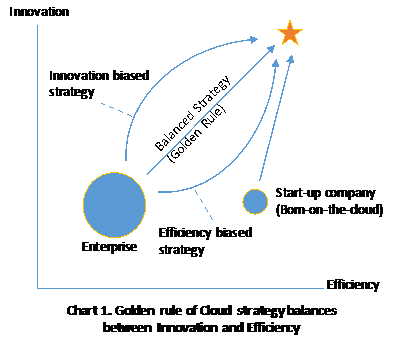 If a cloud strategy is efficiency biased, innovation will suffer and it will take longer to reach your destination (star in the chart).  On the other hand, if a cloud strategy is innovation biased, operational efficiency will suffer.  The best strategy expedites an organization's cloud adoption by laying out the shortest route to accomplish your goals.
An example of an innovation biased approach is when each line of business (LoB) creates cloud silos by creating virtual instances.  This leads to disparate cloud environments which cause operational inefficiency.
An example of an efficiency biased approach is when an IT team focuses on server consolidation and exerts control over IT infrastructure.  This leads to slow responsiveness to LoB needs and causes bottlenecks and costly operations.
So what constitutes a balanced  strategy– the golden rule — and how do you implement it?
From a technology perspective, the key is to identify the common technical design principles that pull innovation and efficiency together.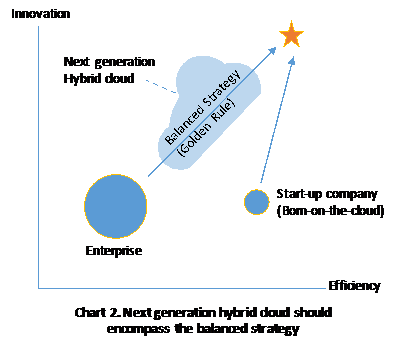 This becomes the next generation hybrid cloud that is based on solid foundation: openness, portability, and granular API/API management.  A hybrid cloud enables different workloads to run the most optimized cloud environment for each workload depending on its characteristics such as performance, availability, dependency, privacy, and security.
Openness enables easy integration and customization for changing needs.  Portability provides a flexible and agile environment across multiple clouds to move applications/data back and forth.  A granular API/API management plays a key role to glue various services (e.g., Watson, single sign-on) across multiple clouds.  Furthermore, an organization can deploy a cloud broker solution to automate workload deployment, monitoring, change management, and billing/charge back across all LoBs.
Join the Cloud Advisors at InterConnect 2016 (February 21-25), the industry's premier Cloud & Mobile conference to talk about how cloud technologies and practices can help retail businesses achieve greater outcomes.  Submit your request now to schedule a one-on-one meeting with a Cloud Advisor during the conference, or come chat with us in the Solution EXPO at InterConnect 2016.