Share this post:
My colleagues at IBM and I frequently find ourselves in similar discussions when it comes to enterprise cloud requirements. We thought it would be beneficial to get these questions out in the open for a wider conversation. At a recent Twitter chat, chaired by Forrester analyst Paul Miller, we looked to answer: "What does the enterprise need from its cloud providers?"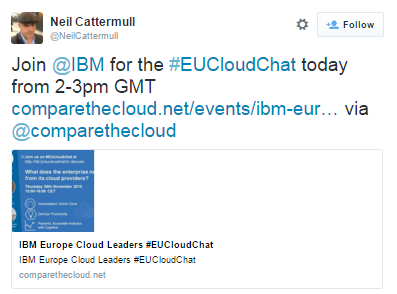 Kicking off the conversation
Joining Paul Miller and myself were Rashik Parmar, Lead IBM Cloud Advisor in Europe; Stefano Stinchi, VP IBM Software Cloud Europe, Bo Nielsen, SoftLayer Leader, IBM Europe, along a host of cloud industry followers and colleagues from IBM units throughout Europe.
Debunking myths
With the complexities of cloud computing, breaking through technical jargon and relating technology in simple business terms is the way to go with the modern CIO.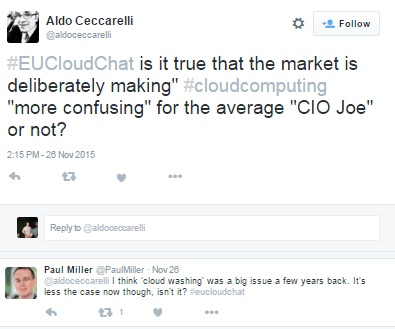 In light of this, we answered questions responding to someone just looking to find information without being pushed with a hard sell. The simple question "How do you choose cloud providers?" deserves a simple answer:

Open it up
From a business and technological point of view, the openness of a cloud implementation consistently comes up in conversations. Open technology means customers can avoid vendor lock-in, maintain an agile organisational structure and take advantage of the benefits the Open Source projects can offer.

Keeping it safe
Security in technology as complex with many layers as a large cloud system is of absolute importance. However, it emerged in the discussion that though there are still security concerns within an enterprise, it's worth understanding the source of these concerns. Contributor Ian Pattinson noted "Lots of worry from retailers that cloud leaves them open to data breaches, but all major breaches come from retailers own data centres".

Looking Ahead
Our Twitter conversation confirmed what we had found throughout private conversations – the impression of complexity and difficulty that existed in the marketplace.
"We will host additional discussions on cloud topics with our industry partners, clients and customers. So watch this space, check out the full conversation (and continue posing questions if you like), and I hope you join us for the next one in 2016. "
Contact Sebastian Krause at Twitter.