What SAN48C-6 can do for your business
IBM Storage Networking SAN48C-6 Fibre Channel Switch provides high-speed Fibre Channel connectivity for all-flash arrays and supports multicloud environments. It offers state-of-the-art analytics and telemetry capability built into its next-generation Application-Specific Integrated Circuit (ASIC) platform. This switch allows seamless transition to FC-NVMe workloads whenever available without any hardware upgrade in the SAN. It empowers small, midsize, and large enterprises that are rapidly deploying cloud-scale applications using extremely dense virtualized servers, providing the benefits of greater bandwidth, scale, and consolidation.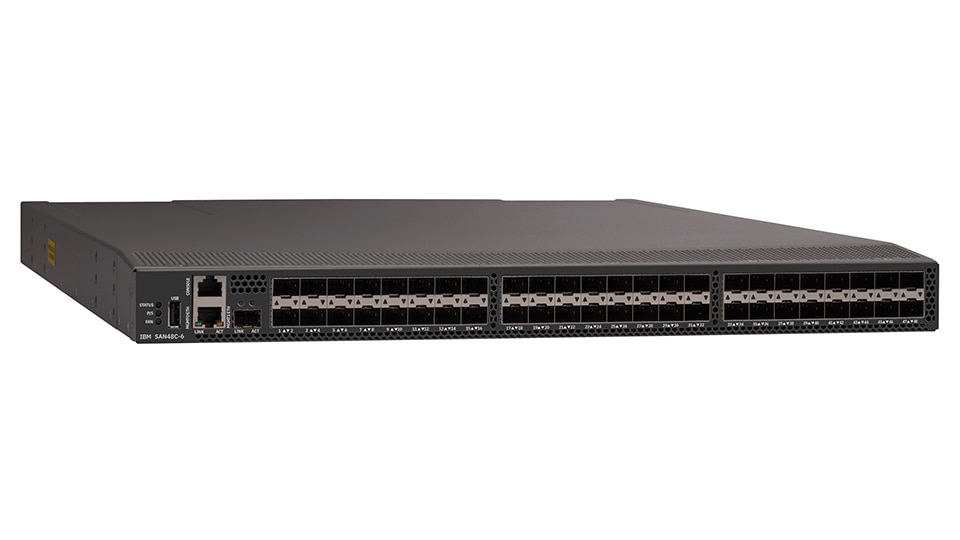 Fully integrated SAN analytics
SAN48C-6 offers state-of-the-art SAN analytics and telemetry capabilities that are built into the hardware platform. The telemetry data can be streamed to any analytics-visualization platform.
Reliability
IBM provides FEC between switch ports and HBA ports on all 32-Gbps Fibre Channel fixed switches. This ensures errors initiated in flight are corrected before it reaches the device side.
Secure-boot / anti-counterfeiting
Protects the entire system from malicious attacks by securing access to critical components such as the bootloader, system image loader, and Joint Test Action Group (JTAG) interface.
Sophisticated diagnostics
SAN48C-6 provides Inter-Switch Link (ISL) diagnostics, HBA diagnostics with leading HBA vendors, network analysis tools, and integrated IBM Call Home for quick resolution and reduced service costs.
Virtual machine awareness
SAN48C-6 provides visibility into all virtual machines accessing storage LUNs in the fabric. This feature is offered by tagging the Virtual Machine Identifier (VMID) on every Fibre Channel frame.
Key features of the SAN48C-6
High performance
Telemetry
Next-generation ASIC
Intelligent network services
Programmable fabric
Single-pane management
Secure-boot and anti-counterfeiting technology
Capital expenditure (CapEx) savings
Grow in-small increments