Respond effectively to change with cognitive computing and analytics
Financial advisors need to deliver personalized offers and capture the next generation of wealth. Cognitive computing, combined with analytics, helps you to adopt new business models for higher customer value.
Understanding your clients
Effectively predict, personalize and address the changing needs of current and next generation potential clients by using a new era of client segmentation and cognitive computing.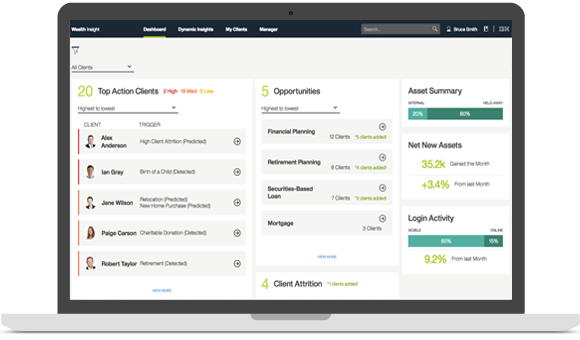 Client Insight for Wealth Management Powered by Watson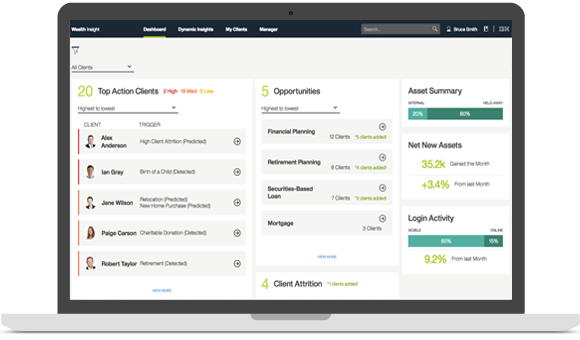 Empower wealth management firms by dynamically segmenting clients by their behaviors, predicting life and financial events, predicting client attrition, identifying product opportunities, and delivering tailored news and alerts.
Wealth Management Podcasts
Tune in to hear industry experts discuss the latest trends, changes and future of the Wealth Management industry.
Advising the Empowered Client
Read this whitepaper to see how cognitive technologies are transforming the wealth management landscape.
Industry Blogs
Follow our experts and learn about the latest technology and industry trends in wealth management.
Digital Disruption
Read this whitepaper to learn how large wealth management firms are using principles from IBM Design Thinking to manage the changing landscape.
IBM Client Insight for Wealth Management: Live Demo
Watch this demo to learn how the solution delivers deep client insights to improve client service, retention and profitability.