Respond effectively to change with cognitive computing and analytics
Today, clients expect personalized experiences and service levels that financial advisors are not equipped to deliver. Cognitive computing, combined with analytics, empowers the financial advisor with the tools and insight needed to provide high-touch experiences more efficiently, improving productivity and driving more revenue.
Understanding your clients
Effectively predict and address the changing needs of clients with the latest advances in dynamic behavioral segmentation in order to provide more personalized service and product recommendations.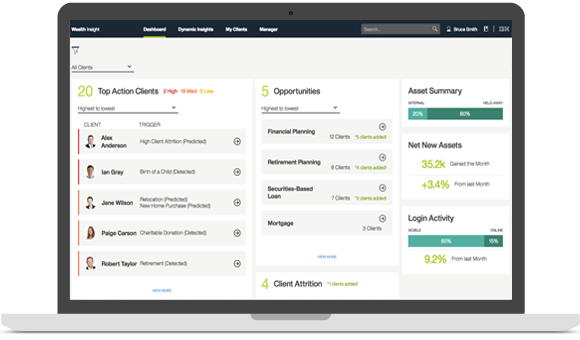 IBM Watson Client Insight for Wealth Management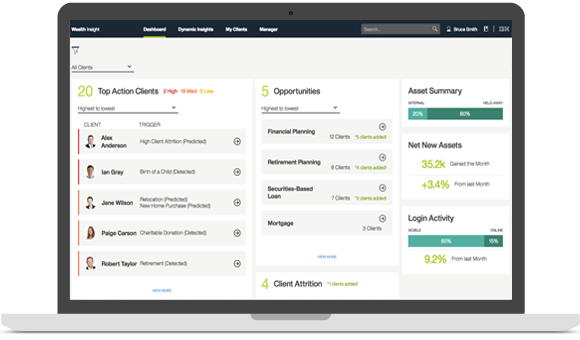 Empowers wealth managers and financial advisors to deeply understand client behaviors and provide a data-driven approach to personalized financial advice.
Provide high touch client engagement using dynamic behavioral profiles
Reinforce client loyalty with essential retention strategies
Generate incremental revenue with targeted product recommendations
IBM Watson Client Insight for Wealth Management is now available on Salesforce Financial Services Cloud. Users of Salesforce Financial Services Cloud now have access to powerful insights from IBM Watson Client Insight for Wealth Management within the CRM dashboard.
Cognitive technology for Financial Advisors
Hear wealth management experts discuss cognitive technology for financial advisors which can help them deliver enhanced customer experiences.
Advising the Empowered Client
Read this whitepaper to see how cognitive technologies are transforming the wealth management landscape.
Why segmentation is dead
Learn how you can use advanced analytics and cognitive capabilities to understand your clients better than ever.
IBM Client Insight for Wealth Management: Live Demo
Watch this demo to learn how the solution delivers deep client insights to improve client service, retention and profitability.