Database Management
Faster, reliable and scalable transaction processing for less
IBM Integrated Analytics System is now available.
Learn how to optimize performance for data science today.
SPECIAL OFFER
Move from Oracle® databases to IBM Db2 and spend up to 80% less in the first year alone.
Why IBM for database management?
IBM® database management platforms deliver industry-leading performance for highly available transactions and operational analytics while lowering administration and infrastructure costs. Experience the simplicity and agility of multiple deployment options.
Features
Always-on enterprise
Unmatched efficiency for business critical transactions and analytics.
Business continuity in distributed environments
The highest levels of database services on commodity hardware.
Operational analytics
Faster, actionable insights into transactional data.
Embedded systems and the Internet of Things
New business opportunities with always on Internet of everything.
IBM Db2
Optimized to deliver industry-leading performance while lowering costs, IBM Db2 offers extreme performance, flexibility, scalability and reliability for any size organization.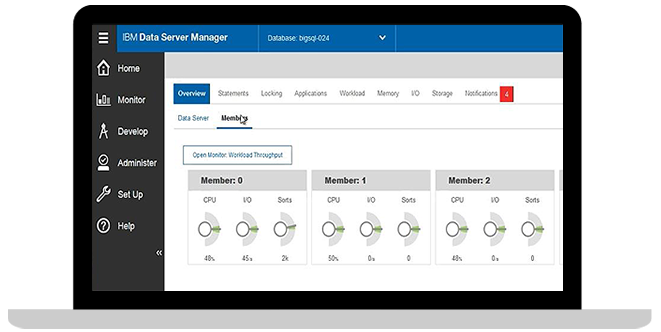 Informix
IBM® Informix® is forging new frontiers with its unique ability to seamlessly integrate SQL, NoSQL/JSON, timeseries and spatial data. Embedding Informix at the gateway level enables you to perform database operations and analytics close to the data sources to make local decisions.
Cloudant
A managed NoSQL database service that moves application data closer to all the places it needs to be — for uninterrupted data access, offline or on.
Economic impact of Db2 with BLU Acceleration
Learn about a framework to evaluate the potential financial impact of Db2 with BLU Acceleration on organizations to leverage in-memory database technology to win, serve, and retain customers.
Affordable, Scalable, and Reliable OLTP
Find out how Db2 pureScale delivers scale out benefits for continuous availability on cloud.
Db2 for z/OS in the age of cloud computing
Find out the value of cloud computing, and how IBM Db2 for z/OS can be utilized on the cloud to maximize efficiencies and minimize costs.
Handelsbanken
Accelerate insight into big data to mitigate risk and support regulatory compliance.