What is dashDB?
dashDB is a data warehousing and analytics solution. Use dashDB to store relational data, including special types such as geospatial data. Then analyze that data with SQL or advanced built-in analytics like predictive analytics and data mining, analytics with R, and geospatial analytics. You can leverage the in-memory database technology to use both columnar and row-based tables. dashDB enables you to get faster insights from your data by leveraging a cloud data warehouse with in-database analytics and massively parallel processing.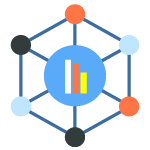 Fully managed
Manages setup, configuration and operations, so you get up and running quickly — without wasting time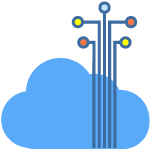 High performance
Designed for performance and scale, utilizing technologies including IBM's BLU Acceleration and embedded Netezza in-database analytics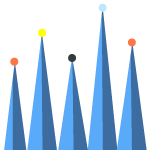 Integrated analytics
Run both standard and custom predictive models directly in the cloud. Open source R and RStudio are included as well
Free three month trial
IBM dashDB with DataWorks
Sign up now to use DataWorks to prepare and move your data from multiple sources into dashDB for faster and easier analysis across multiple data sets. What you get:
An extended 3-month trial of IBM dashDB with DataWorks
Free SaaS Startup Advisory Services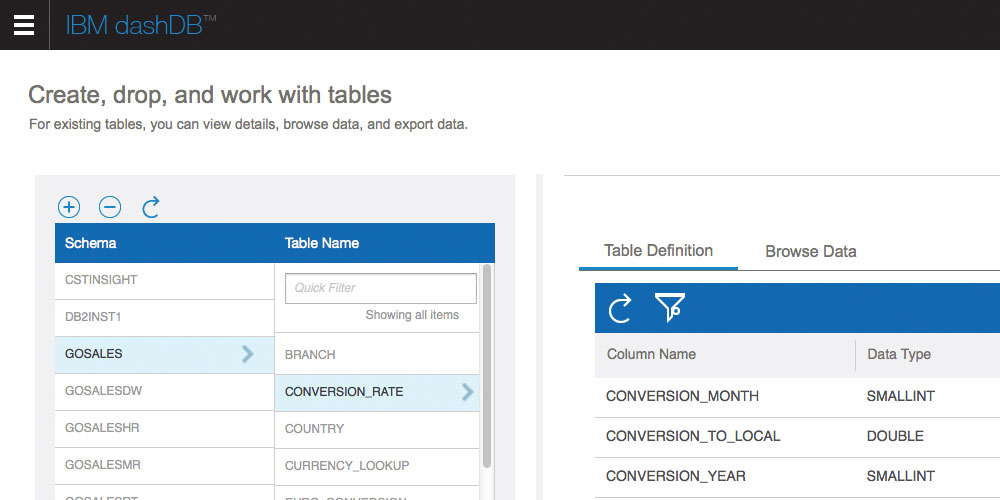 Advanced processing with BLU Acceleration
Advanced processing: Does not require the entire data set to fit in memory, while still processing at lightning-fast speeds.
Prefetching of data: Anticipates and "prefetches" data just before it's needed and automatically adapts to keep necessary data in or close to the CPU.
No decompression required: Preserves the order of data and performs a broad range of operations on compressed data, drastically speeding processing.
Data skipping: Automatically determines which data would not qualify for analysis within a particular query, enabling large chunks of data to be skipped.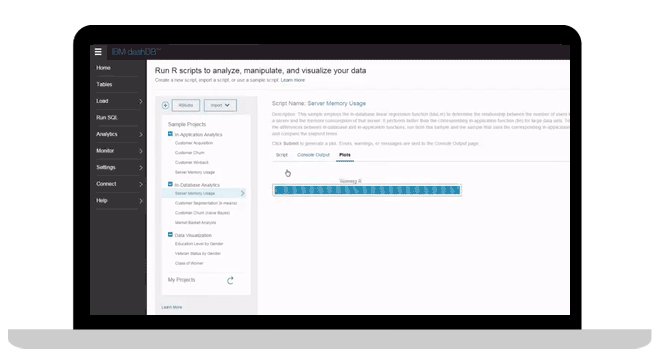 Open source R for predictive modeling
R is an open source programming language that was developed for advanced data analysis and visualization. It can be used to analyze data from many data sources, including external files or databases.
dashDB integrates R for predictive modeling through an R runtime alongside the data. A web console can be used to load data and perform analytics within minutes. With dashDB and open source R, your analytical options are limitless.
IBM dashDB includes RStudio, a fully integrated R development environment designed to provide quick, R-based predictive analytics.
RStudio provides an R language code completion feature, integrated help for R packages, file management capabilities and much more.
In-database analytics
dashDB integrates IBM Netezza® Analytics — also used by IBM Netezza appliances and IBM PureData for Analytics systems — for in-database advanced analytics.
Myriad predictive modeling algorithms are built directly into the database and are available whenever you want to use them.
It comes equipped with multiple algorithms, including linear regression, decision tree clustering, k-means clustering and Esri-compatible geospatial extensions.
By running the analytics natively in the database, where the data resides, you can gain huge efficiencies.
MPP for speed and scale with large data sets
The MPP option builds upon the benefits of the standard dashDB service, with even more speed and scale, so you can handle much larger data sets.
Multiple servers work on the same query simultaneously, and the processing of the query at each server is further parallelized across all the processors in that server.
It also leverages BLU dynamic in-memory columnar store technology, which minimizes I/O even further and achieves an order of magnitude in speed when compared to conventional row store databases.
Performance increases with each new server added to the network cluster, and scaling out is as simple as adding additional servers to your cluster.
Integrate products with dashDB

dashDB connects seamlessly with a wide ecosystem of business intelligence toolsets including Watson Analytics and many third-party BI tools.
IBM Cloudant + dashDB
Easily synchronize your JSON data in Cloudant with structured data in dashDB at the push of a button.
It allows for traditional BI and analytics to instantly be applied to web and mobile application data stored in the cloud.
IBM DataWorks + dashDB
Prepare and move data from multiple sources through IBM DataWorks and land it in dashDB for advanced analysis.
Native integrations between dashDB and DataWorks empower your organization's cloud data ecosystem.
IBM Insights for Twitter + dashDB
Load Twitter data directly into dashDB just like any other data source for sentiment analysis and social analytics.
Insights for Twitter access is built directly into the dashDB console for simple availability.
IBM Watson Analytics + dashDB
Explore the data you already have in dashDB through self-serve analytics with Watson Analytics.
Load data directly from dashDB through a simple connection interface built directly into Watson Analytics.
IBM Simple Data Pipe + dashDB
Simple Data Pipe is an open source project that is able to move data from cloud sources like Salesforce and Stripe into dashDB.
Leverage the application as it is or use our DataWorks APIs to build your own.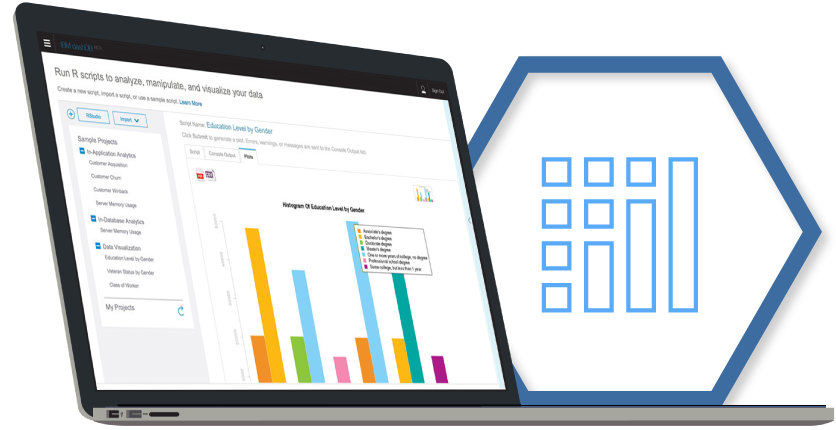 Get started with IBM dashDB
Entry
Up to 20GB of data storage: One dedicated schema per service instance on a shared server.
Enterprise 1TB
Dedicated 1TB instance with 64GB RAM.
Enterprise MPP 4TB
Dedicated instance of multiple node cluster (MPP).
Cloud-based data warehousing as-a- service, built for analytics
Provides the simplicity of a data warehouse appliance as a service, with the agility and simplicity of the cloud for any size organization.
IBM Enterprise MPP Service
Learn how this high performance, massively scalable cloud data warehouse service enables simple and speedy information management, analytics, and business intelligence operations in the cloud.
Analytics in a Dash: Strategies to Speed Data Warehousing and Analysis in the Cloud
This IT Managers Journal looks at new cloud-based data warehousing and analytics solutions, and how they offer enterprises of all types and sizes access to advanced analytics tools to quickly turn raw information into a real business advantage.