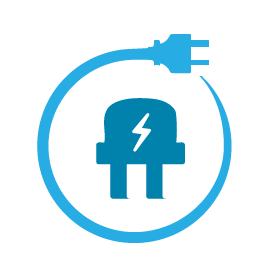 IBM Analytics for
Energy and Utilities

Transforming Energy and Utilities
Today's energy and utility companies face an unfamiliar landscape in which they must integrate alternative energies, expand situational awareness across the system, and deepen their relationships with customers, while continuing to do what they have always done—delivering reliable, safe and affordable energy to everyone. The most successful companies will be the ones that can compete, optimize, engage and succeed on all these fronts, while anticipating further change.

Find solutions
IBM offers a suite of solutions to help you meet today's challenges by disruptively innovating business processes,
delivering a 360-degree customer-of-one experience and assuming the role of the energy integrator.

Disruptive innovation

The digital customer

The energy integrator

Disruptive innovation
In order to meet customers' expectations of safe, reliable, affordable, and sustainable energy despite declining budgets for operations and maintenance and an aging asset and employee base, utilities must transform their operations by disruptively innovating their business processes, from generation through transmission and distribution. IBM can help you improve your operations by applying advanced analytics to help you monitor and predict issues using virtually all types of data.
Analytics Driven Operational Efficiency
Learn how our extensible and scalable analytics foundation provides a single view of assets and networks across the enterprise and includes built-in analytic solutions for situational awareness, predictive maintenance and asset health and risk analysis.
How can I quickly and accurately gain insight from my assets and operations?
Utilities create and have access to a huge amount of information, but being able to quickly and accurately gain insights from that data can be problematic. IBM utilizes best-of-breed analytics technologies, offering a full analytics spectrum from descriptive and diagnostic to predictive and prescriptive to ensure that operations decisions are driven by data. IBM Asset Analytics for Transmission and Distribution provides a 360-degree view of assets from the individual transformer to the entire grid, including health and risk scores. It is based on IBM Insights Foundation for Energy (US) enterprise-wide analytics platform, helping energy companies improve planning, construction, operations and maintenance. It is an open and extensible foundation enabling a solution ecosystem from IBM and Business Partners.
Learn more about how IBM Asset Analytics for Transmission and Distribution can help you reduce operational costs and improve operational efficiencies.
Explore Solution
Asset and Workforce Management
How do I prioritize maintenance to minimize costs and downtime?
Utility companies routinely face the challenge of scheduling maintenance activities and prioritizing them appropriately to minimize maintenance costs and downtime, while reducing the number of unplanned maintenance tasks and maximizing the life of each asset. Utilities need actionable insights to predict and plan appropriate maintenance for equipment used in generation plants (either centralized or distributed) and power transmission and distribution while reducing fixed and variable costs in delivering the maintenance service.
Learn more about how IBM Asset Analytics for Transmission and Distribution can help you proactively manage your assets.
Explore solution
Asset Performance Management
InterGen makes faster and more effective forecasting decisions with IBM Analytics.
How can I improve efficiency by closing information gaps between operations and maintenance?
Energy and utility companies need to improve efficiency by closing information gaps between operations and maintenance and across the plant, fleet, network and corporate levels of the enterprise. Utilizing all available data sources and by combining power generation, transmission, and distribution-specific analytics, such as equipment condition monitoring and performance monitoring, with asset management and analytics, companies can improve O&M efficiencies.
Learn more about how IBM Asset Analytics for Transmission and Distribution can help you monitor and predict plant performance and equipment health.
Explore solution
The digital customer
As many utilities are becoming competitive with energy deregulation, those that can better understand and positively execute upon their customer's behaviors, interactions, and preferences improve their competitive position amongst their peers. IBM can help increase revenues, improve customer experience, and increase market share by enabling you to monitor and capture consumer feedback from multiple sources (such as social media, websites, blogs, and transactional systems), so you can deliver the right offer to the right person at the right time. By having a true 360-degree view of the customer, each customer will be able to have their own unique experience with the utility.
Predictive Customer Intelligence
IBM can help utility companies personalize the customer experience by using analytics to make recommendations that are most relevant to each unique customer based on their usage, web activity, social media presence and much more. The IBM Predictive Customer Intelligence solution enables utilities to acquire, grow and retain customers by providing highly personalized, optimized, and in-context next best action recommendations for execution across virtually all customer touchpoints, in real-time and at scale. Utilities can target the best candidates for new energy programs, increase cross-sell/upsell/loyalty/retention and, ultimately, build a comprehensive, 360-degree profile of the energy consumer.
Learn more about how IBM Predictive Customer Intelligence can help you provide the right offer to the right customer at the right time.
Explore Solution
IBM's Big Data platform is the only big data solution that enables utilities to optimize energy efficiency and demand response programs, as well as enabling utility customers to self-serve their energy service and usage levels, including customer-based generation (e.g., roof top solar, electric vehicle, fuel cell, micro-turbine). Companies can further automate response to pricing signals for time-of-use rates and devices within the customer's premise to support in-home net billing programs.
Contact us
Customer Experience and Engagement
Slovensky's churn-reduction campaigns are now 50 percent more efficient thanks to early warning indicators and alerts, allowing the company to reach out to customers sooner.
How can I digitally engage my customers?
Today, utility companies are facing new challenges in the way they interact with their customers. In a deregulated environment, customer churn has become an issue in newly competitive markets.
Smart grid and smart meter projects now generate large volumes of information that can provide more insight into customer behavior patterns. The ability to do real-time analysis of energy usage data combined with customer information can enable utility companies to tailor energy services to profiled customers, predict churn / dissatisfaction, and automatically adjust customer engagement policies to promote targeted actions for retention and improved experience.
Learn more about how IBM Analytics can help you digitally engage your customers.
Contact us
The energy integrator
As consumers become more and more empowered and begin to optimize their energy usage, leading utilities are those that transform their role to become an energy integrator and manage the business and technical challenges of intermittency, dispatchability and disintermediation. IBM can help organizations be competitive in the 21st century by capturing meter data and integrating it with all available data sources, such as asset information, consumer usage, weather data, and more to proactively operate their grid and provide an improved customer experience.
CenterPoint Energy: Demonstrating potential benefits of applying near real-time analytics to a smart grid.
How can I use this data to better understand and manage outages?
The deployment of smart meters has caused an explosion of data within utilities. The transition from reading each customer's meter once a month, to reading every 15 minutes, is a 3,000 times increase in sampling frequency and in the volume of data that's being collected. Utility companies can start to use this data to better understand and manage outages, detect energy theft, drive customer usage portal, prepare customer specific alerts and communications and improve customer insights.
Contact us
Battelle developed a smart grid demonstration to handle the large volumes of input data that would flow on a continuous basis to the demand-fed metering system.
How can I gain better visibility into the distribution grid?
Today's utilities face many problems related to limited visibility into the distribution grid, characterized by manual collection of data from grid assets, sensors, meters, meter connection status, power quality indicators and customer data and billing information. To improve the quality of service and increase efficiency and effectiveness of the electrical distribution network, utilities need better visibility into the distribution grid.
Learn more about how IBM Asset Analytics for Transmission and Distribution can help you gain visibility into your grid quickly and accurately.
Explore Solution