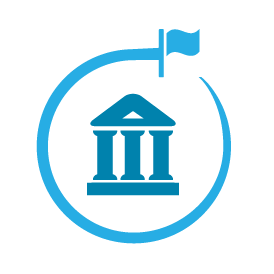 IBM Analytics for
Government

Transforming Government
IBM is committed to helping ensure a safer planet by providing government, law enforcement, defense, national security and commercial organizations around the world with innovative and advanced human-led intelligence analysis tools to help generate actionable intelligence so they can detect, disrupt and prevent physical and cyber threats.

Find Solutions
Emergencies, crime, fraud and other threats to society have never been more numerous or intense. With events like minor transit disruptions to ongoing cybercrime to major natural disasters and terrorist attacks, it is a continual race for communities, corporations and countries to prepare for threats, accelerate responses and prevent future harm. Choose the area you are trying to improve in your organization below to learn how we can help.

Public Safety and Justice

Defense and Intelligence

Cyber Security

Social Programs

Finance and Operations

Smarter Public Safety and Justice
In order to maintain public safety, agencies collect tremendous amounts of data, but without the ability to hold, analyze and disseminate that information they are unable to maximize its value in reducing crime and responding to crisis situations. IBM's solutions help create actionable insights for law enforcement and first responders. Explore our solutions to learn more about how IBM Analytics can help you maintain public safety and respond to disasters.
Crime Prediction and Investigation
Miami-Dade Police Department uses statistical analysis to find similarities in crime patterns helps break cold cases.
How can I reduce costs with integrated law enforcement?
Law enforcement and crime-fighting organizations find themselves stuck between increasing complexity of criminal activity and information management and analytics capabilities that limit their ability to "connect the dots" in the investigation, prevention and prediction of crime. For these agencies, IBM offers an end-to-end solution for law enforcement, regardless of where an organization is on the operational capabilities continuum--from traditional, intelligence-led policing, to collaboration, big data analysis and realtime policing operations. IBM solutions can help law enforcement improve situational awareness, predict criminal activity and effectively investigate crime.
Explore Solution
Incident and Emergency Management
This national disaster management agency is able to plan proactively for disasters and help mitigate their impact on the country's population and infrastructure with an integrated disaster management solution.
How can I take advantage of the enormous amounts of data now available and make my community better prepared for the unexpected?
The key to successful incident and emergency management operations is the ability to adapt rapidly to complex, changing environments. To do that today, local, state and federal government agencies need a new level of access to the many sources of existing information plus tools that enable collaboration. IBM offers emergency management solutions that create a common operations picture, connect disparate data sources, and enable consequence analysis and 'what if' simulation. IBM solutions can help emergency managers improve situational awareness and speed time-to-action.
Explore Solution
Using IBM Analytics, Florida's juvenile crime rate is down from 59 delinquency arrests per 1,000 juveniles to 46 delinquency arrests for every 1,000 juveniles during this past year.
How can I use predictive analytics to uncover patterns and help improve public safety?
Criminal justice systems worldwide struggle with high rates of recidivism and poor correctional performance. IBM Analytics solutions provide powerful tools to address both challenges.
Contact us
Smarter Defense and Intelligence
For today's military operations, there is a greater need for a coalition approach for a successful mission. There is a critical need to truly interoperate, by sharing information, command and control systems and business processes.
Intelligence professionals struggle under a growing load of information, both structured and unstructured, as they work to extract what is important, current and directly applicable to the operational requirements of military and government leaders.
Both these types of information require a high level of security surrounding the systems and network that provide the information-building, sustaining and regularly assessing the security of systems and information are critical. IBM i2 Enterprise Insight Analysis is a next-generation intelligence solution designed to turn overwhelming and disparate data sets into comprehensive intelligence, in near real time. Featuring world-class big data advanced analytics and multi-dimensional analysis capabilities that perform at speed and scale, i2 Enterprise Insight Analysis helps organizations accelerate the data to decision process by uncovering hidden connections buried in disparate and overwhelming data sets.
Threat Prediction and Prevention
IBM i2 Enterprise Insight Analysis enabled NATO joint forces to achieve data to decision in minutes, and execute their training operations with greater accuracy and efficiency.
Today, it's particularly important that government agencies be able to detect patterns in large, complex datasets and make critical connections.
How can I equip intelligence analysts and front-line troops with the right information at the right time and in the right format?
National security and defense organizations find themselves stuck between intensifying threat challenges, and information management capabilities that limit their ability to "connect the dots." For these agencies, IBM offers integrated big data analytics and insight capabilities that enable analyses and cross correlation on diverse structured, semi-structured and unstructured big data sets, at rest or in motion, from a large variety of sources. These capabilities provide timely actionable and cost-effective intelligence for real-time decision support based on reliable target (person or entity of interest) and mission data. They also enable contextual threat analysis and the ability to harness and utilize third party data for extended analyses.
Explore solution (US)
How can I use online analytical processing to determine which units to send in response to requests for armed forces?
Mission readiness requires close coordination of people, training, supplies and ordnance to ensure forces ready for any threat. IBM Predictive Maintenance and Quality enables better mission outcomes by monitoring, maintaining, and optimizing assets, predicting asset failure and reducing guesswork. It analyzes data from multiple sources and provides recommended actions.
Learn more about how IBM Analytics supports mission coordination and readiness through asset optimization.
Contact us
Battle Management Command/Control
Analysts supporting Special Operations Forces created a central intelligence repository and used near-real-time analytics to help field operatives identify and take down targets faster during a multinational training exercise.
How can I enable more efficient decision making resulting in a smaller crew without loss in mission?
Decision-making on the battlefiled requires accuracy, timeliness and efficiency. IBM Analytics can help in all these dimensions by harnessing big data and bringing insights to battle management decision making.
Learn how IBM Analytics can help you make quicker and more accurate decisions with insight from battle data.
Contact us
Enhanced Cyber Security
Every day, our digital identity is menaced by several cyber threats that are becoming even more sophisticated. Every year, data breaches expose millions of records that are used by cyber criminals for illegal activities. Cyber threats vary greatly and so do the sources of the threats. To counter those various sources, organizations need intelligence to fortify themselves from both internal and external threats.
Protecting Your Organization from Cyber Threats: Apply advanced analytics at unprecedented speed and scale for insights into vulnerabilities and attackers in near real time.
How can I uncover hidden connections and insights to enable smarter security decisions?
Traditional security measures are no match for today's sophisticated and aggressive cyber criminals or the frequency of their attacks. Many breaches occur because most security strategies focus solely on the perimeter and the attack, without understanding the cyber criminals behind the threats and their motivations. By using insights about the attackers and their motives, cyber threat analysis can help organizations mitigate, counter and better protect their customers and data against cyber threats.

IBM i2 Enterprise Insight Analysis is a next generation intelligence analysis solution. This solution goes beyond detecting an existing threat, enabling organizations to enhance their cyber security strategies with actionable and real-world intelligence collected from public, social and enterprise-wide data sets. The added layer of insights gives organizations the ability to identify the who and why behind threats, turning a defensive cyber strategy into a proactive one.
Explore solution (US)
Cognitive Cyber Defense is an advanced persistent threat (AVP) threat detector. It resides inside the enterprise and looks for the subtle cues, activities, and anomalies such as beaconing, fast fluxing and exfiltration indicative of an infected system. Cognitive Cyber Defense does not replace rules and signature-based solutions such as SIEM, IDS, IPS, FireEye, but rather complements them.
Explore Solution
Social Program Performance
Alameda County Social Services Agency: Alameda needed to do more with less. It's doing so by giving its caseworkers the tools to be more proactive in helping their clients get the assistance they need.
How can I use advanced analytics and business intelligence to improve the effectiveness of services and control the costs associated with waste and fraud?
Providing social program benefits and services are one of the most important government functions. Government organizations must accurately target citizen needs and continually improve outcomes. Data and analytics can provide the means to gain a comprehensive view of a family's ongoing needs and program results, match clients to the right program or service, and identify clients at risk.
Learn more about how IBM Analytics can help you build a deeper, more accurate understanding of citizen needs and program results.
Contact us
Social Program Compliance
North Carolina uses IBM analytics to sort through tens of thousands of providers and hundreds of millions of claims in minutes and then prioritize those cases with potential abusive behavior. As part of their work with IBM, North Carolina has already identified nearly $200 million in suspicious claims from the initial 250 providers they targeted.
How can I reduce fraudulent claims using behavioral analytics to uncover suspicious activity?
Government social program organizations cannot afford waste resources. They must ensure that citizens who need benefits and services are able to receive them. Using Analytics, agencies can reduce overpayments by better matching of eligibility information, gain insight into familial relationships, enhance in-take and eligibility determination, and reduce fraudulent claims through identity resolution.
Read how your organization can reduce waste in resources and fraud, and maximize benefit to your citizens with IBM Analytics.
Explore solution (US)
Transform Finance and Operations
Helping Federal Agencies and Service Branches to Secure Budget Requests: In order to reduce the risk to missions and key organizational objectives associated with a dynamic budgetary environment, government leaders require a flexible budgeting solution designed around the challenges and constraints they face.
All government organizations are looking to align citizen expectations, with financial requirements and operational resources. While this is always a challenging task, IBM Analytics solutions can help by uniting disparate budget and operational data, providing line of business access to data and information, integrating numbers with narrative for richer reporting on program performance and budget, and gaining a deeper understanding of citizen sentiment on existing and proposed policies.
Learn how your organization can stay on budget and exceed the expectations of its citizens with IBM Analytics.
Contact us
Sao Paolo State Transportation Agency use a road and traffic management solution developed to help proactivity promote driver safety.
IBM Intelligent Operations Center helps government leaders manage complex city environments, incidents and emergencies with a city solution that delivers operational insights. It offers integrated data visualization, near real-time collaboration and deep analytics to help city agencies enhance the ongoing efficiency of city operations, plan for growth and coordinate and manage response efforts. IBM Intelligent Operations Center provides integrated maps, online dashboards, customizable reports, multiple analytic algorithms, interactive standard operating procedures and other tools for improved city operations and incident or emergency response.
Learn how your operations team can more efficiently manage city operations with IBM Analytics.
Explore Solution
Tax, Customs and Program Compliance
How can I increase fraud identification to more precisely identify suspicious claims?
Fraud, waste and abuse are constant challenges for tax and customs organizations. Governments need to minimize revenue drain from improper payments and better predict, detect and investigate fraud, waste and abuse. IBM solutions for tax, customs and program compliance can help close loopholes by focusing audit resources on only those returns that seem most unusual and enable predictive modeling to better prioritize debt collection. In addition, IBM investigative solutions can provide key tools to help government organizations conduct investigations.
Learn how IBM Analytics supports your mission to reduce revenue loss and eliminate tax and customs fraud.
Contact us